April 15, 2010
Joan's pink poppies, Peckerwood Garden, Yucca Do cold-hardy agaves & more
This week, I'm celebrating "Joan's pink poppies," a passalong from a very inspiring gardener fighting cancer that Vertie and I had the chance to meet.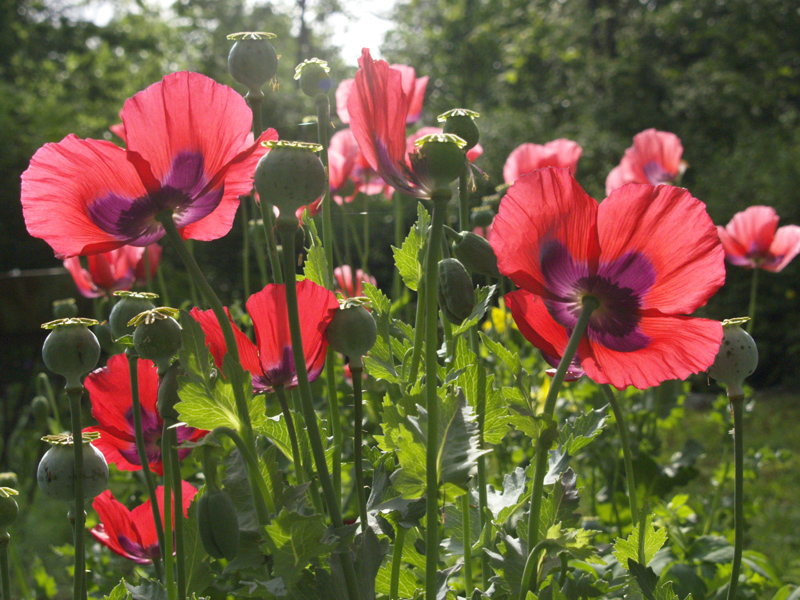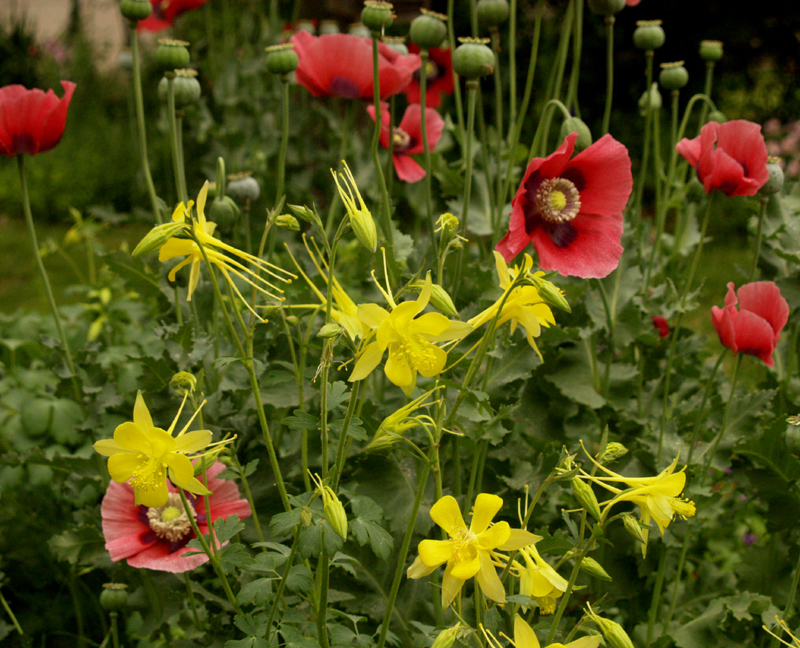 Another treasured passalong is bearded iris 'Raspberry Frills' from Trisha Shirey, with Dr. William Welch's foundling rose, Maggie,  that I got from It's a Jungle.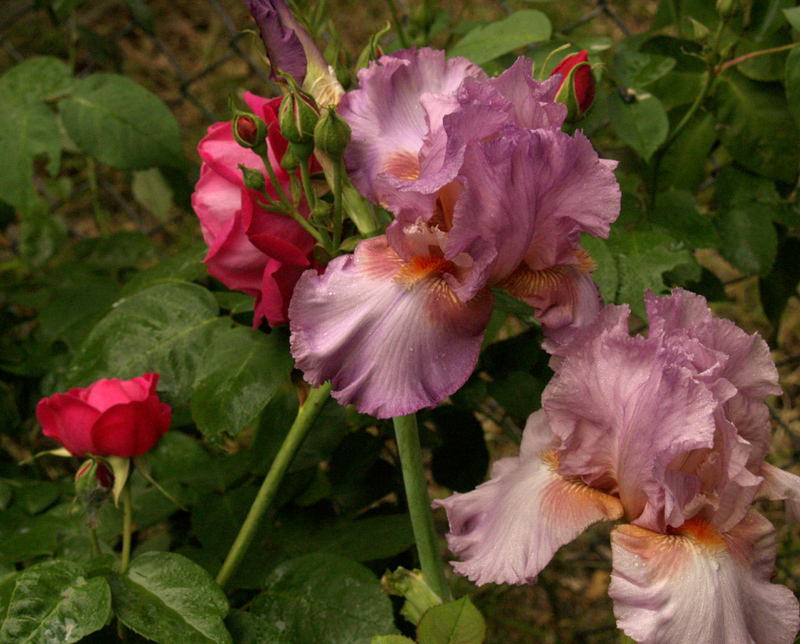 Oh, check out Trisha's blog at Lake Austin Spa Resort. It's a team blog, with tips on gardening, exercise, and recipes. I'm drooling over the recipe for Shitake mushroom spring rolls.
This bearded iris has been around the block a few times.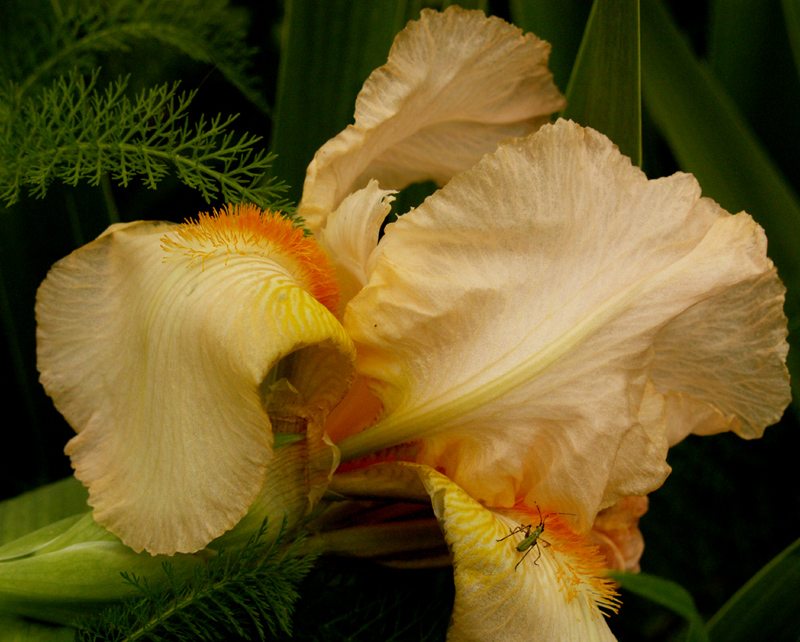 Years ago, I got it from the Iris Society of Austin (watch for their great September sale). I've divided and moved it to follow the sun as my garden changed.  The insect nymph?  Wizzie Brown, Texas AgriLife Entomologist, thinks it may be a katydid nymph.
In the cat cove, last year I built up mounds for blackfoot daisy. Only one made it, now joined by a new Pelargonium sidoides, one of my Tom Peace experiments from South Africa. The winecups are about to take over when the blue-eyed grass goes to seed.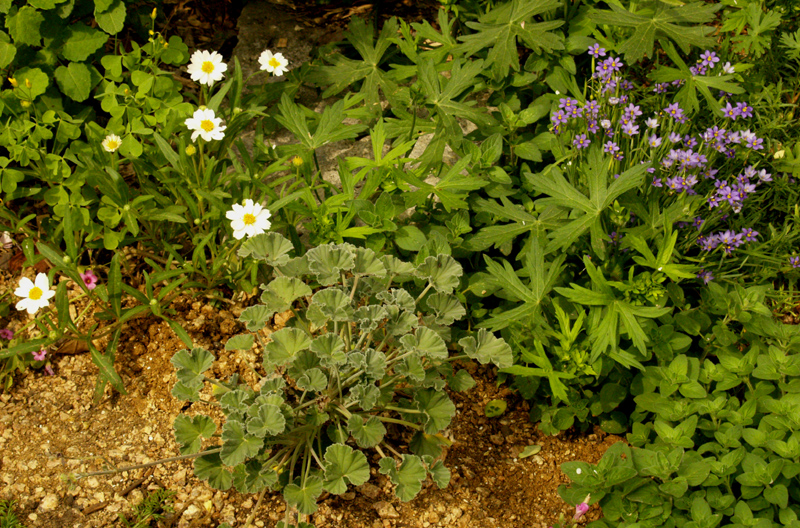 My garden isn't the tidiest in the world, but it's my antithesis to the rest of my life, which is highly structured.  It's also a chance to experiment, without impacting anyone but myself. Well, except for the wildlife.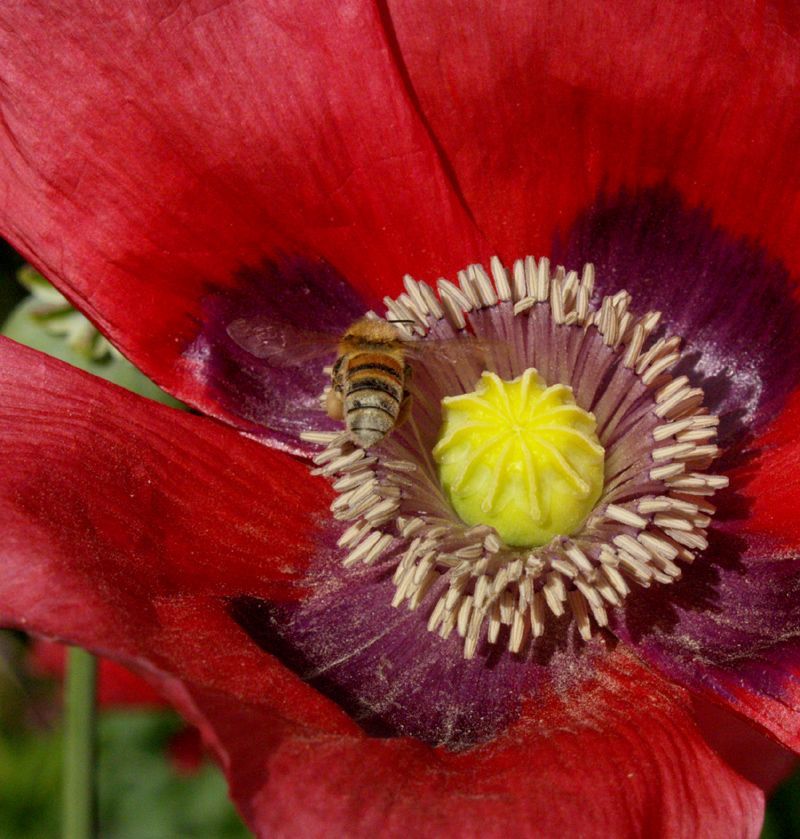 Someone who has impacted the botanical world with his experiments is John G. Fairey of Peckerwood Garden. This week on CTG, we are most honored to have met with him and taped the gardens in late February. See how his vision and tireless energy brought us new garden vocabulary, like this Dioon edule.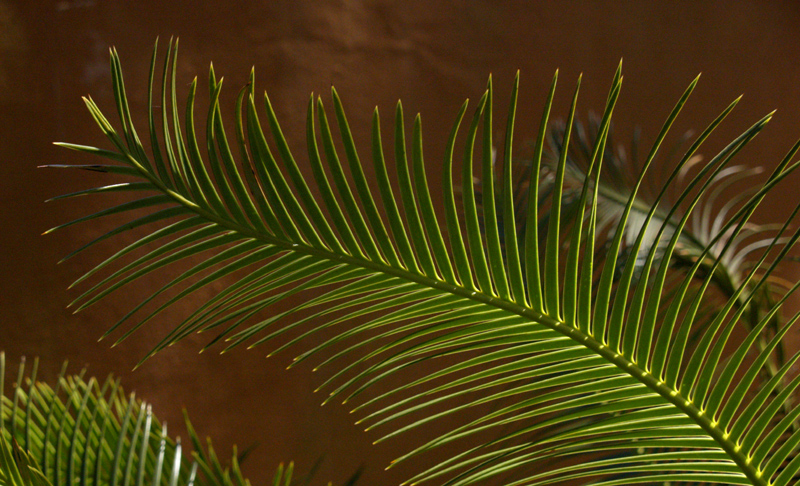 As always, CTG's director Ed Fuentes was behind the camera, focusing his incredible eye on discoveries to include our viewers in our experience.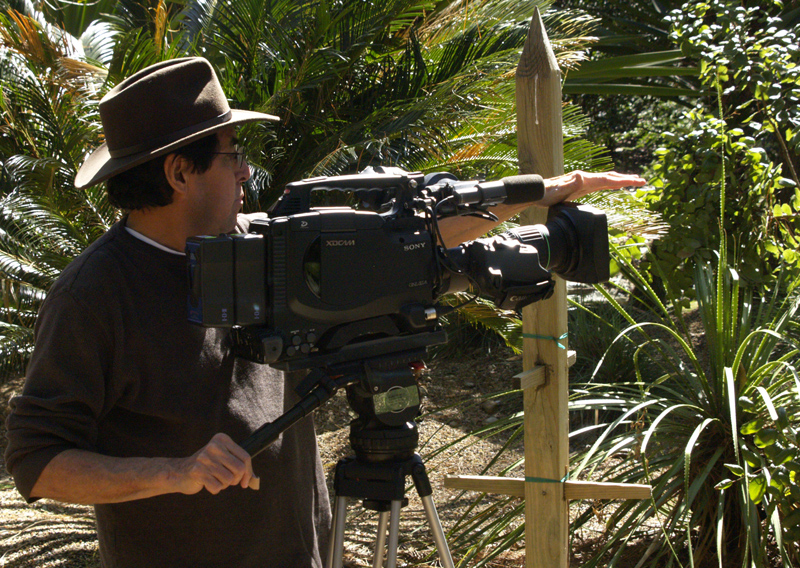 For this intense shoot, we had the rare luxury of a second camera, with talented Derek Joyoprayitno.
Steve Maedl, the guy who can do anything, sets up our lighting for John's interview.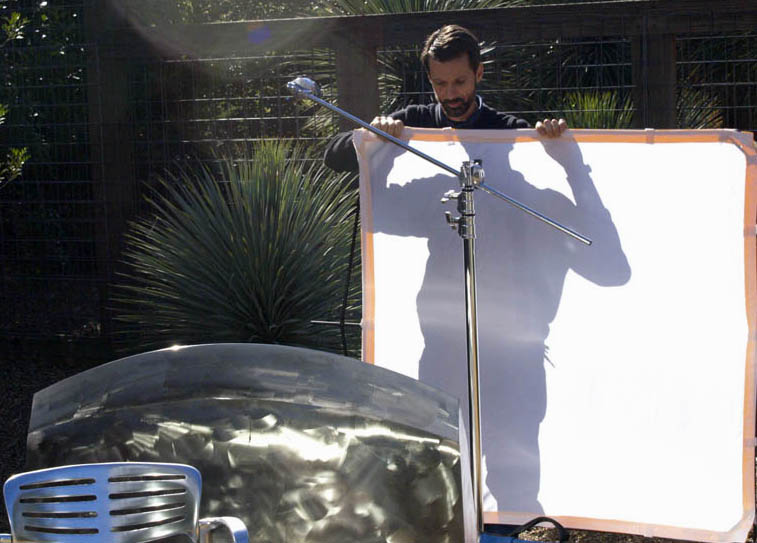 Freelancers all, you'll see their names on many credit rolls, and of course, on KLRU's Austin City Limits.
One Peckerwood trick I must show you is how they shade new plants.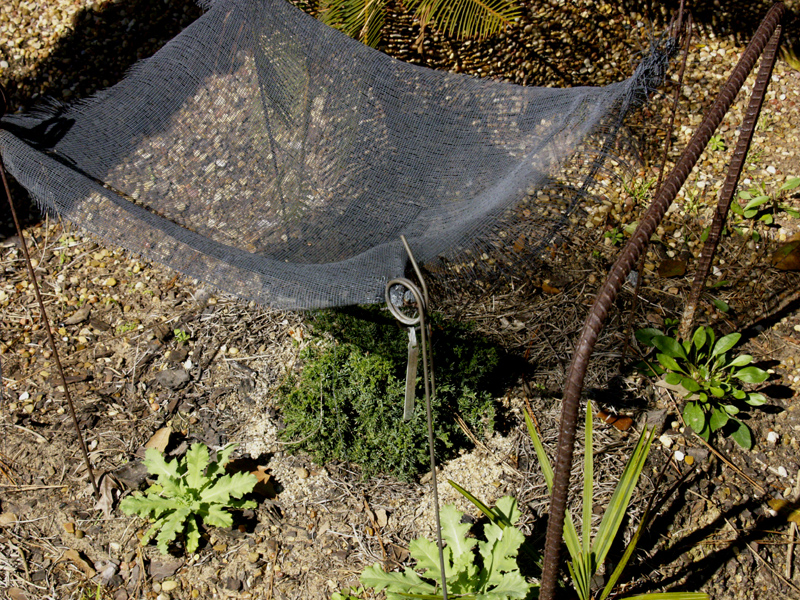 This is essential when you move a plant in the heat, or start it as a tiny one in baking conditions. Beats my newspaper on a stick!
Peckerwood maintains but a small staff, and even they volunteer at Open Days and their other special events. I thank Connie Stegen, who helped organize this shoot. I also thank The Garden Conservancy for their support of this botanical treasure.
Yucca Do Nursery, started by John Fairey and Carl Schoenfeld, has moved off site to Giddings, but the mission remains the same: collecting, testing, and propagating unique and endangered plants. This week, Tom meets with Wade Roitsch about cold-hardy agaves, aloes and other Yucca Do favorites.
Watch online to see it all, get Daphne's explanation on mountain laurels not blooming, John Dromgoole's info on fertilizers, and Wade's plant list.
Thanks to Bill Welch, John Fairey, Yucca Do, and all of you, we celebrate gardens of new discoveries, knowledge, and heritage to carry on botanical wonder and joy. CTG is so proud to be part of this avenue.
Finally, here's a garden tour for you to gather some ideas. Launch 787 and Mosaic at Mueller hosts the 2010 Outdoor Living Tour: A Glimpse into Your Neighbor's Backyard this Saturday, April 17. Looks fabulous!
Until next week, Linda
Comments