April 29, 2010
Out of control garden, multitask plants, herb tips, oak pollen on steroids
Things are a little out of control in my garden right now. I was going to give you some wide shots, but I don't dare. Until I can buckle down to deal with the mayhem, I'm enjoying these days of garden hysteria. Larkspur is on a rampage, but so lovely with Zanthan Gardens' passalong baby blue-eyes.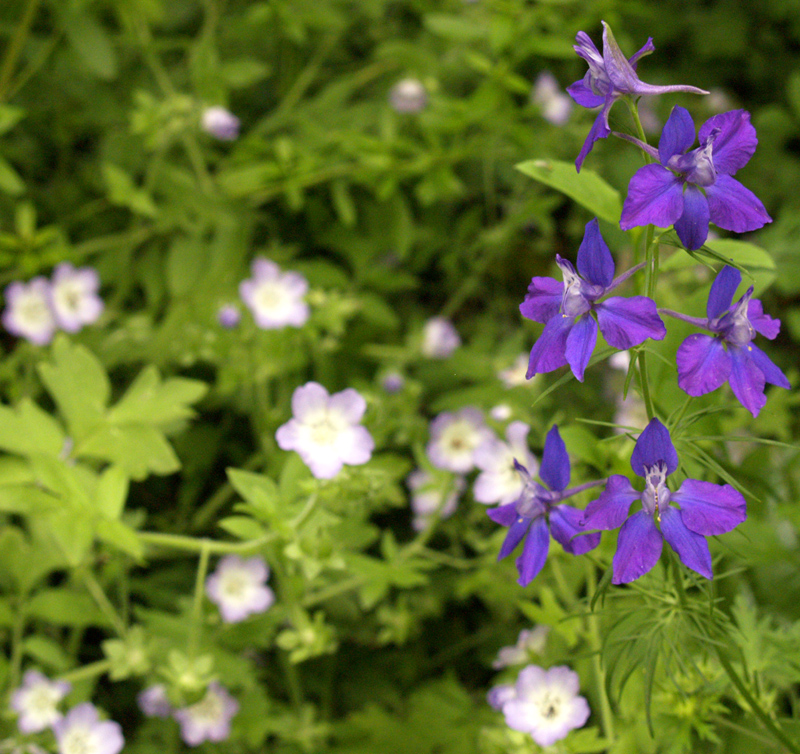 I hate to say it, but I'll be ripping out some pink evening primrose next winter. It's swallowing everything! I'll leave it on the back stretch to run like mad over winter- dormant lantana.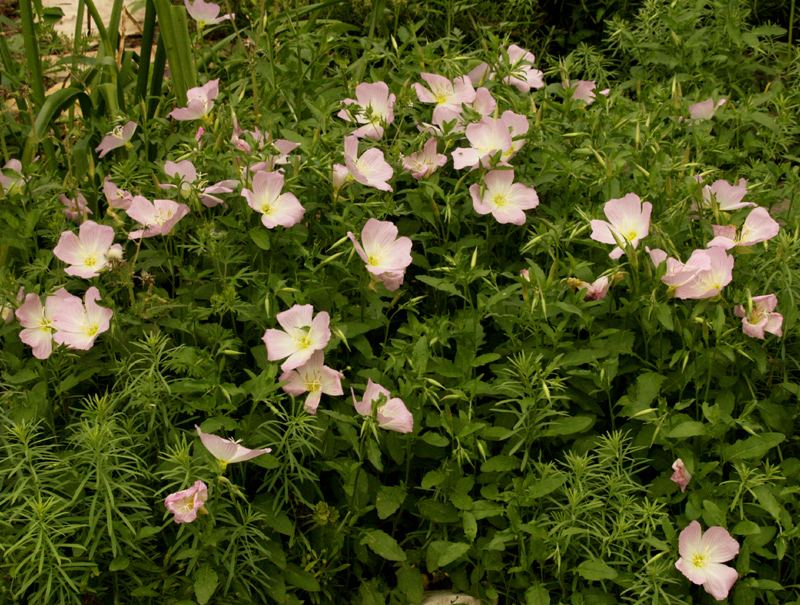 In the other beds, I'll simply edit to keep peace with the evergreens, like Gulf coast penstemon.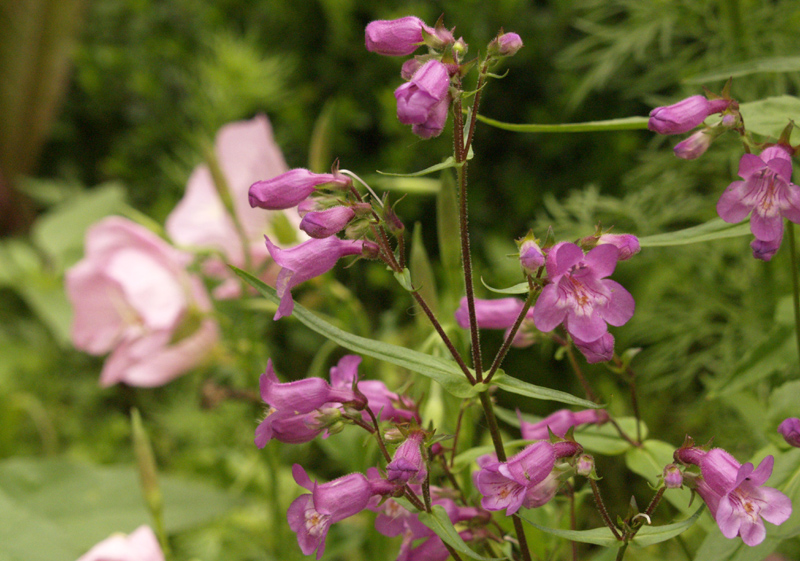 This fall, I'll be dividing a bunch of gregarious spuria iris for new homes.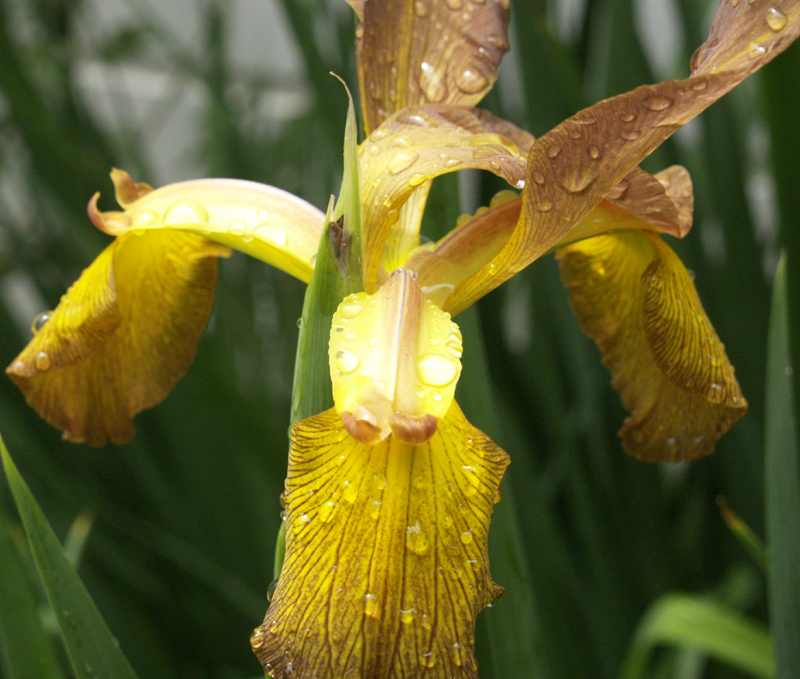 In the patio cove, I've got tamer Louisiana irises, passalongs from gardeners Pat & Don Freeman years ago. Through their work at Zilker Botanical Garden, they've educated countless gardeners like me.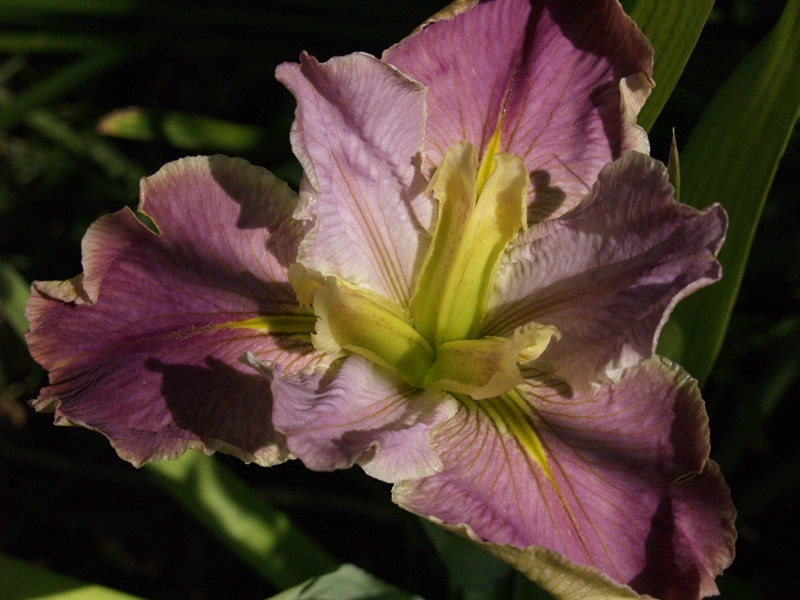 I went to them for advice on roses, too. Buff Beauty scents the den bed trellis and the cat cove arbor.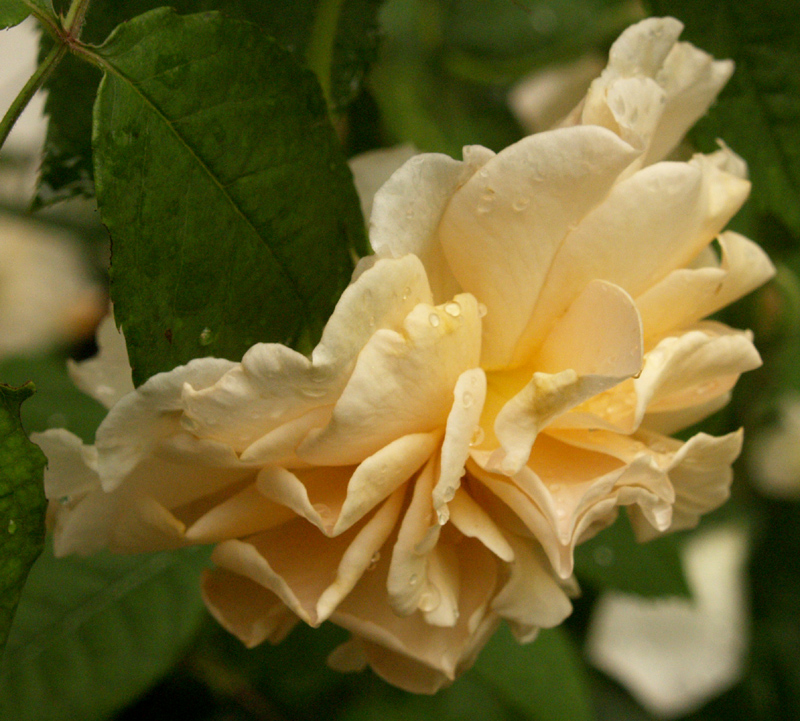 Marie Pavie handles the patio perfume parade. She's a good one for a large container or small space, too.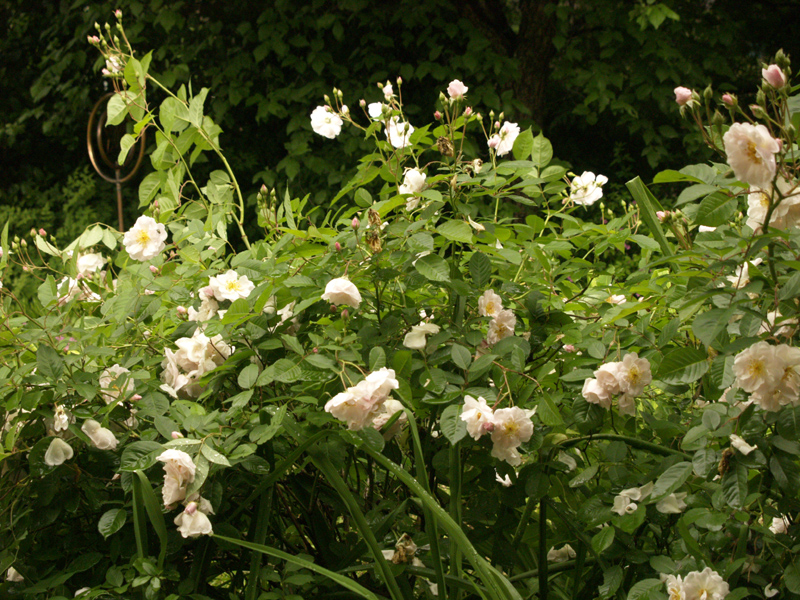 In the cat cove, I lost the Barbados cherry.  I've got some ideas for that spot, but for now, I stuck in some 'Seniorita Rosalita' cleomes, Daphne's plant of the week. She explains why this one performs for us, while other cleomes have cratered for me.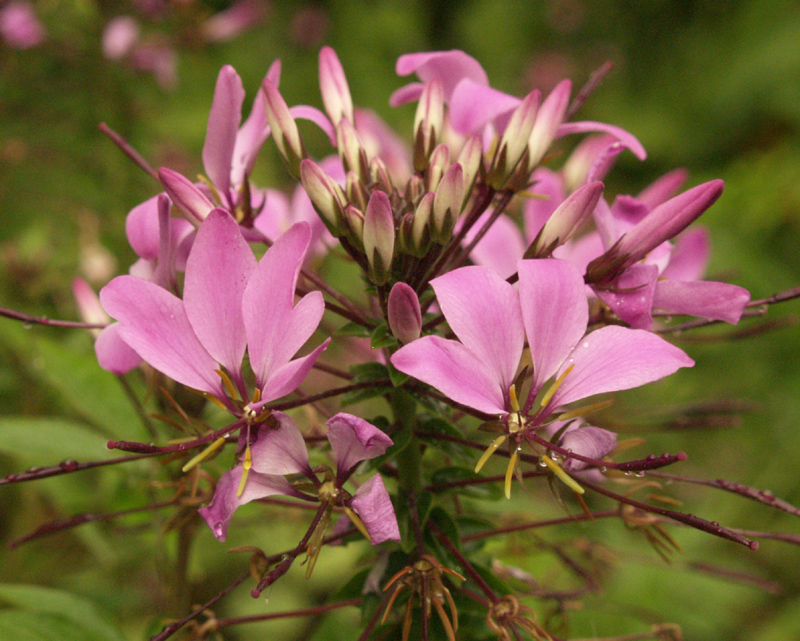 Pam Penick first got my attention with her success with it last summer.
This week on CTG, Daphne also answers the question posed by many viewers: "What was that "snow" coming off my trees?"  And what's the deal with pollen this year?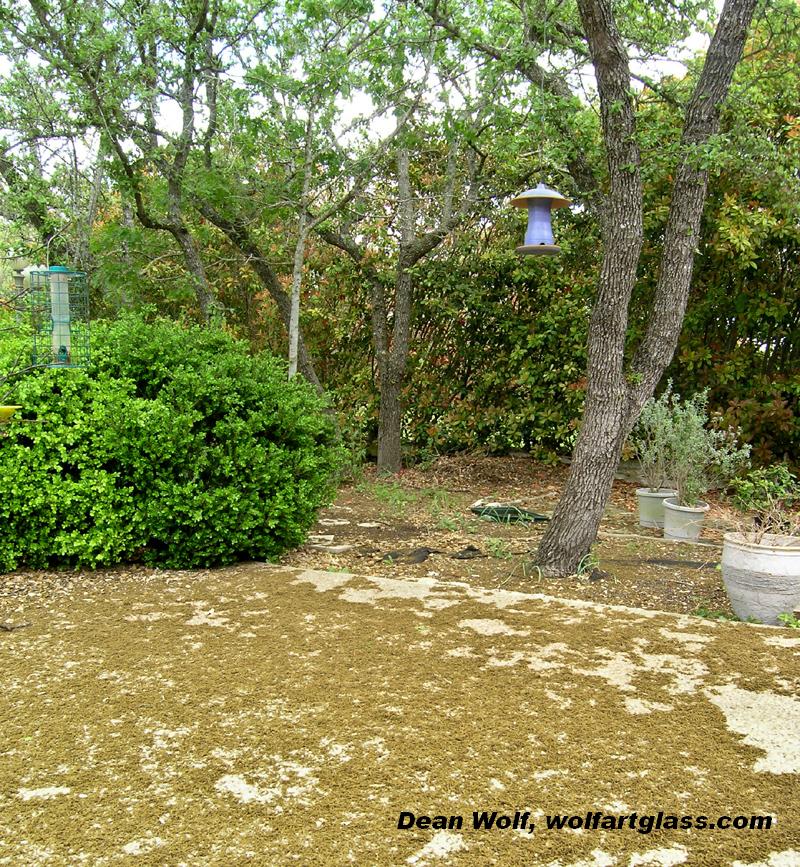 I thank Dean Wolf for his photographs. Check out his beautiful glass art and glass lighting (from recycled glass) at Wolf Art Glass.  And you must see his video of his personal wildflower meadow. An outstanding collection where he identifies each plant, too, in case you wanted to know what's all out there.
Since it seems like we're all multitaskers these days, this week on CTG, meet some plants that do double-duty. Tom meets with Jeff Yarbrough from The Emerald Garden on great selections that handle just about everything. Did you know that we can grow Ramie?  Perfect for shady areas. Another one of his many great ideas is Chaparral Sage (Salvia clevelandii). Get his entire list of plants on our website, since we couldn't hit them all.
Sweetpea Hoover from The Natural Gardener has super tips on herbs for sun and shade, too!
On tour, we're repeating Rich Rosen's daylily garden. Meet him and his wife and fellow gardener and artist, Anna Marie Pavlik, at their home on May 23 to see their garden in person. Here's 'Mambo Maid' that I got from Rich.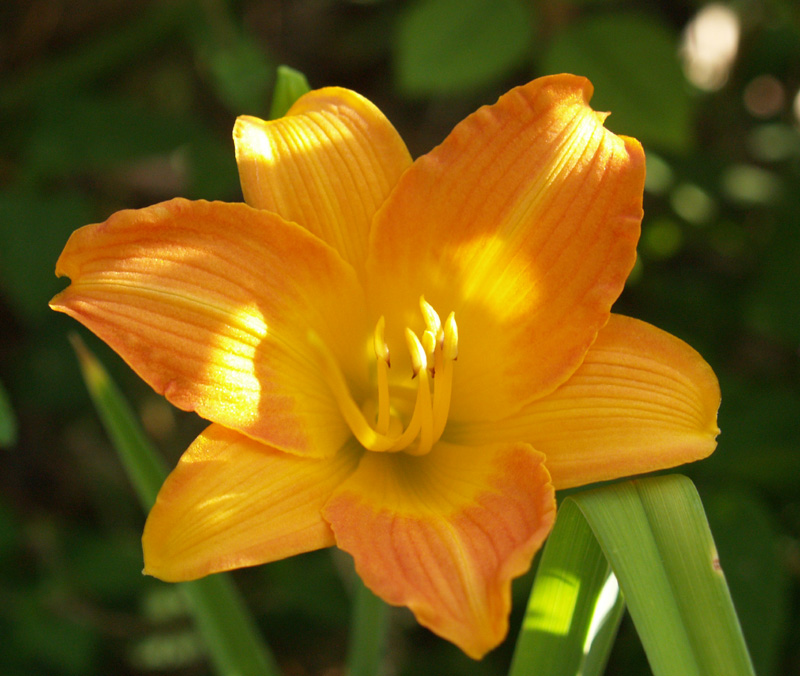 And pick up some of these tough perennials at the Austin Daylily Show & Sale on May 21. Get details on our events page.
You'll note lots of great events coming up, but you simply must gather the kids for Steve Blackson's too fun Austin Garden Railroader's Spring Bloom on May 1. They'll get a super kick to see the trains running through a miniature garden, on scale with the early 1900s Hill Country.
Until next week, Linda
Comments