March 21, 2012
My garden's out of control!
I've created a madhouse.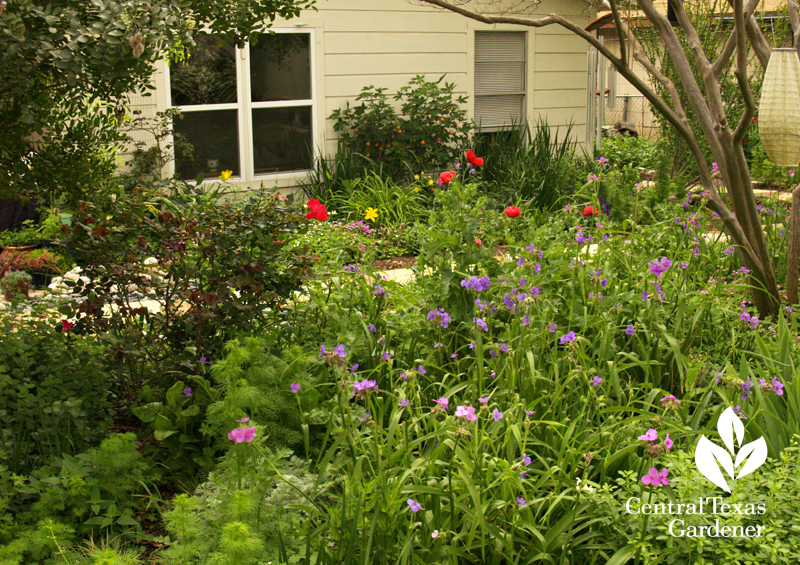 I knew I needed to thin spiderworts, larkspurs and poppies, but I just couldn't bear it.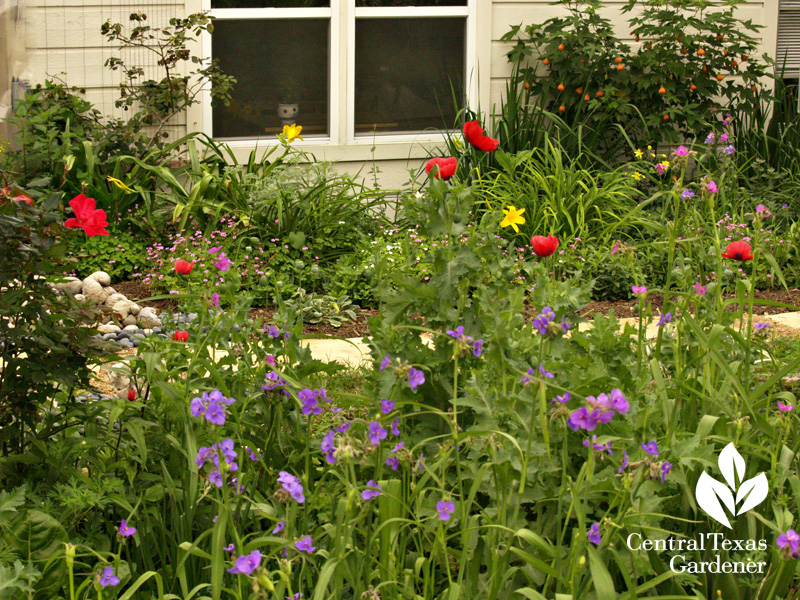 So now I'm  pulling some out since they're suffocating everything underneath. Good grief, we have poppies that are 4' tall!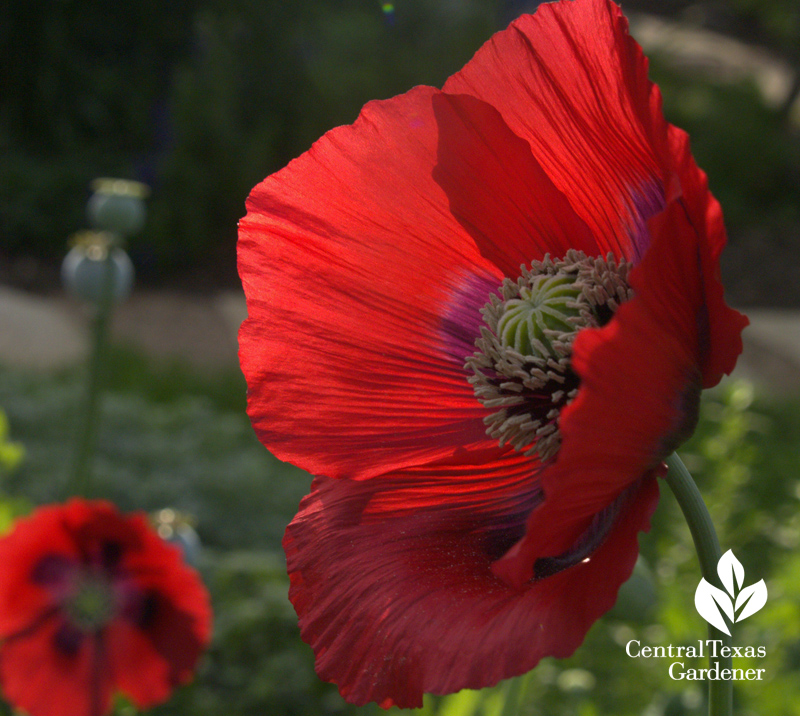 Others, along with spiderworts and larkspurs, are pushing over 3'.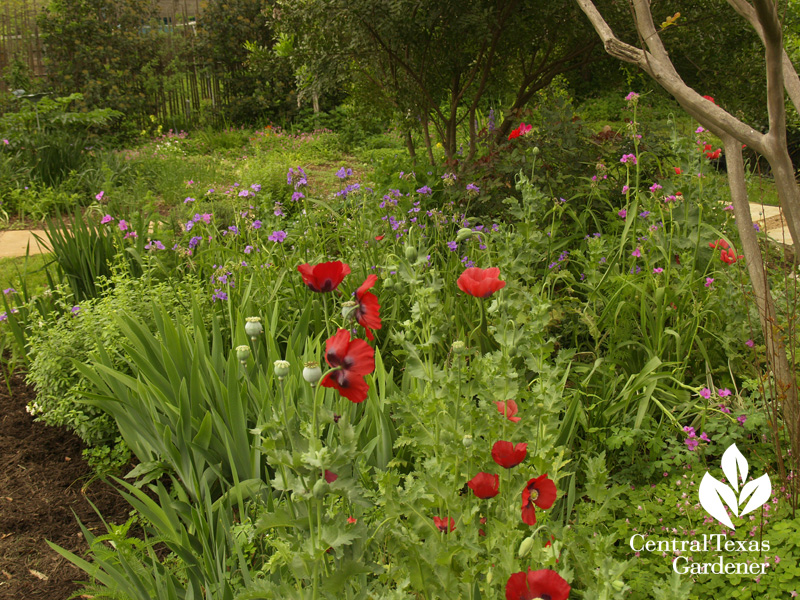 Painful as it was, I yanked out many to rescue the plants underneath and to make room for the new Variegated flax lilies (Dianella tasmanica 'Variegata') I wanted to get in before the rain. Beyond, the spiraea and Lady Banks rose are still in gear; the Cecile Brunner on the shed trellis still to burst.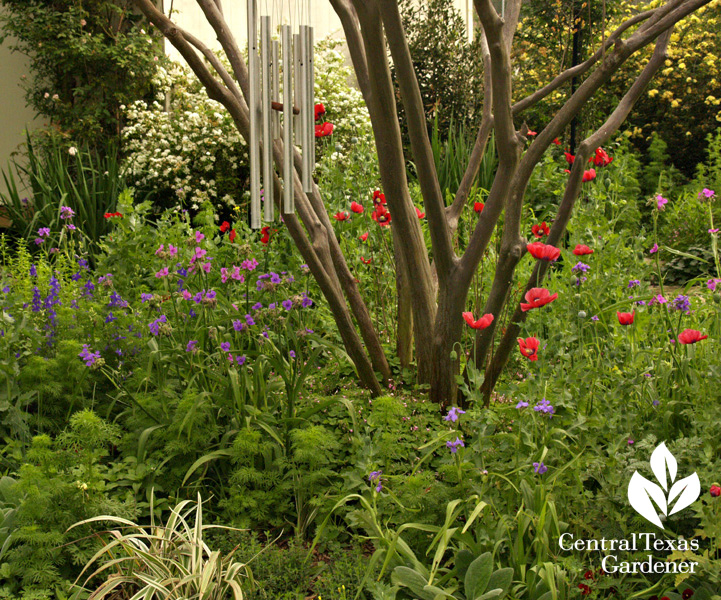 Here's a view after some thinning.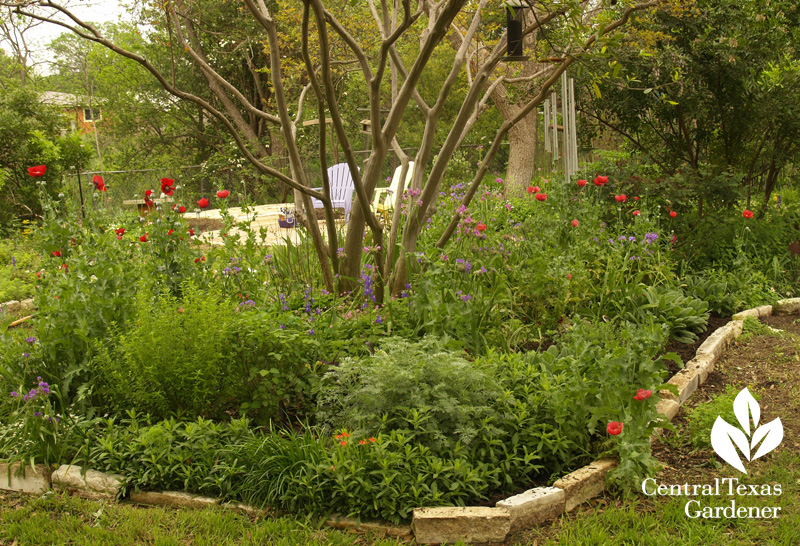 Another Freesia laxa showed up against the Artemisia 'Powis Castle' that I also whacked, since it was flopping all over the place. Some people dislike this plant because it gets woody and sparse, but if you prune it now, it will fluff out nicely.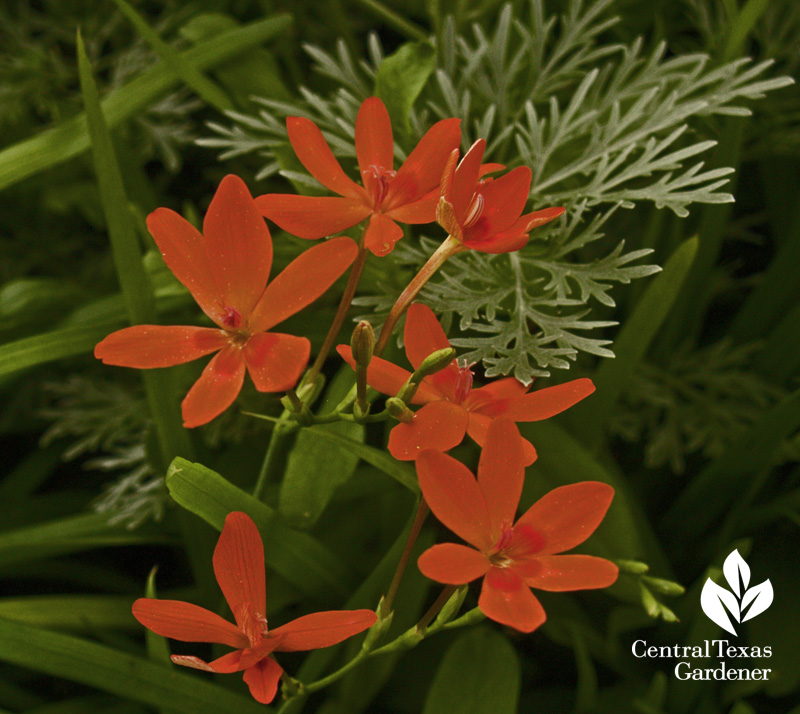 This front view reveals our latest project in the works—details and more pictures coming next week!   Still playing with ideas to replace the dead grass.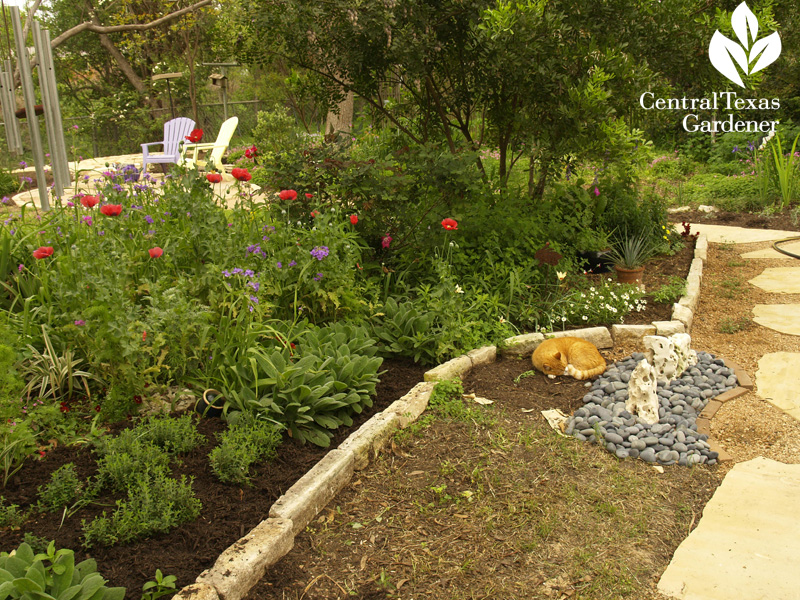 Here's a closer shot, where Cedric's found a new spot to nap near Greg's sculptures. In the recent granite section beyond, I planted frogfruit (Phyla nodiflora), a native groundcover that attracts bees and butterflies.
On the back side of the mountain laurel, I pulled out a few of the widow's tears (false dayflower) and my beloved Baby blue-eyes, a passalong from MSS at Zanthan Gardens a few years ago. I've left plenty to guarantee seeds for next year!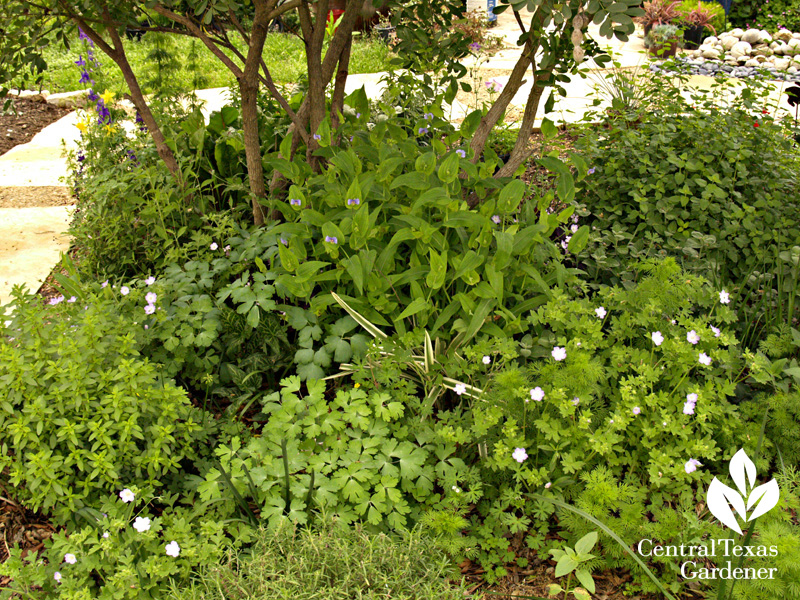 At the rental side fence, I cleared away a few oxalis and baby blues to rescue a butterfly iris (Dietes bicolor).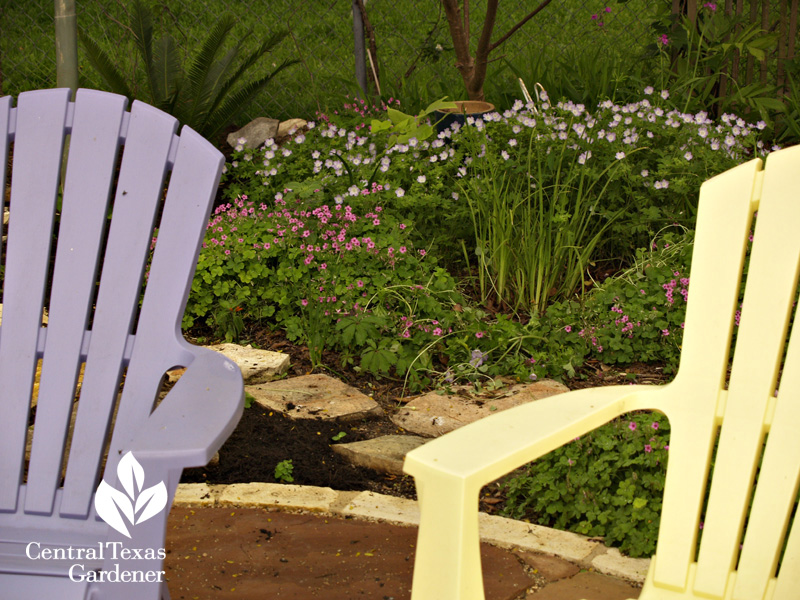 Even though the oxalis is out of control, I'm keeping lots of it because the bees LOVE this winter bloomer.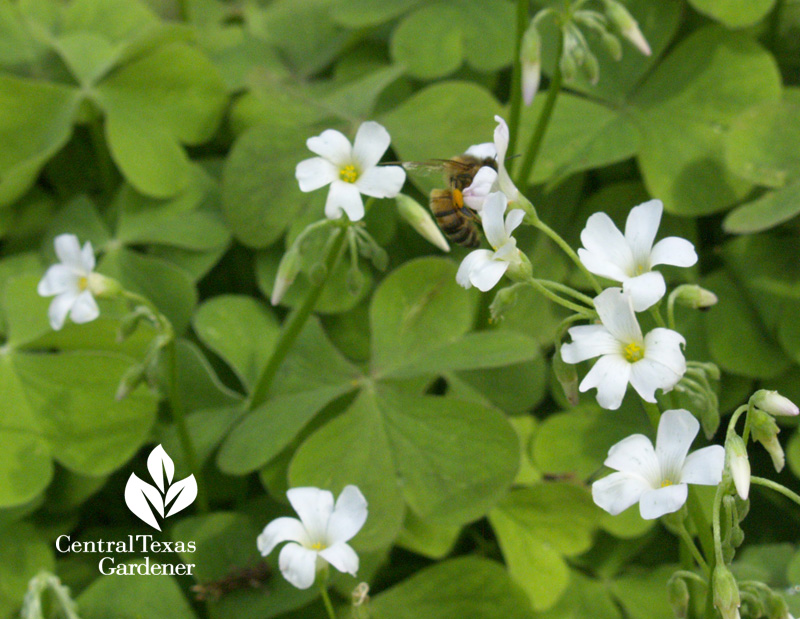 What a spring it's been, even though it's only been official a few days. In Devine, near San Antonio, Donna Sanders has never seen her huisache trees (Acacia farnesiana) bloom quite like this!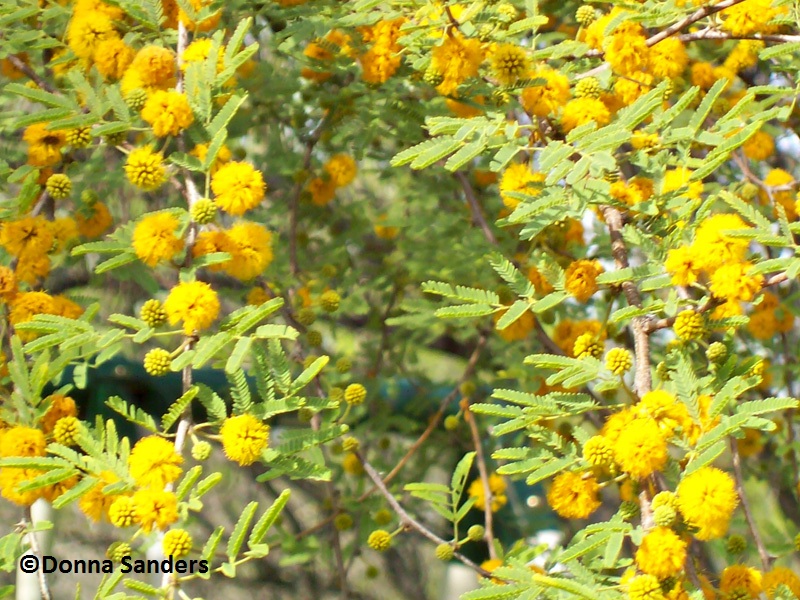 There are lots of events coming up! One of the big ones is the Zilker Garden Festival March 31 and April 1. I'll actually be joining a super lineup of speakers! At 12:30 on March 31, I'll present Psycho (Lighting) Plants. And be nabbing a few more plants, of course!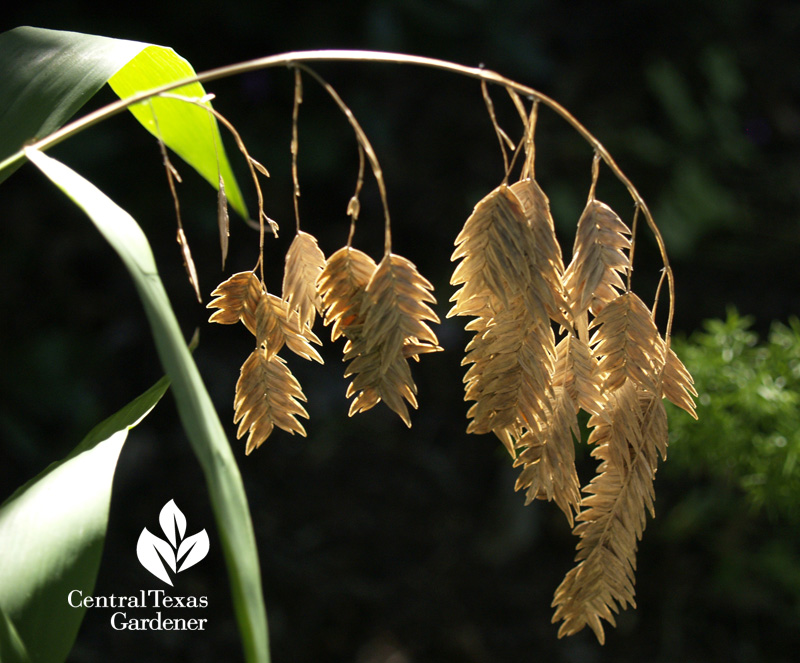 Hope to see you there!  See you next week, Linda
Comments