June 28, 2012
Texas Tall Tales: insects, design, and a story for the whole family!
Texas doesn't wimp around. We're in a state of perpetual extremes: weather, flowering cycles, and insects. One giant you're lucky to find in your compost pile are these guys, like in Daphne's healthy compost bin.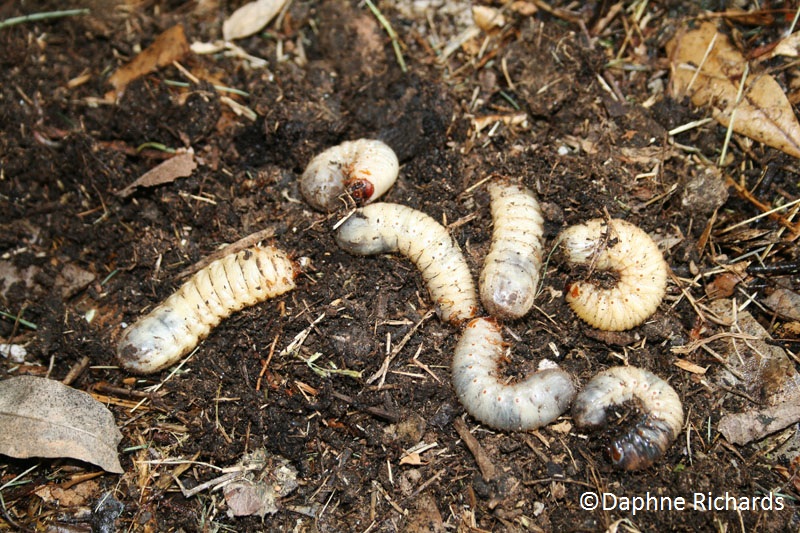 This week, Daphne introduces us to her friends. They are the larvae of ox or elephant beetles, sometimes called rhinoceros beetles (though that's a different species). But they are all BIG!
Here's an adult we spotted on a shoot recently. They don't move around much so she didn't mind when I moved her into a good camera position. I should have put my hand there for comparison, but she was almost 2″ long!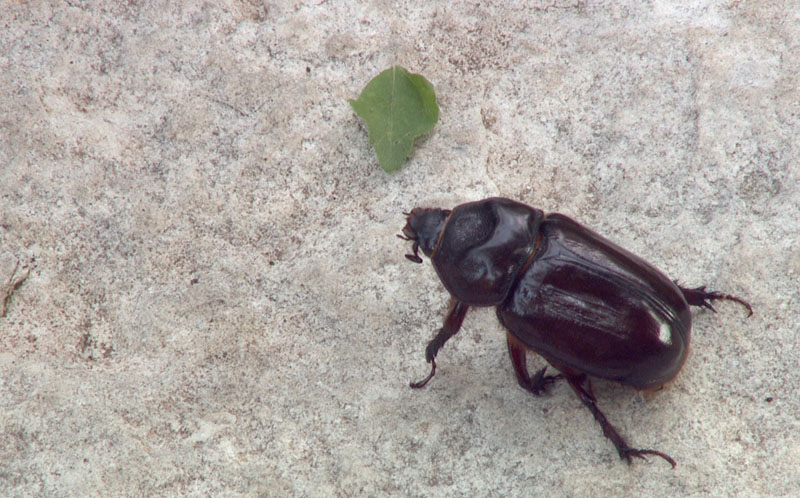 Daphne explains that these are not the dreaded June beetle grubworms. These are beneficial larvae to help break down your compost pile! Here's even more about this beneficial.
Fire ants love compost piles as much as we do. Daphne explains why, and how to chase them out.
Flies in the compost pile: that's another pesky situation. John Dromgoole demonstrates how to fend them off with layering techniques. Not only does the layering deter flies, it helps speed up decomposition.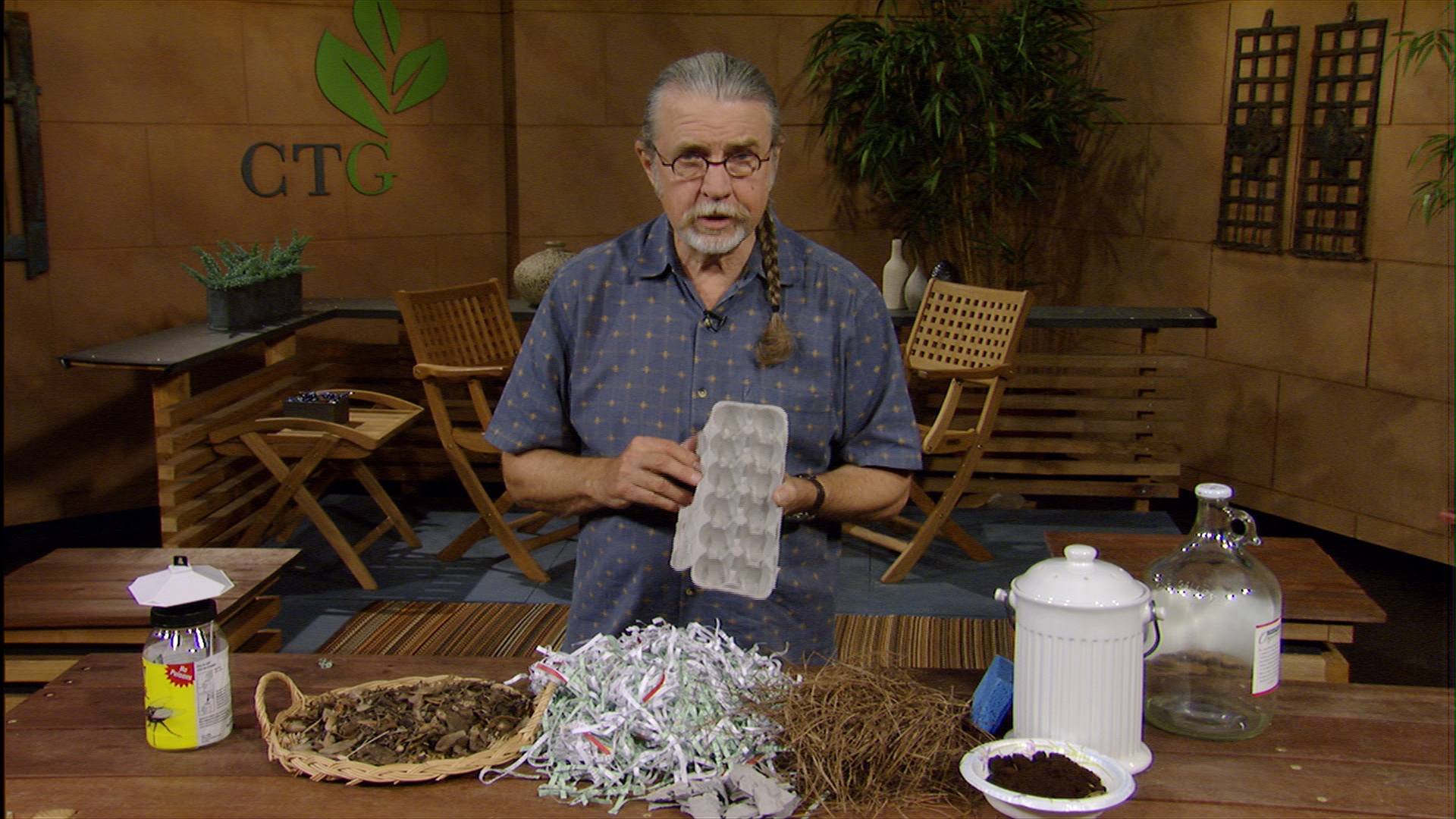 You can even tear up cardboard egg cartons, shred your non-glossy newspapers, and empty your vacuum cleaner or pet hair groomings over fresh kitchen waste.  And to speed things up even more, John shows how to quickly add a little water every time you rinse out a jar or can for recycling.
Children may not be tall, but they can tell us the tallest tales of imagination, especially when calling us on a banana!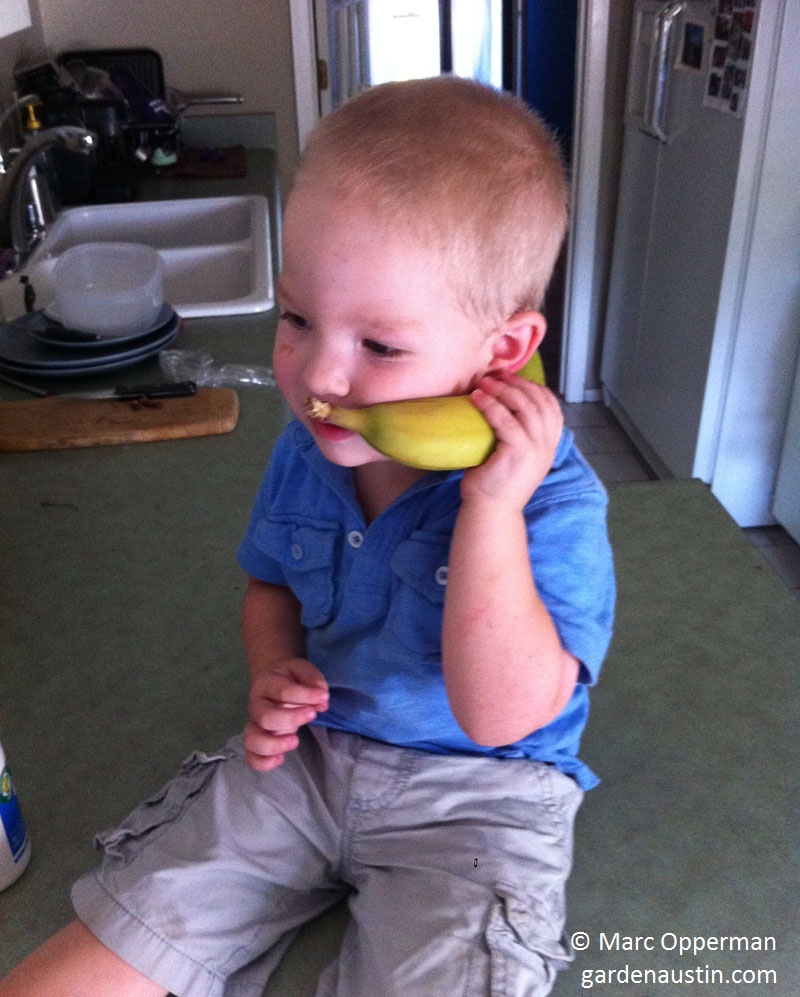 I absolutely love the story this picture tells, the son of gardener and blogger Marc Opperman. And I bet that banana gets great reception, too!
On stories that incite imagination, this week Tom meets with author Cherie Colburn to spin a few tales from her children's book, Bloomin' Tales: Legends of Seven Favorite Texas Wildflowers.  For readers outside of Texas, get Bloomin' Tales: Seven Favorite Wildflower Legends, essentially the same but with a map for North America.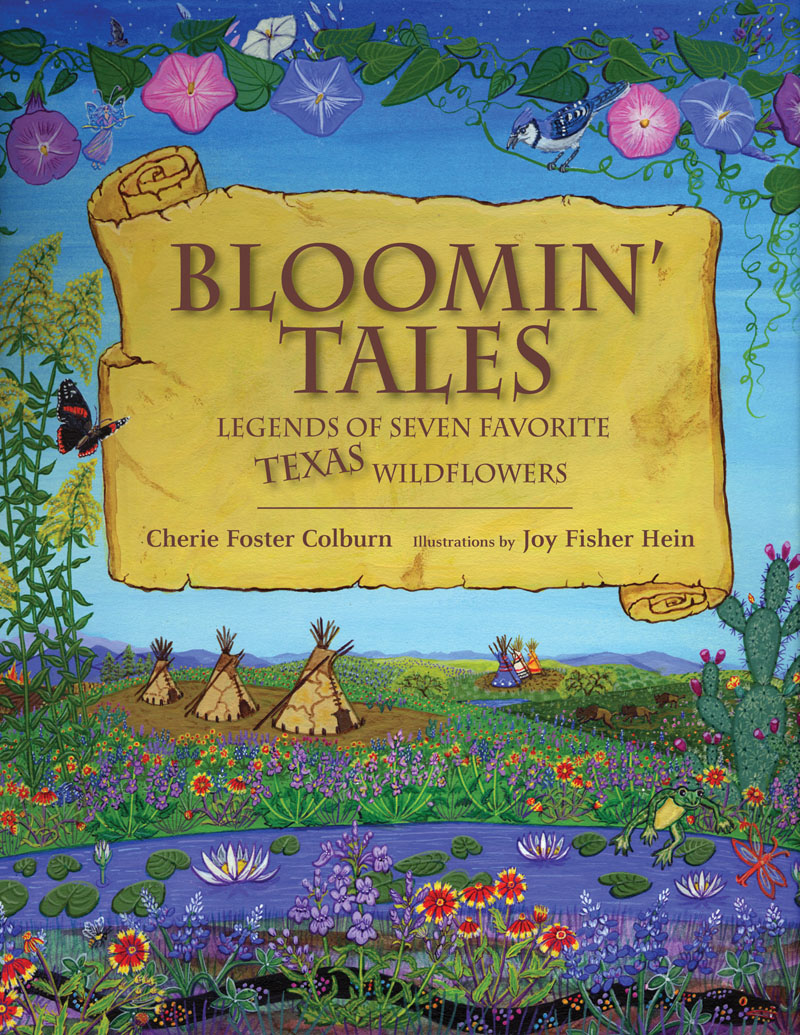 In fact, it was hard to edit because I wanted to curl up with my blankie to hear Cherie tell a few more stories.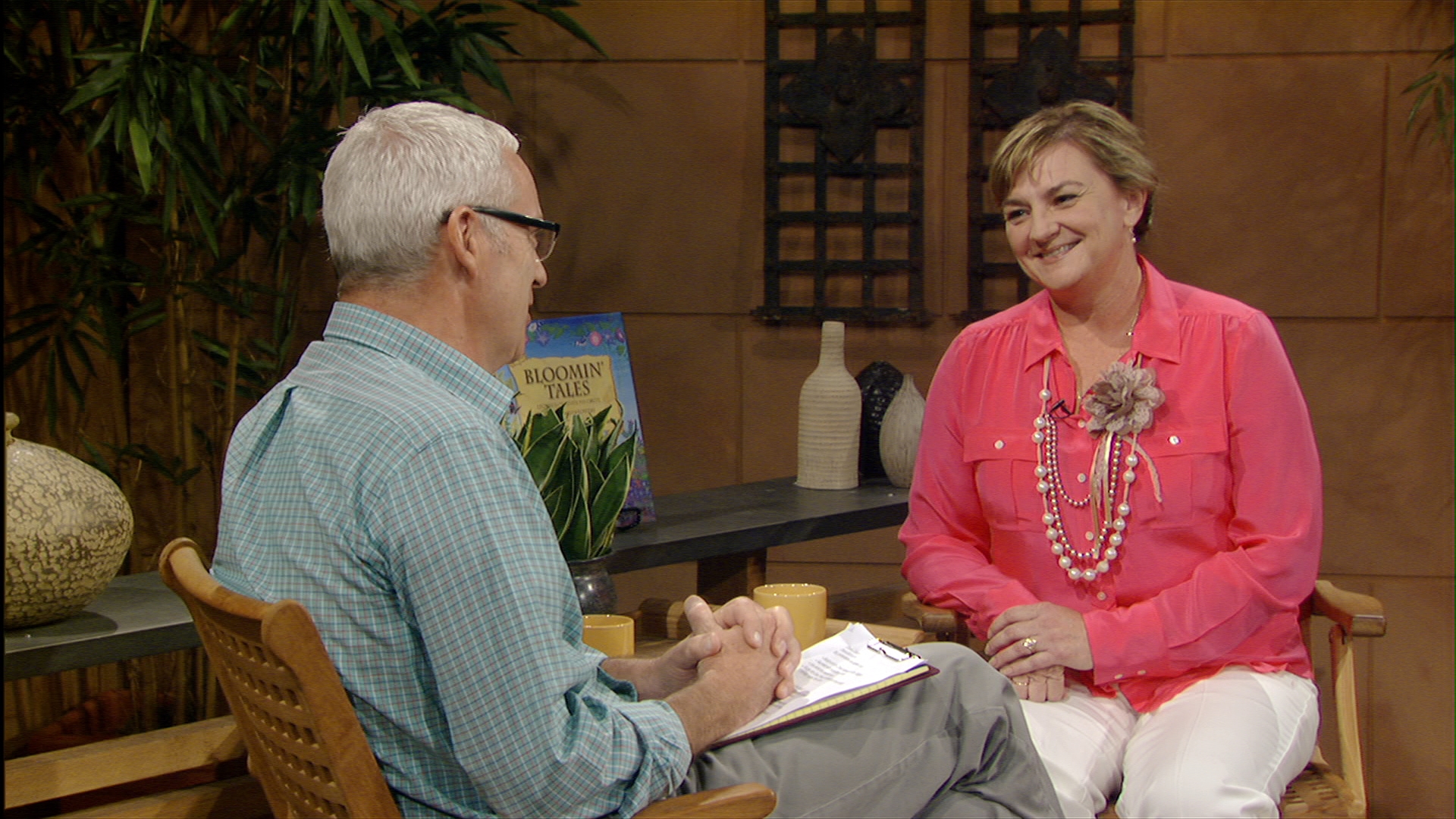 Gorgeously illustrated by Joy Fisher Hein, these tales from many ethnic perspectives powerfully connect children (and adults) to plants through stories that spark our imaginations.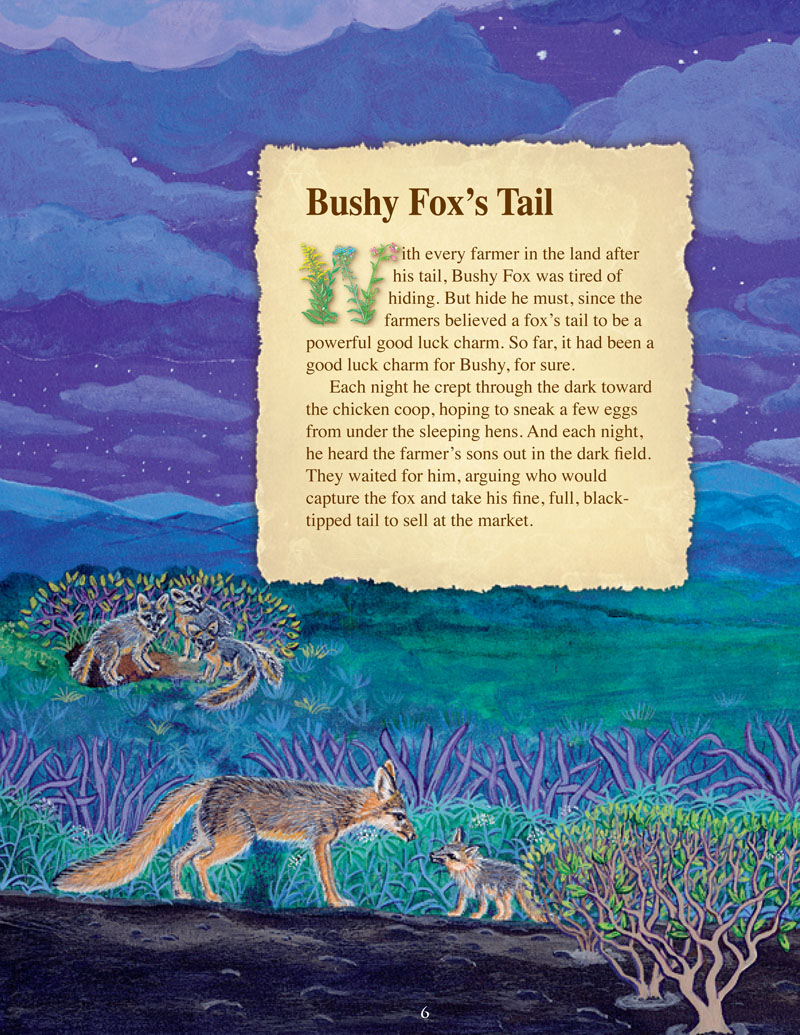 And check out the Fun Facts!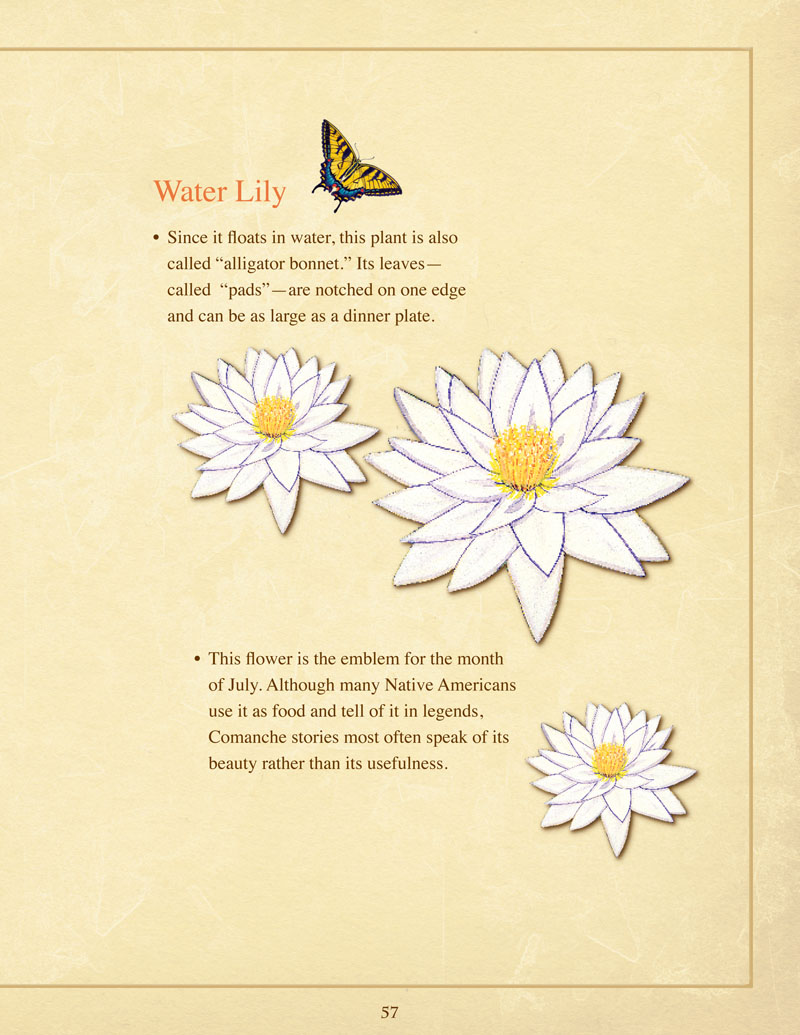 Cherie is also a garden designer and speaker (grab her for your group!). On her blog, GardenDishes, she dishes up great garden information and answers your question.
Young parents and grandparents will also love Cherie's poignant children's book, Our Shadow Garden, illustrated by children at the Children's Cancer Hospital at MD Anderson Cancer Center. All royalties benefit that program, too!
On tall tales, have you ever heard the one about the gardener who moved from Minnesota to Texas? Here's Kathleen Lorsbach's true story of her transition and how she learned a new plant vocabulary when she fell in love with Texas plants.
Daphne's Pick is another plant that doesn't wimp around! They're stopping traffic all over town: Pride of Barbardos|Red Bird of Paradise (Caesalpinia pulcherrima).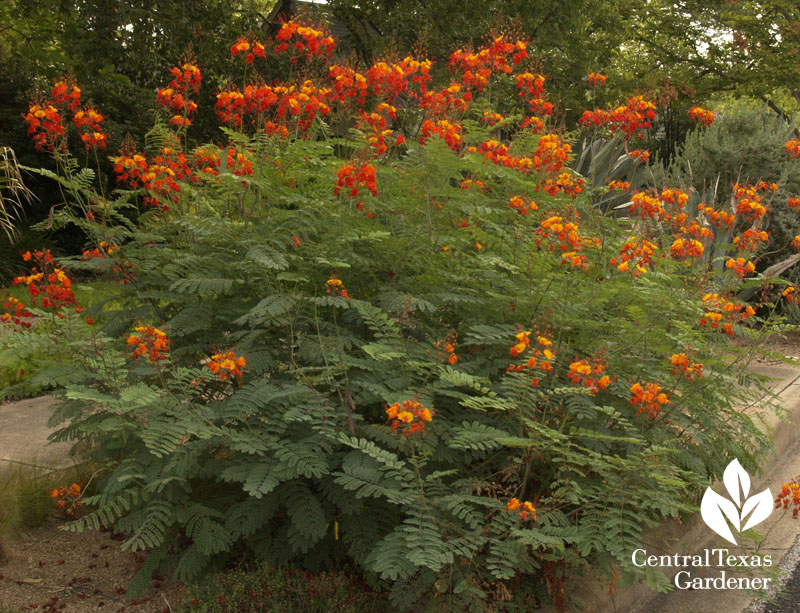 You'll also see the Yellow Bird of Paradise (Caesalpinia gilliesii) like this one in Connie Lawson's garden.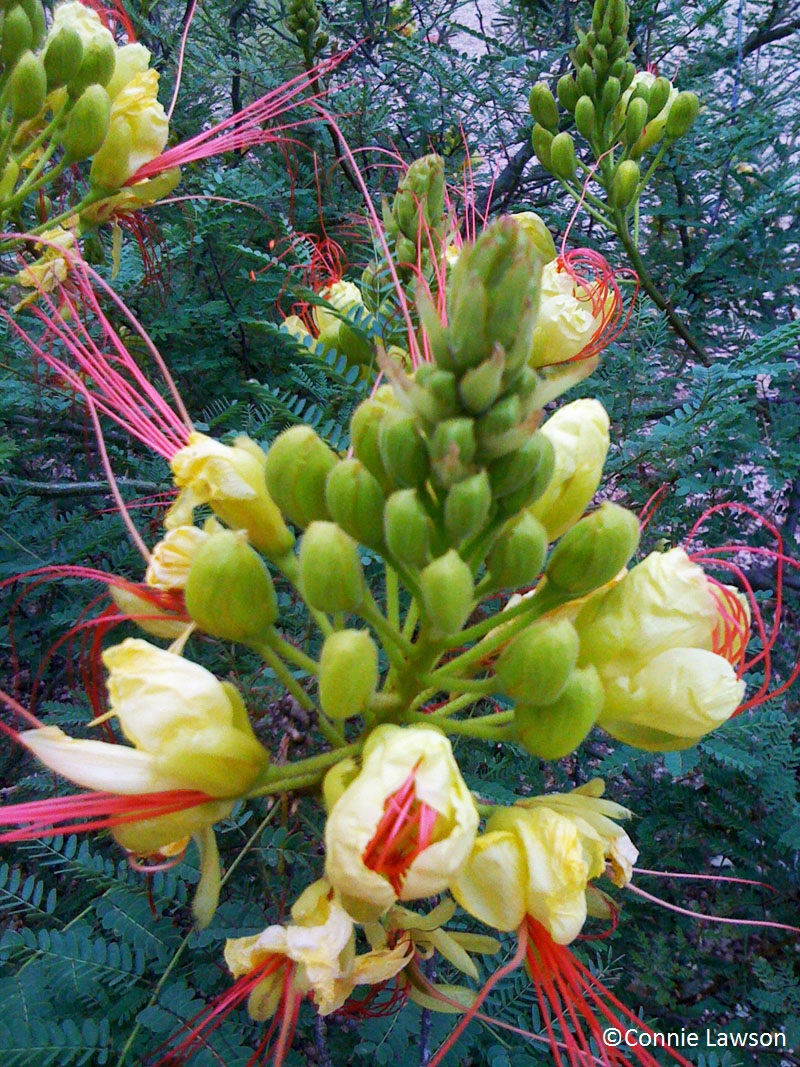 For her and Kathleen Lorsbach, they don't freeze back in winter. The pulcherrima usually will: just cut it back and it will leaf out again in spring.
Stay cool until next week!  Linda
Comments