August 26, 2015
Clever Ideas
Gardeners are such innovative engineers, each in their own way. I love even brief glimpses into their imagination, as I did recently in Toronto at the Garden Bloggers Fling.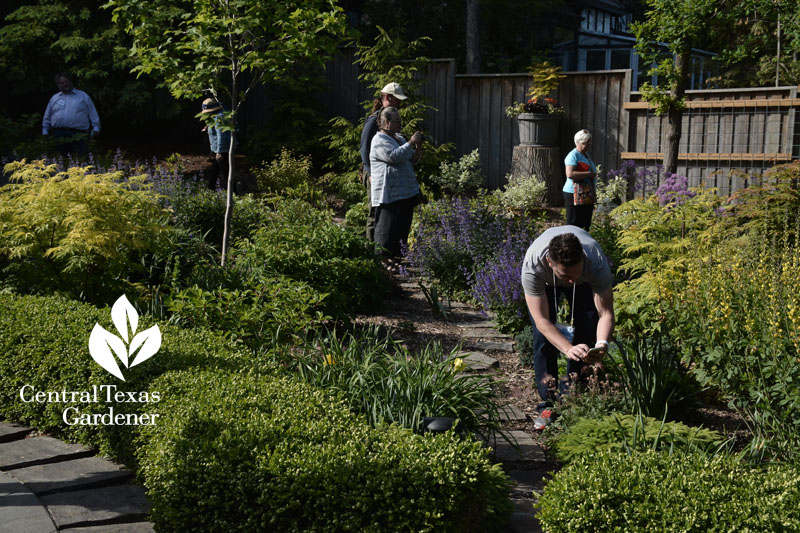 One garden on a narrow street—where neighbors are fingertip close—embraces serenity along with enclosure. From my greenhouse vantage point, I spied Su Reid St-John from Bonnie's Plants.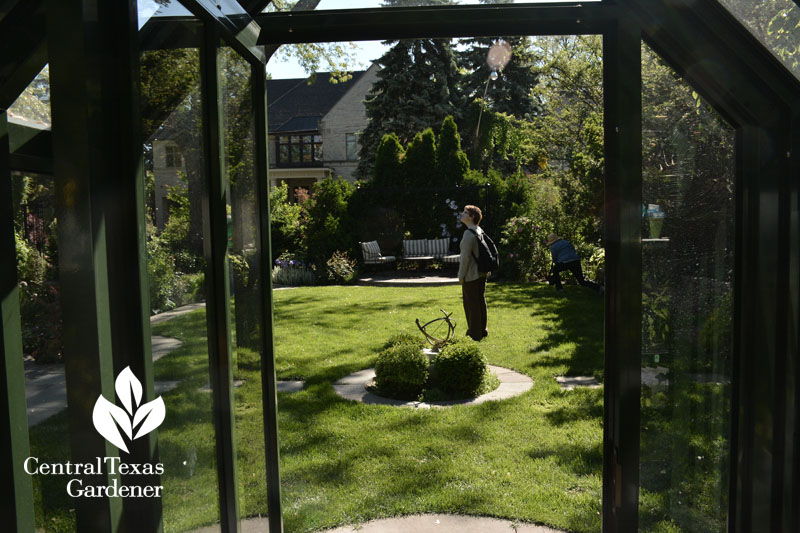 And isn't this just the cutest greenhouse? Note the built-in cold frames—so clever! I know I've seen a cold frame in person somewhere or other, but you don't really need them in Central Texas.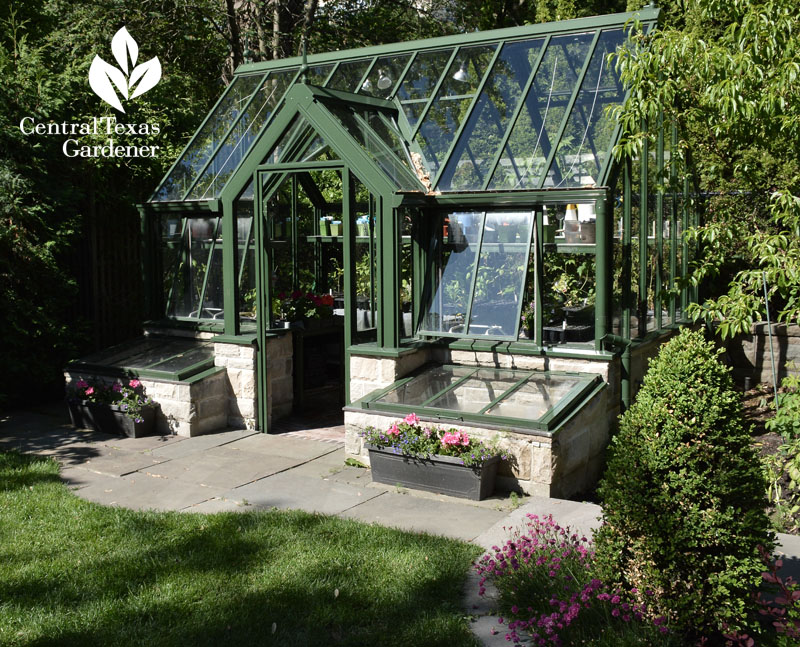 South Carolina's Julie Hill wrote a remarkable story about the repetitive design shapes in this garden to create unity in your own. I didn't catch it, so I truly admire her good designer eye.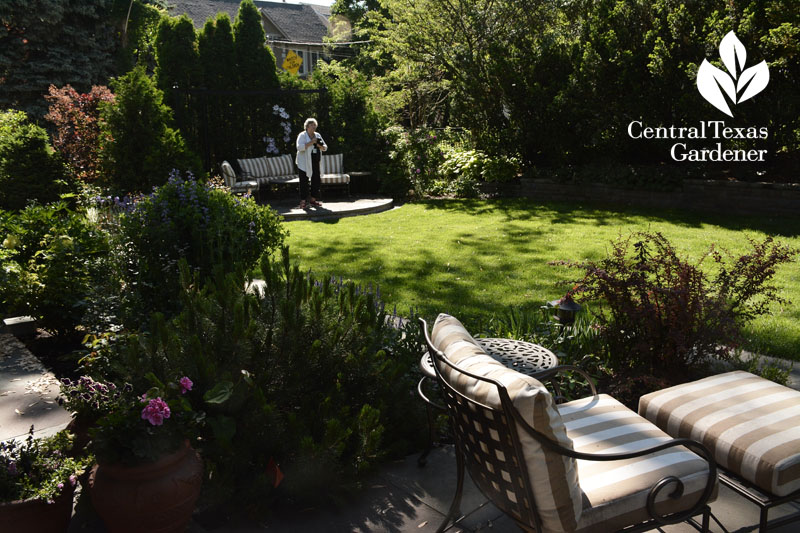 When Julie lived in Austin, we taped her a few times when she owned Wild-Connections butterfly farm. She continues to educate us all in her new digs!
At the Toronto Botanical Garden, here's an idea to separate spaces with a sneak peek into each other.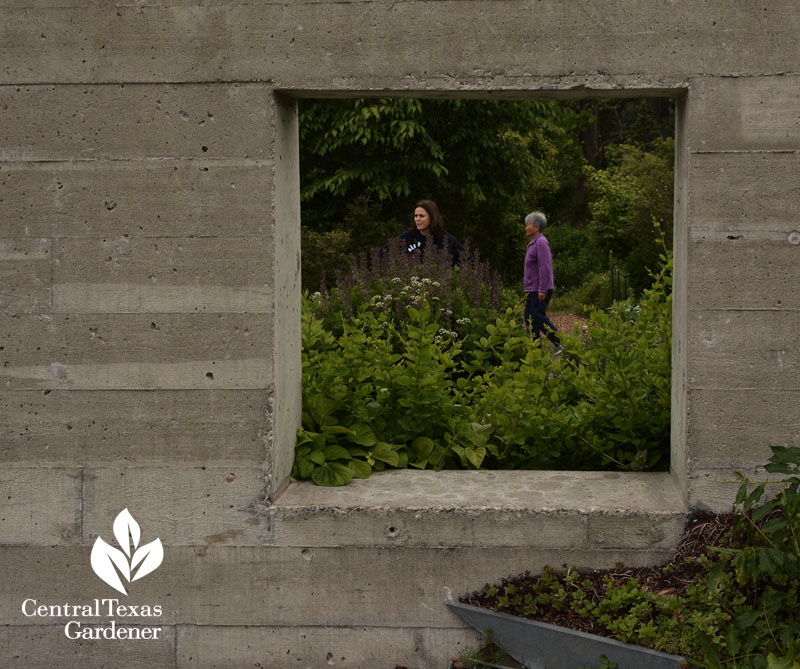 Their tripod bee hotel was booked solid!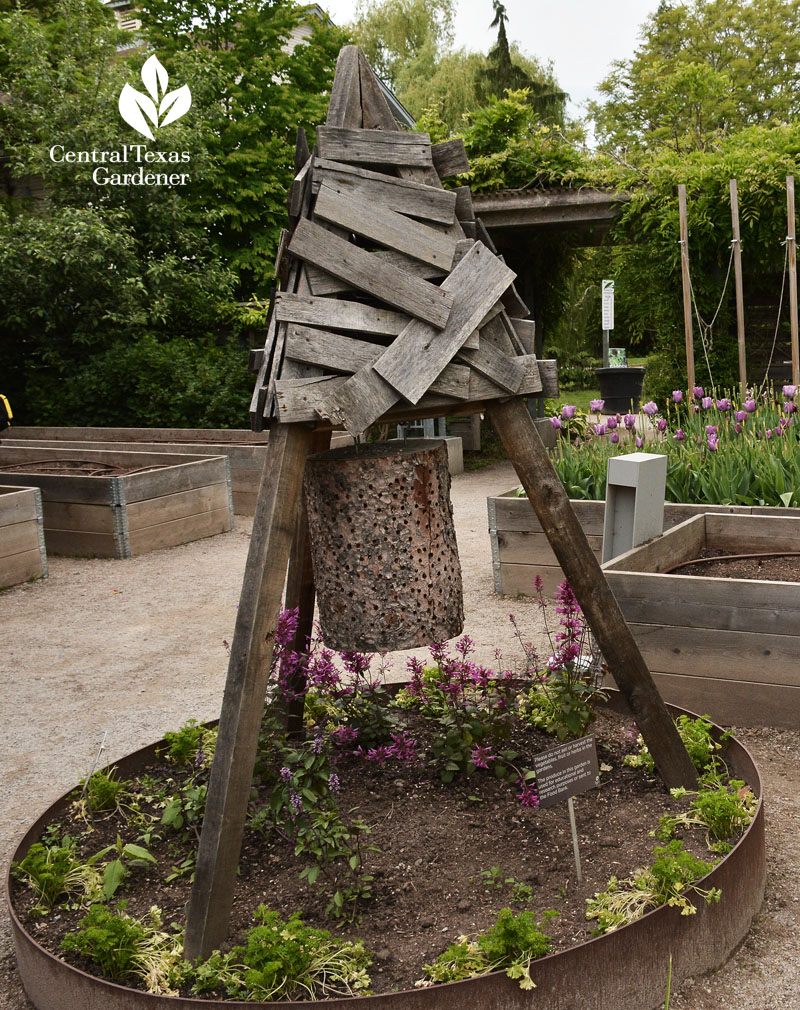 Now, a question I often get is how to deter cats and (other) wild critters from digging up a garden. Here, a woman who treasures a good scavenge used these scraps (pavers, maybe?) to protect her crops. And like CTG's Trisha Shirey, she buries plastic plant pots to slowly water and fertilize.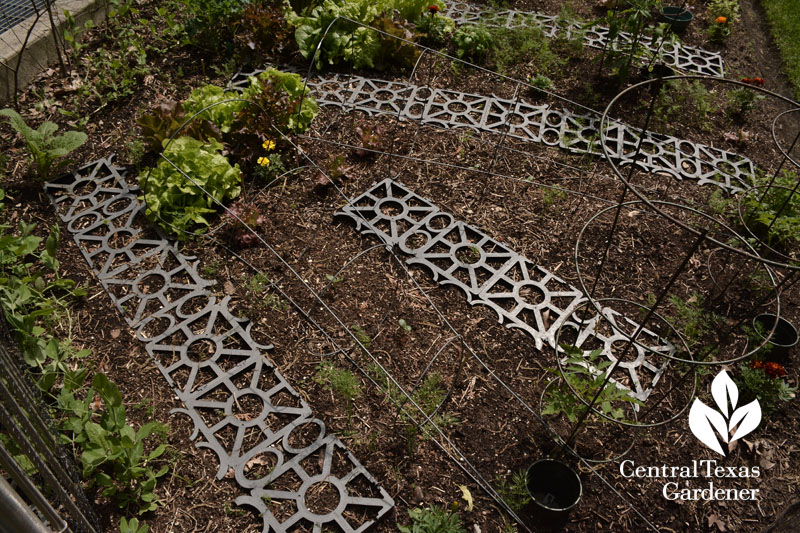 To trellis climbing crops, she anchors them to an old railing she found. On the far left, note the scraps of green deer netting to protect seeds from little claws.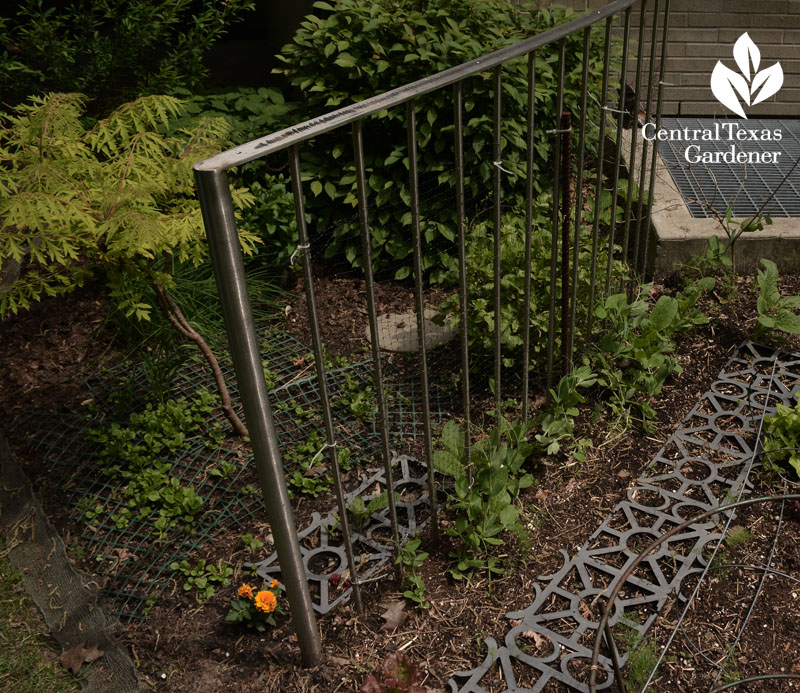 We all end up with a few dead trees now and then, sad to say. Rather than chipping up this one, she gave it a second life to set off the rich, textural tones of her wildlife habitat enclosure.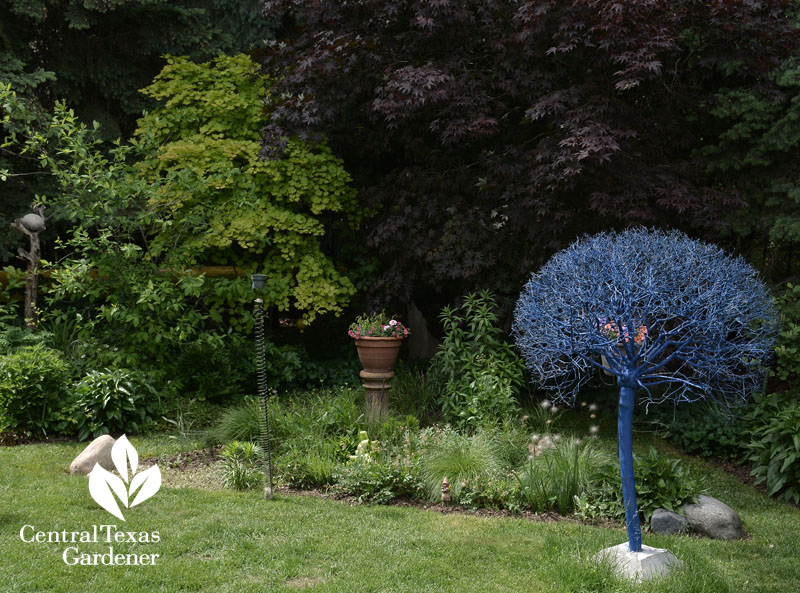 She took advantage of this crook to view a treasured stone.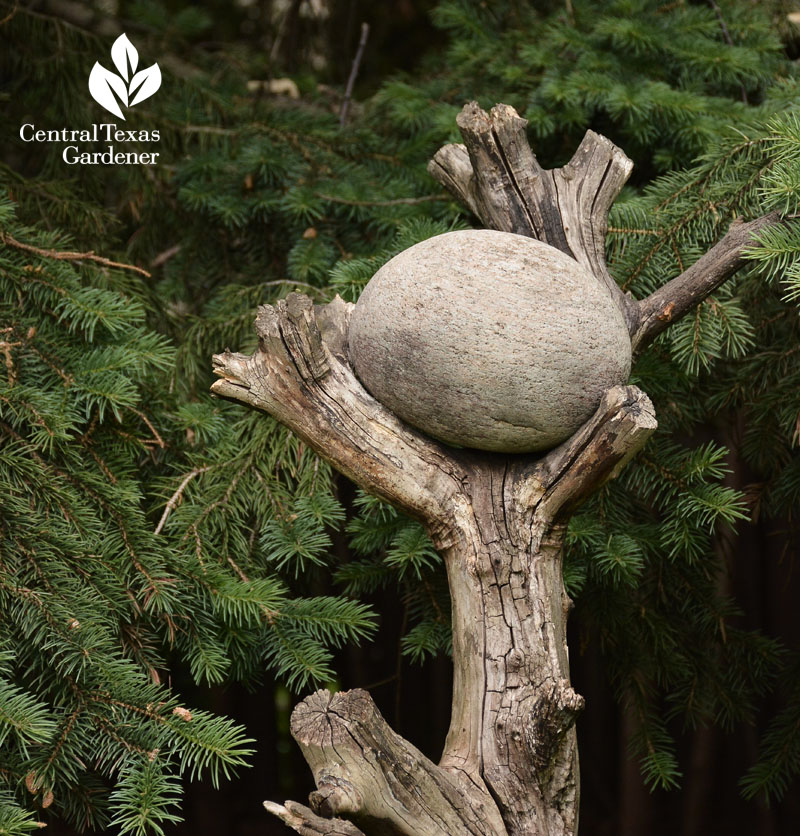 Even in a small rain barrel, she scavenges free water. What I like here is how she sparked up an oft-neglected side yard. I met her for only a few minutes, but I'd like to be her neighbor!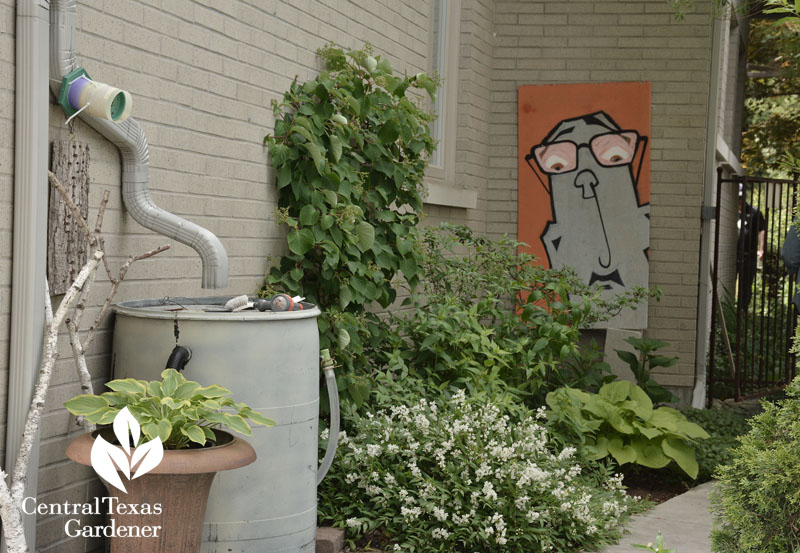 In front, her dry creek bed employs rainfall to sift gently into habitat perennials, rather than watering the street, a design that sure hits home in Texas rain bombs.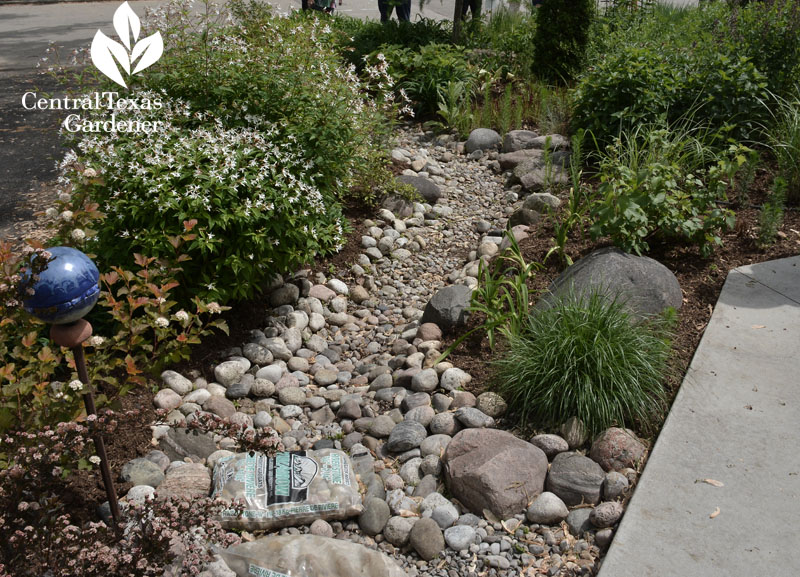 On a larger conservation scale, Evergreen Brick Works combines urban environmental education with historical perspective in this former brick-making factory.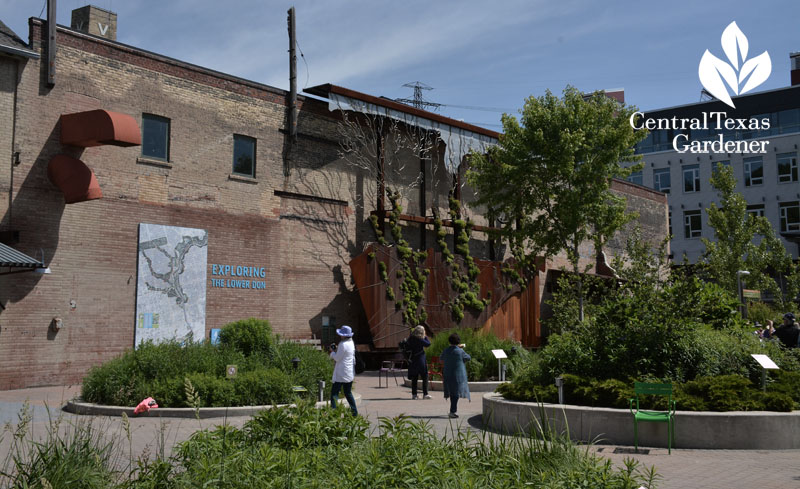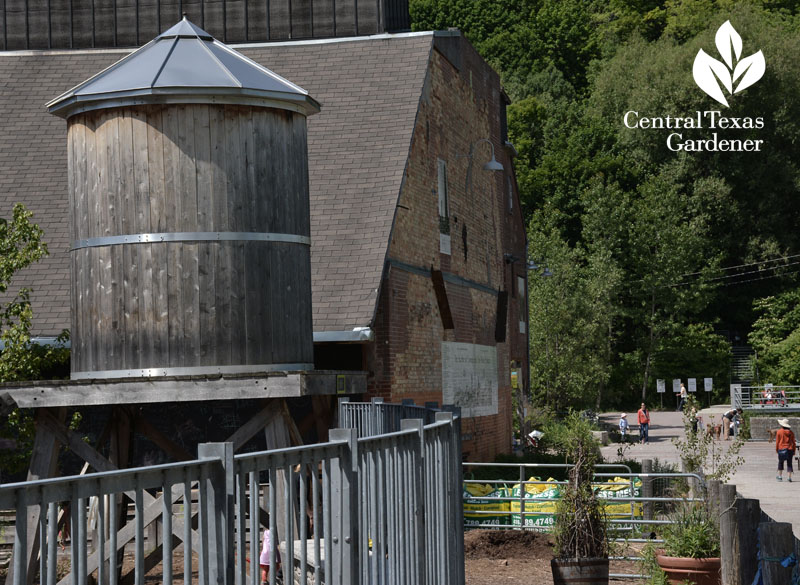 This family destination includes something for everyone—Farmers' Market, child activity areas, ponds, nature trails, and tours of the old brick factory. Demonstration gardens illustrate wise garden ideas to try at home, like rain gardens.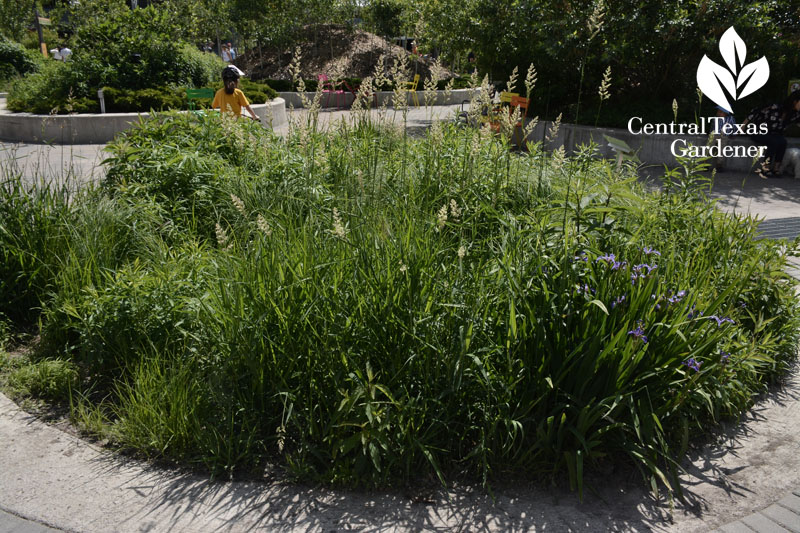 I don't know what kind of iris this is, but my Louisiana iris look similar and are perfect for rain/drought rain gardens.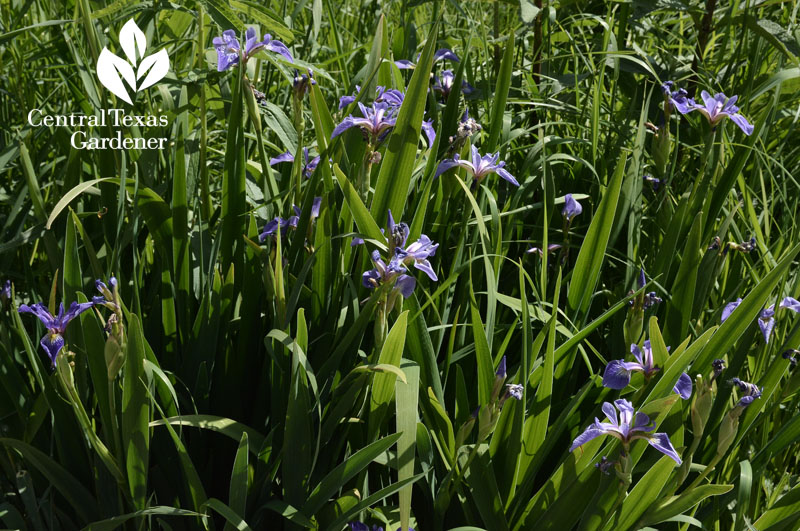 A round of native grasses promotes their deep-rooted water retention and soil aeration along with food for birds and other seed-eaters.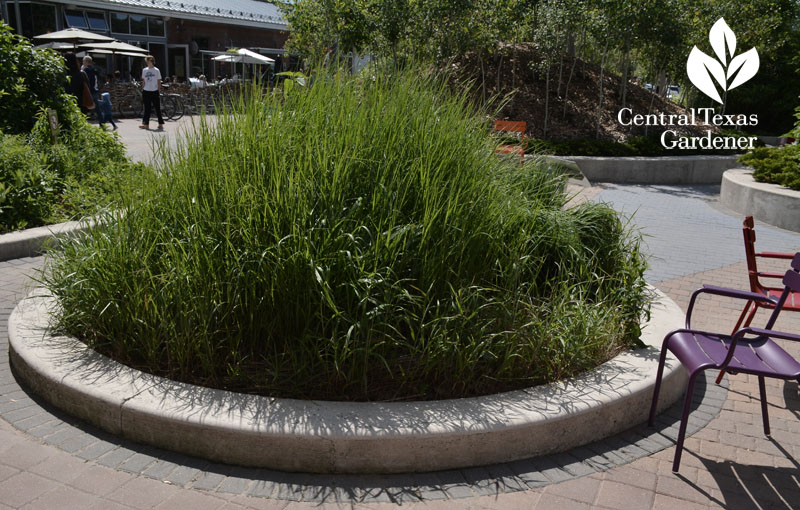 And absolutely, the best idea ever: we're never too old to draw on a sidewalk with chalk. I'm getting chalks this weekend!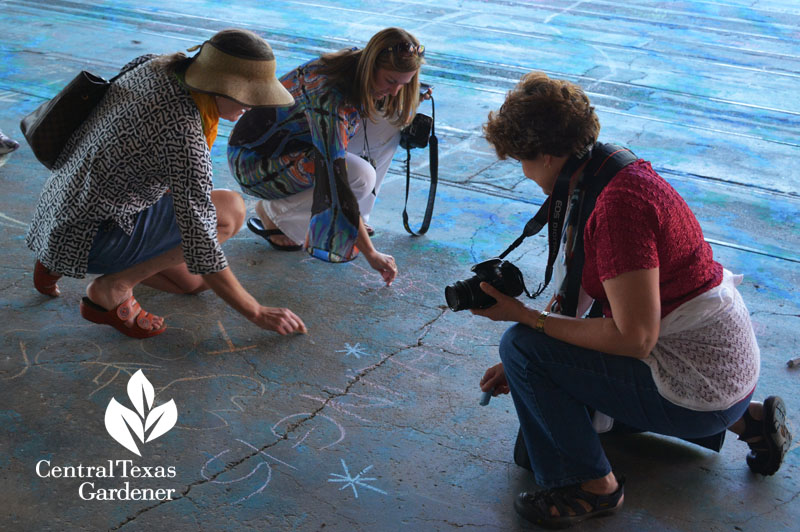 Thank you to Ontario organizers, Helen Battersby, Sarah Battersby, Lorraine Flanigan and Veronica Silva for widening my garden horizons and friendships!
Thanks for stopping by! Linda
Comments