February 8, 2018
Global Philosphy Unites Gardeners & Urban Farmers
In 1992, Carol Ann Sayle and Larry Butler parked themselves in East Austin when it wasn't yet the cool thing to do.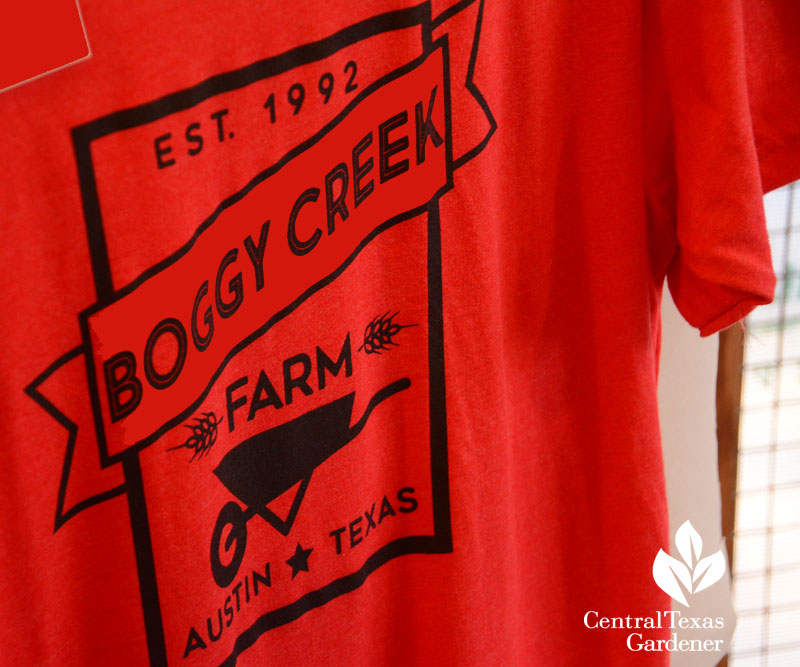 When they started iconic Boggy Creek Farm, 'locavore' hadn't made it into everyday talk, and although farms were once commonplace in the area, urban farms had become a novelty.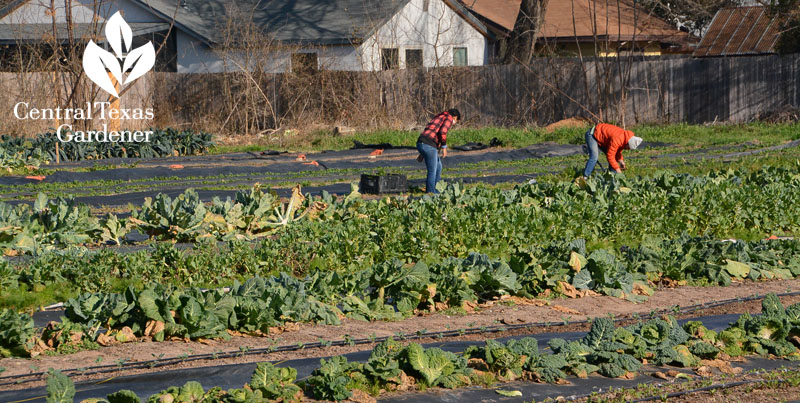 Even then, people were hungry for fresh, locally grown food that they didn't have the time or space to grow themselves.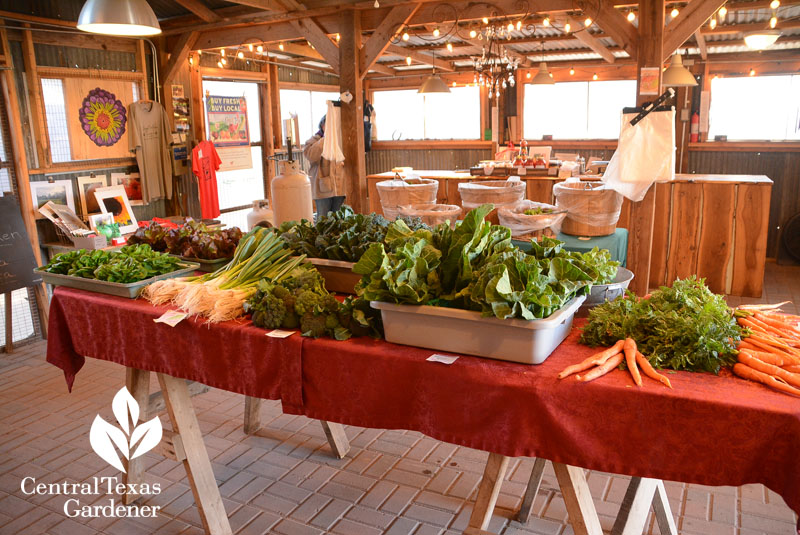 Wandering around a farm, greeted by gregarious chickens and cats, they discovered a much needed respite from busy computer-dominated calendars.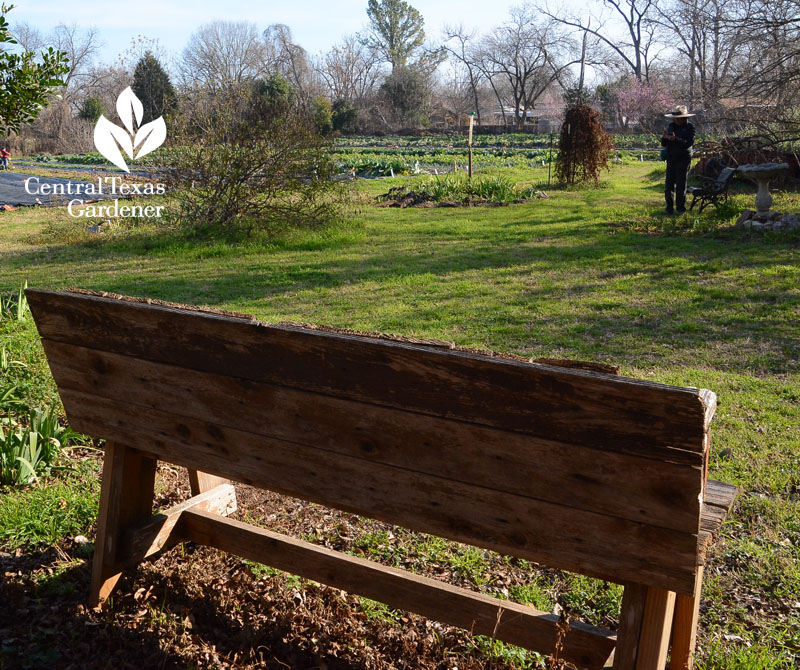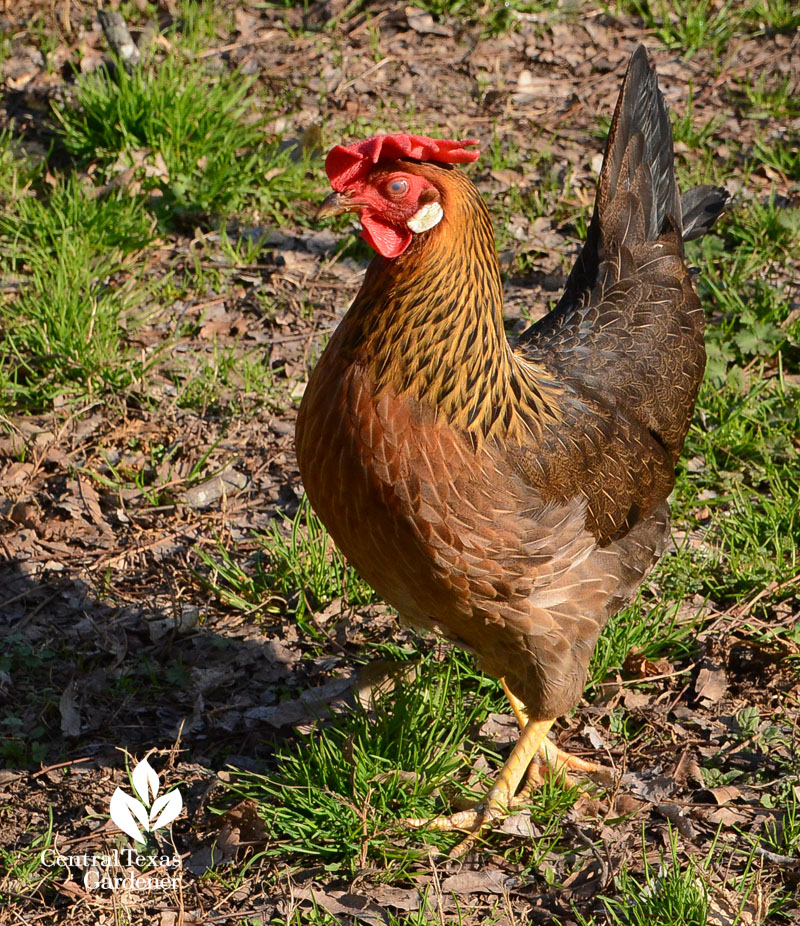 As I've watched them grow, Carol Ann and Larry helped me grow, too. In fact, along with their scrumptious seasonal harvests, Larry's smoke-dried tomatoes, and locally sourced meats, cheeses, and eggs, customers line up for gossip and DIY gardening tips at the Wednesday – Saturday farm stand (2 days only in August).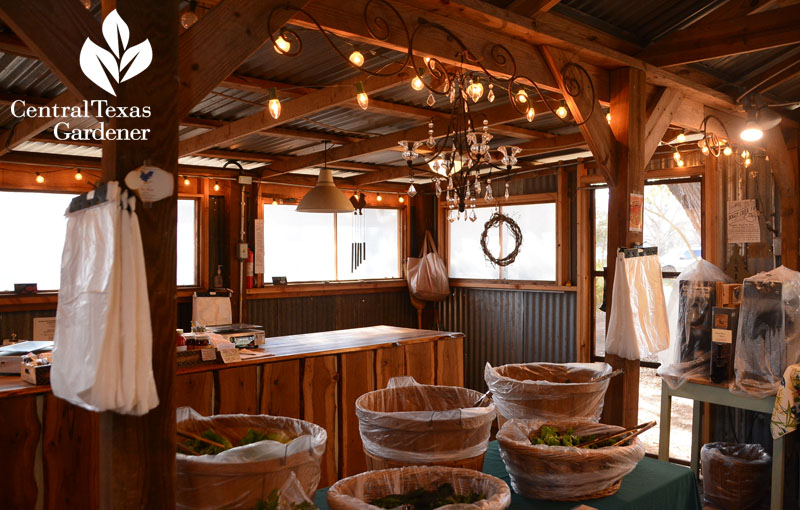 Between growing, harvesting, social media and selling—long days in themselves—they've fostered plenty of new urban farmers. Always, they're ready to embrace anyone needing a seed of encouragement, including Paula and Glenn Foore of Springdale Farm.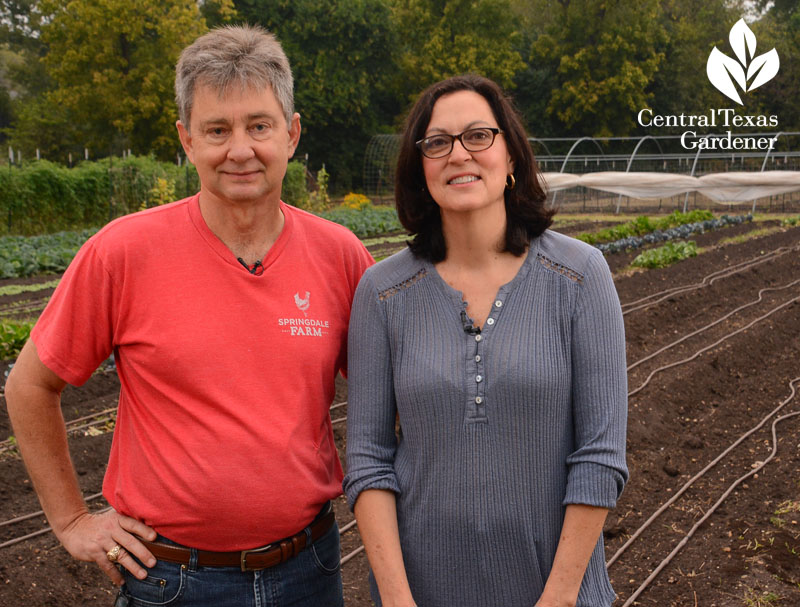 Coincidentally, it was in 1992 that the Foores bought their land just a few blocks away. At the time, they were in the tree and landscape business, though, making the switch to food crops in 2009.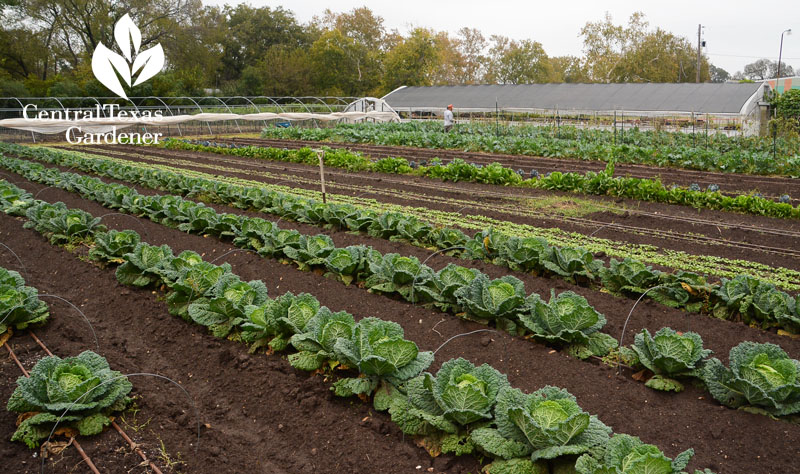 Their romantic farmhouse-style home overlooks rich fields bursting with harvests ready to cut and others just starting out their journey to someone's table.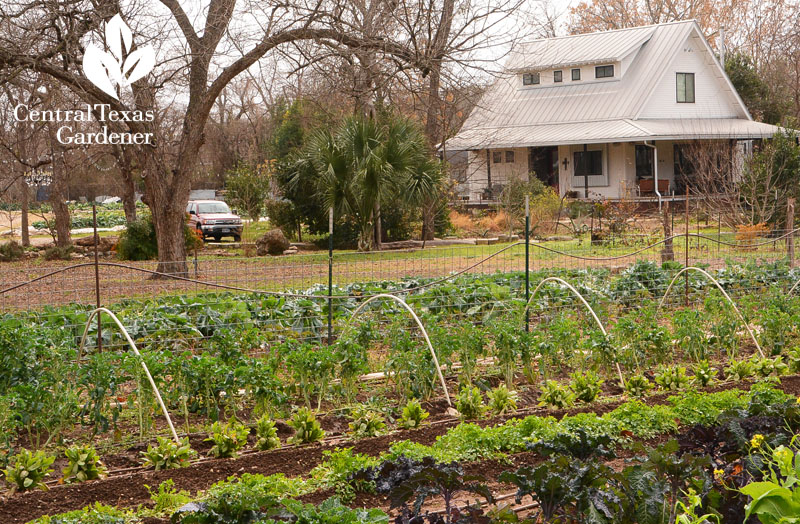 Clued-in chefs revel in seasonal variety as do eager home cooks who make a beeline to the Wednesday and Saturday farm stand.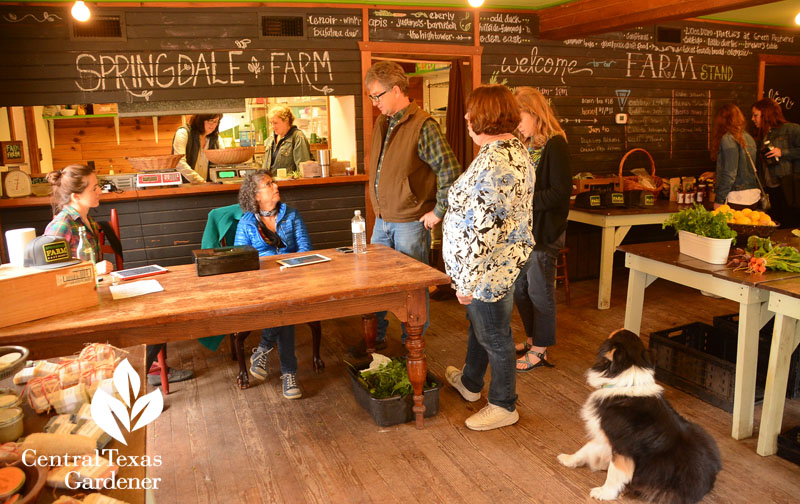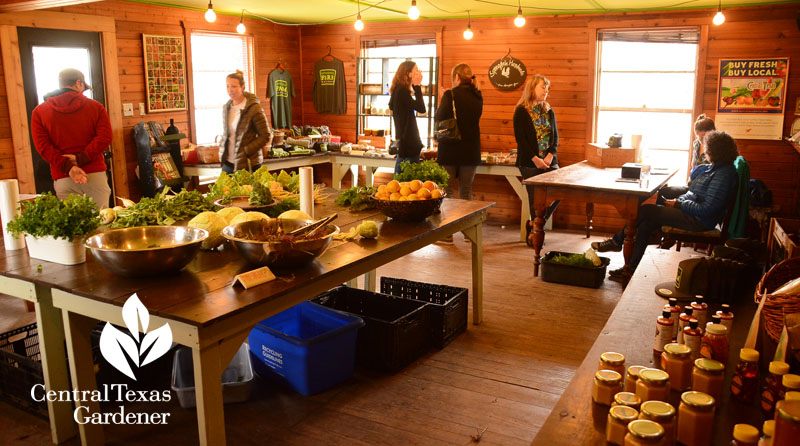 The tree-graced grounds are a popular event site for their comforting ambience of flowers, silly chickens and geese, and the renewing scent of healthy soil bursting with life.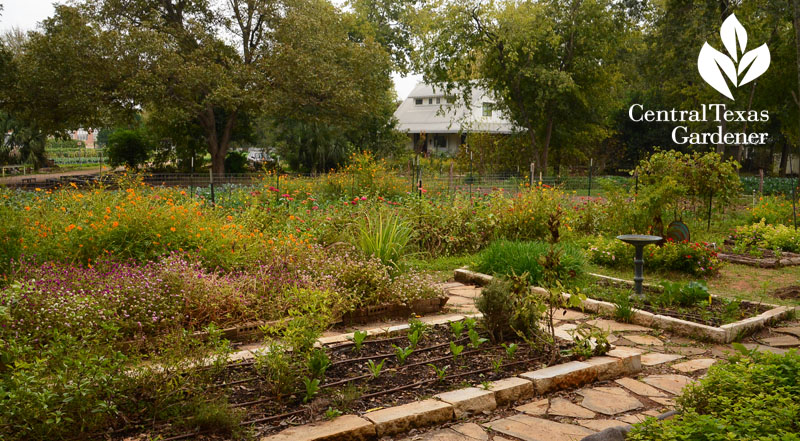 Last spring, KLRU NEXT, a fun group of young professionals and emerging leaders, gathered at Springdale Farm to make terrariums with Keri Anderson of Plant Party (then Slavonk & Hortus).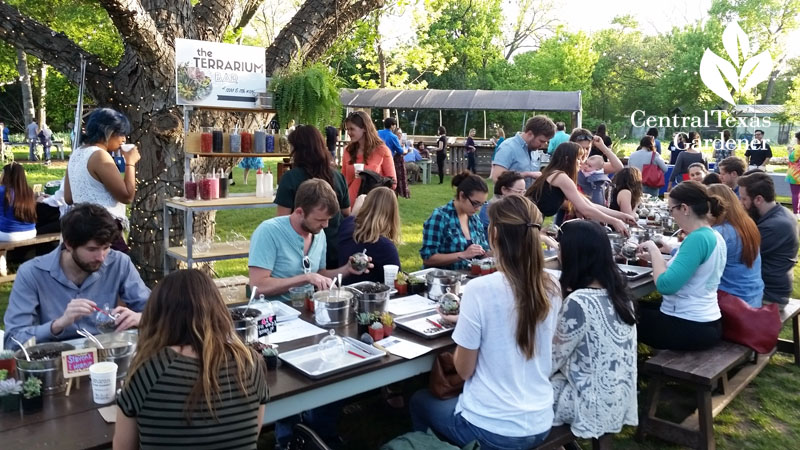 Eden East Restaurant at Springdale Farm treated us to delicious farm-to-table hefty appetizers.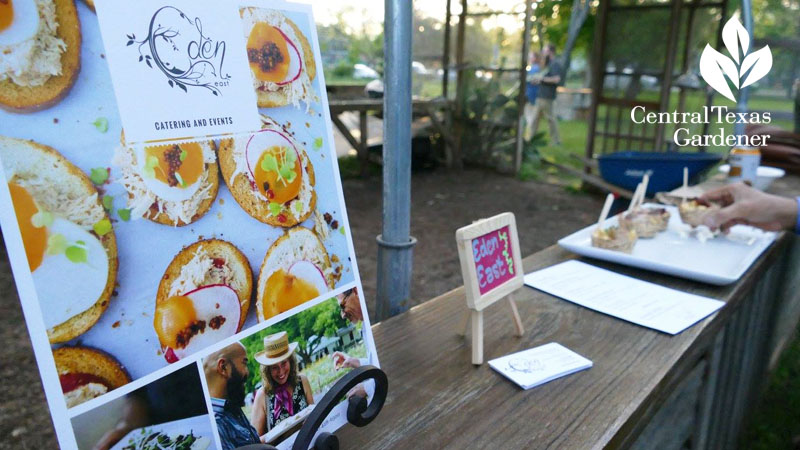 So, when Brie Arthur, Raleigh-based horticulturist, speaker and author of the The Foodscape Revolution, headed back to Austin, I couldn't resist connecting her with the Foores.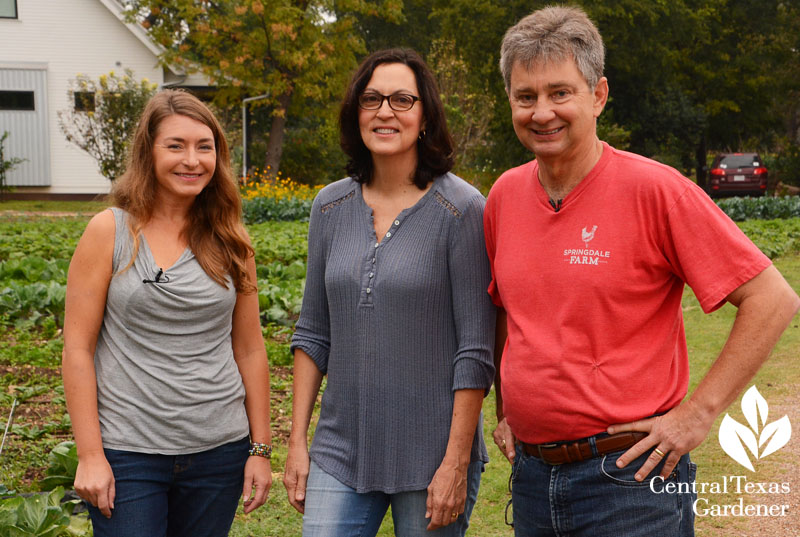 On another visit, we'd taped Brie in the studio about why she adapted experience as an ornamental horticulturist to food growing (as did the Foores) and how gardeners can combine both in home gardens.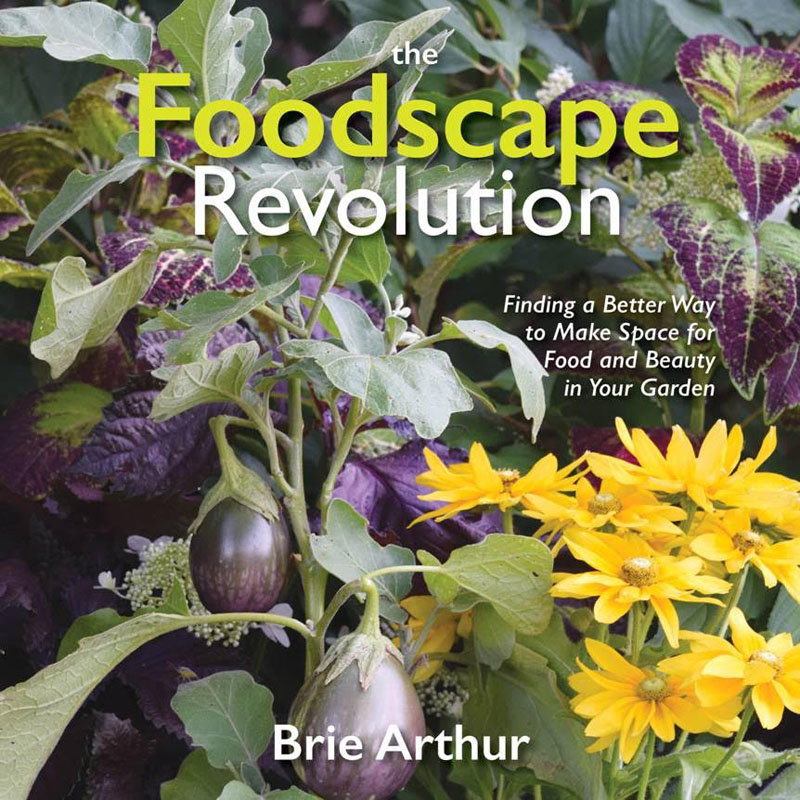 This time, I wanted to find out what a North Carolina home gardener and Central Texas urban farmers had in common and how they differed.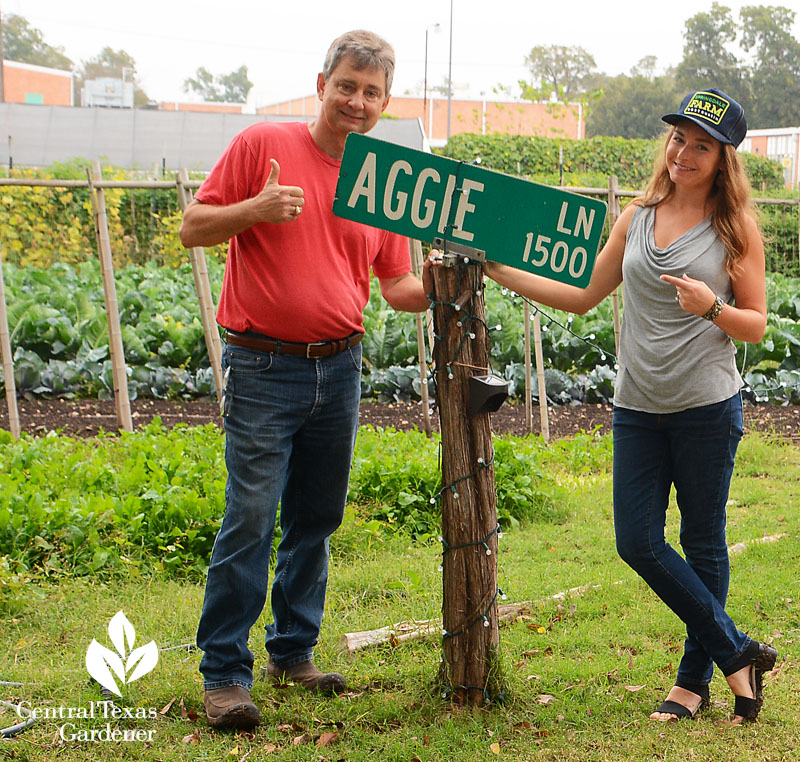 So, we met up at Springdale Farm for a lively swap of techniques and philosophy.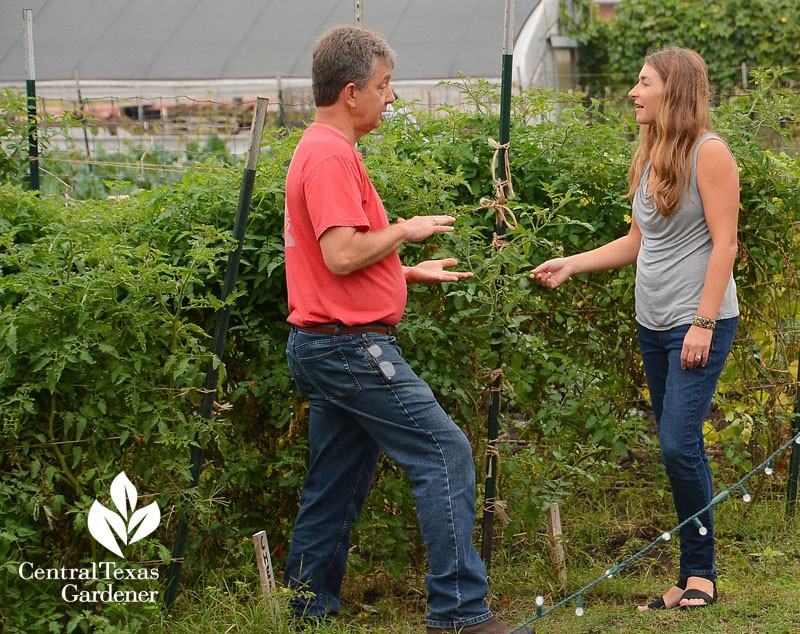 All three are passionate about the importance of getting back to the roots of our food. And Brie and Glenn agreed that there's one tool every gardener needs: a soil thermometer.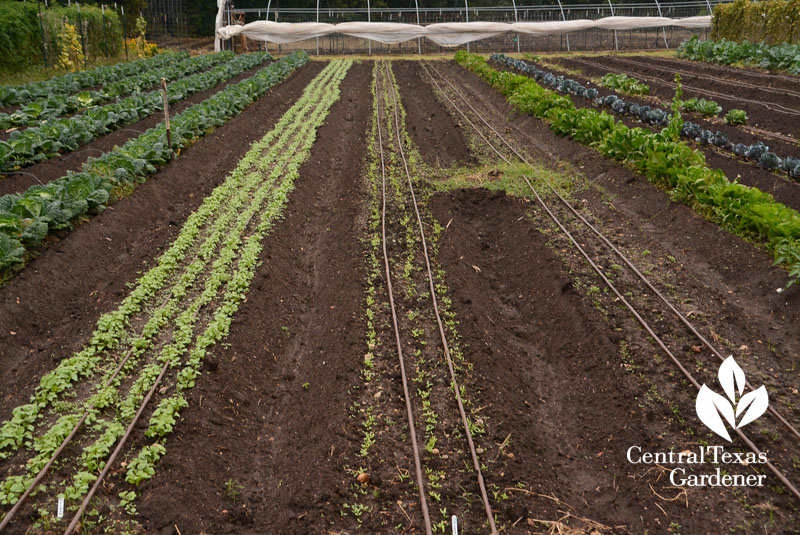 Vertical gardening, they campaign, maximizes production wherever you're growing.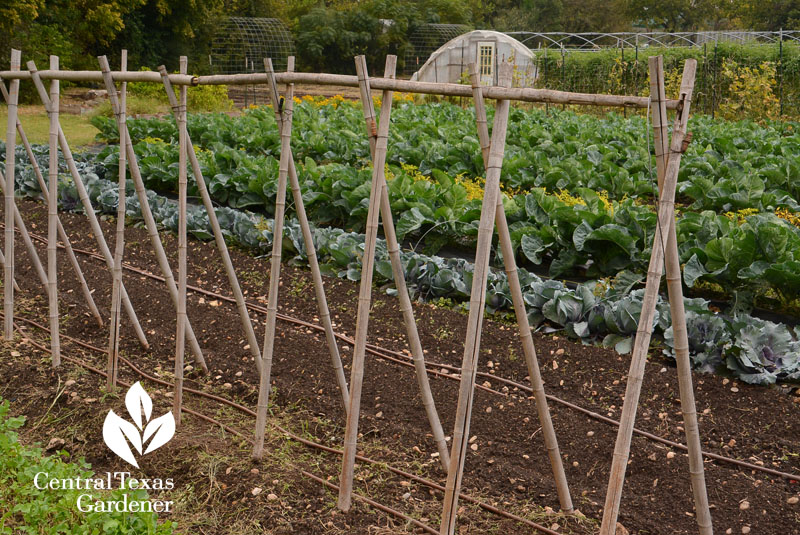 Brie brings in HOA directives and how to sneak edibles into the shrubs and flowers to please both neighbors and essential pollinators.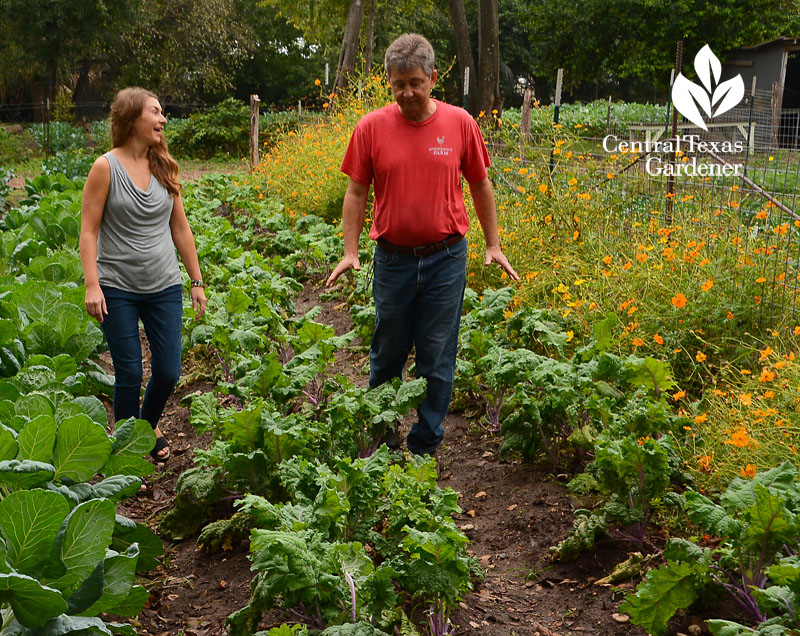 In the end, what was their biggest difference? Soil pH, the measure of acid and alkaline soil. Brie's a 5: acid soil. Springdale's a 7: alkaline. This explains why Brie can grow blueberries and the Foores cannot!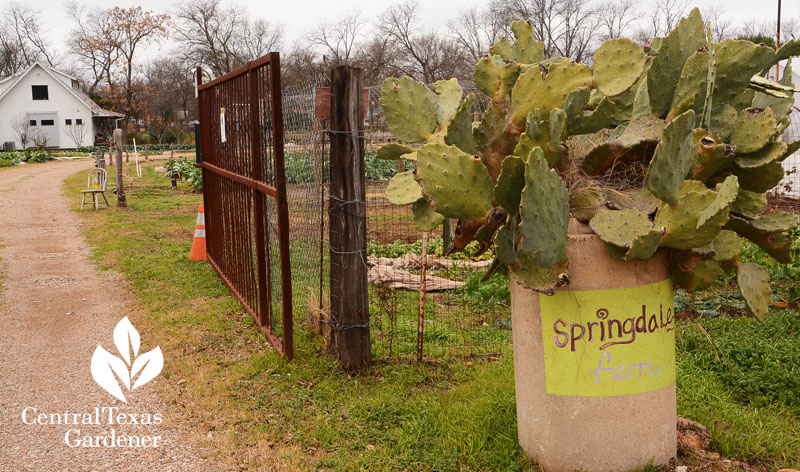 Watch now!
As we approached broadcast date, the Foores decided to close Springdale Farm sometime in June. Check their website for updates.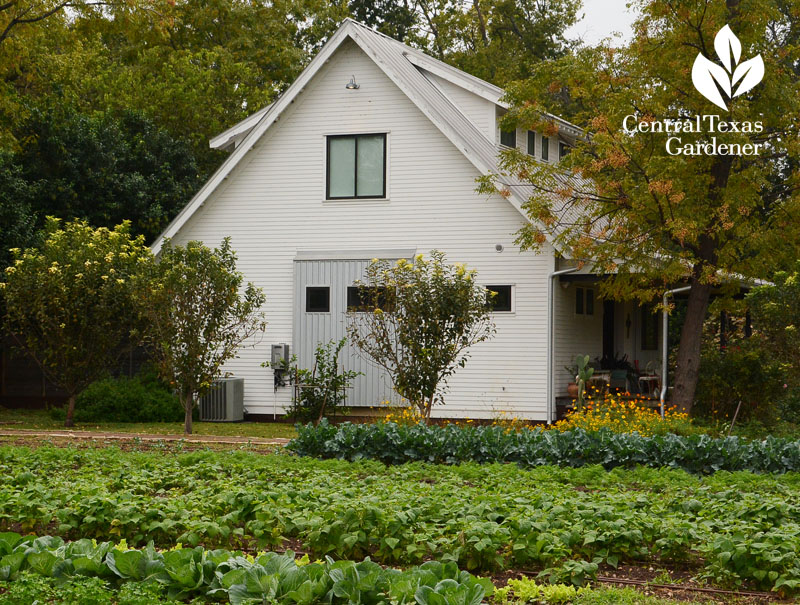 Paula and Carla Crownover will continue making and marketing their refreshing Springdale Handmade soaps, salves, sugar scrubs and more. Their venture started with clippings from the gardens and two creative minds!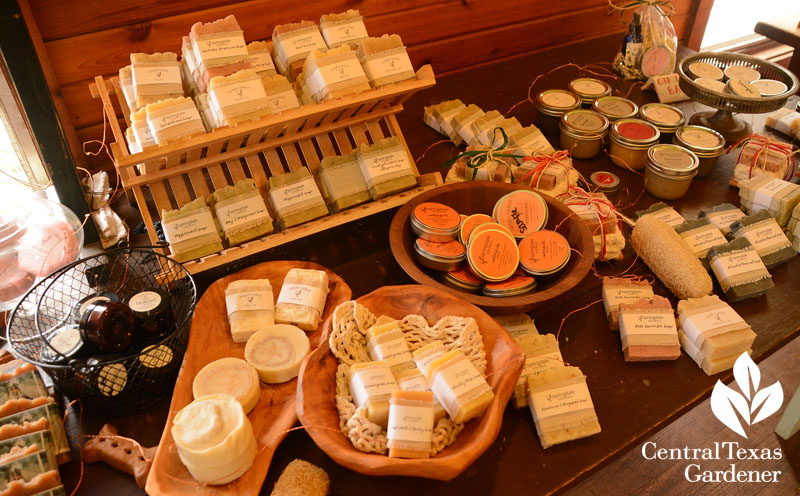 I picked up a "few" soaps and the calendula salve a few Saturdays ago and I can say that they're great! Here's a current guide of availability at retail markets (and at Springdale Farm for now).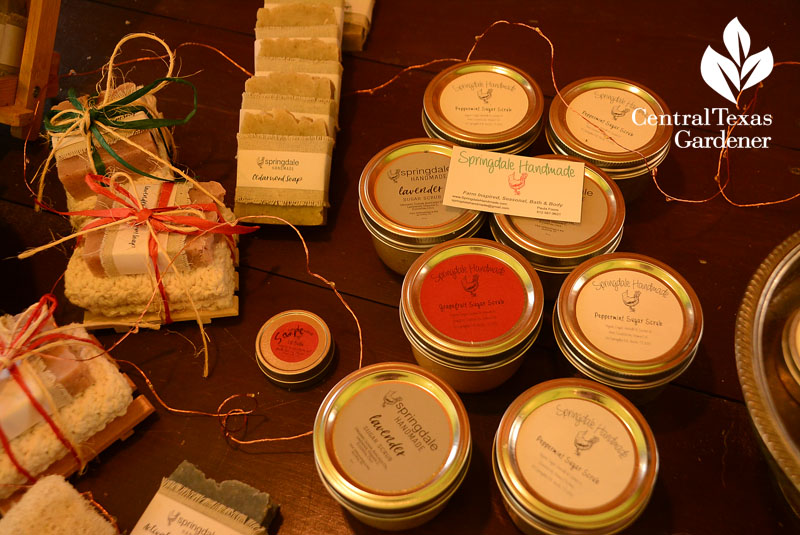 Head out to the East Austin Urban Farm Tour on April 15 to meet your East Austin farmers at Springdale, Boggy Creek, HausBar Urban Farm & Guest Haus, and Rain Lily Farm.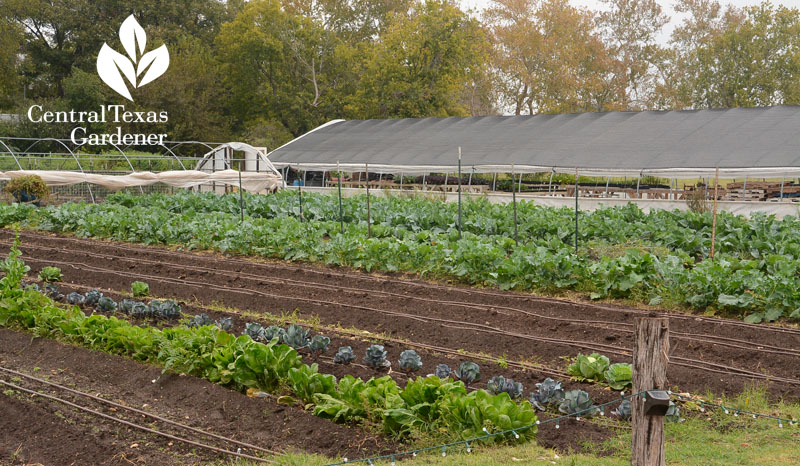 We thank them all for their urban farm campaign to keep Austin delicious.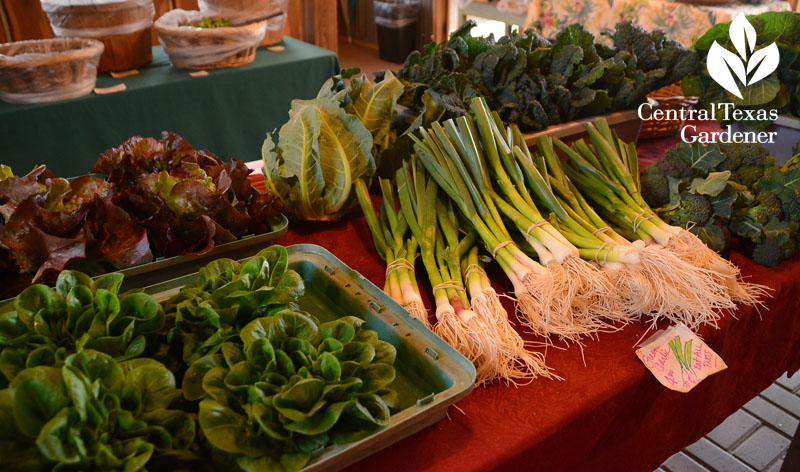 And I look forward to Paula and Glenn's stories and upcoming adventures!
One thing that Texas gardeners agree on is that squash vine borers are a menace, wiping out beloved crops in no time. Last year, Trisha experimented with a squash vine moth trap to such success that she had to tell you all about it!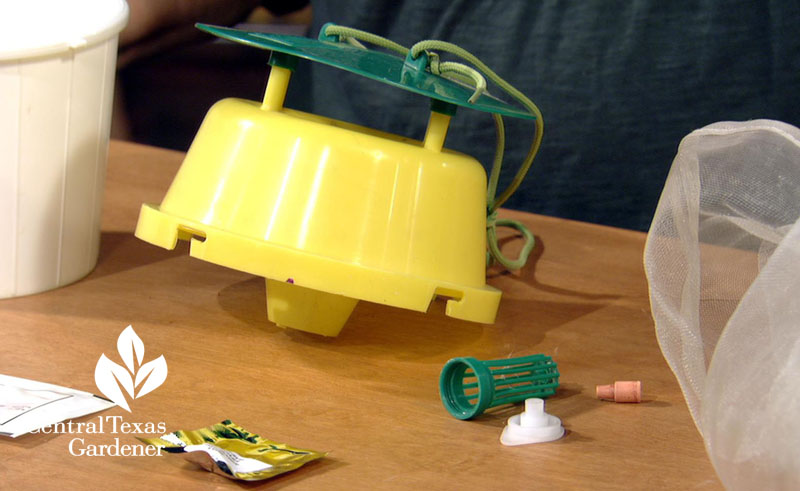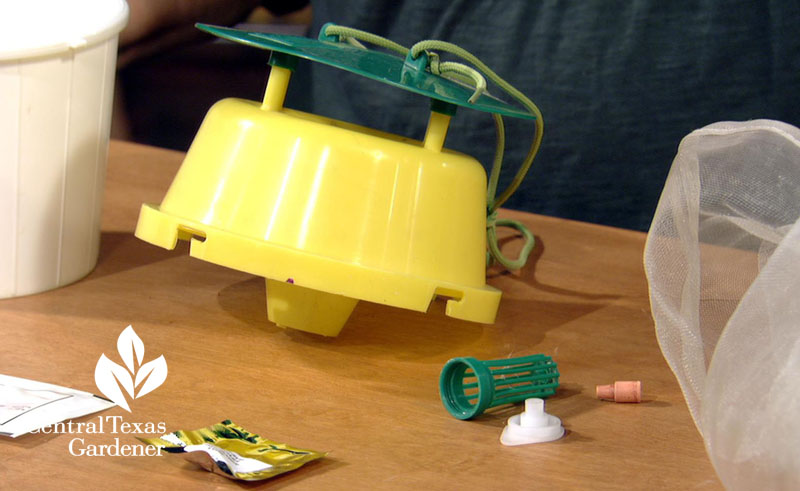 On tour: In a 40 x 60 backyard, Ratna and Venkappa Gani unite global tastes and sensations in a food and flower forest.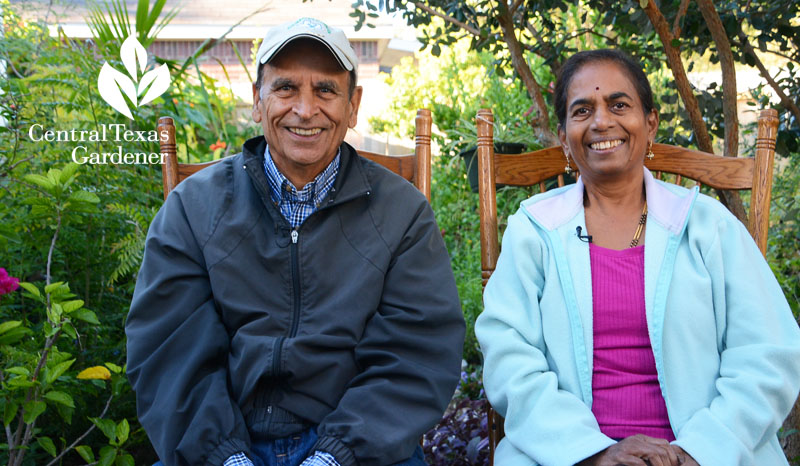 Influenced by their childhoods in Southwestern India, they opted for a sustainable backyard food forest instead of lawn when they bought a house in a new Austin subdivision.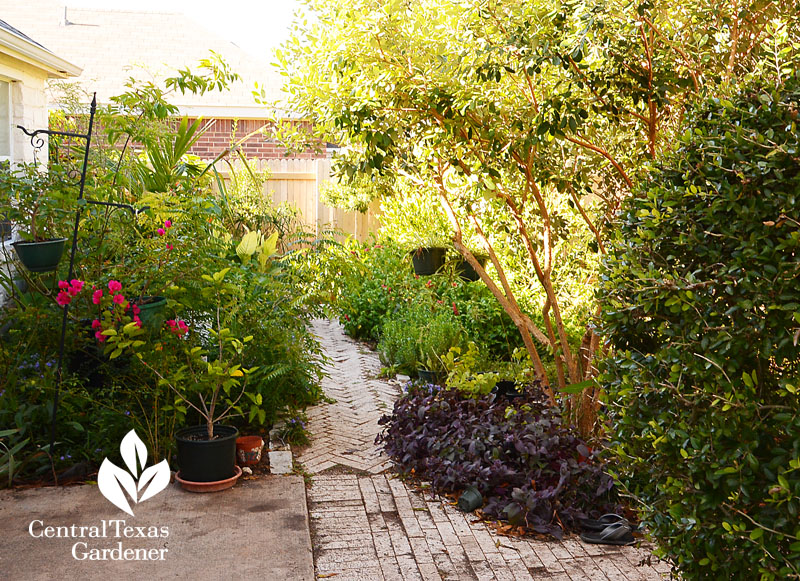 Venkappa wove together leftover construction limestones and bricks into pathways of harvest and beauty.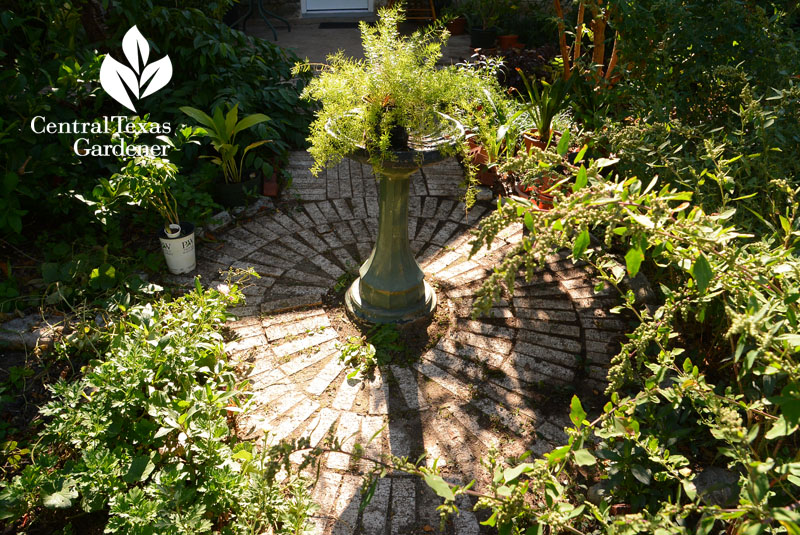 Respecting the value of water, he engineered two 1500 gravity fed rainwater collection tanks.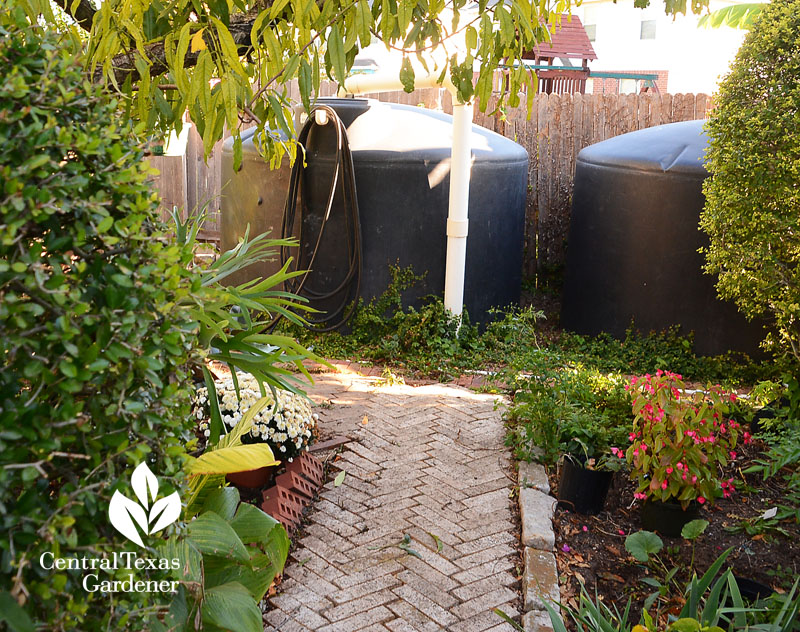 After a career at IBM, Venkappa turned boundless ingenuity into botanicals. To learn more about growing in Texas, he became a Travis County Master Gardener, an active member of The Garden Club of Austin and the Austin Organic Gardeners. To disguise a fence, he planted yellow-flowered Senna corymbosa to please the bees and a kumquat for the kitchen.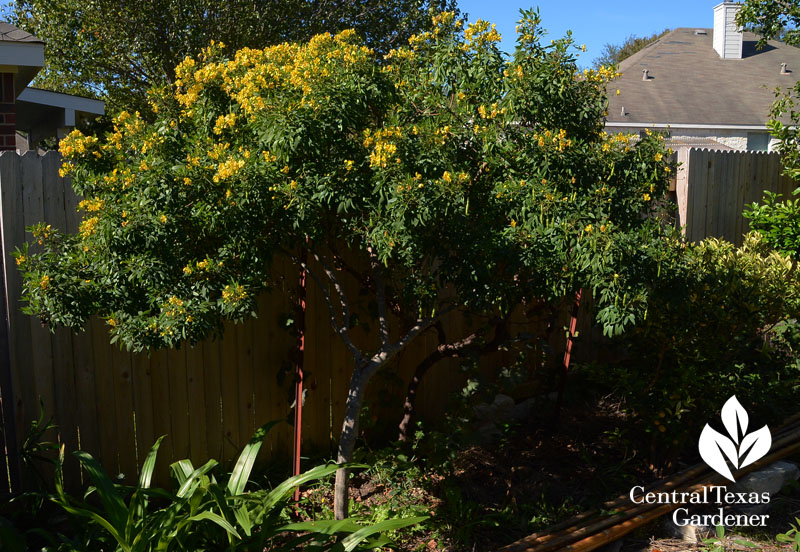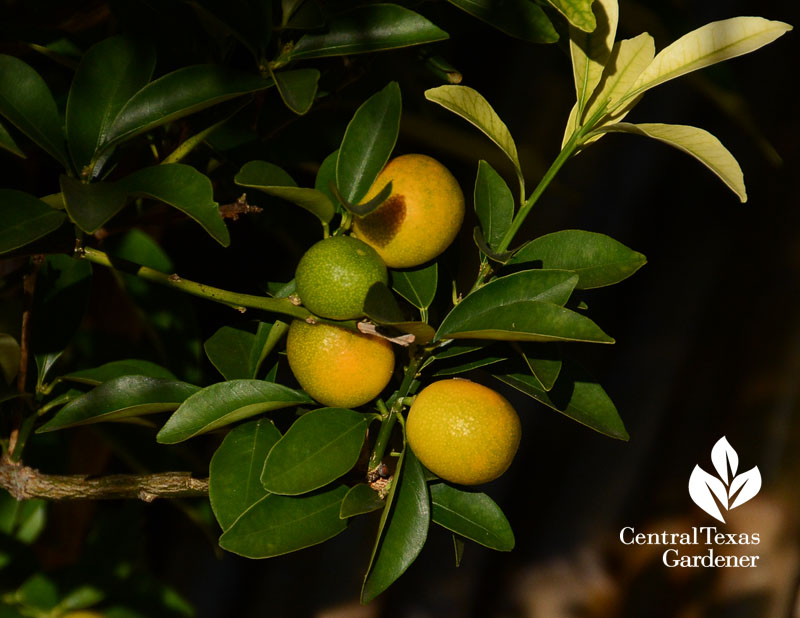 Always experimenting, Venkappa planted an olive tree when they were still an untried novelty. When native plants became more available, he added Hamelia patens for the hummingbirds.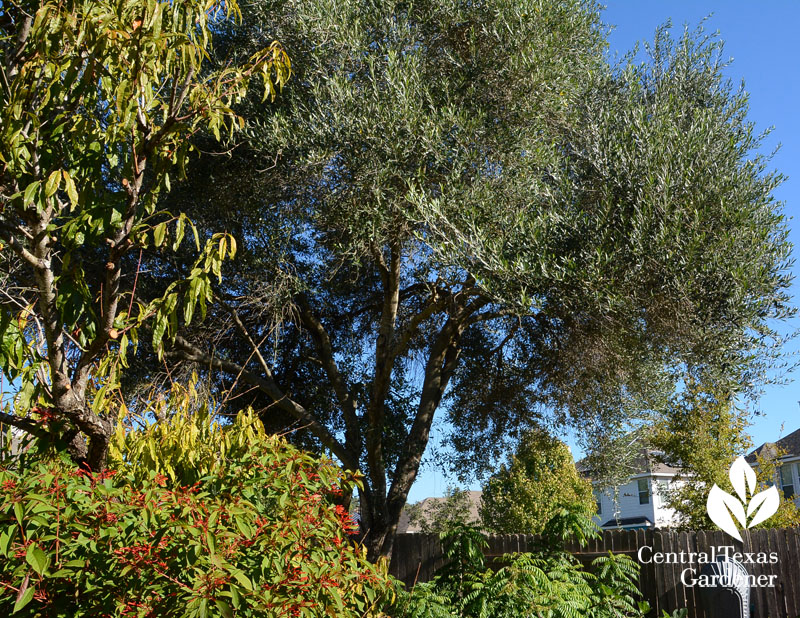 He took a chance with an Indian favorite, fragrant vining Rangoon creeper. So far, it's rebounded after Texas freezes.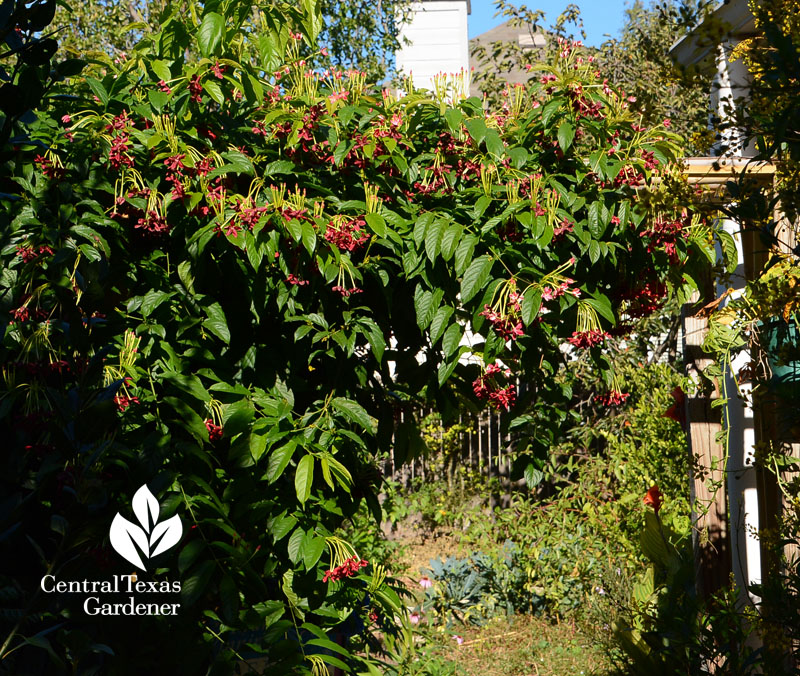 Jujube tree, another favorite, towers above the fruit-lined fence. Green fruits taste like apples.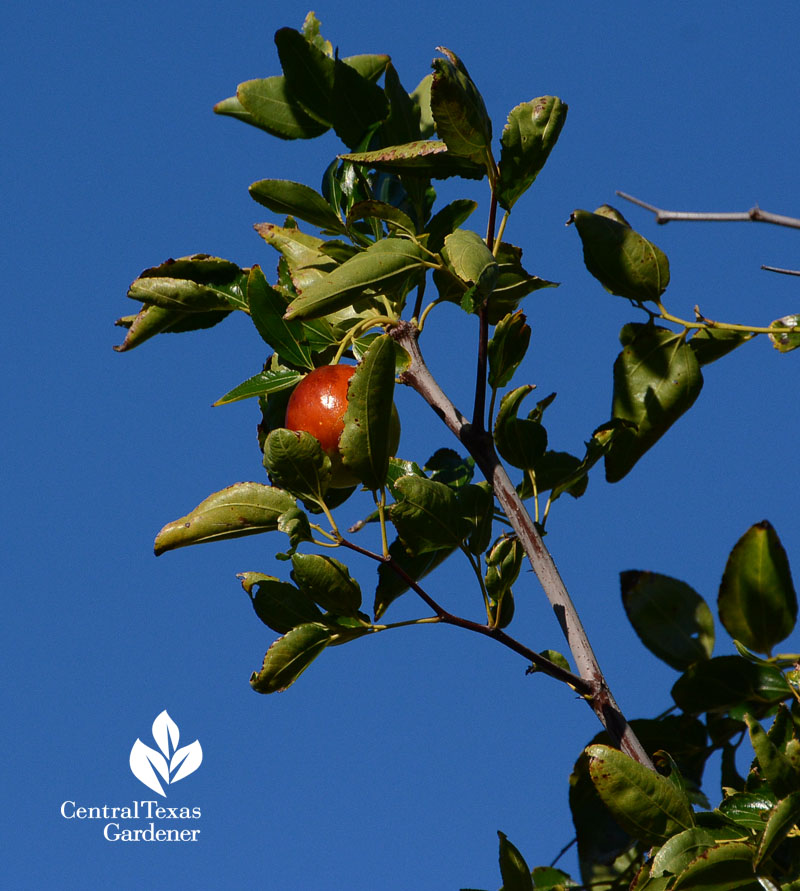 When dried, they're a sweet treat, akin to dates, for snacks, to top cereal, or for baking.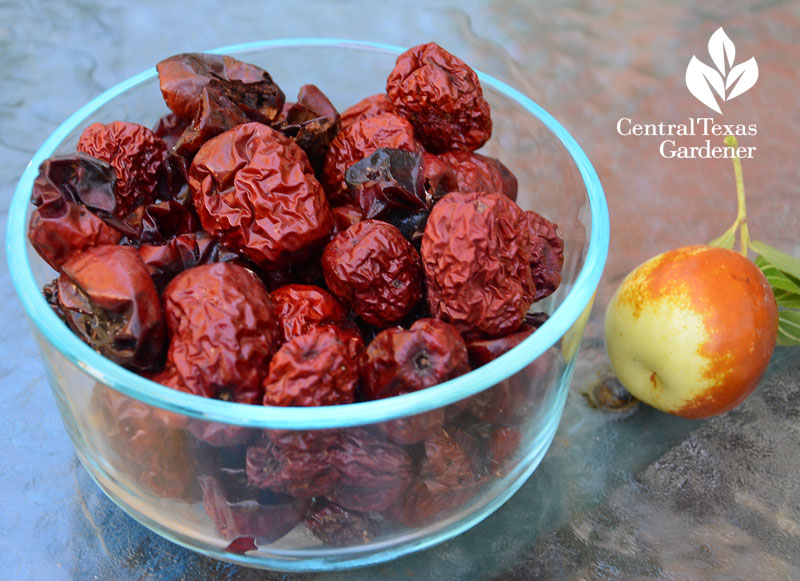 Curry tree spices up their vegetarian diet with its nutty flavor when sautéed in oil. They grow in containers to overwinter in the garage but take a chance on two in the ground.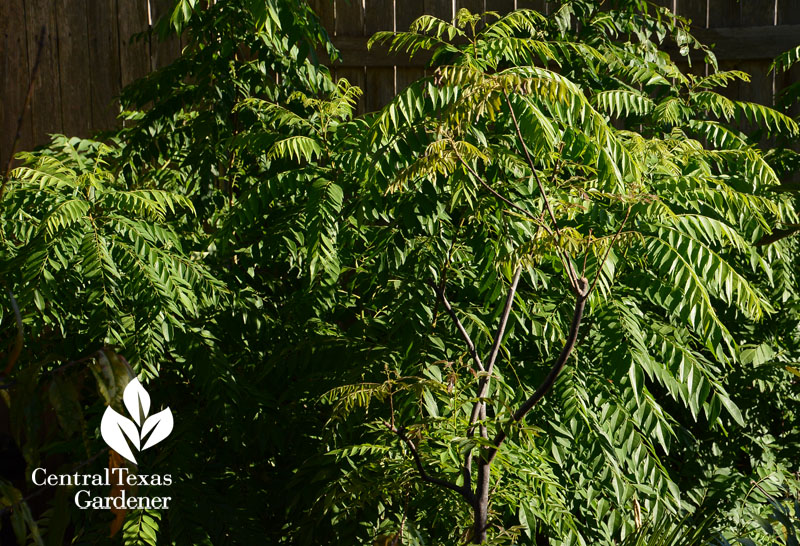 Warty bitter melon is a vining member of the squash family. Ratna's recipe: "We dry roast it on a skillet with a little bit of oil. Then we add curry powder, and salt, and pepper to it, and it's very tasty."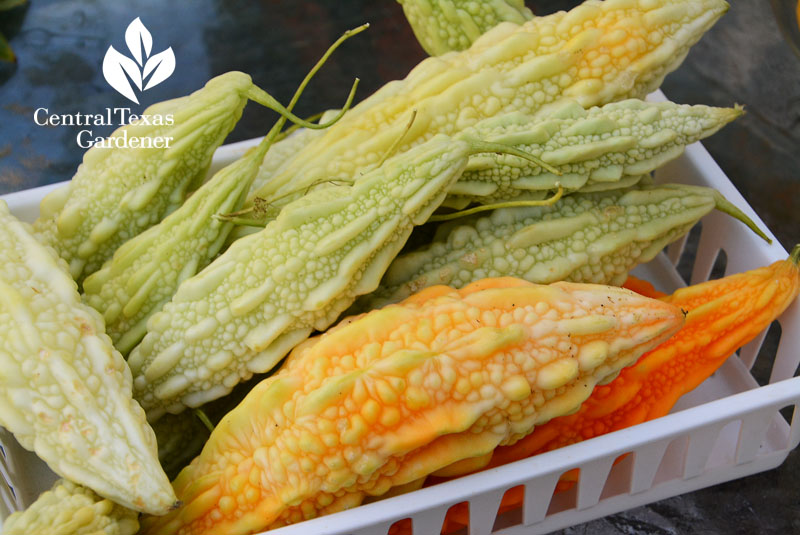 Egyptian spinach is another hot-weather crop cultivated for both leaves and pods.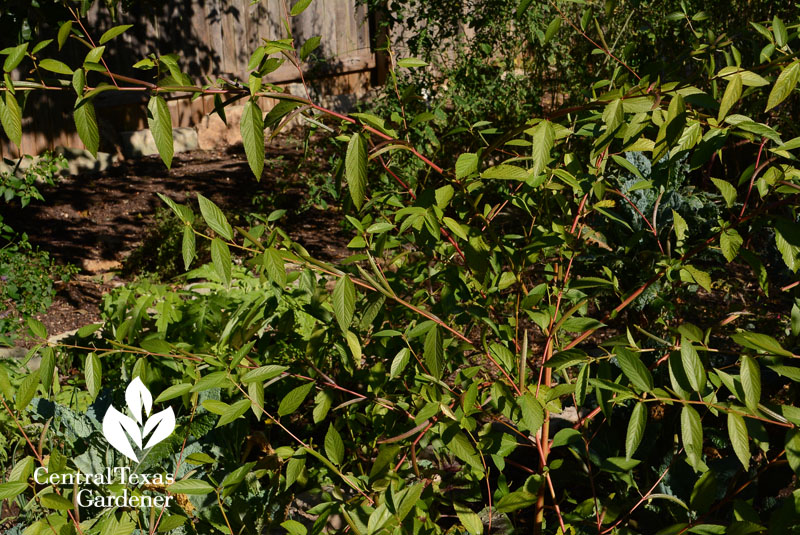 The young pods are akin to okra for recipes. Ratna uses the leaves as a summer substitute for spinach.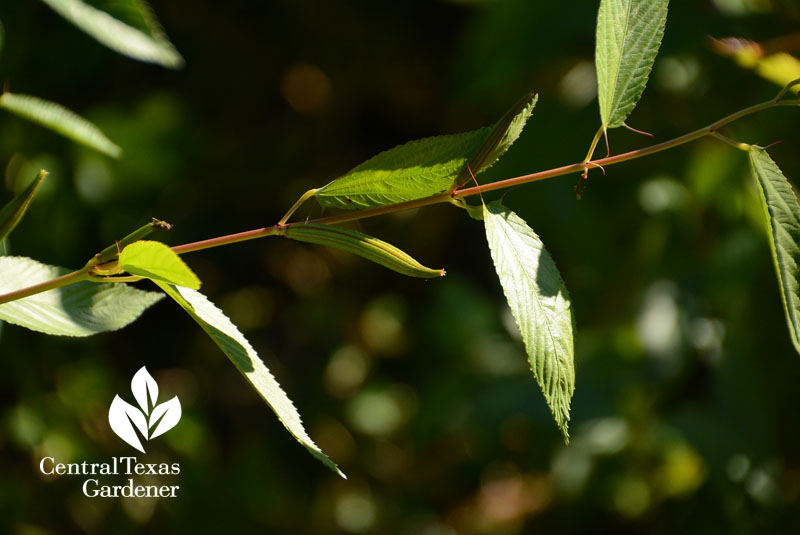 Venkappa tells us, "Whenever you see something unusual, you know it not be growing here, but we taking a risk, try it. But sometimes we succeed, sometimes we don't. But that is how things are. Even if you don't succeed, you try again."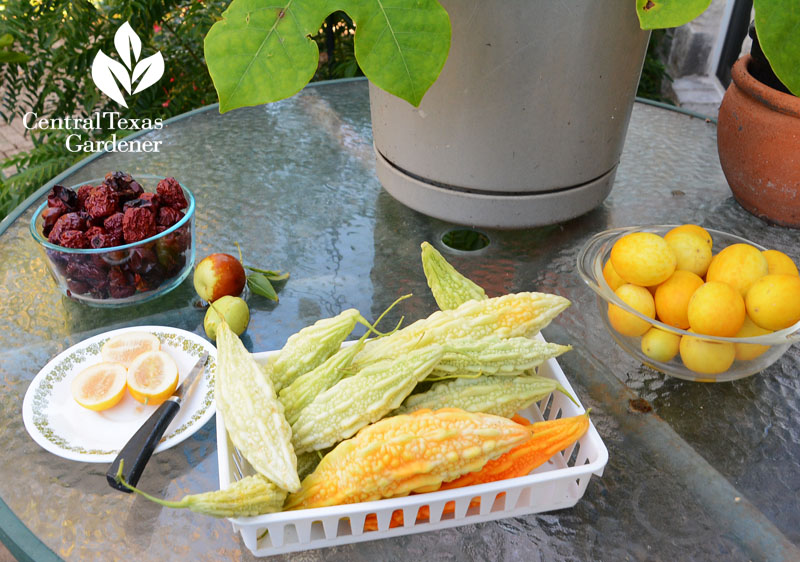 Watch now!
And thanks for stopping by! See you next week, Linda
Comments