June 7, 2018
Designs for Small Spaces: Indoors & Out
Although my patio is pleasant enough, it lacks designer Diana Kirby's knack with color and arrangements.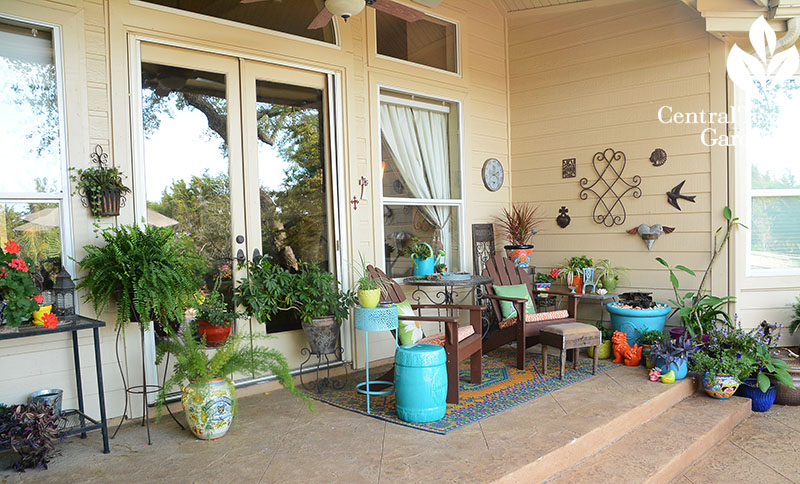 I can see why this is one of her favorite spots to work and contemplate.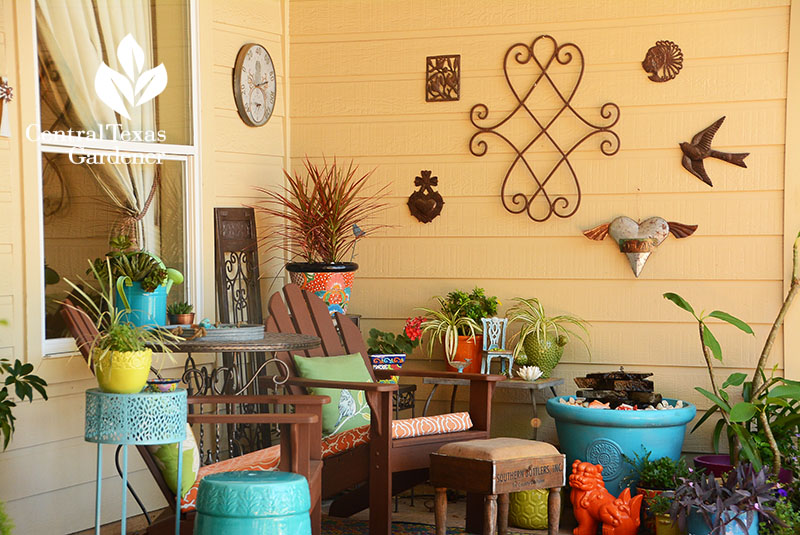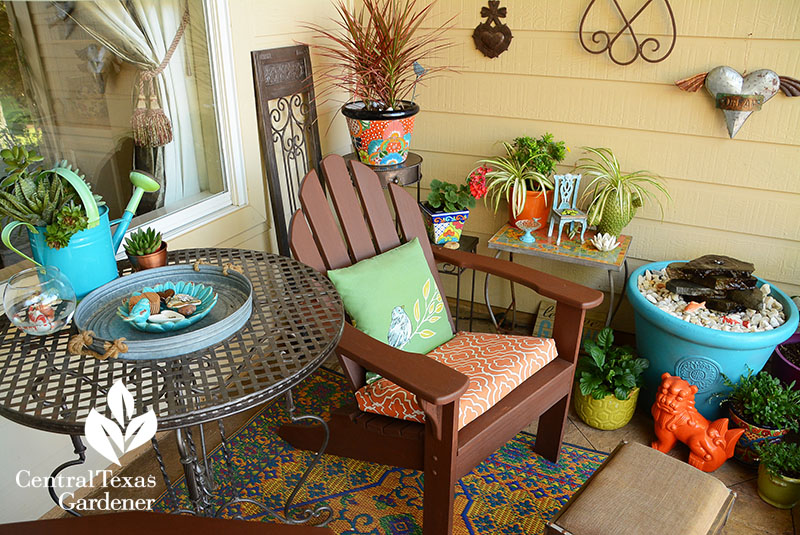 Designer B. Jane gracefully links color and subtlety with the perfect containers to accent a little cove in her garden.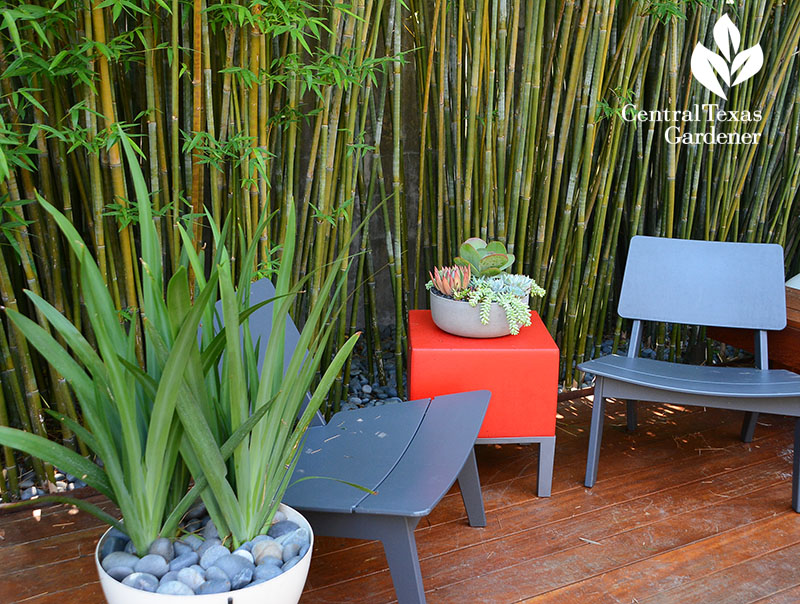 At home on the front porch, designer Casey Boyter elevates a small pot's stature with leftover tiles. Watch our video of her garden.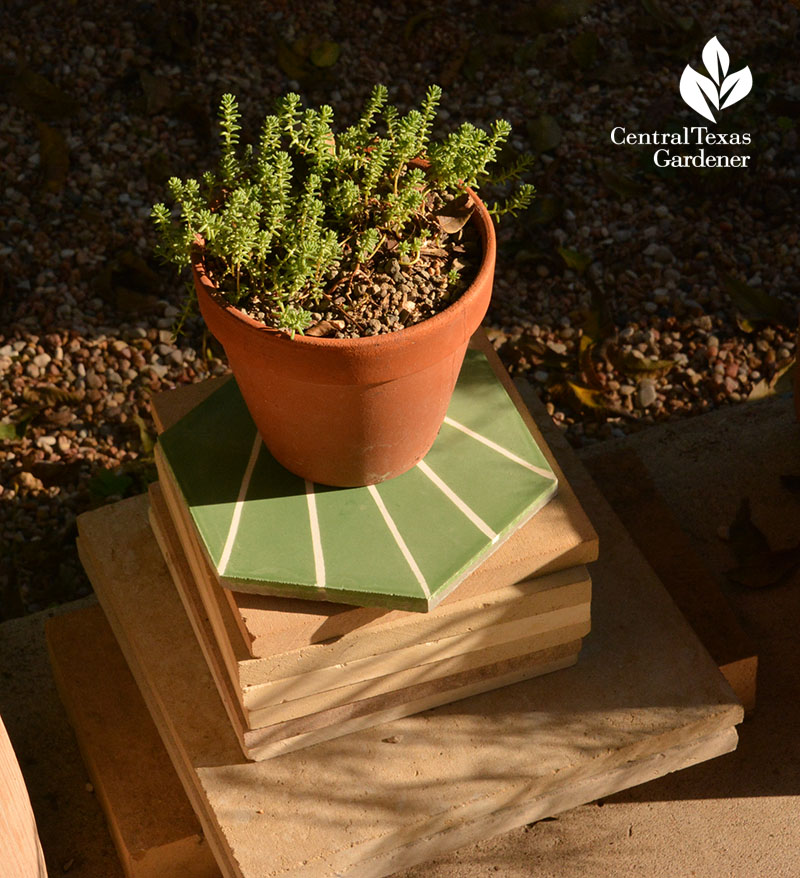 Lori and Jack Shreves designed with big containers—galvanized stock tanks of various sizes and shapes—to grow bushels of food.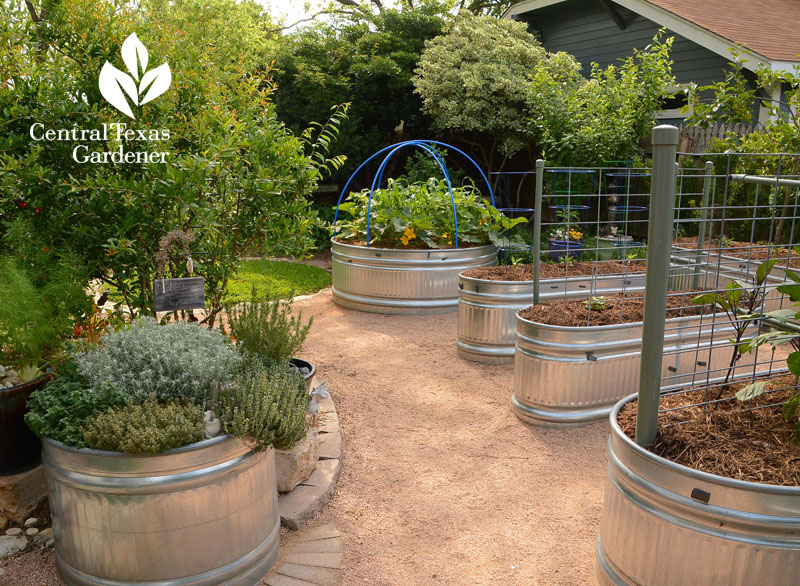 Designing with containers is an art I haven't mastered, but Michelle Pfluger from Green n' Growing Garden Center & Gifts certainly has!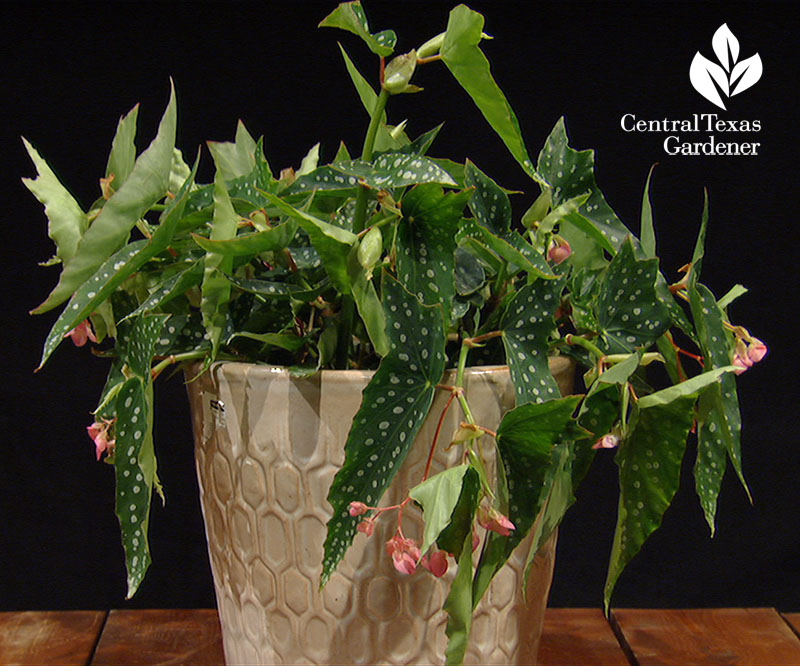 This week, Michelle puts her vivacious personality into houseplant and container designs that layer dramatic dimension.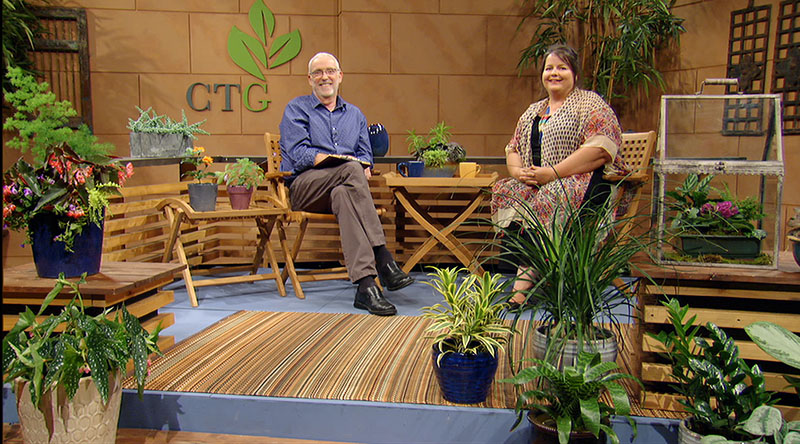 Angel Wing begonia and Ming fern transition from the porch and patio to the house for indoor drama.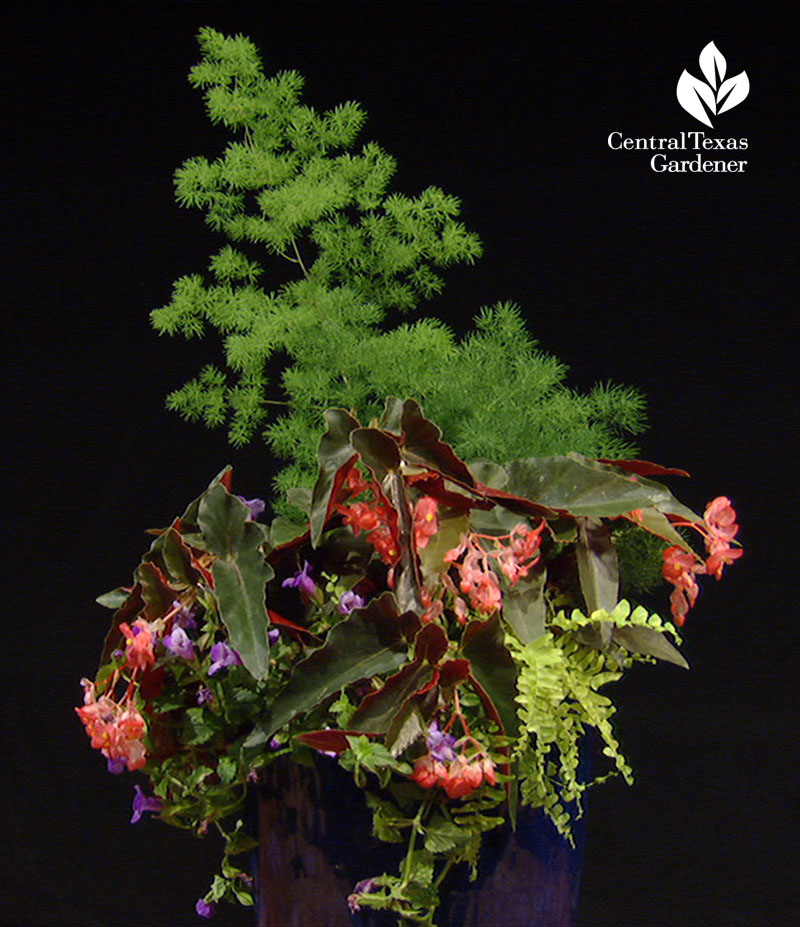 She's got the perfect combination when you don't want to water much, like on the front porch. Sansevieria, Crassula ovata 'Gollum', 'Firesticks' pencil cactus, and Sedum 'Lemon Coral' like things on the dry side (but water now & then).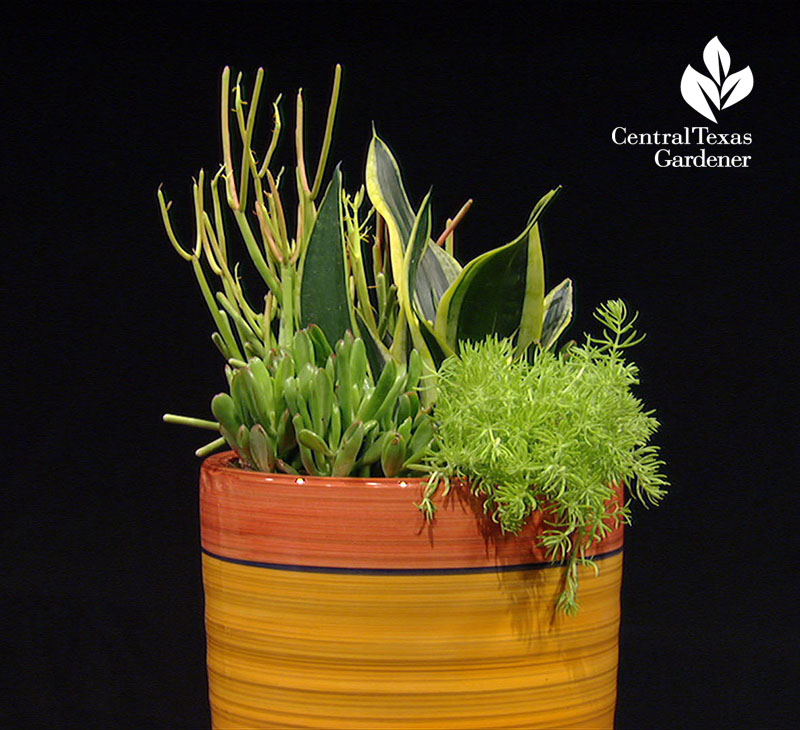 Stage singular spotlights, too, with striking plants like Song of India (Dracaena reflexa).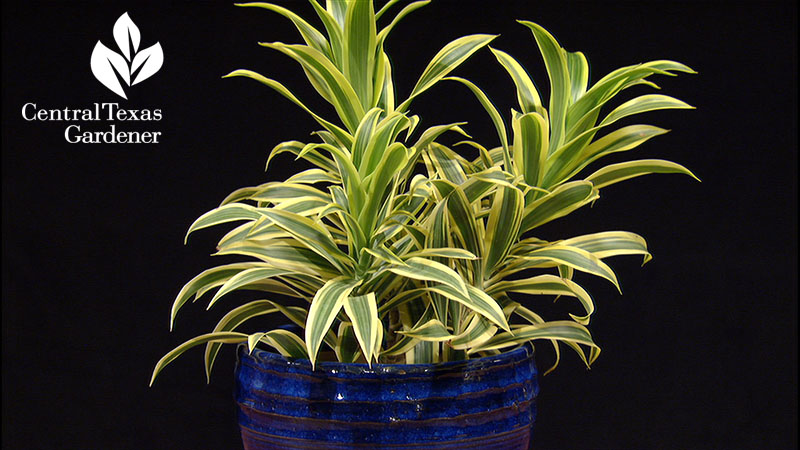 Got a tall plant that needs a little skirt at the bottom? Michelle fills in the base of a fiddle-leaf fig with giant squill (Drimiopsis kirkii), 'N'joy' pothos, Maidenhair vine, and spider plant. Watch now!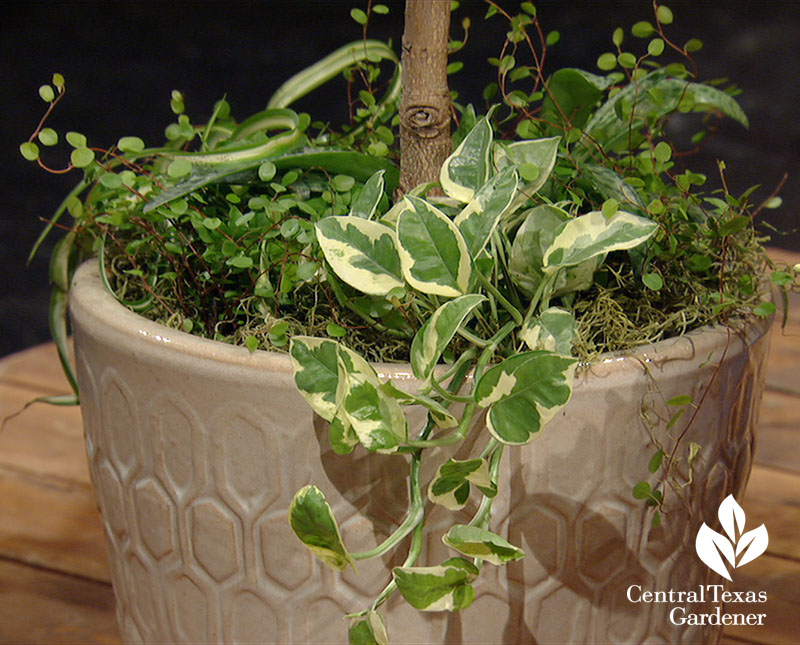 One thing to try in a container is kangaroo paw (Anigozanthos spp.), thanks to San Antonio gardener Janet Morrow.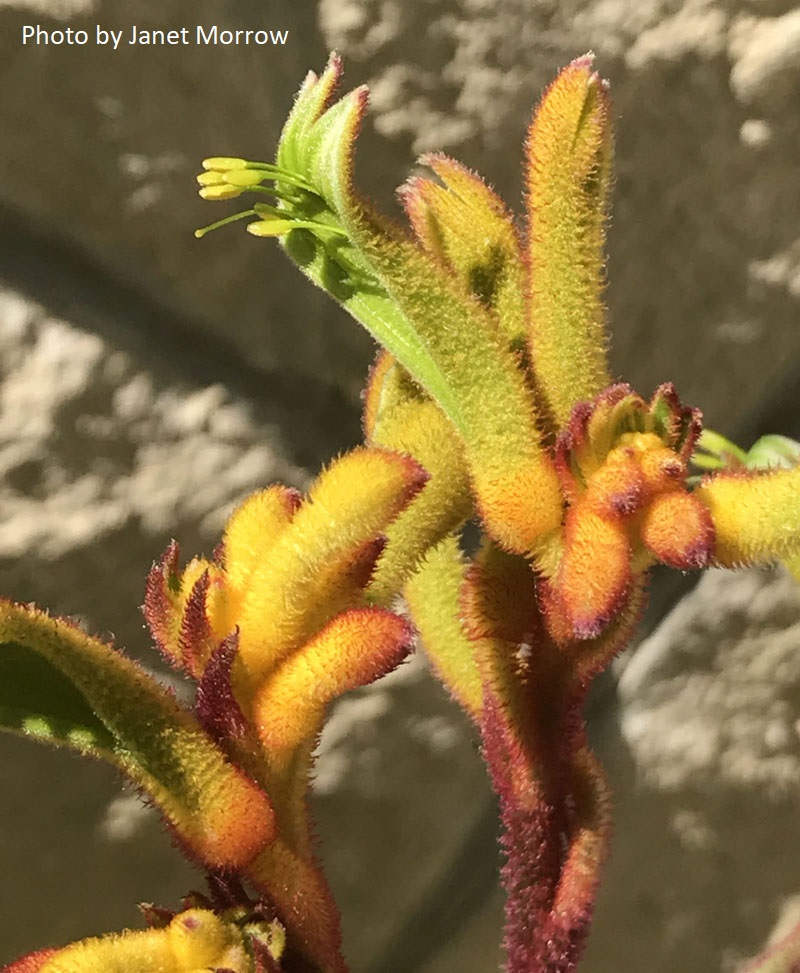 Although I've seen this one offered in nurseries recently, I doubted its durability in Central Texas until she got in touch. Daphne shares Janet's tips on how she's successfully growing this hummingbird plant, even in the ground.
Daphne rounds up lots of viewer questions including harmful insects and concerns that she assures are not problems. The most serious is something we haven't seen on CTG before: healthy roses that started wilting and developed black stems almost overnight.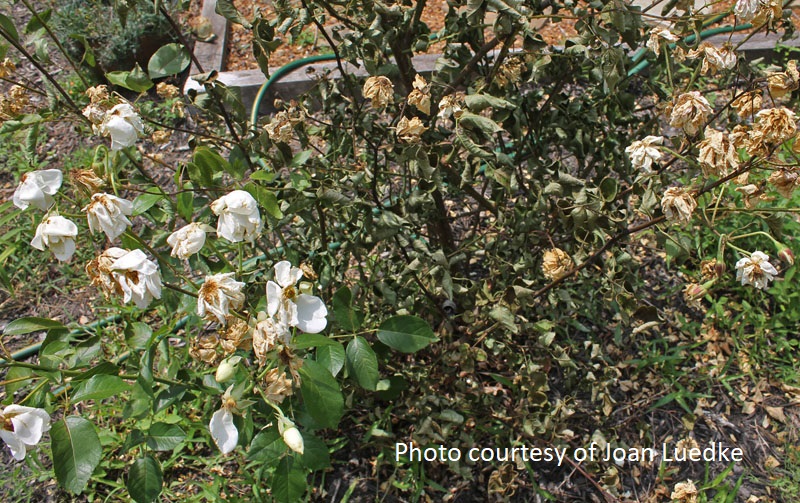 That's the situation with Joan Luedke's roses. Kevin Ong from Texas A&M's Texas Plant Disease Diagnostic Lab confirmed phytophthora, a soil-borne pathogen that unfortunately will always remain in the soil. Joan's only option is to remove the plants and put them in the trash. Get Daphne's complete answer.
Also in Daphne's segment, can you grow pluots (apricot and plum hybrid) in Midland? Alyson Trevino at Basin PBS sent us this screen shot from Mark Patton's live Basin PBS Facebook question.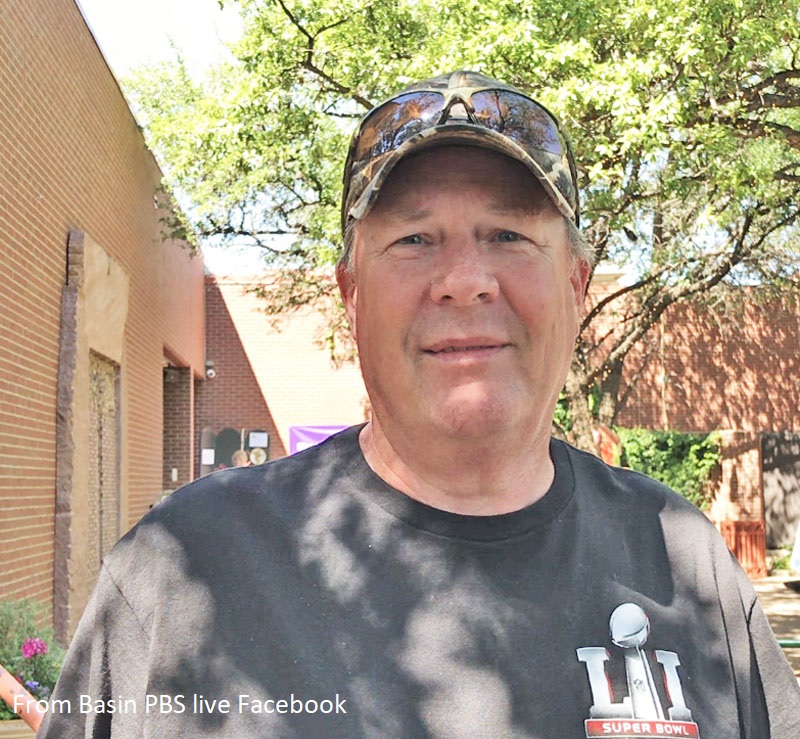 Extension fruit specialist Jim Kamas reports that this hybrid has problems in Texas because it doesn't bear fruit consistently, is finicky about pollination, cold sensitive and susceptible to spot and bacterial canker. Thank you, Alyson and Mark, for this great question!
Since the heat is on, John Dromgoole makes watering easier and efficient, even in containers.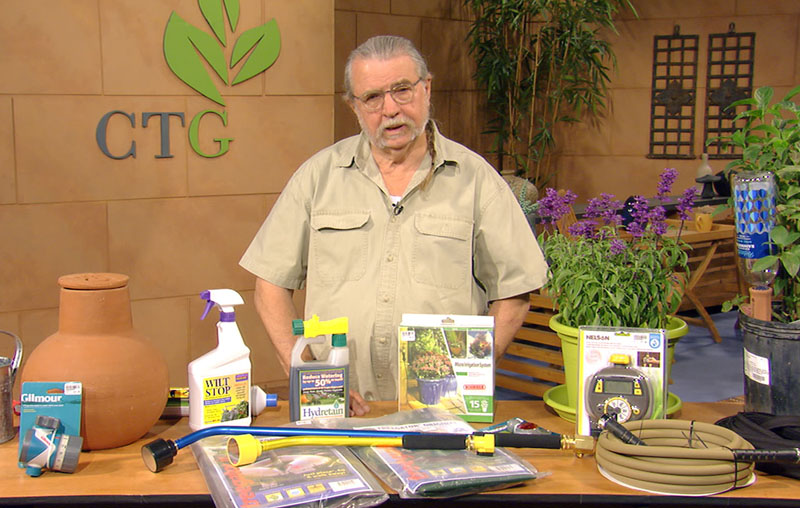 On tour, designer Leah Churner charms up her small balcony without breaking the bank.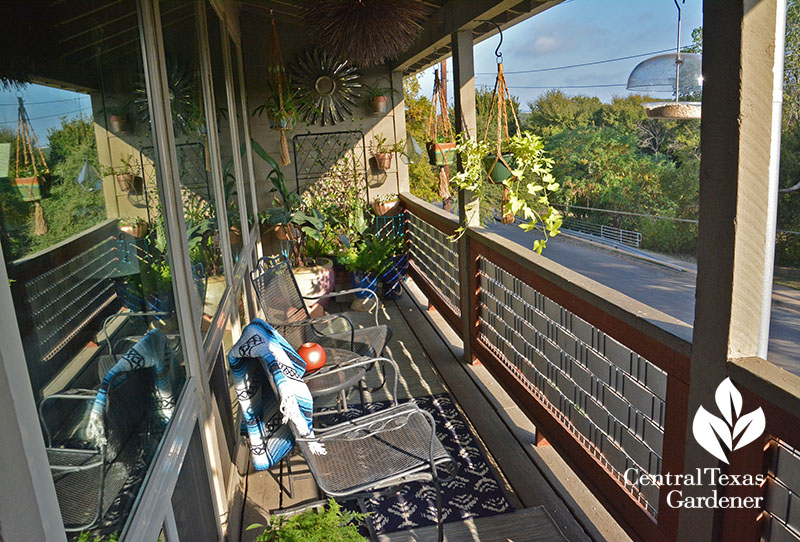 Grab that spray paint and turn inexpensive containers (even thrift store finds) into pots of gold.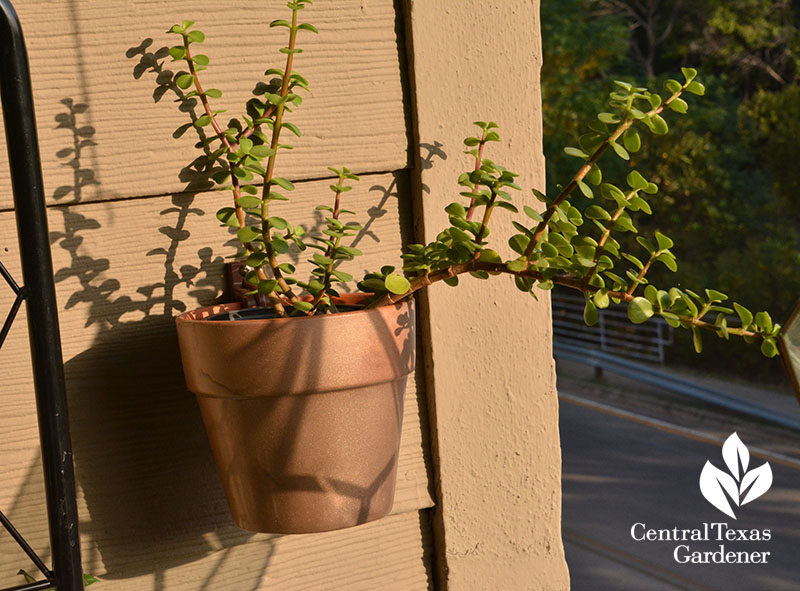 Put empty pots to use in a tower of tribute, here to show off a chile pequin.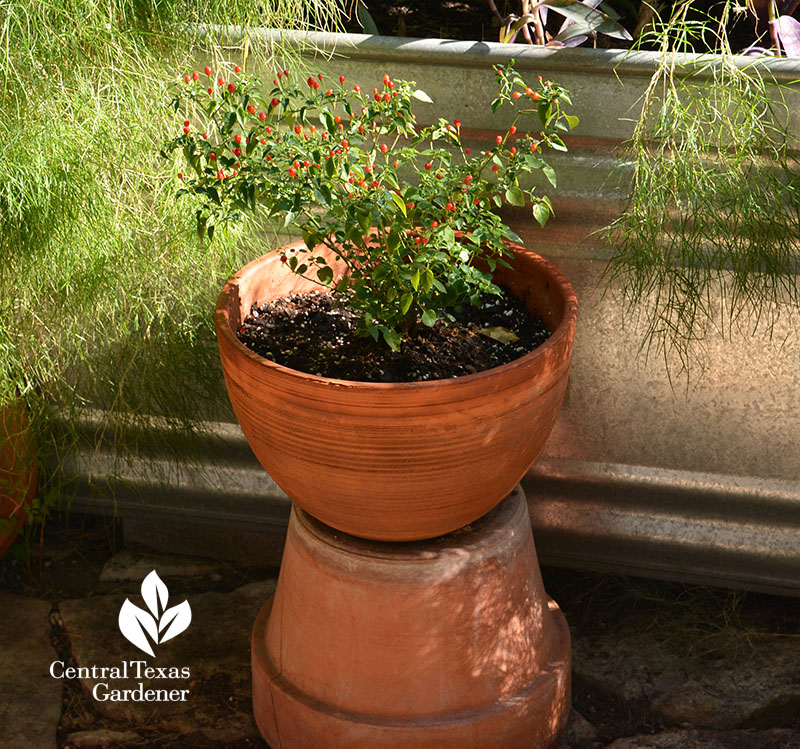 On a tiny patio, Leah softens street noise and maximizes growing opportunities with trellises, stock tank for deeper roots, and hanging containers.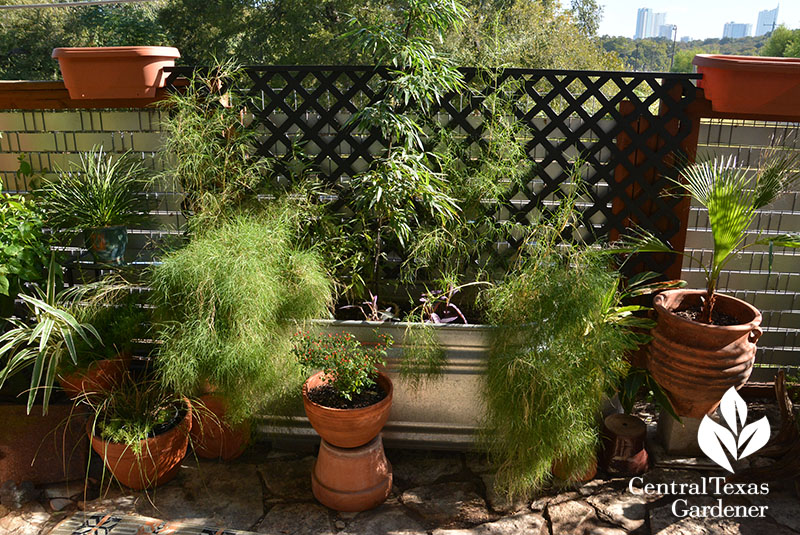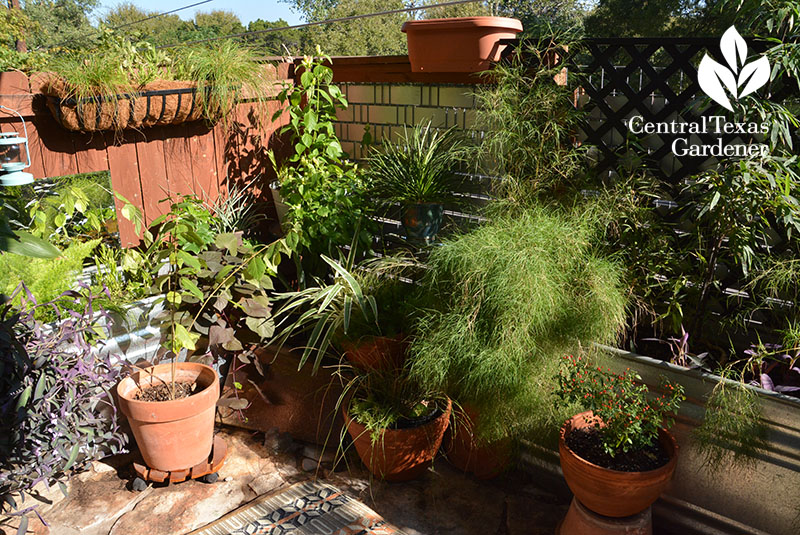 Get to know Leah better, along with her guests, on her personable and insightful podcast, Hothouse!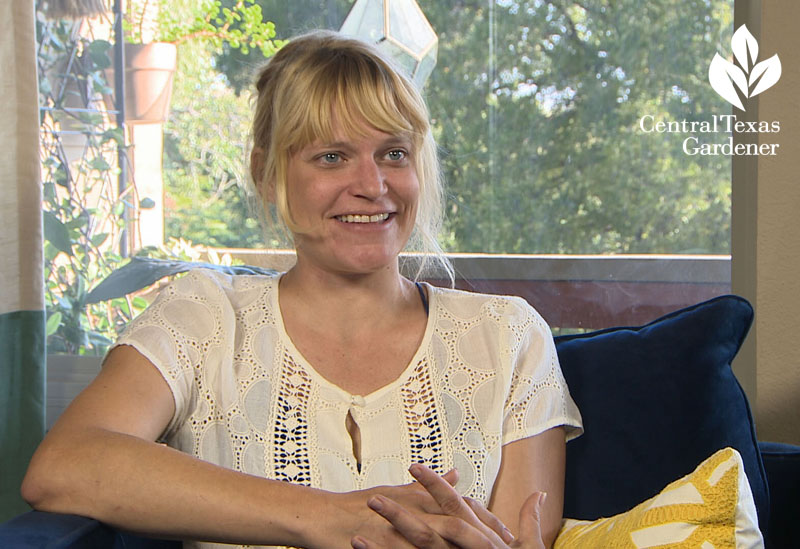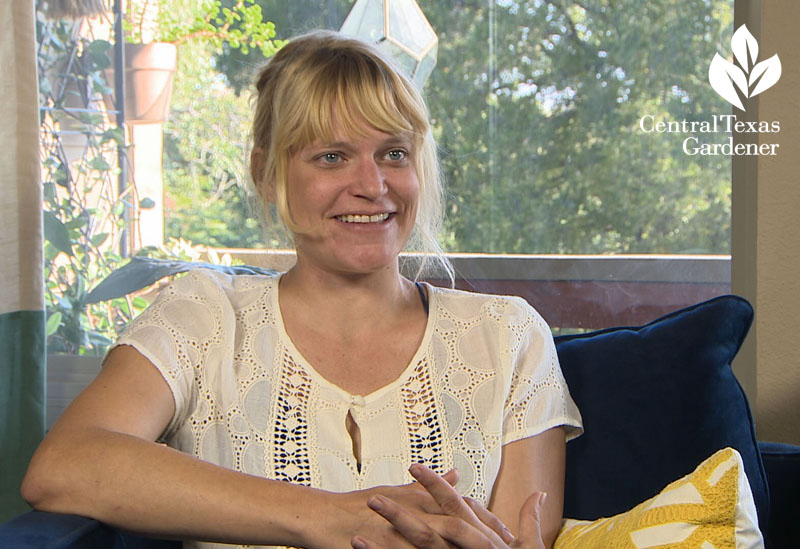 And watch her small space story now to grab ideas of your own!
And thanks for stopping by! See you next week, Linda
Comments