July 12, 2018
Drought Response: Gravel or Not?
Unlike me, 'Ellen Bousanquet' is at her best when the heat is on. With recent rain spurts, heritage crinum lilies are flaunting bodacious blooms, though 102° temps quickly wilted flirtations.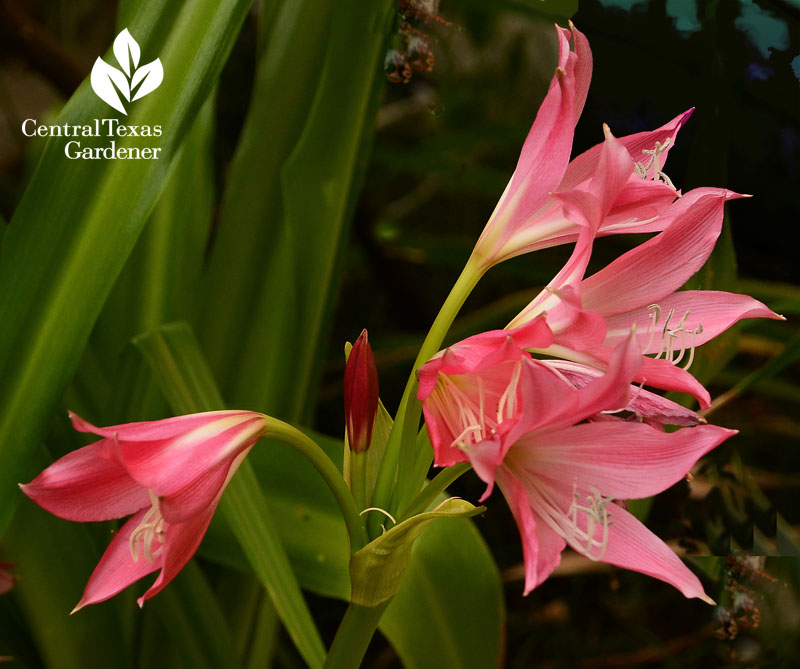 My crinums are pass-alongs, including this sweet pink from Boggy Creek Farm years ago.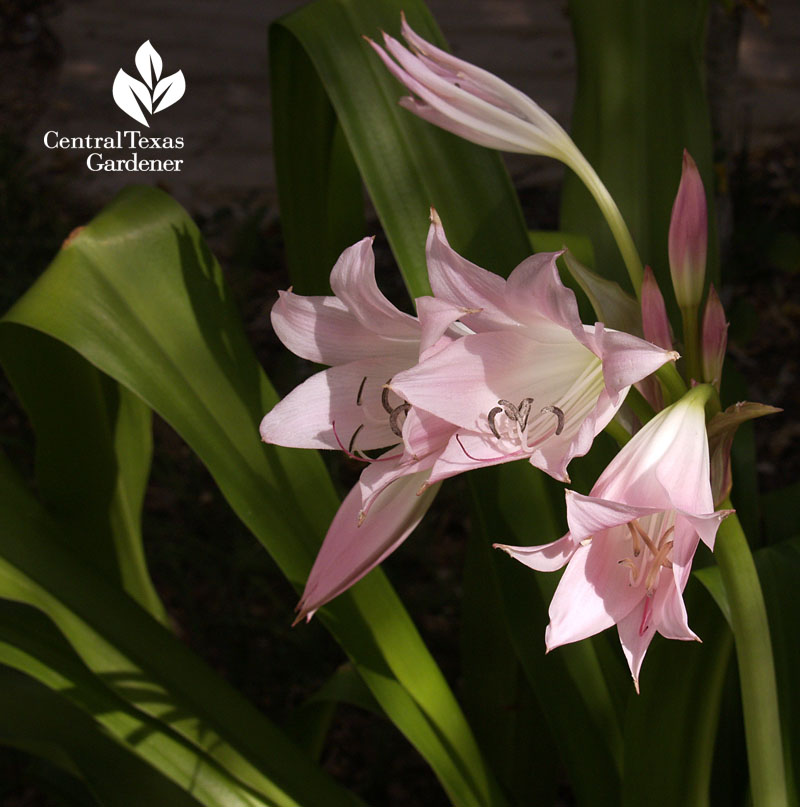 Another pass-along from Boggy Creek is Larry Butler's boundless joy that encouraged new gardeners like me and countless urban farmers in his tireless mission—alongside dear Carol Ann Sayles—to put locally grown food on our plates.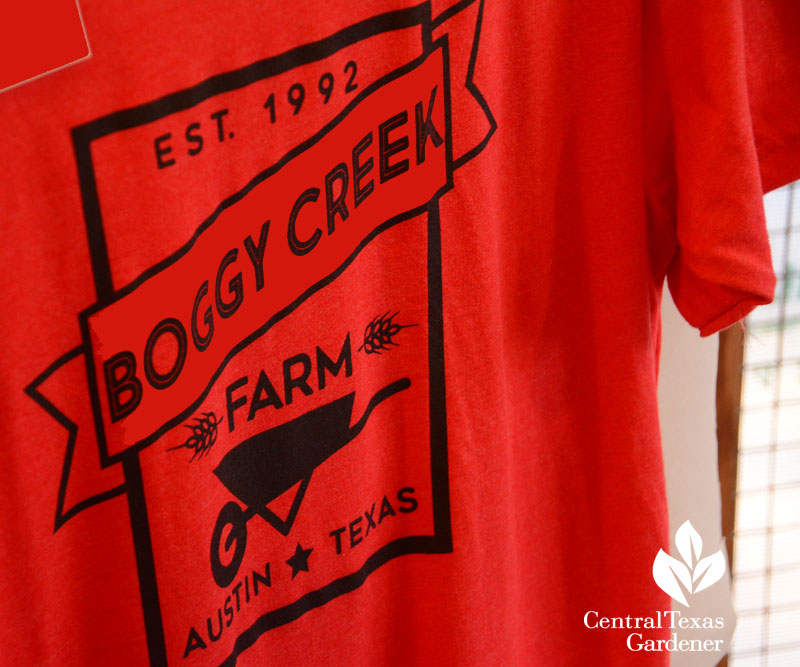 Larry left us on June 28, but the locavore passion he instilled lives on! Celebrate his life with stories of your own on July 15 from 4-7 p.m. at Boggy Creek Farm. Just bring your memories: local chefs and drink artisans jumped in to toast Larry's good tastes.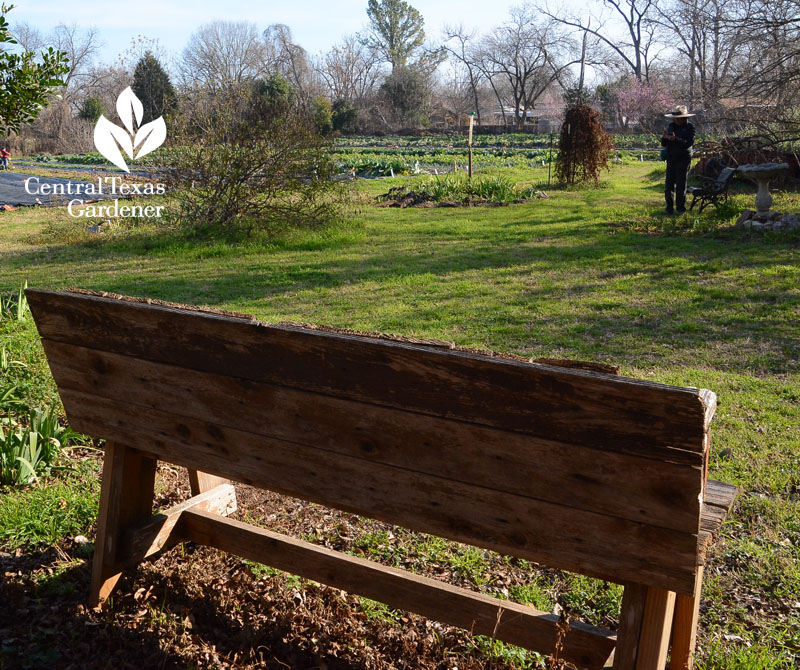 Larry and Carol Ann were right there when Glenn and Paula Foore started Springdale Farm just down the east Austin road. No competitive stuff going on here: just whole-hearted support in a big picture mission.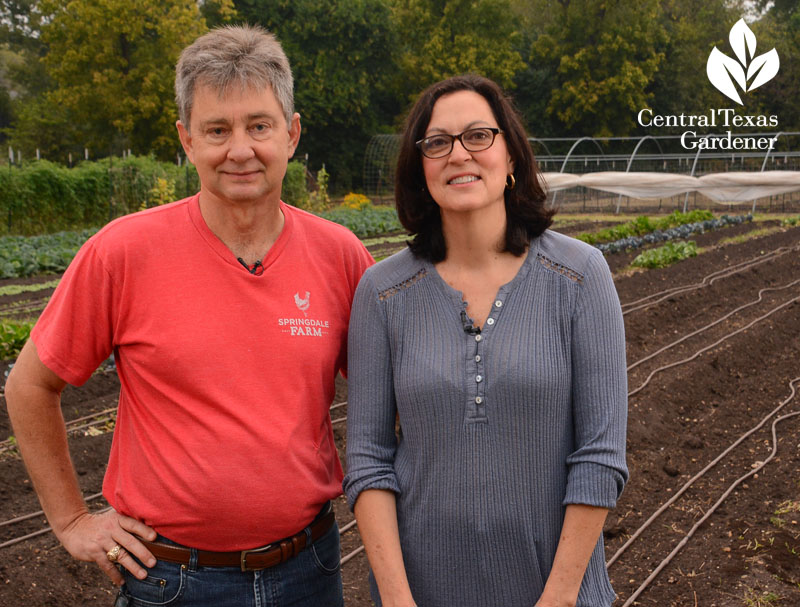 Now, Paula and Glenn have tossed the baton to Sonya Cote, founder of delicious farm-to-table restaurant (and caterer) Eden East, and partner David Barrow, to carry on the farm and the Wednesday/Saturday farm stand. Yahoo!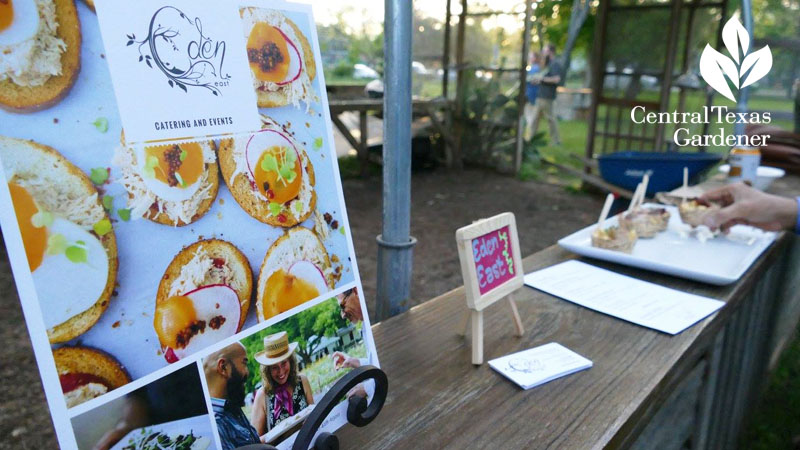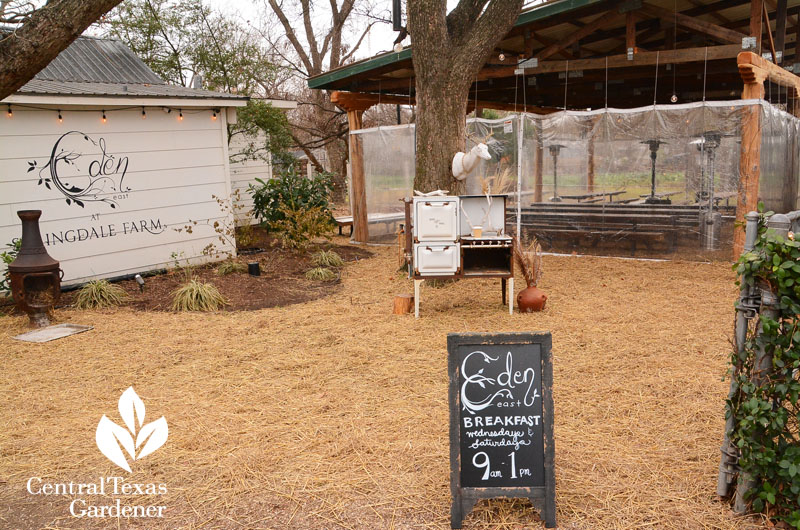 It's About Thyme nursery has fostered new tastes since Diane and Chris Winslow opened their Manchaca nursery to teach us about plants we'd never heard of—but came to count on! Sadly, they're closing their friendly doors in the way of Austin "development."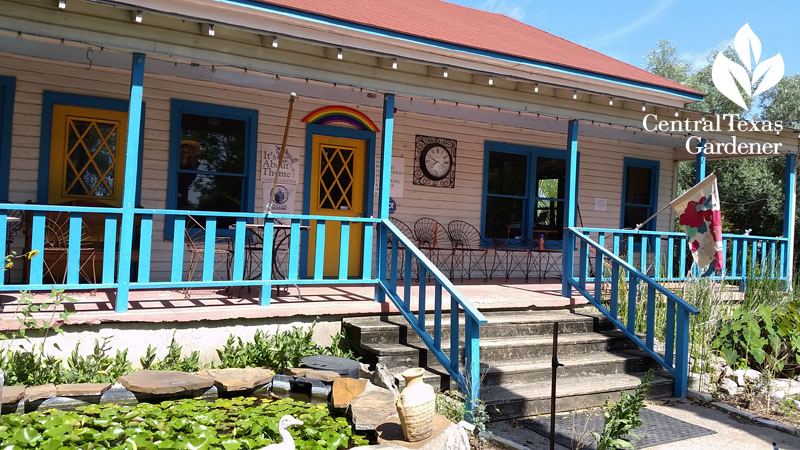 But good news! If you're signed up for their informative weekly newsletter, all is not lost! Later this summer, watch for the latest rendition so you don't miss out on tips that only local hands-on gardeners can provide.
So, yeah, we finally got a little rain, but drought hasn't relinquished its firm grip. The unfortunate trend to "gravel up" is not the best solution to save water, though.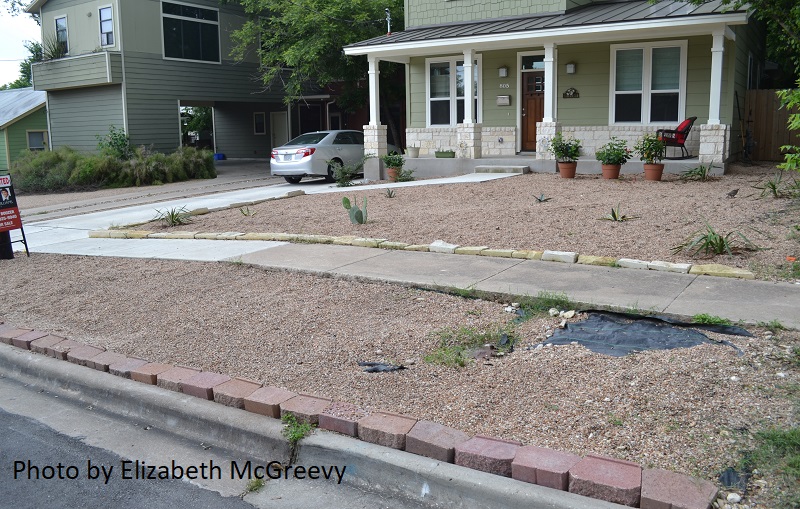 This week, ecologist and certified permaculture designer Elizabeth McGreevy (now working with Eden Garden Design) examines why a total gravel landscape disrupts the rainwater and nutrient cycle (and radiates heat, for sure).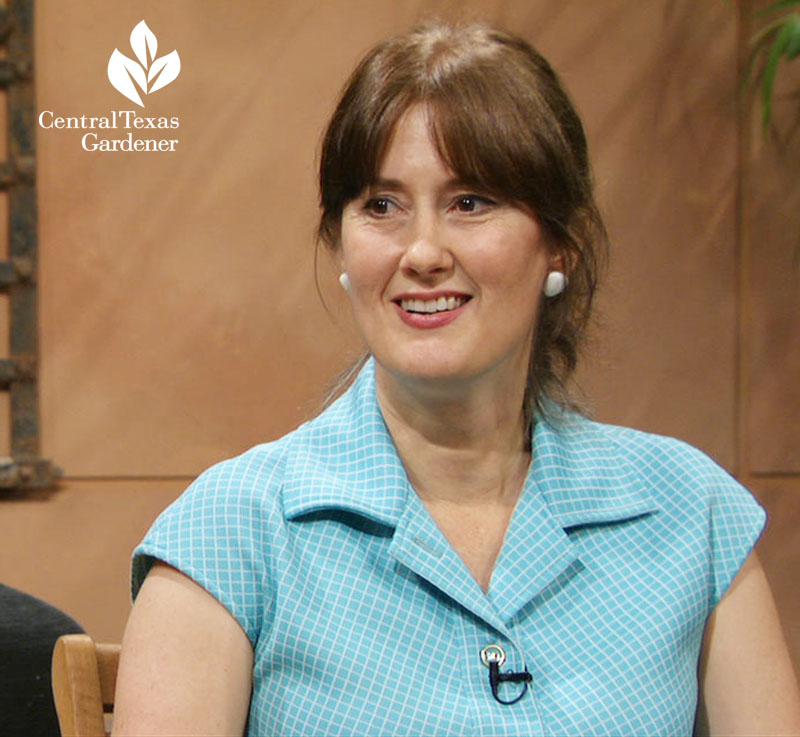 Watch now for Elizabeth's best practices for gravel in the garden!
On tour in Hudson Bend above Lake Travis, Dr. Bruce McDonald retired early to care for his former wife and special needs daughter. He'd never gardened before, but to corral his concerns and to find respite in physical activity, he started building things outside.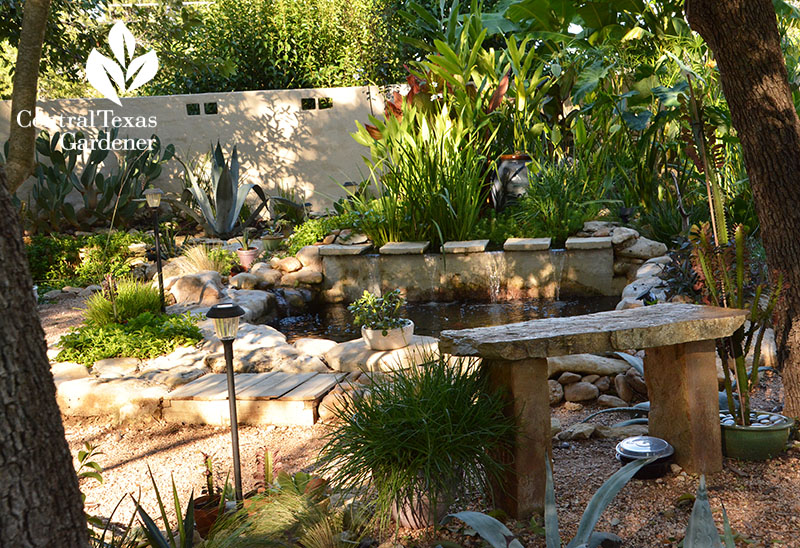 Raging wildfires in drought prompted a safer backyard and a respite for wildlife. He built two ponds: one a Texas-formal koi pond.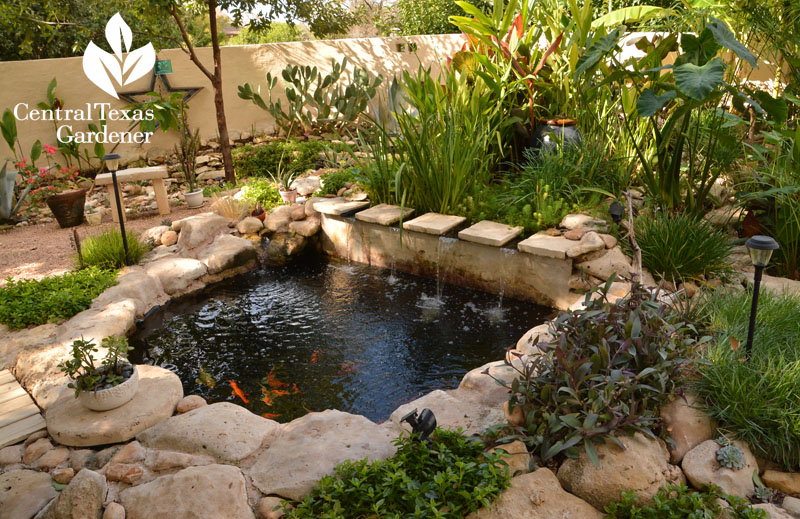 The other's more naturalistic. Rain water collection systems provide the water that quickly attracted diverse and very thirsty wildlife to his new garden.


Bruce became a serious rock scavenger, hauling home literally tons of stones and boulders.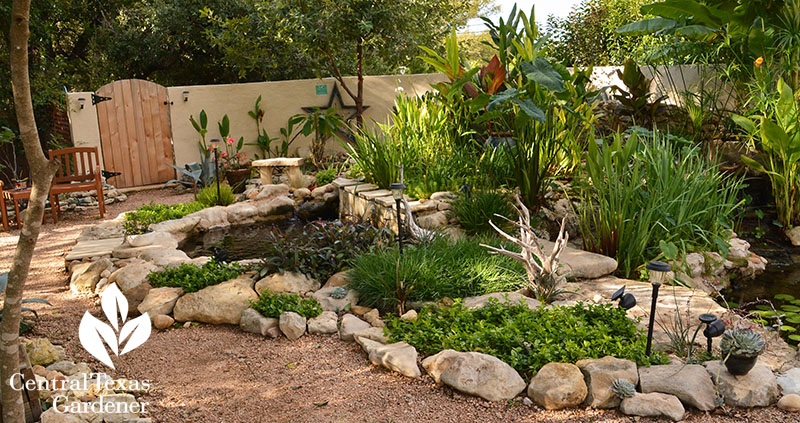 He even built a dry stack wall to house agaves, though after the 2015 Memorial Day flood collapsed it, he mortared it in re-building.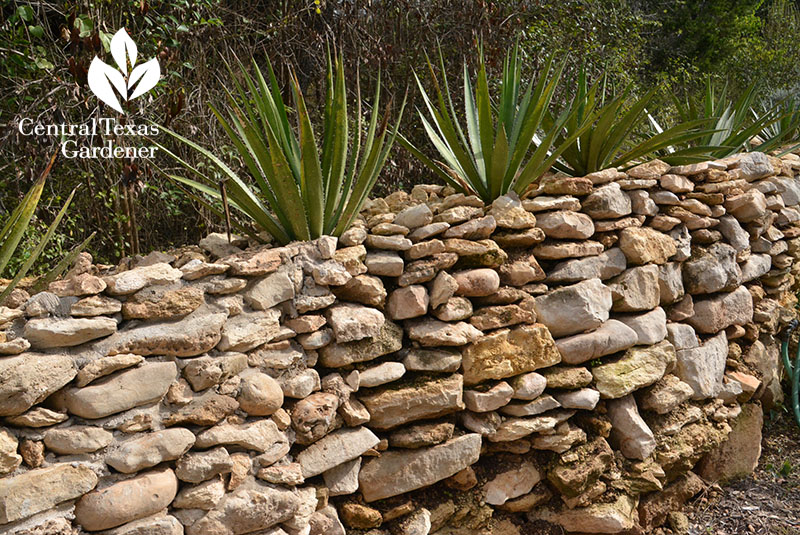 To enclose the garden from deer and prevent erosion on the sloping lot, Bruce and a neighbor built a 6-foot tall retaining wall that stretches 135 feet. They did it with rebar-reinforced cinder blocks, filled with rocks excavated from swimming pools, and then fancied it up with stucco.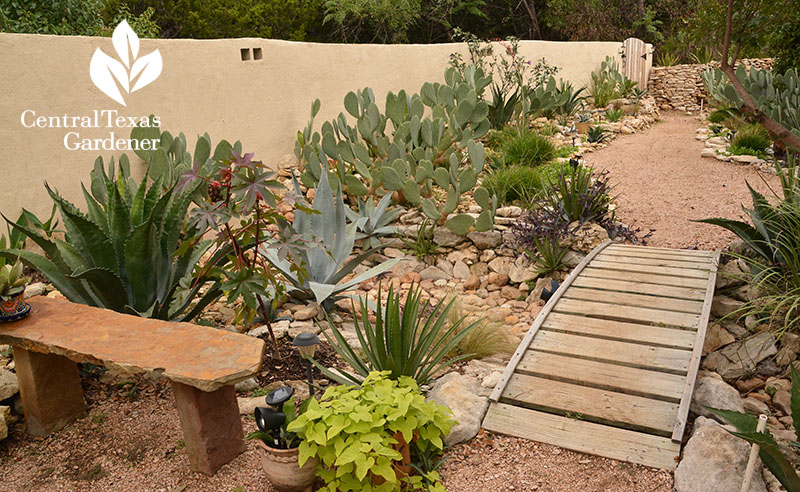 He started collecting drought-tough succulent divisions, interspersed with equally water-thrifty flowering plants to feed pollinators and birds with nectar and seeds. His path and rock design also control flooding.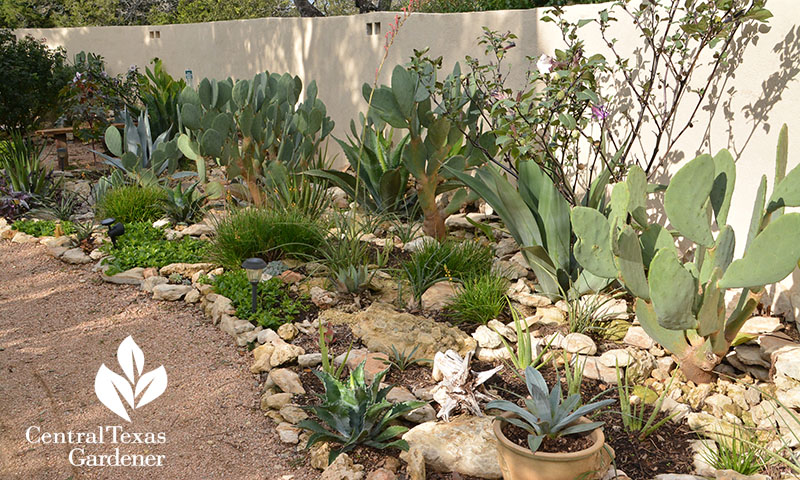 Bruce had watched Lake Travis vanish before his eyes after 2011, so he ripped out the front yard lawn. With scavenged rocks and succulents, along with purchased plants, he upped diversity and water retention. We taped in 2015, so I know it's grown in and changed a lot!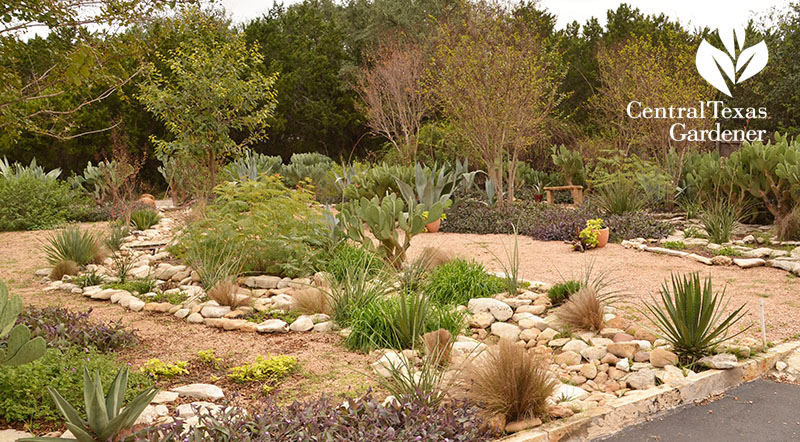 Watch now to see how he controlled water with dry creek beds, berms, and curbs!
Thanks for stopping by! Linda
Comments