October 10, 2019
Design for Climate Change
Wow, these pictures just beg for captions! From DFW, Candy Whitten spotted these two young blue jays in a beak-to-beak contretemps. What say you?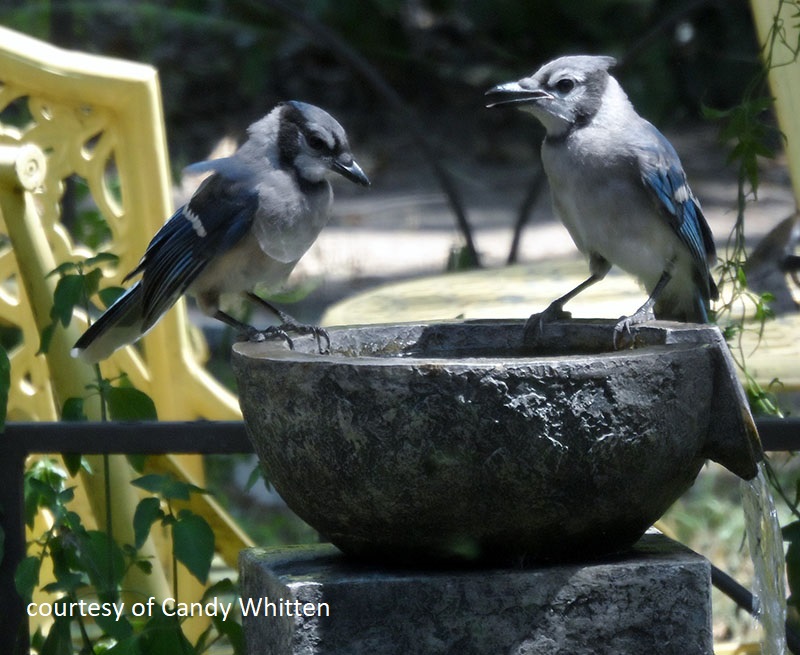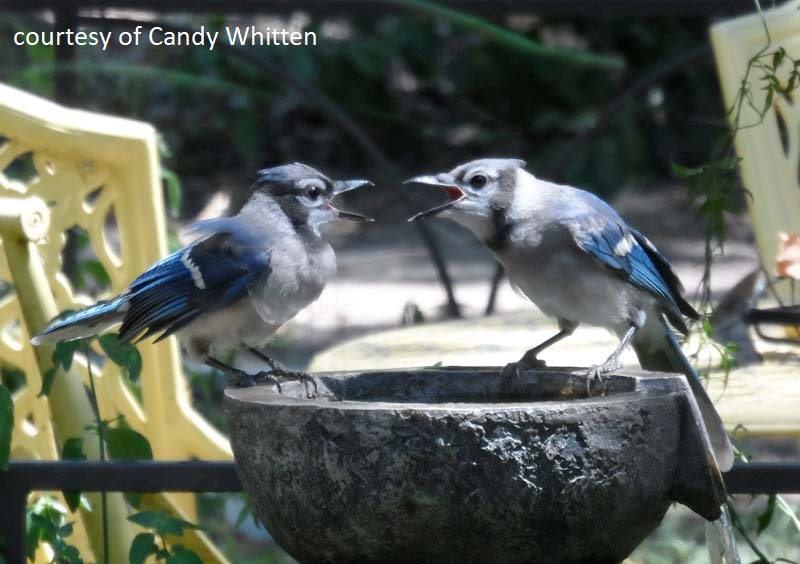 Topsy-turvy weather keeps us on our toes this time of year, but since the day looms to bring in outdoor potted plants, John readies us to avoid scrambling at the last, surprising minute.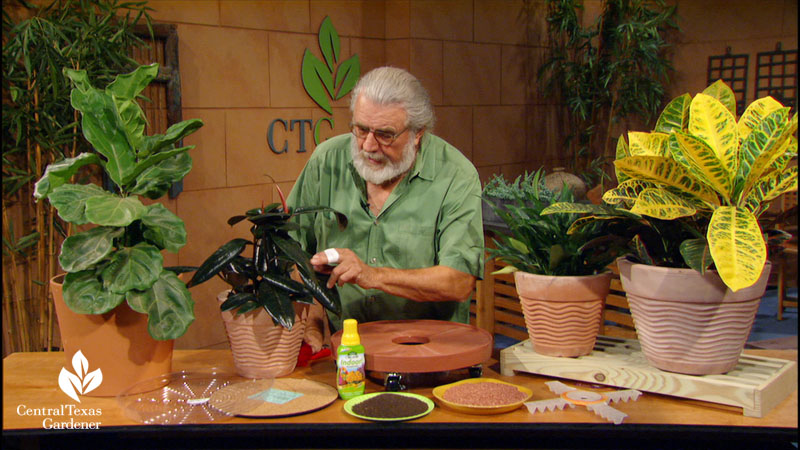 These days, ongoing drought and disastrous flooding lead urban design conversations to meet climate change challenges and habitat loss. This week, Emily Manderson, Conservation Director at the Houston Arboretum & Nature Center, joins John Hart Asher, Senior Environmental Designer at the Lady Bird Johnson Wildflower Center, to explore their mutual concerns and responses.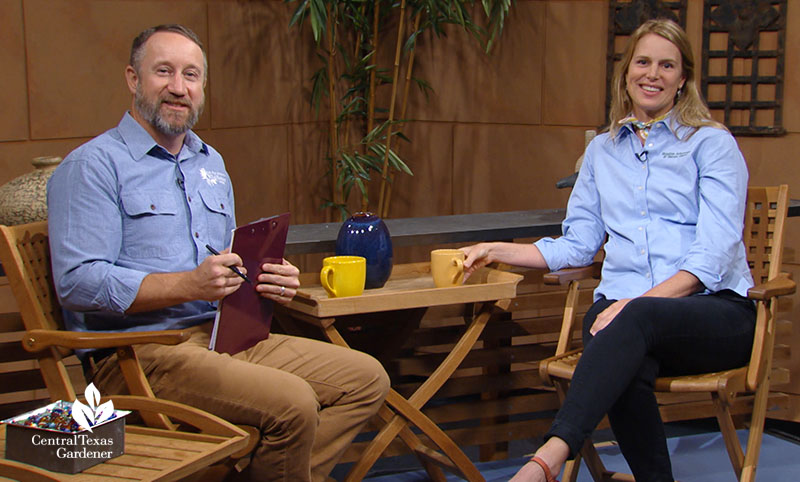 Emily explains why and how the Houston Arboretum initiated a master plan with Design Workshop that's currently in process.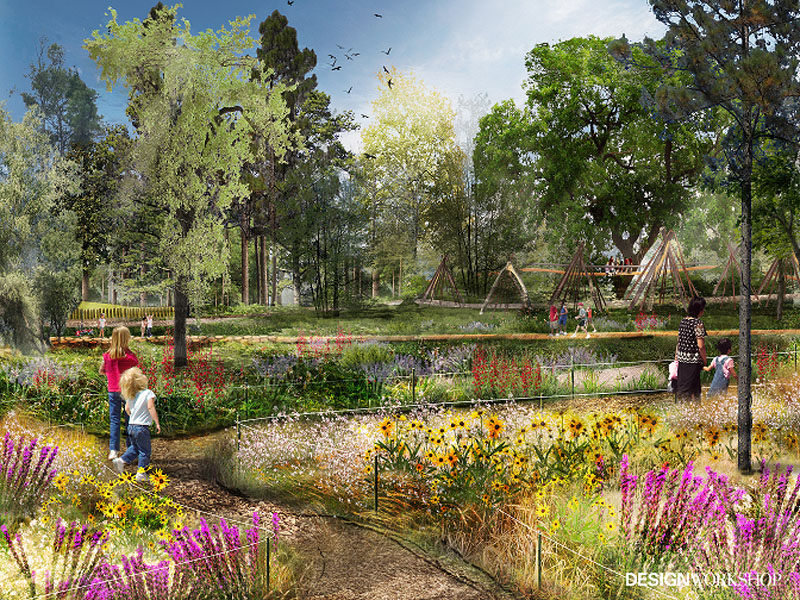 After Hurricane Ike in 2008, the drought of 2011, and Hurricane Harvey in 2017, their mission in rebuilding losses was to build diversity, resilience, and flood water infiltration since these events occur more frequently.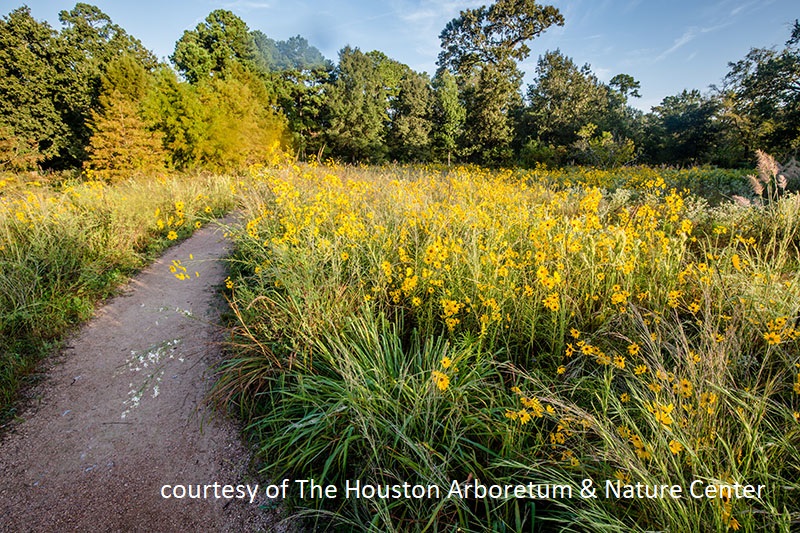 Actually, just hours before we recorded this interview, Imelda had been upgraded to a tropical storm.
On the Arboretum's 155 acres in central Houston, "The idea was to build back different ecosystems since Houston's a convergence of three major ecosystems," Emily tells us.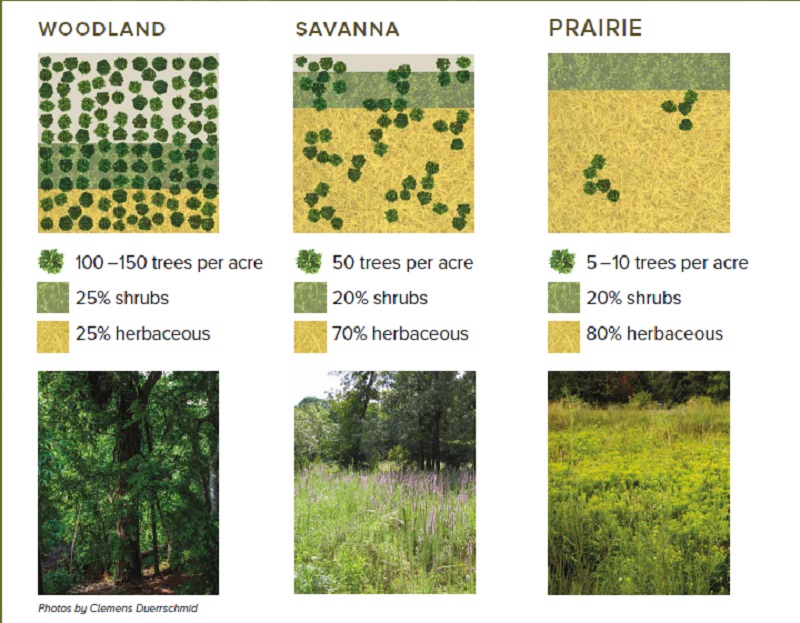 Already, wildlife is returning (some never seen before on site), and the community—children and adults—find mindful, restorative, and discovery experiences in every season.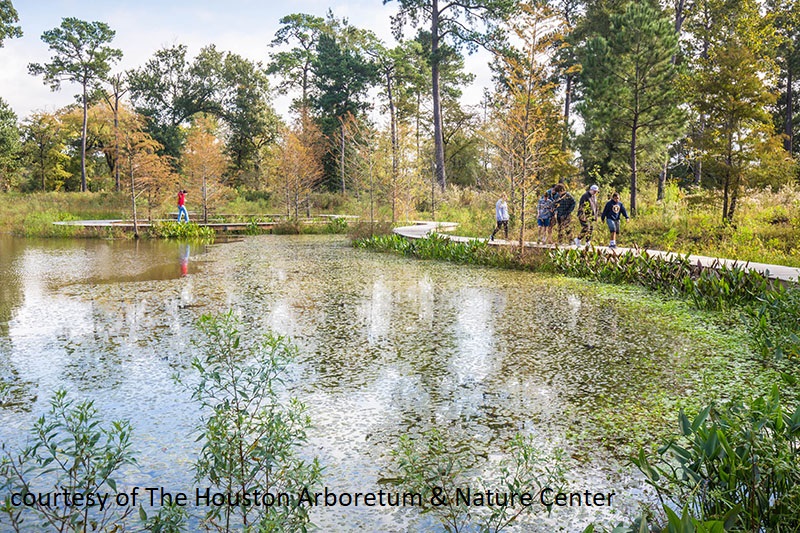 Watch now!
To celebrate Texas Native Plant Week October 13 – 19, both the Wildflower Center and the Houston Arboretum host popular native plant sales where you can snag specimens not always found in nurseries. Check their websites for available plants, get there early, and bring your wagon!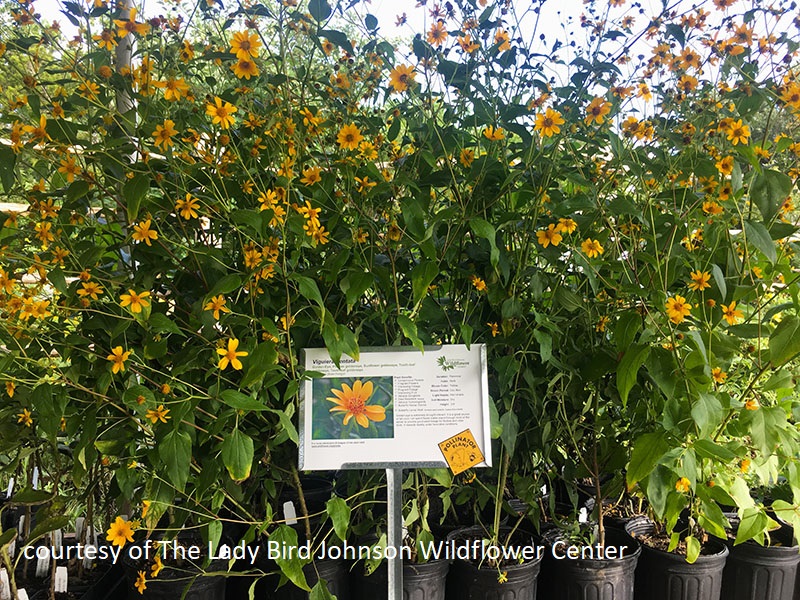 Lady Bird Johnson Wildflower Center Fall Plant Sale: Oct. 18 (members only) & Oct. 19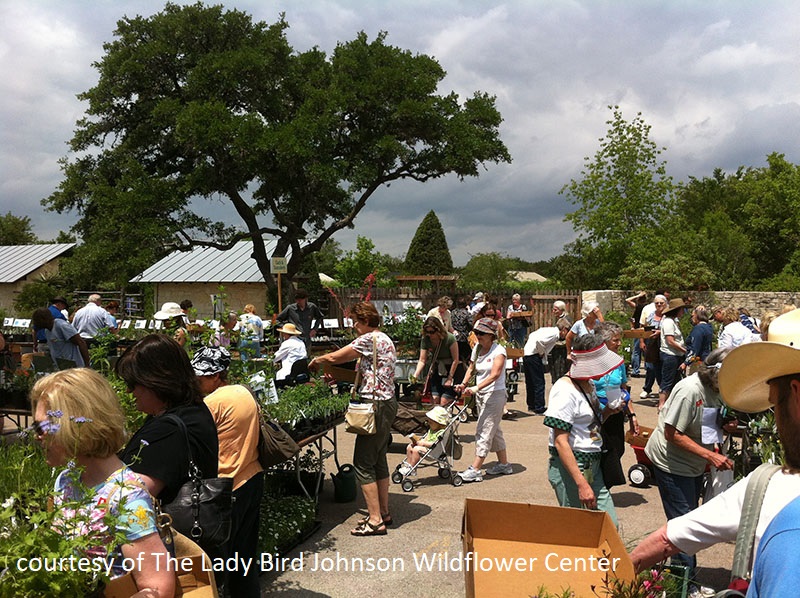 Houston Arboretum & Nature Center Fall Plant Sale: Oct. 25 & 26 (member discounts for plants)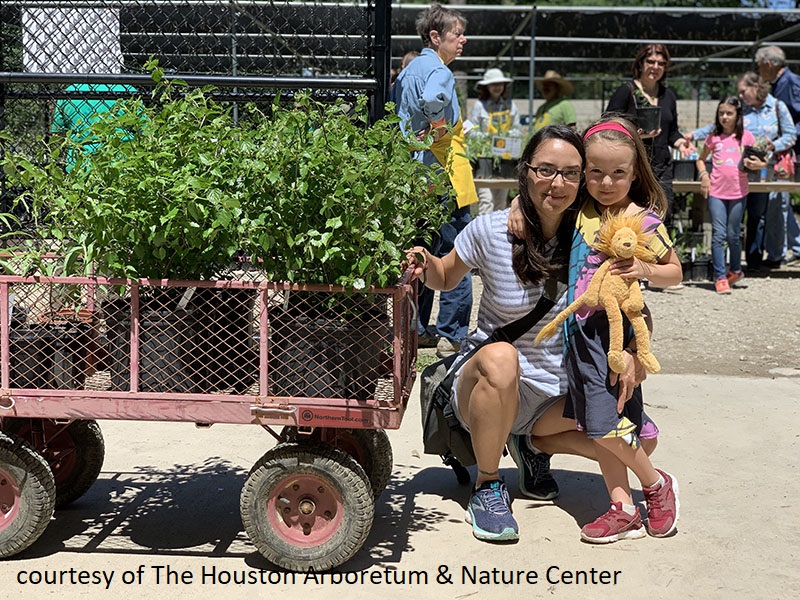 On tour: Janie Orr and daughter Jennifer Orr, landscape architect with Studio Balcones, transformed an old yard into native plant habitat while protecting heritage trees, controlling erosion, and collecting rainwater.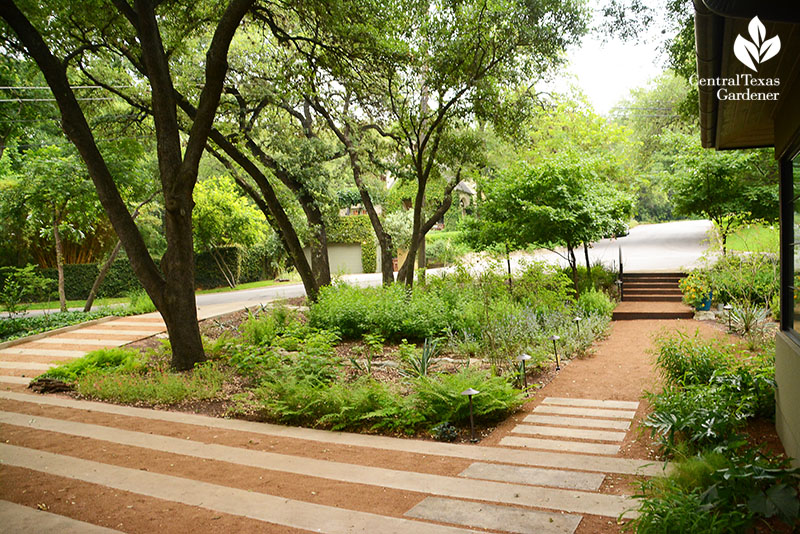 Since the old home needed structural and interior renovation, from the start they allied closely with Clayton & Little architects to meld contemporary flair into the wooded site above Waller Creek.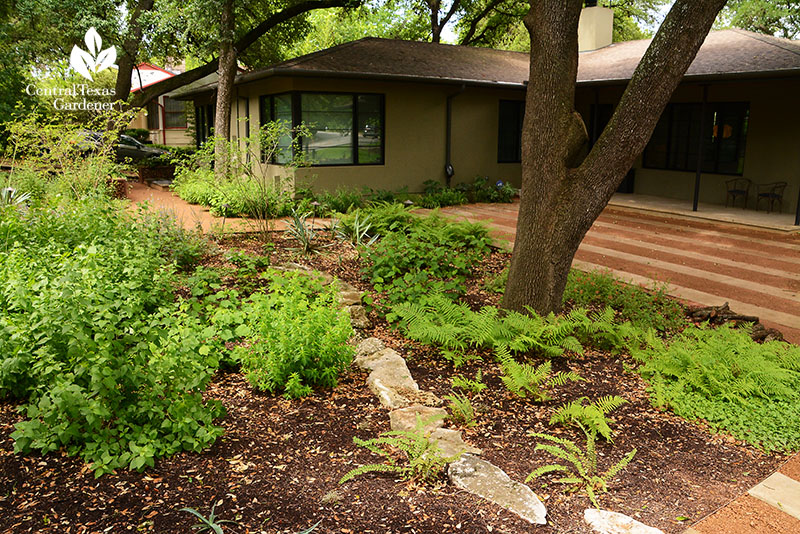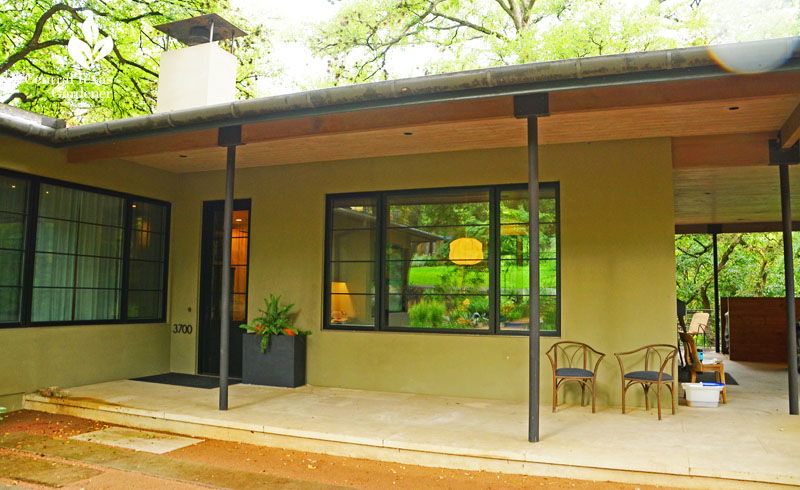 One directive was to remedy the lack of a driveway.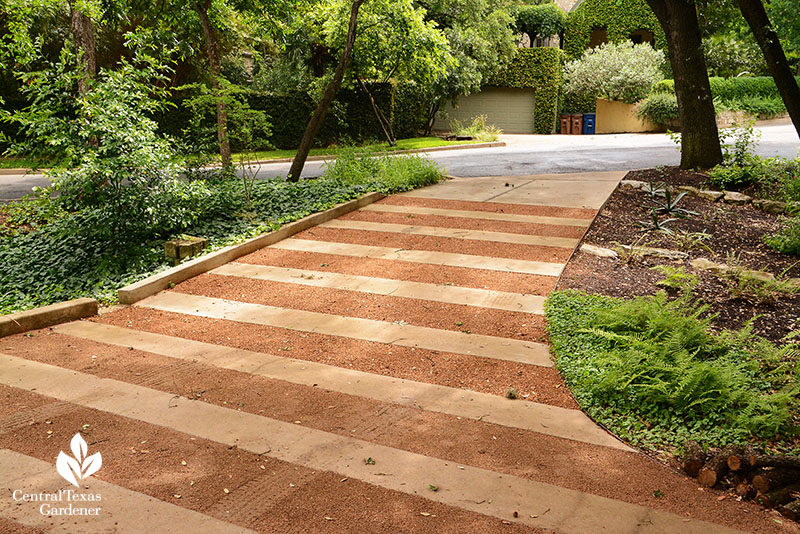 Since Jennifer's first concern was protecting heritage tree roots for the driveway and walkway, she chose compacted road base as her sub-base. Then she interspersed bands of concrete and decomposed granite mixed with a pathway stabilizer.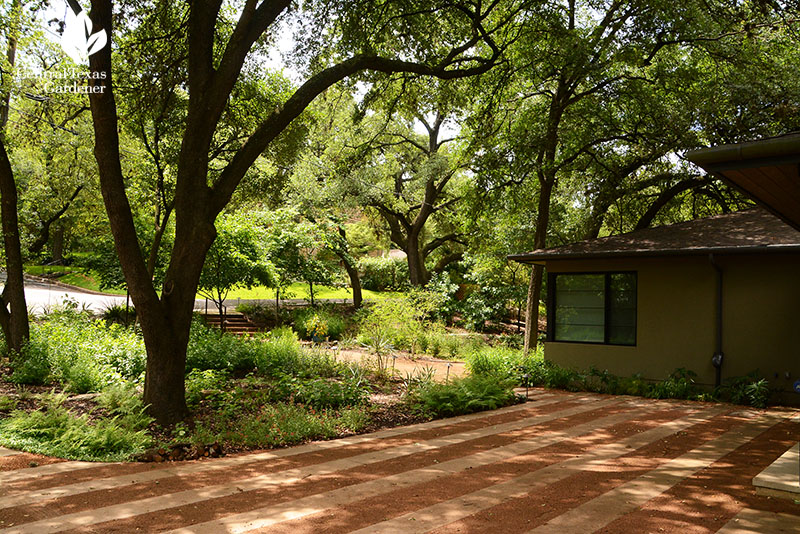 She also engineered a curb cut and safer front walkway from street to house.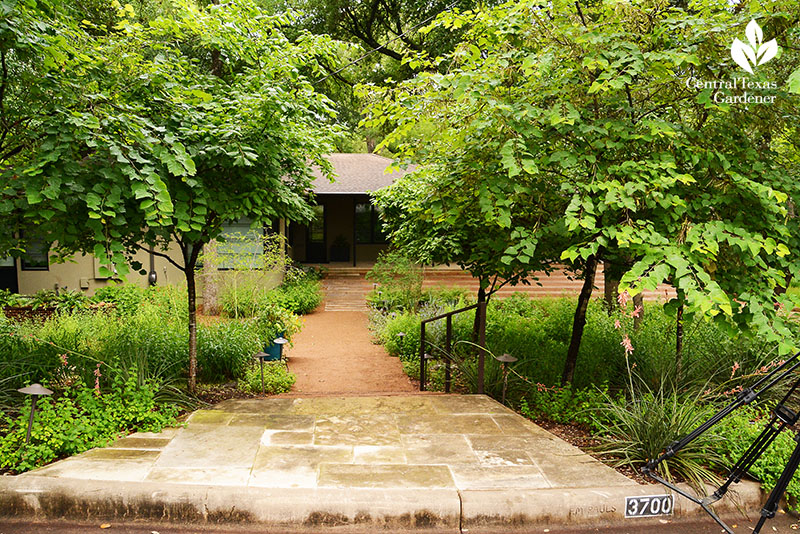 Recently planted understory native trees shield the front windows from car headlights heading down the intersecting street. Plus, they attract pollinators and birds.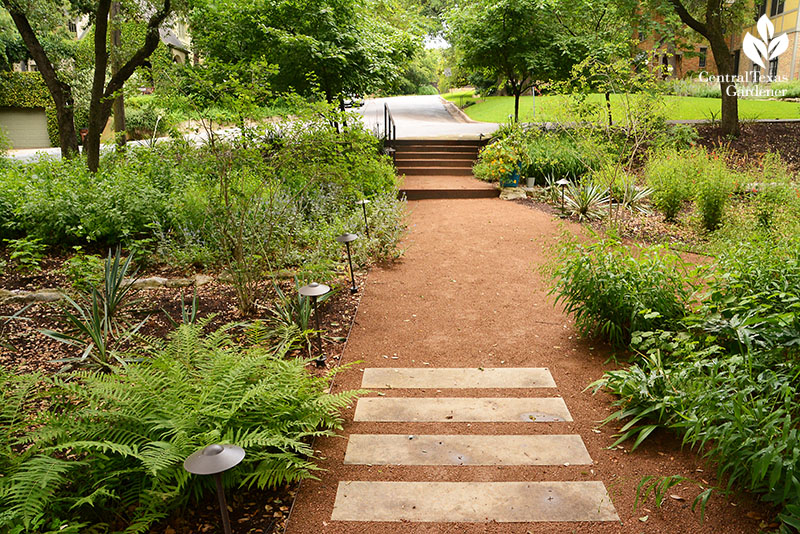 After eradicating nandina and other invasives, they went for drifts of mostly native woodland plants with wildlife benefits. Janie's tucked in perennializing bulbs for bonus seasonal color and during perennial dormancy. Subtle limestone rocks serve as check dams to control erosion and slow down rainwater cascading down the slope.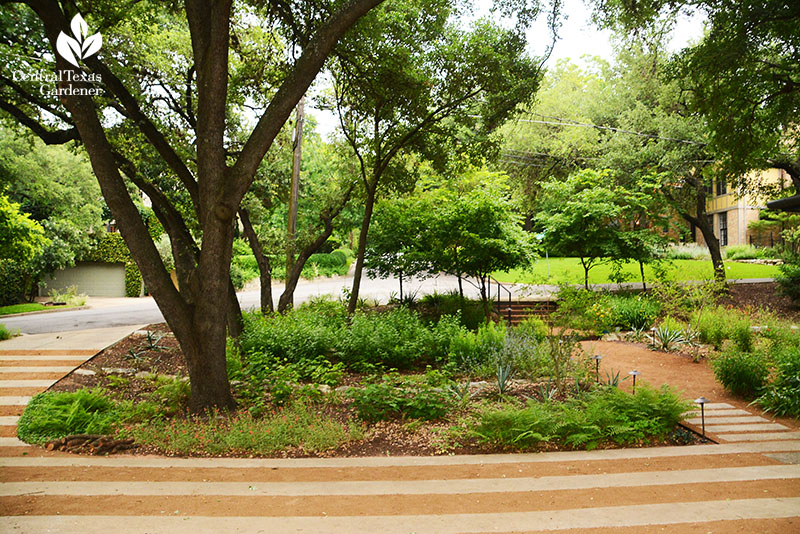 Since upper level trees create privacy, they went for subtle near the house with gabions, welded steel mesh boxes filled with stones. They added soil to grow holly fern, native water clover and bulbs.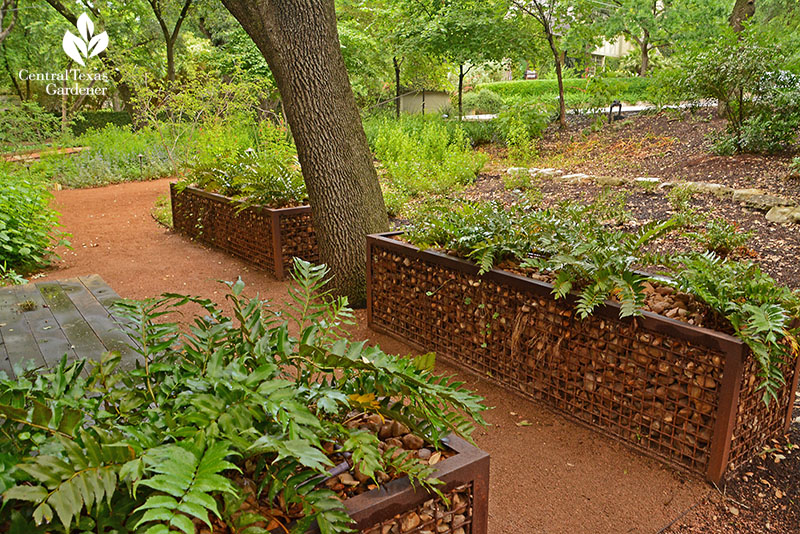 Rather than an enclosed garage, they opted for a carport. Not only is it a great hangout, including for Janie's grandchildren, the cross breeze through the welded raw steel mesh screen and cut-out window to the back makes it a really cool spot, too.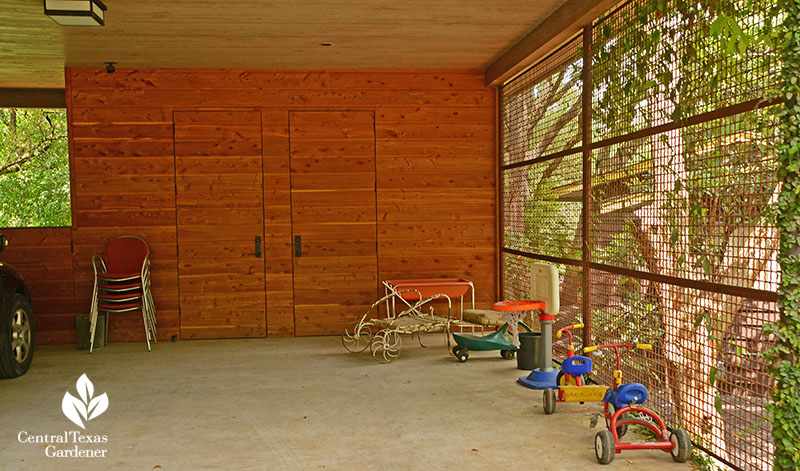 They made it an attractive room beyond the kitchen with cedar for the back wall's ample storage closets. Young fig ivy and native crossvine will eventually drape the screen.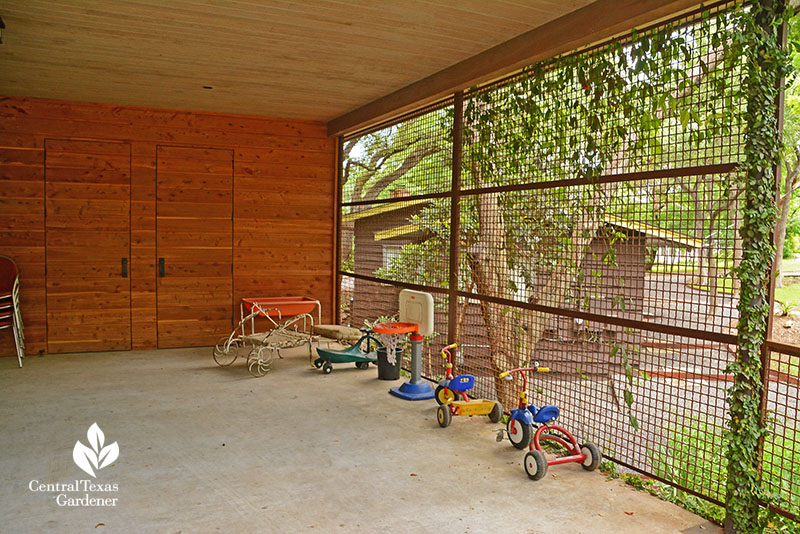 From the carport, they can head to the kitchen, take the boardwalk to the screened-in room, or pause before stepping down to the backyard.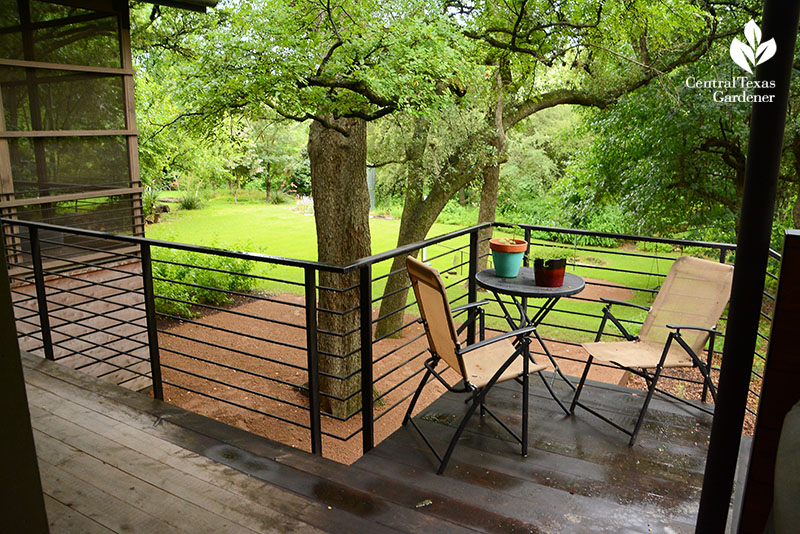 Clayton & Little built the cedar-planked, screened room. Along its foundation, Janie and Jennifer planted part-sun lovers including native possumhaw holly, inland sea oats, and flame acanthus.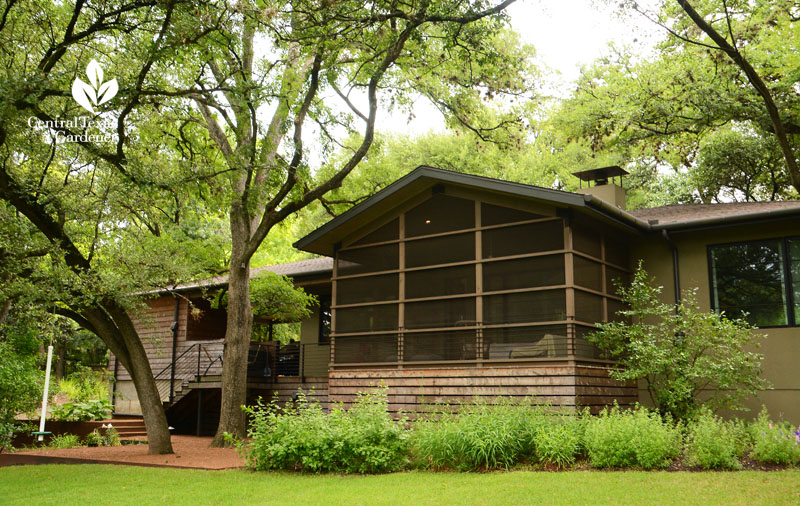 Before, the hillside to the creek was dangerous to navigate.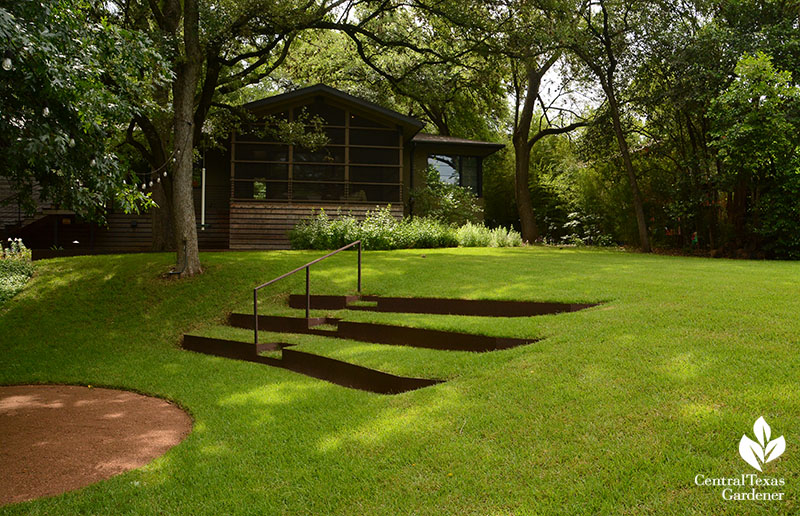 To make it a destination while respecting tree roots, Jennifer planted zoysia grass and inserted gentle steel terraces.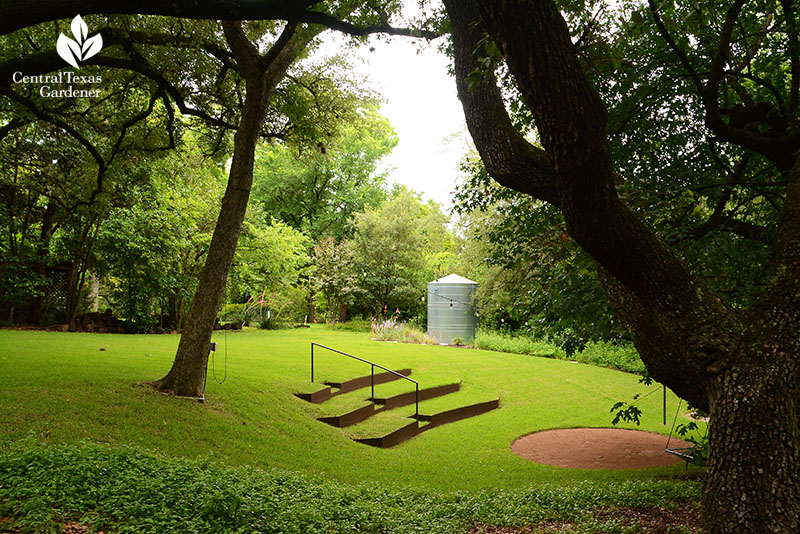 Since the natural bowl design just begged for a miniature amphitheater, Jennifer created a popular venue for Janie's grandkids' impromptu music shows and community talks.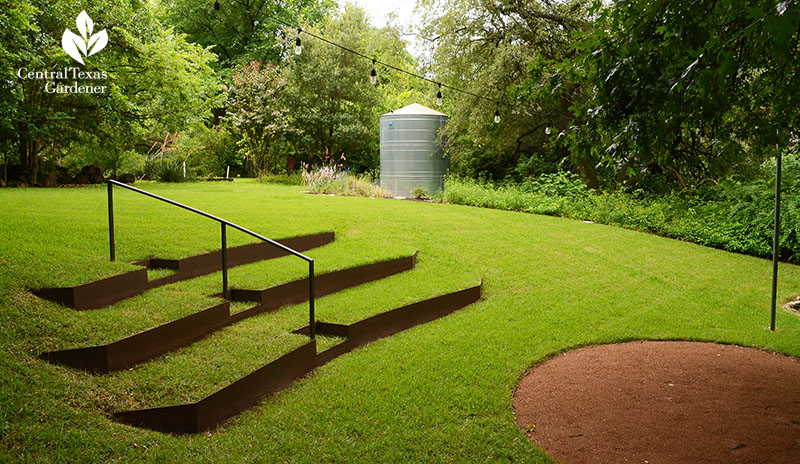 "And my brother and his wife (Robert Orr and Libby Nezda Orr) got married here. We actually had a band during SXSW since my husband works in music (Matt Reilly, KUTX)," she said.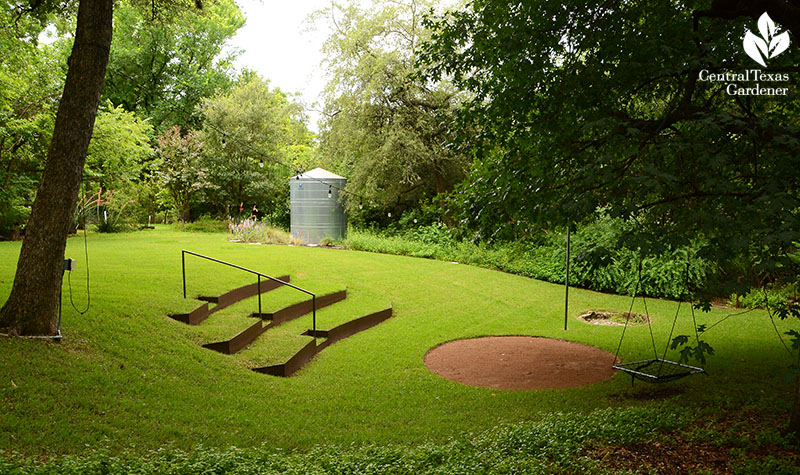 Along with rainwater infiltration, they collect it. The backyard's five-thousand gallon cistern connects to bladders under the home's crawl space, enabling 12,000 gallons of rainwater collection.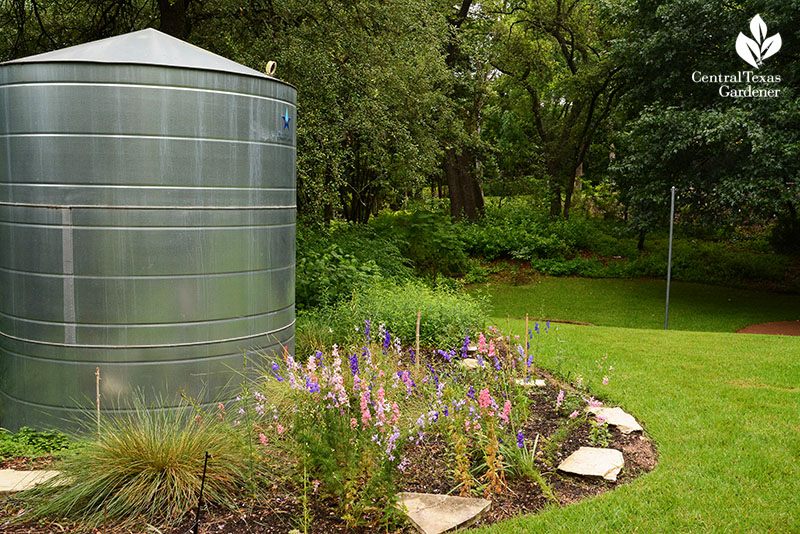 You can visit this garden in person (Green House on Greenway) on The Garden Conservancy's Open Days Austin tour on November 2. We'll be previewing the tour next week, but for now, get the details and even order tickets online.
Thanks for stopping by! See you next week, Linda
Comments