May 20, 2020
In Rain or Drought
Could you hear me whooping about last Saturday night's rain? Even my drought-hardiest were gasping until thankful drenches. And bingo! Rain lilies Zepharanthes 'Labuffarosa' jumped up on cue. These flowers are only about 3″ wide.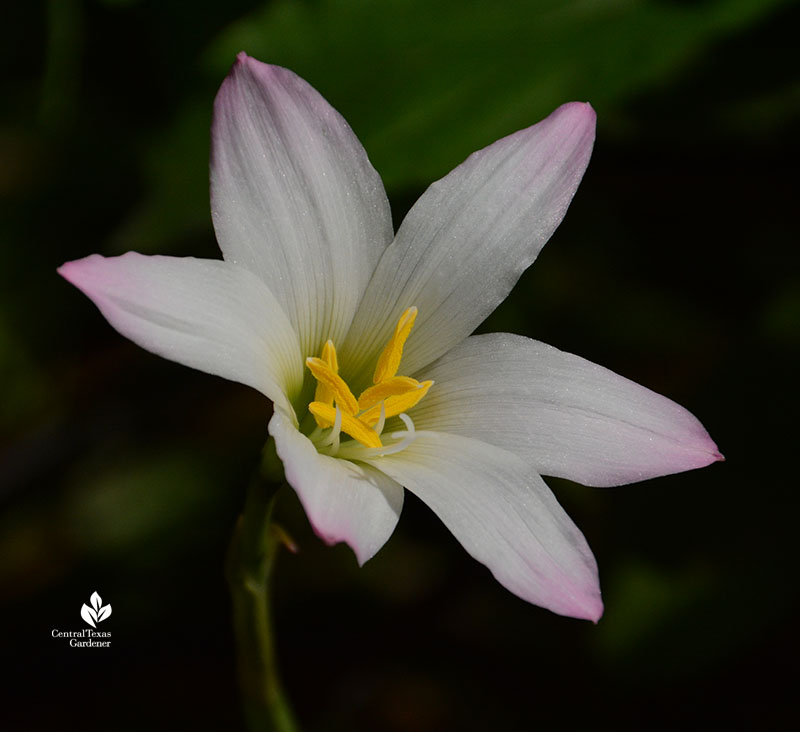 Patio containers took on a new day with leaves and roots refreshed. Here we've got Mangave 'Bloodspot', native Hibiscus martianus, dianthus, 'Sticks on Fire' (Euphorbia tirucalli), and Agave shidigera.


Silvery-leafed Jerusalem sage (Phlomis fruticosa) posed gracefully in its sunny, well-drained spot.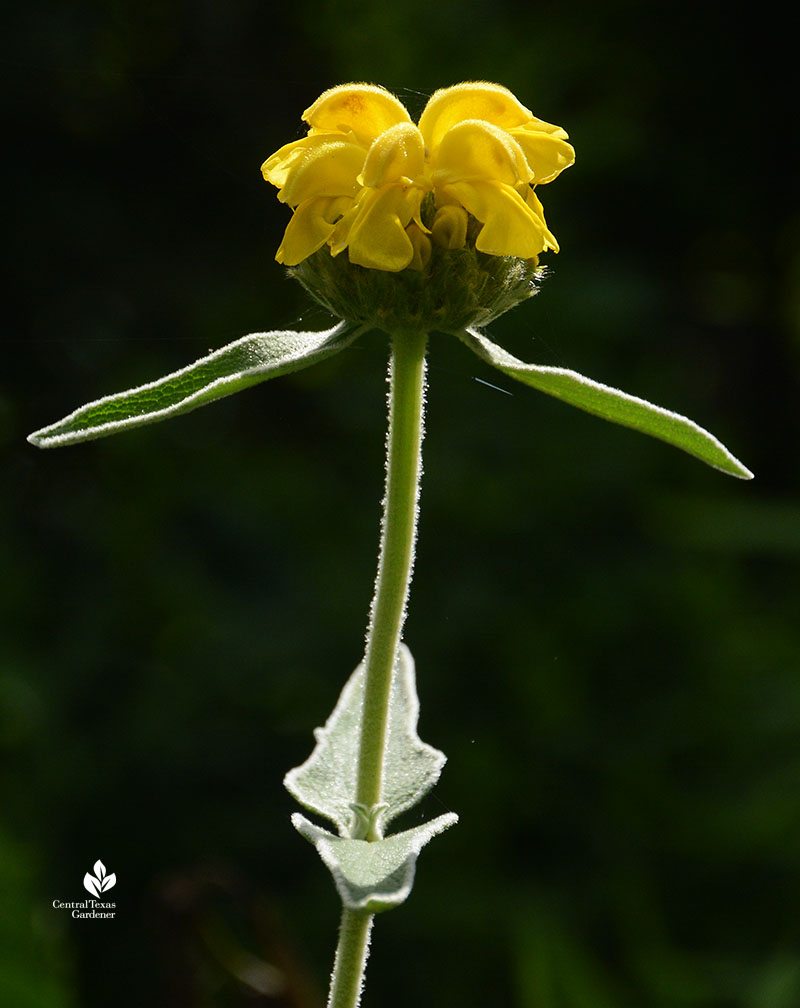 Evergreen, tough-as-nails "no name" daylilies just keep on coming!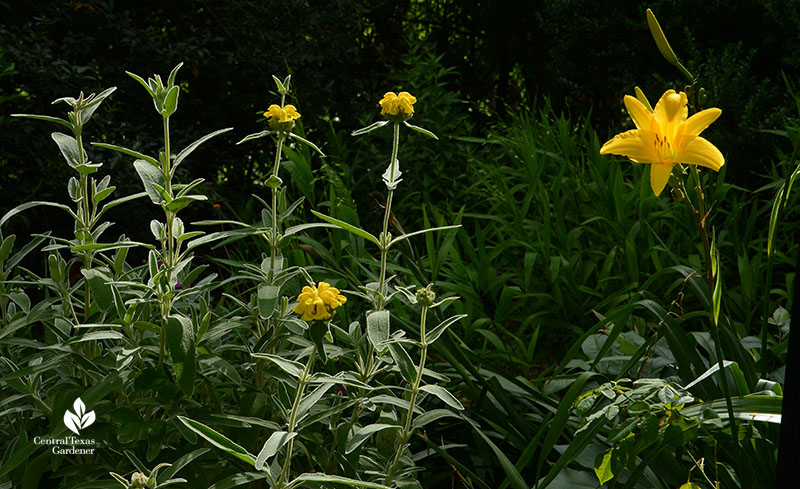 I've certainly got a crush on 'Orange Crush' daylily, passed along to me by Donna and Mike Fowler whose creative garden we've featured a couple of times (since they're always making changes!).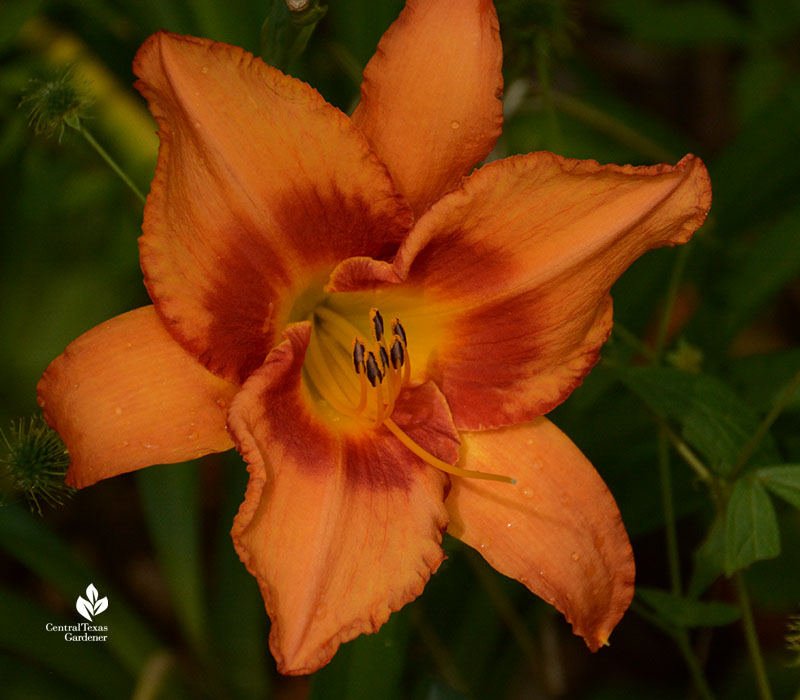 Thanks to them, it's the official flower of Hutto to symbolize the warmth and spirit of this convivial community (home to the high school's Hutto Hippos!). I will add "tenacity" and "adaptability" to its charms, here in my Blackland Prairie soil with morning sun.
I guess I've got a thing about orange, since the little lanterns of 'Patrick' abutilon, dangling among broad maple-like leaves, make this my favorite of a somewhat cold-tender perennial. Mine's close to the house, so it handles winter fine unless we get extended days below 25°.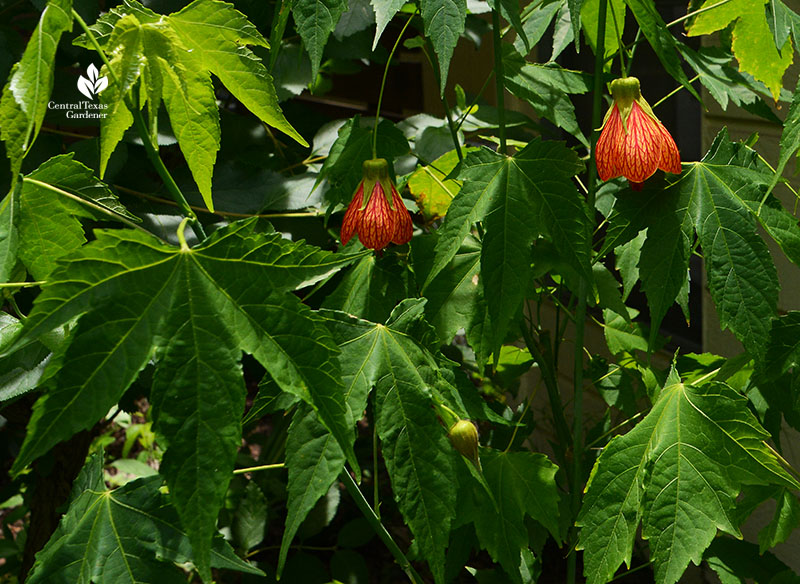 Okay, I'm a fan of lavender, too, especially when it's on native aster (Symphyotrichum oblongifolium) putting on a bigger show—albeit short-lived—this week. Quickly, it'll be all foliage until fall. A native Geum canadense seeded in the walkway cracks, to my delight!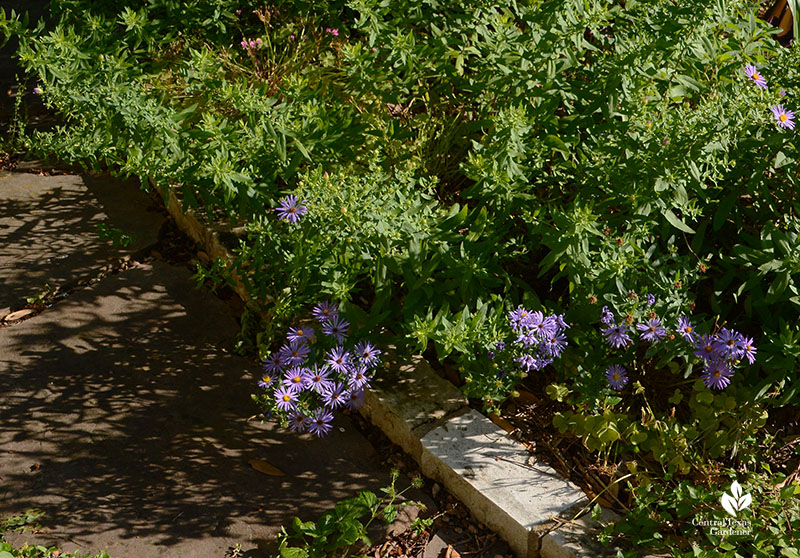 From the other side, more asters (not blooming), Zexmenia, and pink oxalis on its way out.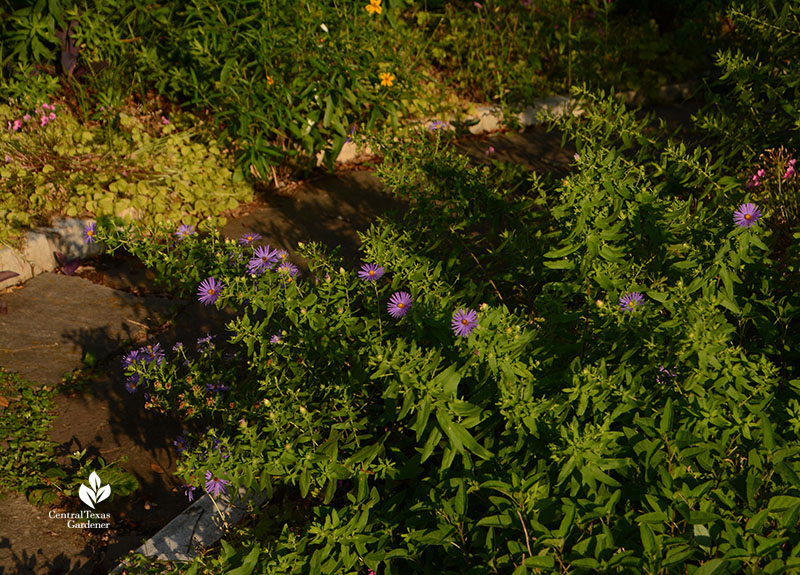 Native pink-petaled pavonia (Pavonia lasiopetala) seeds prolifically. I'm glad it chose to complement this driveway bed. It's easy to transplant this evergreen, but I wouldn't do it as we head into consistent hot temps.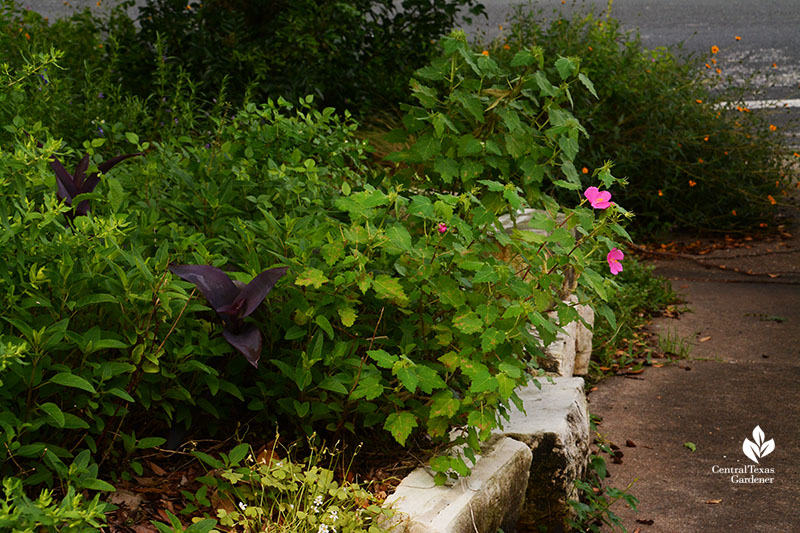 Zexmenia (Wedelia acapulcensis var. hispida), another native energetic seeder, attracts butterflies to its nectar. It's a host plant for Bordered Patch butterfly and others.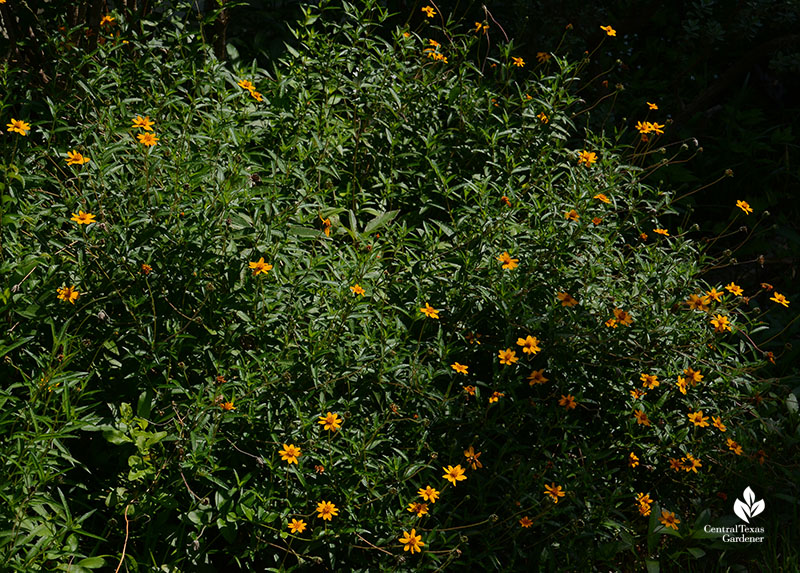 If you let the blooms dry to seeds, you'll surprise flocks of little birds snagging the seeds. Loves sun, but takes part sun, and very drought tolerant. I'm very allergic to it, so wear long gloves when working around it. You'd think its fragrance would scare off deer, but it's only moderately resistant.
Although my garden appreciates rainfall, especially when the thermometer soars as it did this week, it hunkers down in dry times with a little irrigation to rebound in fall. This week, we repeat our wonderful segment with host John Hart Asher and Panayoti Kelaidis, Senior Curator and Director of Outreach at Denver Botanic Gardens. If you missed it before, you'll love his water resourceful connections across state borders!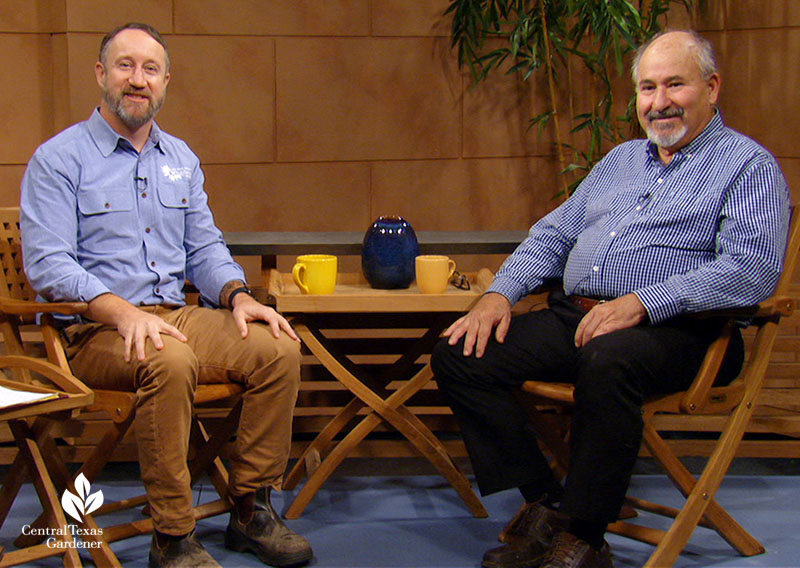 Recently I learned that wholesale Far South Nursery, who we've featured on CTG before, is now open to the retail trade with safety measures in place. What a treat!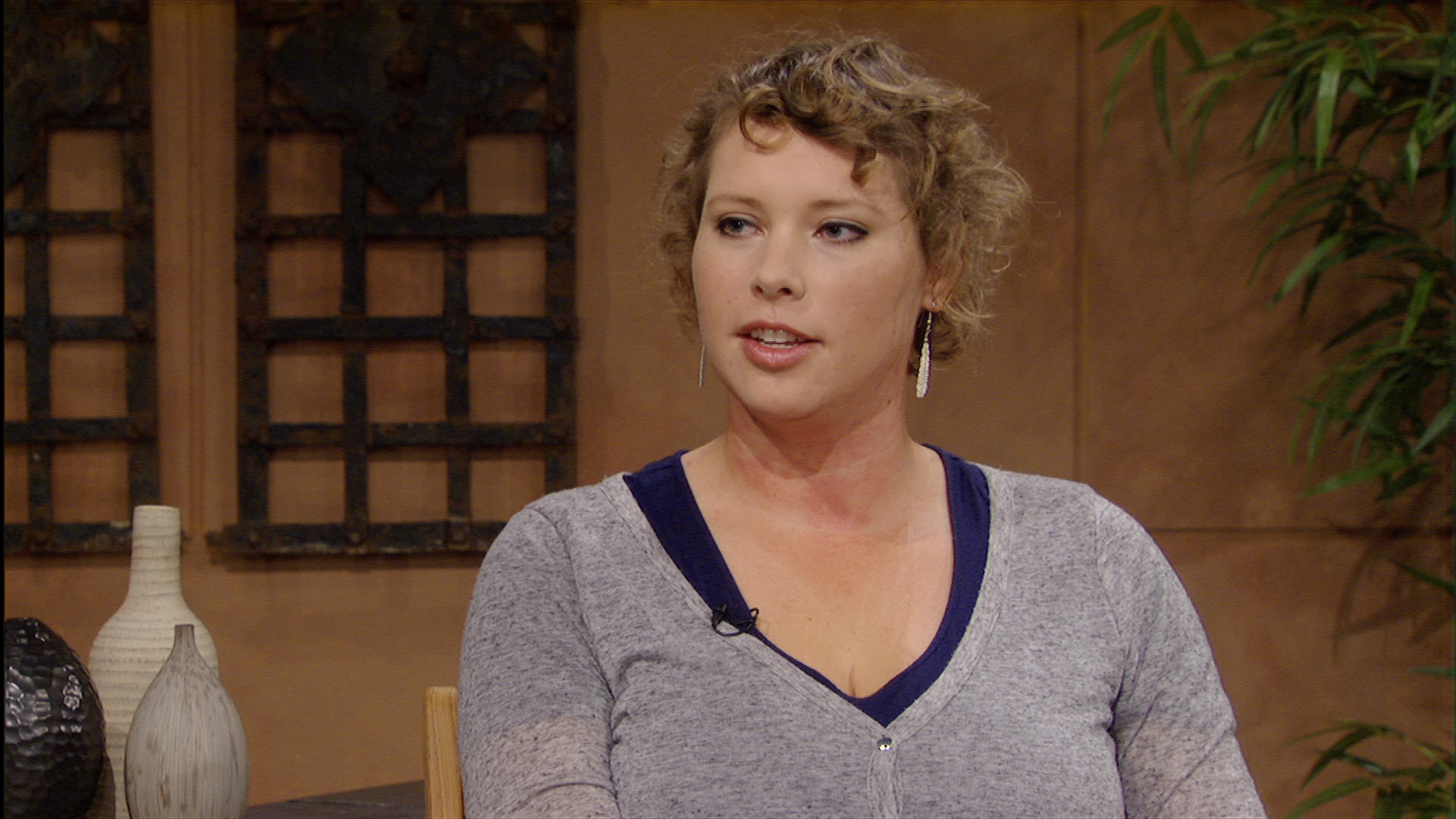 Many botanical gardens, including the Lady Bird Johnson Wildflower Center, the Dallas Arboretum, and the San Antonio Botanical Garden, are opening to reservation-only visitors, so check them out!
Thanks for stopping by! See you next week, Linda
Comments