July 22, 2021
Bluebonnets in July, Plumerias, Asters Yellow Disease
The big question every spring: "When will bluebonnets bloom?" So, what about July? Yep, these bluebonnets at the Lady Bird Johnson Wildflower Center jumped out early for a rare sight—cozying with native Zexmenia (Wedelia acapulcensis var. hispida), typically dormant in bluebonnet spring.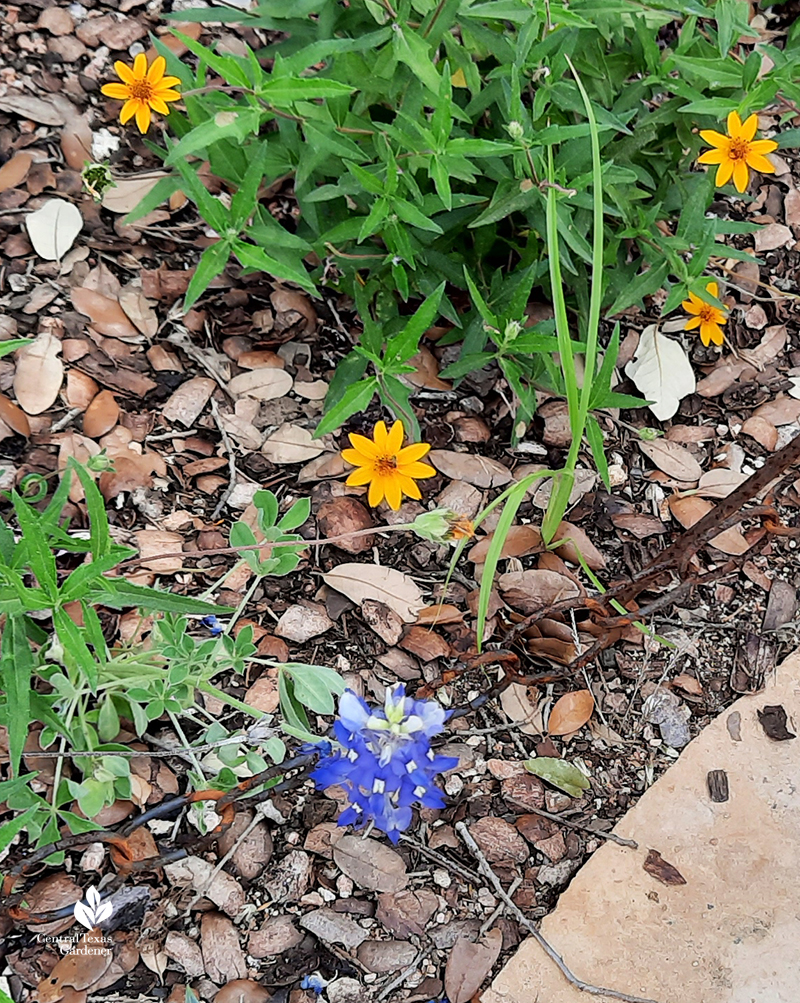 Last fall when a viewer's bluebonnets showed up in October, Daphne told us, "This off-season bloom pattern has been happening more over the last few years. Climate change has made our seasons completely unreliable, with warmer winters, hotter summers, and generally pervasive drought, which has upended some plants' life cycles."
Of course, they might be showing off for Lady Bird Day this Saturday, July 24, from 9–5 p.m., when the Wildflower Center honors their namesake and founder for all that she did for our nation's treasured environments. For this admission-free day, pink-flowered Virginia saltmarsh mallow in the front entrance pond already donned its party garb.


Crinum americanum and yellow waterlilies usher in a day of family-friendly activities, fun photo ops, and a Lady Bird-inspired lunch menu at the Wildflower Café (including a Lady Bird IPA!).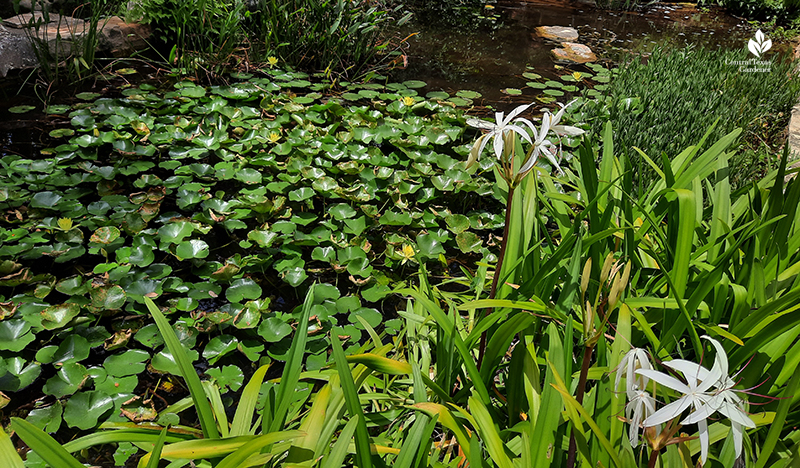 A tiny red slider's getting ready as fast as possible!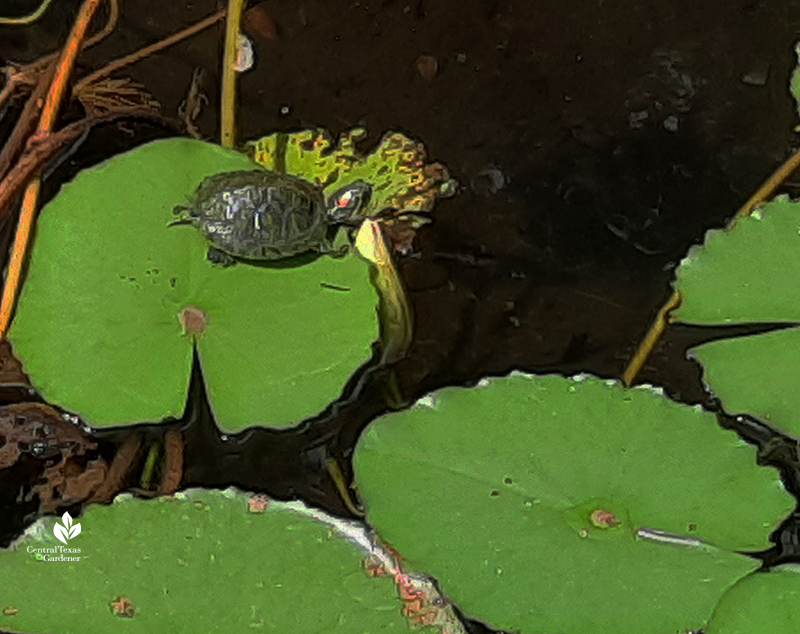 The first of my pink "no name" crinums unfurled soft trumpets proclaiming victory over February's deep freeze. I never fertilize and I water only once a week unless we get ground-soaking rain. In summer, a tree softens its direct sunlight.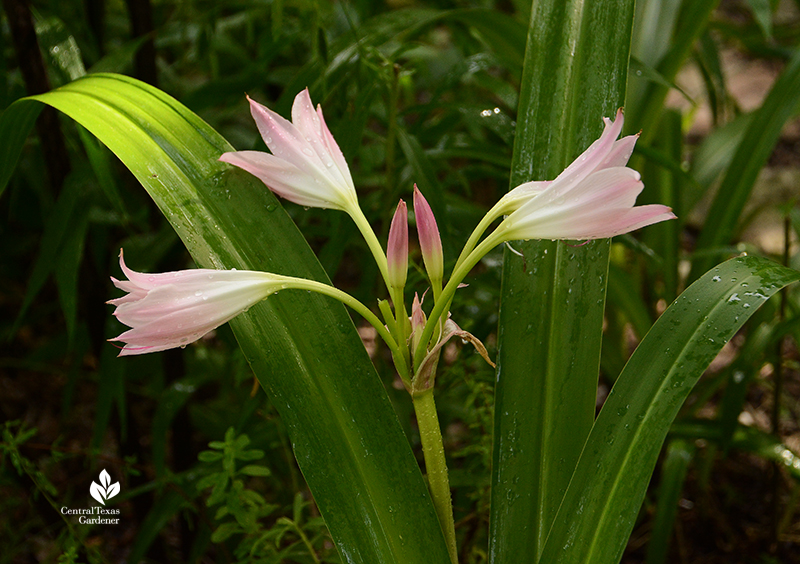 Sadly, though, it looks like two native coneflowers succumbed to asters yellow, a viral-like disease vectored by migratory aster leafhoppers. Cool, rainy, and humid weather in late spring and summer exacerbates the spread. There's nothing to do about it except dig up the plants.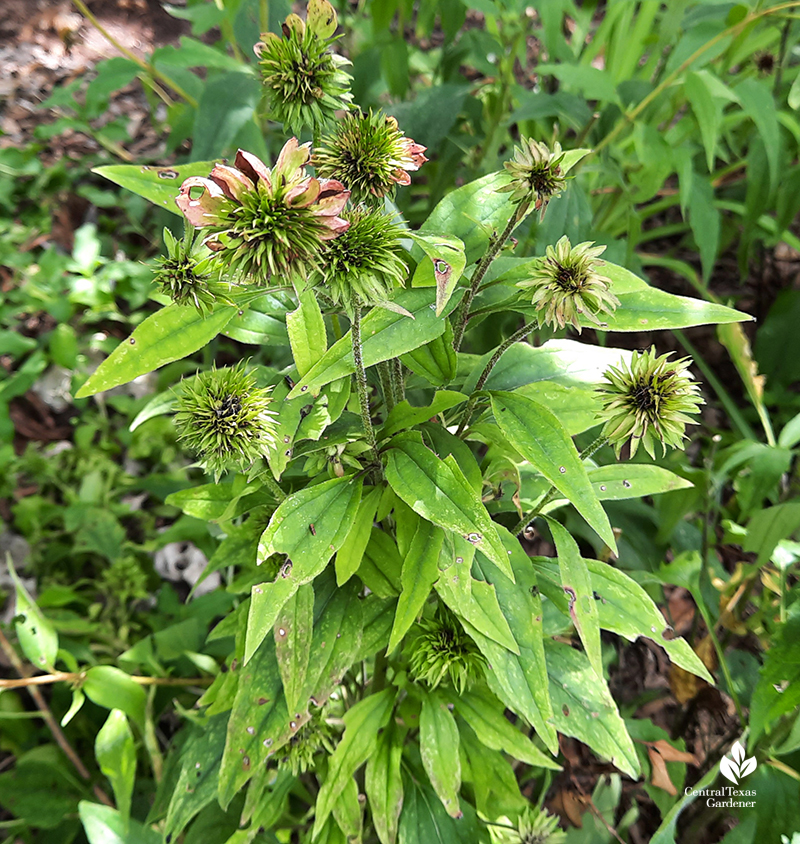 A few years ago during similar weather as now, I lost plants on the other side of this bed. I replaced them with divisions from this spot. They're still fine, as are the rest in this grouping.
But, this strange growth on a native mountain laurel is nothing to worry about. Viewer Catie grabbed this great shot on a young tree that she and her husband grew from seed.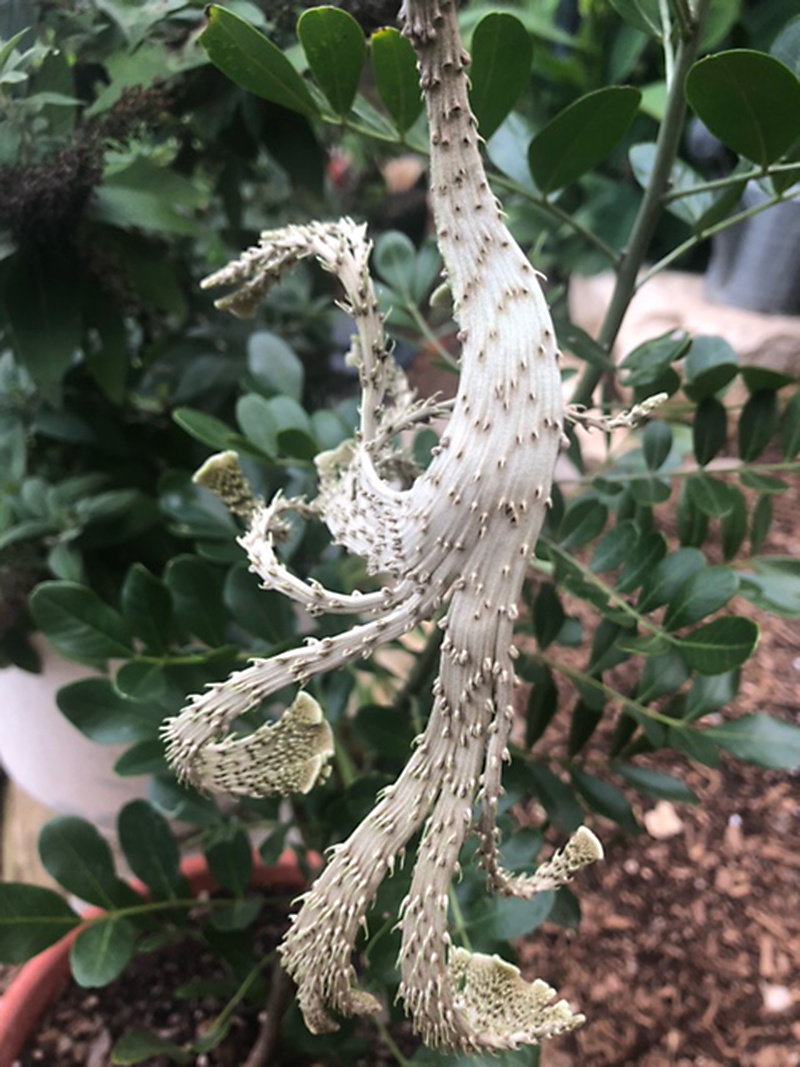 This fascinating phenomenon is called "fasciation." In the past, Daphne explained: "It develops when the round growing point, the apical meristem, becomes distorted and crescent-shaped." There's no known cause, and it may never happen again, so what a treasure for their tree's garden photo album! (I love looking back at pictures—film or now digital—of how our little plant family grew up. We've even done the whole measuring stick thing, too!)
Near Houston, David Hamilton describes this plant as a "great example of nature's art." This beauty is Clerodendrum ugandense, native to Africa. Although its top froze to the ground in February, its roots survived.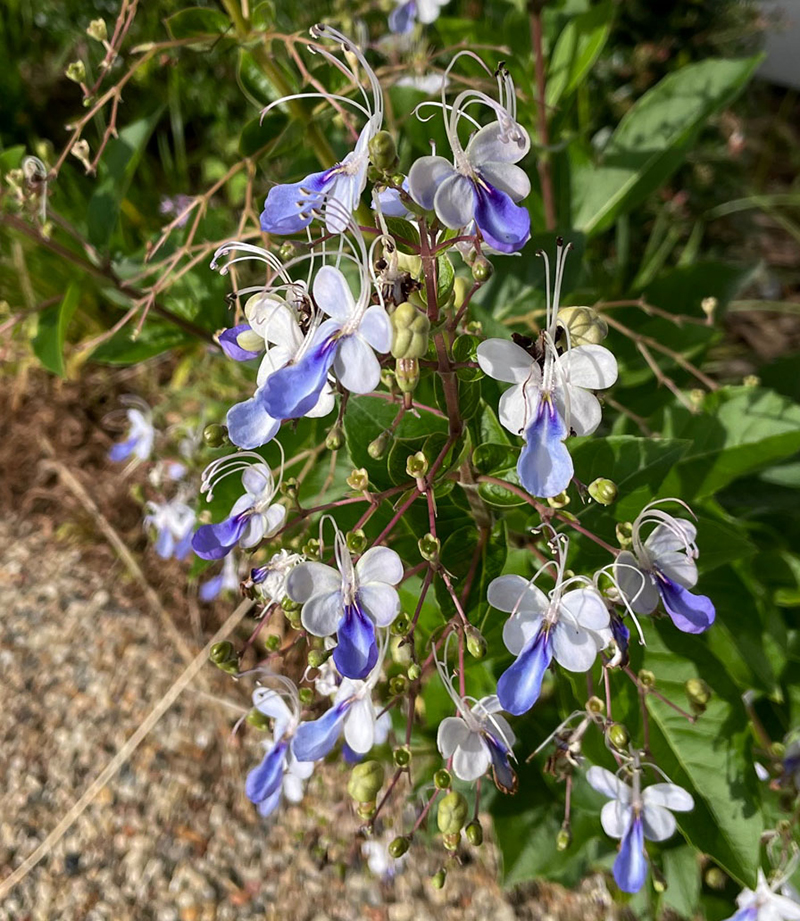 David reports that now it's nearly 7' tall! Often called "blue butterfly bush," since the flowers look like butterflies, he mainly spots lots of bees on those enticing flowers.
These lovely plumerias are going strong for Robert Gonzalez near Bryan/College Station.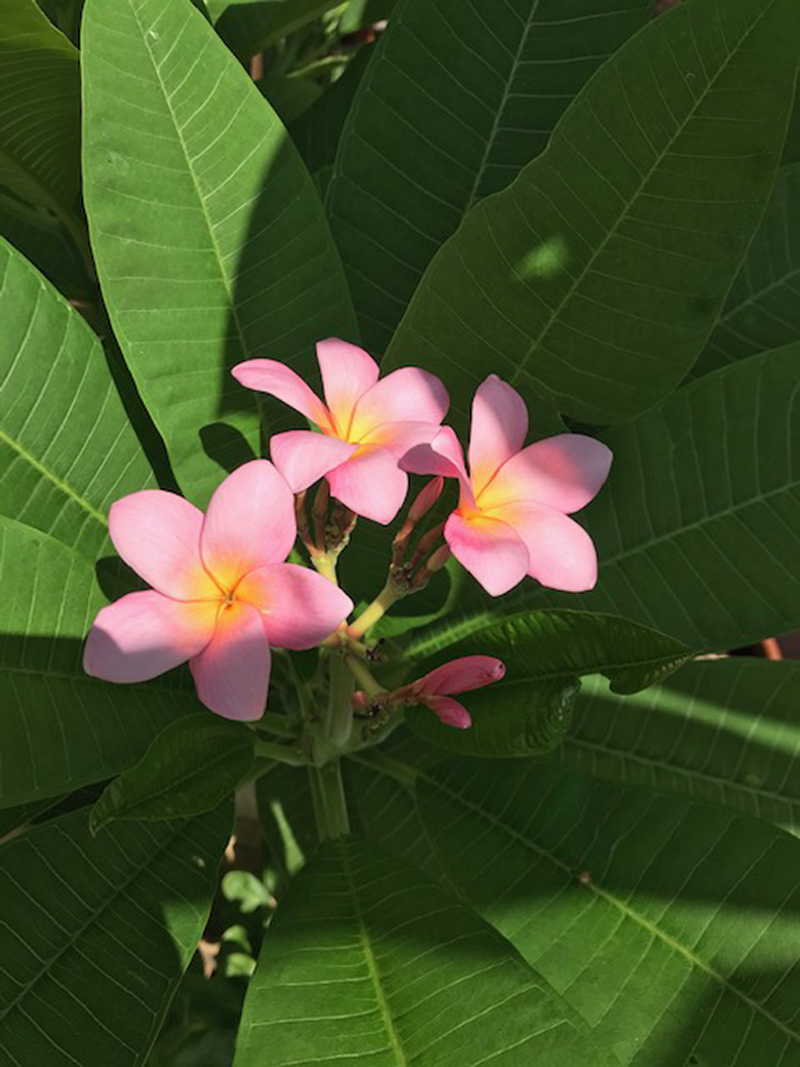 He's still got a dozen of them in containers, though he lost two of the largest in the freeze. They were over 12' tall, so he had to lay them down in the garage. The concrete floor froze, killing the branches in contact with it. The upright ones fared well.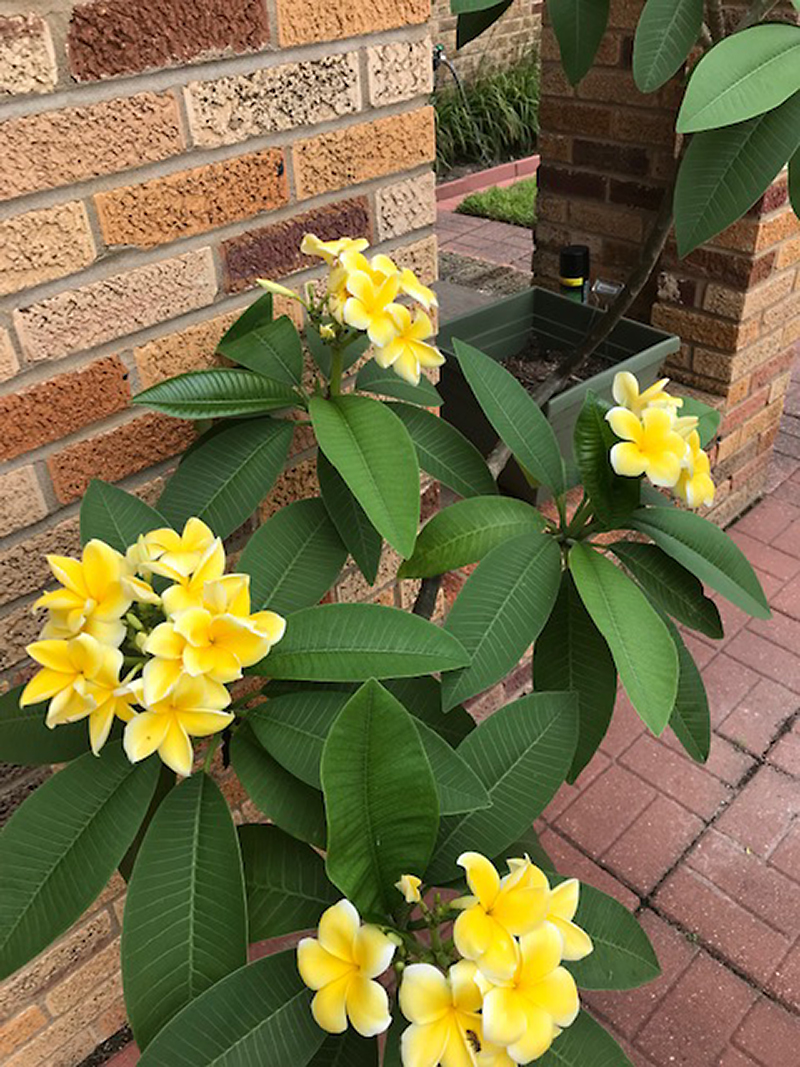 And then, wouldn't you know it—hail blasted them when he brought them out this spring. No problem. His plants get sun all day and he fertilizes with a plumeria food every two to three weeks in the growing season. Any fertilizer with a ratio similar to 5-30-5 works; you're looking for a high middle number for phosphorus.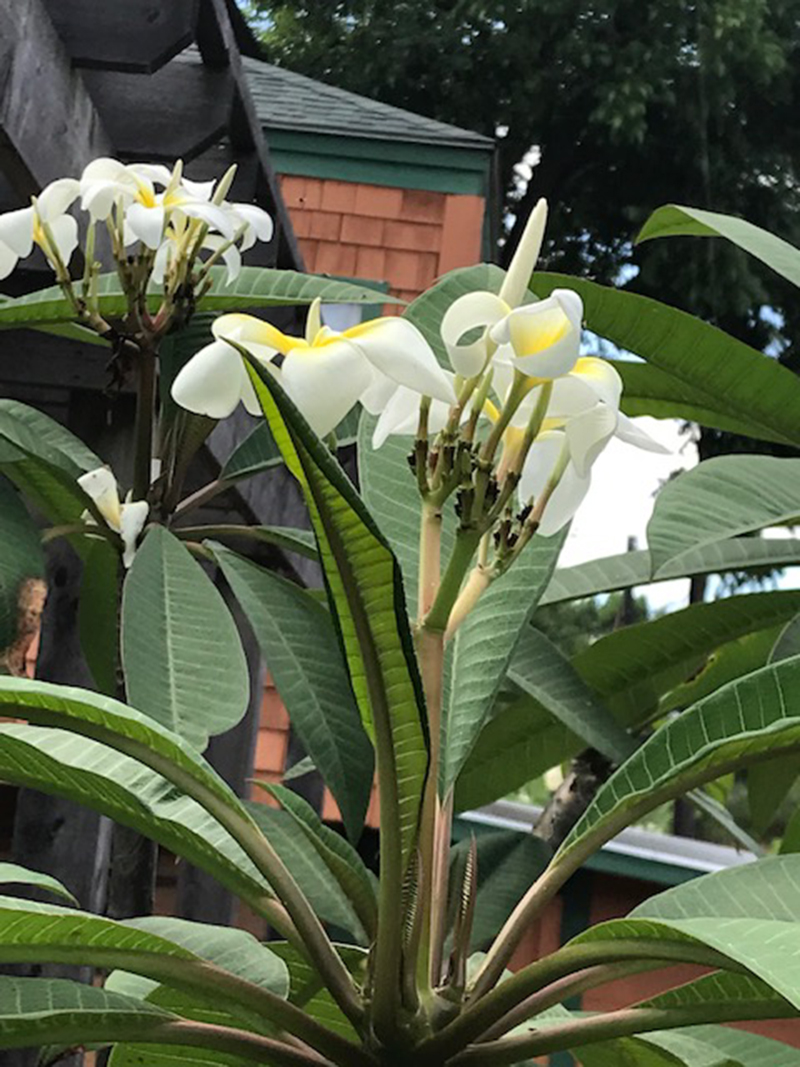 Brian Tabone's plumerias survived the deep freeze in a 4'x4'x5′ plastic zip-up greenhouse on the deck with a small space heater.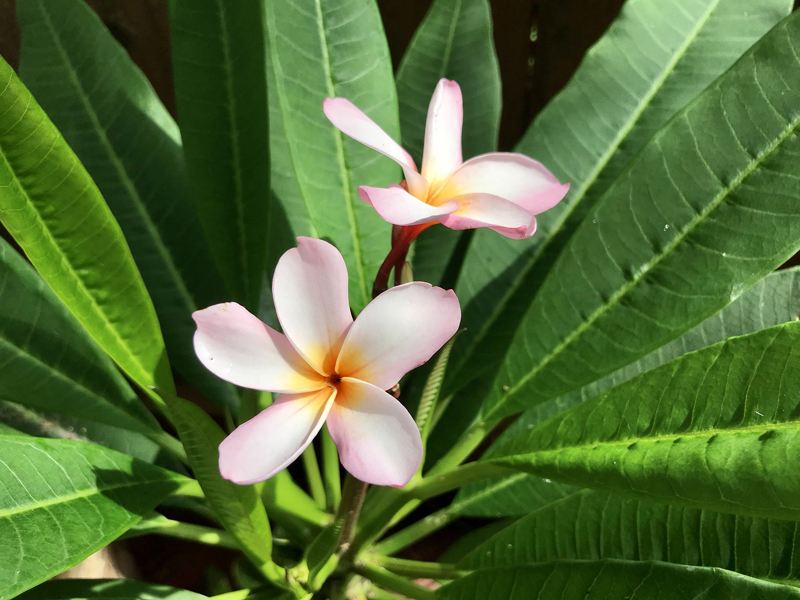 In summer, his plumerias reside in dappled sunlight on their deck for closeup whiffs. Brian says they fertilize with a soluble high-phosphorus food about once a month.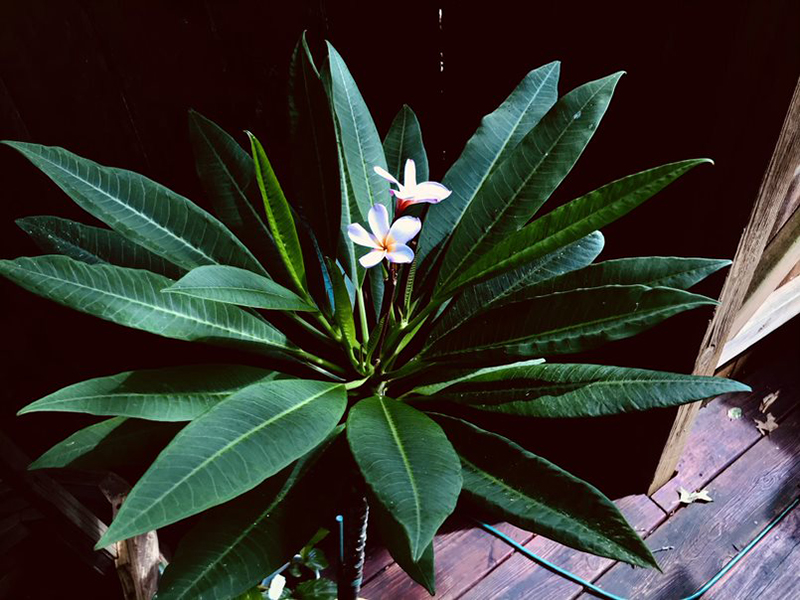 Water thoroughly when the soil is dry, which will depend on your container, soil, and location. Check the soil with a trowel or your fingers; water if the top few inches are dry.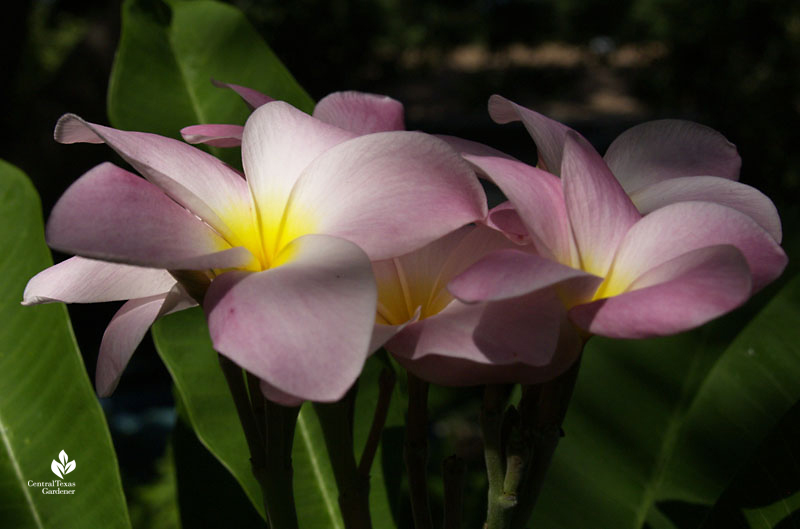 Thanks for stopping by! See you next time, Linda
Comments