June 15, 2022
Growing Community with Gardens: Harvé Franks
Master Gardener and long-term garden educator Harvé Franks wants to pass along lessons she learned as a child at her grandparents' farm in the historic St. John Freedmen's Colony. "My grandfather and my grandmother were doing farm to table from the 70s into the 80s. My grandmother had a café on Airport Boulevard called Ruby's Kitchen," she says.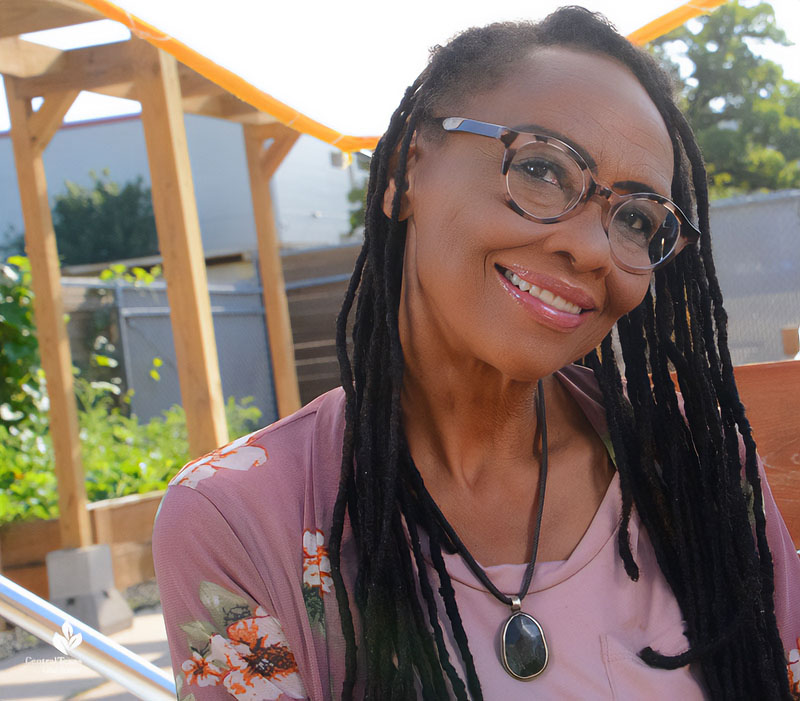 In summer 2021 she joined the George Washington Carver Museum and Cultural Center as a garden specialist. She and Greg Farrar are framing a former swimming pool with raised bed vegetable gardens to teach children and adults.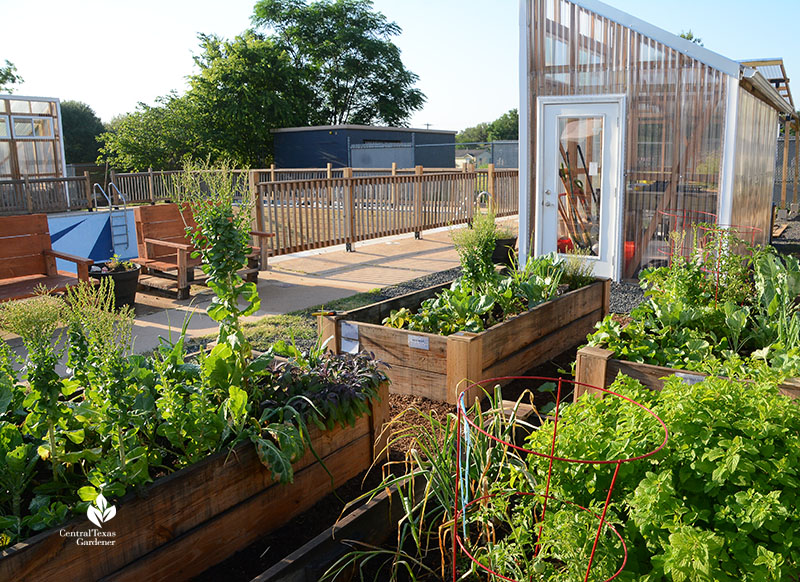 Museum curator Carre Adams wanted to restore its engagement as an amphitheater to enjoy music, poetry, and exercise classes (and more to come!) enriched by flowers, fragrance, and the cycles of growing fresh food.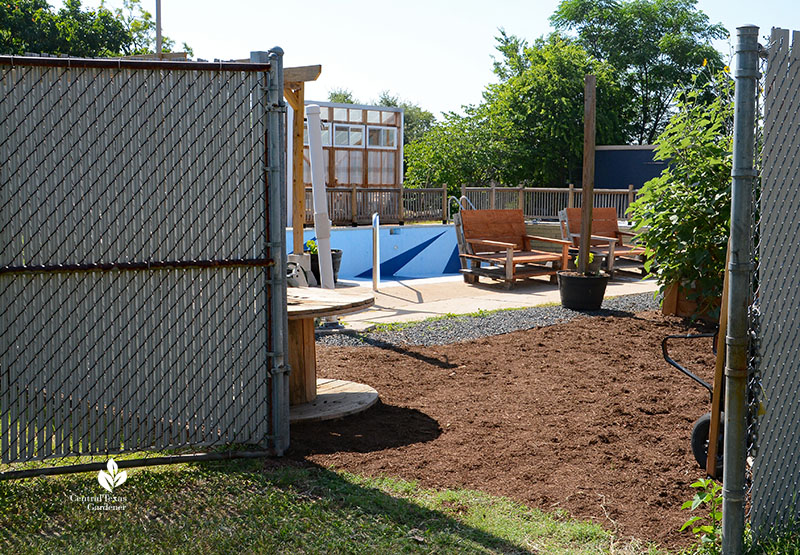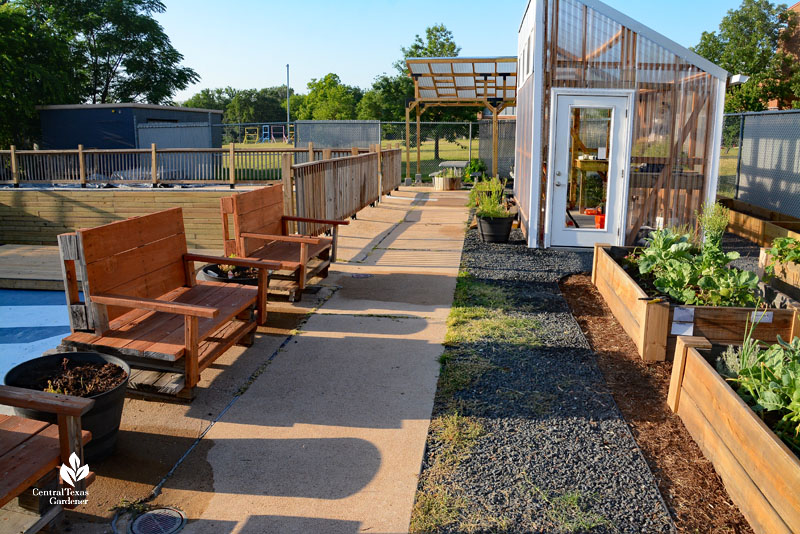 The newest of Carver's many programs, it's already reaping rich harvests. Faith Weaver, Cultural and Arts Education Coordinator, joins Harvé to pull crispy fresh carrots. We could almost taste the crunch!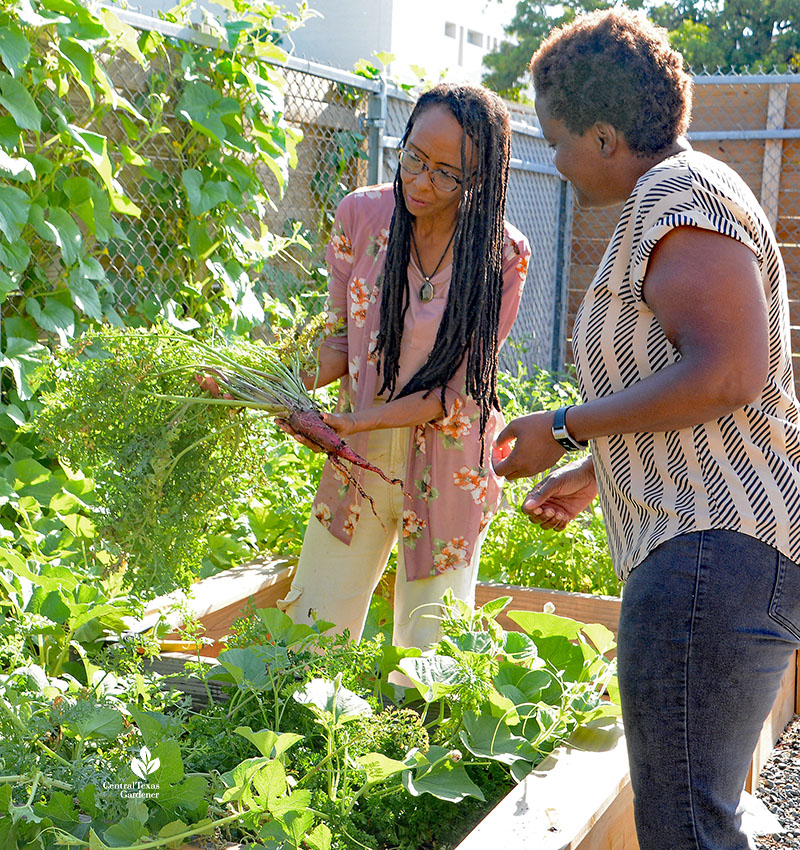 "We want it to be a place where we can bring the people in our community; they can walk around the museum, but also be able to experience horticulture and learn about gardening," Harvé says.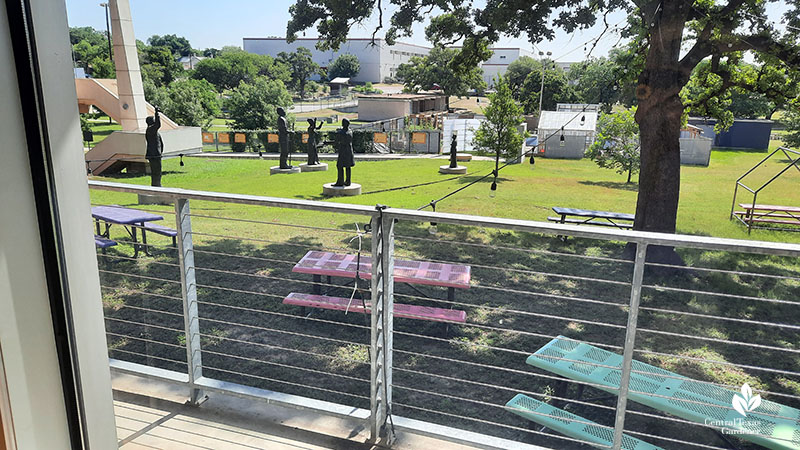 The Carver Museum, Cultural and Genealogy Center preserves and shares the culture, history and aesthetic expression of African Americans in Austin and to celebrate global contributions of Black people.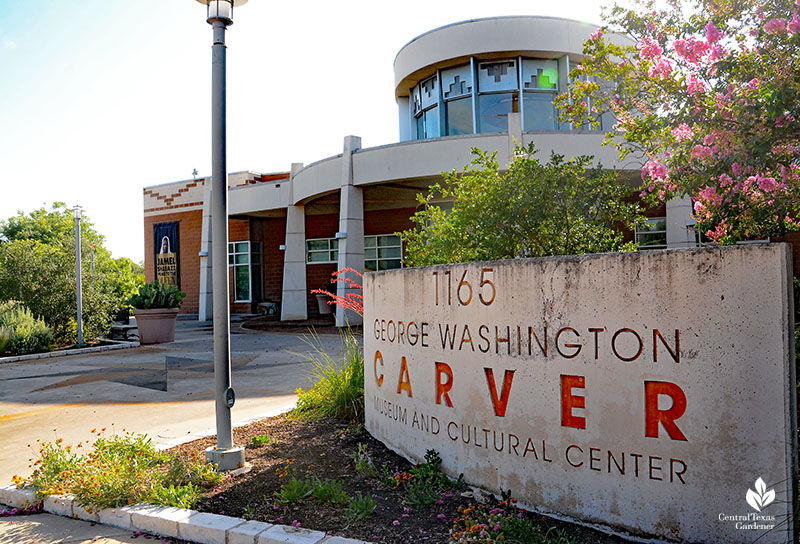 I love wandering among the rotating art gallery and museum exhibits. Every nook and hallway invite us to learn and get acquainted with the people who changed our world.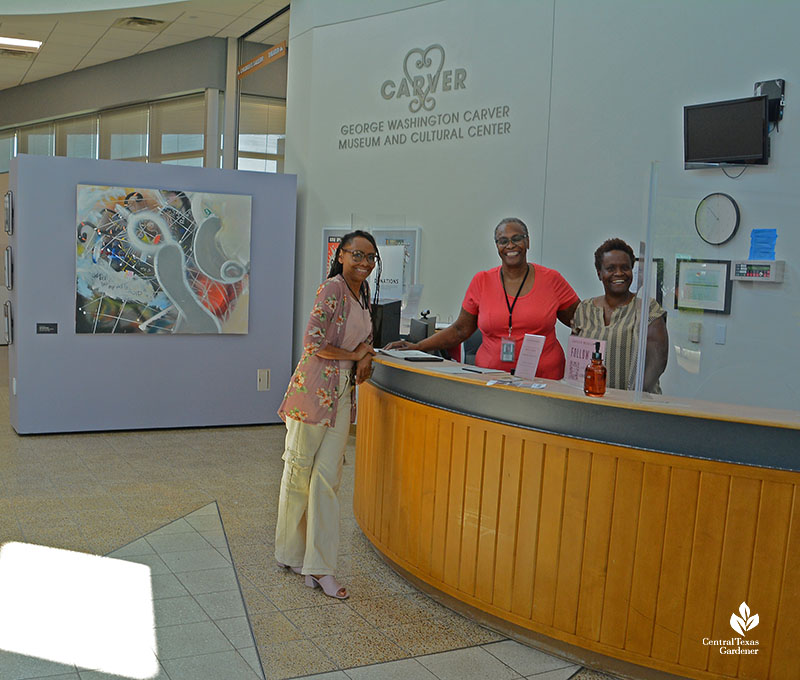 You don't have to be a kid to have fun in the children's interactive exhibit that spotlights scientists and inventors, including George Washington Carver.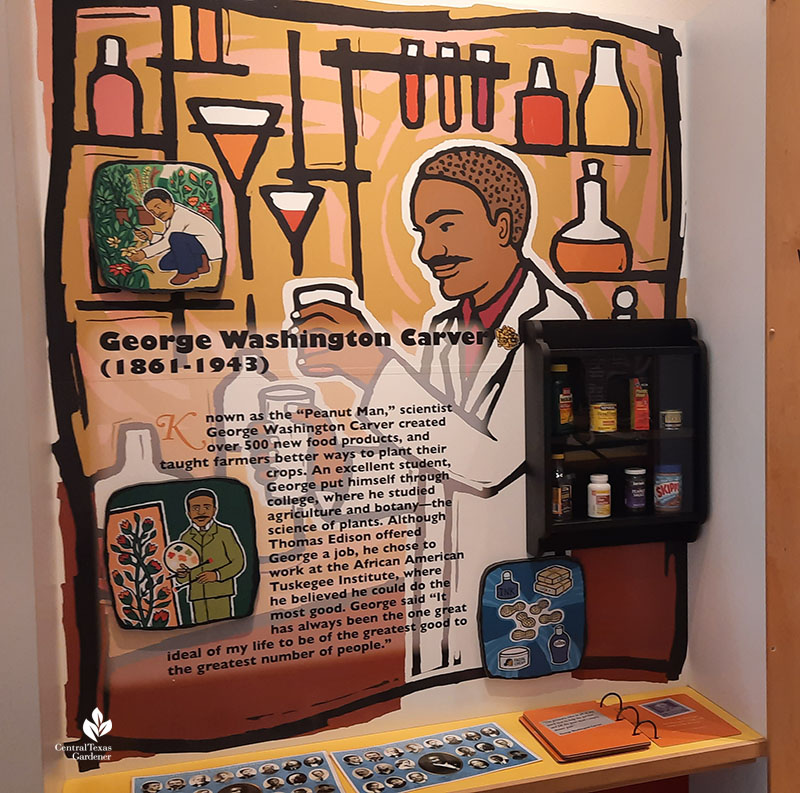 Next door, the Carver Museum's Genealogy Center offers an invaluable resource to learn about family history and to contribute your own. Oh, what stories this building could tell since it was built in the 20s for Austin's first library!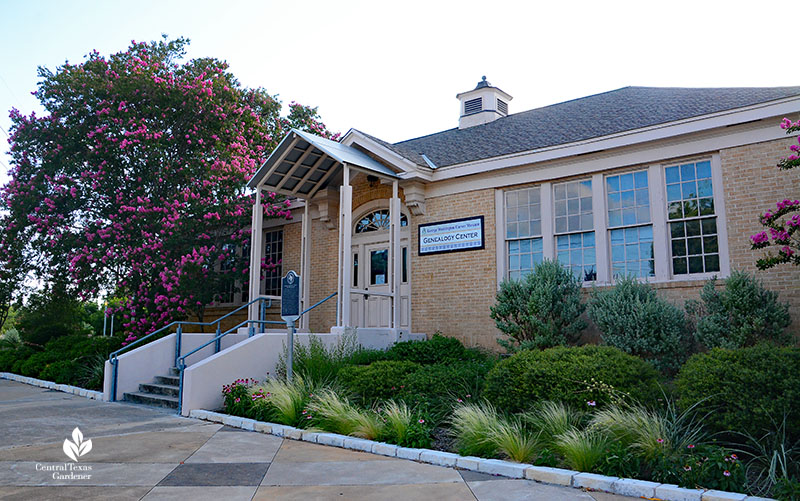 "I remember when I was six or seven years old and I was going to kindergarten here and we took a walk to our genealogy center, which was the original Carver Museum back in the sixties," Harvé says. "And so now to be back in my community gardening, I want I think I can make a difference and hopefully I'll get some kids that will be the next future gardeners of America, you know, pass it on."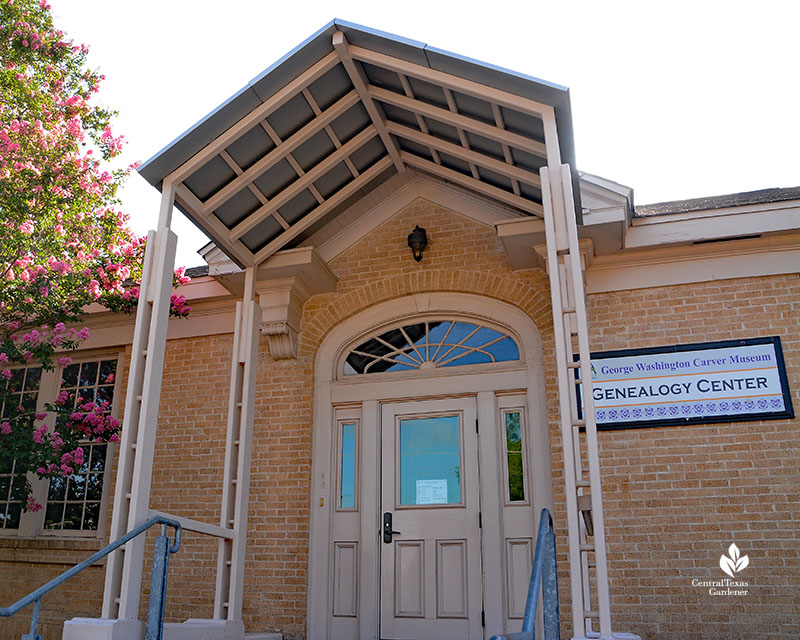 In 1947, the museum was named after George Washington Carver, an agricultural scientist and inventor who made countless contributions to food production and education. One of his many scientific explorations was to show how depleted soil could be restored with nitrogen-fixing plants, like peanuts.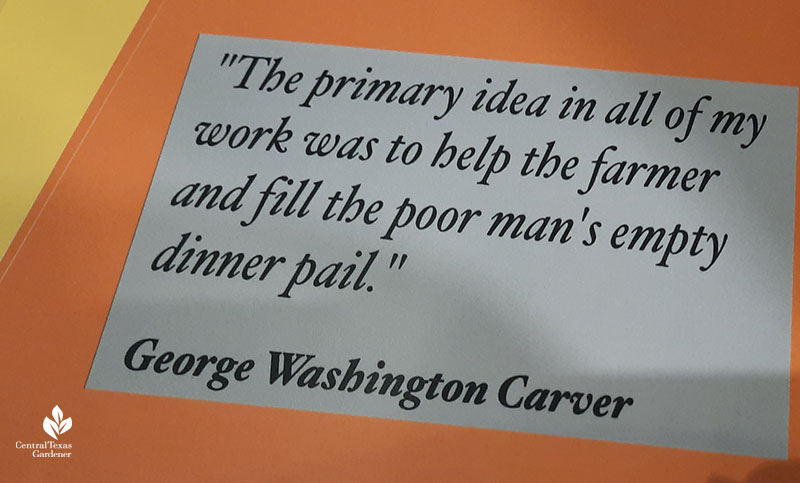 Harvé plans to add peanuts to her crops. "I remember picking peanuts, digging them up when I was a kid. But I have not seen a peanut in like 50 years, you know, growing from the ground. So I cannot wait to do that," she says.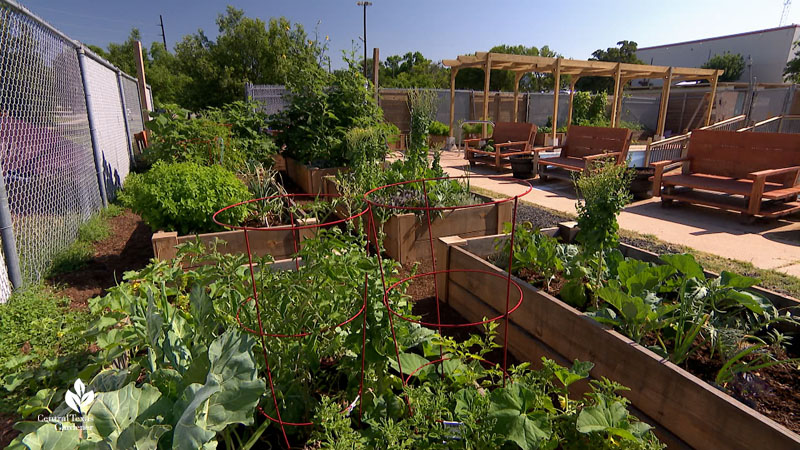 It was a pretty big deal when I harvested a handful a few summers ago from unshelled peanuts I planted in May. I honestly never expected get peanuts: the leaves are pretty as a groundcover and I wanted to add nitrogen for fall's upcoming lettuces.
Greg Farrar signed on to build the beds, pergola, ramps, railings, and benches as the design and pool artistry takes shape.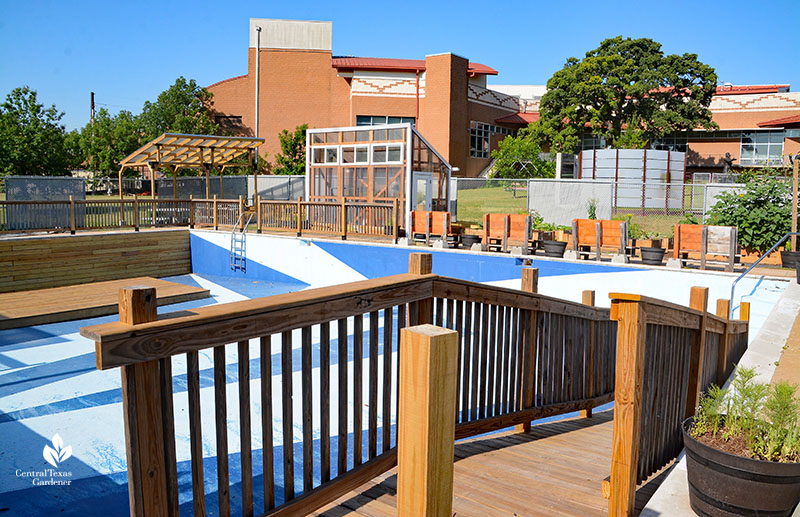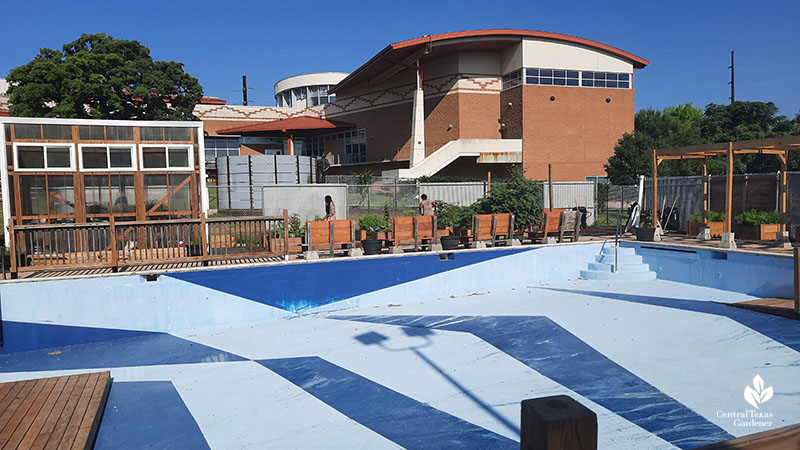 It's pretty impressive considering it's been less than a year and still hindered by pandemic restrictions and supply issues.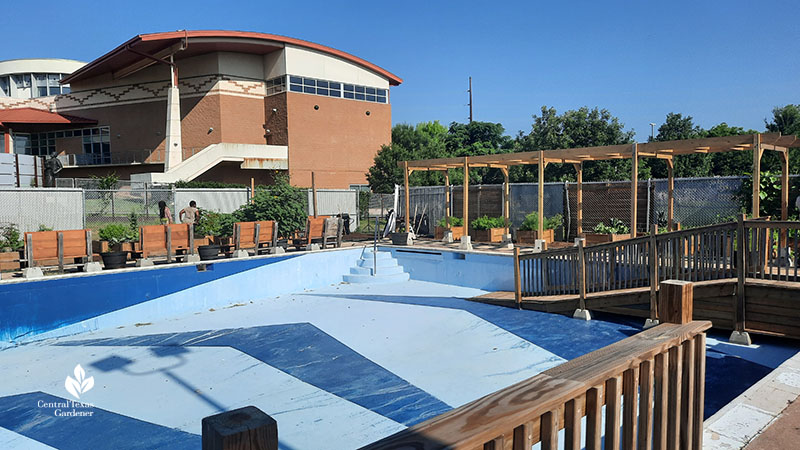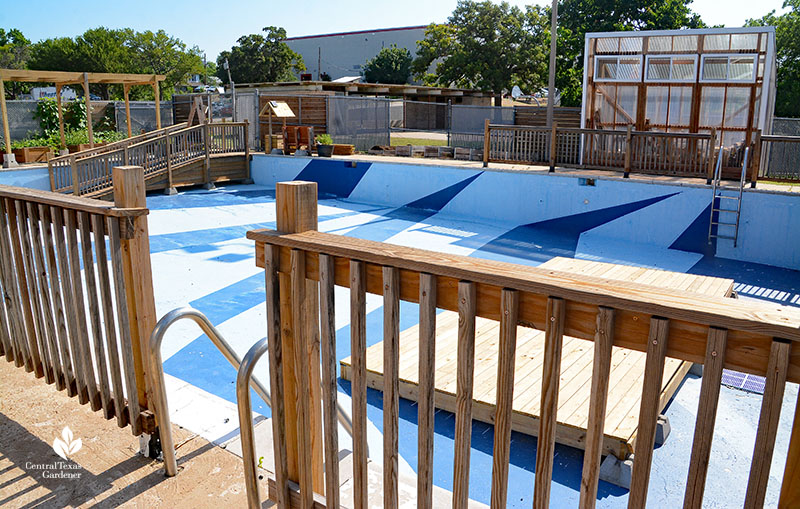 He chose untreated wood for the beds that Harvé filled with good soil and compost. She uses no chemicals, since in this demonstration garden, she invites visitors to touch, taste, and harvest. When kids come for a workshop or volunteers come to help, they leave with a bagful of fresh produce and a bushel of knowledge. This summer, she's hosting Carver Camps' first Farm to Table Summer Camp.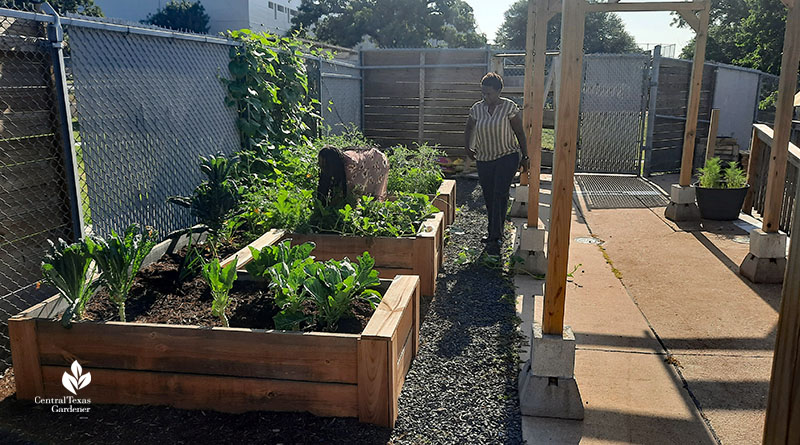 She harvests some crops for Carver event chef-prepared meals. Minutes after she and Faith picked this Armenian cucumber, she was slicing it for salads for that evening's event.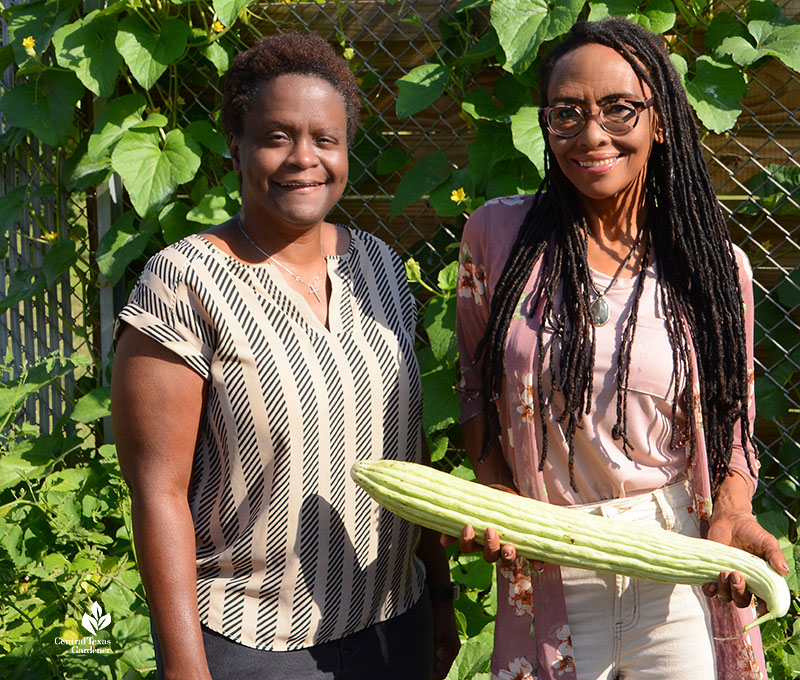 As dill and oregano flowers go to seed, she'll collect their seeds to pot up for future planting. Pollinators head for the flowers and perhaps swallowtail butterflies will lay their eggs on the dill.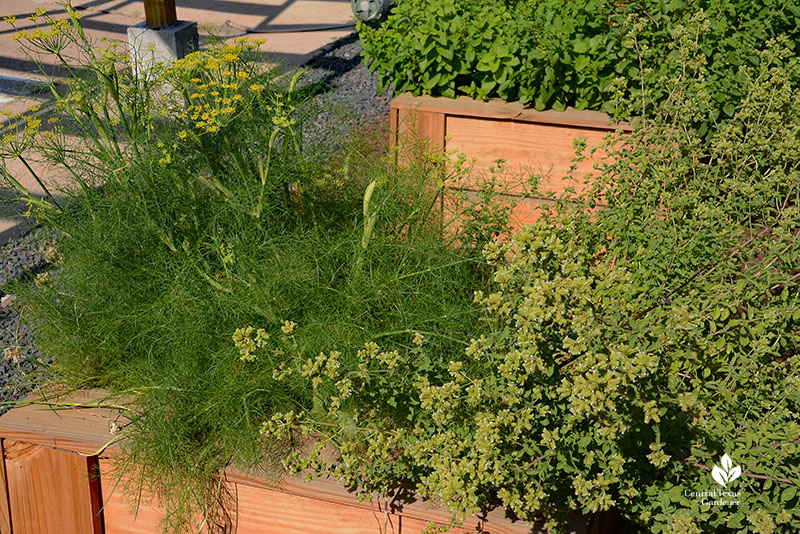 Visitors can take a break to watch bees and butterflies on beebalm. Companion goldenrod blooms in fall.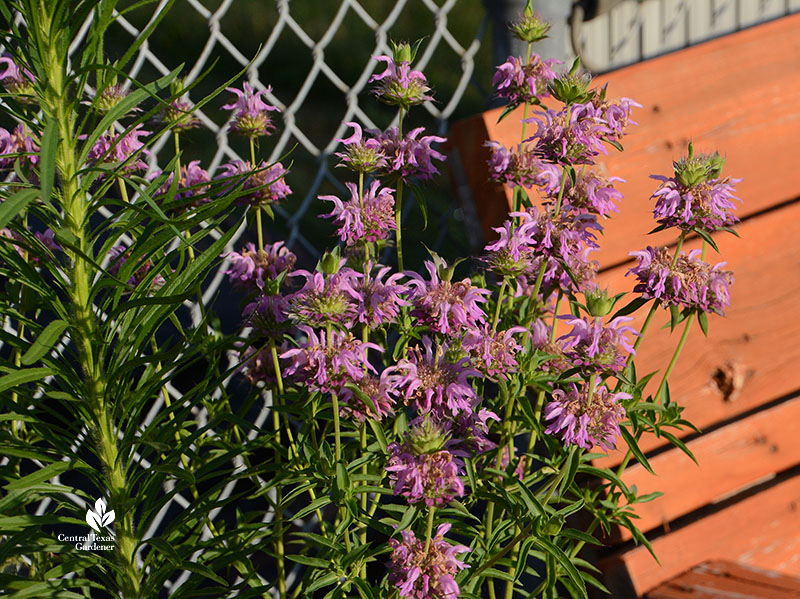 Greg's tiered planter hosts Harve's cosmos seedlings for summer flower color and food for bees and butterflies.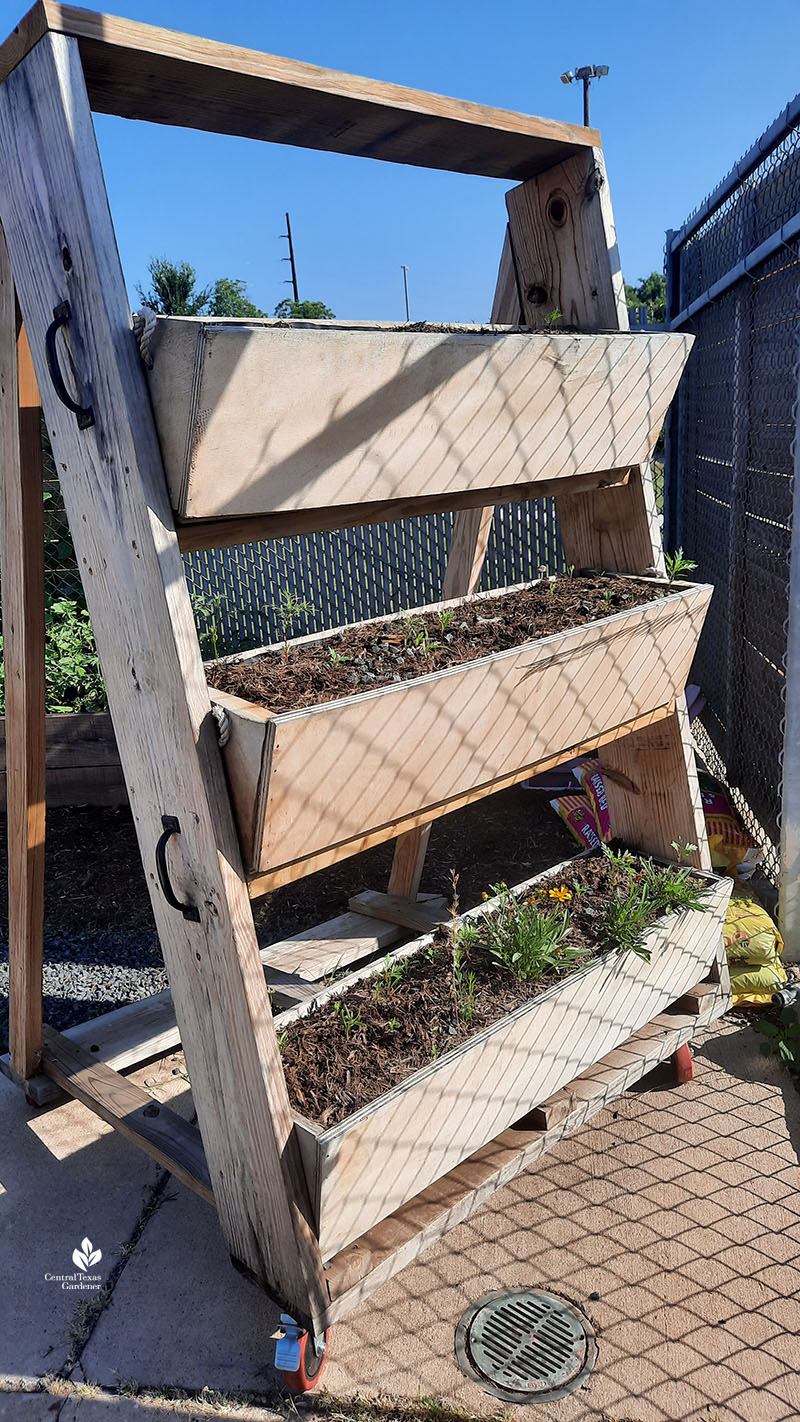 Harvé's already got plans for his newest beds. "We're going to going to start a cultural heritage garden where I'm going to be planning things from Africa: yams, okra. I'm going to do Native American glass corn," she said.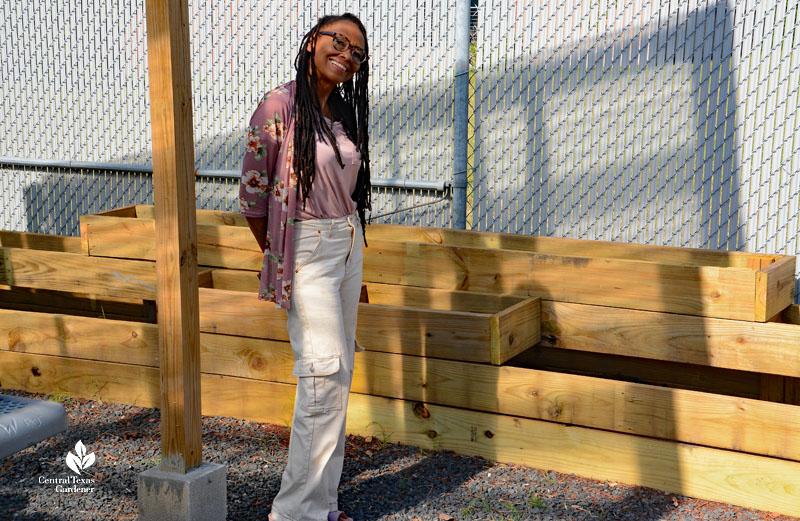 Thanks to Angel Schatz and the Central Texas Mycological Society, she's inoculating donated mushroom spores for a fall harvest of culinary lion's mane and portobellos.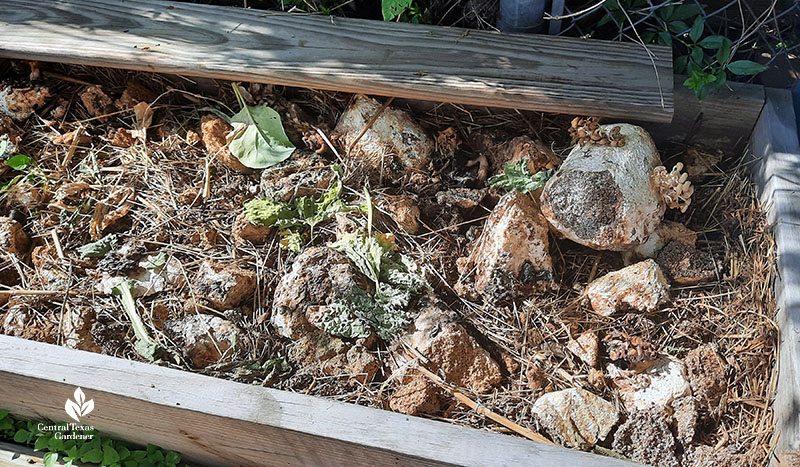 Her favorite harvest, though, is when she sows enthusiasm about fresh food in a child who's picked herbs and salad leaves for the first time. "That made my whole summer. . .if I made an impact on that that one child that she wants to be that excited about food. That's why I'm here."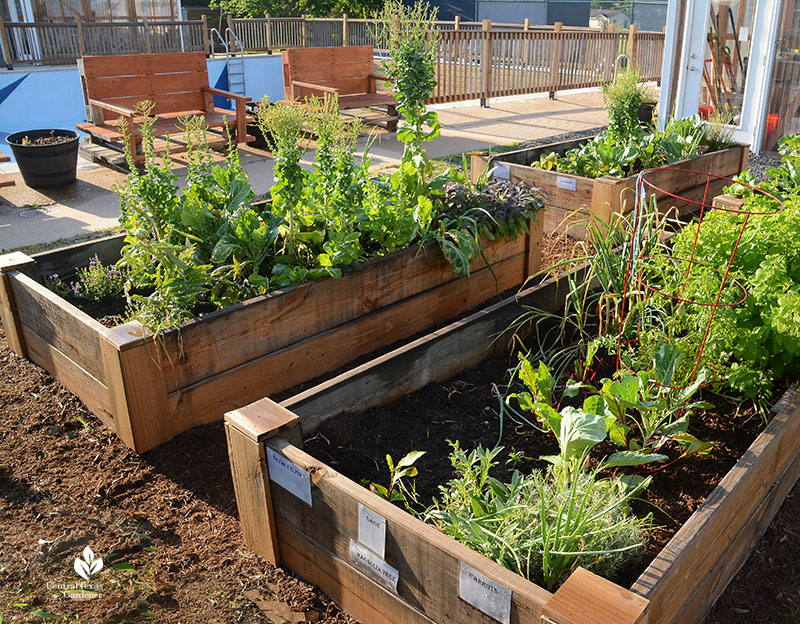 Get in touch for volunteer opportunities and follow Carver on Instagram for event updates.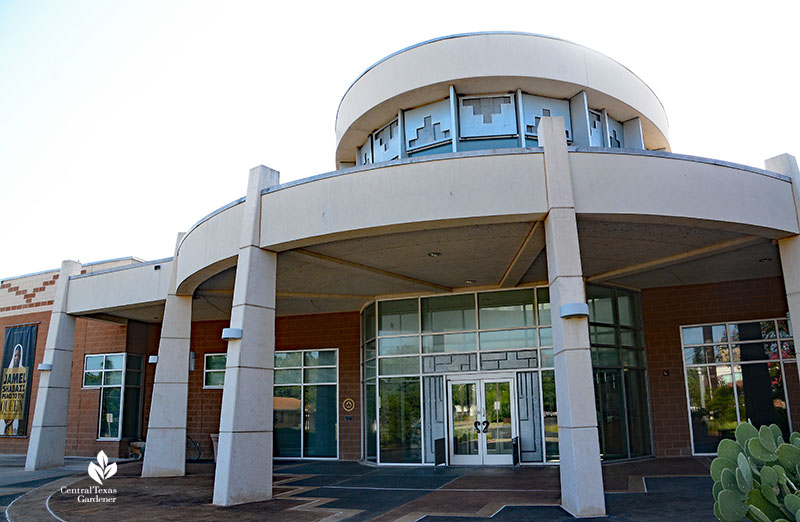 To celebrate Juneteenth, Carver's hosting Stay Black & Live on June 18 and 19, a weekend of music, artists, food, and family activities. Once again, they're presenting a livestream. Harvé's a theater person, too, and a musician and dancer, who helped put together this presentation in Carver's theater.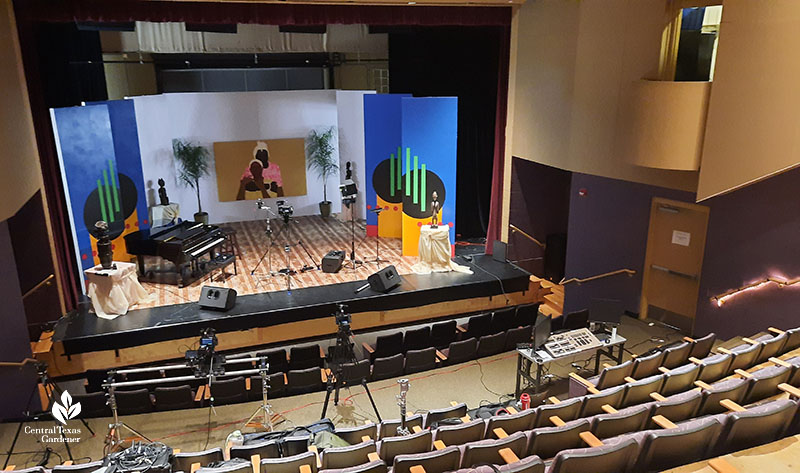 AND, don't miss Juneteenth Jamboree: How We're Celebrating Now, produced by Michael Emery and presented by Austin PBS! Hosted by Harrison Eppright, it airs on Facebook Live and YouTube at noon, Thursday, June 16 and will also be available at PBS online.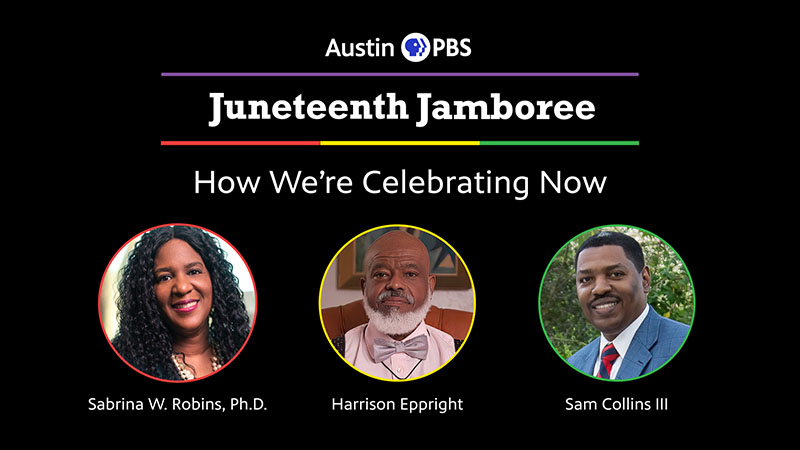 Meet Harvé now!
Thanks for stopping by! Linda
Comments