September 21, 2022
Hot Color for First Day of Fall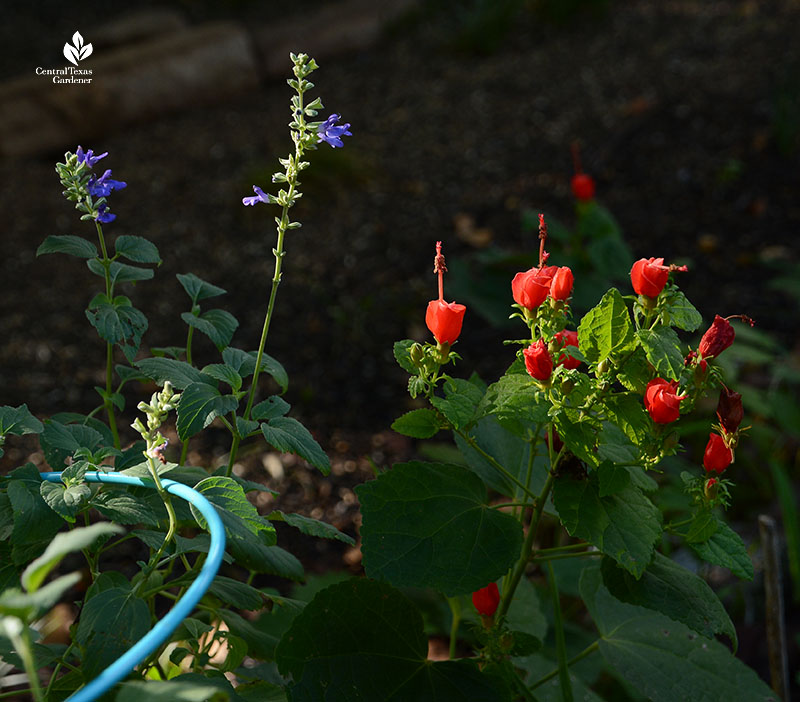 Welp, here we go again with soaring temps after September's typical fall weather tease. But that brief heat break prompted Salvia 'Indigo Spires' to pop a few lavender-blue flowers, cheered on by rain-refreshed native turk's cap in this part shade spot. Bees and butterflies haven't bustled over as expected, so here's hoping that the crowds are just waiting in the wings.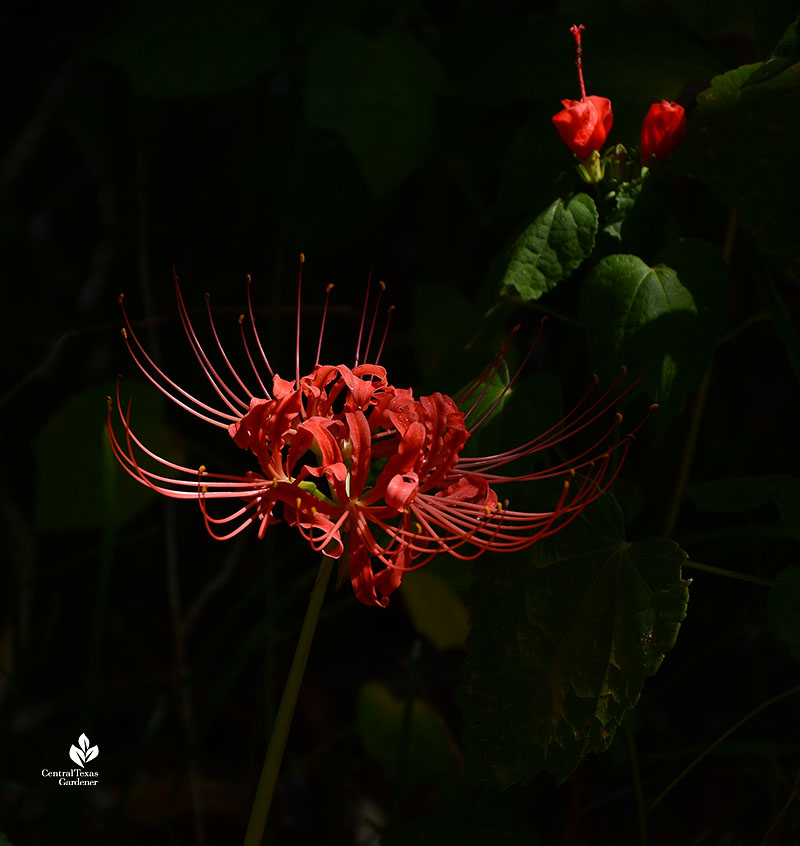 Thanks to the rain, too, red spider lilies (Lycoris radiata) shot up overnight in this bed. I've waited years—I'm not kidding—to get a picture of them with the turk's caps. One or the other failed to show up for photo day.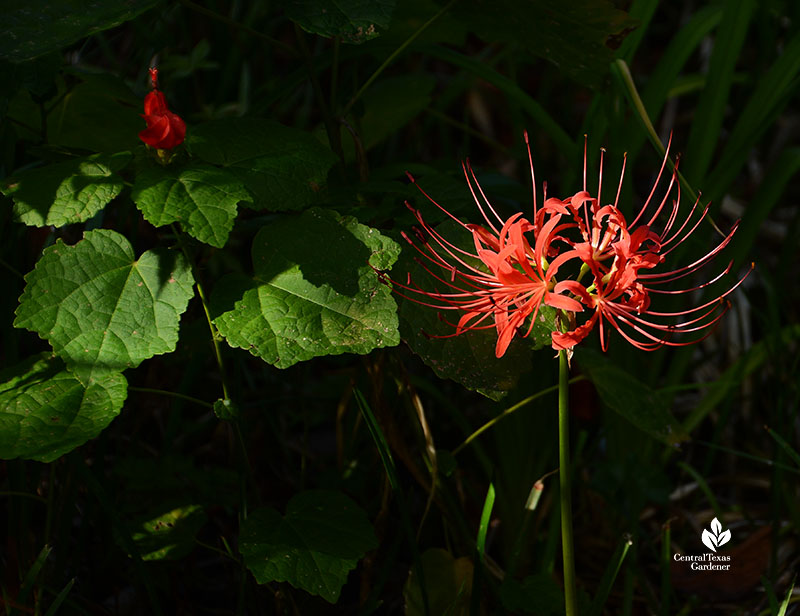 Long ago, someone planted a few in my yard. I've divided them, added to other beds, shared with neighbors, and even replenished with purchased ones. They've almost disappeared where the trees now cast too much shade. This little spot next to the patio, under a rain gutter, is where they thrive nowadays. A garden mentor once told me, "They want their feet in the shade and their heads in the sun." This spot gets a glance of morning sun (when I took these pictures). Then it's shady until afternoon's sunlight blast, frightfully wilting the turk's caps until evening. Filtered afternoon sun or morning sun and afternoon shade are ideal.


Just beyond is the edge of a bed where I struggled with success. It's only a few feet away, but in deeper shade with enough sun to scare off true shady characters. So, one day I just threw in some cuttings of ever-agreeable purple heart (Tradescantia pallida) and cobweb spiderwort (Tradescantia sillamontana). Native coralberry rambled over from the fence bed. Beyond is Mexican honeysuckle; its tubular orange flowers look spectacular against the purple heart. To the right is the companion 'Indigo Spires' and beyond, a pass-a-long althea, a native shrubby boneset (Ageratina havanensis) soon to blossom in clouds of white, and a pink Turk's cap. Last summer, I moved that planter from a too-dark spot and topped it with the gazing ball that had rested awkwardly on the ground. CTG's director gifted me the dish for my birthday. And bingo, a restful scenario came to be.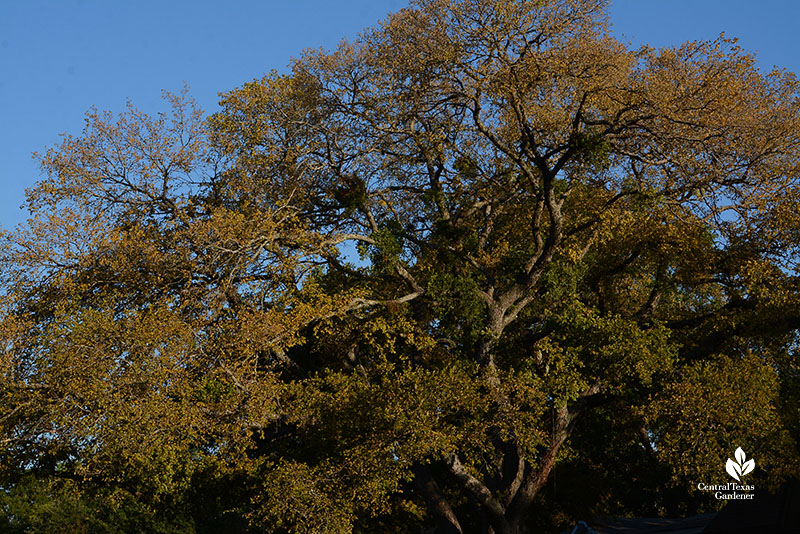 Top viewer question this week from gardeners across Central Texas: What's that sticky stuff raining on us, the sidewalks, the cars? Aphids and other little insect suckers. Typically, spring is when they march in, so what's the deal? That bit of rain prompted new, succulent leaves and they couldn't resist an encore visit.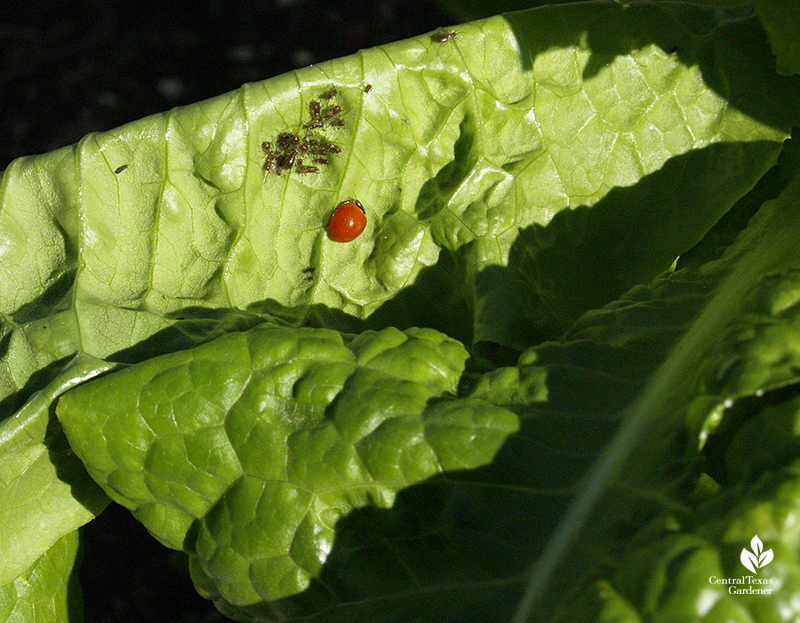 All you can do is try to blast them off with your water hose, which I know isn't practical with large trees. It's not practical or even safe in this heat to use an oil-based product like Neem, and we certainly don't want to be spraying pesticides around during migration season!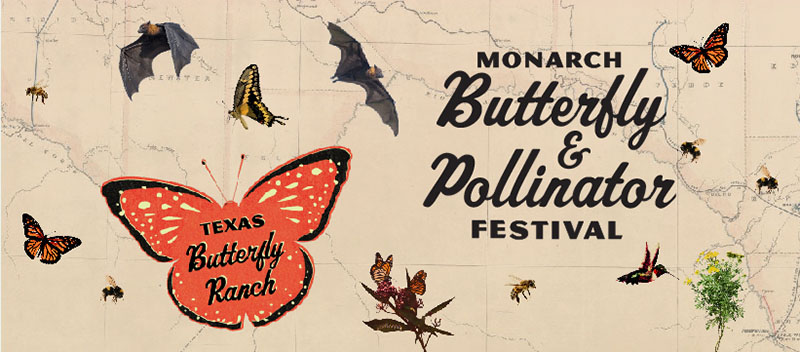 Coming up October 8: Get your wings on for the seventh annual Monarch Butterfly and Pollinator Festival. This year's family friendly event is in San Antonio's Brackenridge Park from 10 a.m. – 2 p.m.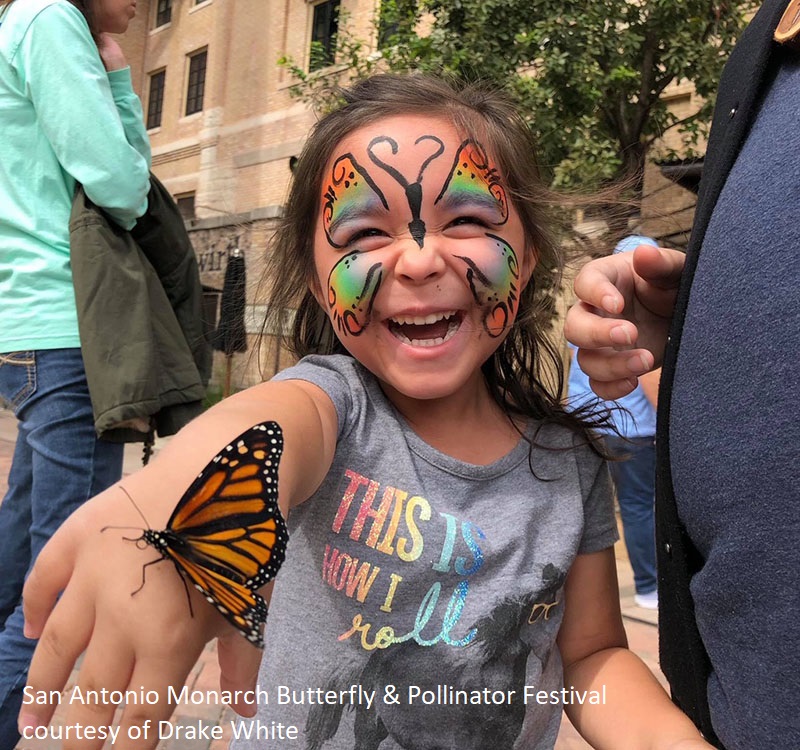 Co-founded by Monika Maekle of The Texas Butterfly Ranch, it celebrates and salutes science, community, art, and education. There will be Monarch-tagging opportunities, native plant and tree adoptions, vendors and much more.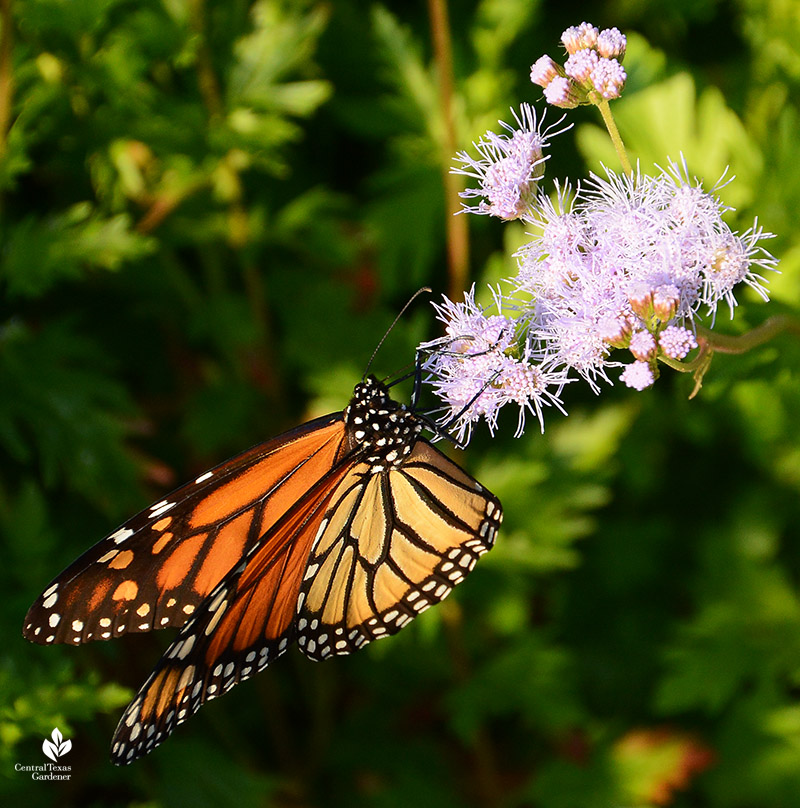 Monika also wrote a wonderful article about the history of Monarch tagging and a happy 30th birthday to Monarch Watch.
Thanks for stopping by and I hope you'll join us next week for the premiere of new Central Texas Gardener programs!
Linda
Comments