March 27, 2023
No Fooling, It's Pretty Out There!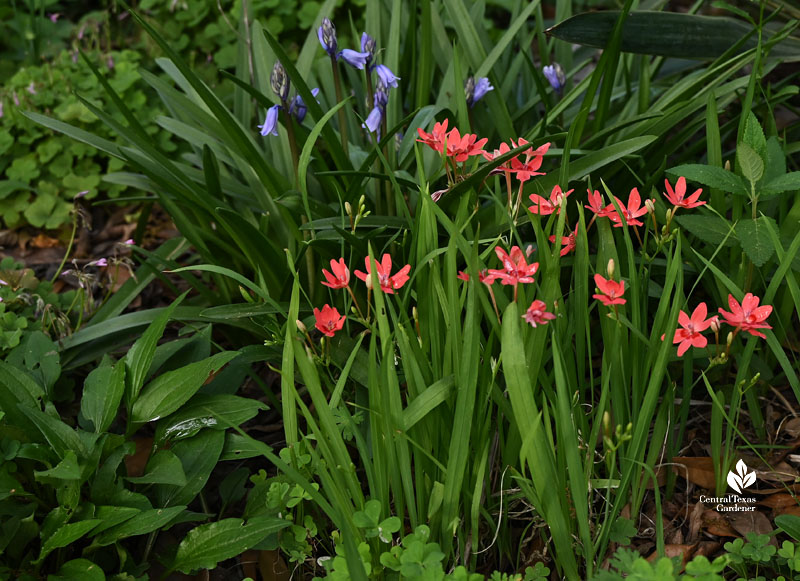 While native coneflowers await their floral launch (any minute now), Spanish bluebells (Hyacinthoides hispanica) and coral Anomatheca laxas (I still call them freesias) charm a nook in my part sun island bed. Defying every histrionic weather event, the bluebells have returned each spring since 2011.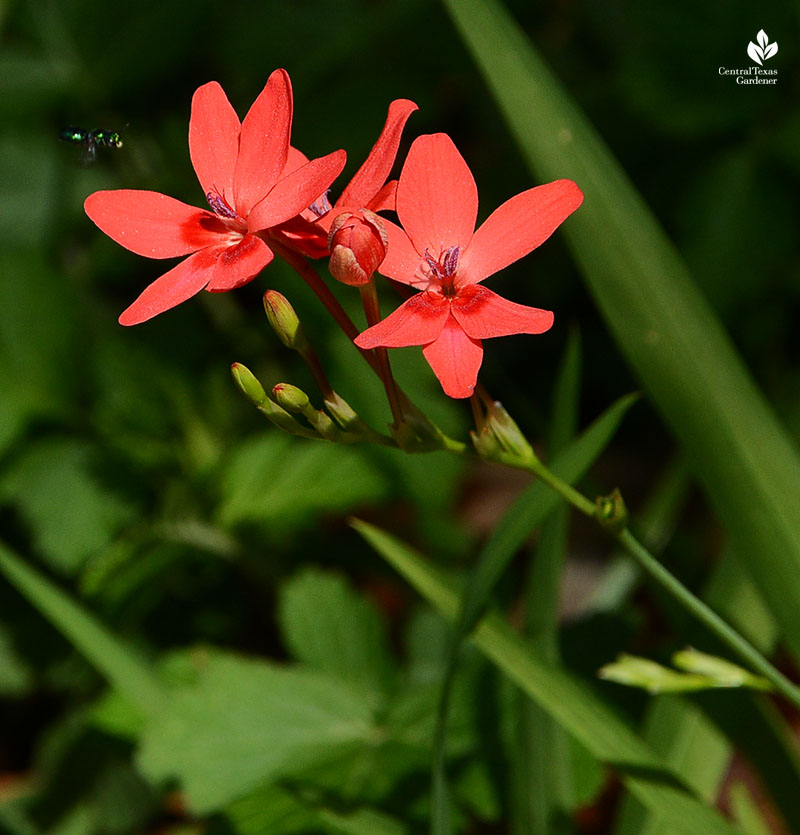 The laxas came along in 2008 when a now defunct nursery grew them, eventually spreading themselves around. Native to South Africa and related to irises, they are so drought tolerant that it's worth an online search to source them. The bluebells came from Southern Bulb Company, founded by Texas-based grower Chris Wiesinger.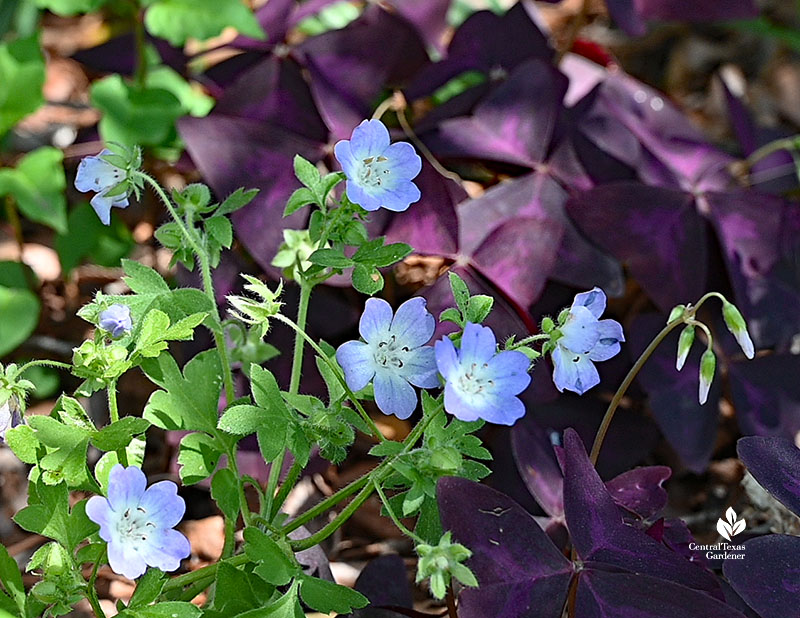 Another lucky woodland edge pairing: native baby blue eyes (Nemophila menziesii) and purple oxalis. I'd transplanted a few baby blues last fall to establish this cool weather re-seeding annual under a mature yaupon holly. Cooler weather pumped up the oxalis to enchant this front door welcome.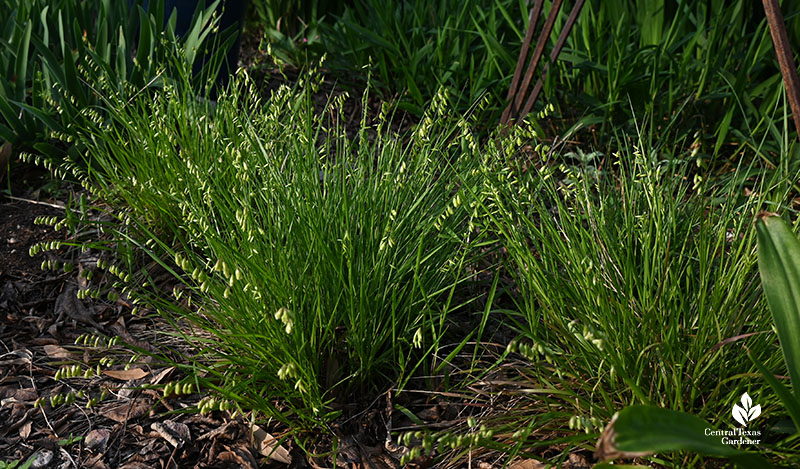 Melica mutica (Twoflower meligrass) is rather new to the market, but already it's quite a star. This native grass grows to 1-2' tall, accepts sun to part shade, dry to moist soil, and is evergreen. In my garden, these new transplants made it through the freeze without a shiver. Earlier ones handled Winter Storm Uri just fine. You can find it at local nurseries and perhaps at the Wildflower Center spring plant sale.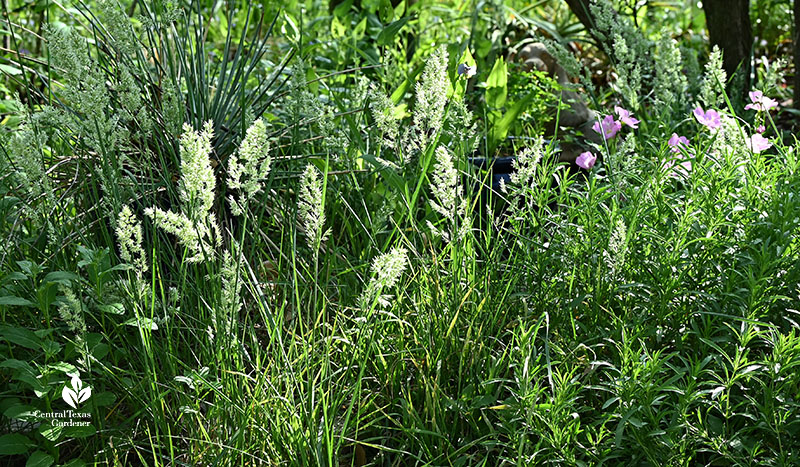 Texas bluegrass (Poa arachnifera) is another native grass I count on in woodland edge settings, like under my mountain laurel. Here it's joined by pink evening primrose and snake herb (Dyschoriste linearis) that I highly recommend for part shade. These are in Blackland Prairie soil—heavy clay basically. Snake herb works in rocky soils, too, but Texas bluegrass needs some type of loam.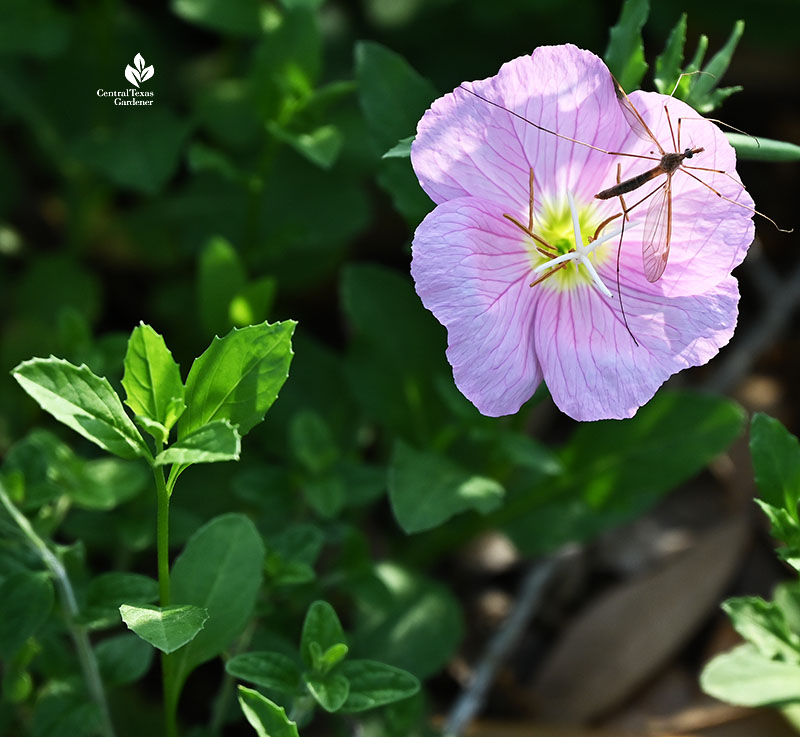 As winter segues into spring, it's fascinating to watch long-legged crane flies in their mating game ballet. Sure, they're a flurry right now, but they won't hurt you and will be gone pretty soon. This one took a nectar break on pink evening primrose, or maybe just a rest break to enjoy the day.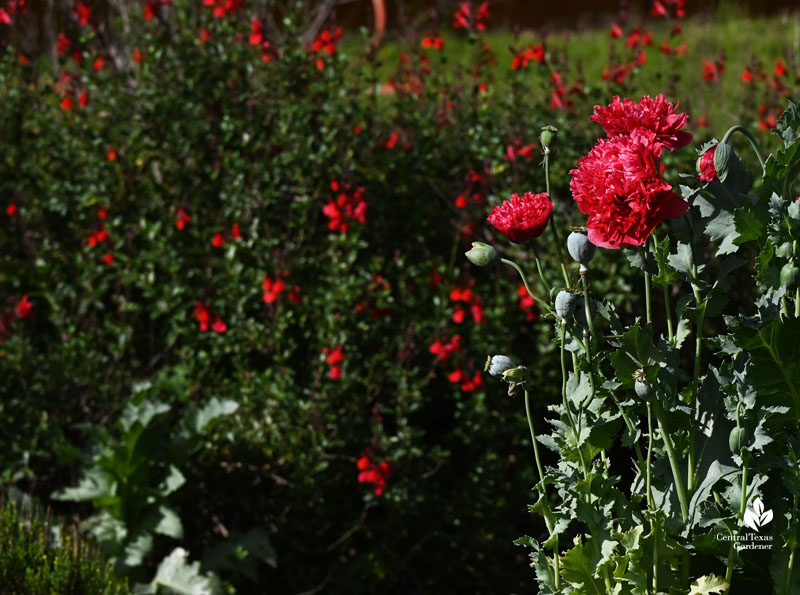 Out and about: annuals join in the perennial fun! Frilly poppies and native Salvia greggii coordinate their curbside ensemble to invite eager bees to their food-and-fashion runway. Here's tips for planting poppies next November.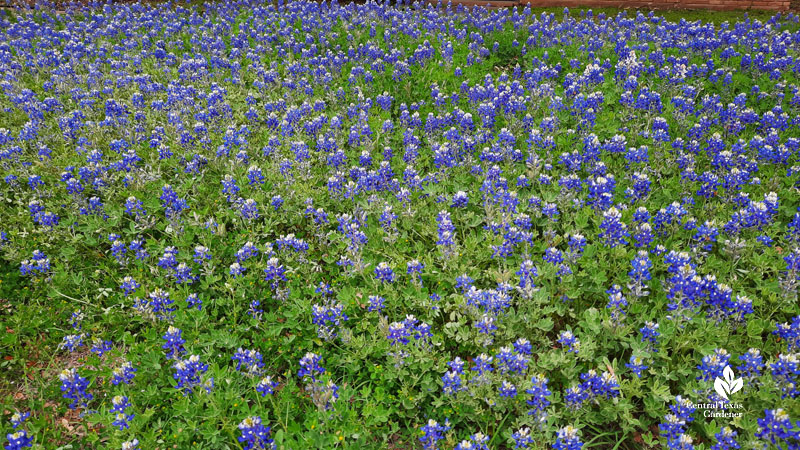 These bluebonnets are not in a back roads field. Instead, they beautifully took over a neighborhood front yard. No doubt the owners are quite used to voyeurs like me quickly pulling over.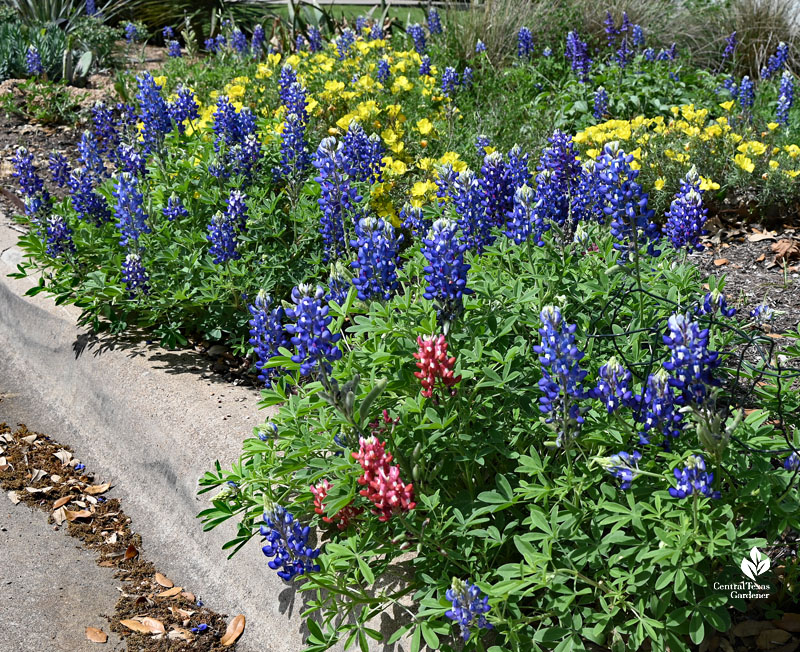 A few blocks away, 'Texas Maroon' bluebonnet sidles up to the curb with its blue buddies. Bright yellow pulls it all together courtesy of native perennial calylophus (Calylophus berlandieri), also called square-bud primrose.
Extension Horticulturist Daphne Richards explained why the scene may look different next year. "In your landscape, as by the roadside, those non-blue variants are fleeting, since cross-pollination is nature's way of ensuring genetic diversity. Maroon, white, and pink-flowering plants in your yard will be easily pollinated by blue ones, and the dominant blue trait will return, with other colors popping up as rarely as they do in nature." Get her complete explanation.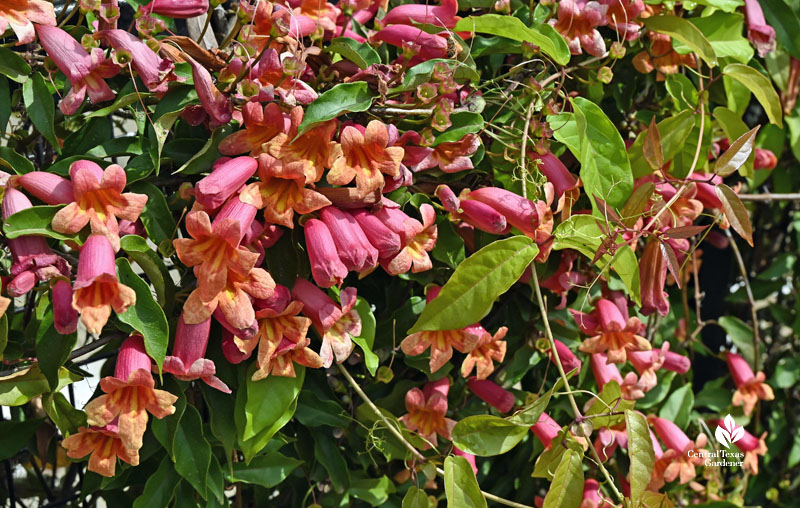 Orange-hued crossvine 'Tangerine Dream' (Bignonia capreolata) dominates fences and trellises all across town, each big-mouthed tubular flower sized for bees to snuggle in or hummingbirds to dip into. You'll also see red and yellow or other color combinations.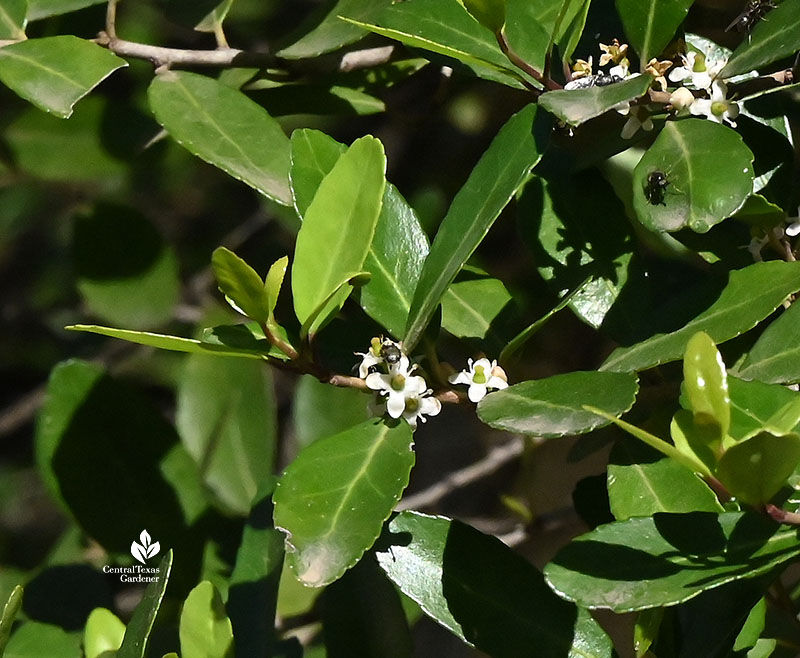 Tiny flowers attract pollinator attention, too. Just weeks ago, cedar waxwings swooped in to strip our native yaupon hollies clean of their glossy red berries. Now, it's awhirl with tiny pollinators, busier than I-35 on Saturday. Flies, tiny bees, and others too fast to identify hurry scurry to flowers as small as they are on female trees. Soon, we'll see green berries to ripen red as they mature. And, no, you don't need a companion male yaupon in your yard.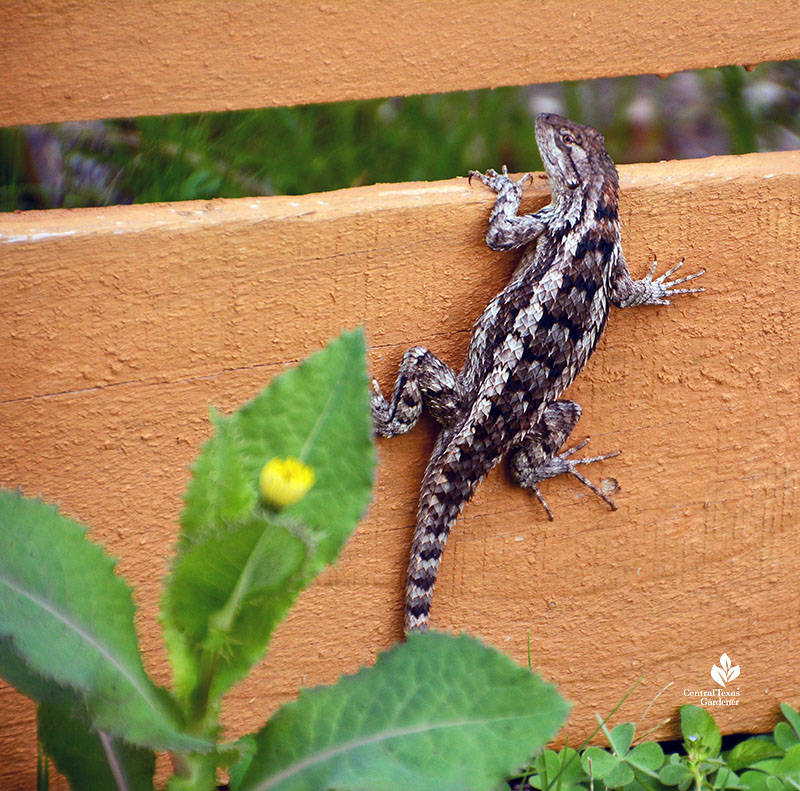 And what a relief to see a Texas spiny lizard—perhaps eyeing that sow thistle to snag an unwary bee for lunch. Lizards, anoles, and toads have been scarce for me after a few years of hard freezes and droughts, so I was especially thrilled to hear a toad announcing itself under a patio crevice.
Thanks for stopping by!
Linda
Comments