April 18, 2023
Something Old, Something New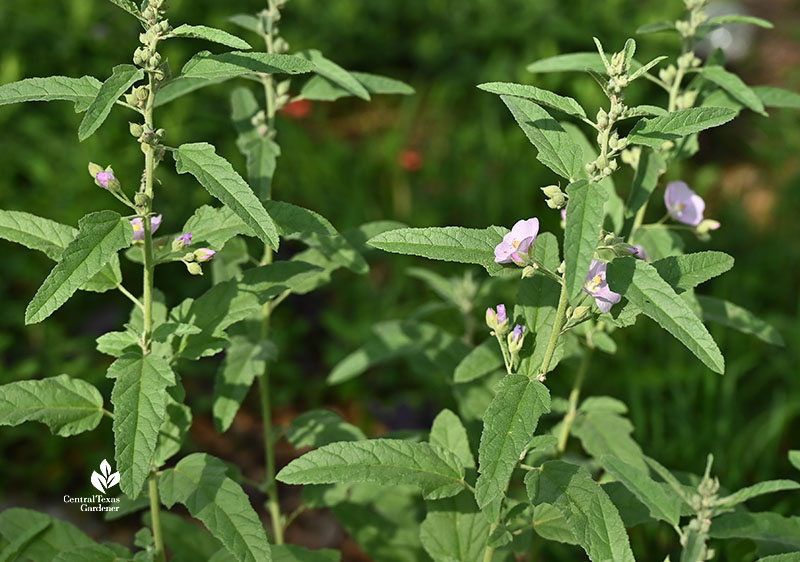 When I planted a narrowleaf globemallow (Sphaeralcea angustifolia) last November, it was a new-to-me that I had to try when I spotted it at the Wildflower Center's plant sale. Big selling point: It accepts my clay soil and part shade.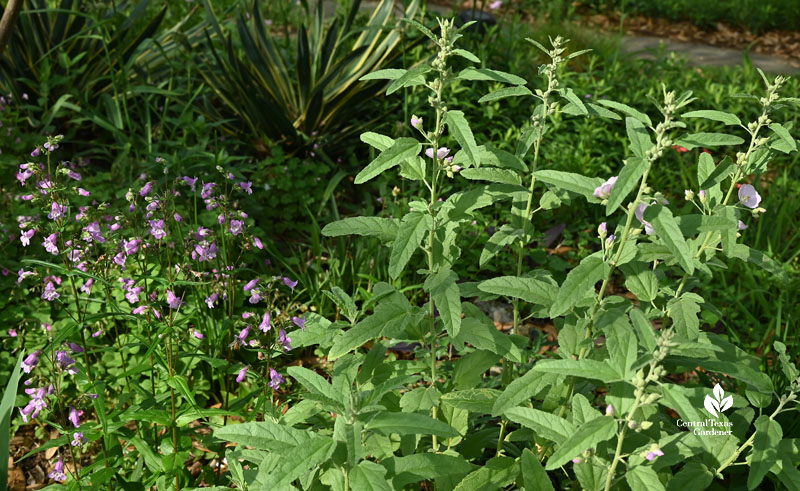 Now topping 2', I started with a small plant that danced through freeze and ice in this part shade/late afternoon sun island bed. Little did I know that Gulf penstemon's tubular lavender flowers would bloom in tandem with narrowleaf's pale pink cupped blossoms to suit any bee's fancy. (By the way, make your reservation now for the Wildflower's Spring Plant Sale which goes through May 7.)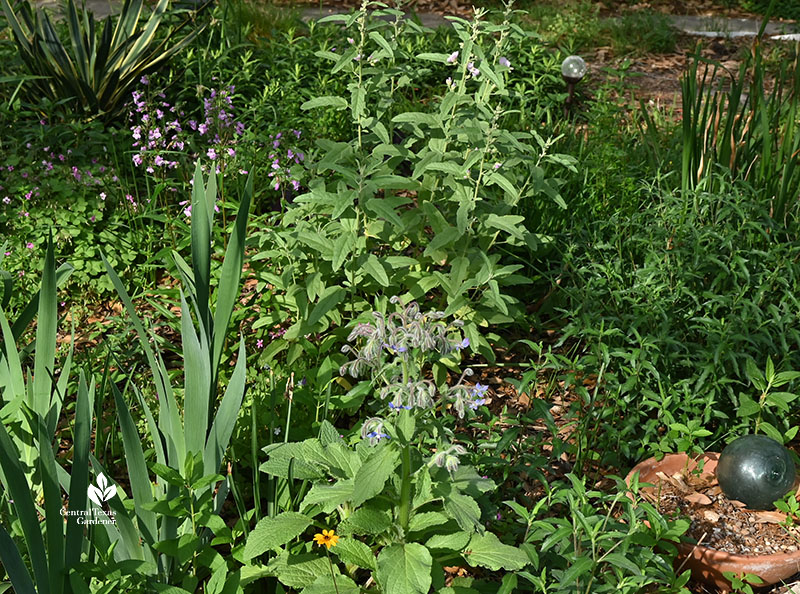 A few months ago, I added a borage transplant since I've had no luck with seeds (thank you, squirrels, weather, and operator error!). Native zexmenia flanks it, soon to be covered in golden yellow flowers. Old-timer bearded irises frame one side, passed along from generations of gardeners before someone handed me a bag of rhizomes.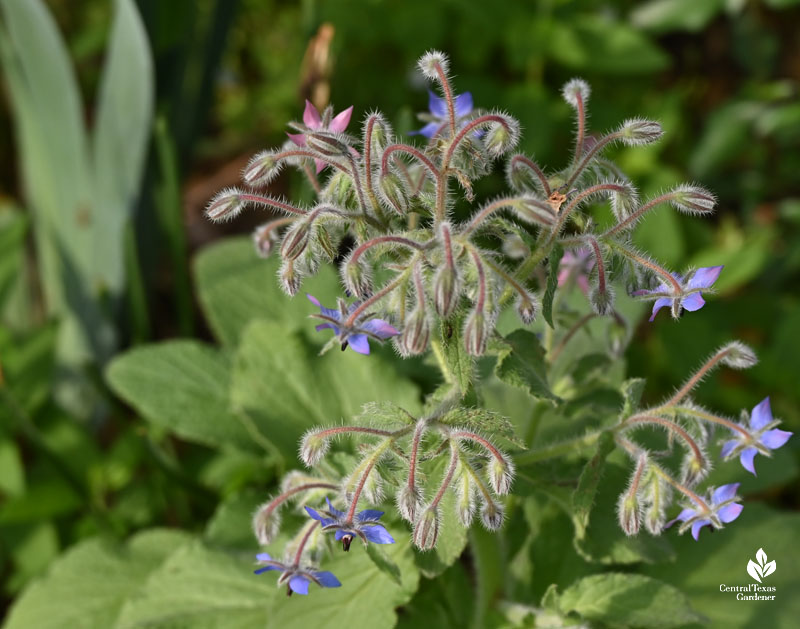 I haven't harvested borage flowers for salads yet, or invested in its various healthful properties, except for one that's especially valuable to me: fascination and awe for its intricate beauty. The bees aren't that sentimental—they just race to the flowers to chow down. Works for me.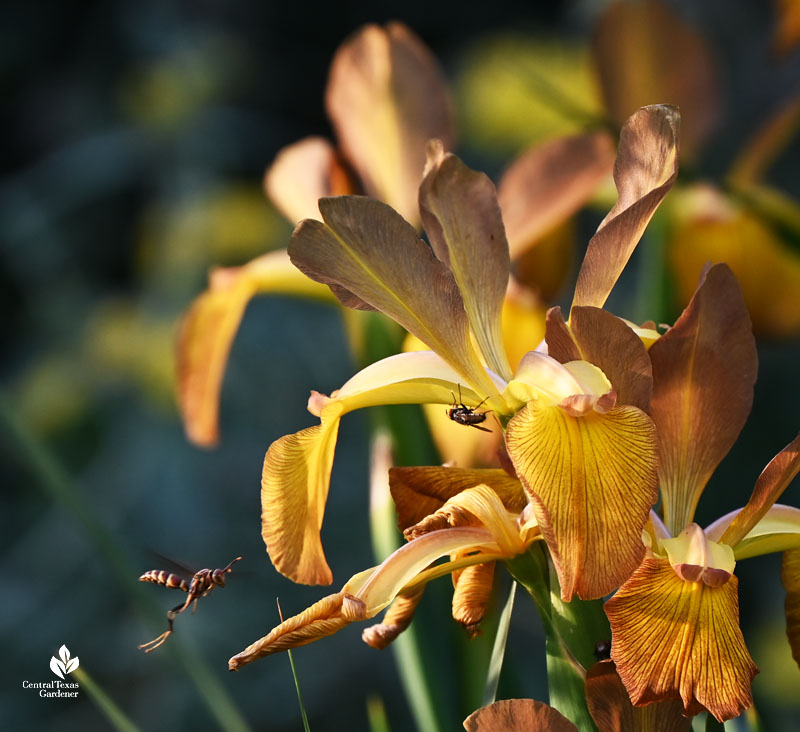 For weeks now, the spuria iris crew throws a daily buffet for enthusiastic wasps, flies, and other pollinators. An acrobatic fly appears to have pollen on one foot!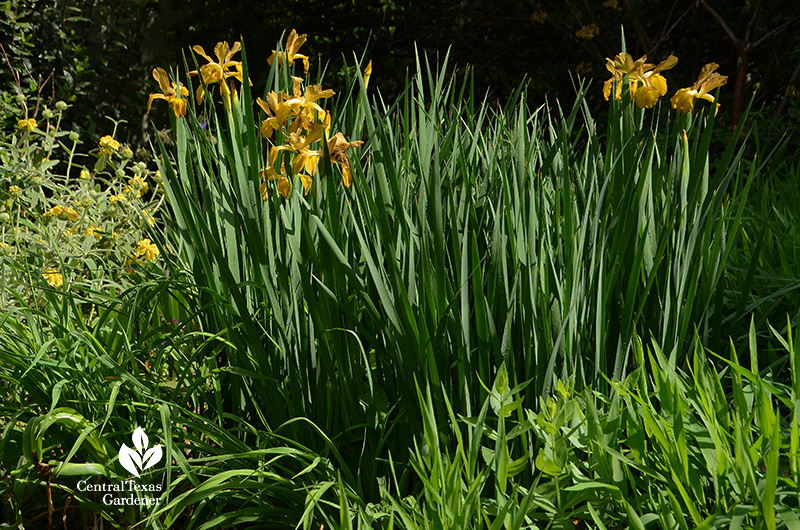 These statuesque pass-alongs thrive in my clay soil in various sunlight conditions: morning or evening light or a little of both, but they do need some sun for best flowering. Their leaves will brown up in a few months when I'll chop them to the ground. They'll pop up again in late fall/early winter. There are many colors, mostly sourced online.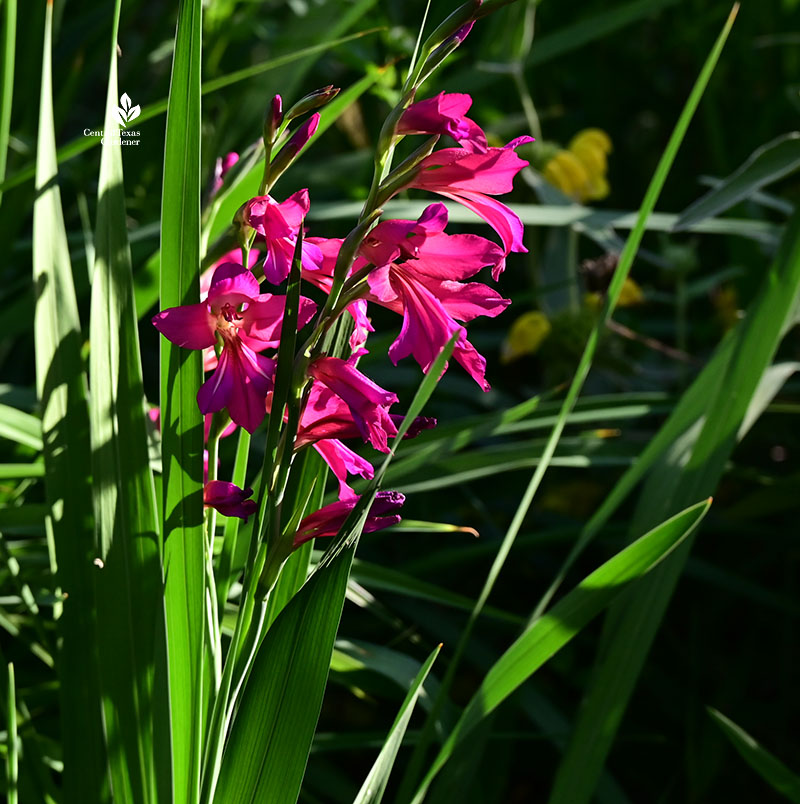 Vivid magenta pops in to assert its towers of flowers on Byzantine gladiolus. Another old-timer pass-along, I've divided its corms from a sunny spot in the island bed to frame an arbor near the spuria. Sunny-yellow Jerusalem sage blooms beyond.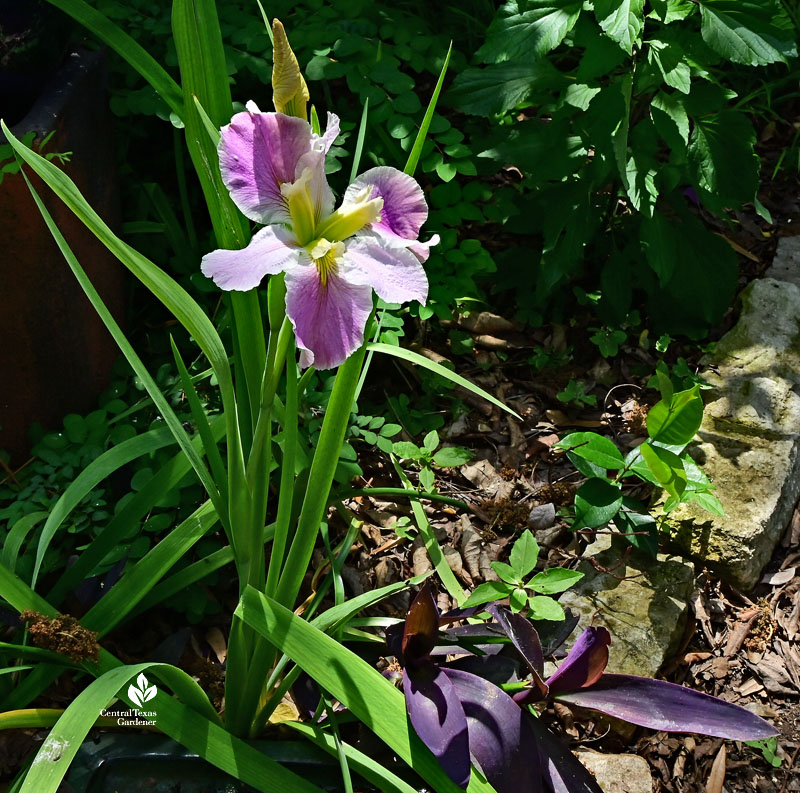 One of my first pass-alongs was a Louisiana iris from Don Freeman, a mentor to so many through Zilker Botanical Garden. Demure lavender and yellow suit this serene, shady/some sun nook where native coralberry colonizes beyond and purple heart (Tradescantia pallida) weaves along its feet. Salvia 'Indigo Spires' peeks in at the right.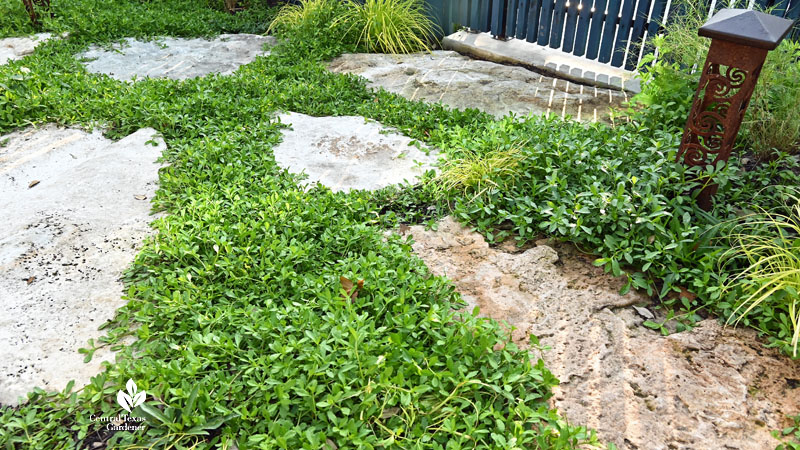 Now, how about groundcovers? Texas frogfruit (Phyla nodiflora) stands up to sun, part shade, all kinds of soil, and yes—light foot traffic. Tidy and tiny, clip its rambling stems to achieve this flagstone charm in a garden we visited recently. Butterflies head to its teensy white flowers from spring to fall.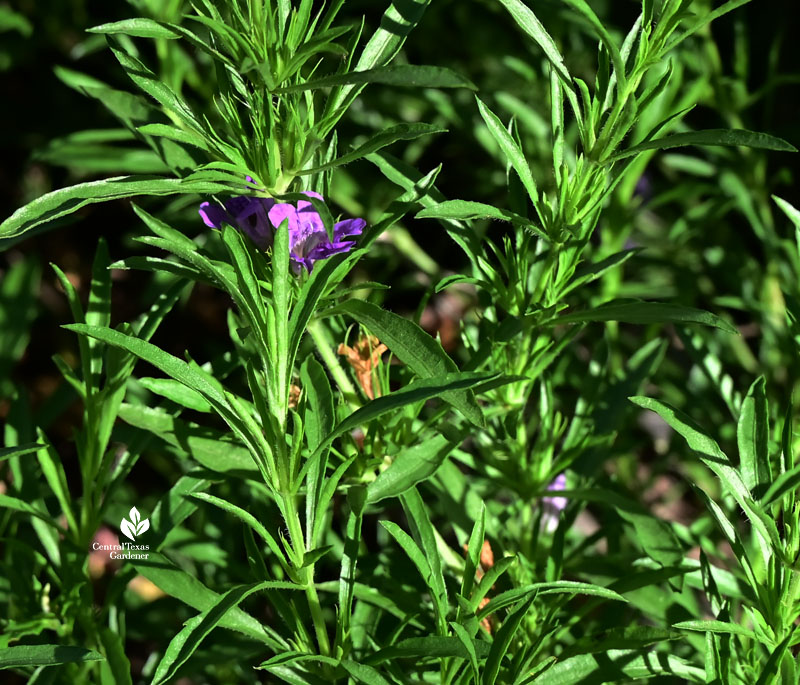 Without a question, evergreen native snake herb is my all-time favorite to cover the ground without a fuss in sun, shade, drought, flood, and freeze. Sure, intense freezes take it to the ground, but it rallies fast, getting to about 8-12″ tall in some areas, shorter in others. You can trim it if you like, but I don't. This week it favored small pollinators with almost secretive little lavender flowers, but you can bet they find them. No, it does not attract snakes!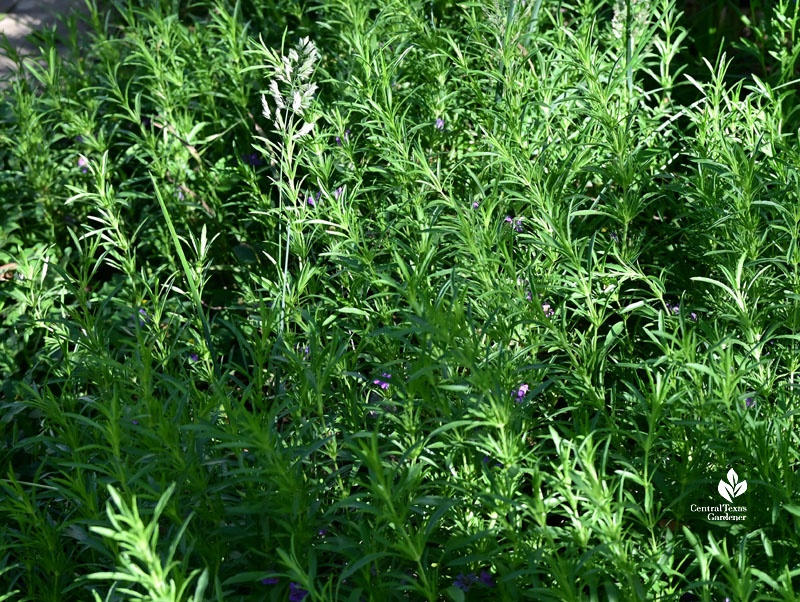 If the common name worries you, wrap your tongue around its botanical one: Dyschoriste linearis! Yowsers; I'll go with snake herb.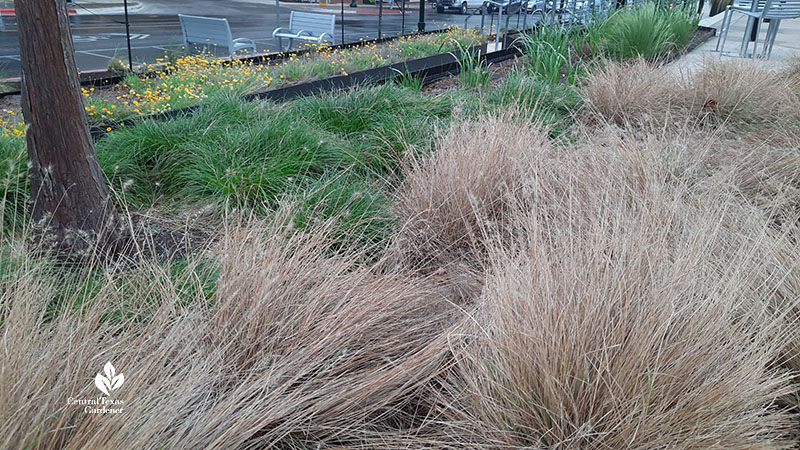 CTG's on the road quite a bit these days and new stories are coming up soon! Walking into Austin PBS one day, rejoicing in the drizzle, I stopped to admire this drought tough ensemble: winter-colored muhly grass, evergreen sedges, and beyond, native four-nerve daisy blooming to feed pollinators. Low maintenance and year-round attraction.
Great events coming up!
April 22: 1-4 p.m.
Central Texas Plant People Plant Swap at Tillery Street Plant Company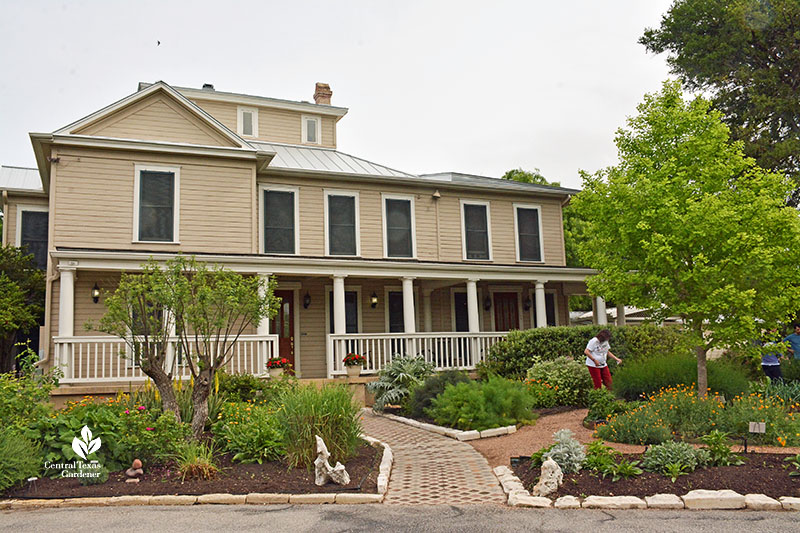 May 6: 10 – 4 p.m.
American Botanical Council
Herb talks, tours, plant sale
Thanks for stopping by! Linda
Comments