August 1, 2023
CTG NEW STUDIO, NEW ADVENTURES!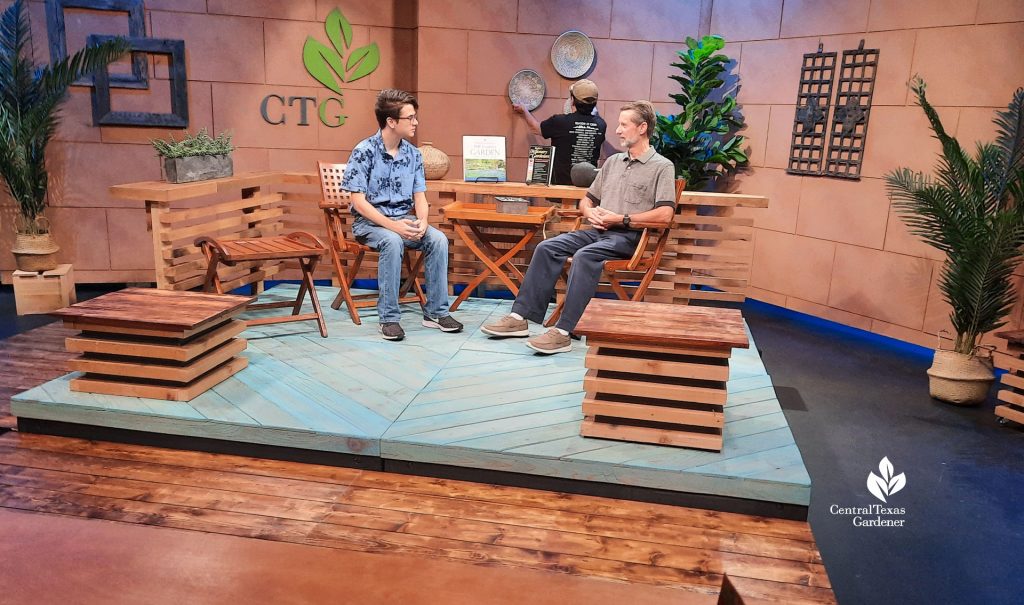 And away we go! We're counting down to August 8 when we fire up our brand-new studio to record broadcast programs that premiere October 7. Team CTG hunkered down to renovate our beloved but battered studio set. By late last week, director Ed Fuentes detailed final accents while Austin PBS intern and UT-Austin student Logan Stephens and freelance Steve Maedl sat in for initial camera and lighting tests.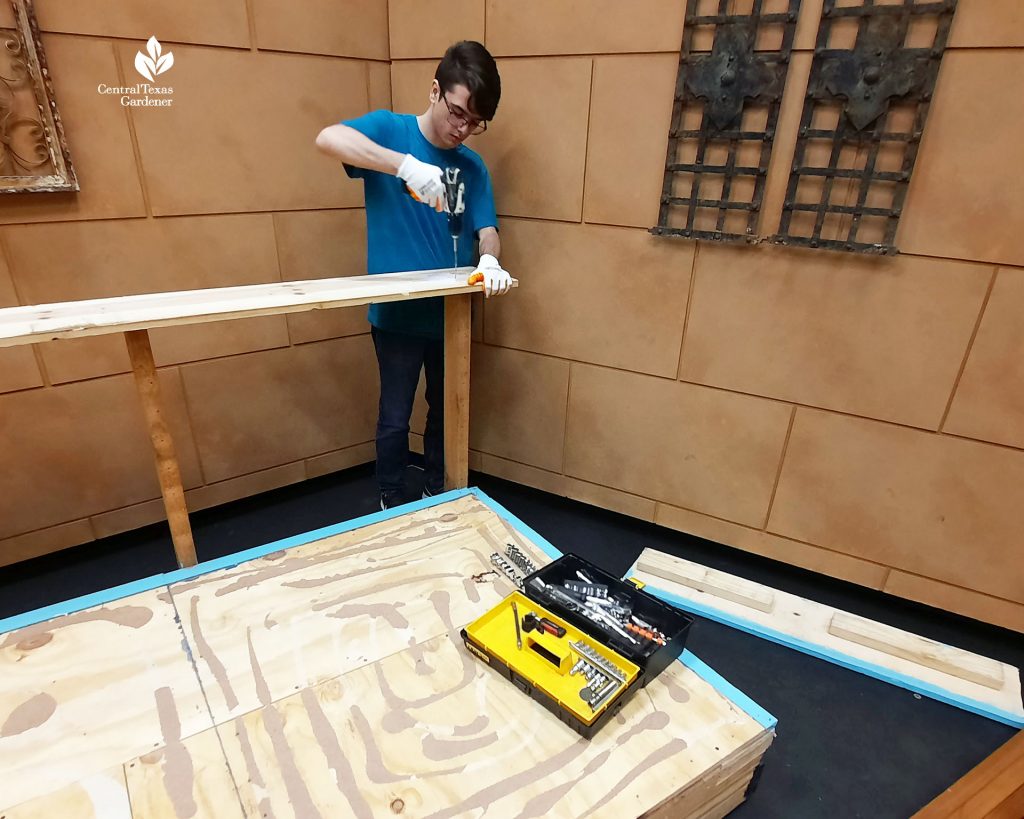 It's been a whirlwind since July 12 when the crew arrived to commence construction. Production Coordinator Stephanie Dale firmly mapped design/build/refresh details, and had already made the first of many runs for lumber, tools, and supplies.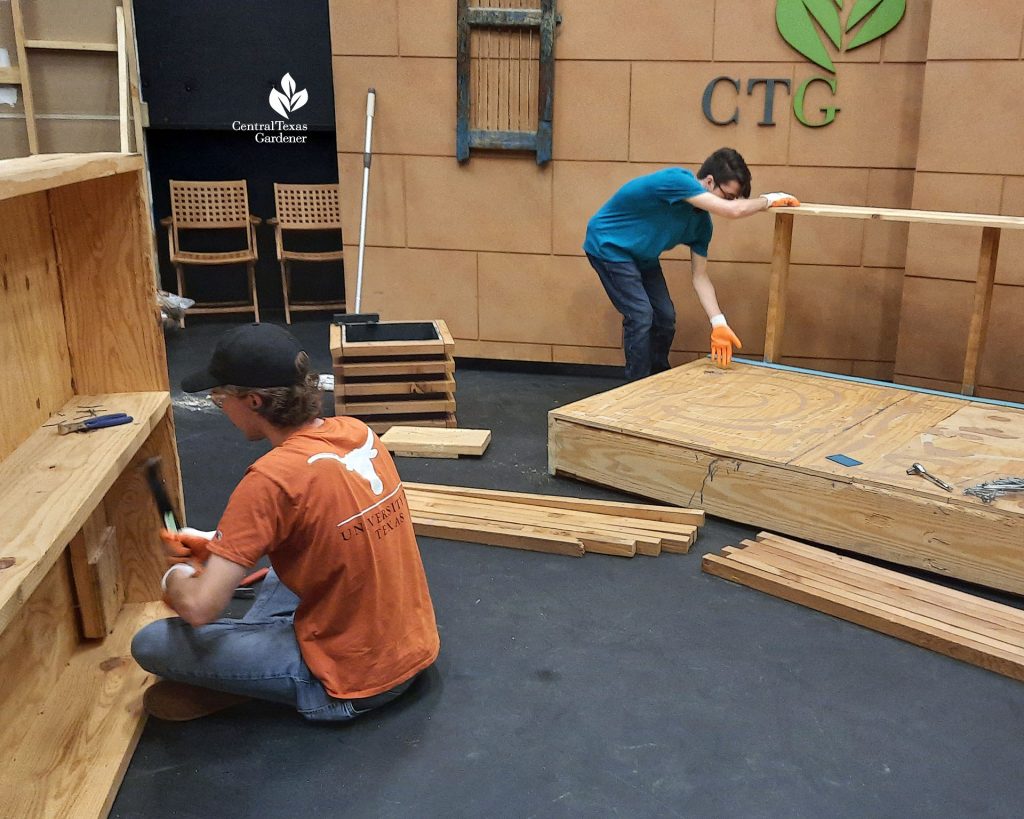 Logan and fellow UT-Austin Austin PBS intern Tanner Bass jumped into a new side of television production with competence to match their video technical skills.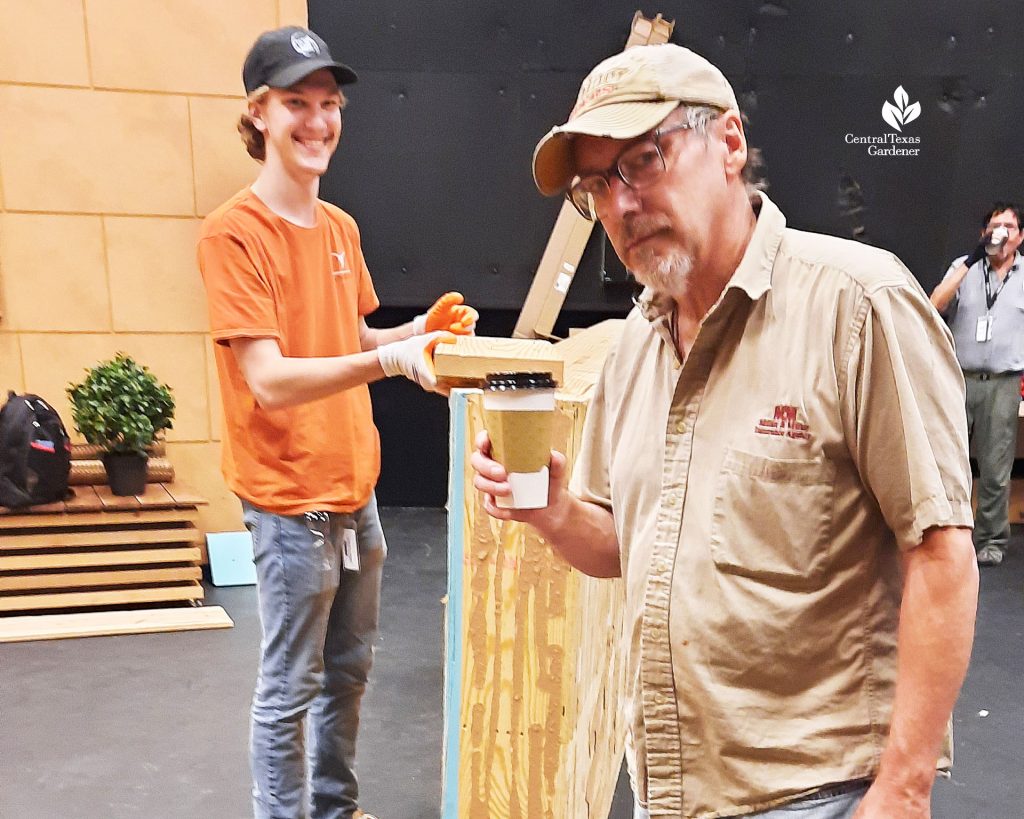 Freelance camera operator Doug LaValliere joined Ed as construction lead (luckily, both are accomplished home repair DIYs after work).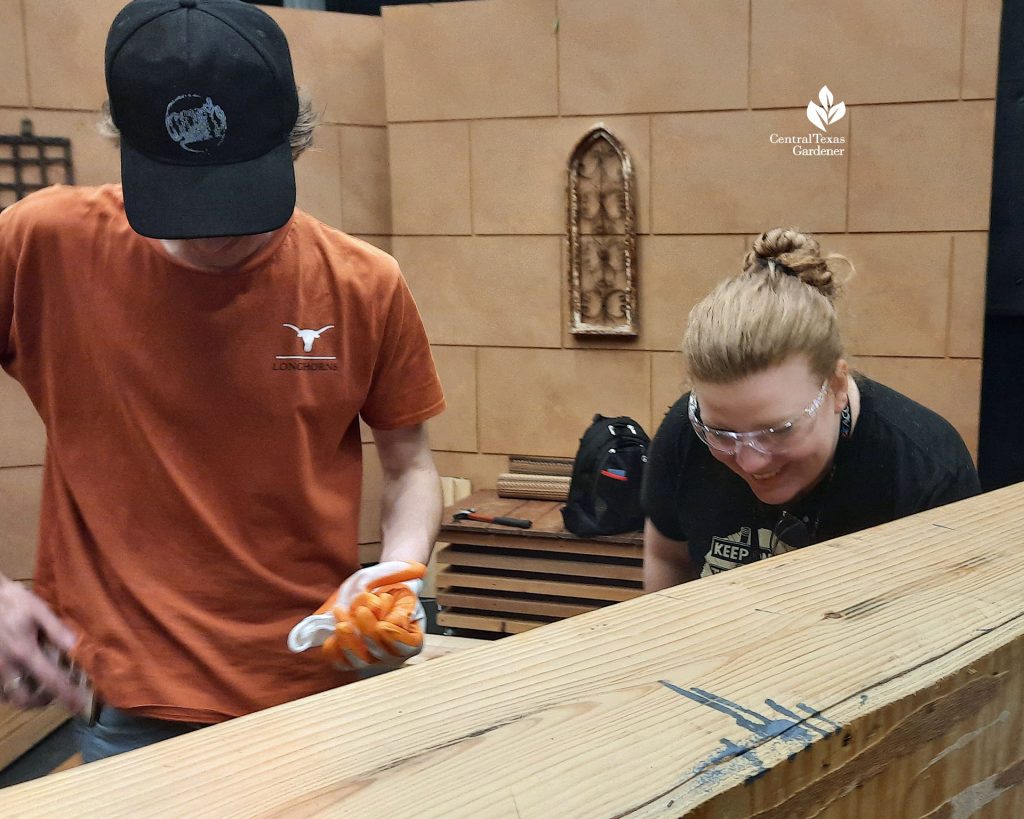 Freelance Katie Nelson wears many technical hats in broadcast and online media, including camera operator. It's been more than a minute since we've built sets, so it's been fun to discover everyone's other skills!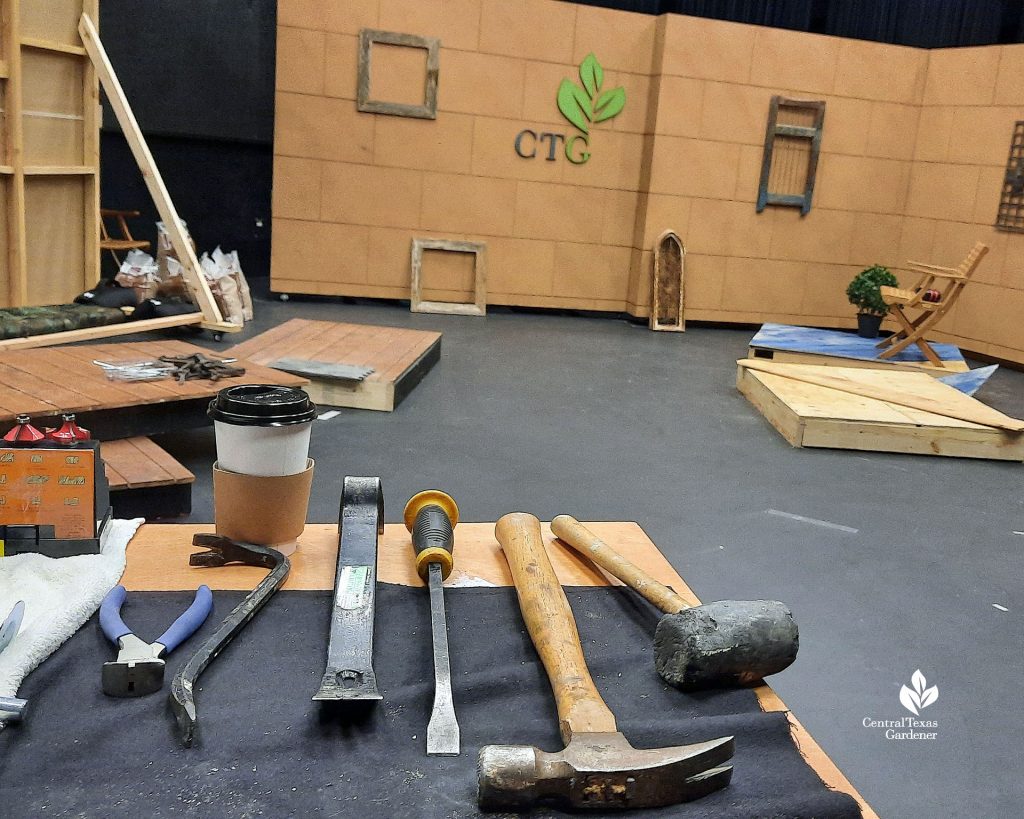 Every day ended with more idea-swapping and "to do" lists.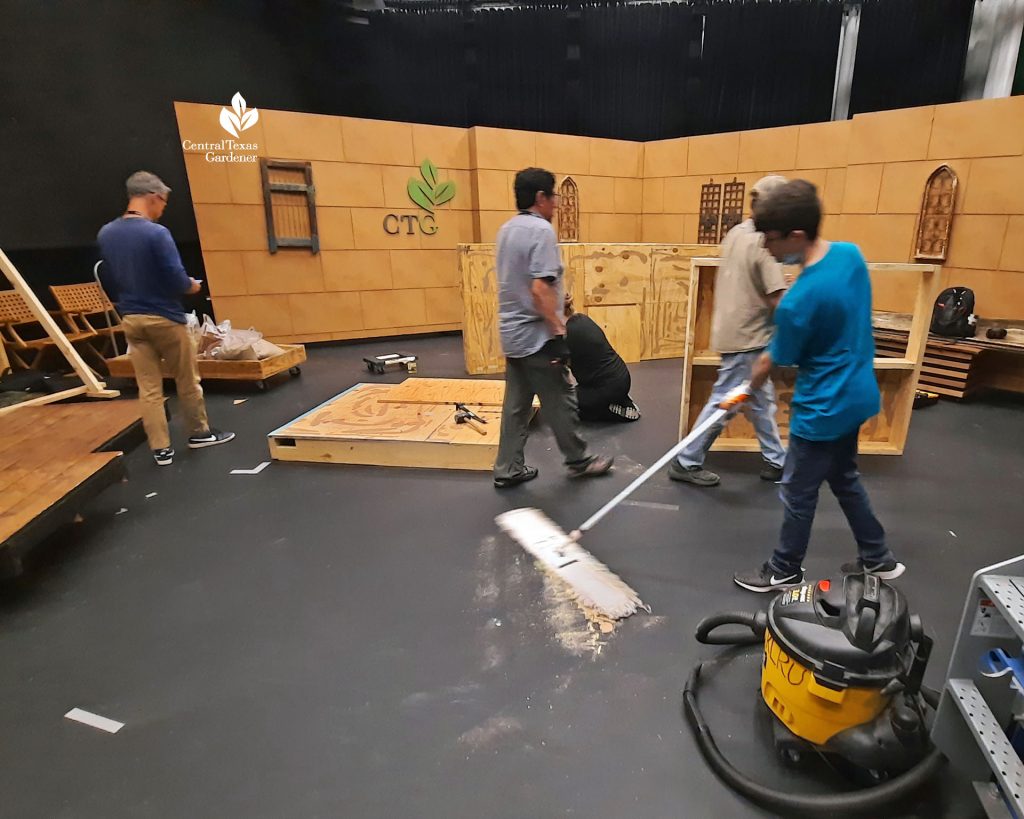 But cleaning up always clears the mind.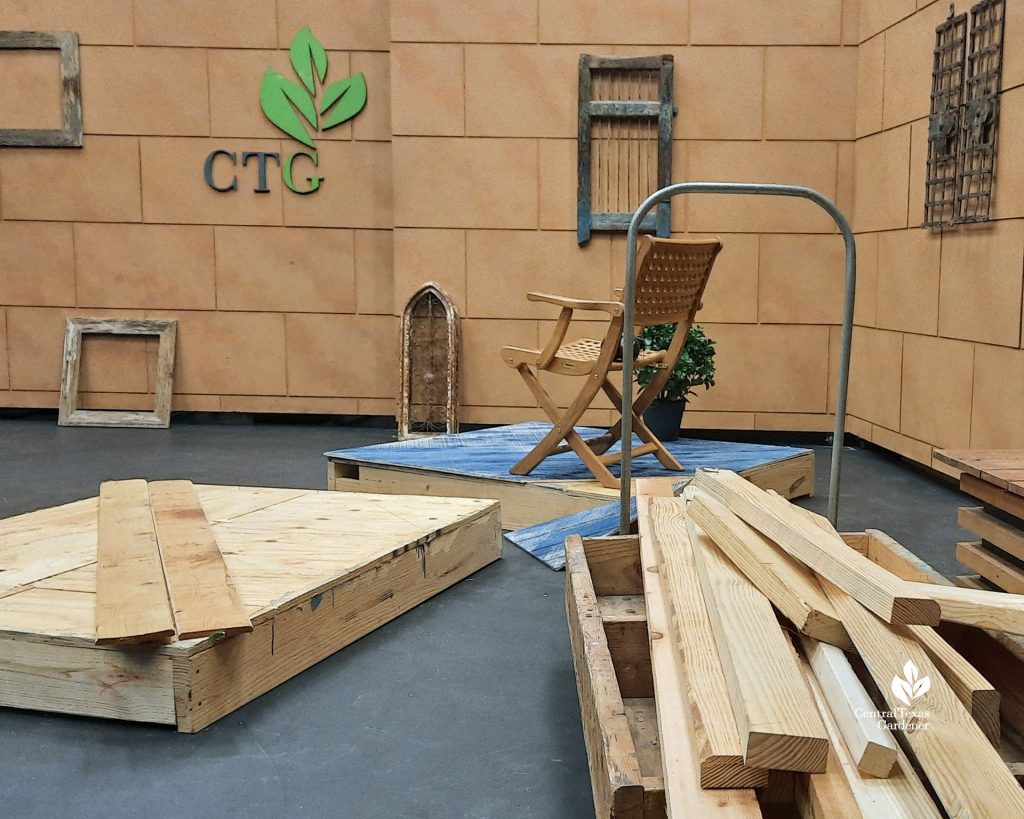 To make the guest platform and railings easy to take apart to move and store, Stephanie and team lumbered down. We used salvaged cedar for accents (thanks to Ed and Doug's scavenges), but for a sturdy, safe deck, we went for new.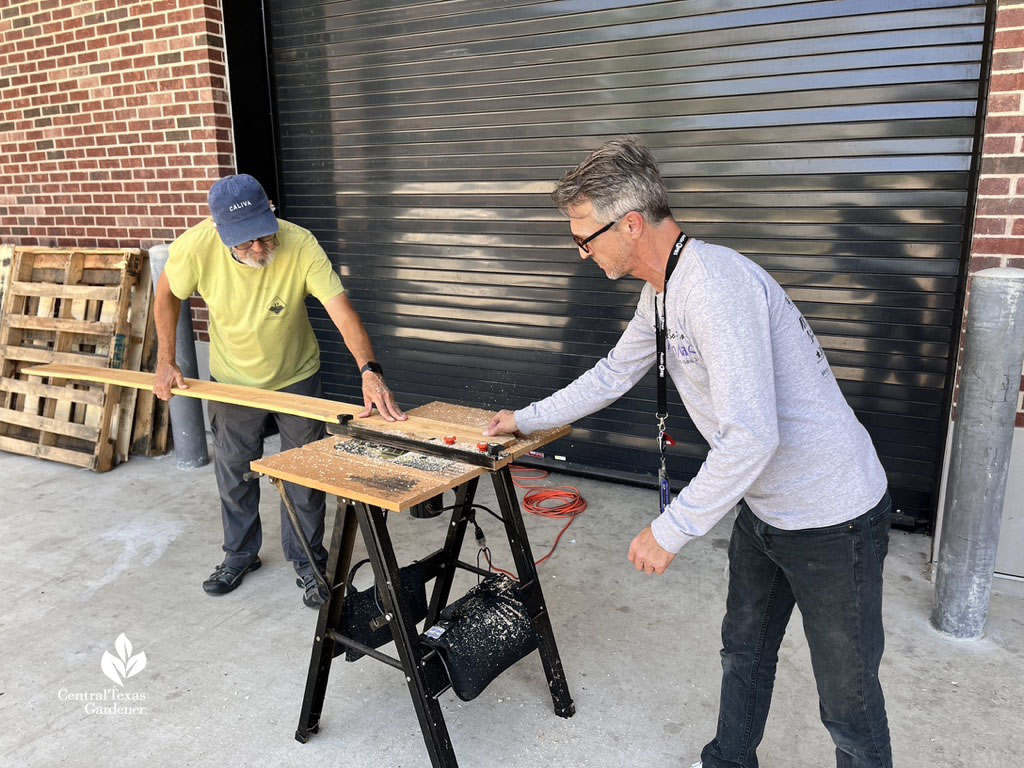 Austin PBS camera op/editor/lighting guy Robert Moorhead and freelance Eric Davis took their dusty job outside, sticking to the shade.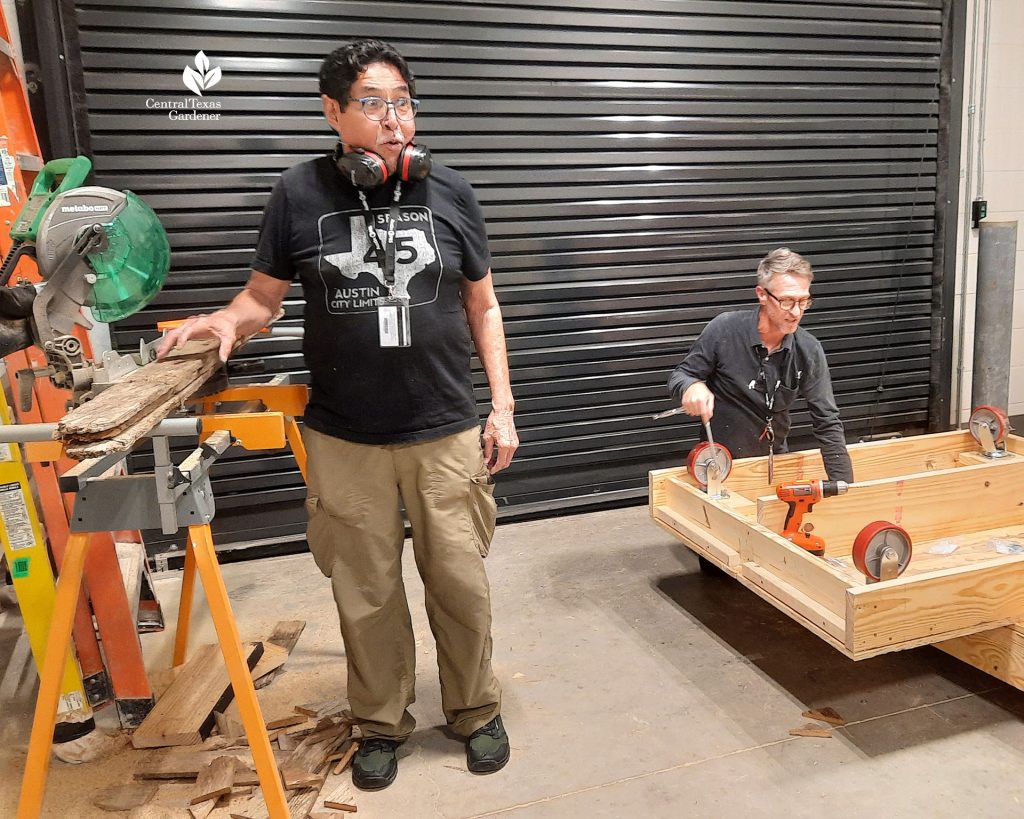 The new design called for four sections to unite as one platform, all on casters for easy transport and storage.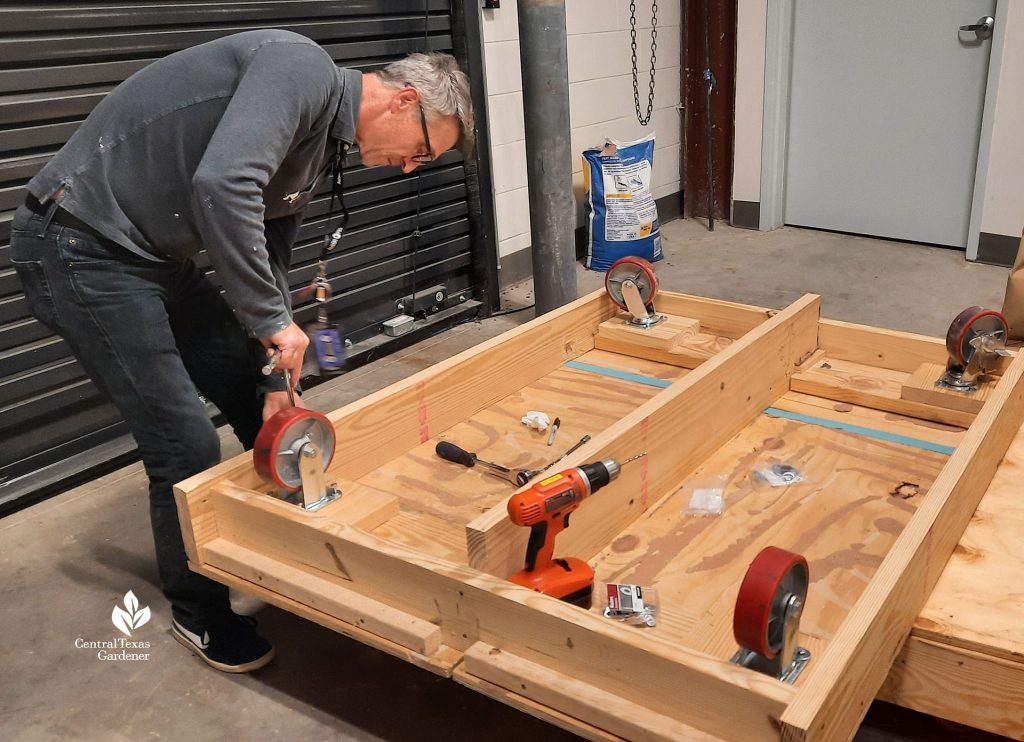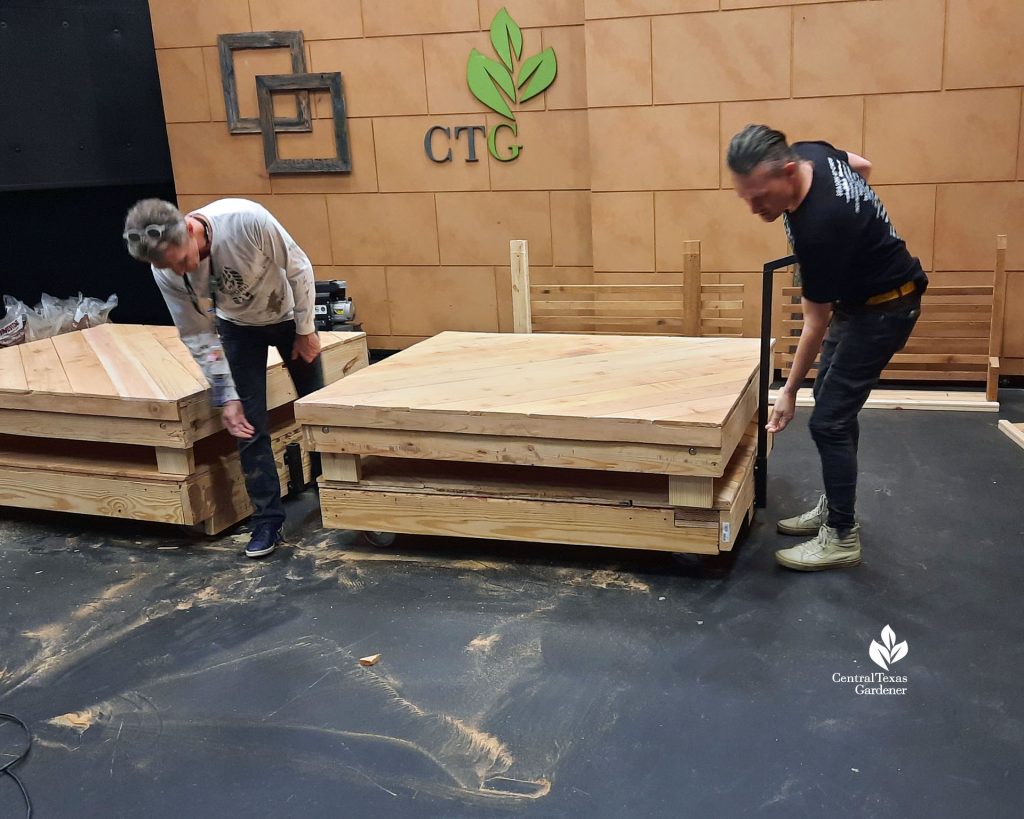 Eric and Rodney Connell demonstrate.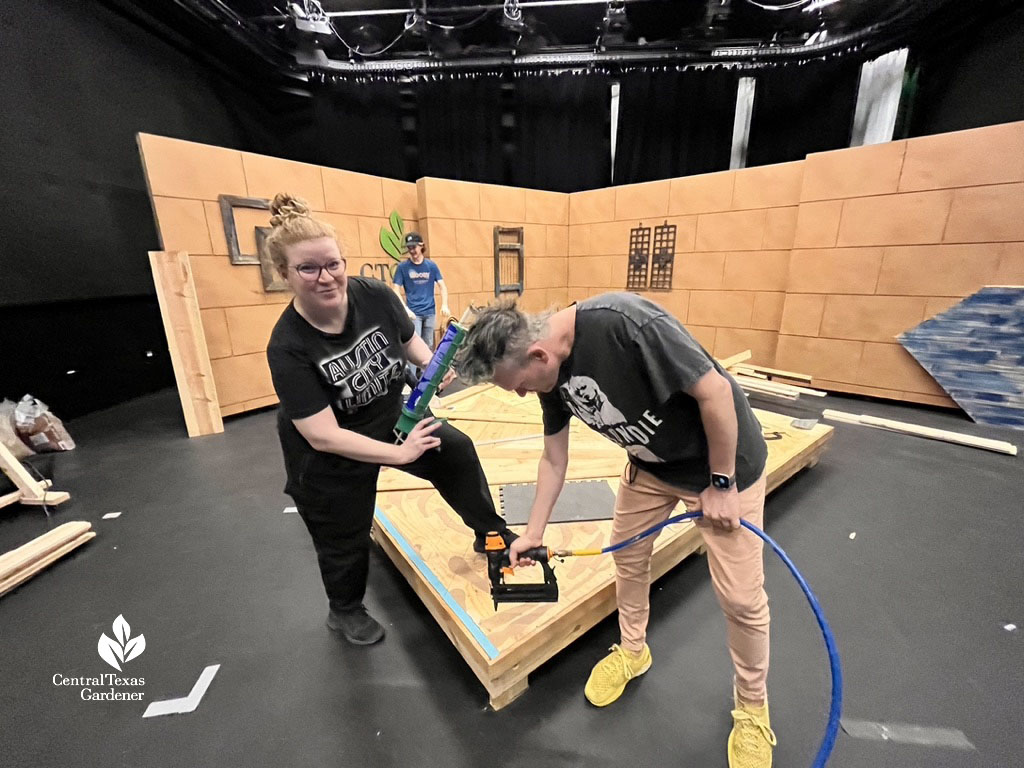 More detailing, conversation, and lots of cheers. Photo by Ed Fuentes.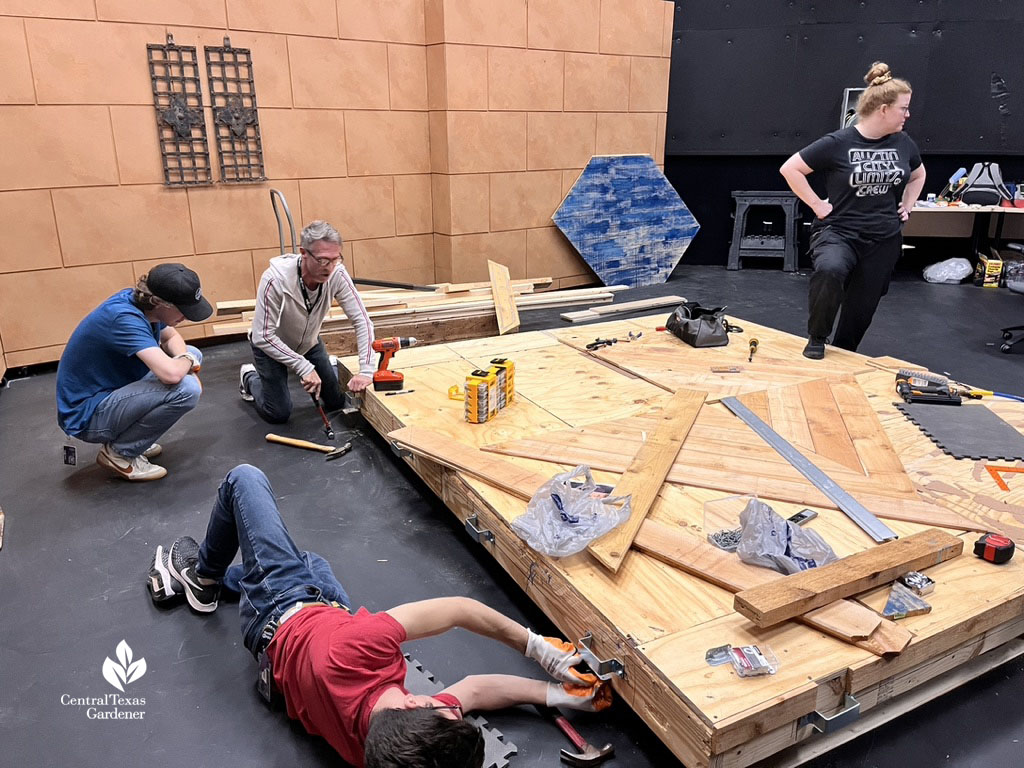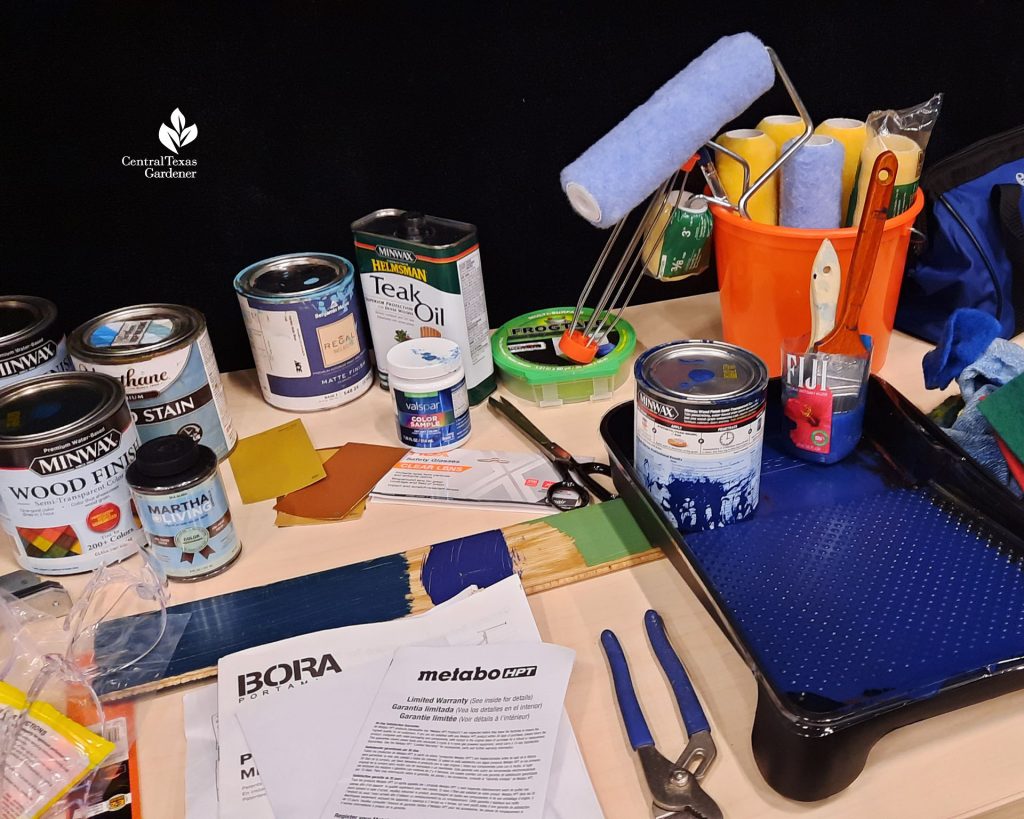 Ever painted a room or a deck? Yeah, you know how it goes to pick color, stain, and technique.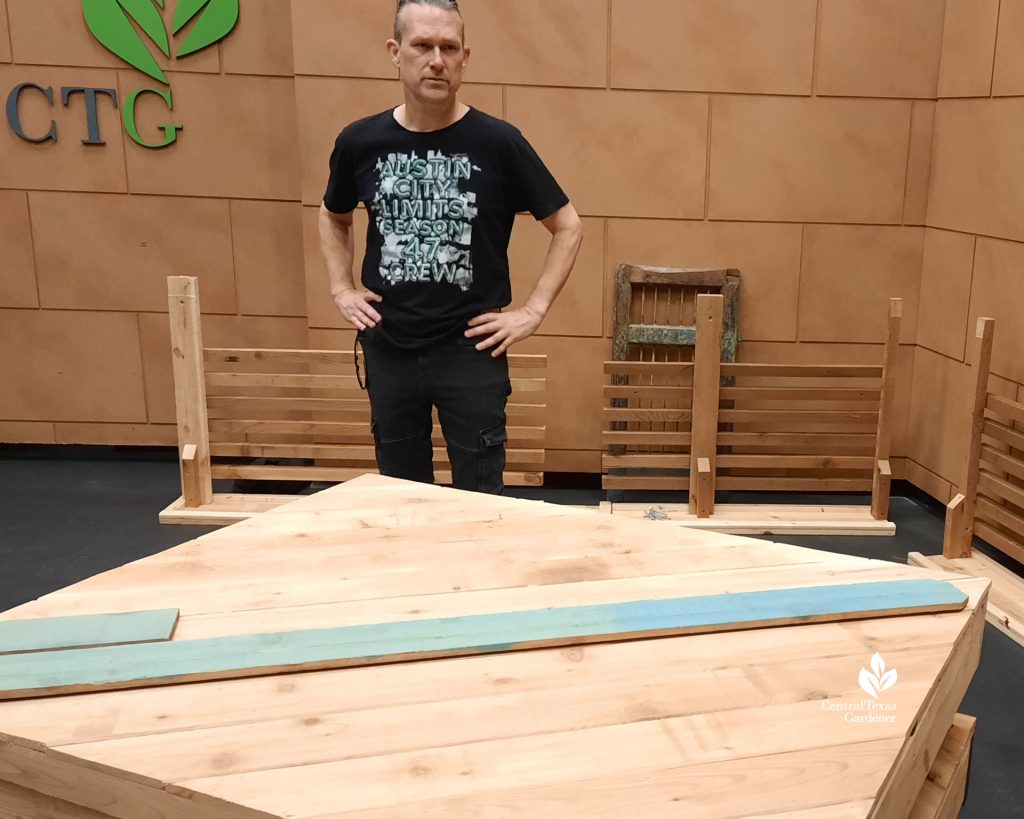 Ed presented a drawing for a deck concept: diagonal slats to resemble a tree. Everything was sanded smooth before painting (Ed used a brush, but immediately wiped with a cloth). Every broadcast program or online video depends on exacting pre-production, and that includes set construction. Photo by Rodney Connell.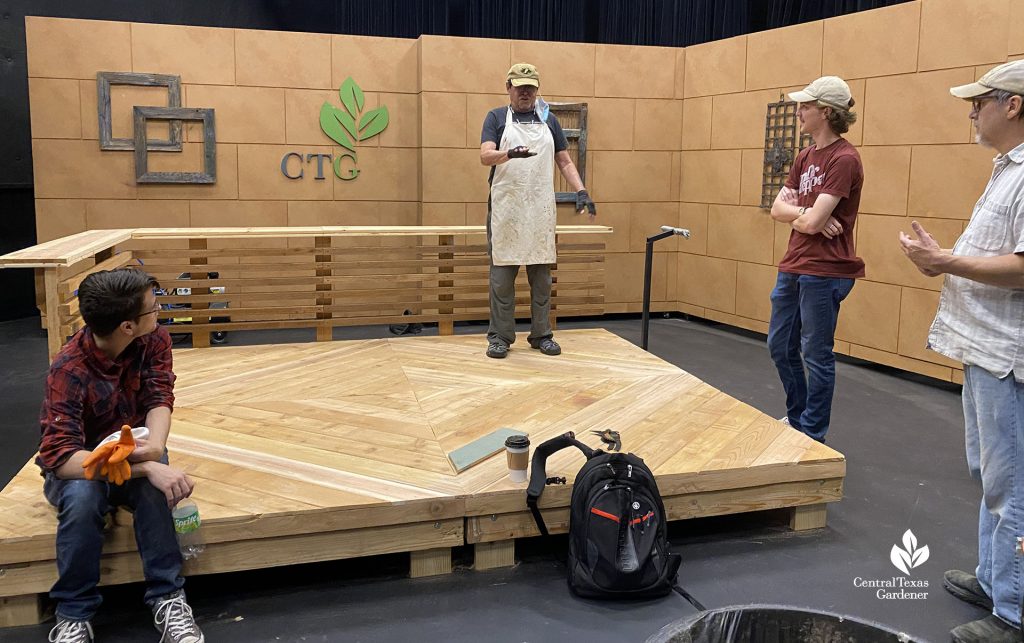 With salvaged cedar fence slats, Ed built frames to ornament the wall, an idea we borrowed from garden shoots, including Rick and Ellen Bickling in Cedar Park. He placed them so that on host John Hart Asher's closeups, we don't "frame" him. Photo by Stephanie Dale.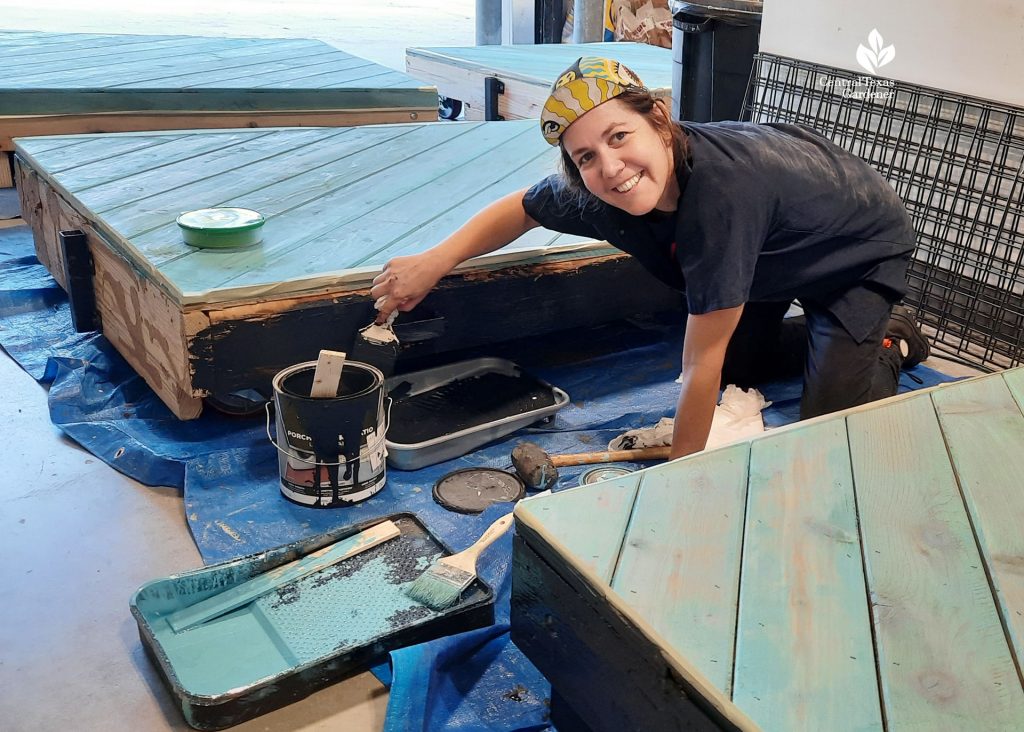 Freelance director, camera operator and producer Meg Seidel told me about her latest, exciting project while wielding a paint brush (everyone who hits the CTG team is multi-talented creative!).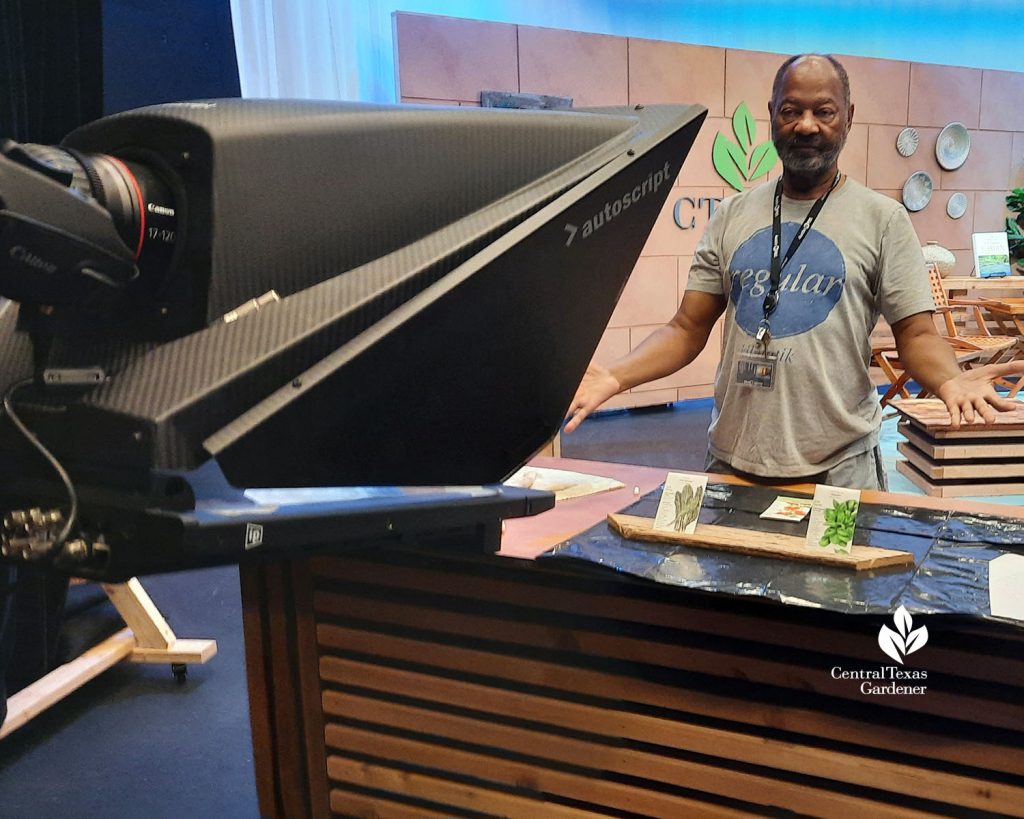 Late last week, producer/director/camera/lighting Michael Emery stood in for Ed's placement of the Backyard Basics table. Austin PBS engineers extraordinaire geared up the first camera while freelance lighting designer Walter Olden finessed lighting.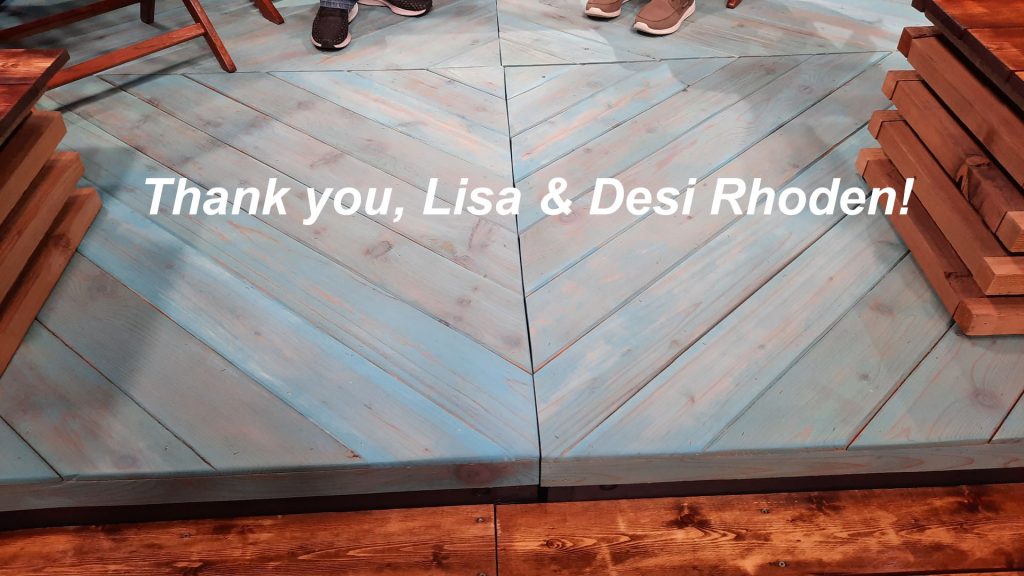 And truly, this has all been possible thanks to longtime supporters Lisa and Desi Rhoden! A lot of feet will cross this deck to help new and veteran gardeners capture their dreams and meet the challenges. It's been a process quite akin to starting a new garden!
THANK YOU from all of us at Austin PBS!
To our readers and viewers: thank you for your patience, encouragement and ideas! Linda
Comments