November 30, 2023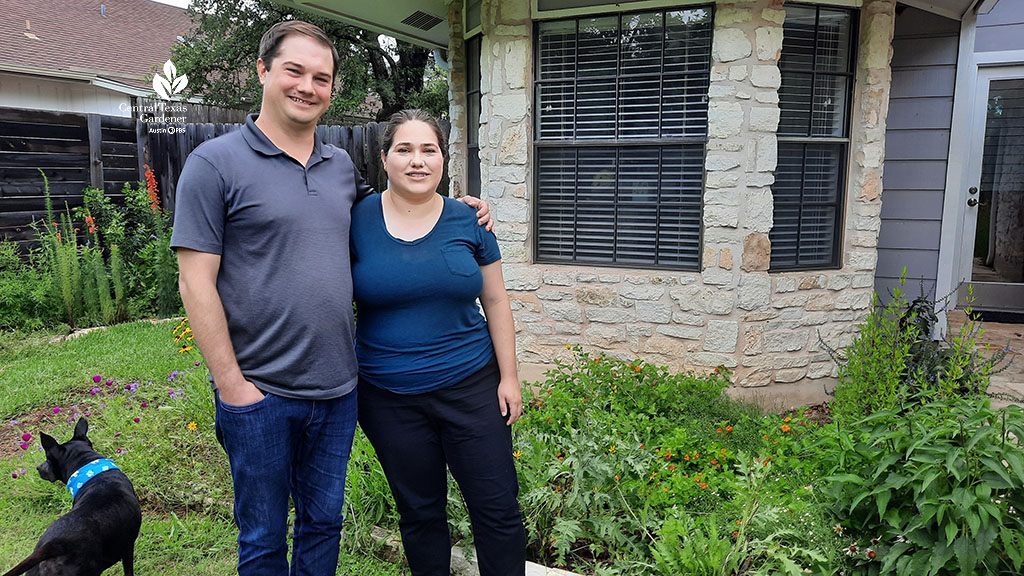 One of the hardest things for gardeners to learn is the art of layering for year-round flowers. AND, the whole gang must be compatible with the soil, amount of light, and moisture conditions, too. Michelle and Louis Lay absolutely nailed it in a very new garden. As first-time gardeners in 2019, they started whittling away turfgrass in favor of native plants for wildlife.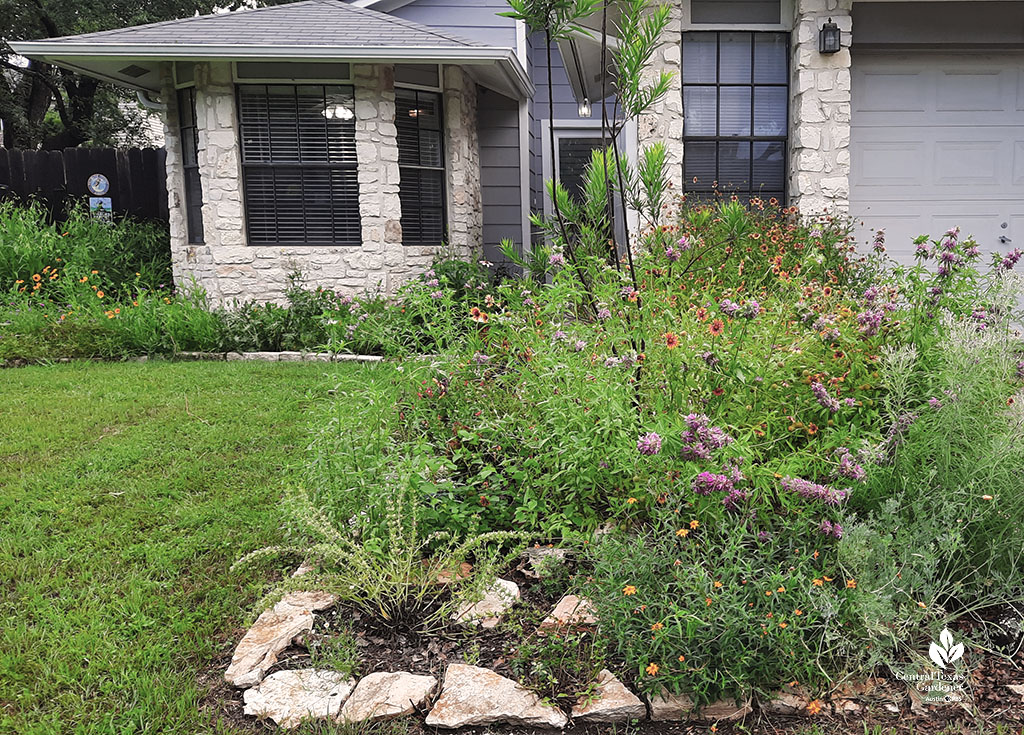 "We want to attract as many hummingbirds and bees and butterflies as we can," Michelle told us on our visit in May 2023. They sure will head for this young desert willow's summertime trumpet flowers, a replacement for a resident Arizona cypress that died in February's freeze.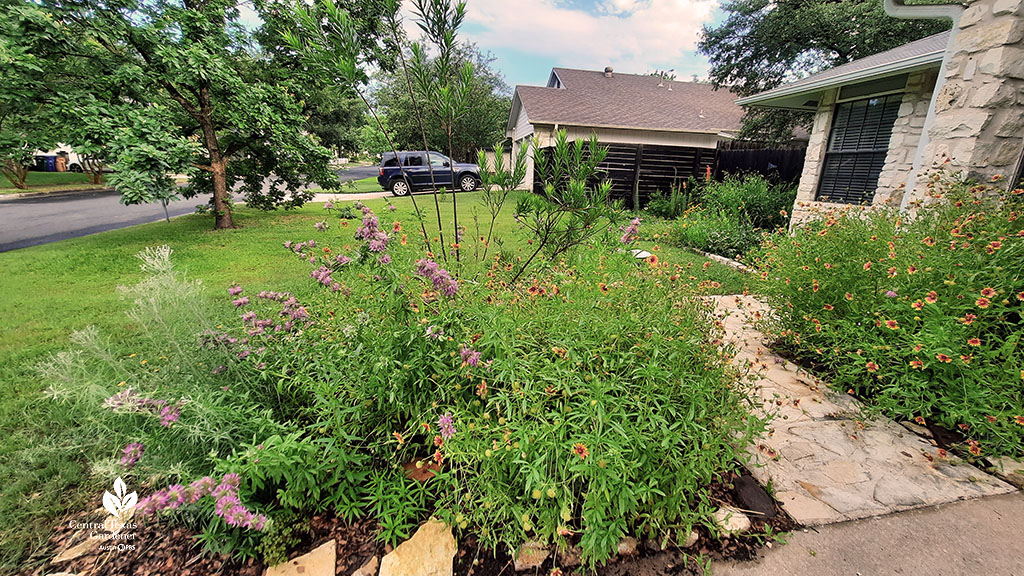 But wildlife didn't populate their yard when they bought the house in 2018. There was a native chinkapin oak, but mostly, it was lawn and bleak plants withering in ongoing drought. "We started with a lot of the adapted plants and we noticed that by the end of the summer, a lot of them were starting to look really bad or dying. And so that's when we kind of made the move to all native plants because they can take the heat without us having to water it every day," Louis said.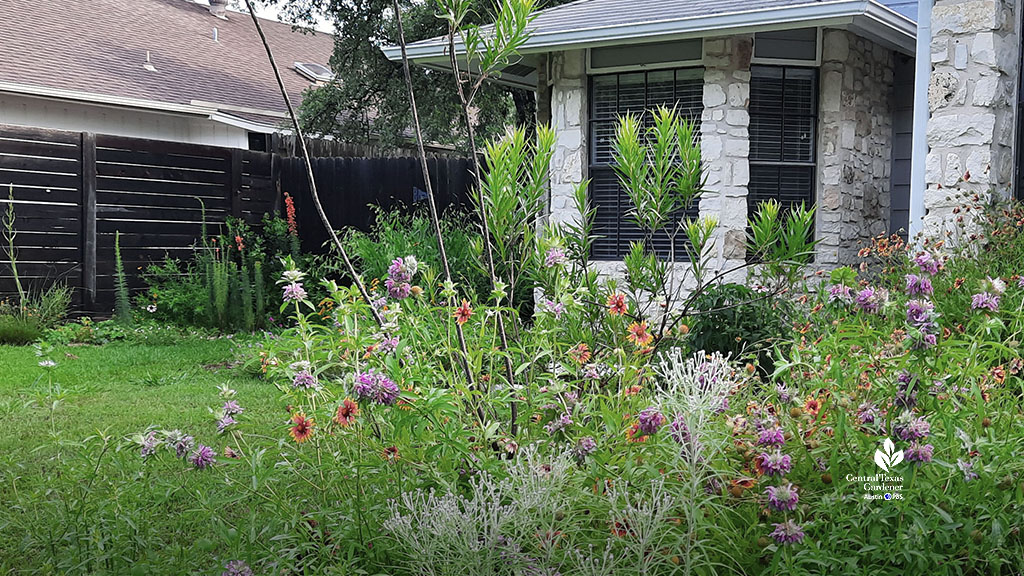 Sure, they made mistakes. As they figured out their soil, water flow, and the sun's path, they experimented in one nook at a time. They started with perennials, later adding annual wildflowers for sensational pops of color. Just about every month, you'll find something blooming for pollinators in the desert willow driveway bed. Seed heads feed birds. Included: rock penstemon, bee balm, gaillardia, woolly ironweed, pavonia, and zexmenia. Get Michelle's complete list.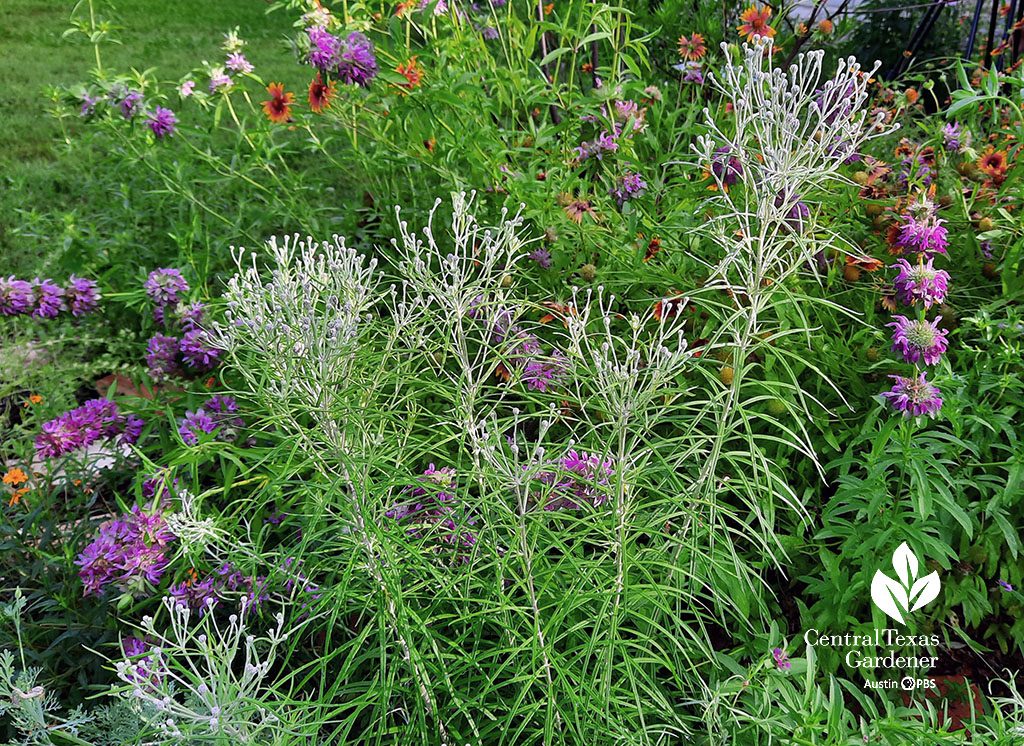 In late May, woolly ironweed's silvery white buds sparkled against native bee balm and gaillardia. In summer, many pollinators feast on its lavender blooms.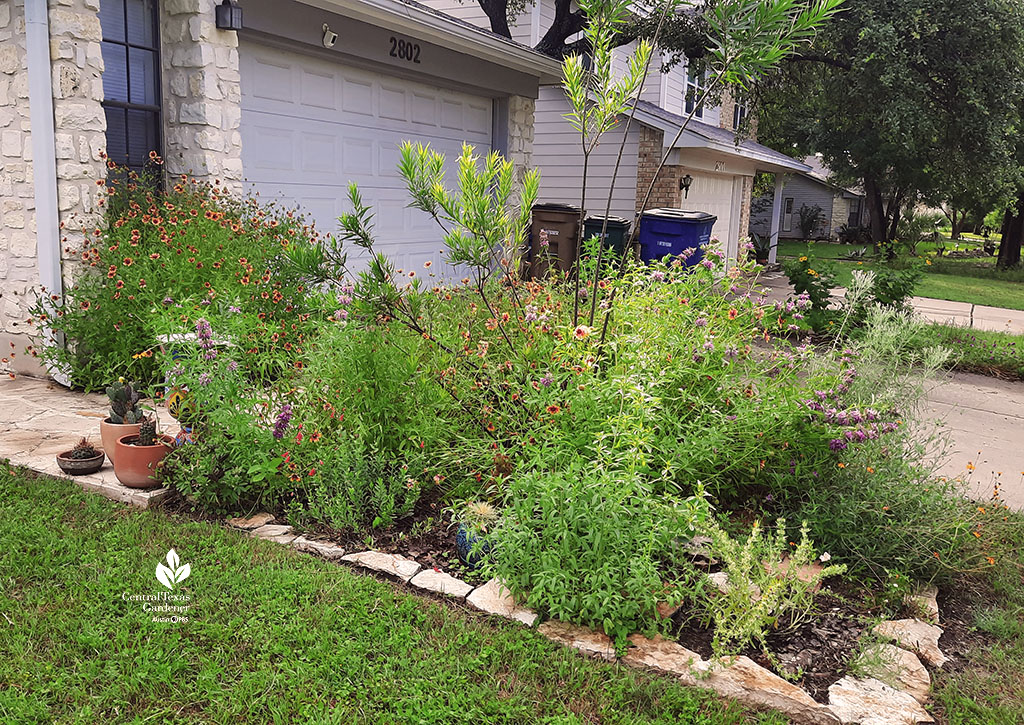 They border their new beds with flagstones and limestone blocks for a casual polished look that sets off their plants. The barrier also makes it easier to edge, keeping plants safe and Bermuda grass at bay.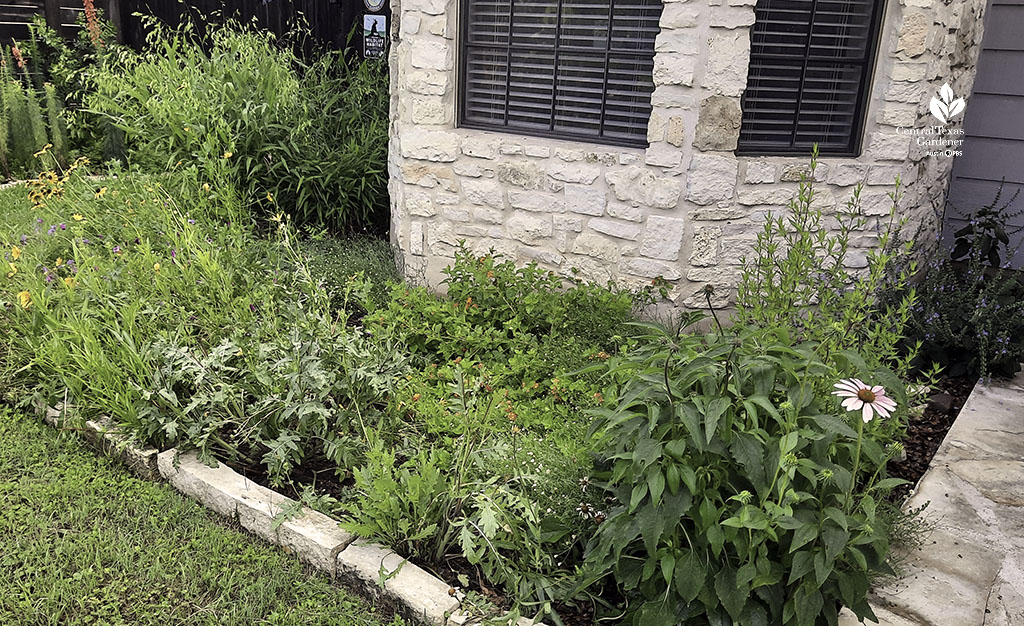 At the front door: "We didn't like that the hedges were covering up our windows and blocking our light in the house. So we ripped all that up and kind of made the bed a little bit bigger and we started focusing on flowering perennials that would be shorter, that would get us a lot of blooms throughout the year," Michelle said.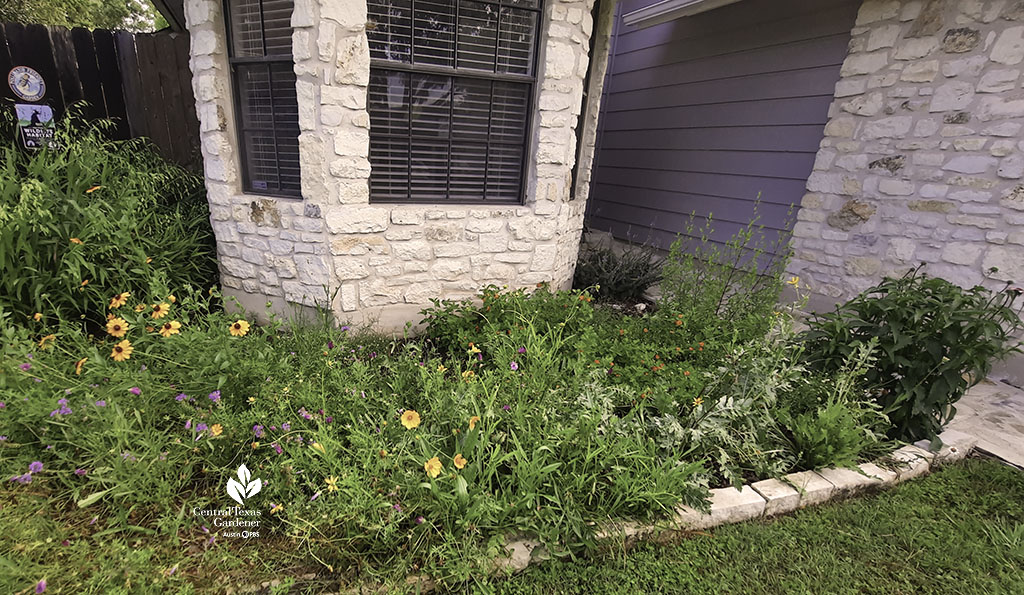 Seasonal bloomers include heartleaf skullcap, flame acanthus, various coneflowers, Texas lantana, Engelmann daisy, coreopsis, winecup, rudbeckia and prairie verbena.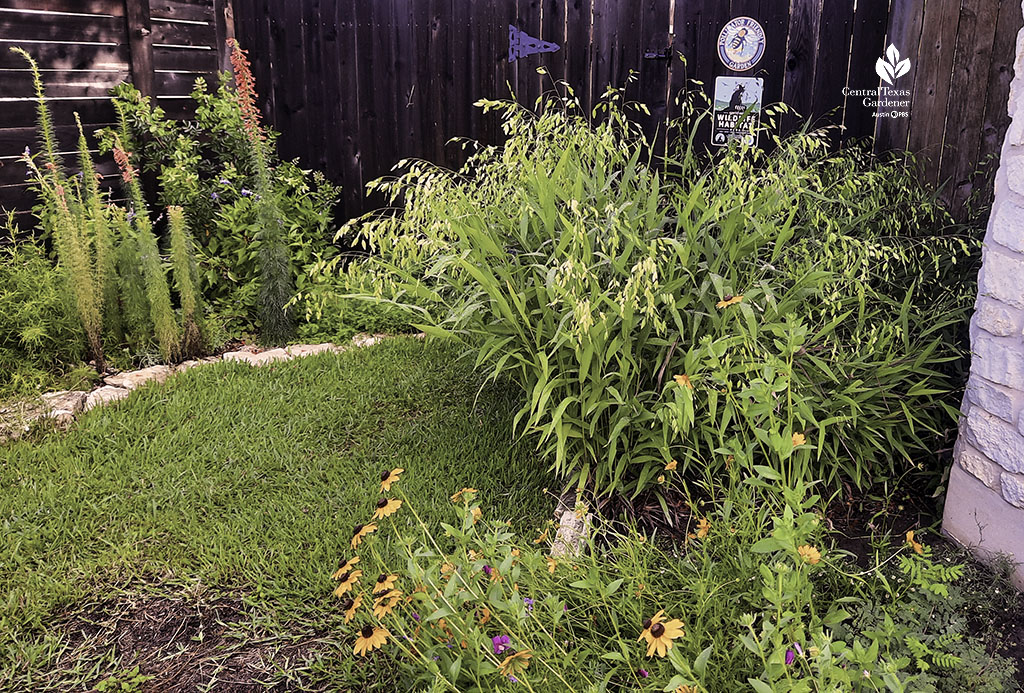 "And the inland sea oats on the left side gives some height over on that other side and fills in a space that's pretty moist that not a lot of other stuff will tolerate due to the gutters."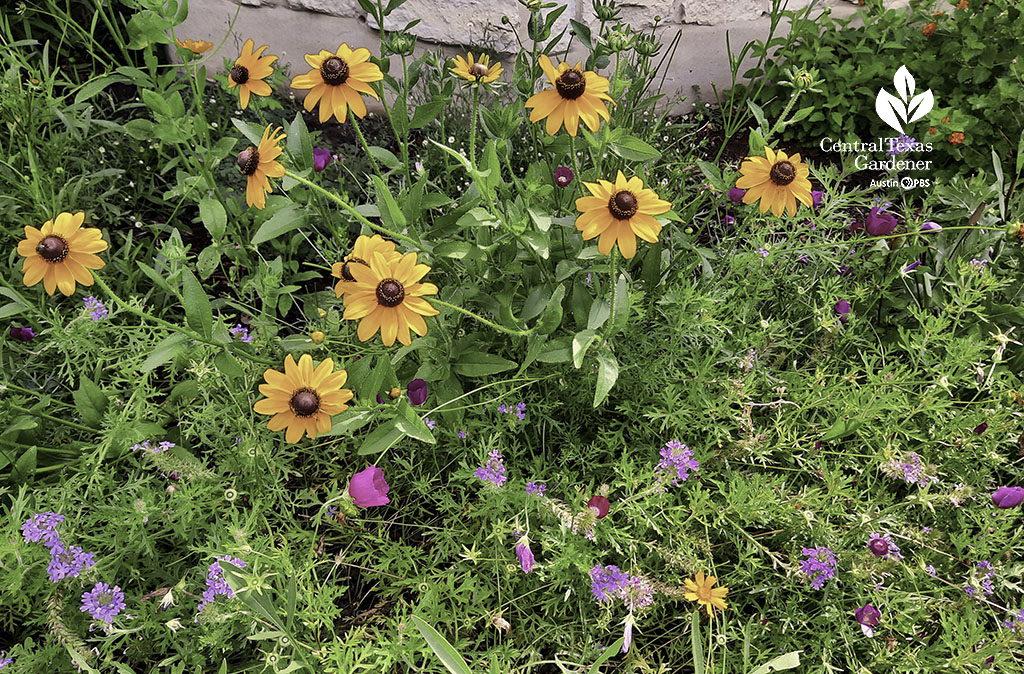 To learn more about native plants, they attend the Austin Native Plant Society meetings, and in 2022, trained to become Texas Master Naturalists. Often, they hike through nearby Stephenson Nature Preserve to observe seasonal changes and what plants naturally grow in their soil.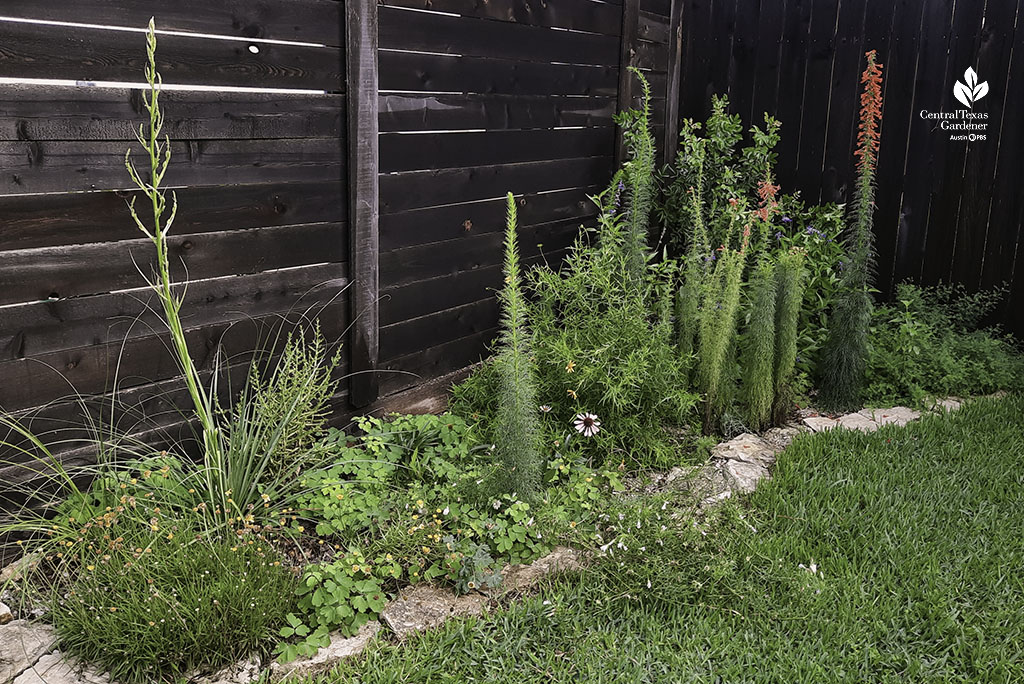 At the front yard privacy fence, they got rid of the grass by cardboard mulching. "It was a long season of just ugly cardboard sitting there, but it did work," Michelle said. From the left: Nolina texana, four-nerve daisy, columbine, coneflower, skeleton-leaf goldeneye daisy, mealy blue sage, biennial standing cypress, evergreen sumac and black dalea.


Along with pollinators, this series attracts seed and fruit-eating birds throughout the year.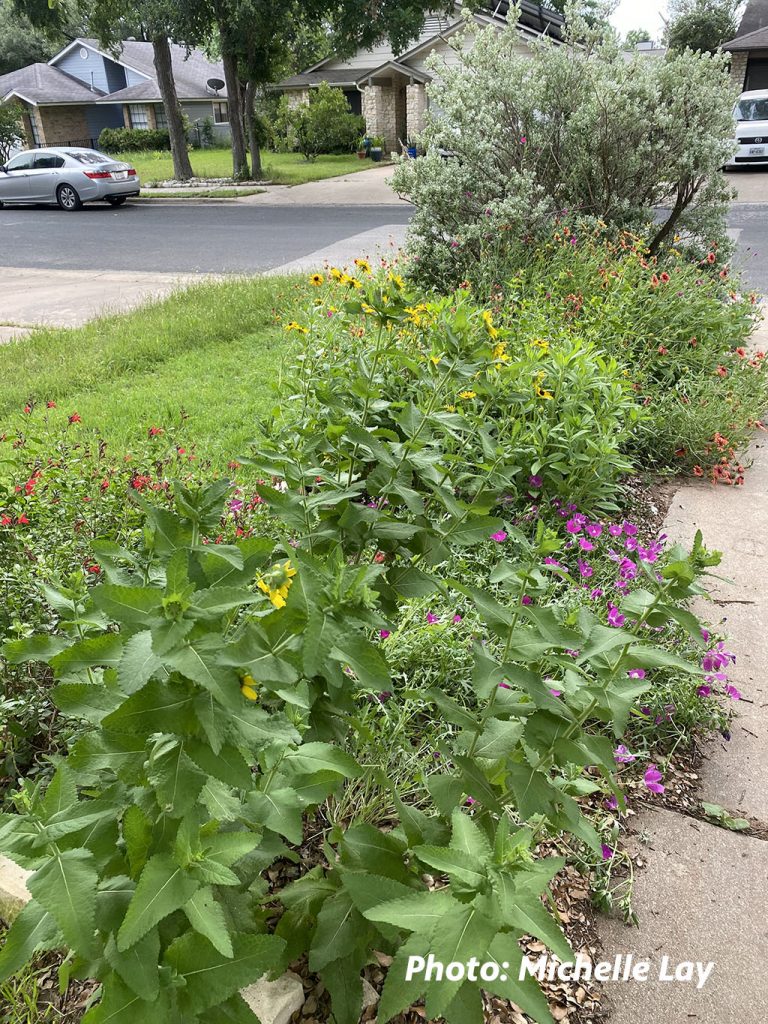 The driveway strip started with a resident cenizo (Texas sage) and a couple of Salvia greggiis. Over time, they've seeded Black-eyed Susan, winecup, gaillardia, and winecup (among others).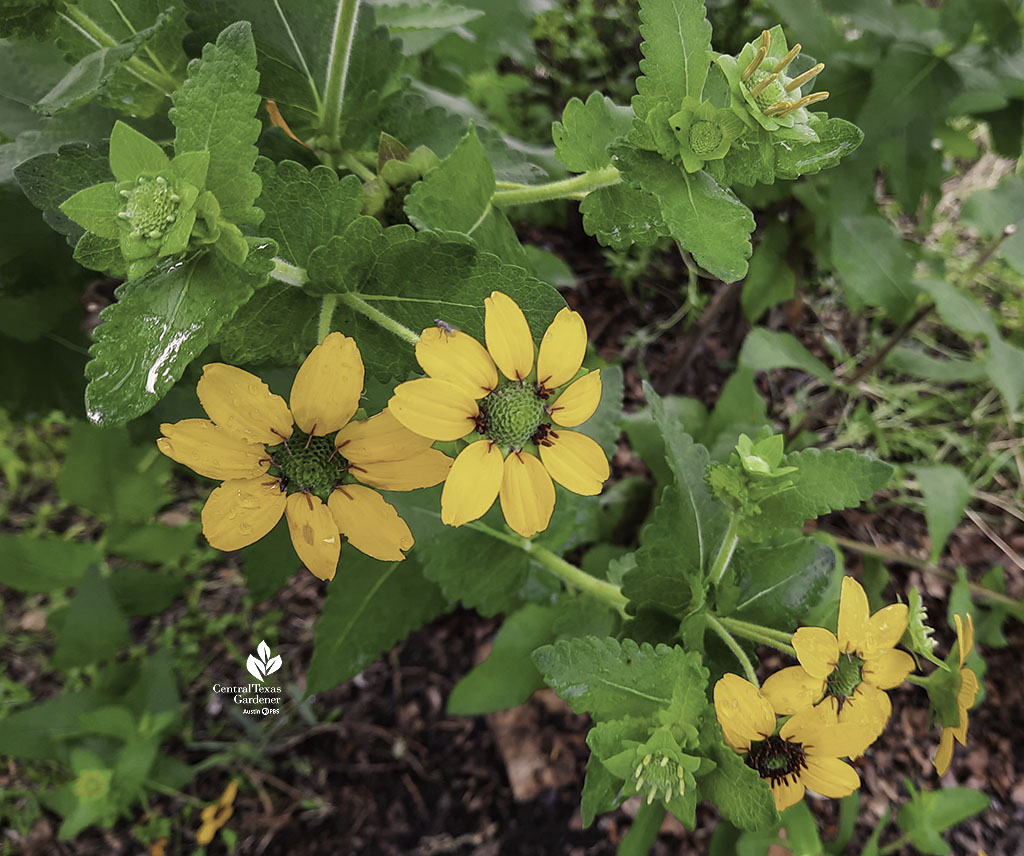 They tucked in perennial Texas greeneyes (Berlandiera betonicifolia).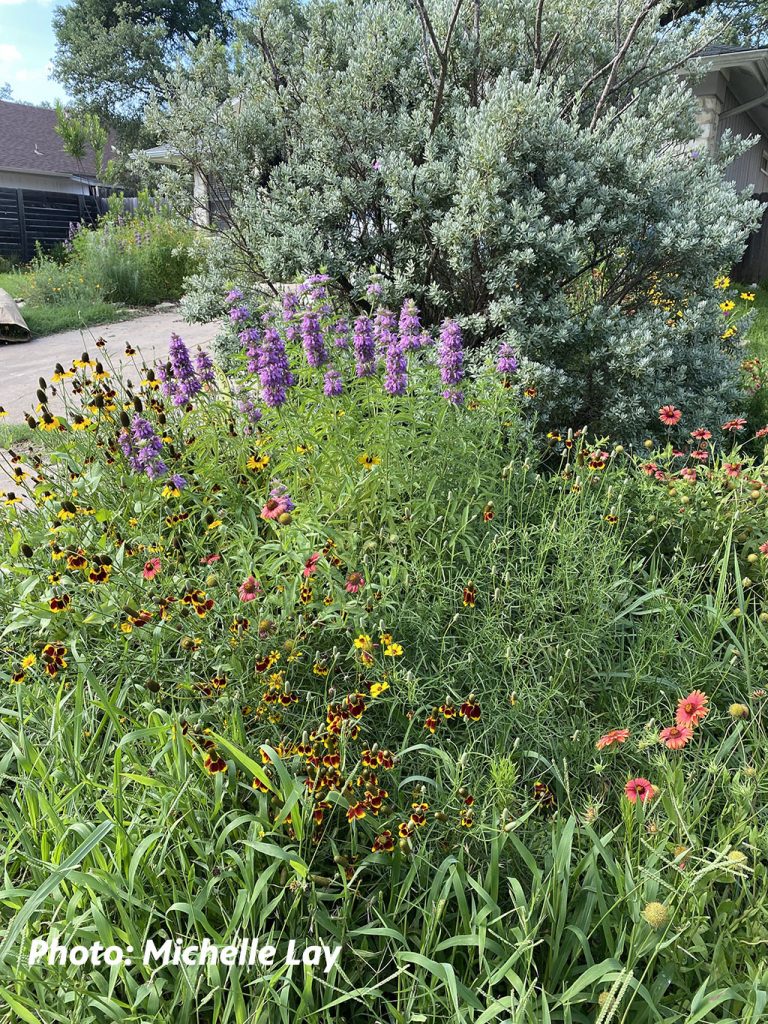 At the curb, bee balm, gaillardia, and Mexican hat join native grasses in a tiny prairie.
"We have gotten a lot of nice, friendly feedback from our neighbors," Michelle said. "A lot of people enjoy seeing the wildflowers, so it creates a talking point to get to know each other and say hi and it just, you know, it's good to know that your yard is putting a smile on someone's face on their daily walk."


Follow Michelle on Instagram to see what's blooming, why it matters, and what wildlife are visiting. She named it "falsedayflower" since it was the first wildflower (Tinantia anomala) to pop up in a part shade bed. Right now in December, you'll see its grassy-looking leaves emerging. Its springtime flowers attract bumble bees, and its seeds feed squirrels.
Again, here's Michelle's plant list.
There's lots more, so watch now!
Thank you for stopping by! Linda
Comments