Angelonia
Angelonia angustifolia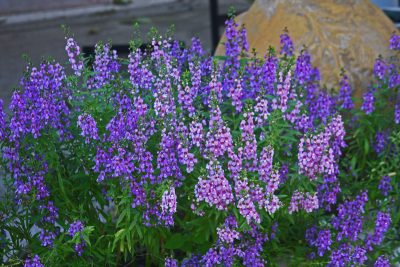 Angelonia, also called "Summer Snapdragon" is a Texas Superstar summer annual.
Angelonia is a charming but tough-as-nails summer annual. It gets only 12-18″ tall and wide, so it's perfect for edging borders or to use in containers. If you miss your cool-weather snapdragons, this is a perfect substitute until frost.
It flowers all summer long, even in our intense heat.
The new 'Serena' series of Angelonia is very heat tolerant and great for Central Texas. The flowers come in white, pink, purple, and lavender.
Plant in full sun or very light shade. It's very drought tolerant, so it won't need much water once it's established.
Angelonia's a summer annual that dies in winter, so you'll have to replace it in April or May when soil temperatures have warmed back up.
Photo by: Texas AgriLife Research