Cleome Seniorita Rosalita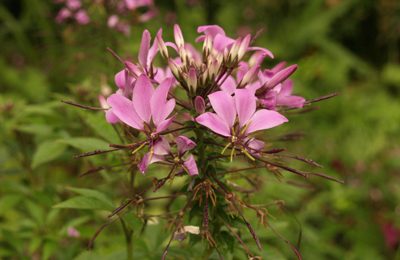 This is a newer cultivar of cleome. It has beautiful dark green star-shaped leaves topped with clusters of small pink flowers.
This plant blooms all summer, right up through first frost and it also attracts hummingbird and butterflies which makes it a nice plant for our gardens. It usually gets from 3-4′ tall, but it will stay shorter if it gets a lot of sun. It gets about 2'wide, so give it a little bit of space.
It's only hardy to 32 degrees so may be an annual in hard winters like we had last year. This plant does prefer full sun but it can take light shade. In the light shade, it would get a little taller because it would be stretching for the sun.
It's heat and drought-tolerant, which makes it great for our gardens. But it does need regular moisture and good drainage, so amend your soil in the beds where you plant it. It's a sterile hybrid, so it doesn't form messy seedpods. So, it won't reseed. It only needs fertilizer a few times per season, so it doesn't require much maintenance at all.