Made for the Shade: Well Adapted Plants for Shady Areas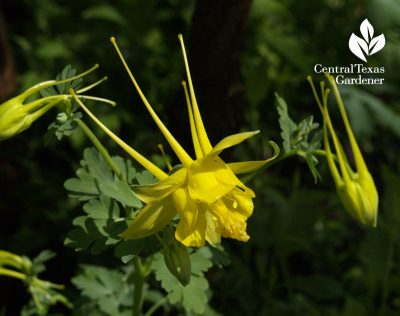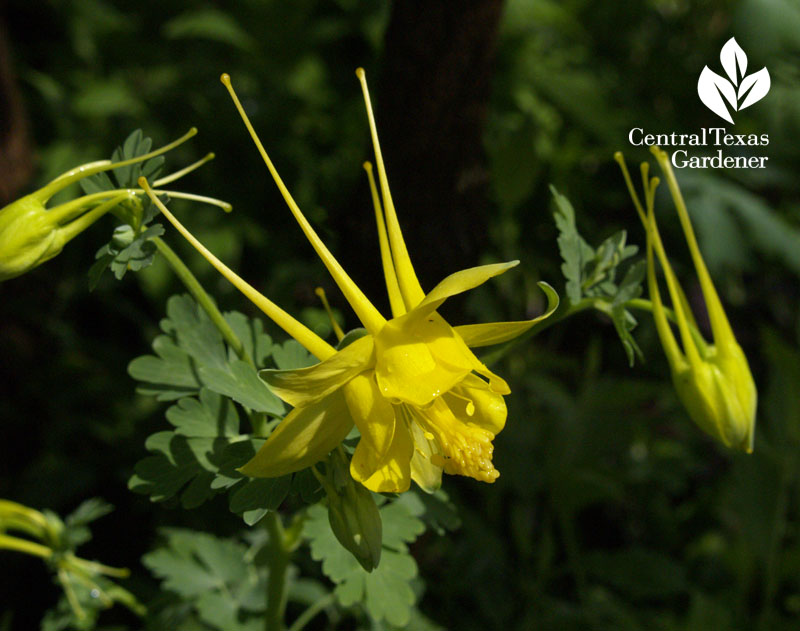 Annuals& Perennials | Shrubs
| Small Trees | Vines
| Ground Cover |
Ajuga (Ajuga reptans) — 3-6″,purple leaves, blooms,
mesic. Nematodes can be a problem.
aspidistra (aspidistra elatior) — Rightly called "Cast
Iron Plant", mesic, grows slowly, evergreen.
Chamomile (Chamaemelum spp.) — Annual herb, mesic,
pm shade, bloom used for tea
Columbine (Aquilegia spp.) – Part sun to shade, 15-18
inches. The yellow blooming Texas Gold and the red and yellow Aquilegia
canadensis perform well here. xeric, dormant in summer
if not watered. Prone to leafminers, use Neem oil to treat.
Coral Bells (Huechera sanguinea) — mesic,
blooms, PM shade, green or purple leaves
Clerodendrum (Clerodendrum bungei) — Deciduous perennial,
3-6 ft. Large, showy pink flowers in summer. Good hummingbird plant.
Spreads aggressively by underground suckers.
Elephant Ears (Colocasia esculenta) — Perennial bulb,
dies back in winter, grows to 6 ft. with large, dramatic leaves. Mulch
to protect from freezing. mesic.
Foxtail Fern – related to asparagus fern, soft bushy stems,
mesic. Tops may freeze.
Frog Fruit (Phyla nodiflora) — Low growing ground cover
3'4″, xeric, blooms
Hoja Santa (Piper auritum) — 4-6 ft., invasive, mesic,
used for cooking
Hollyfern (Cytomium falcatum) — evergreen, mesic.
Good for containers.
Horsetail Reed (Equisetum hyemale) — Bogs, wet shade,
invasive
Inland Sea Oats (Chasmanthium latifolium) — Perennial
native grass. Good for erosion control. Wet or dry, sun or shade, this
is a hardy plant. Remove seeds to control spread.
Lamium (Lamium maculatum) — many varieties, blooms,
low growing with variegated foliage.
Liriope
(Liriope muscari) — mesic, blooms, cut to 4
inches in Spring to revive.
Monkeygrass or Mondograss (Ophiopogon japonicus) —
xeric, low-growing groundcover. Avoid the dwarf form,
not adapted to alkaline soils.
Nolina or Beargrass (Nolina nelsonii) — Grass like
foliage, xeric, OK in deep shade, good for slopes,
erosion control
Oakleaf Hydrangea (Hydrangea macrophylla) — Blooms,
mesic , good soil and drainage.
Oxalis, Wood Sorrel (Oxalis spp.) — Blooms,
xeric or mesic, invasive.
Pigeonberry (Rivina humilis) — Blooms, xeric,
berries for wildlife.
Rock Rose (Pavonia lasiopetala) — Blooms, self-sows
freely, xeric.
Ruellia, Mexican Petunia (Ruellia spp.) — Best are
Katie and Bonita dwarf forms and taller Chi-Chi pink. mesic
or xeric, invasive.
Shrimp Plant (Justicia brandegeana and J. tomentosa)
– xeric, blooms, very hardy. Deer
resistant.
Spiderlily (Hymenocallis spp.) — Afternoon shade, blooms,
mesic.
Spiderwort (Tradescantia andersoniana) — Purple blooms,
xeric
Sweet violets (Viola odorata) — Spring blooms edible,
mesic.
Texas Aster (Aster texanus) — Fall blooms, tall when
blooming, xeric. Cut blooms to control seeds.
Texas Betony (Stachys coccinea) — part shade, coral
blooms, one of my favorites
Tropical Sage (Salvia coccinea) — red, white, pink
or coral, freely self-sows. xeric.
Turk's Cap (Malvaviscus arboreus) — 4-5 ft. Blooms,
seeds for wildlife. Deciduous.
Umbrella Plant (Cyperus alternafolius) — Bog or wet areas,
tops may freeze. Invasive.
Wandering Jew (Tradescantia fluminensis) — Colorful foliage,
blooms. mesic.
Wood Fern (Dryopteris spp.) — Deciduous, mesic
Aralia (Aralia japonica) — Needs good soil, drainage.
May freeze.
Aucuba (Aucuba japonica) — Evergreen shrub, 4-6 ft.
tall, mottled yellow color on leaves. Leaves will blacken if exposed
to sun. Prone to spider mites when stressed. mesic
Beautyberry (Callicarpa americana) — Deciduous, mesic,
blooms, magenta or white berries.

Mexican Buckeye (Ungnadia speciosa)
— xeric, blooms, drops leaves in summer.

Snowball Bush Viburnum (Viburnum spp.) — also, Spring
Bouquet (Viburnum caricephalum) — Blooms, xeric,
good for wildlife
White Boneset (Eupatorium havanense) — Fall blooms,
deciduous, xeric.
Texas Buckeye (Aesculus glabra) — usually 10-20 ft.
tall. Yellow or red flowers, seeds are poisonous. Loses leaves in summer.
xeric
Rough Leaved Dogwood (Cornus drummondii) — xeric,
blooms, invasive
Rusty Blackhaw Viburnum (Viburnum rufidulum) — xeric,
blooms, fall color
Confederate Jasmine (Trachelospermum jasminoides) —
xeric, fragrant blooms
Asian Jasmine (Trachelospermum asiaticum) — can freeze,
xeric
English Ivy (Hedera helix) — mesic,
invasive, keep off of trees
Horseherb (Calyptocarpus vialis) — evergreen groundcover
6-8 in., yellow blooms. May be used as a lawn in deep shade. xeric,
tolerates moderate traffic.
*Mesic are plants which require well prepared
soil, good drainage and moderate to high levels of moisture.
**Xeric plants are adapted to poor soils and lower
levels of water.