May 15, 2008
From the producer: 5/17/08
First, if you saw the notice in the Statesman last Saturday about the Windsor Park Garden Tour, there's a correction on one address. The correct one is 6210 Brookside, rather than Brookshire. Get more info on CTG's calendar on this blog site or on our website.
Now that the heat is upon us, one of my daily chores is cleaning and filling the birdbaths. It's worth it for the nightly cardinal baths (the lady always goes first), with drinks and puddling from everyone throughout the day. I keep a dish scrubber in my "stuff" bin (a little galvanized container that was our first patio pond) to make it easier. The rock is for insects to perch, rather than drown.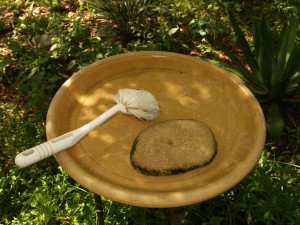 The crepe bed bath is a ceramic pot tray and plant stand from Greg one Christmas. But it's too short for safety from the cats (the case with most "cute" birdbaths). The regal birdbaths I admire are expensive, and might overwhelm this space, so I got some conduit that I cut and slipped over the legs to make the stand taller. Then, I spray painted the new legs with faux granite.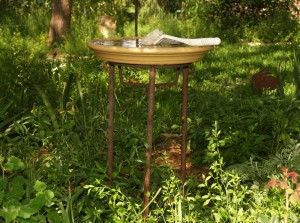 Actually, I need to make it taller-I didn't factor in how much needed to go underground for stability. Next project!
The first toad arrived, one day later than last year. In a few weeks, I'll set out the "toad tray" with water, where they hang out and mate, until we devise another patio pond.
Really exciting to me is that the new rentals next door asked us with glee, "Are those fireflies we're seeing?" Former urbanites, they'd never experienced a firefly.
I rescued one from the house the other day. To make sure you recognize it in daylight as a pest warrior and your best friend, here's a picture from Texas A&M's site.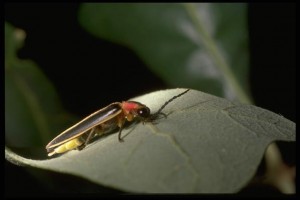 Online, you can see the insects from A Field Guide to Common Texas Insects, by Bastiaan Drees and John Jackman, but I keep it handy on my bookshelf, too.
I did some weeding, and almost plucked out the cosmos seedlings that I'd forgotten I'd spread in the space reserved for the Gulf penstemons this fall! From a distance, I wondered, "What are all those weeds?" Well duh. If your memory is better than mine, seeding annuals is a good trick to fill in a space that you have in reserve. It's not too late for things like cosmos, sunflowers, or zinnias from seed. Or do annual transplants, while your perennials grow in. You can't forget where they are!
Here's a picture of another daylily with no name, and if you know what it is, I'd sure like to know.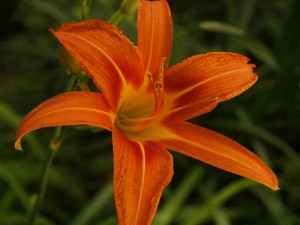 The pavonia (rock rose) also started blooming this week. It's prone to powdery mildew when humidity is high. I've been lax about getting out the neem oil, but maybe this weekend I'll do it before the sun is up. But even when I don't treat it, they always bound back and bloom all summer.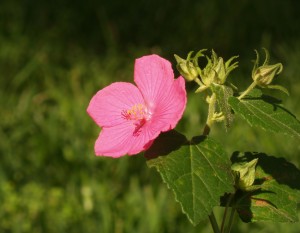 Here's Freesia laxa, reblooming after its early spring performance amidst fall-blooming garlic chives. This is a freesia that Scott Ogden recommends as one that naturalizes for us. I plan to get bunches this fall! I got this one from Tom Peace, author of another must-have book: Sunbelt Gardening: Success in Hot-Weather Climates.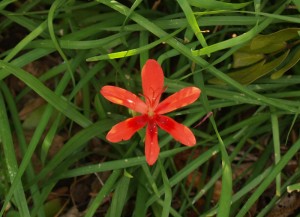 This week on CTG you'll get fabulous ideas for your garden-from plants to design-with Scott Thurmon's and Robert McKay's client garden in Driftwood. In-studio, Scott explains some of the garden's concepts and pulls together a few plant combinations for you. We didn't have a chance to cover them all, so check out the entire list on our web site for exciting new plants like dwarf versions of Phlomis, Hamelia patens, Arborvitae, and Loropetalum, along with a new 'Strawberry Lemonade' butterfly bush. Remember that we archive the information, and with our new search engine, it's easy to find what you want if you think of it months down the road. Thanks to Barton Springs Nursery for lending us the plants!
It was when we taped the Driftwood garden that my love affair with Dianella was sealed. I'd seen it in a nursery months before, but worried about its survival factor. Scott gave me the thumbs up with his Driftwood grouping that's been happy for seven years.
Here's one of the recent additions in the crepe bed with last year's White Christmas caladiums from Brent and Becky's Bulbs, where you can also get Tom Peace's Freesia laxa.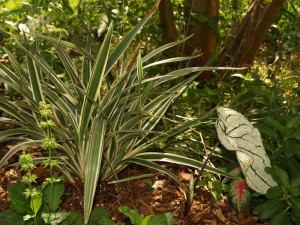 I didn't dig them up last fall, but by golly, a few are coming back, including one or two Florida Carnivals. Now is a great time to add caladiums to your shady beds. People sometimes make the mistake of planting too soon, but it's better to wait until the soil has warmed in May.
If by Saturday night, you're pooped, and you love Brit coms and mysteries, relax with Rosemary & Thyme at 8 p.m. on KLRU. (Check your station's listings, since it's become a hit with everyone). Felicity Kendal and Pam Harris star in this series for a fun inside look at British gardening set into a mystery. You can't get a better storyline combination: gardening, mystery, and Brit talk.
Also check out this inspiring story from the NY Times, shared by a colleague, about Wendy Johnson in California, one of the pioneers of the organic gardening concept that forms CTG's backbone.
Finally, here's Sam Jr. practicing yoga on the cat perch after a nip of his organic catnip.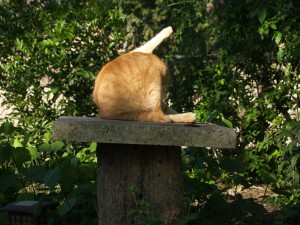 Hope to hear from you! Linda
Comments