June 26, 2008
From the producer: June 28, 2008
I must tell you that I'm thrilled with my experiment, Dicliptera suberecta. I was worried about the gray leaves in my clay (albeit composted) soil, but the folks at the nursery said it handled heavy wet just fine–in case it ever rains again. It's filling out nicely in all the beds. This one in the crape bed gets filtered sun with a few hot blasts during the day. It laughs at the heat!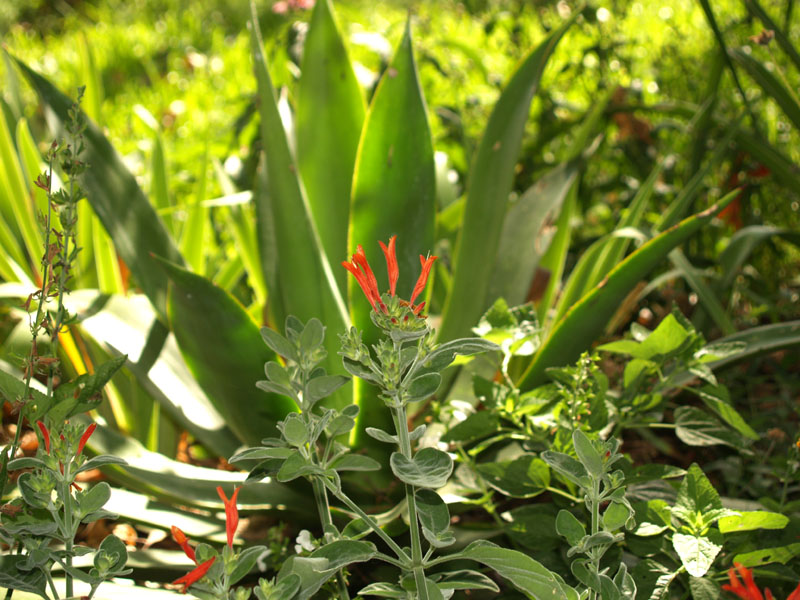 Others get intense morning sun. I know that it can take cold, too, since I planted the first ones just days before we got our coldest freeze. It set them back a bit as new 4″ transplants, but not for long. One common name for it is hummingbird plant, a testament to its flowers. There were two on them last night!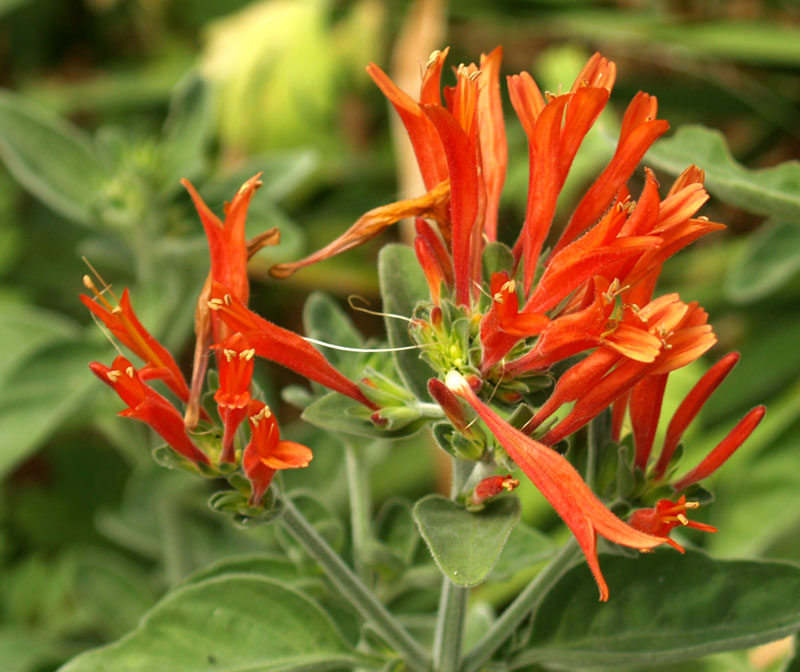 The bouncing bet (Saponaria officinalis) in the crape bed is blooming, too. I've had this one for years, through drought, drown, and freeze. It doesn't get mad when you divide it, though I wouldn't do it now.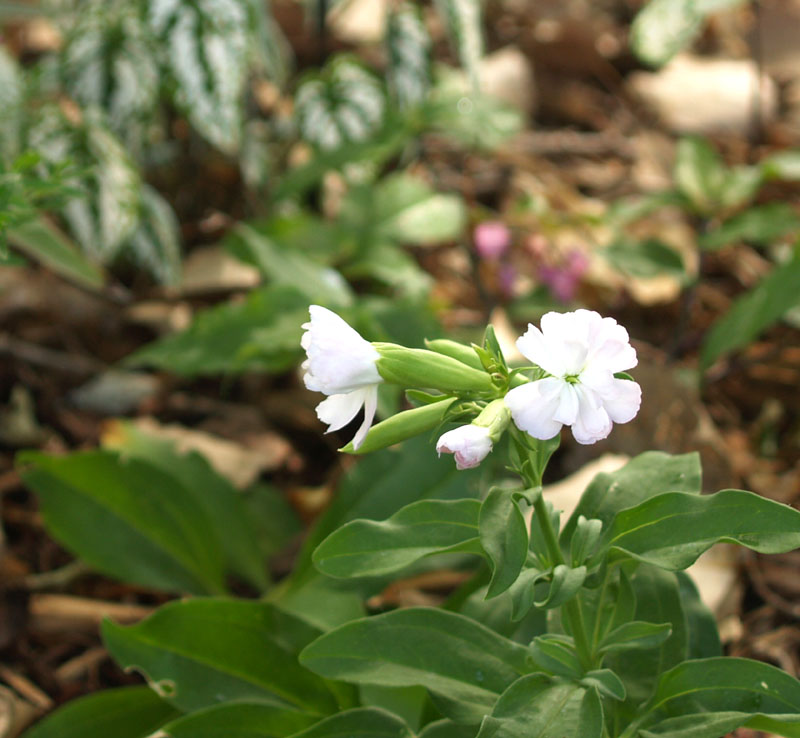 What's bizarre is that a few larkspurs are still blooming! These self-seeded guys are in the front room window, with purple heart (Setcresea) and fall asters beyond. By the way, a head's up that all fall-only bloomers get their last clipping in the next two weeks.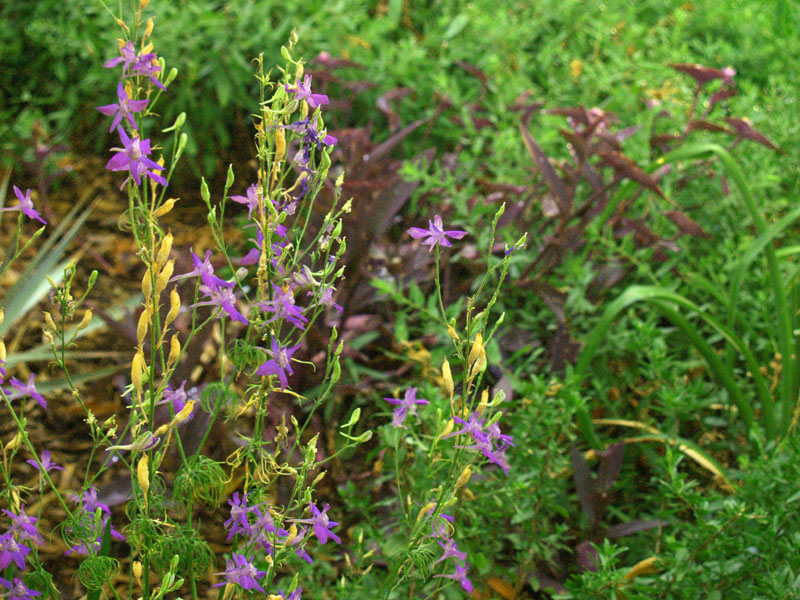 My latest curiosity is ferns, thanks to Laura Joseph, our featured gardener, and our interview guest, horticulturist/designer Patrick Kirwin. Last fall we taped Laura's gracious garden at her historic home. She's now an internationally acclaimed fern expert, a plant passion that began in childhood. In containers and in the ground, she has magnificent specimens, from staghorns to natives to exotics I would never have recognized as ferns. But she doesn't stop with ferns, and as a supreme plant experimenter, at every turn you run into surprises of color and texture. Laura's also a long-term volunteer and garden club member at Zilker Botanical Garden. Recently she spearheaded The Garden Club of Austin's new fern garden at Zilker to educate and entice novices like me.
Then, while shooting one of Patrick's designs last spring, he spoke with passion about ferns, including the many natives that we can grow. That day, we came up with the idea for his segment with Tom, focusing mainly on native ferns, including ones for sun, and how to give them a creative design statement.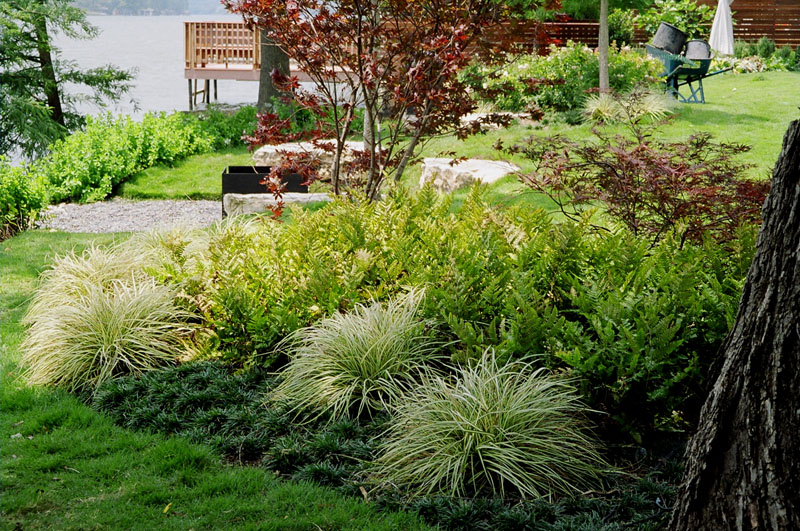 On that shoot with Patrick, it was actually an exotic, East India holly fern, that hooked me. When I literally ran into one at the nursery that weekend, I figured I'd take my first step into fern-ville. I got just one for the patio bed to see if our relationship was agreeable. So far, we're still together!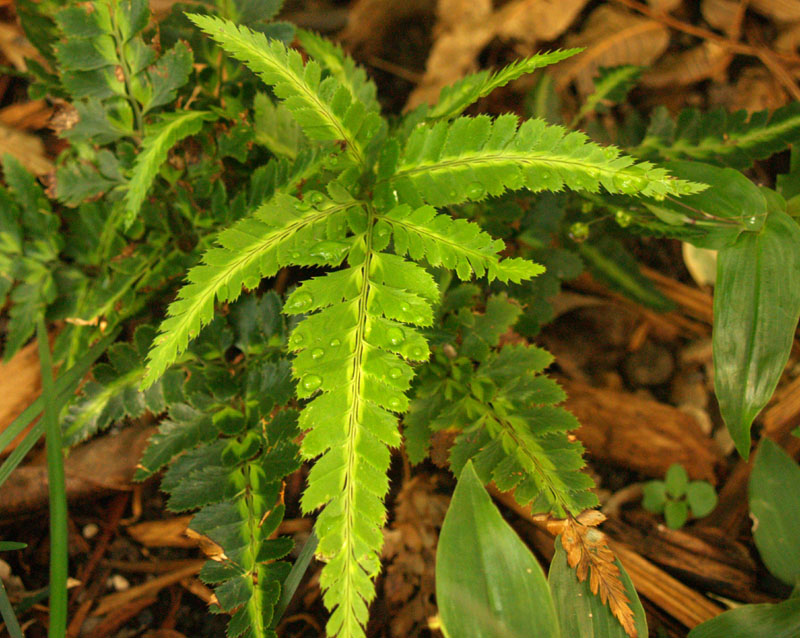 For Patrick's interview with Tom, I went to a nursery to borrow an Autumn fern, one on Patrick's list, and ended up buying it. I planted it in the patio bed where the cycad used to live. It was over 100° when I planted it, but it didn't care. Already I love it.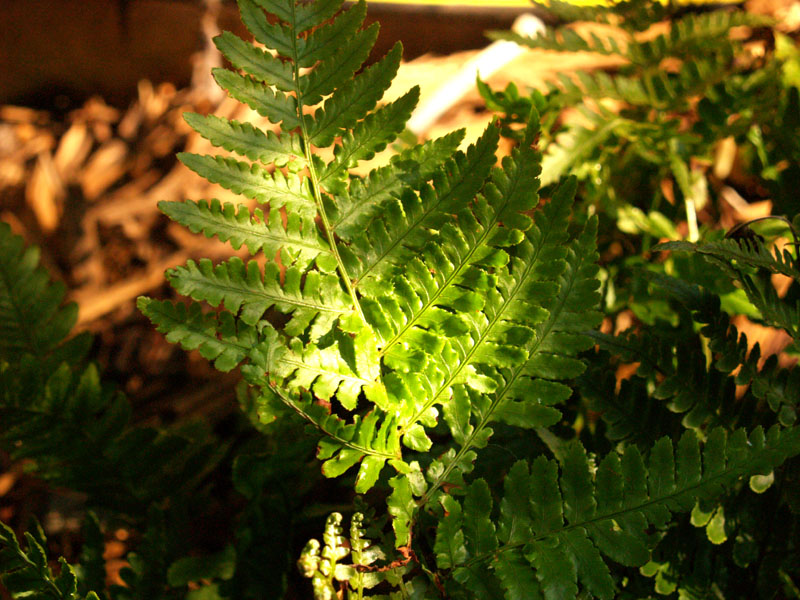 Patrick and Laura may have created a new fern fan, and with you, too, I hope. Patrick's list will be on our web site. You can also click on John Dromgoole's picture, for the list he recently presented as a fern lover.
As the heat goes on, I hope this week's program will inspire you, as it did Tom and me, for a few new ideas. Until next week, Linda
Comments