July 2, 2008
From the producer: July 3, 2008
What's wrong with this plant?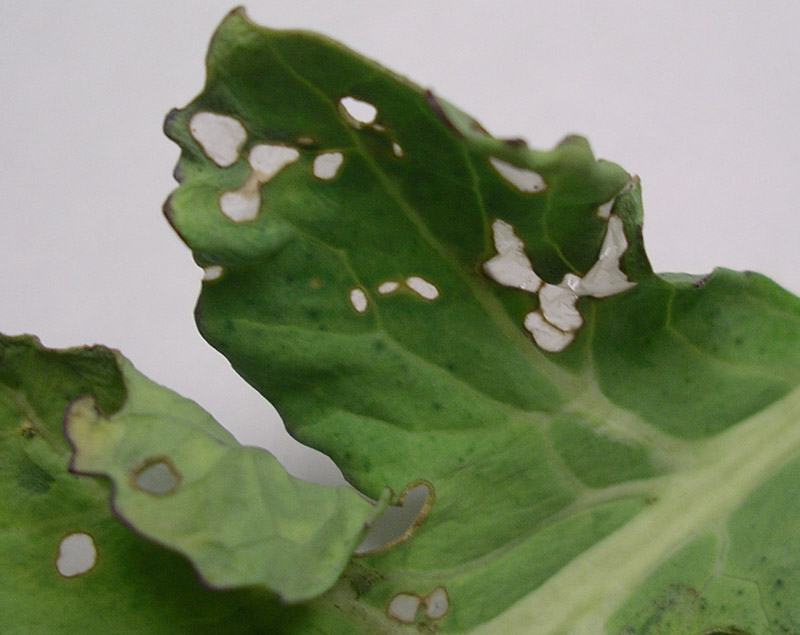 Find out on July 12 for a free workshop presented by the Travis County Master Gardeners and Wizzie Brown, Texas AgriLife Extension Service Entomologist-IPM. Gather your garden mysteries (insect or disease) in securely wrapped bags or jars to get the answers to your questions. It's from 10 a.m. to noon at Zilker Botanical Garden, 2220 Barton Springs Road. There is a $3 parking fee. For more info, visit tcmastergardeners.org.
Speaking of Wizzie, this week on CTG she gives us the scoop on some new and very dramatic pest invaders. One of them is the agave snout weevil that's destroying woody lilies. Thanks to Carlos E. Bogran, Texas AgriLife Extension Service, for this photograph.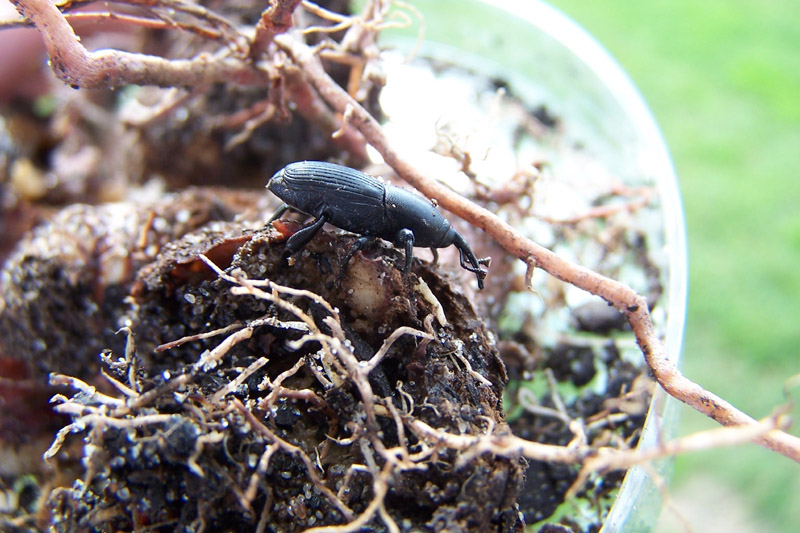 I also want to thank gardener/blogger Pam Penick for providing images for this segment. Check out her blog, Digging, to see the weevil's impact on her garden.
Another of the new arrivals that Wizzie documents is cycad scale. I thank Dave Palmer, UF/IFAS Extension for this image.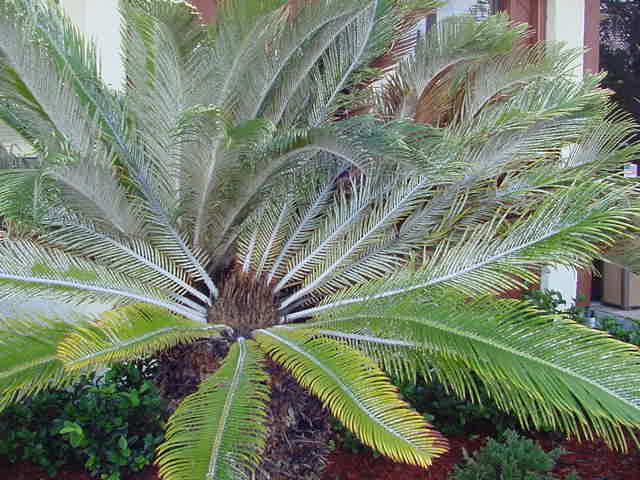 For all the rest of the "fun" news on insects, be sure to check out this week's CTG. And, for ongoing updates and insider info on insects, including the good guys we love, visit Wizzie's fabulous blog!
Wizzie identified this happy little family on my prickly pear, the first time I've seen this insect. This plant started from a pad that fell off or I pruned off my container cactus. It fell to the gravel "terrace" I made for container plants, and rooted.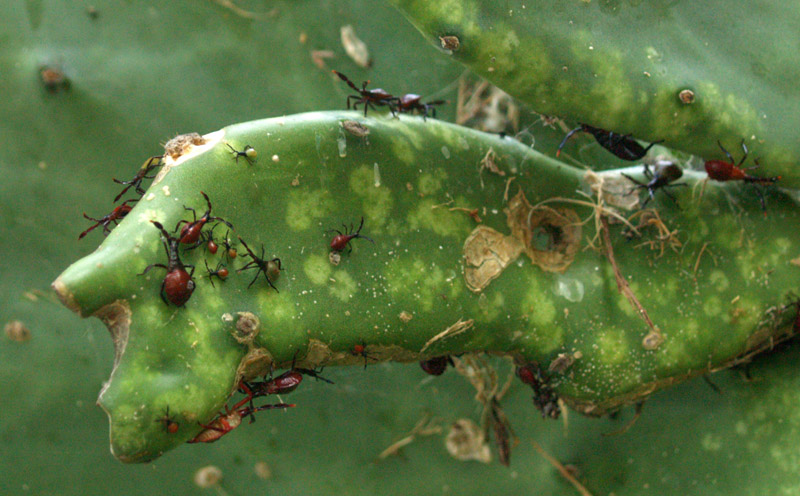 It's a cactus bug, a true bug in the family Coreidae. These guys are the nymphs, easier to control since they can't fly away. But, she said it was just fine to leave them alone, since they don't harm the plant, aside from the chlorotic spots. That works for me! If I wanted to get rid of them, she suggested insecticidal soap, neem, or horticultural oils (though caution in this heat if at all). But since they aren't killers, why should I be? At this writing, they're already gone. I have a very relaxed attitude about seasonal arrivals. I figure someone will eat them eventually.
The container prickly pear (which the bugs didn't touch or just barely) is planted with mint, believe it or not. Years ago, someone gave me a start of mint from his garden, and for expediency, I just jammed it into that pot. They get along fine. Its big problem right now is hail damage.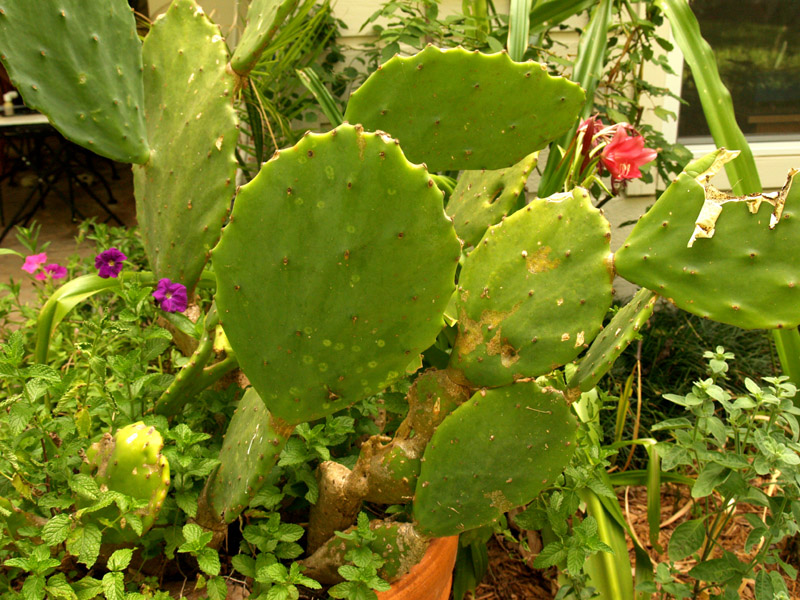 Beyond, in the den bed, is Crinum 'Ellen Bosanquet' that bloomed this week.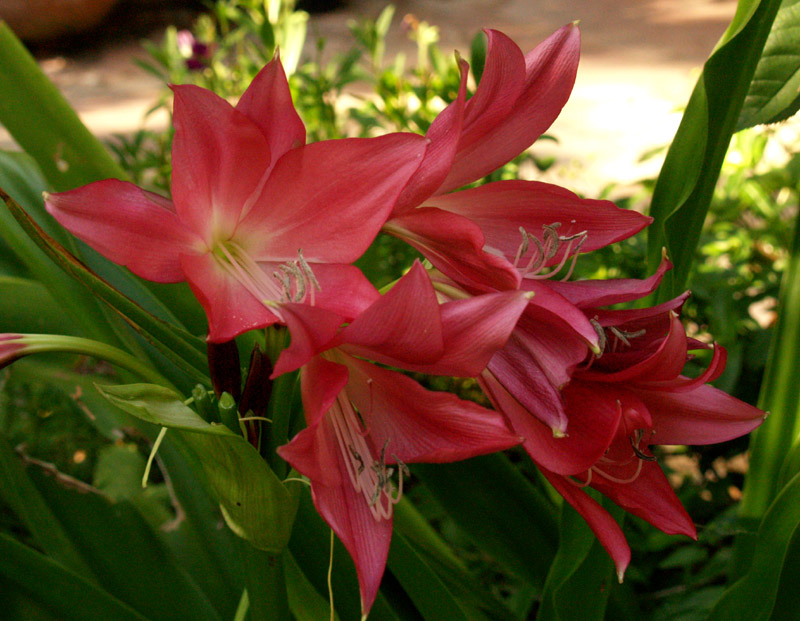 Next to the prickly pear is a container of zinnias. I love zinnias but have a horrendous time with them in the ground. So I seed or transplant a few every summer in a container for the butterflies.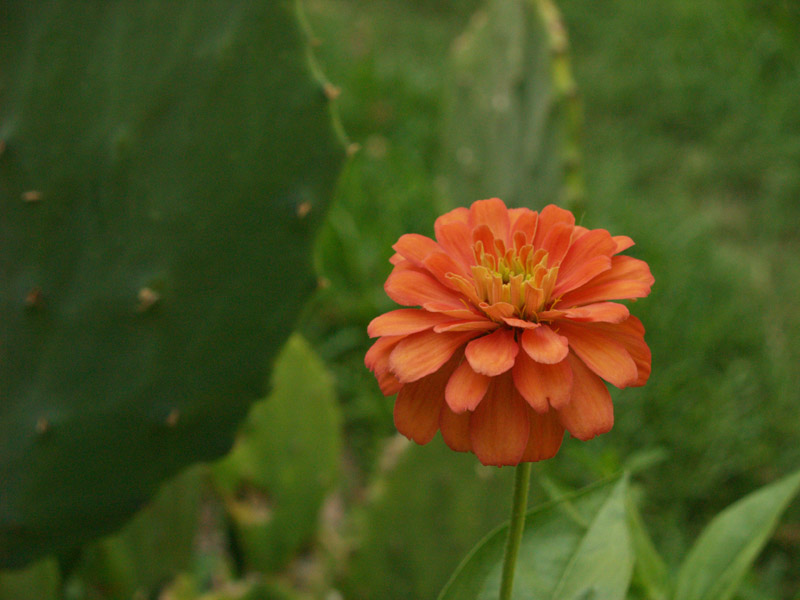 This week, along with butterflies, we got a hummingbird on them, too! Then he went to the turk's cap along the patio, this flower flopping over the sambac jasmine. We held our breaths and stayed still. Once the hummers get used to us, maybe I can get a picture.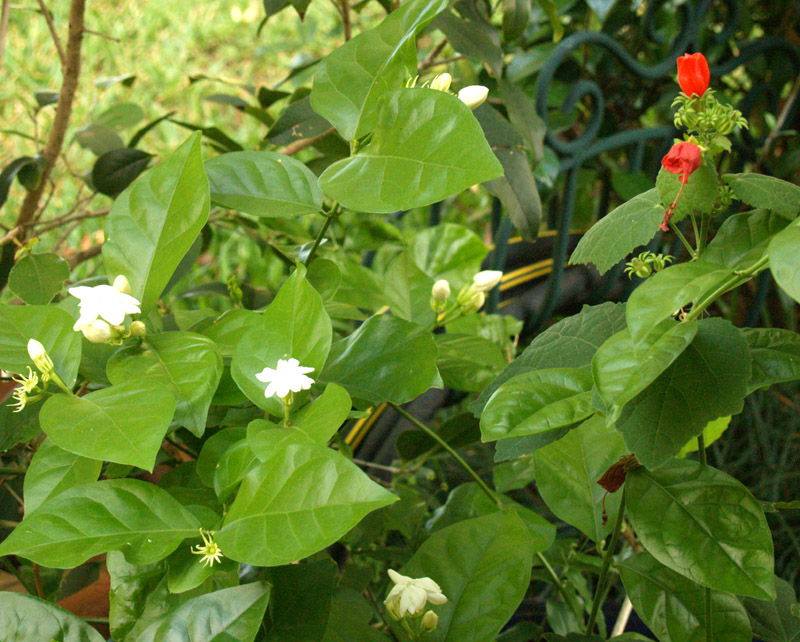 This zinnia is flopping over my container of basil, steps from the kitchen.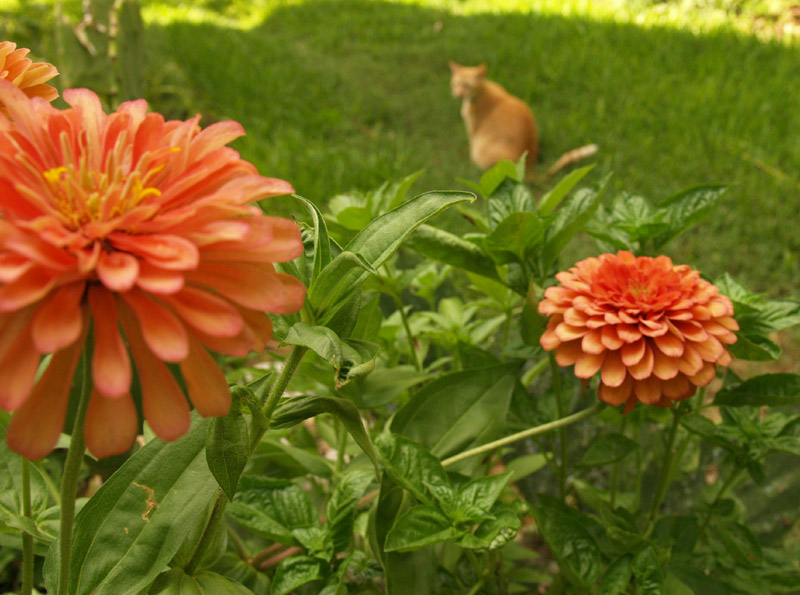 My patio containers include what I call my "stinky petunias." These old- fashioned ones rival even the sambac for fragrance, for months on end. But I think these have been blooming almost non-stop for two years, since I haul them under the patio "greenhouse" in winter. I deadhead, but also let some go to seed, to start in new pots or revive old plantings when they give up.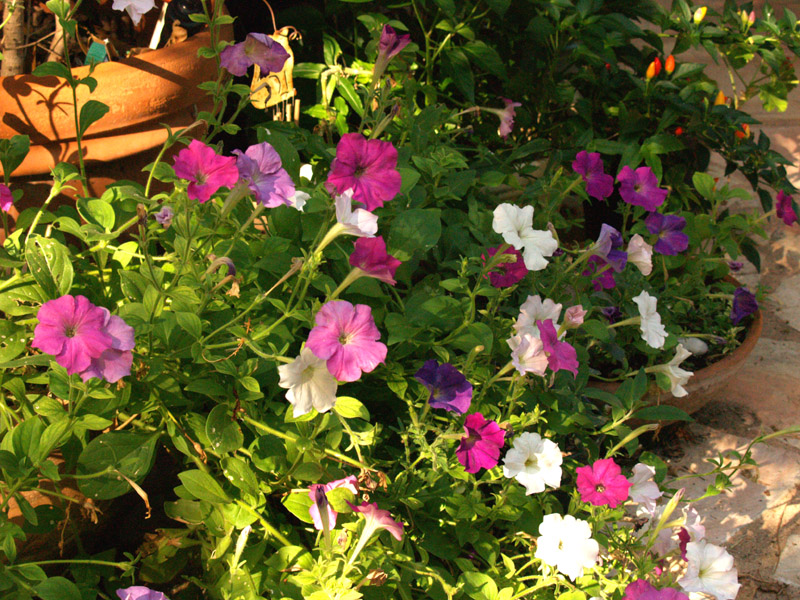 Here they are against a pot of multi-colored, incredibly hot edible peppers I got at Zilker Garden Festival many years ago. Again, I protect them in winter, and at this point, it's hard to tell if I have the original plant or just its seeded offspring.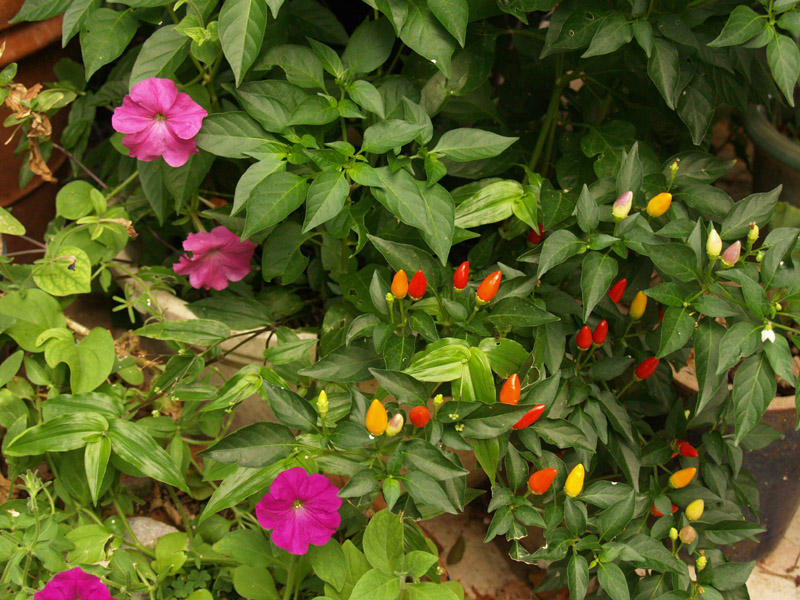 Since our patio is our second living room, it's fun to have color, fragrance, and taste right up close, and with mulch on the pots, the water chores aren't over the top.
Happy July 4th, and see ya next week, Linda
Comments