July 10, 2008
From the producer: July 12, 2008
This marquee on a bookstore down from KLRU reminds us to not give up, even if it's the "summer of summers."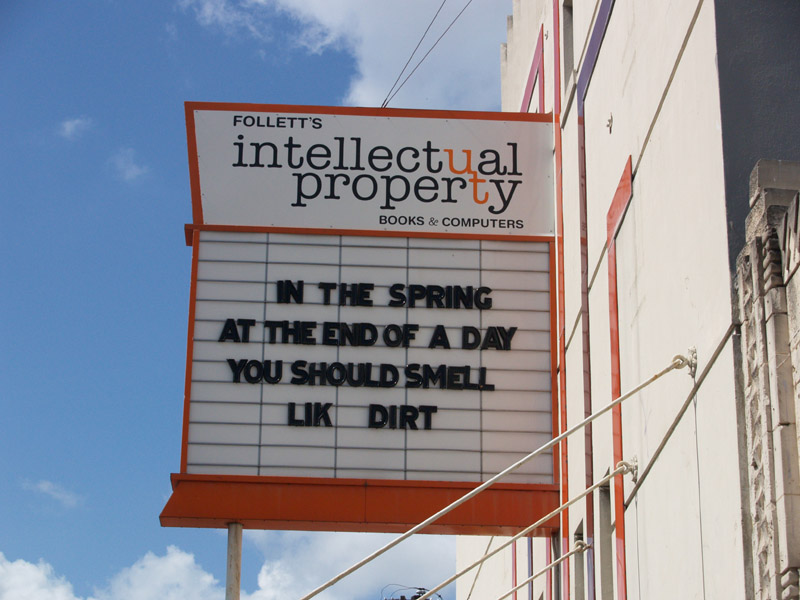 But the heat brought out my first Pride of Barbados flower! Not one bloom in three years. It wasn't a prize specimen when I got it at an end-of-summer sale, and I'd just about given up on it ever rallying. I guess it knew my evil thoughts.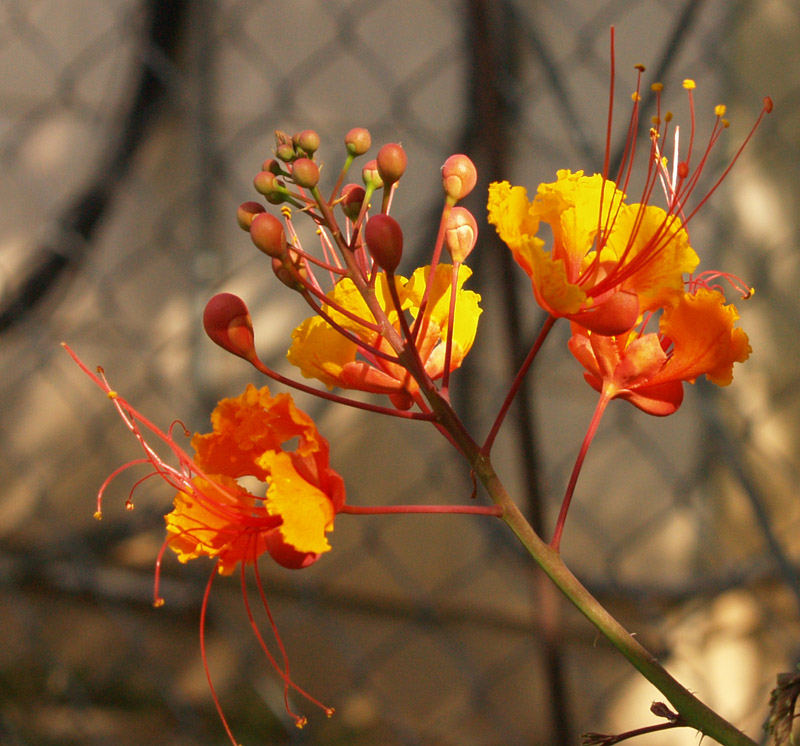 To cool us off, this week CTG visits one of the gardens on the Austin Pond Society tour July 19 & 20. When we taped Kathy and Rick Irwin's pond near Cedar Park, we'd hope the migrating mallards would be there. Nope. I guess they avoid the paparazzi, because as soon we left, they came back for Kathy to get this picture.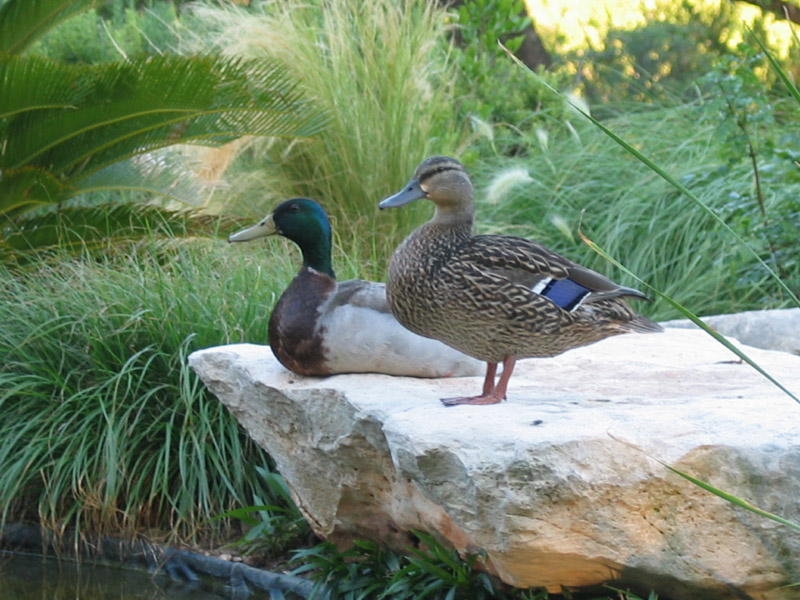 Even if the mallards aren't there, you want to see this garden in person! And for a mere $15 ($12.50 in advance) you can meet all the other super ponders/gardeners who will gladly share their secrets on how they got started with ponds, streams, and fountains. Here's one of the other gardens on tour, thanks to Beth Zapata from APS, who organized this year's shebang.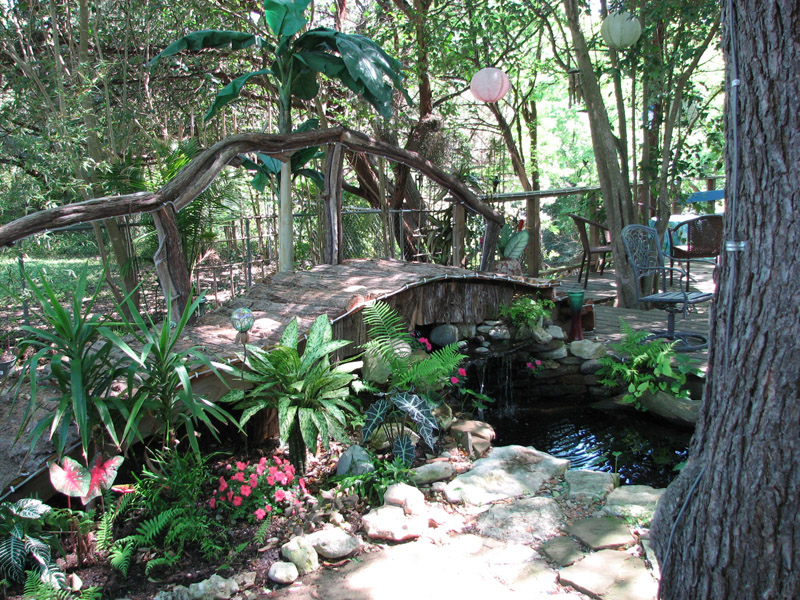 To answer your top questions on water features, Tom meets with Steve Kainer from Hill Country Water Gardens.
Okay, since some of you have asked about kiddie pool, here's the scoop. Years ago, after I kept yapping about having one, I came home one birthday evening to a big surprise. Greg had bought an 8-foot plastic pool, with fish motif, and set it up in the grass near the rental house side. At first, I was dismayed to get my wish, since I'd spent years getting grass to grow there. One dip convinced me that kiddie pool in August was much better than grass. And watching the stars from it is the trick for throwing off the day's anxieties and a cool, refreshing night's sleep. If you can't have a real pool or a hot tub, you can't beat a cheap plastic pool. Here's Greg from way back when. We still had grass behind it. Now that's all beds.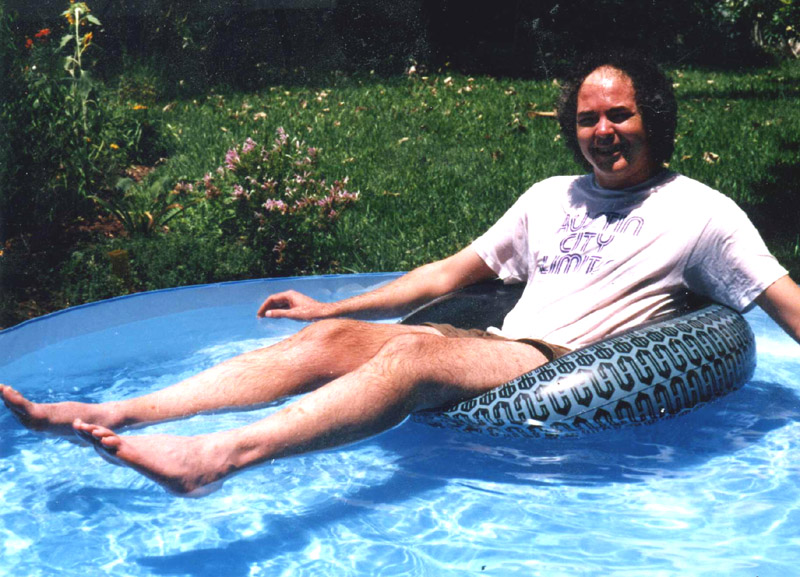 By the second year, we'd devised a system of kiddie pool maintenance. We only had to change the water twice, and then it went into the garden. At a pool place, I got what I call bubble-wrap cover sold by the yard. They asked me if it was for my spa. In this high-end place, I coughed and said, "Well, you could call it that."
We covered the pool when we weren't in it, and every night on the first dip, we scooped it with a fishnet. Twice a week I poured in a little bleach. We rarely topped off its water, since in those days we got rain. Every night we jumped in after work, and every weekend, I gardened in my swimsuit. In October, we rolled it up into a big garbage bag and crammed it into the shed for next year. Except when I hit one with the string trimmer, a pool lasted three years.
Eventually, I took out all the grass around it by layering newspapers on top, and created a new wider garden that extended along the rental side and curved around the pool, protected from the lawn with a border of rocks. I've got lots of plants there now, but here are a few nearby shrimp plants and plumbago.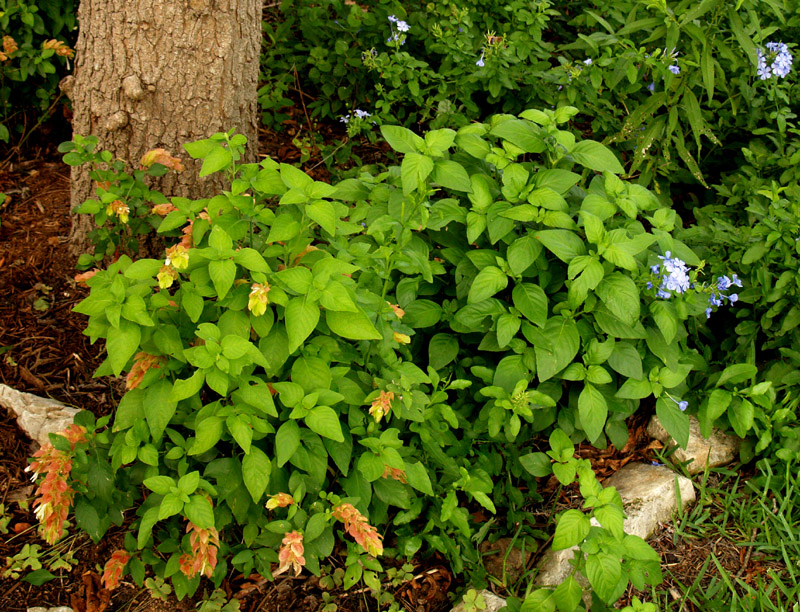 Last year, we decided to get the "latest" thing, a pool with a pump and filter. But at Academy, they only had a 10′. At first, we weren't thrilled at this monstrous thing until we realized we could really stretch out and I could do mini water aerobics! We got a floating turtle bleach tablet dispenser.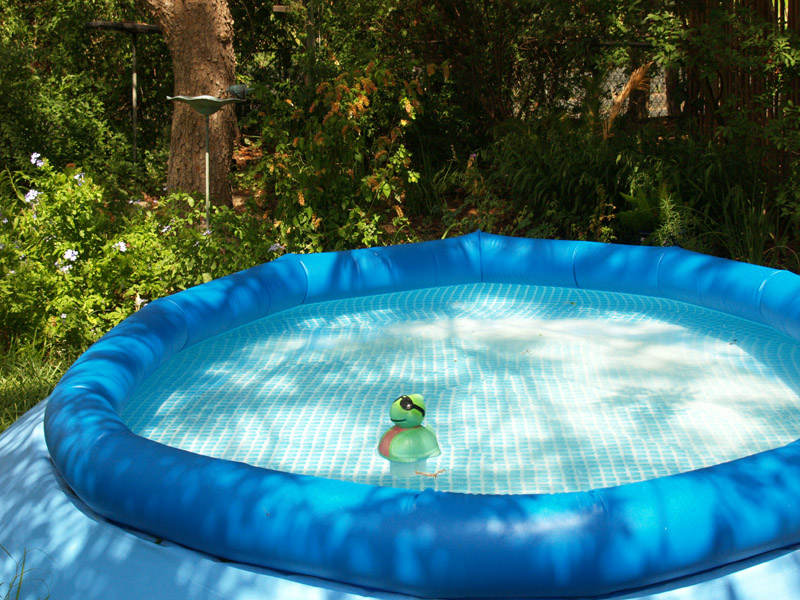 Then, I made friends with some really nice people at a pool place and learned about the shock treatment, which we do once a week. We run the pump with turtle on another night, though lately I've been leaving him in except on shock nights. So, we only run the pump/filter two nights a week. This year we got a tarp from Academy for its cover, which is easy to scoot off.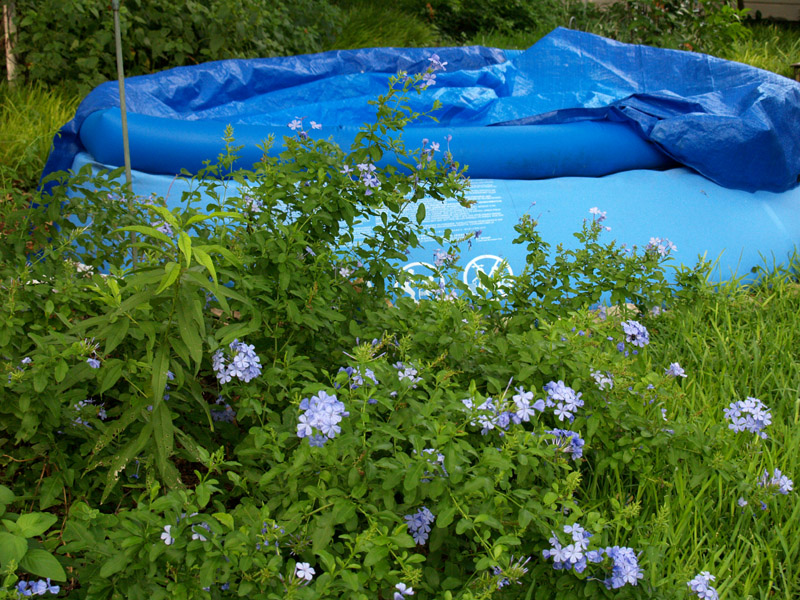 Last October, we rolled it into a large garbage bag for shed storage until late May installation. With even our bits of rain, we haven't had to fill it or change the water this year. I know it's goofy, but you're only middle-aged once.
Until next week, Linda
Comments