February 5, 2009
From the producer: February 6, 2009
If tomatoes torment you (growing them, that is), this week gardener Max Elliott from YouthLaunch explains how he and his Urban Roots young "farm interns" grow bushels of organic tomatoes every year. Get his tips for success from planting to insect control.
On tour, you'll meet another fabulous group of children, from kindergarten to 6th grade, at Austin Discovery School, where the garden is one of their classrooms. I'd give anything to have their energy as I moan about all the weeding to do. At least, weeds are now groceries for the creature that hops in our household.
Along with "harvesting" Harvey's free food, I'm glad I left some of the lantanas for the butterflies dashing about last warm weekend, finding a flower here and there. This Gulf fritillary also spent some time on the grass, doing what I don't know, but he was very enthusiastic about it.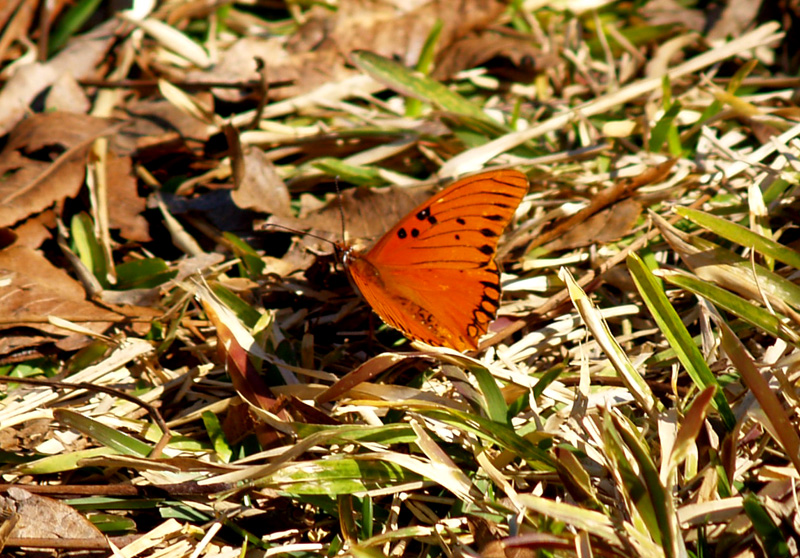 And they like the bulbs, too! Here's a sulfur on the den bed narcissus.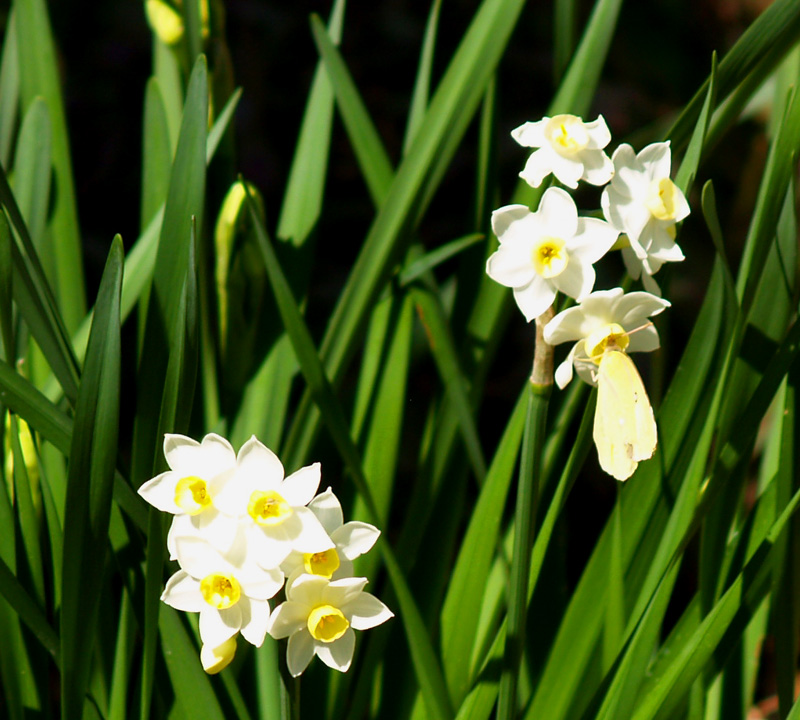 The Gulf fritillary was on it too, but took off when he saw me. It turned out that he'd spotted my new annual African daisy (Dimorphotheca aurantiaca 'African Sun'), a Tom Peace plant I installed the day before. I couldn't resist that color, and neither could this butterfly.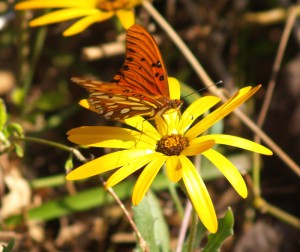 It's about this time every year that I head to The Natural Gardener to see what Tom Peace has come up with this round. Always, he brings the old-fashioned petunias that I depend on to scent the patio. In winter, I keep my containers going in the patio "greenhouse."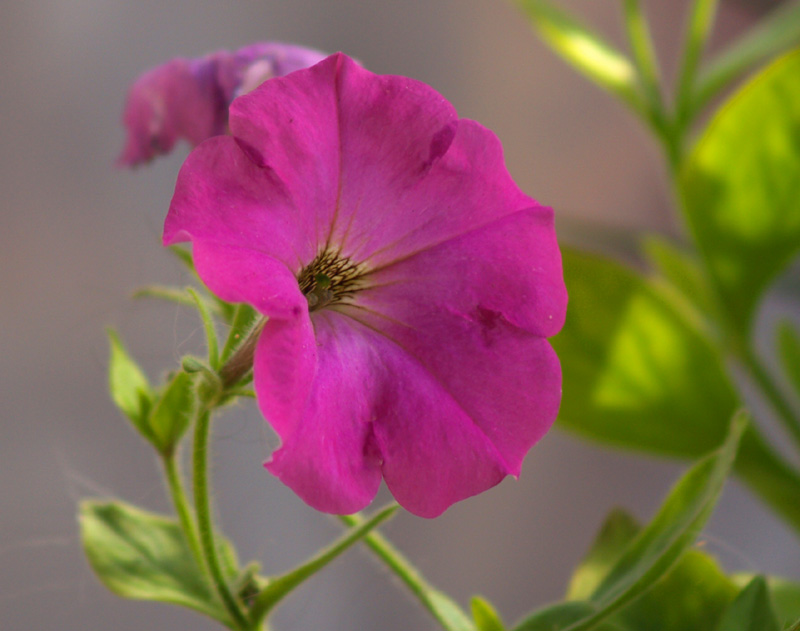 They do self-seed, though I clip the brown seed heads, to plant myself.  But I always add a few transplants to the pots just to make sure.
The pruners were busy last weekend. They really got a workout when we cut the cat cove arbor roses to stubs.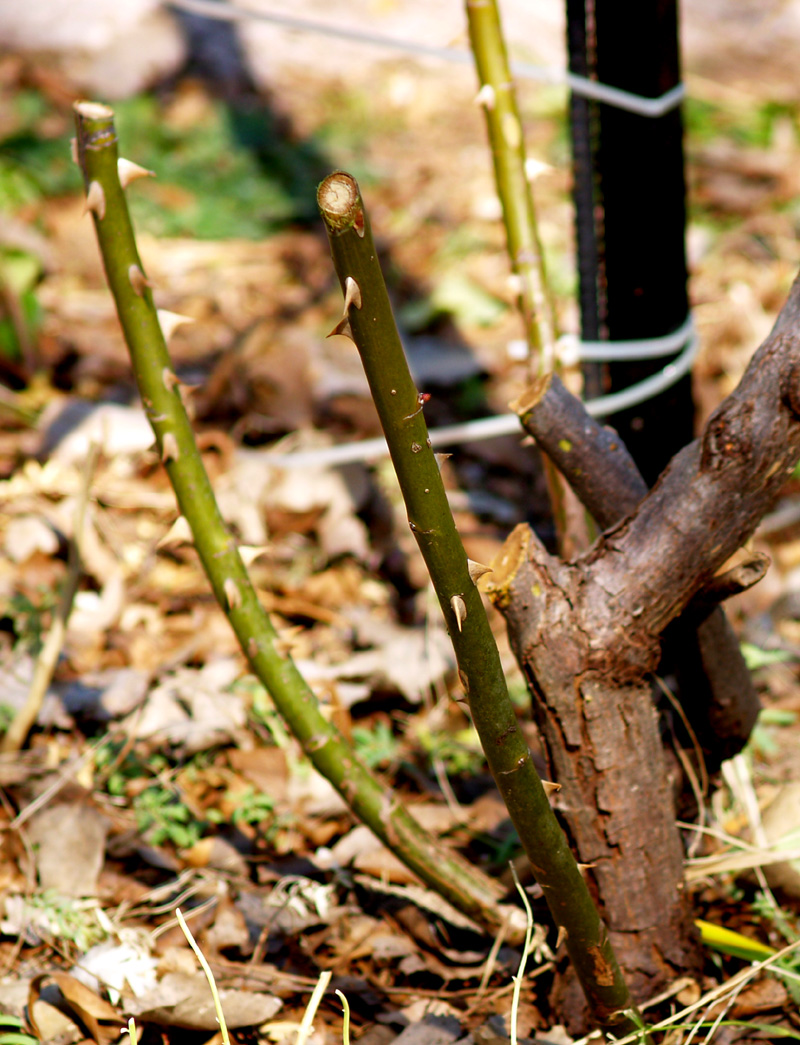 For one thing, these climbers really needed rejuvenation. Mainly, I was prepping for this weekend's chore: cementing in the arbor. The rebar just wasn't doing the trick with the heavy canes the arbor supports.
With the supreme haircut, I've already given them a slow-release fertilizer. While they recover, I'll put on a slow hose every few weeks. Since that area now gets more sun, and I vow to be more vigilant about weaving their canes horizontally through the arbor, we should have a good show by next year. Then, I can turn off the water treats for these hardy ones: Buff Beauty and New Dawn.
I read in a rabbit magazine that bunnies like rose prunings, even the thorns. Nervously, I gave Harvey a small one. Faster than a chipper shredder, it was gone. So, he got another one as a dinner treat, along with a handful of chickweed I pulled up. I litter box trained him by putting dandelions in it every night, but this week maybe I'll stick in small rose prunings. Along with my store-bought fertilizer, I doused the cutback roses with Harvey's chipper shredder "processing."
Sadly, the variegated Agave celsiis went into decline.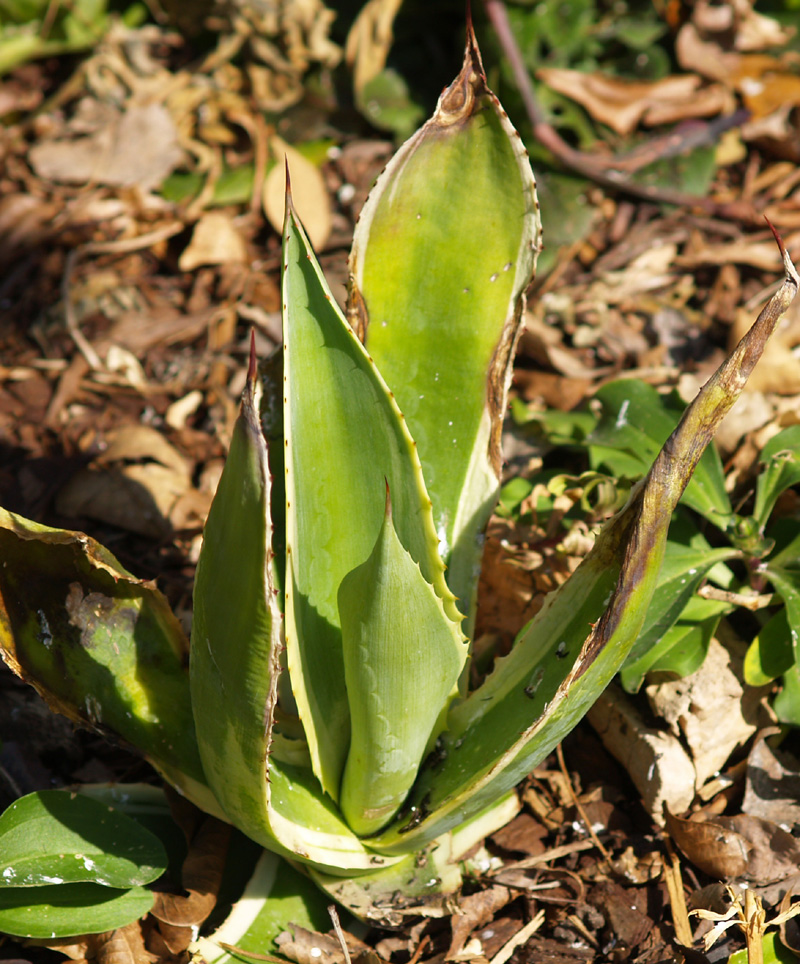 I think that everything around them was too boisterous and holding in too much moisture. To salvage them, I built up new spots along Amelia's fence with little raised beds of pebbles and compost scooped from behind the shed, and cut off the rotting leaves. We'll see what happens.
Until next week, Linda
Comments