March 12, 2009
From the producer: March 13, 2009
Per gardener/blogger Vertie's great new game, "Dead or Dormant," I kept brushing aside the leaves from the autumn clematis that I moved from behind the shed to Amelia's fence.  It looked pretty dead.  Then, a few weeks ago, I saw a tiny bud below the soil, and held my breath. Yahoosers, last weekend, it proved that it was simply resting after surgery, and was back in gear.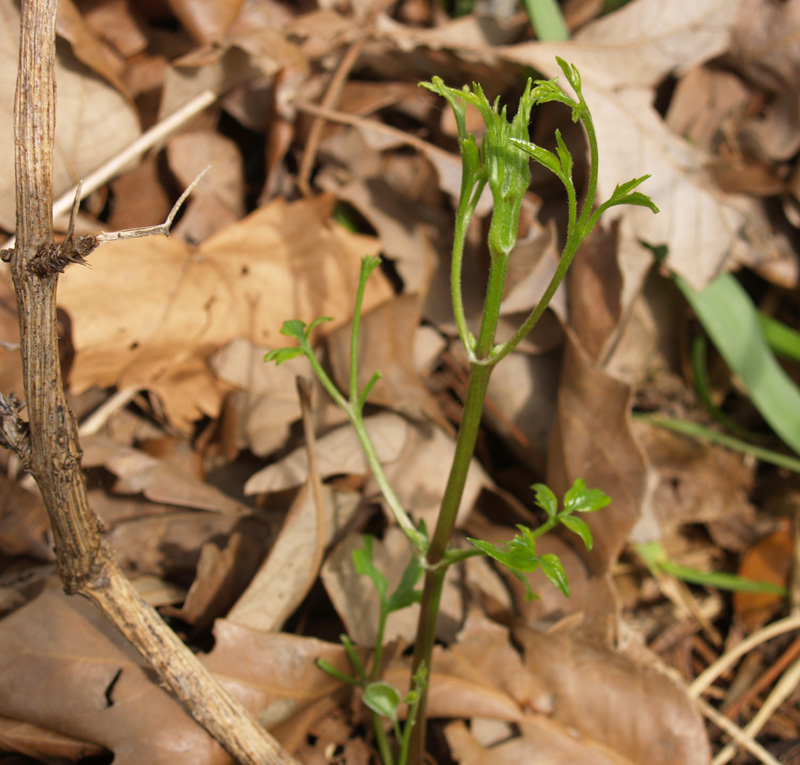 Buff Beauty is definitely not dead after its severe cutback on the rose arbor. On the other side, New Dawn made it, too. After, FINALLY, 2″ of rain, all the moved and new plants will be dashing in the next week.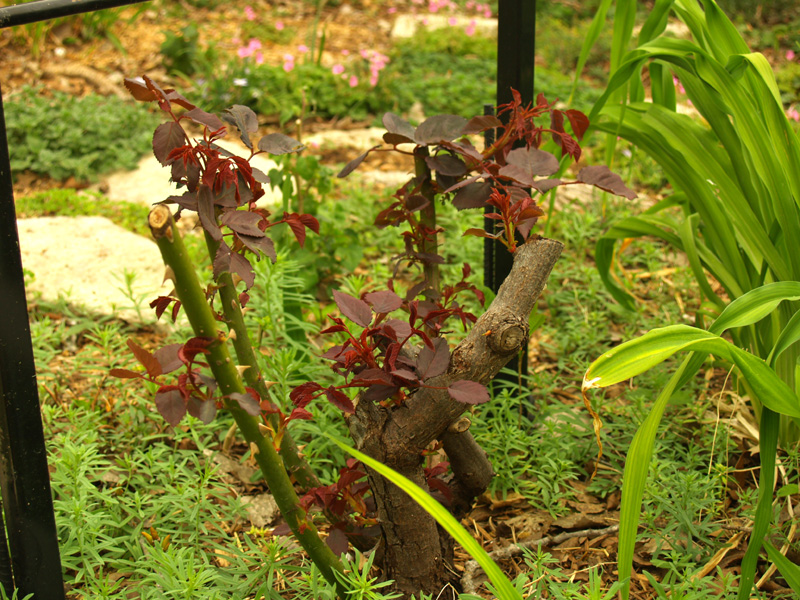 A few months ago I moved the languishing Iceberg rose from shade to sunny former photinia-ville. It'll be a year before it's totally back on its feet, but it's firmly declared its intention to hang around. I had to spend a minute to "stop and smell the roses," because this one is sweet.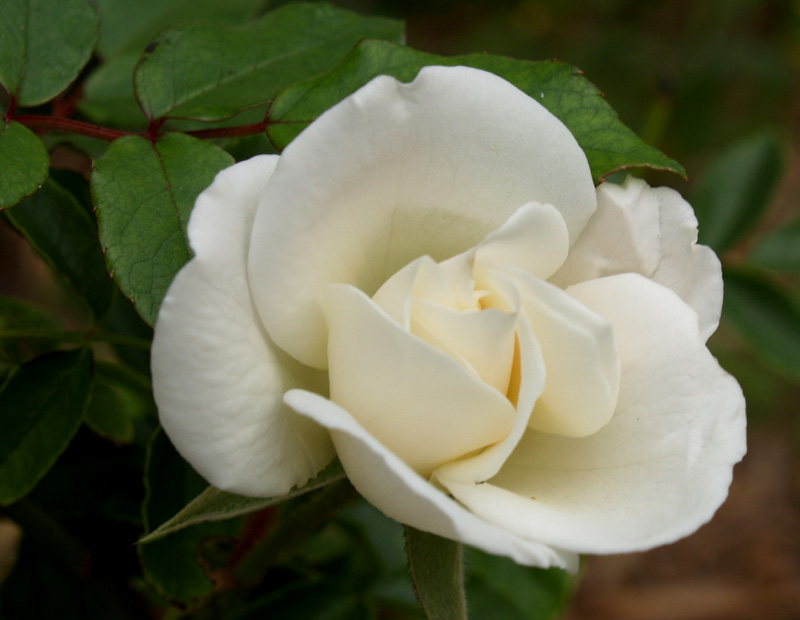 At the end of that bed at the front house side, the Mexican redbud (Cercis canadensis var. mexicana) is spurting, with Gigantic Star narcissus beyond.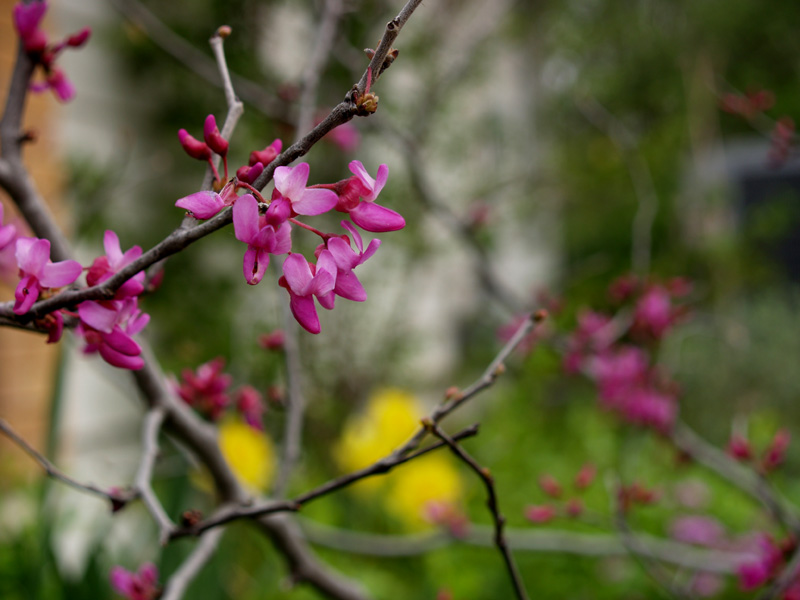 It took a few years for it to catch on since it was so tiny, barely a foot tall, when I planted it.  I dug a hole behind the stump of an Eastern redbud (Cercis canadensis), one of the first house heirlooms I cut down when its short-term life span threatened the roof.  It suckered for a long time, so that may be one reason the new guy took so long to get going.
On the shed, the Cecile Brunner is starting to pop.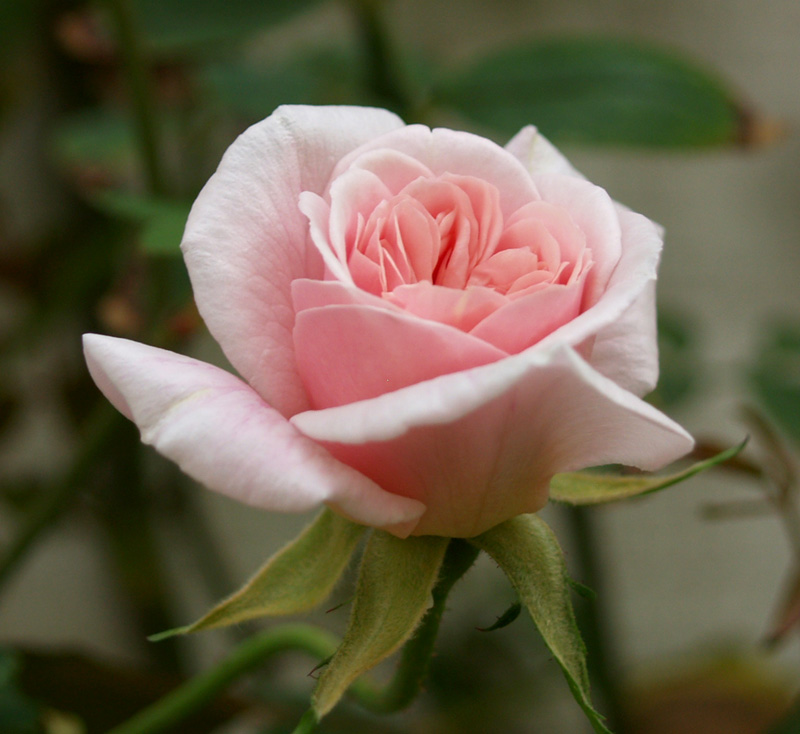 I've cut this vigorous climber almost to the ground a few times. In one case, heavy spring winds did a lot of the initial work.  Still, nothing seems to bother this one, including the heavy pruning I did in February.
I call it Miki's rose, after my second mom (Greg's mother), since I bought it on one of her landmark birthdays on a weekend side trip to the Antique Rose Emporium. Isn't that just like a gardener?  On someone else's birthday, you haul them to a nursery because it's in the neighborhood!  I figure this is better, though, than the initiation Miki got when she met her Nebraska farmer mother-in-law.  On their first night, they shared the double outhouse. I'll take rose shopping instead! Anyway, it was appropriate, since Miki is definitely a rose in my life.
Here's the Lady Banks again, the first rose I bought at the Antique Rose Emporium.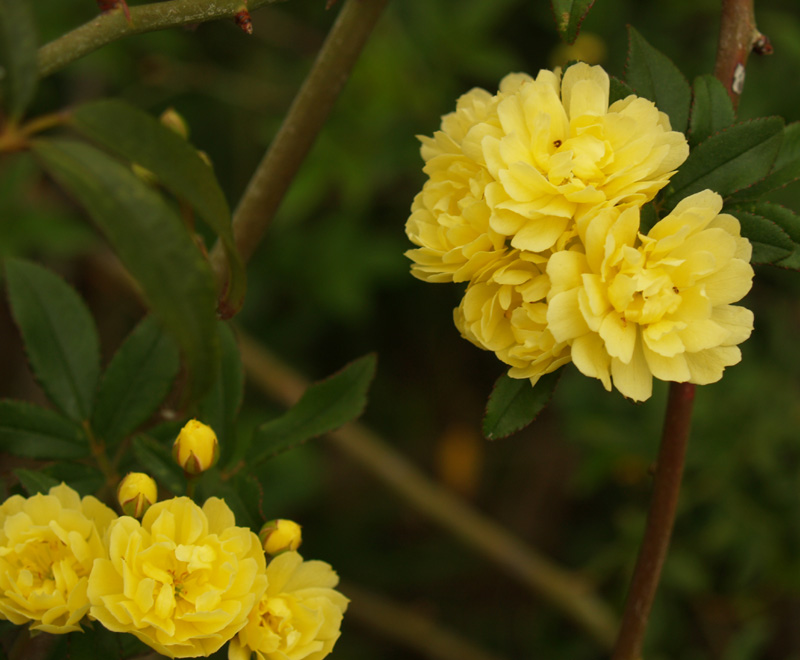 I've cut it down a few times, too.  In one case, we had to remove a hackberry that was threatening the fence and shed, and they had become intertwined.  In recent years, I've pruned it to shape, but you don't have to do that.  By next year, it will tower over the fence again.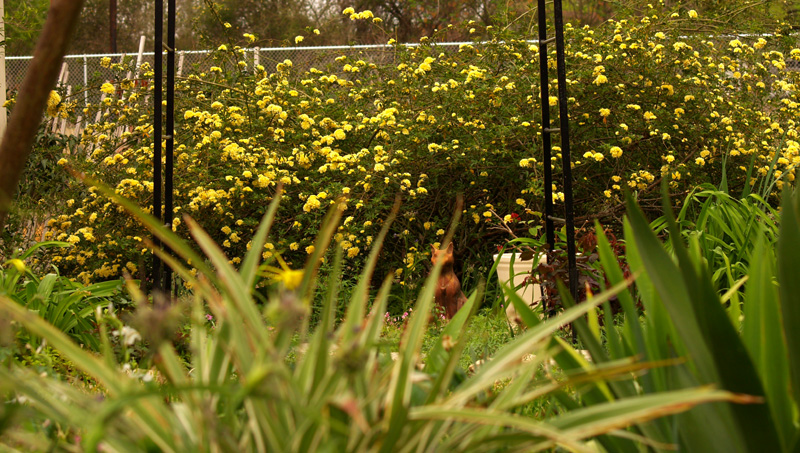 I highly recommend Lady Banks (and there's a fragrant white version, too) if you have a sunny area that needs screening.  My water hose barely reaches it, so it's been on its own through many drought cycles.  If I ever fertilized it, it's so long ago that I don't remember.
The Tangerine Beauty crossvine on the back fence is blooming, though it's not vigorous, as I've mentioned before. Still, it's alive and creating a little thicket.  So, I planted it a friend.  Is that gardener optimism or what?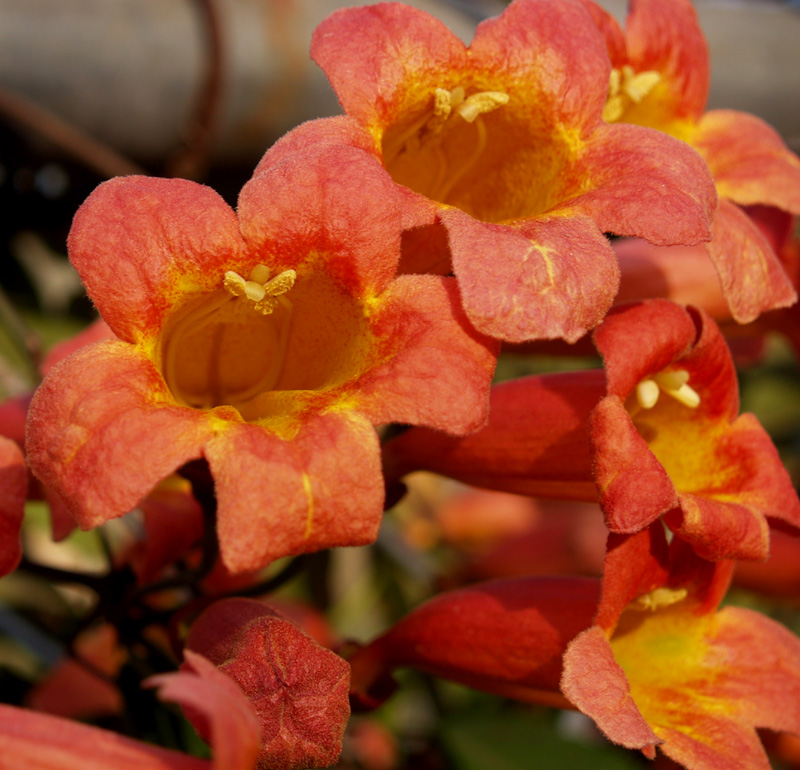 In the den and crape beds, here's Tinka tulip.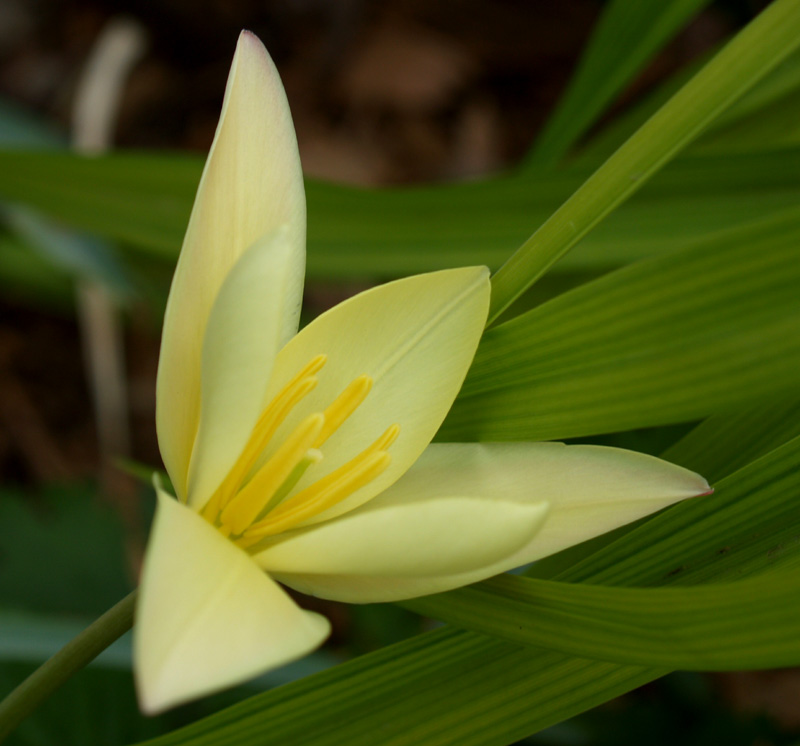 One ground orchid (Bletilla striata) is opening in the crape bed.  Like the crossvine, I haven't had much luck with them, but a lot of people do with this one for shade.
Columbine is jumping in, too.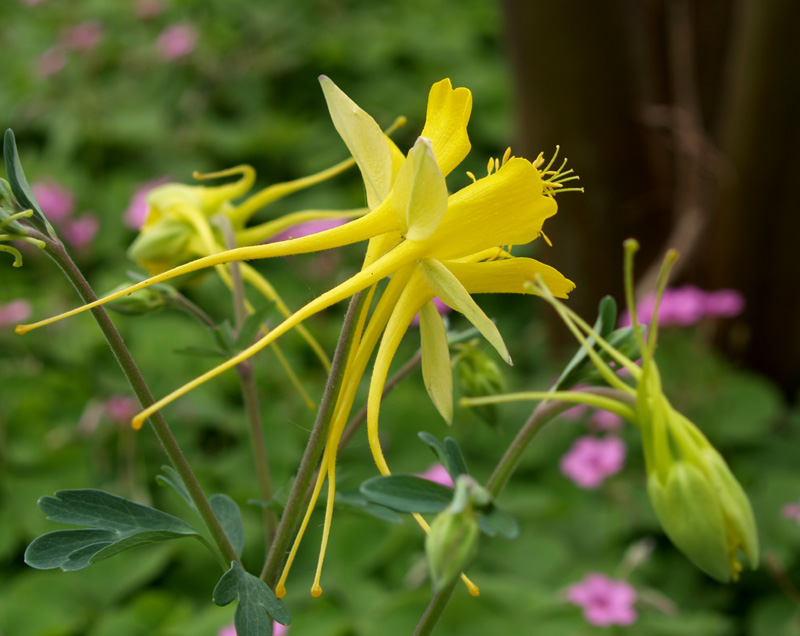 Last weekend, I kept busy with tons of garden chores and planting.  I moved some columbines that needed a little more shelter from sun.  I also took the shovel to the exuberant Gomphrena 'Grapes' and moved them from the crape bed to a spot against the shed to run without my editing.  I replaced them with some tamer bicolor sage (Salvia sinaloensis), a much better fit for this space.
There are countless events going on, but want to let you know that Lauren Springer Ogden and Scott Ogden will be doing a book signing of their Plant-Driven Design at Big Red Sun on March 21 at 2 p.m.
And I'll say, whether you're an experienced gardener, or one for the first time, it can be scary to move or divide a plant that you've never moved/divided before.  Take a deep breath, water it first, dig around gently to get as many roots as possible.  Give it a little attention, and most of the time, you'll get new life out of a plant that looked ready for the compost pile.
See you on Sunday for Garden Bloggers Bloom day!  Linda
Comments