September 3, 2009
From Linda: drought-hardy irises
On the 69th day of triple digits, as I headed out this morning, I stopped to nab this pair planning the day in their condensation pipe spa.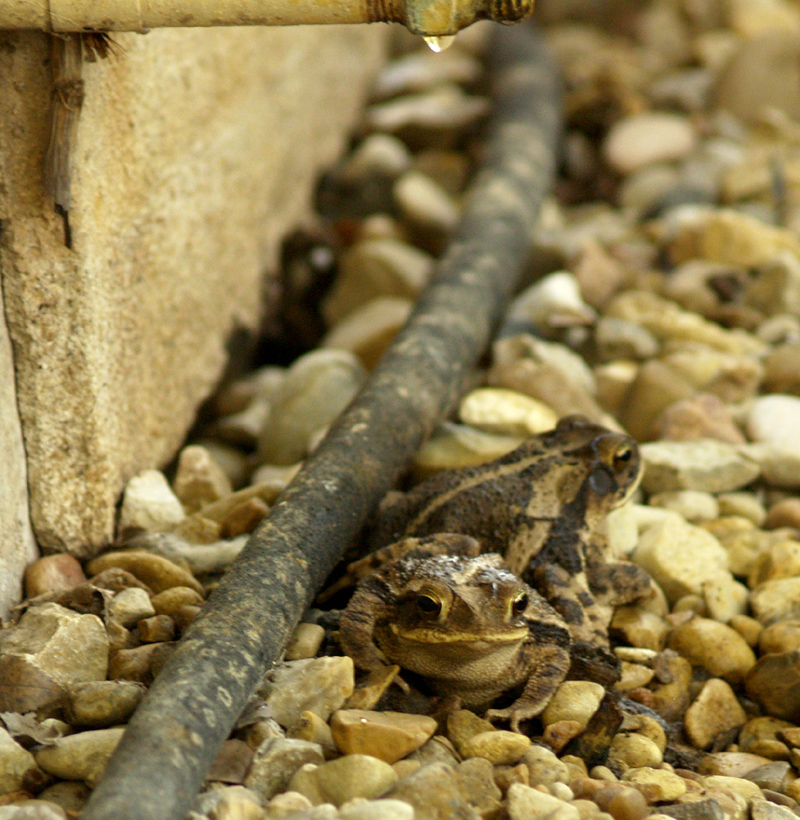 They're probably counting the number of dried up plants in the front yard.  If you're like me, and looking for super drought-tough plants, think bearded iris!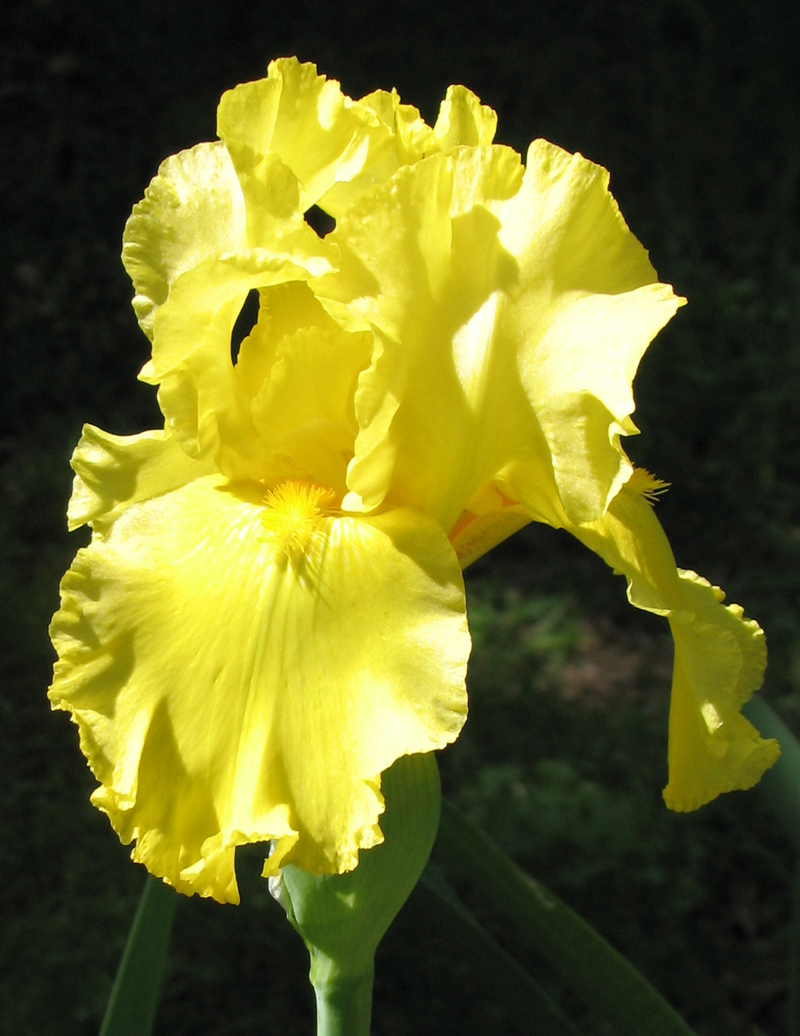 Recently, gardeners have been going for agaves, yuccas, sotols, and nolinas for water-saving structural commentary. It seemed like irises were off the list.  Oh, so not so!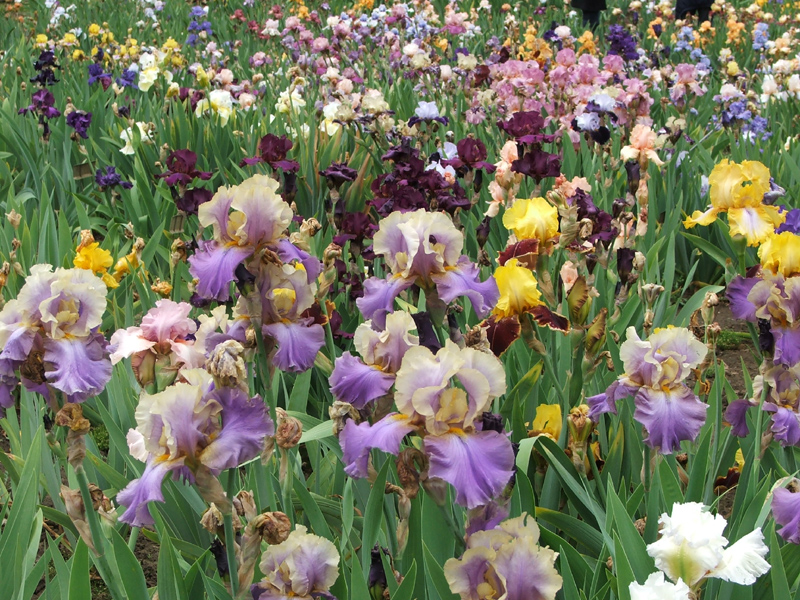 Last year, I realized that even though gardeners love the newcomers to their perennial beds, they are still passionate about the passalong old-time favorites. Put them together, and wow!
Irises do need soil, but for those of us who build up well-draining sites for the others, it's a great combination, since irises like a well-drained situation, too.  As for deer resistance, the Iris Society of Austin says, "Yes and no!"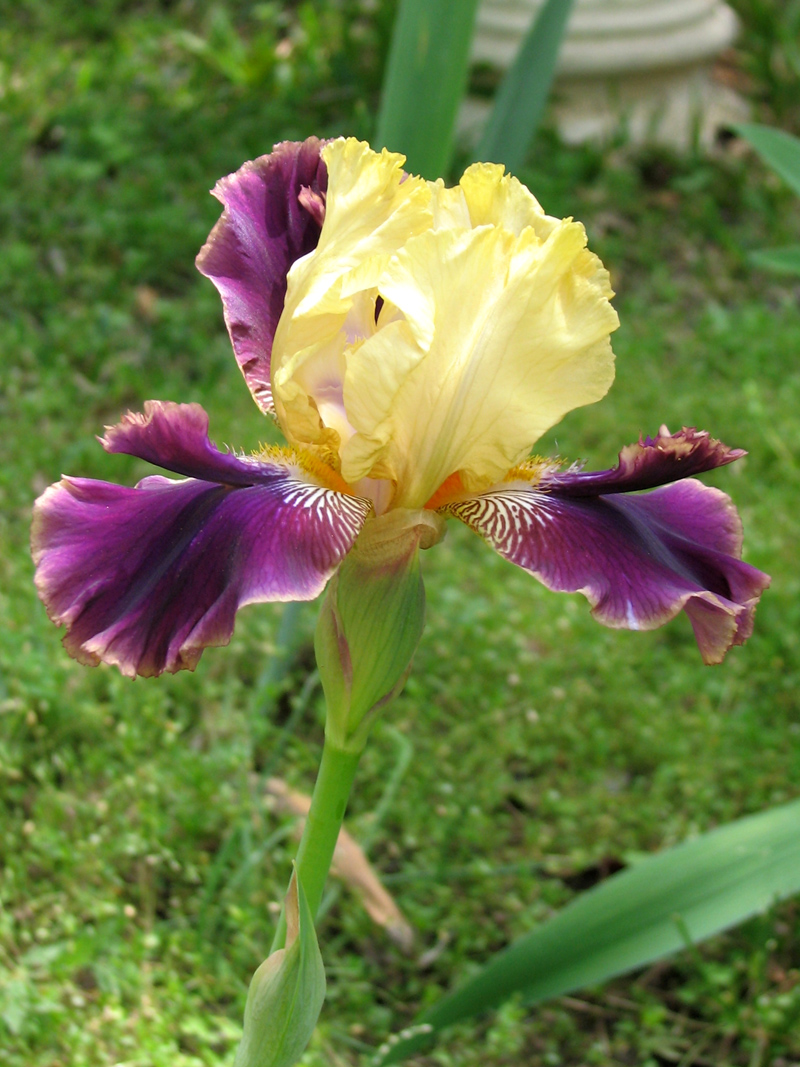 Way before most of us had a clue about agaves, irises provided the "strong form" we hear so much about. Here's one of the many varieties Tom likes in his garden.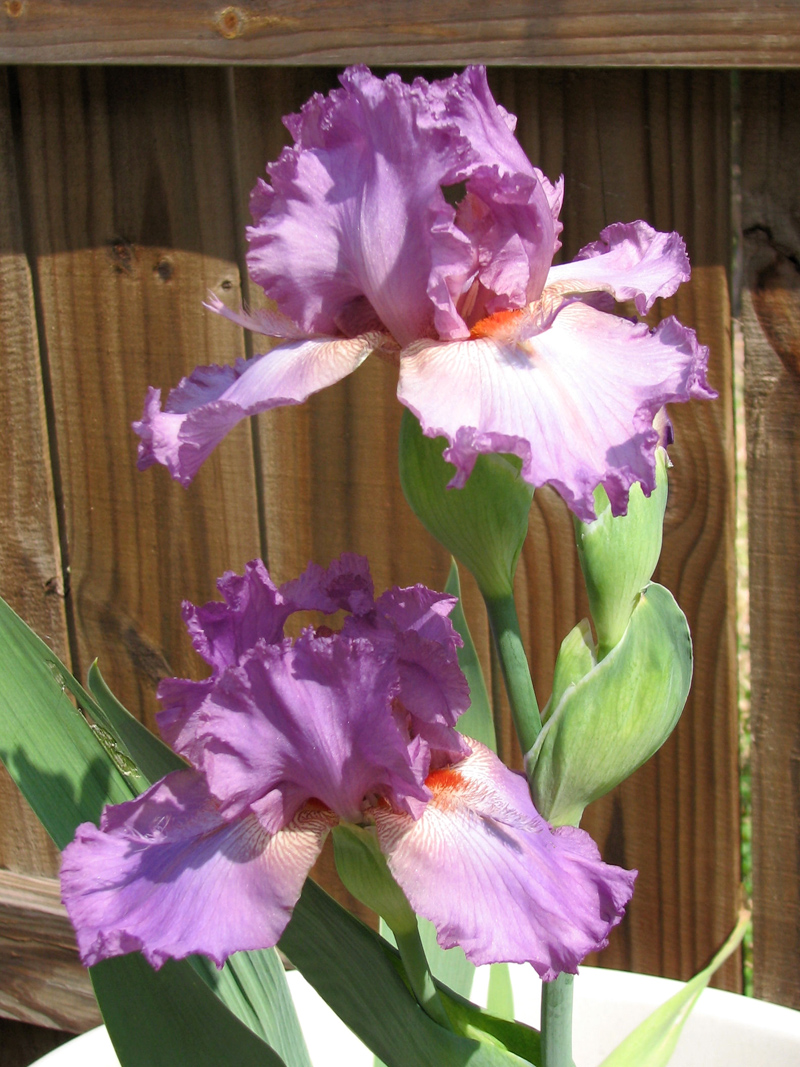 A few years ago, I loved to wander up the street to a deep abandoned lot. Hidden by trees and tall weeds, it beckoned to my inner Nancy Drew (especially on a really dark cloudy day). Although I didn't find a purloined diamond in a well, I stumbled onto a much better treasure: a white flag iris that bloomed every spring against the crumbling porch steps, the only reminders that someone once lived there.
I hated to separate it from its memories, but I sure wish I had. Now it's underneath a huge building, if the bulldozers didn't mangle it first.
Aside from bulldozers, irises are tenacious, even in drought. My first ones have been through every weather scenario, and many are still with me.  The only thing they hate is too much water and shade, though partial shade works. Even in deeper shade, mine retained their foliage, though they never bloomed.
So, to kick off CTG's fall season, Tom meets with Marney Abel from the Iris Society of Austin to explain how to add these troupers to your garden.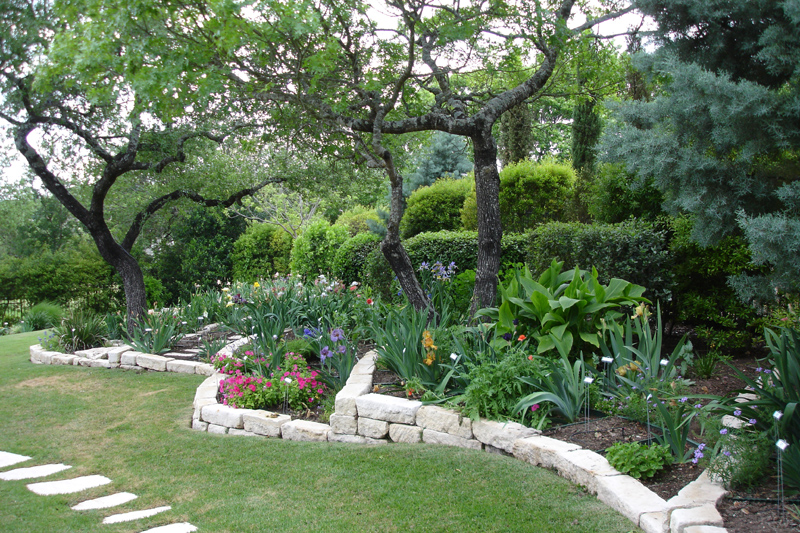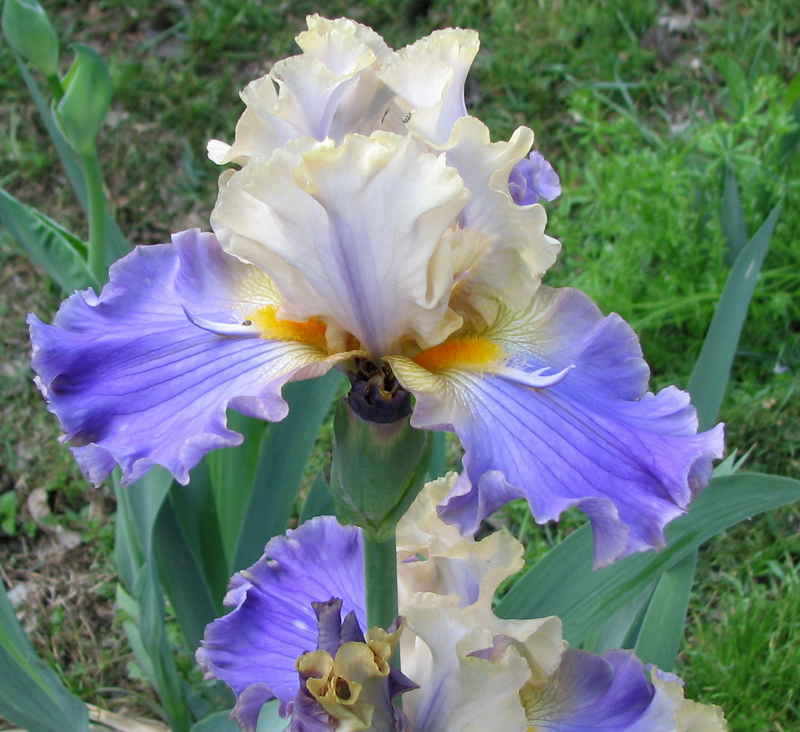 Marney and Tom also explore the Louisiana irises, superb additions to your pond, stream, boggy condition, or containers.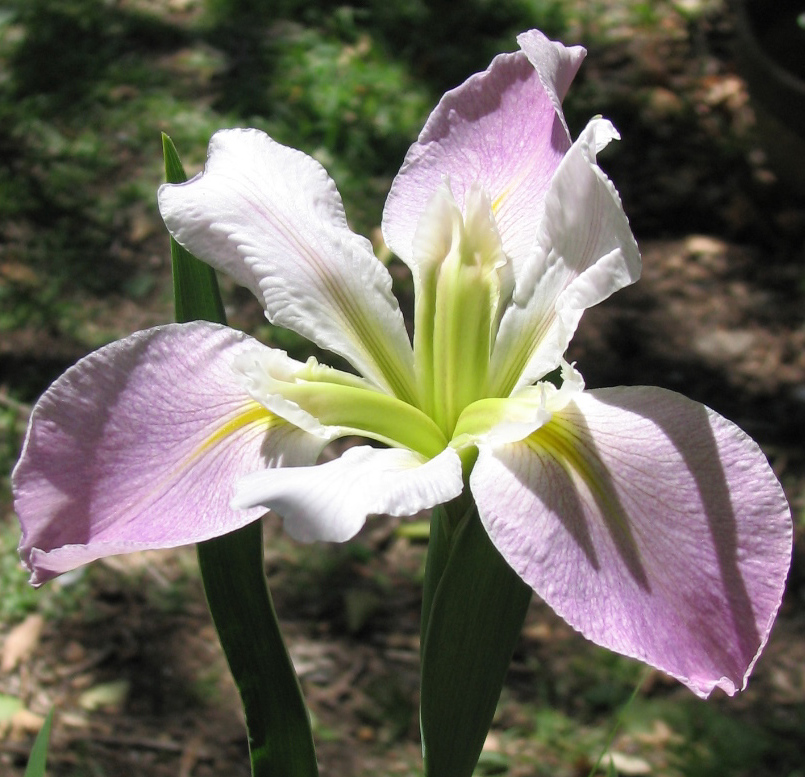 Members of the Iris Society can answer your questions in person and help you pick out the perfect ones for your garden at their sale next weekend.  The varieties are proven for our gardens, and the prices are great!
Iris Society of Austin
Rhizome sale
September 12
9 a.m. – 4 p.m.
Zilker Botanical Garden
If you've wondered why your irises aren't blooming, Marney explains that, too.  Then, Trisha Shirey demonstrates how to divide and plant your iris this month.
On my list: dividing mine and moving them to a new spot.
Oxblood lilies are not a rhizome, but my first showed up yesterday. However, it's acting like the crinums earlier this year: the blossoms come out, but wither before opening.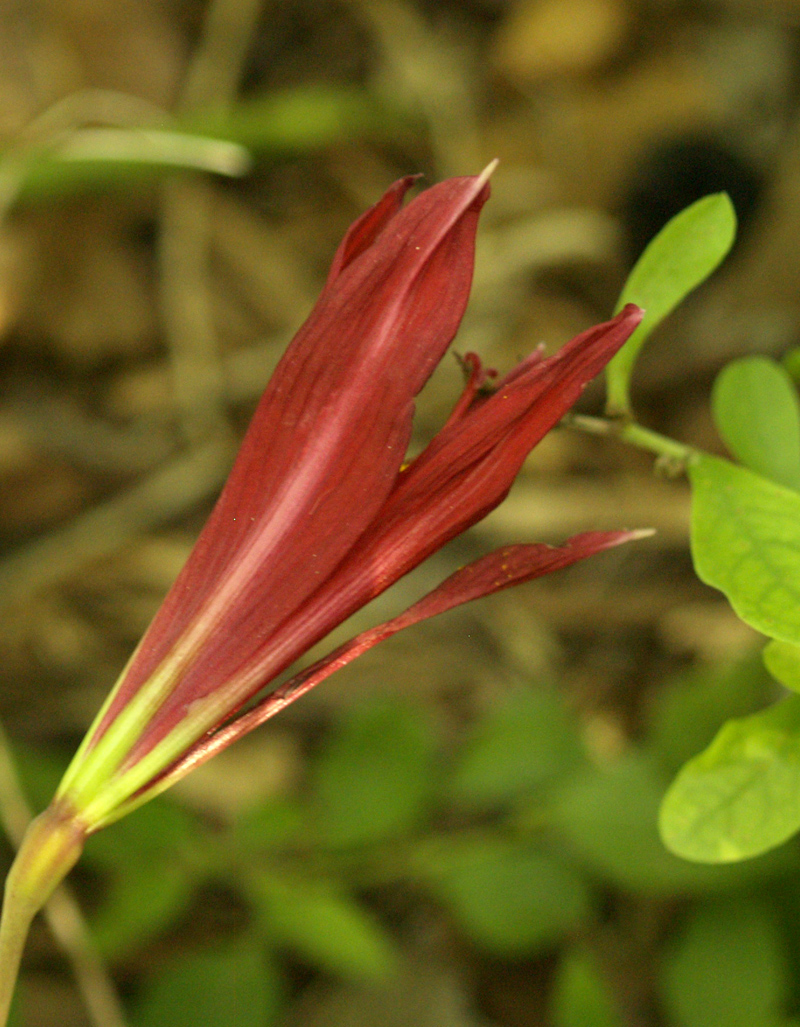 MSS at Zanthan Gardens reports that she spied her first on August 31 after the rain she got last week.  She has the largest private collection of oxbloods around (I would bet).  You'll meet her this fall on CTG.
Next week on CTG, fall vegetables to start now!  Until then, Linda
Comments