July 21, 2011
Cultivating ideas, fall vegetables, first Garden Pet of Week!
Congratulations to Mojito, our first Maude & Augie Doggie's Garden Pet of the Week! This Maine Coon is the proud owner of Tina & David Poe.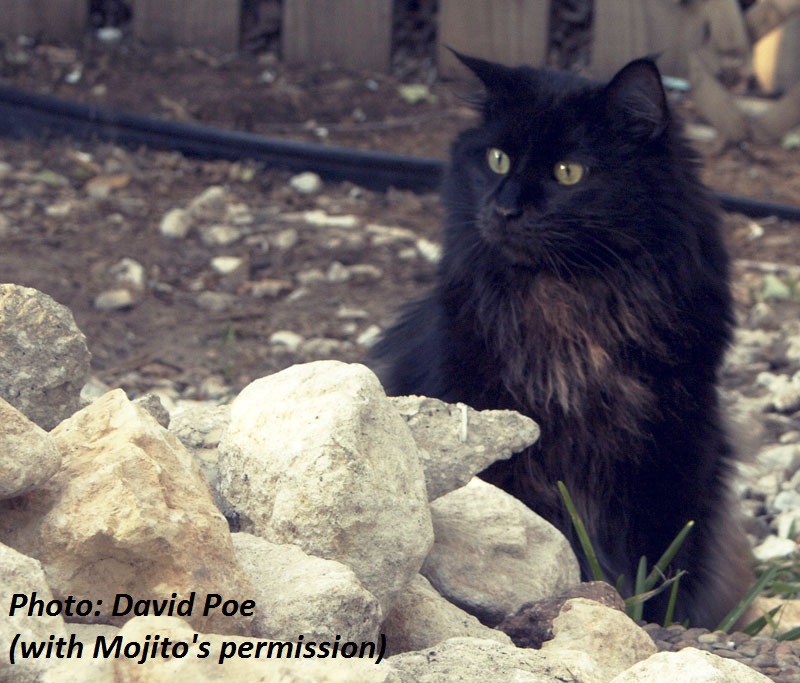 While supervising them in the garden, he chews on lemongrass (which has anti-bacterial and anti-fungal properties). For dessert, he favors catnip. Thanks, Tina, David & Mojito!
Garden Pet of the Week can be any beloved creature in your garden, so send on your high-resolution pictures and a brief description of your little friend to llehmusvirta@klru.org.
Even though most of my plants will make it through the drought, I've got a lot of planning and updating to do. Translation: WORK!  One thing is to create larger areas of hardscape, especially pathways. I've been analyzing every option "under the sun," dare I say?  On the Windsor Park Garden Tour in May, I took a few pictures of some ideas.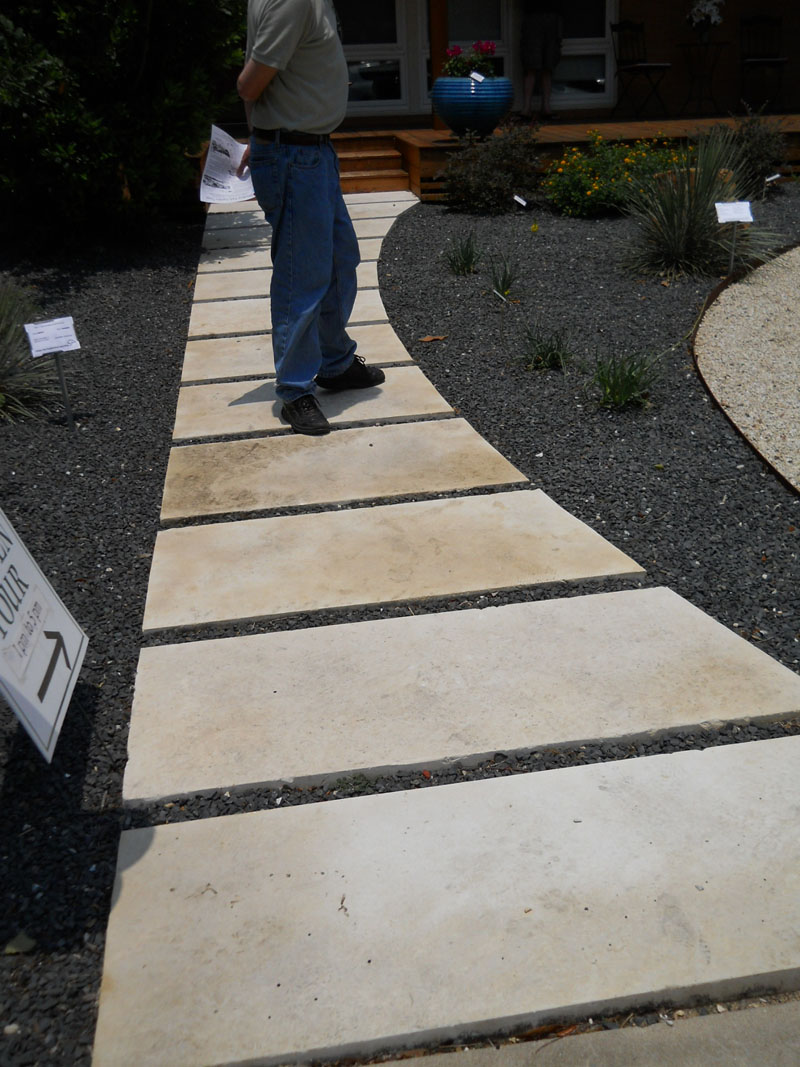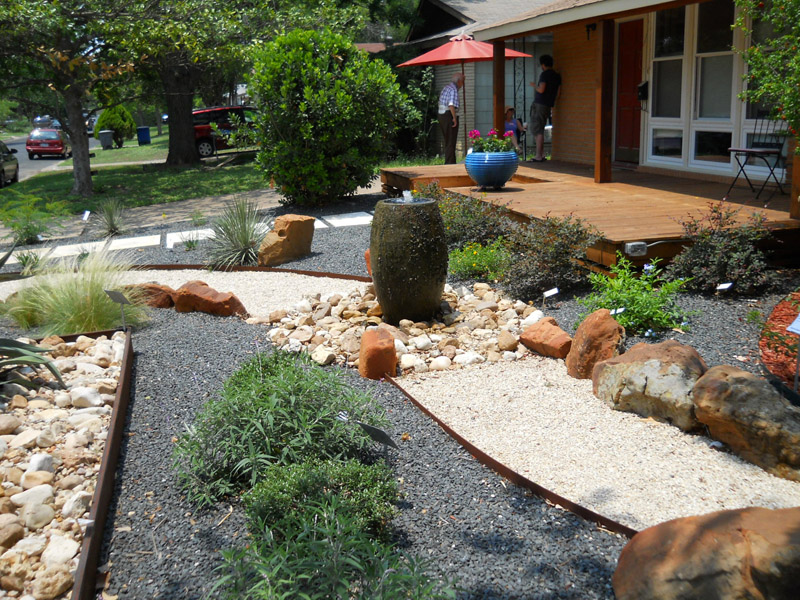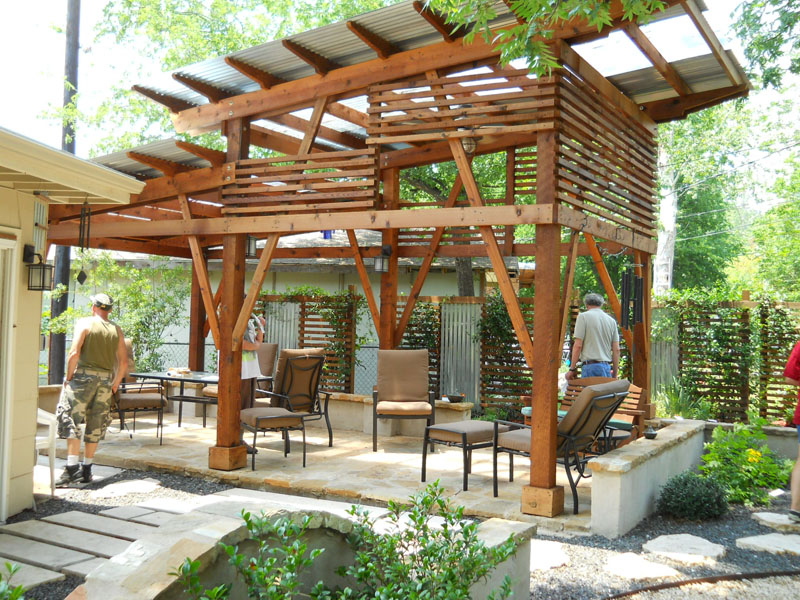 And even though it's sweaty, it's really time to plan the fall vegetable garden, so when cool weather comes, we're ready to go for it! Bruce Leander's picture on the cover of the July/August Texas Gardener magazine to illustrate Patty Leander's story is enough to jumpstart even the weariest summer warrior.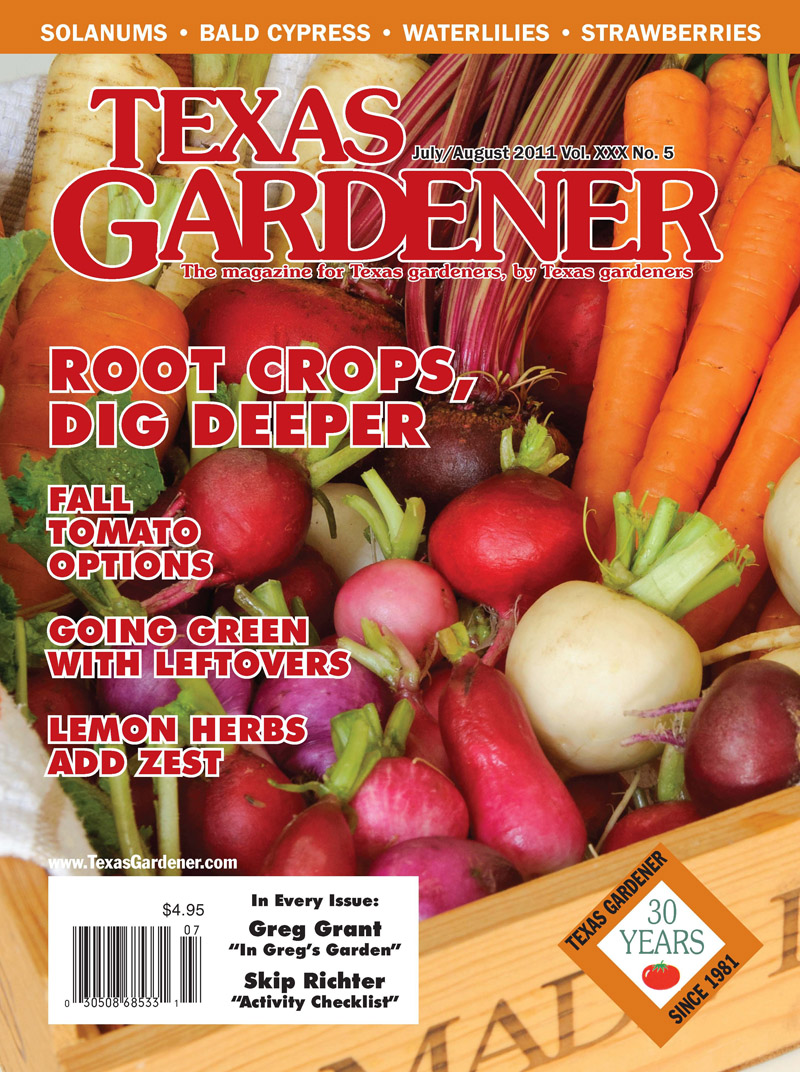 This week on CTG, Master Gardener Patty Leander joins Tom for tips to transition from summer crops to winter's harvests.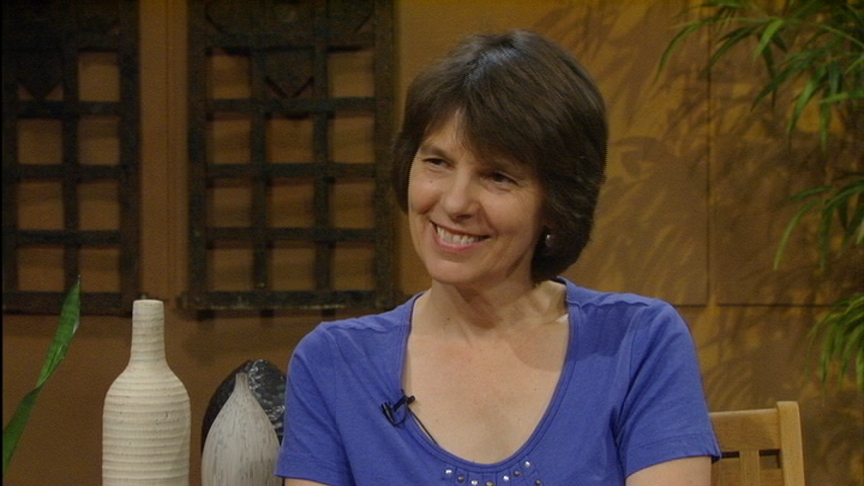 Fall is really our easiest time to grow all kinds of goodies without SWEARING a lot!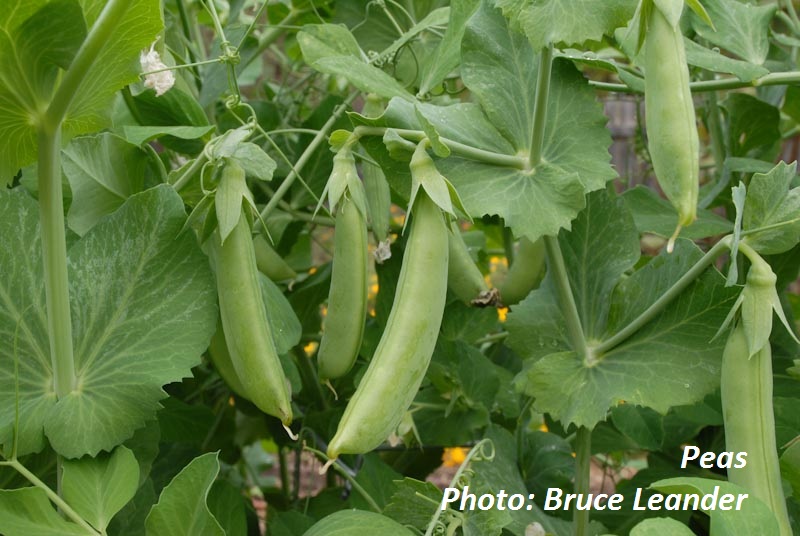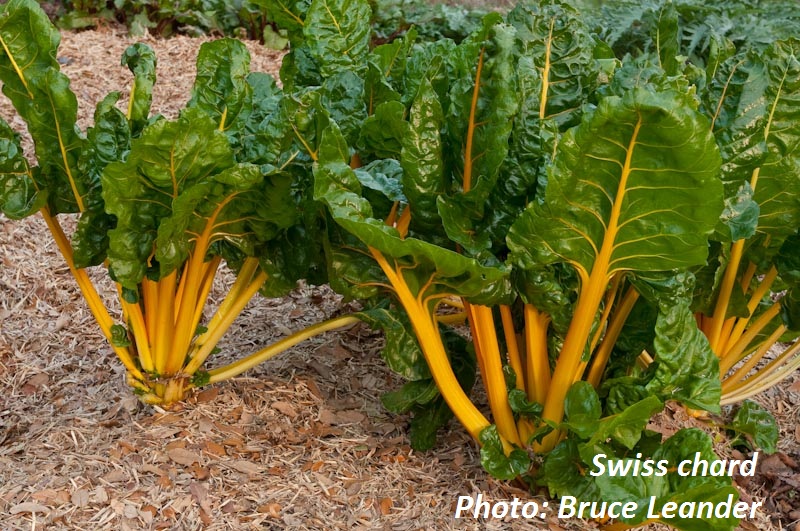 You never need to eat grocery store lettuce in cool months, since it's so easy to grow your own artistic and yummy presentation.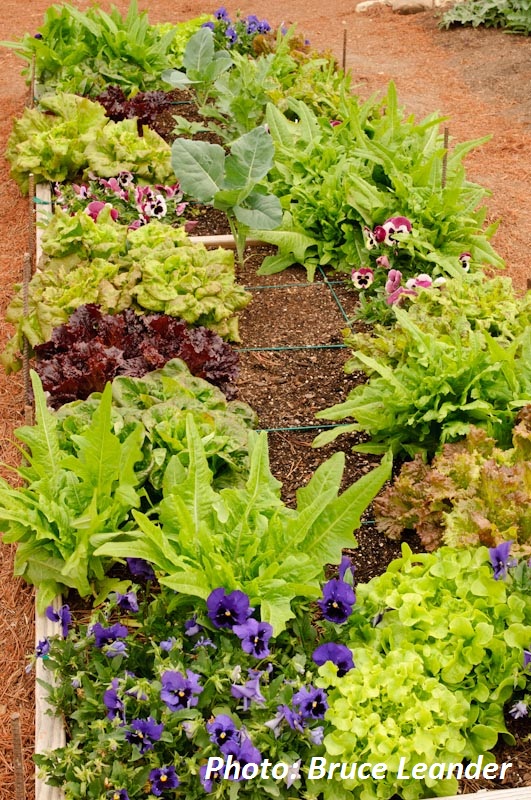 Since it will still be hot when we get started, check out Patty's creative ways to shade young plants and seedlings.  These are great ideas for young ornamentals, too.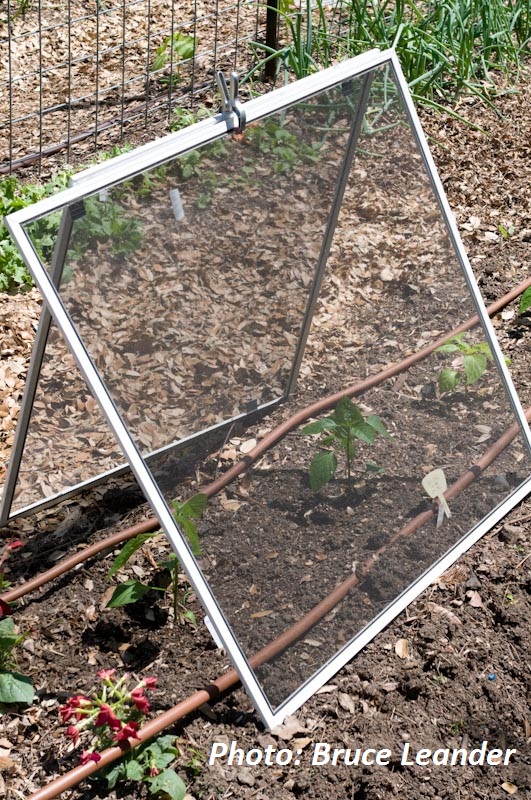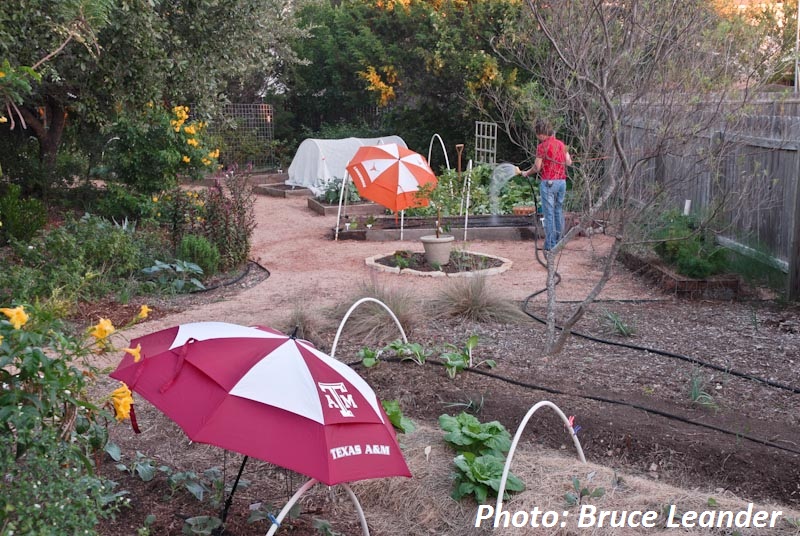 You can also use a 30% shading cloth.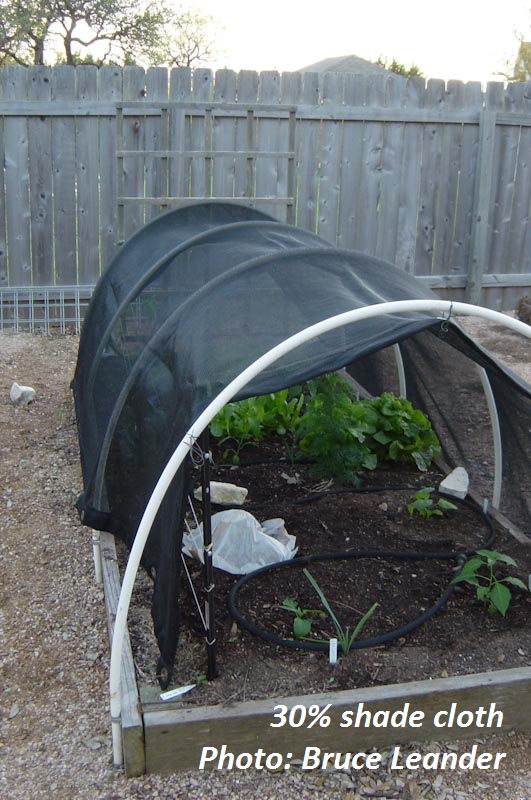 Patty also has tips to start cooling down the soil now with thick layers of mulch (preferably shredded leaves, dried grass, partially decomposed compost, not bark chips). As we get closer, cool down with burlap or other material, and/or water really well  for several days in advance to wet the soil down deep and cool it.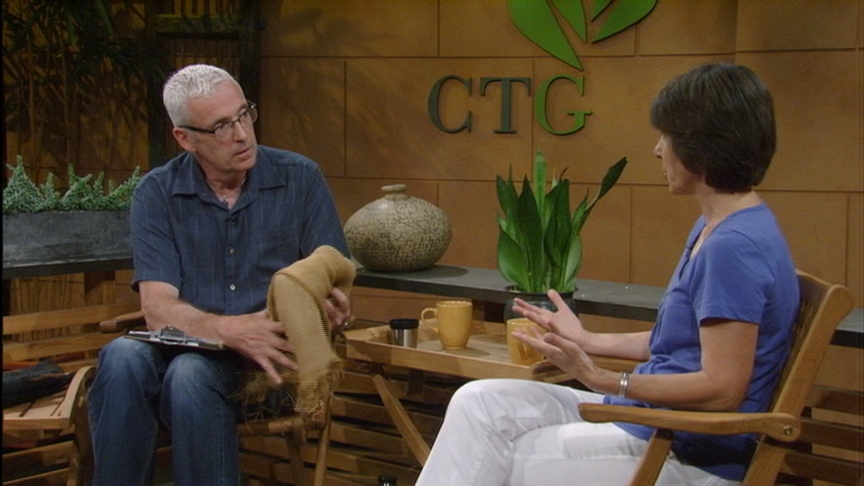 Get her monthly tips and those of other Master Gardeners in their incredible monthly newsletter, Compost Bin!
Meet Patty in person and find out even more at the Travis County Master Gardeners Fall Vegetable workshop on August 6 from 10 a.m. – noon. This free class will be held at Zilker Botanical Garden.
Get planting guides, month-by-month lists, and lots more in the Travis County Master Gardener's Garden Guide for Austin and Vicinity, just $14.95, available at these locations.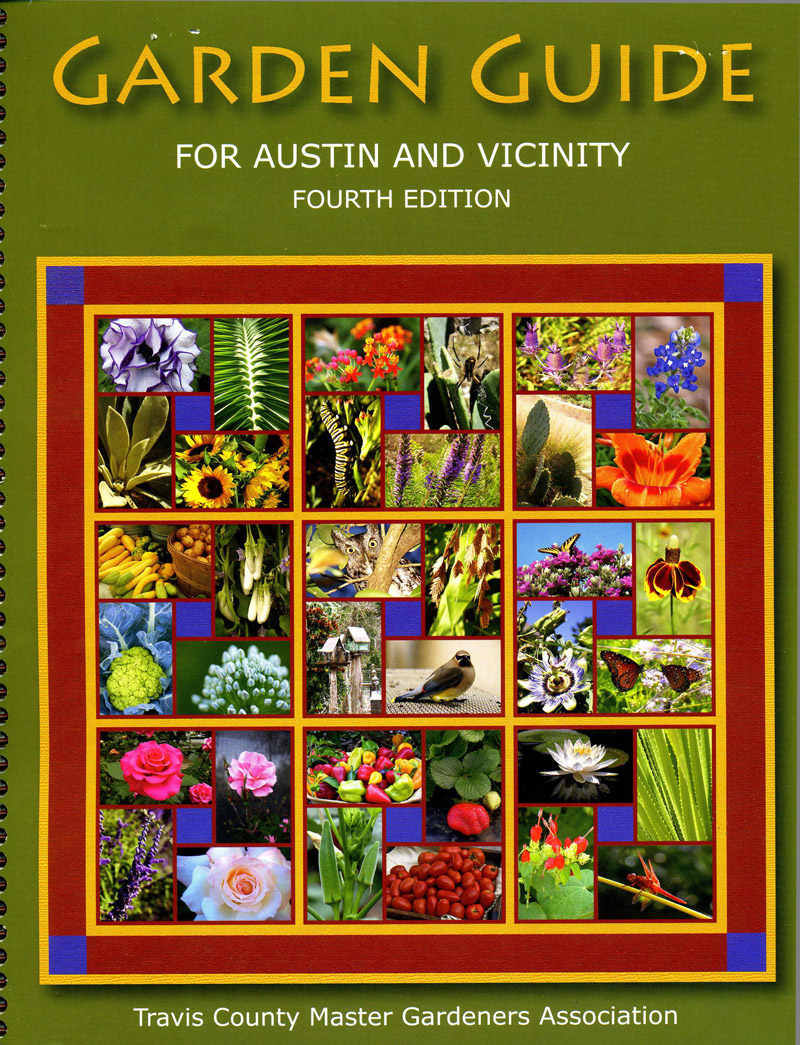 Online, check out Central Texas Horticulture, the Travis County site of Texas AgriLife Extension, for vegetable planting guides and varieties, plus a wheelbarrow-full of other great information!    At Aggie Horticulture, connect to the Extension site in your county, along with other resources.
And, if you've been looking for the perfect organic water sprayer to fend off spider mites, aphids, and the succulent pests that Entomologist Wizzie Brown features next week, check out the MiteYFine sprayer!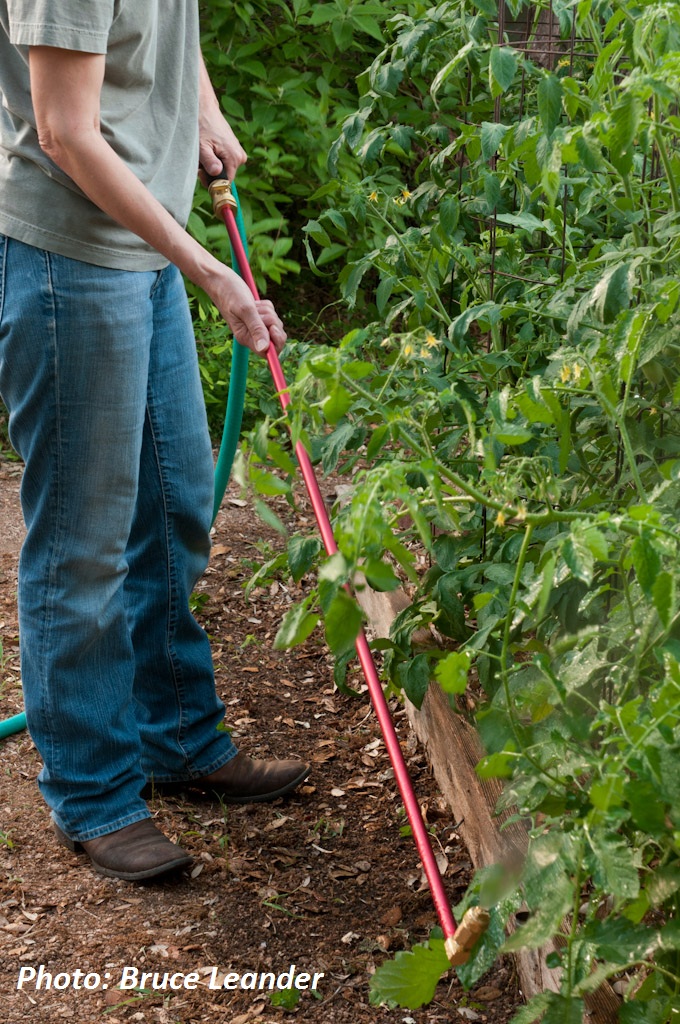 For years, Patty's been asking her engineer brother to come up with just the right device for a high-power, focused blast of water to quickly drown those pests and get them off her plants. Her brother's wife  jumped in with product development. Wizzie attests to its great success!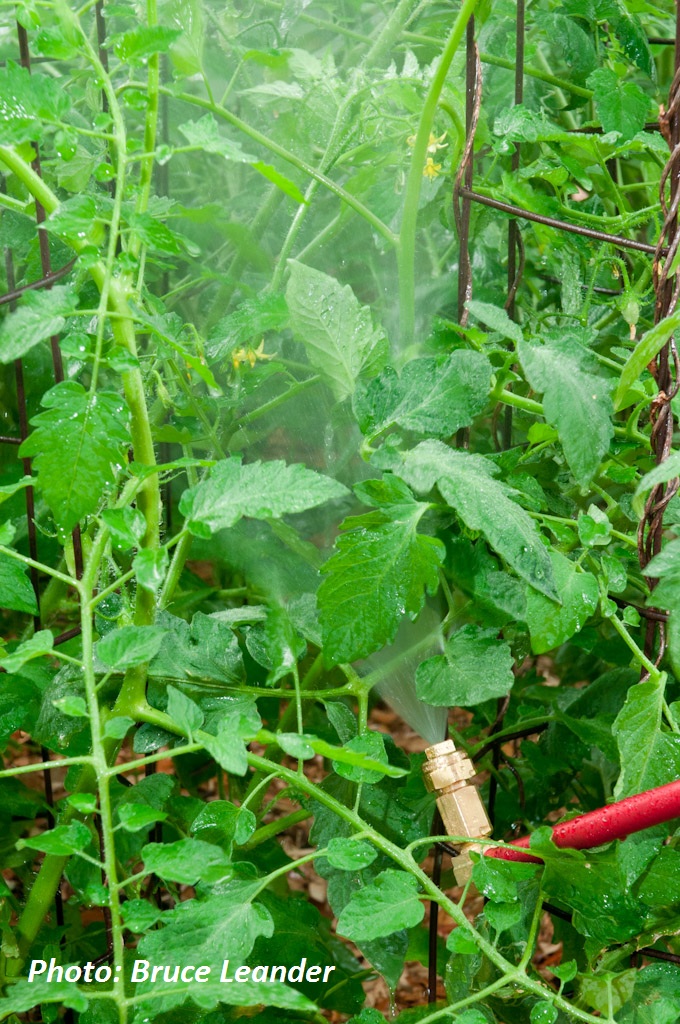 Now that's a mighty fine thing! I think I'm sending Patty's brother a list of tools I'd like to see but am certainly not creative enough to build!
Daphne and Augie Doggie answer: What is the difference between a fruit and a vegetable?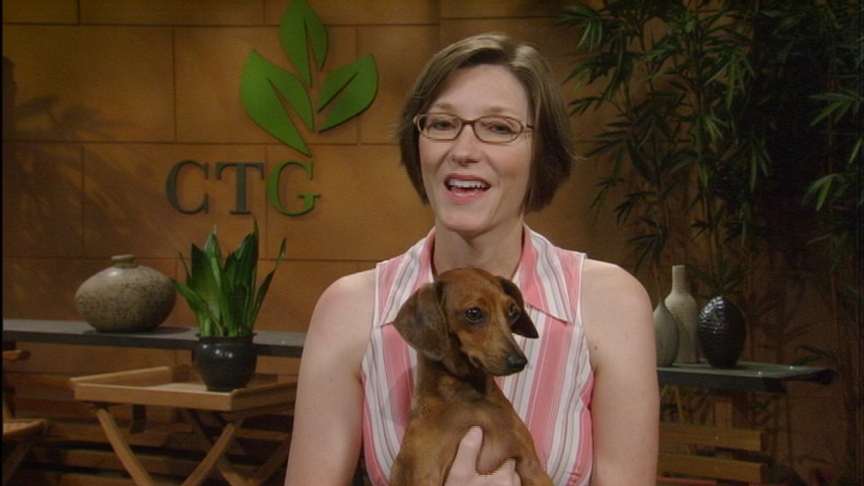 As she notes, "It depends on who you ask.  A cook's definition will differ from a botanist's.  In cooking terms, generally, a fruit is sweet and a vegetable is not.  So to a chef, a tomato's a vegetable." (Thanks to Sara Robertson for all these yummy homegrown fruits!)
"But, to a botanist, a fruit is a ripened ovary and any accessory tissue surrounding it. So a tomato is a fruit, like an orange or a pepper. Then, when you talk to a horticulturist, a vegetable is an herbaceous plant cultivated for an edible purpose, so in that case tomato goes back to being a vegetable!"
To a botanist, a vegetable is a plant that is edible for its leaves, stems or roots, including beets, carrots, lettuce, asparagus, leeks, and potatoes.  Whatever they are, they're good for you!
On tour, we repeat our segment with Dorsey Barger, co-owner of Eastside Cafe with Elaine Martin, for super ideas with containers and how she rotates crops in limited space.  With cinder blocks, stock tanks, and salvaged materials, she creates many garden options without a bunch of tools or a bunch of cash.
John Dromgoole demonstrates how to get your seeds off to a good start. Some benefit from overnight soaking for easiest germination.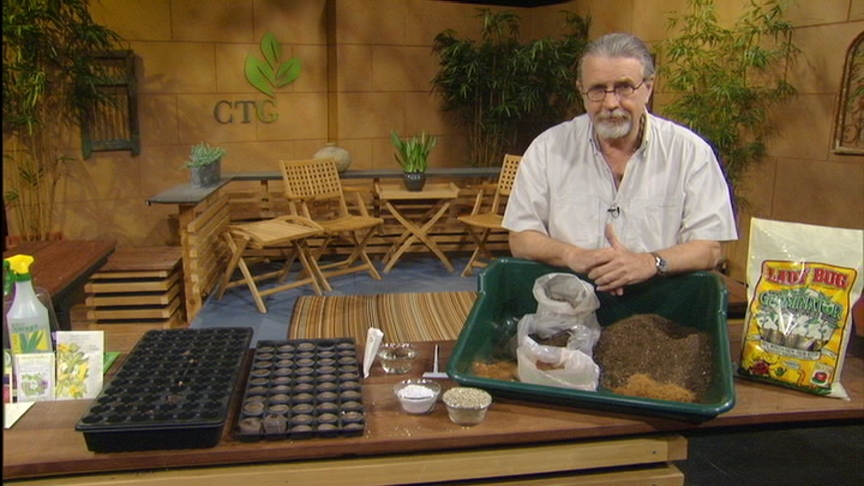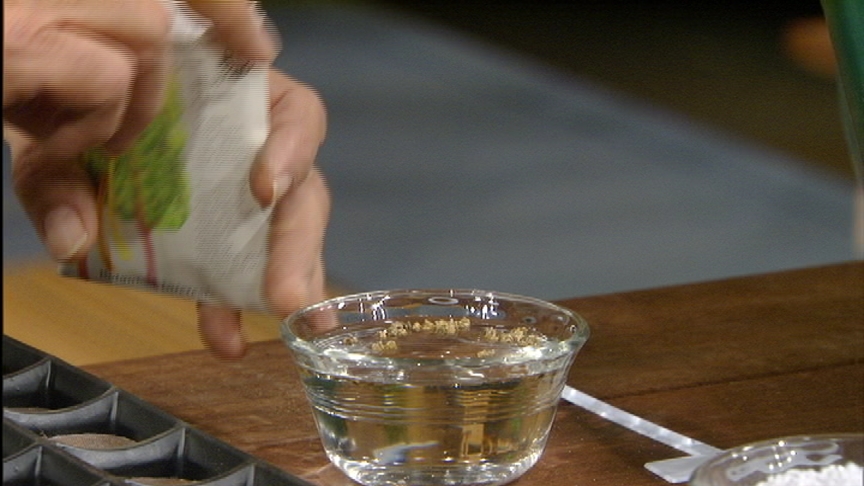 Another event to check out! Head to the Lady Bird Johnson Wildflower Center on July 24 to honor Lady Bird Johnson. This is a free-admission day filled with family activities, including the children's play, "Wildflowers," songs by singing zoologist Lucas Miller, artist Catherine Flowers, and a book signing byJeannette Larson, author of "Hummingbirds: Fact and Folklore from the Americas." And lots more, to honor the woman who did so much to change our perspective.
PLUS! If you've wanted to meet Sharon Lovejoy, author of many books and magazine articles, here is your chance! She'll be in Austin next week for presentations and book signings for Toad Cottages & Shooting Stars: Grandma's Bag of Tricks. But this isn't  just for grandmas; it's for new families and for every gardener who needs a little boost to just go out there and have fun! On July 25, she'll be at Book People from 4-6 p.m. On July 26, she's giving a lecture sponsored by The Natural Gardener. The lecture will be held off-site (with reception and book signing at NG later). The lecture is an RSVP, so click here for details.
Until next week, Linda
Comments