April 27, 2017
Small bites: Cactus Containers & Art of Bonsai
My coneflowers are still packing them in. Every sunny hour, at least two different butterflies and several bees race like gardeners at a rare plant sale. Here's Red Admiral dining sedately.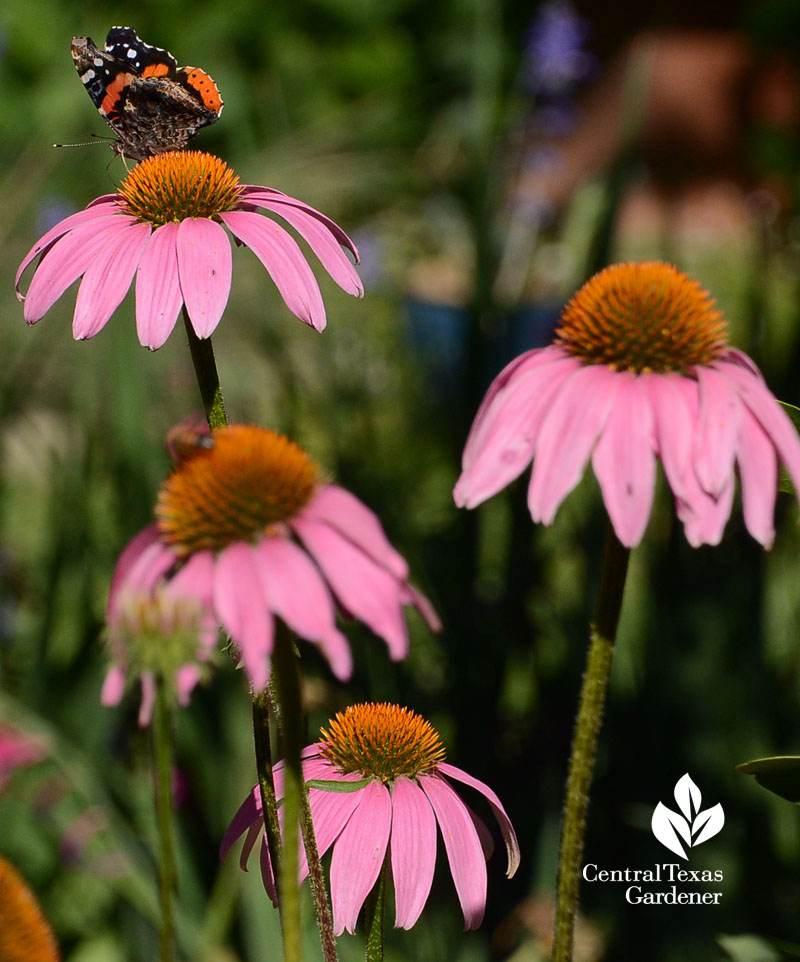 Around town, native globe mallow (Sphaeralcea ambigua) captivates audiences, too.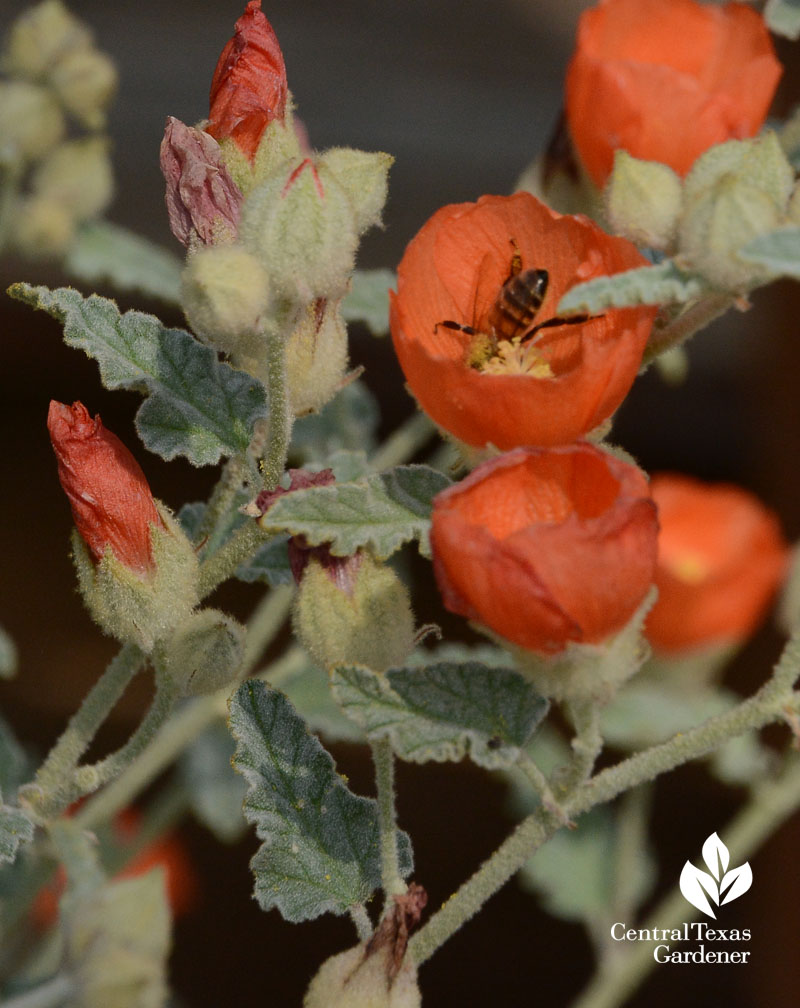 Silvery-gray leaves pop against tiny flowers in hues of orange to apricot pink to attract bees and butterflies from spring through frost. Sadly, not deer resistant.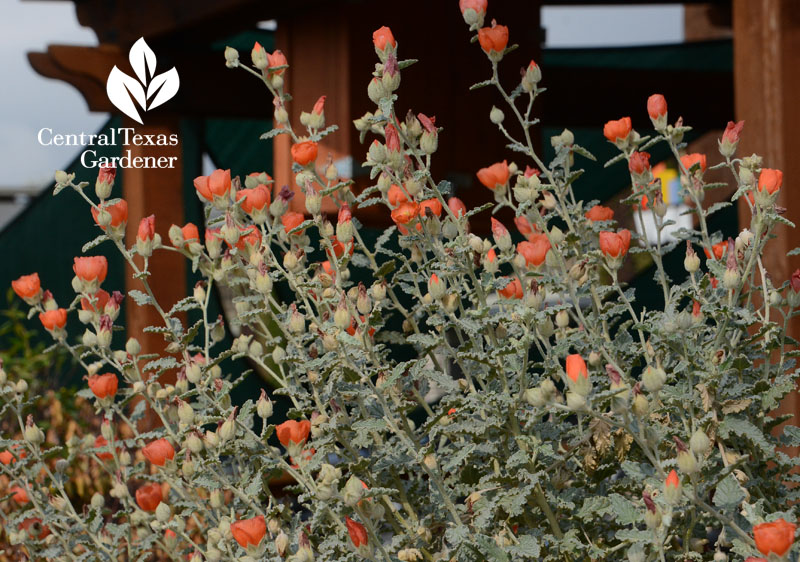 Getting about two feet tall and wide, globe mallow thrives in sunny, well-drained areas where it doesn't get too much water. Daphne explains how to grow globe mallow, our Plant of the Week.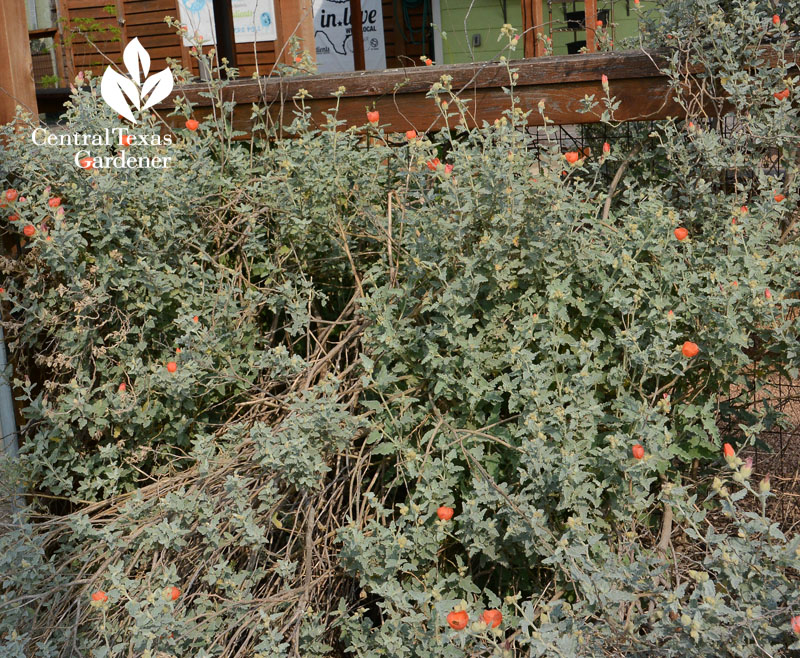 Many native plants, like agarita (Mahonia trifoliata), are edible (berries) and also contain medicinal properties.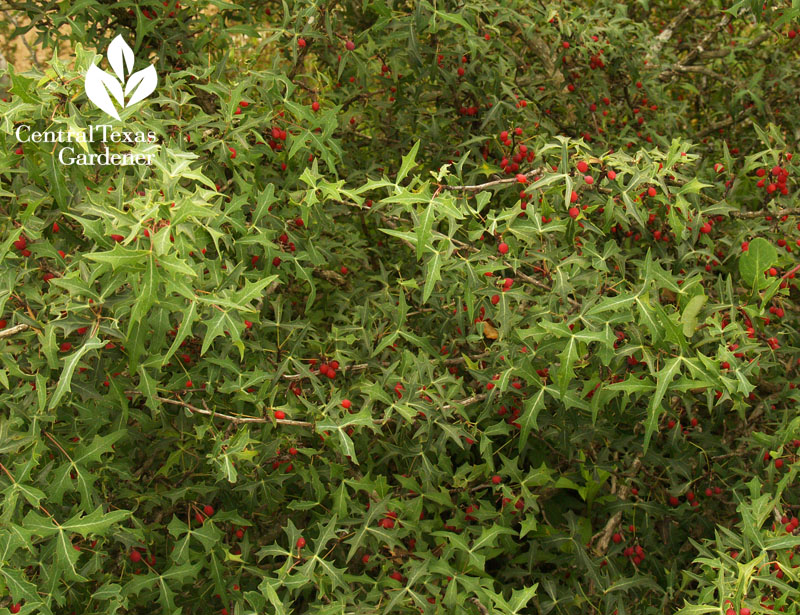 EZ Herbs herbalist Ellen Zimmermann joins Trisha to tell us the story behind drought-tough flowers and foliage.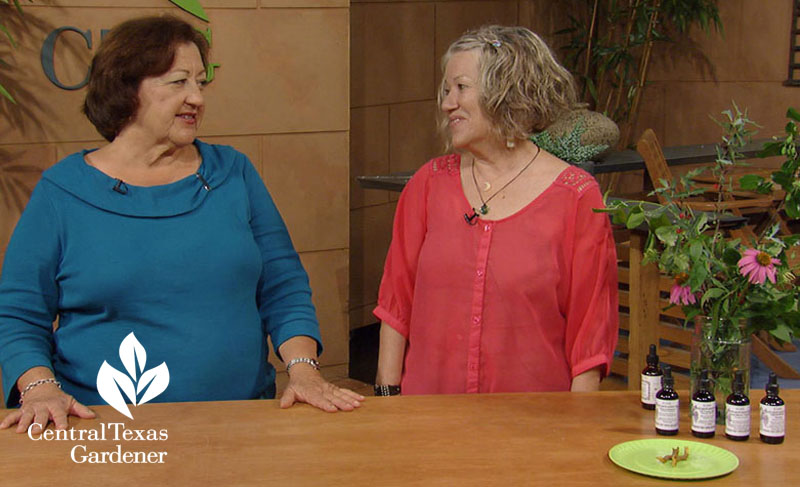 She explains how agarita's roots and branches contain berberine, noted for antiviral and antibiotic properties.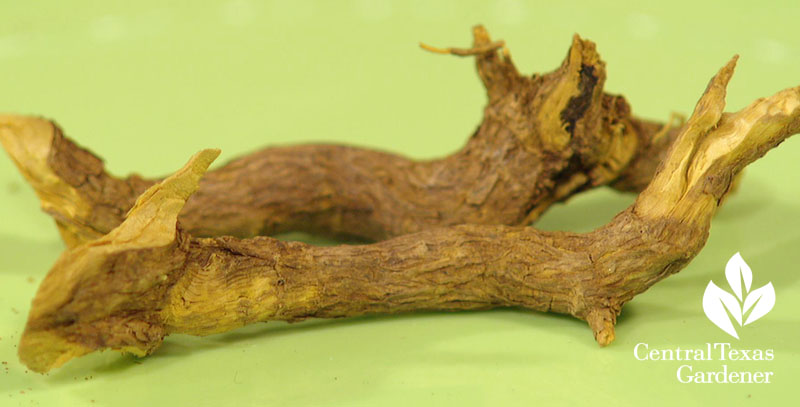 Ellen even demonstrates how to use a tincture to ease your ails! Watch now for more.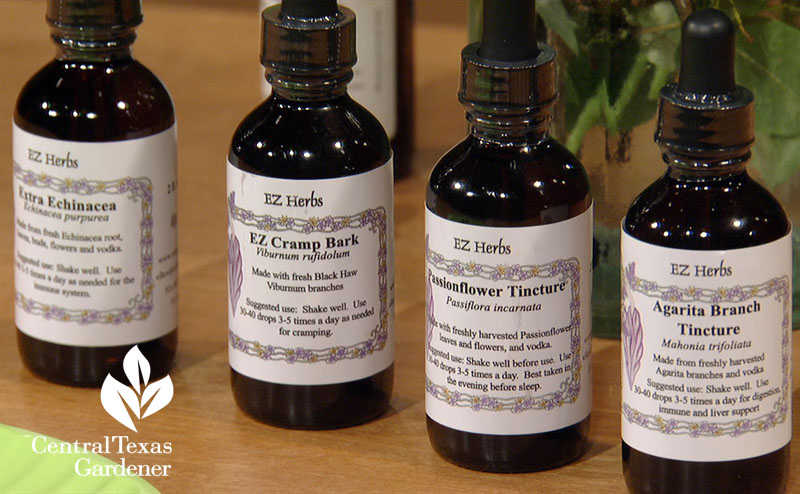 What a surprise! For the first time ever, my shrimp plants are blooming as returning hummingbirds need a meal. After winter's hard freeze, I never expected such a quick comeback.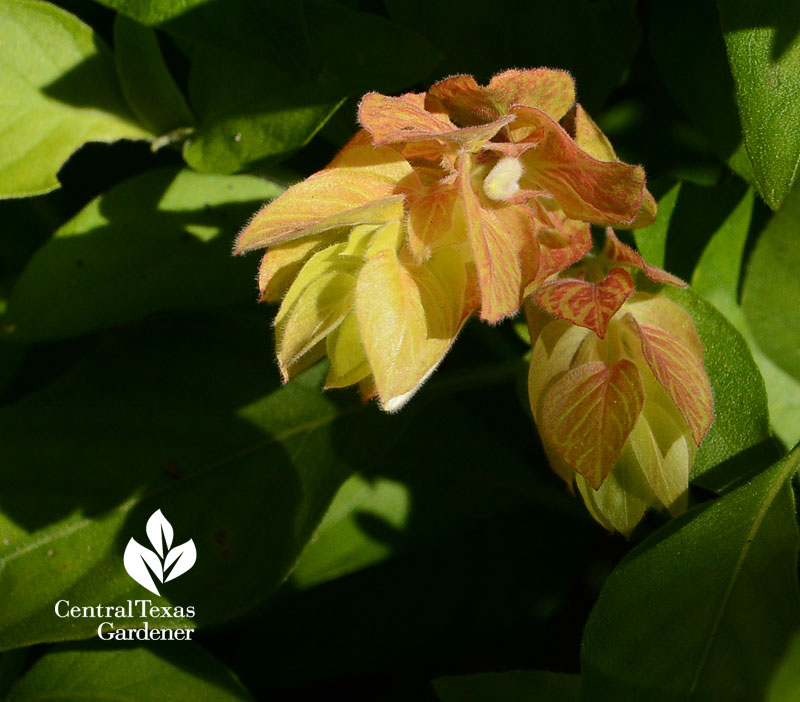 I thought my beloved Byzantine gladiolus would never bloom, but they're really only a few weeks late. Larkspur and 'Henry Duelberg' salvia pop in deep lavender against that explosive magenta.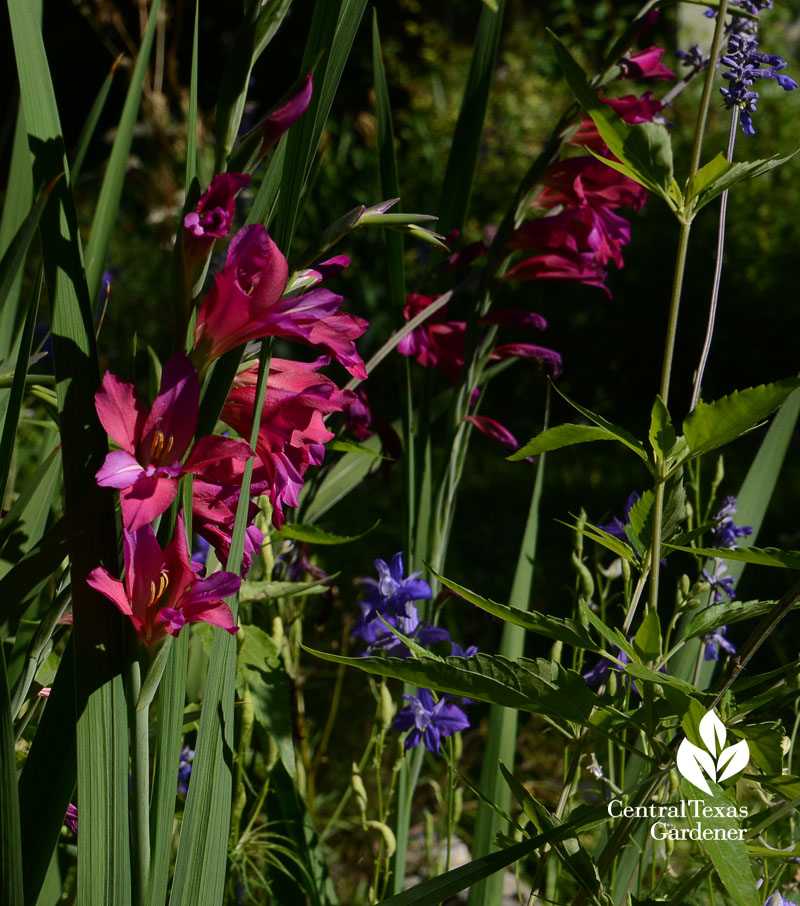 Winter and early spring-blooming bulbs are looking pretty ratty about now, but keep hands off until the foliage browns up. They're storing carbohydrates to feed the bulbs through dormancy. Once they're brown, you can divide and move while you still know where they are!
When should you divide iris? It depends on what you have! Get Daphne's answer.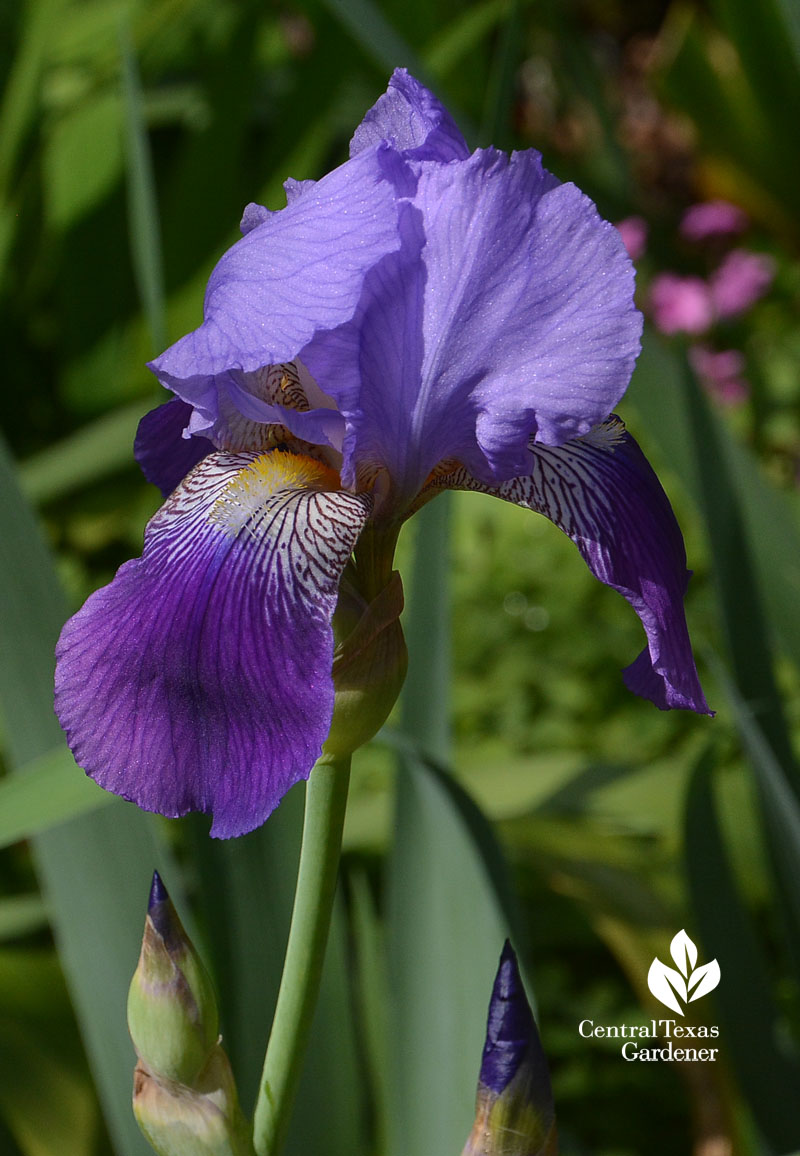 We at CTG have known Darrell Dunten for many years from his renowned Living Desert Cactus Nursery. Now re-invented as the Living Desert Ranch in Spicewood, he joins Tom with tips to avoid killing your cactus containers.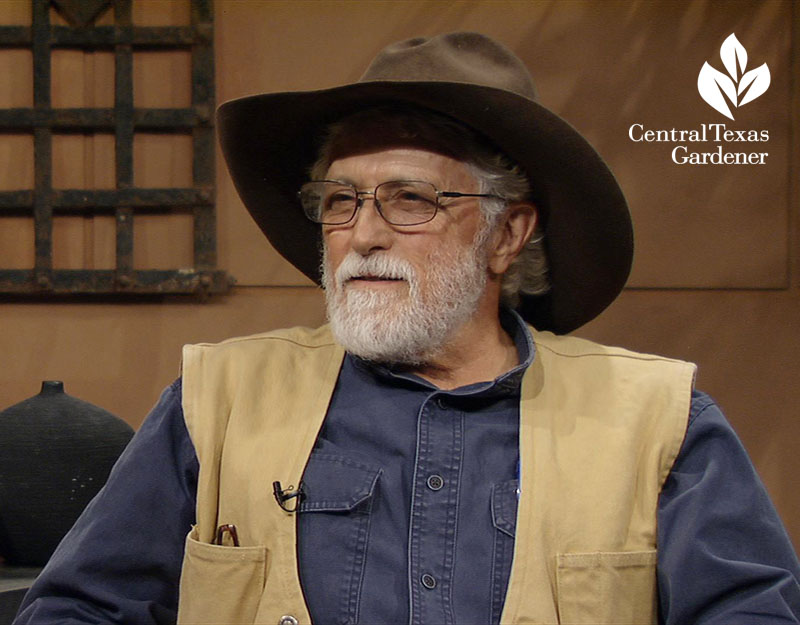 Like all plants, cacti are not created equal, so care depends on genus.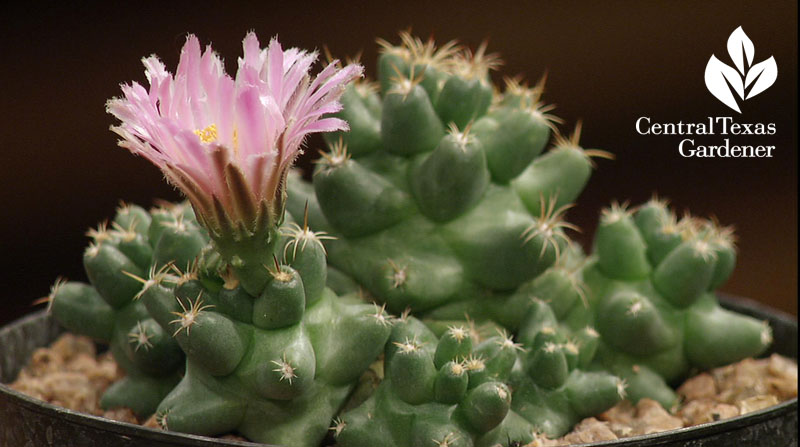 Plus, get his super easy tip to check soil moisture. Watch now!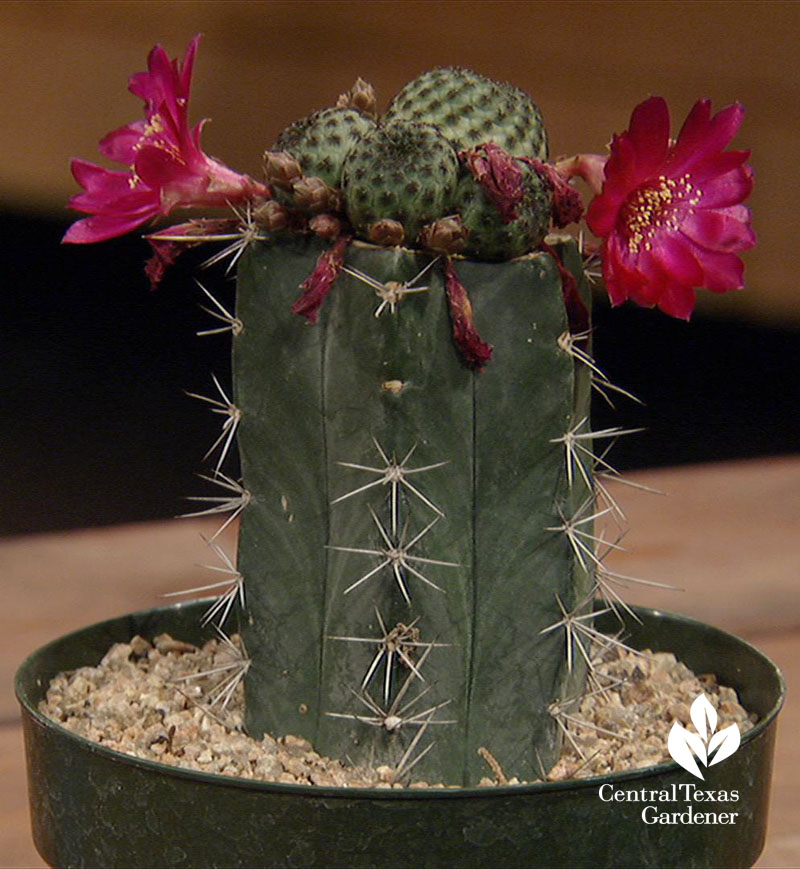 Living Desert Ranch is much more than a stellar cactus nursery and venue for rock bling. Darrell and girlfriend partner DeAnna Lynn also host a bed & breakfast, where you can spend the day and dine with Darrell, the Cactus Whisperer.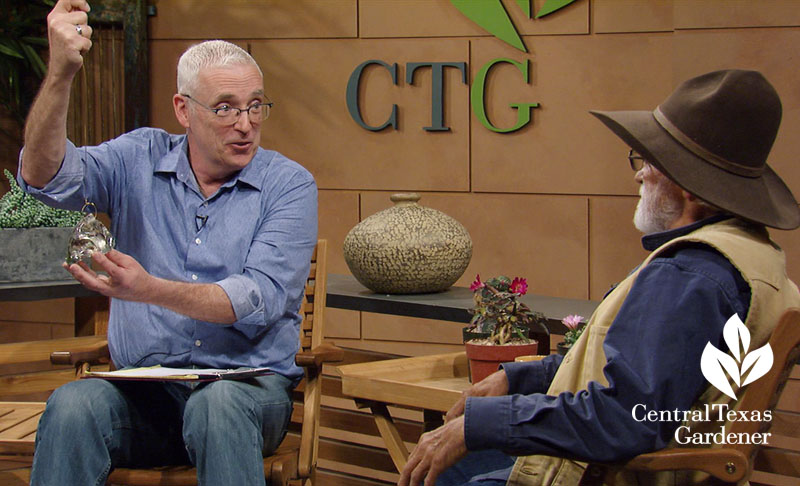 Open Wednesday – Sunday, check out Darrell's original art work as well. And Thursday – Sunday and holidays, be sure to stay for brunch/lunch! Dine on yummy plant-based meals that contain no oil, sugar, dairy, meat, GMO, gluten or added salt.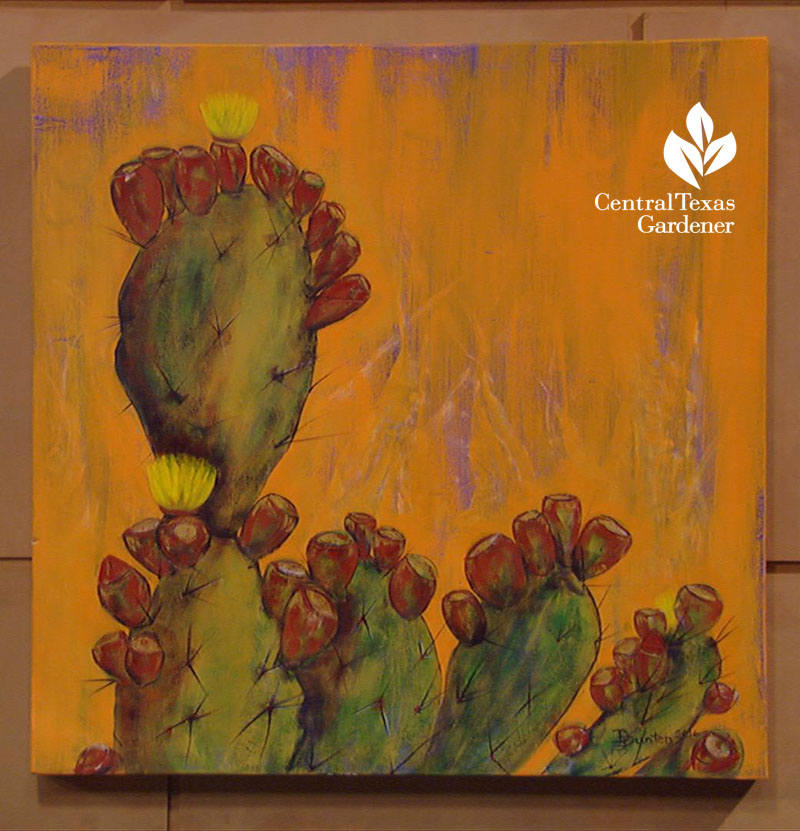 When chef DeAnna was diagnosed with Stage 3 breast cancer five years ago, she opted for no chemo or treatment. Instead, she changed her lifestyle. Find out more about her story and brunch menus.
On tour, the ancient art of bonsai lives strong through its demonstration of tenacity and endurance in miniature living sculptures.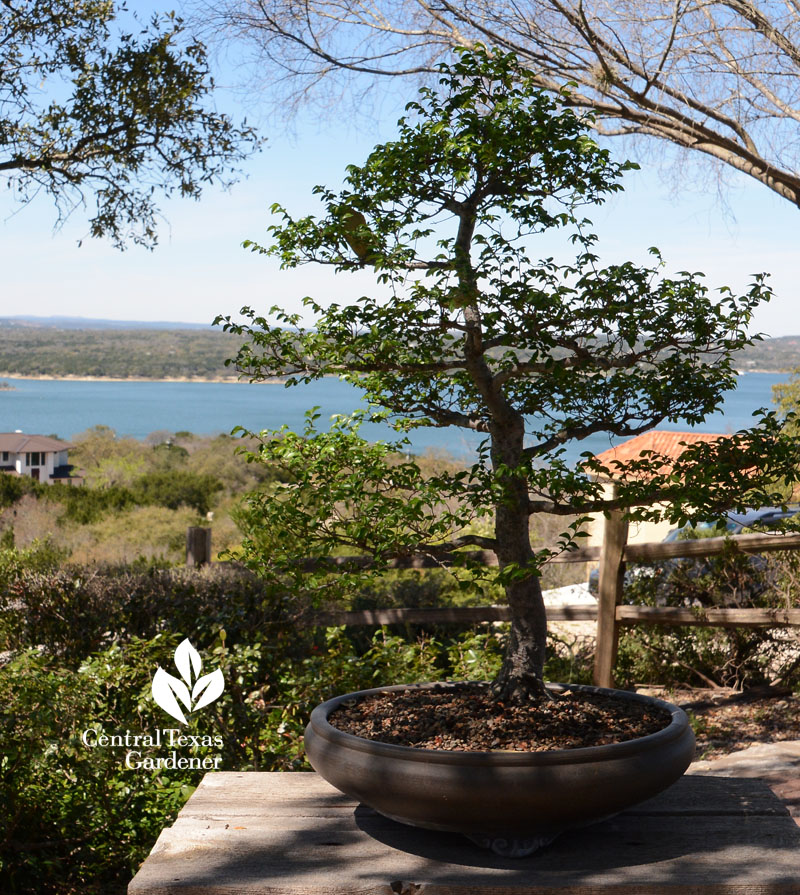 Growers from the Austin Bonsai Society and The Texas State Bonsai Exhibit give us the basics on soil, care, plants, pruning and design. Joey McCoy tells poetic stories of "devastated beauty" behind each design.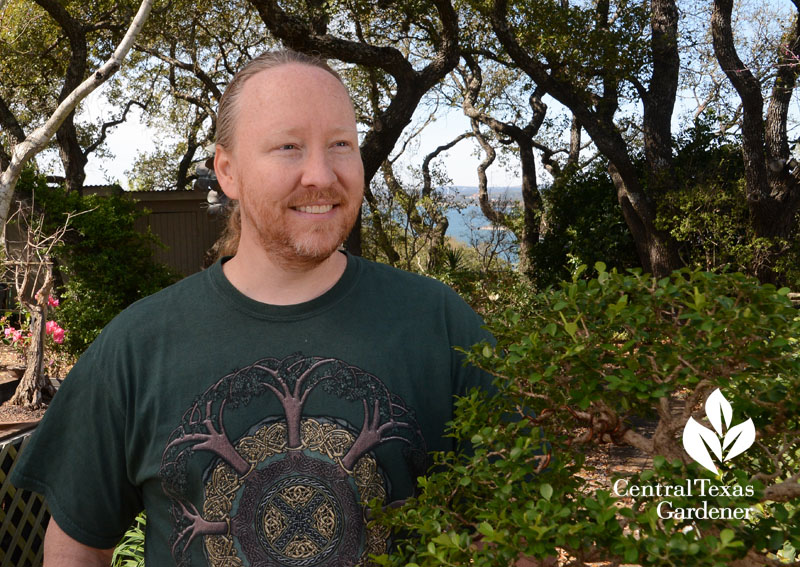 Elaine White, founder of the Texas State Bonsai Exhibit, explains the biggest mistake new growers make: trying to grow outside trees indoors. Even downsized, they're literally rooted in seasonal change from leaf drop in fall to flowering in season.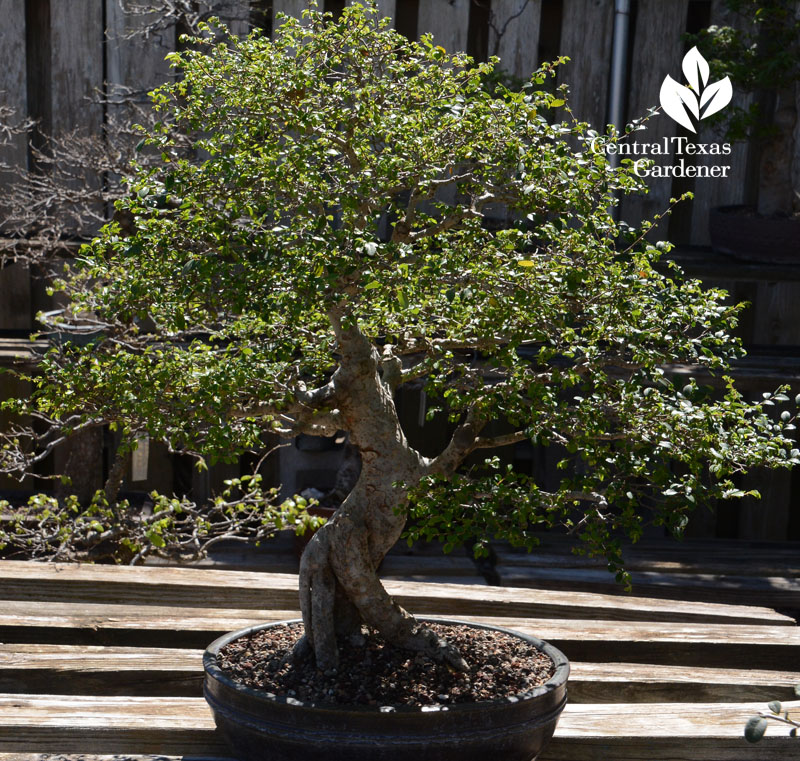 Elaine reserves her greenhouse for plants that aren't winter hardy in Central Texas. In warmer climates, they could live outside, too.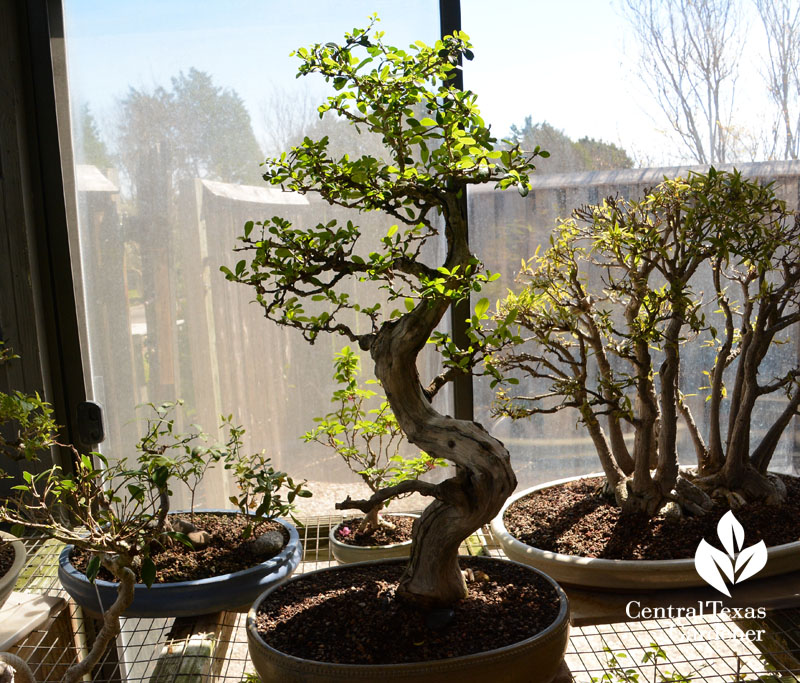 Jonathan Wood steps us through training a plant cultivated from the wild from a litter-box type container to ultimate show container.


A man of many talents, CTG "deputized" Jonathan as TV grip when he jumped onto a lighting stand that threatened to topple in high wind. On official bonsai duty, he demonstrates how to mix the right medium to avoid root rot.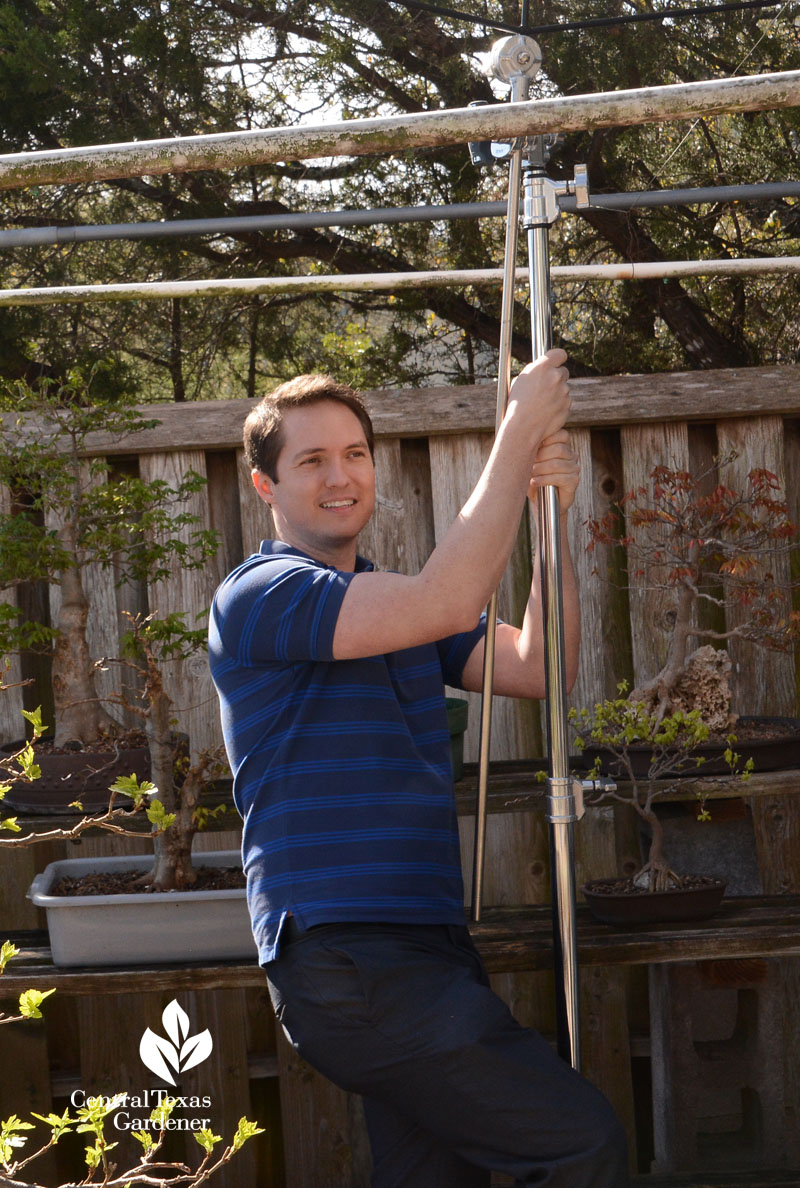 Almost any plant can be trained as a bonsai.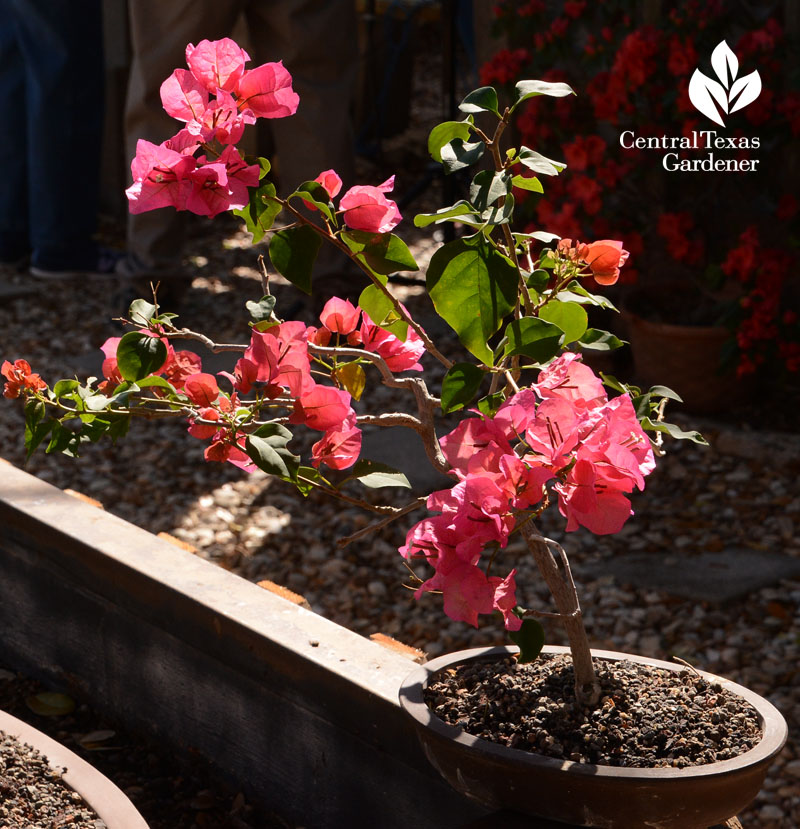 The Austin Bonsai Society even rescues boxwoods that gardeners discard. And through The Texas State Bonsai Exhibit, they foster heirloom plants when owners can no longer care for them.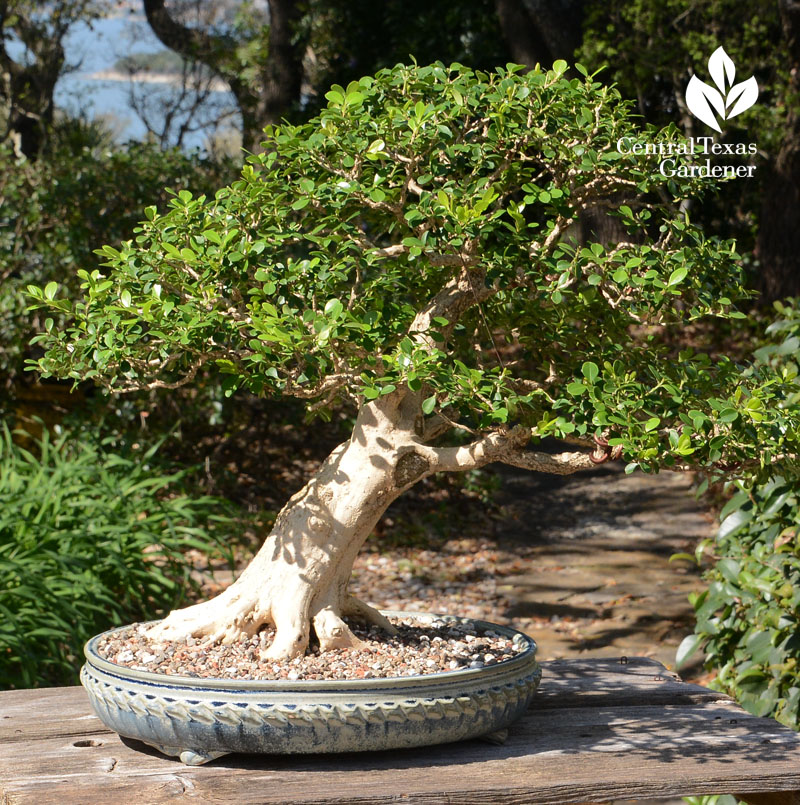 Joey and Jonathan explain how they wire branches to train–sort of like having braces on your teeth!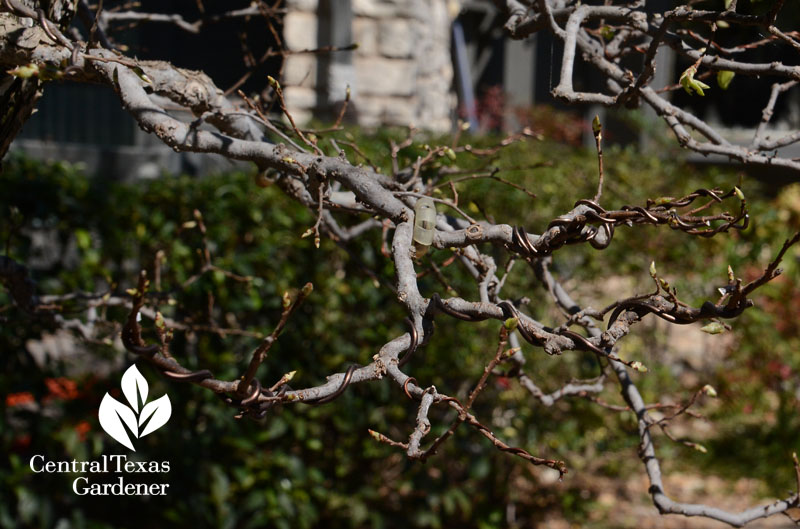 I adore Joey's photo of a Confederate jasmine bonsai.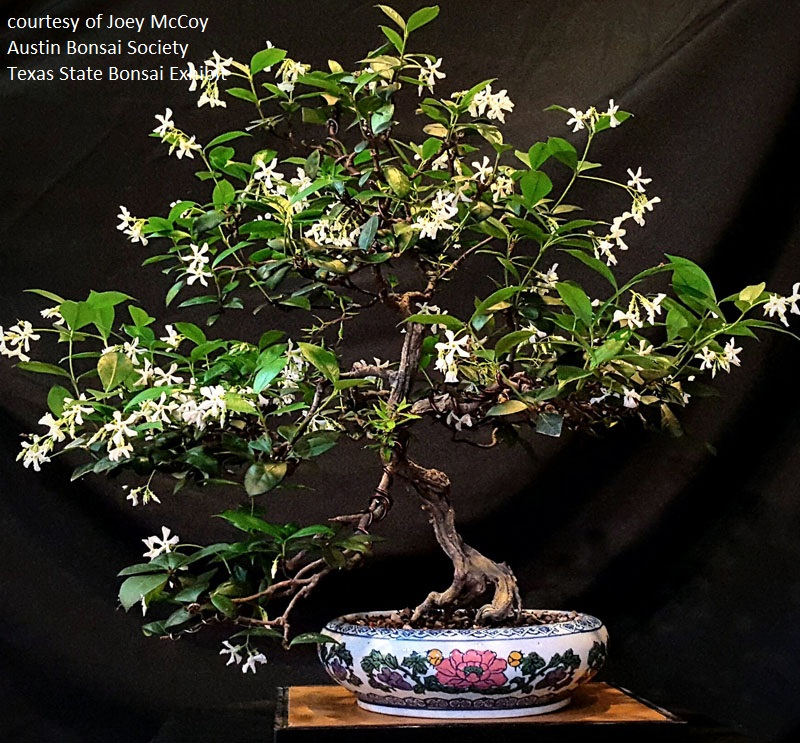 "When you work on your bonsai, everything else disappears, all the worry, all the fret. You focus on this living piece of art," said Zel Heaney of Countryside Nursery and Landscape.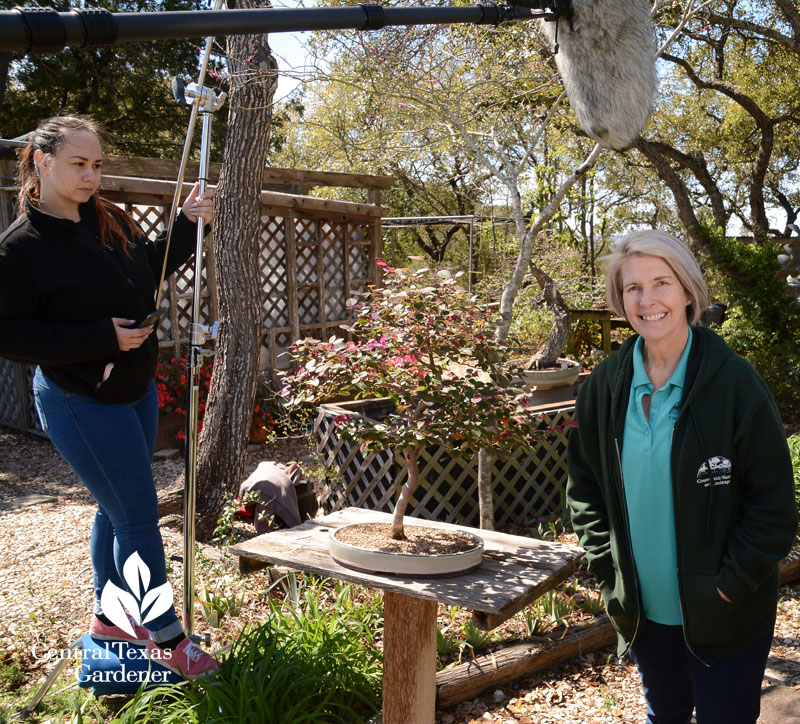 At Austin Bonsai Society meetings (and on their website), get hands-on tips to grow your own.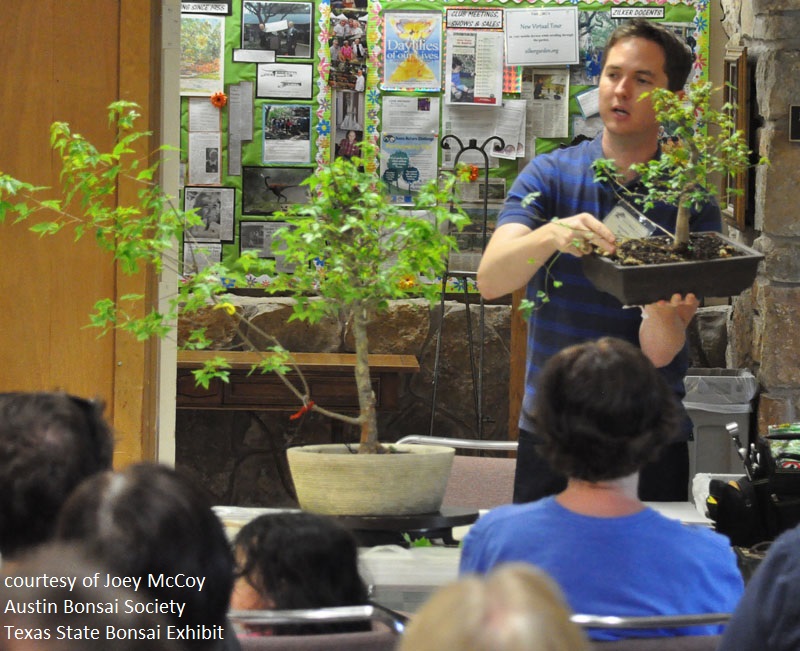 And mark your calendar for their 46th Annual Show & Sale on May 20 and 21 at Zilker Botanical Garden.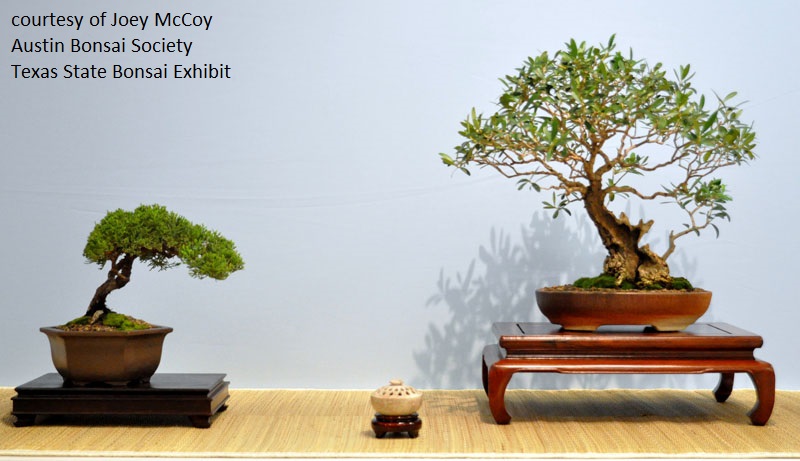 You can also find them on Facebook and Instagram!
Watch now for the whole story!
And thanks for stopping by. See you next week, Linda
Comments