June 22, 2017
For some of us, sheds are where we plunk tools, rock-hard paint brushes, Christmas lights, and "that stuff" we're sure we'll need someday. Shed politics can sure disrupt family harmony: "What! You're throwing THAT out?"
When Barbara and David Hale united two sheds/garages in holy matrimony, friends pitched in to build David's "he shed" for woodworking tools.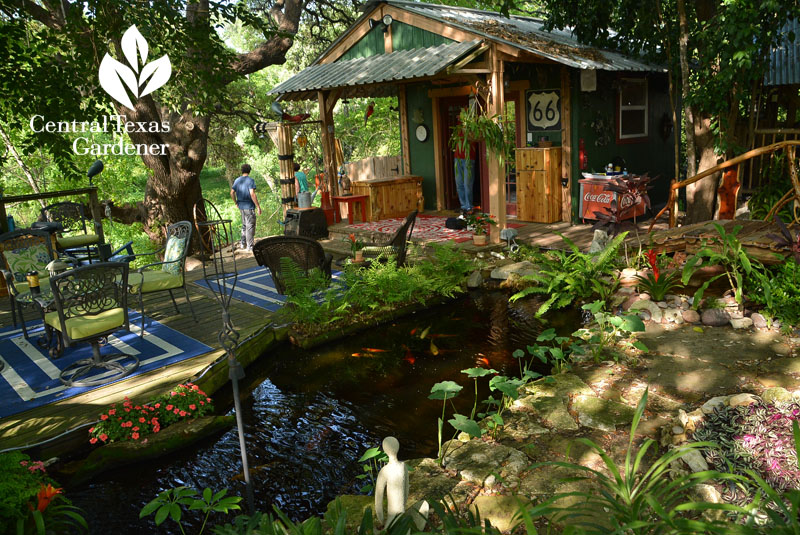 That worked out pretty well, since David's always fixing up the house and building things for the garden. Barbara charmed up the pooch porch (when she's not building things, too).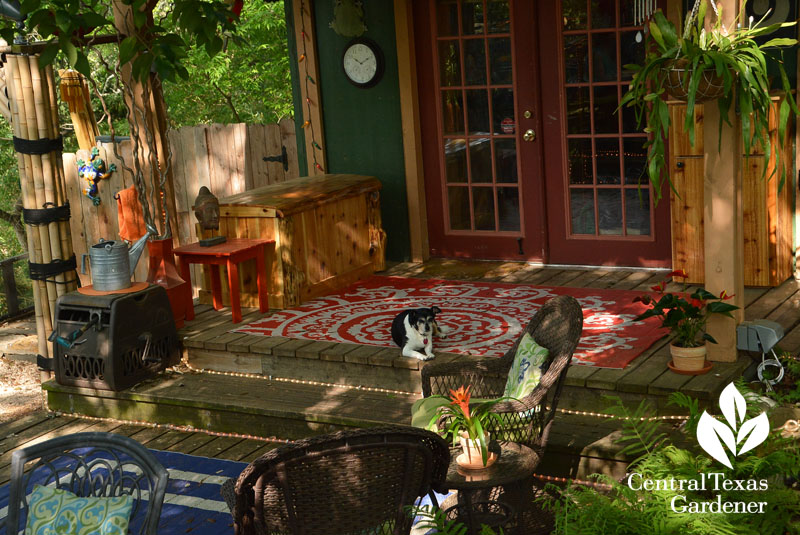 In their tiki hut, David crafted the ceiling with a neighbor's bamboo. This is where you'll find Barbara after a long day, reading and relaxing to the waterfall's lull.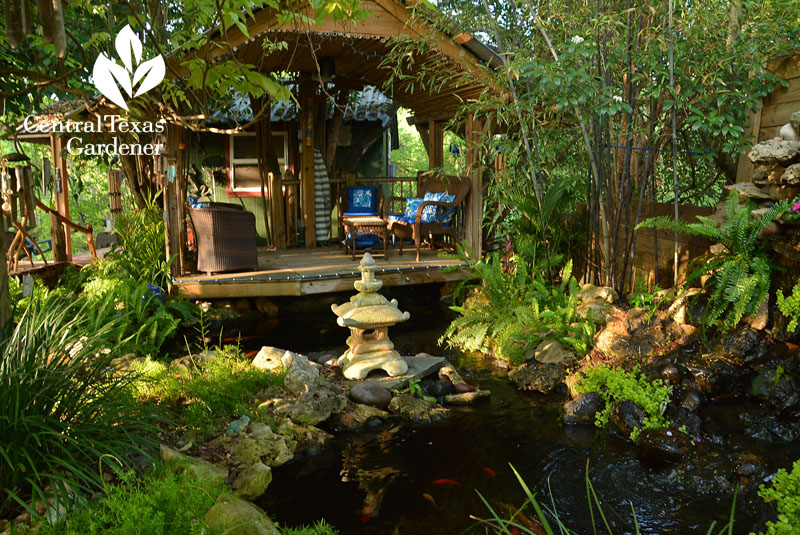 In Bryan, a woman overrun with bamboo styled up her tool shed's utilitarian walls.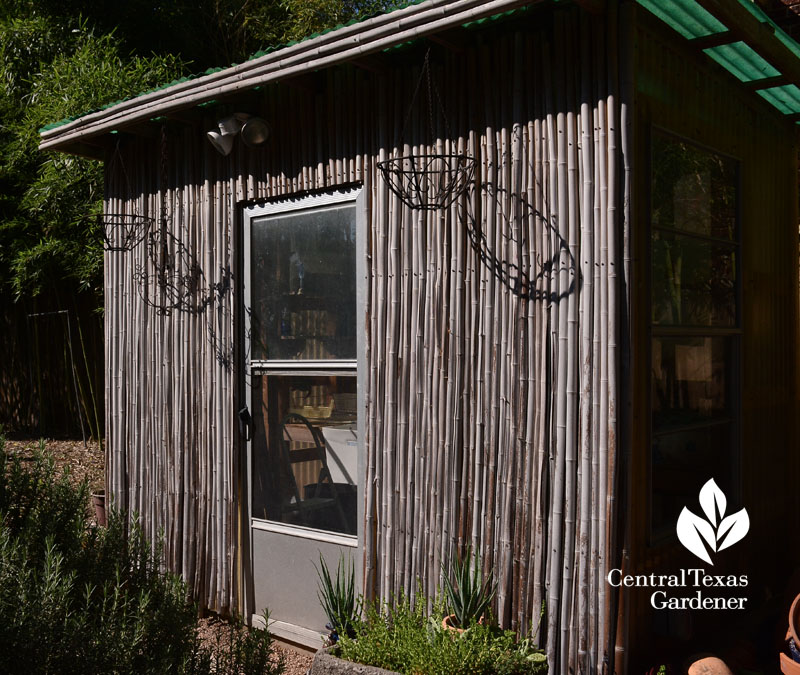 At Community First! Village, a Mobile Loaves & Fishes' planned community for the formerly homeless, creative volunteers scavenged wood for this cute shed which houses incubating chickens.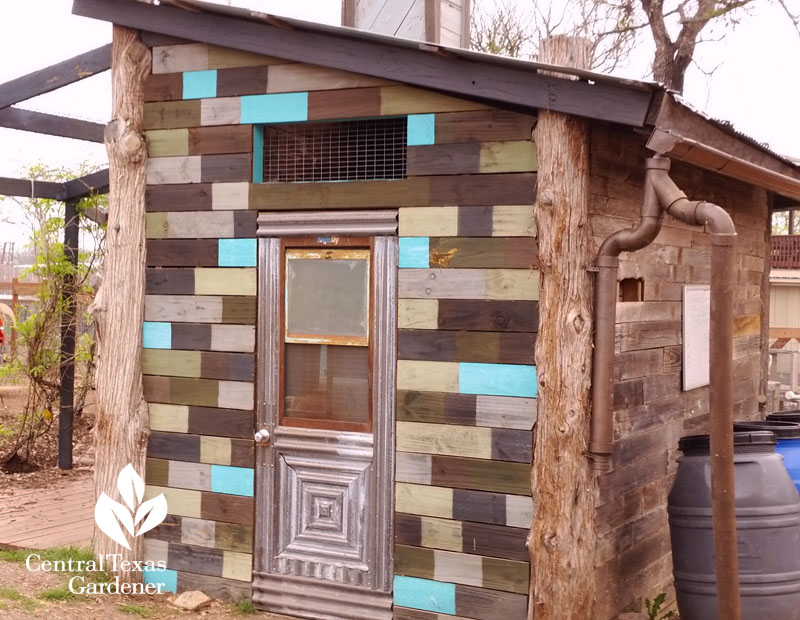 Over in Lytton Springs, Alicia and Joe Thornton refurbish castaways at ArtisanbyDesignTx, where some get a pick-me-up in their vintage-style shed until someone picks them up.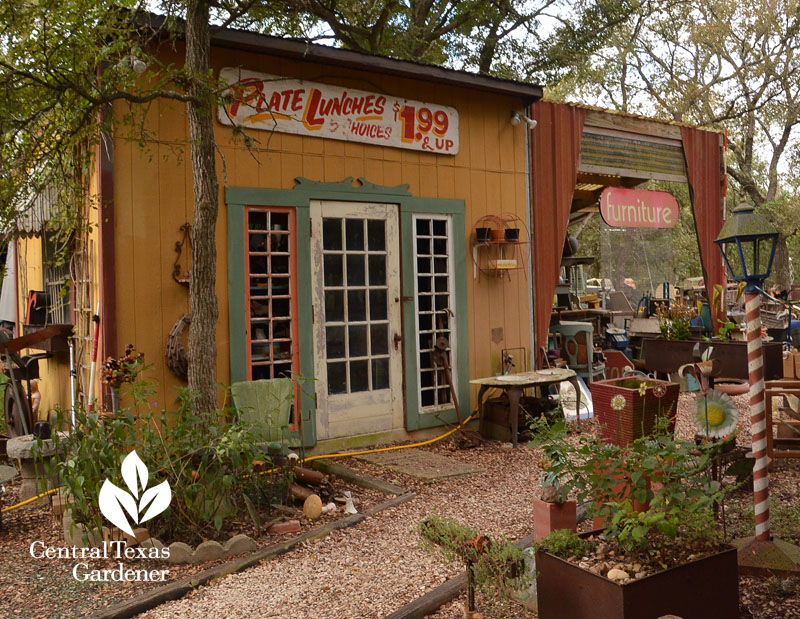 Liberty Hill gardeners, Alicia Froelich and Paul Ortner, hit the jackpot on craigslist and reclaimed materials store to build a greenhouse that multi-tasks for storage and homey living room.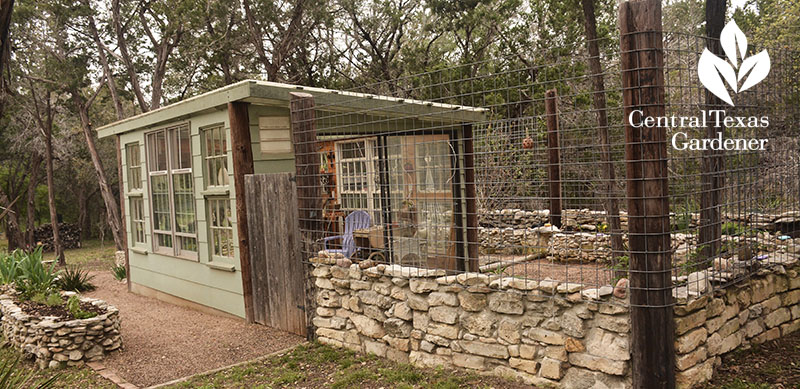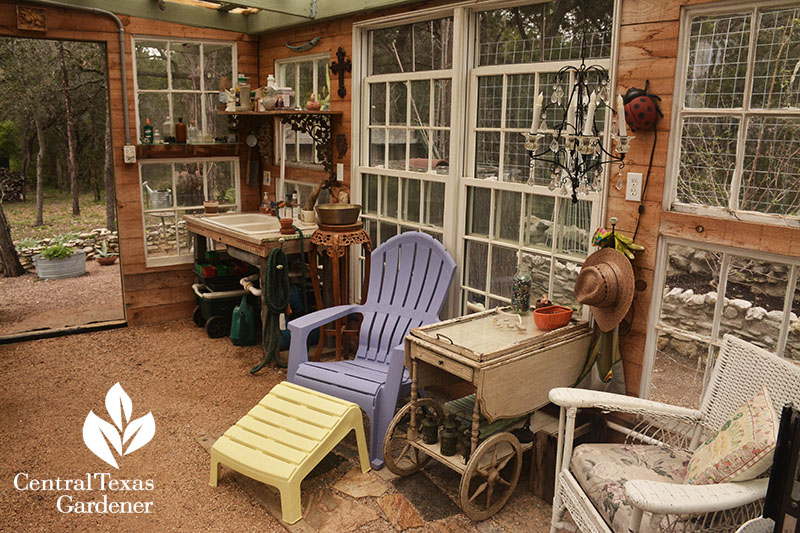 With Habitat for Humanity finds and rocks from their property, Dani and Gary Moss built an English-style conservatory, complete with stained glass they crafted.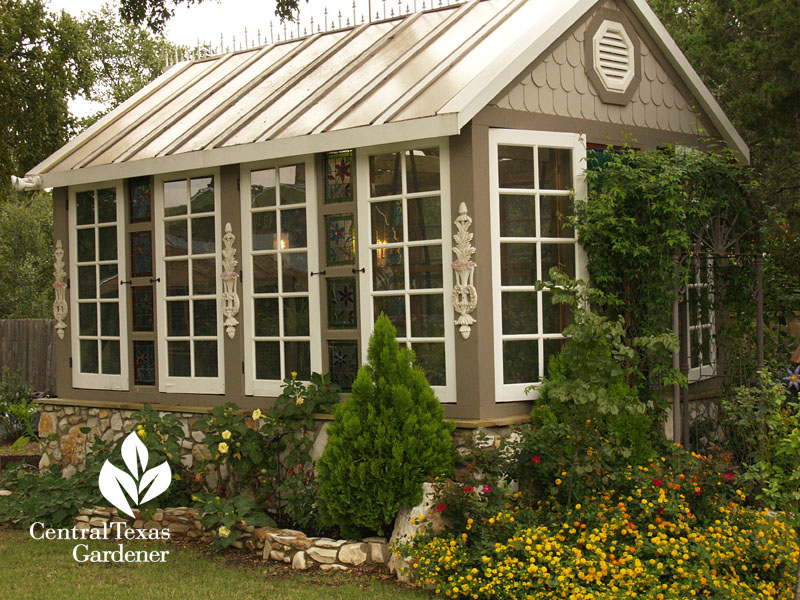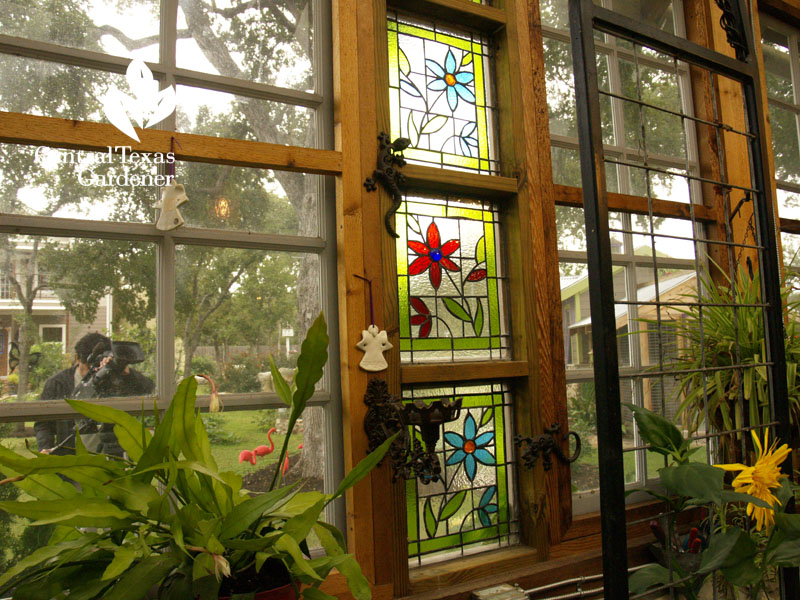 When they built their cute and hen-safe "Chicksville" chicken coop, they included all the human amenities within its sturdy walls and foundation.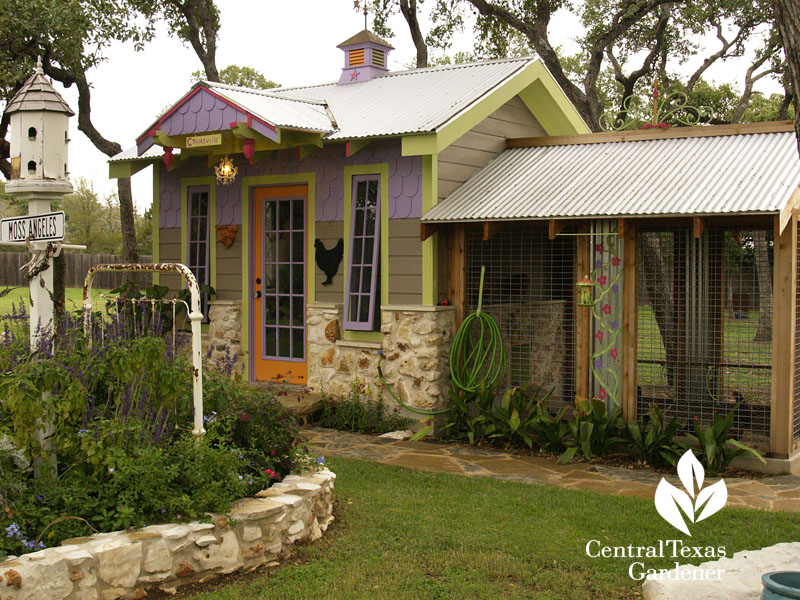 Since more adventures beckoned them, they anticipated its future life as guest house, studio, or charming backyard getaway. Indeed, they've now moved on.
For kids, a shed means clubhouse! Who doesn't want a tiny "house" that's all your own to house your dreams?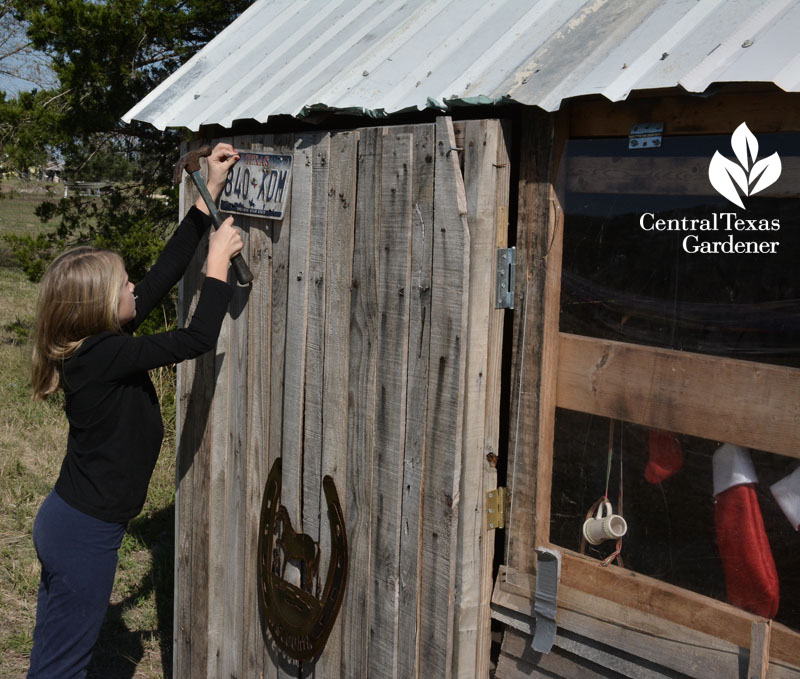 She Sheds author Erika Kotite totally gets it.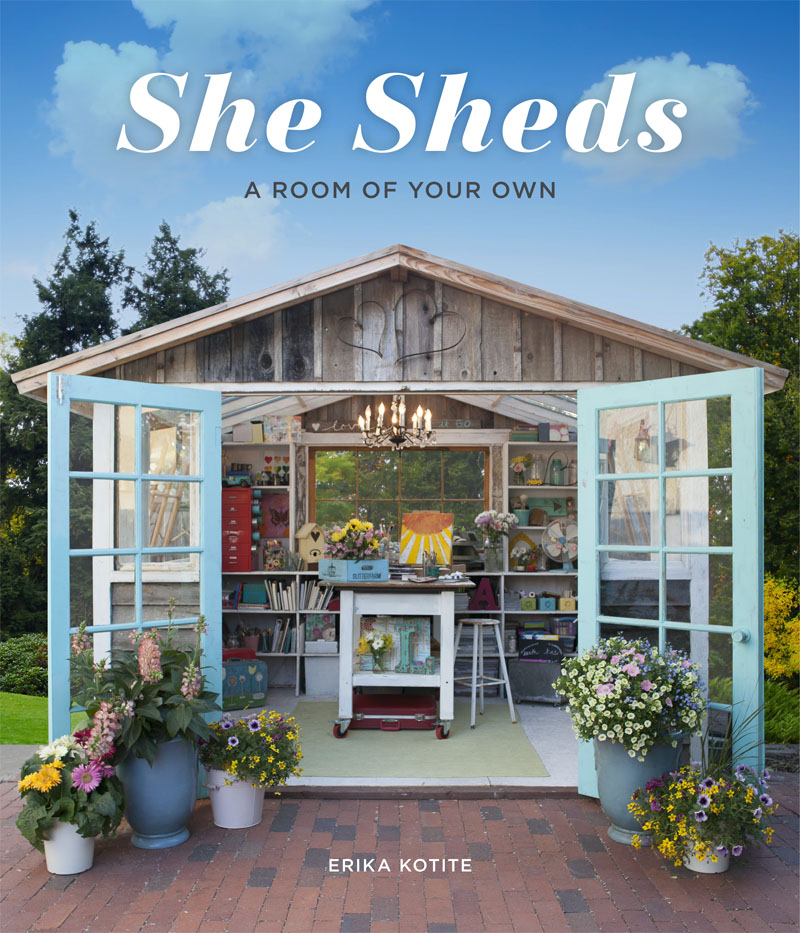 This week, Erika joins Tom to put a new spin on sheds! Whatever your style—shabby chic, modern, classic, jazzed-up or toned-down—discover lady lairs, art studios and even garden sheds to inspire a room of your own.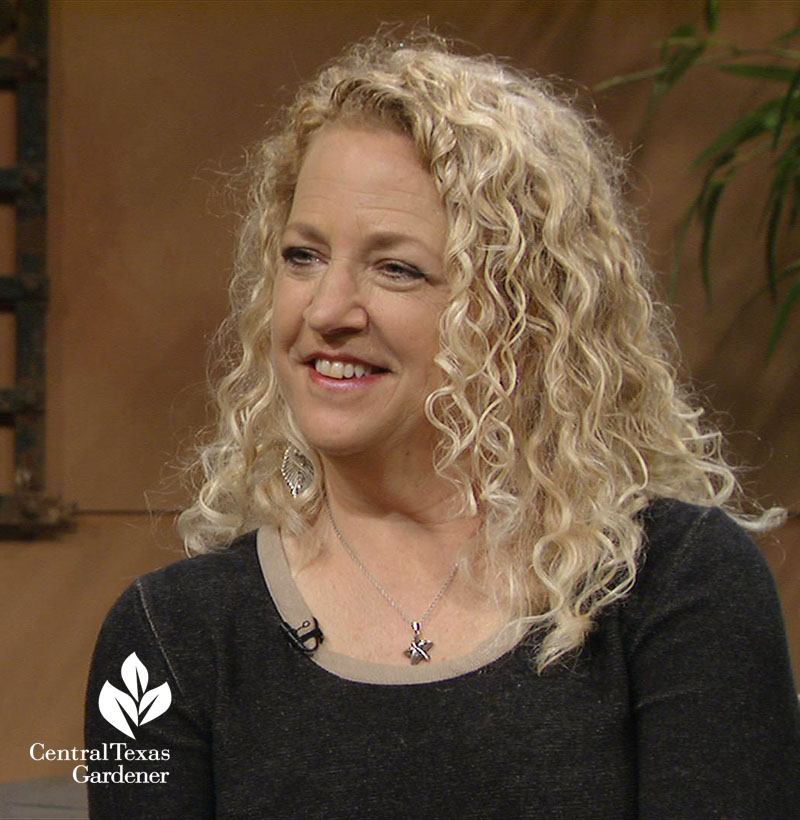 She sheds light on the stories behind outdoor rooms in the U.S. and England, from how they're used to how they were built.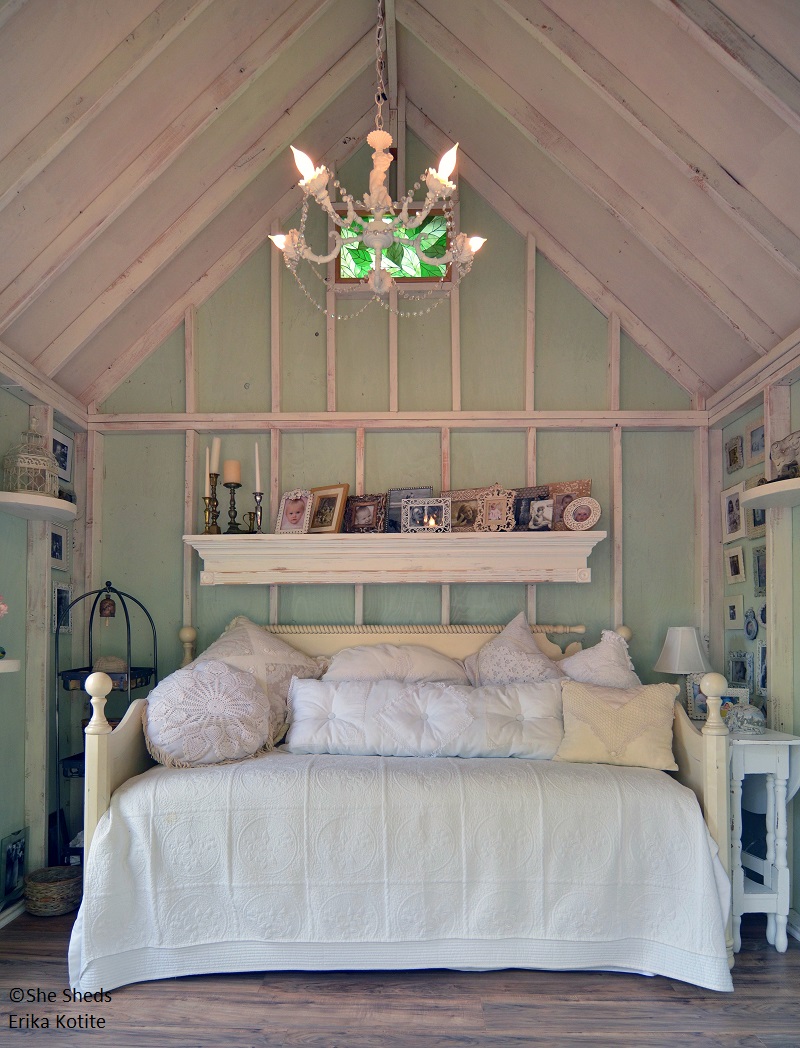 A confirmed DIY-er, Erika includes step-by-step details to build a She Shed from scratch. Get that drill out, but first, watch now!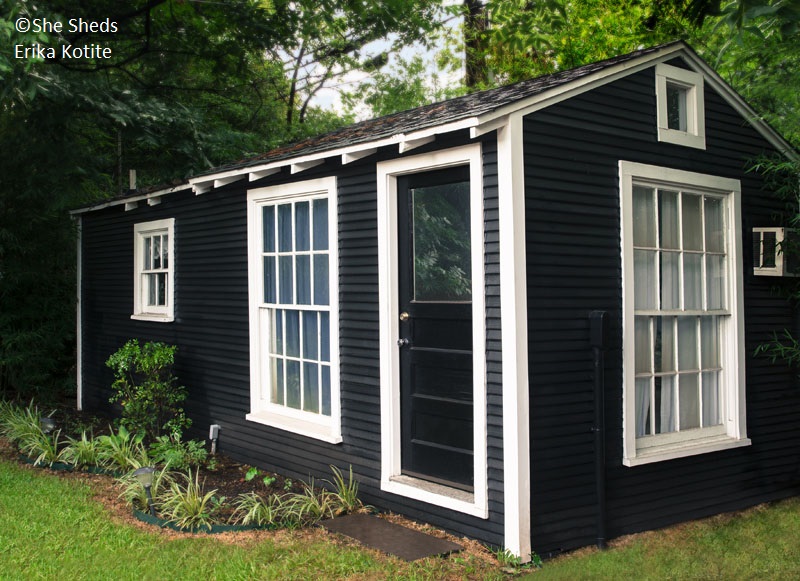 Dynamic duo Trisha Shirey and Barbara Wise from Crescent Garden join us again at Lake Austin Spa to doll up containers with those cute things you've got stashed in your shed!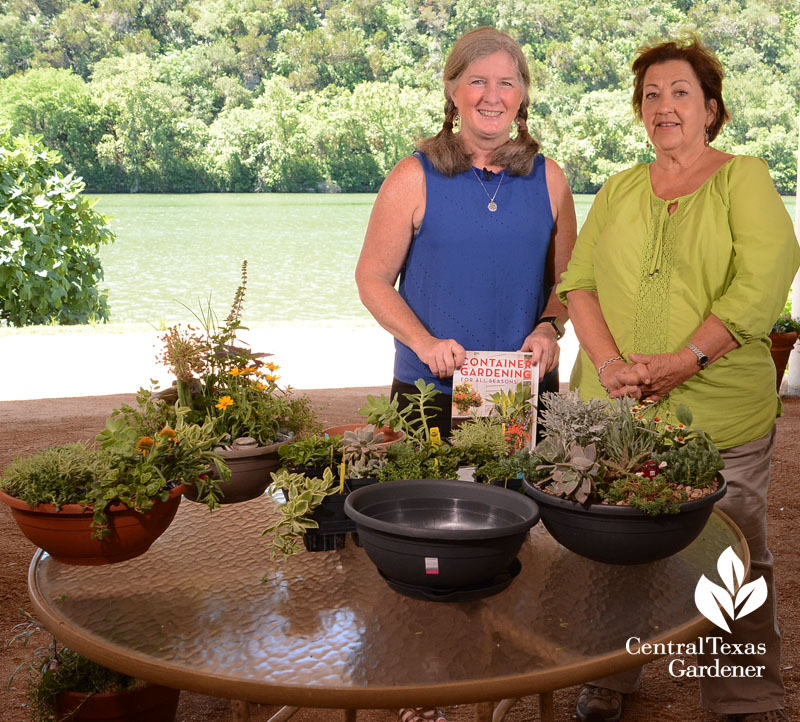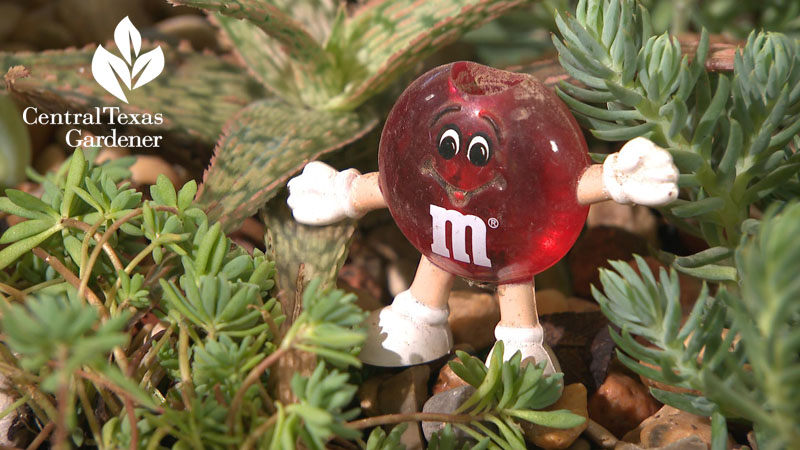 After Trisha topped her cocktail herbs container with wine corks and broken hammer head, Barbara quips, "So, this one is for getting hammered?"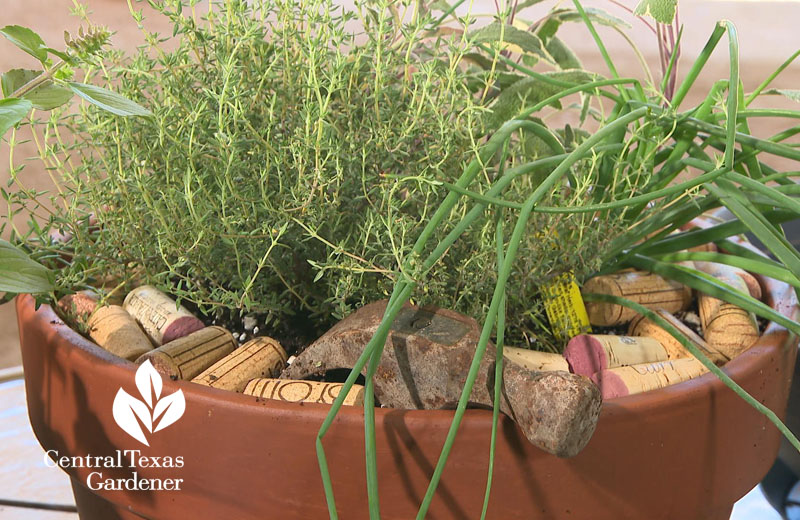 Plus, see how self-watering Crescent Garden containers keep your plants healthy, even when you're busy. Watch now!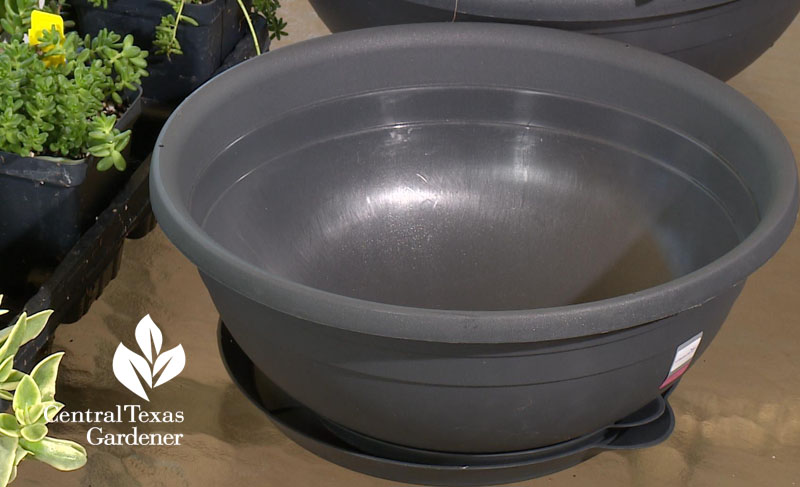 Author, culinary herb aficionado, and vivacious gardener Lucinda Hutson turned her entire miniscule property—inside and out—into a colorful welcome mat for everyone she meets.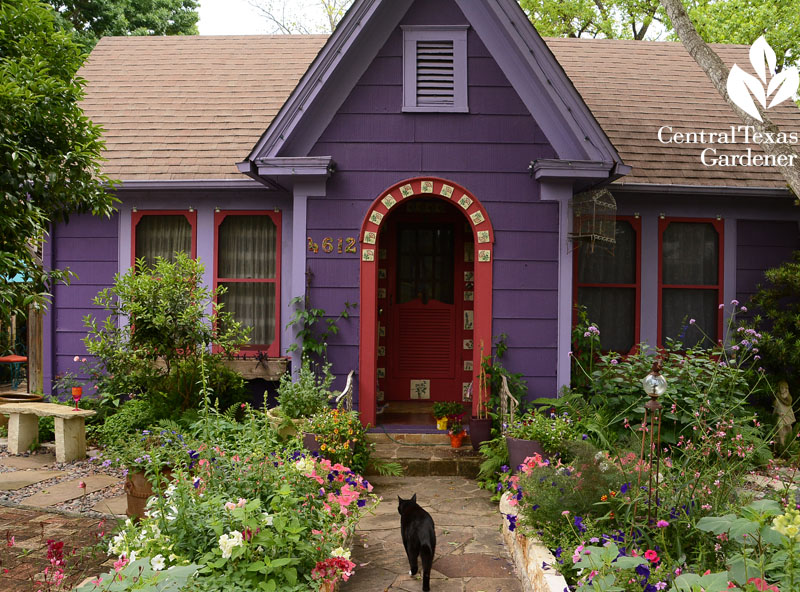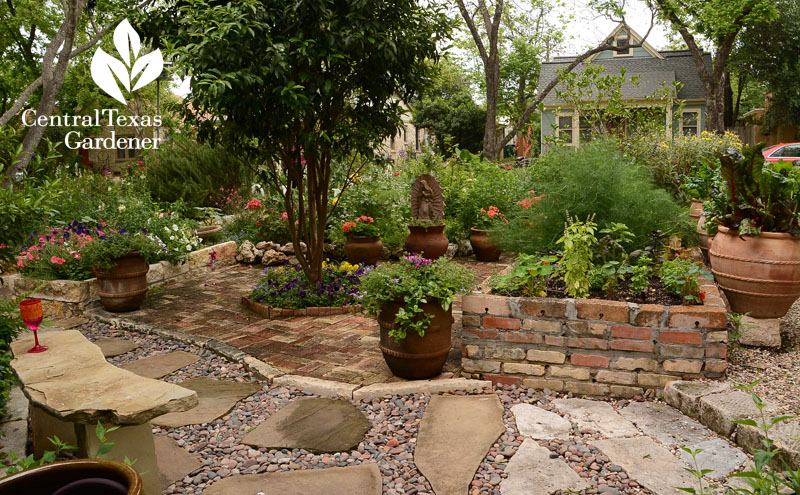 Living in a tiny house meant embracing the outdoors where guests can spill into the spot that matches their mood.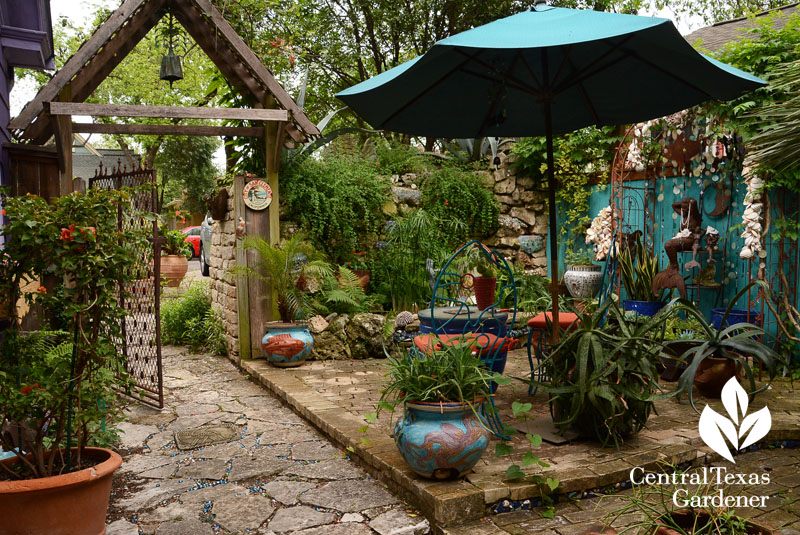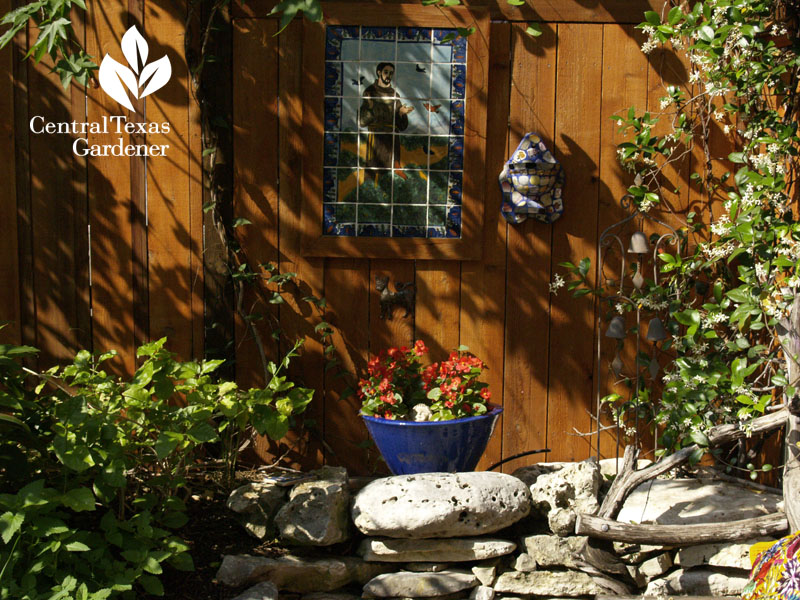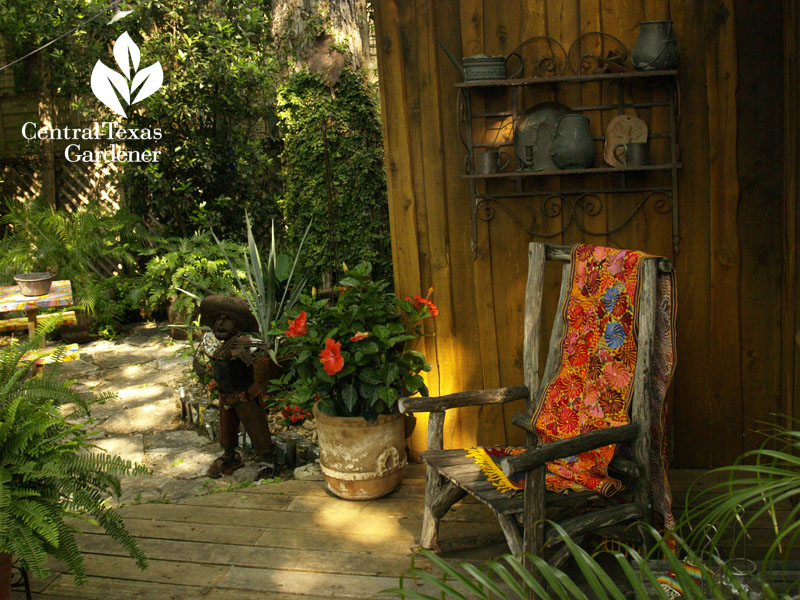 To write her books, blog, magazine stories, and speaker events, Lucinda built a "she shed" office smack dab in the middle of the garden to inspire her effervescent and thorough style.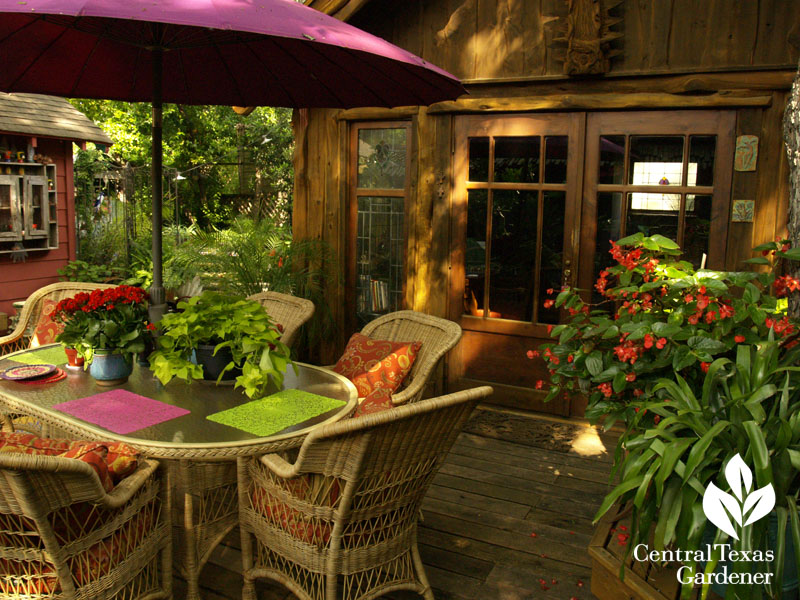 Watch her story now!
Thank you for stopping by! Next week, meet dynamic Ann McCormick, Herb n' Cowgirl. Linda
Comments