May 24, 2018
Entrances to Ideas: Garden Bloggers Fling Austin
From across the U.S., Canada, and the U.K, a gregarious crowd landed in Austin for a royal celebration of our own: the 10th annual Garden Bloggers Fling.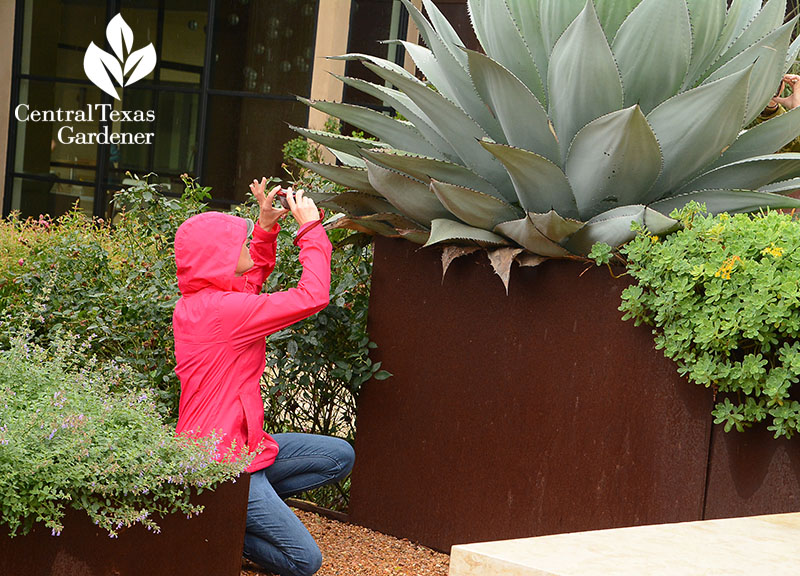 Since 2008, when Pam Penick, Diana Kirby, M. Sinclair Stevens, and Bonnie Martin brought together 37 bloggers for the inaugural "Spring Fling," it's grown to over 90 bloggers, authors, designers, horticulturists and publishers.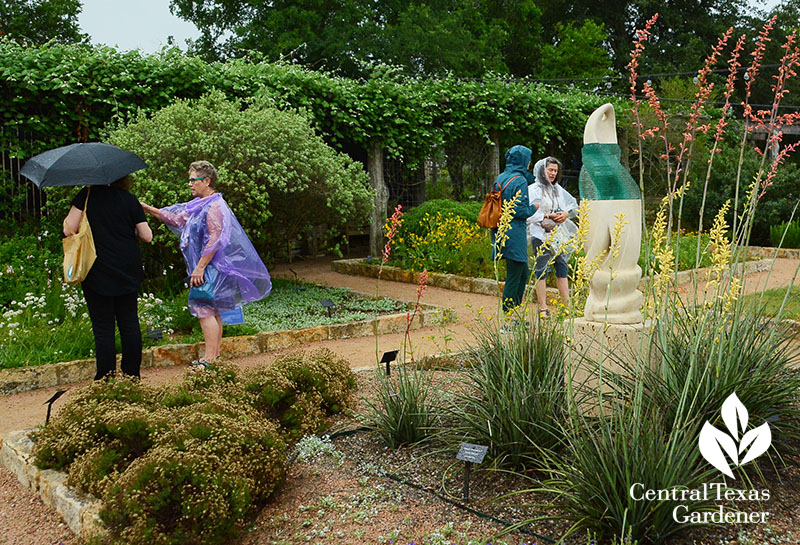 This year, Toronto-based Helen Battersby of Toronto Gardens hams it up in designer B. Jane's garden.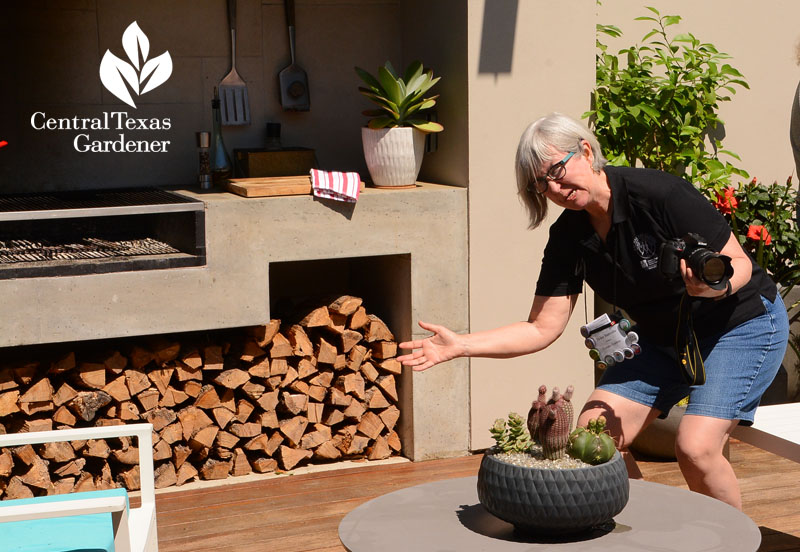 Raindrops didn't deter David Cristiani of It's a Dry Heat  (New Mexico) and Stefanie Gilmour of See Jane Dig (Michigan) at the Lady Bird Johnson Wildflower Center.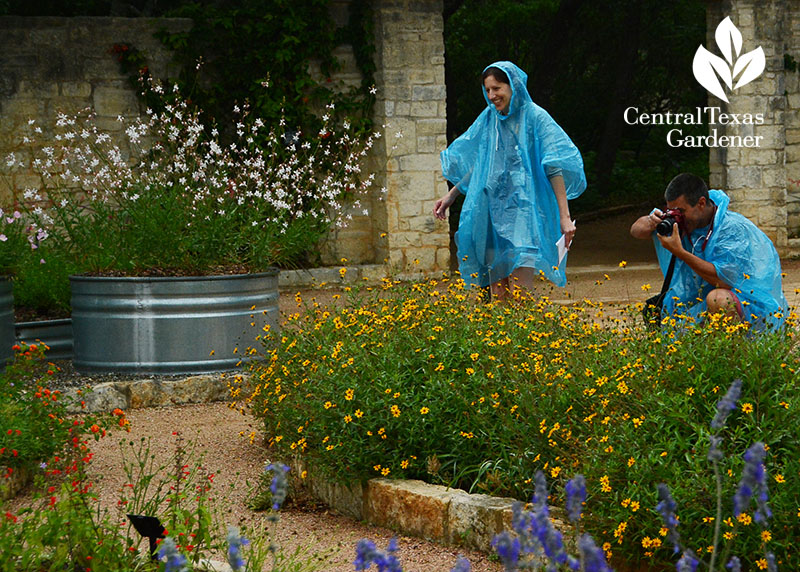 Texan Andrea Fox of Transplant Studio and Helen Johnstone from Malvern, Worcestershire, United Kingdom (A Patient Gardener) catch up on news on Pam Penick's comfy, colorful patio.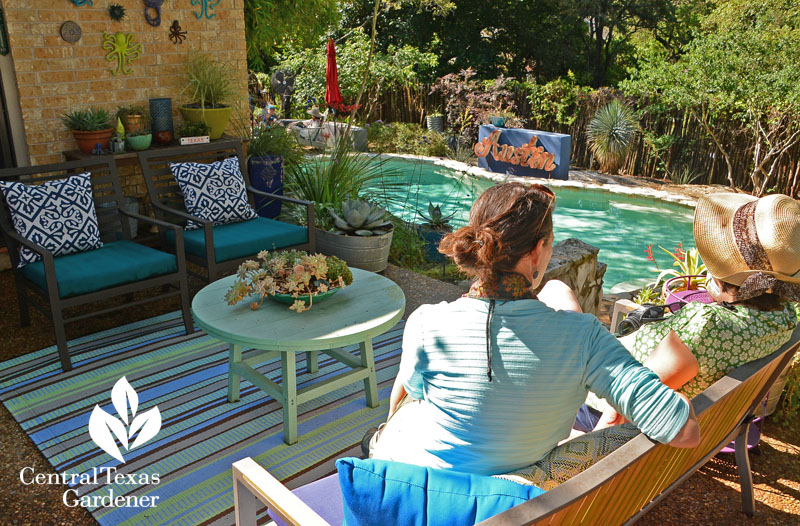 Austin welcomed our guests from rainier lands with an open arms chilling thunderstorm that didn't dampen warm camaraderie. Gardens of the Wild West Idaho gardener Mary Ann Newcomer revels in wild conditions!


I'm still warmed by meeting new friends and catching up face-to-face with ones I've known for a few years. One thing that struck me, as it did others, is how entrances, revealing windows, and patios enrich designs, wherever you live. At the Lady Bird Johnson Wildflower Center, levels of native plant dimension collaborate with architecture.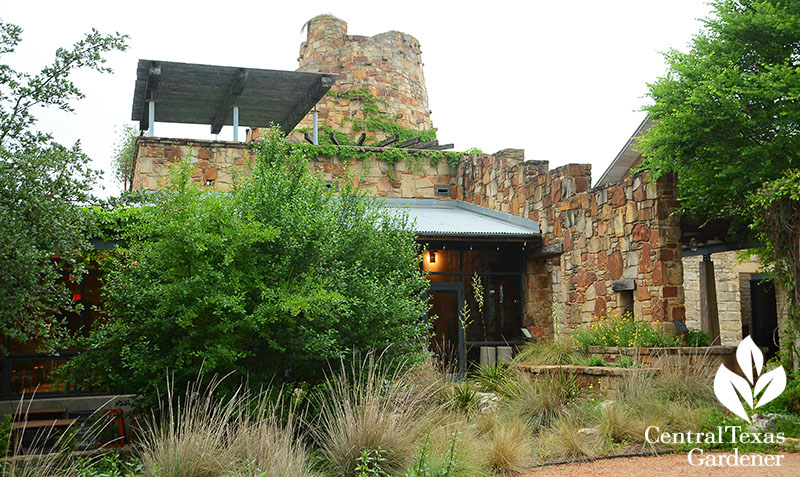 Windows cut into limestone cleverly reveal how to unite shady and sunny spots. Just beyond this woodland garden, sunlight (usually!) falls upon DIY demonstration gardens.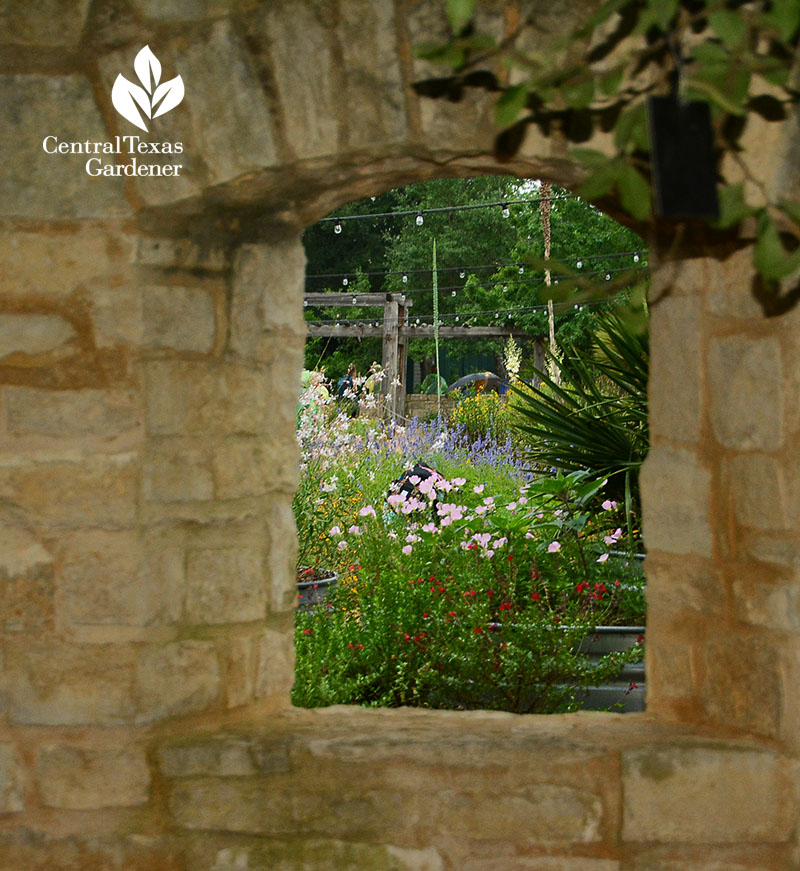 Jennifer and David Stocker took the rain drops in stride, since England's their native homeland.


In their beautifully walled garden to keep out deer, each partitioned space grows its own personality.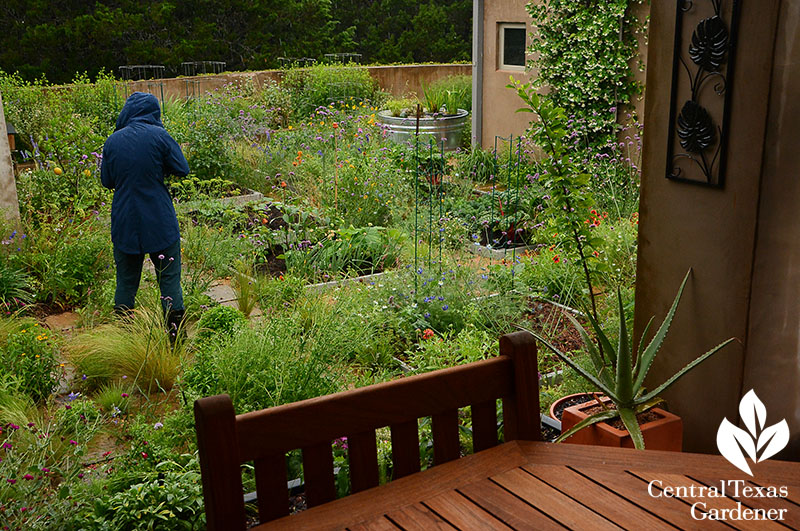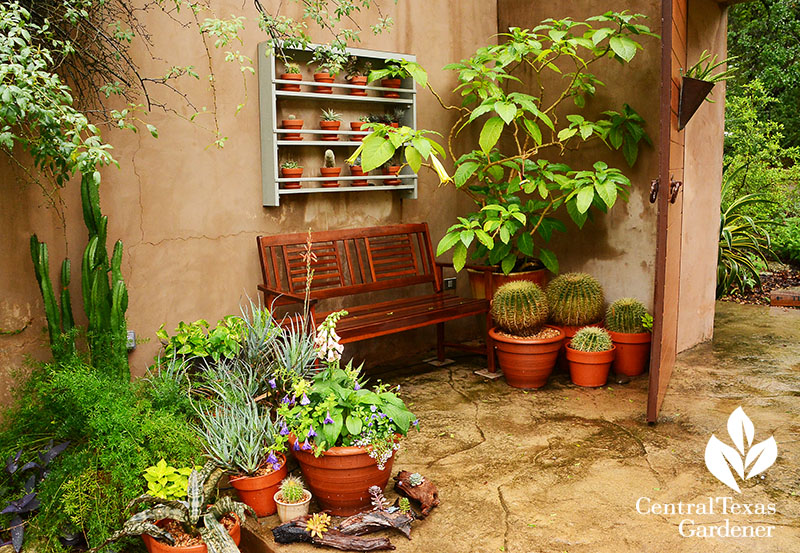 CTG's featured the Stocker's garden over the years, but I love Jenny's Rock Rose blog to follow its seasonal performance and to collect her clever how-to tips.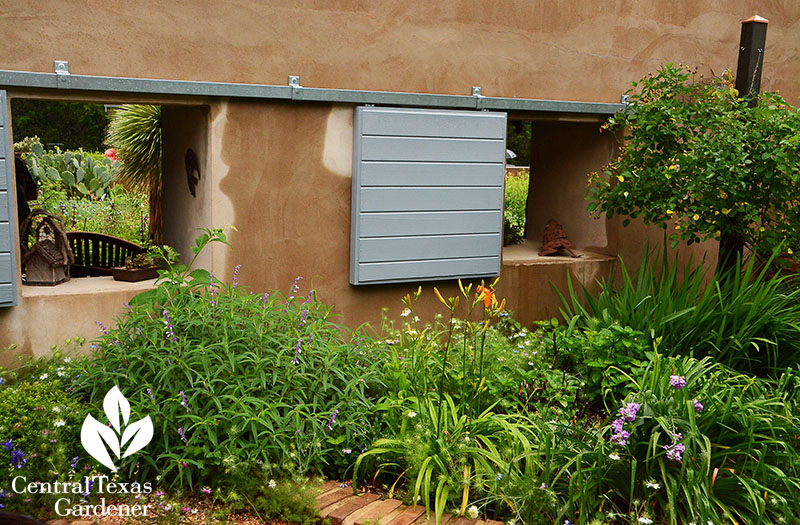 And indeed, we did get the royal treatment with Jenny's bobbing figurine of Queen Elizabeth greeting us at the front door!  Plus, I'm so doing a shell display case like this!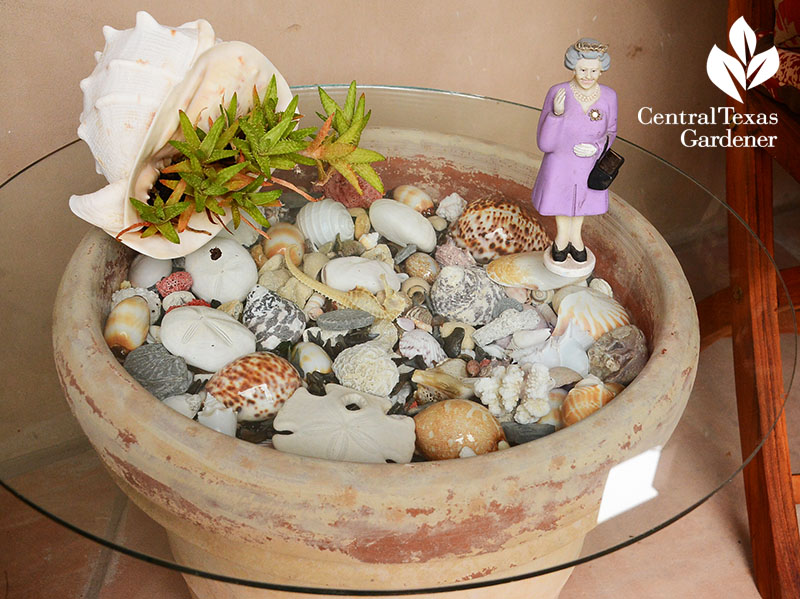 I could certainly live like a queen on Colleen Jamison's front porch.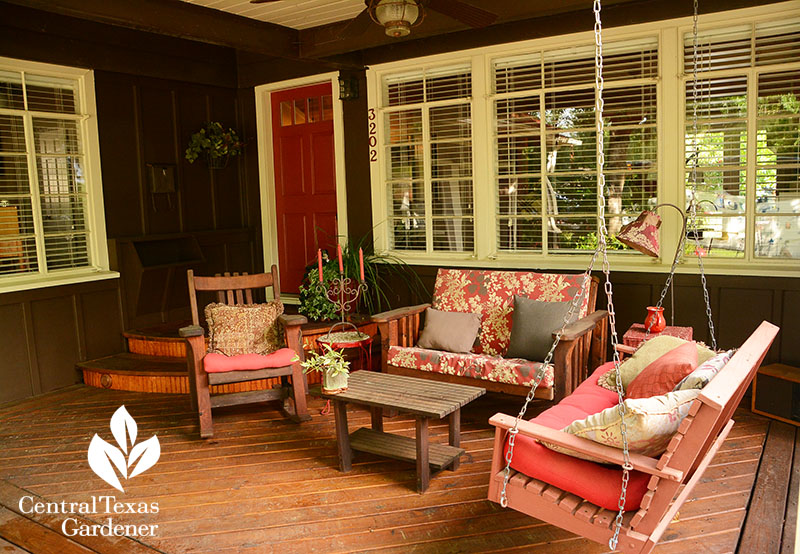 It's impossible to sit there long, though, since there's something to explore around every corner from the oft-neglected side yard to colorful cozy spots to soak up the sun or seek the shade in back.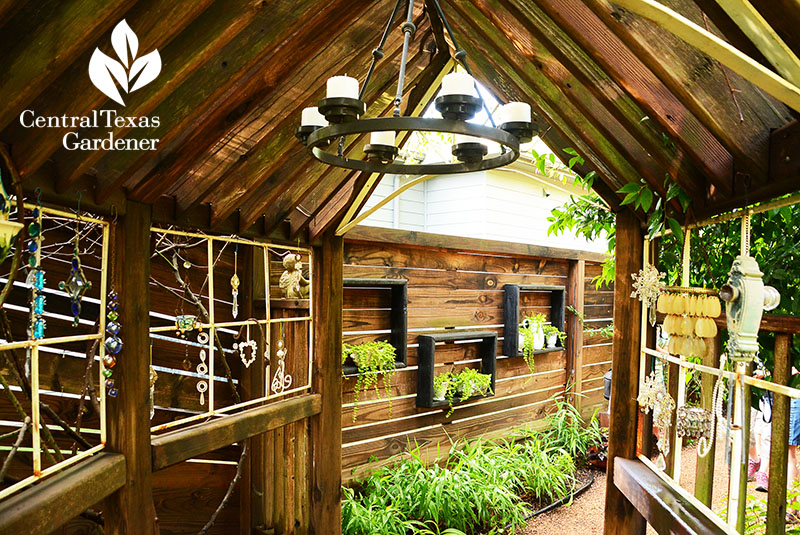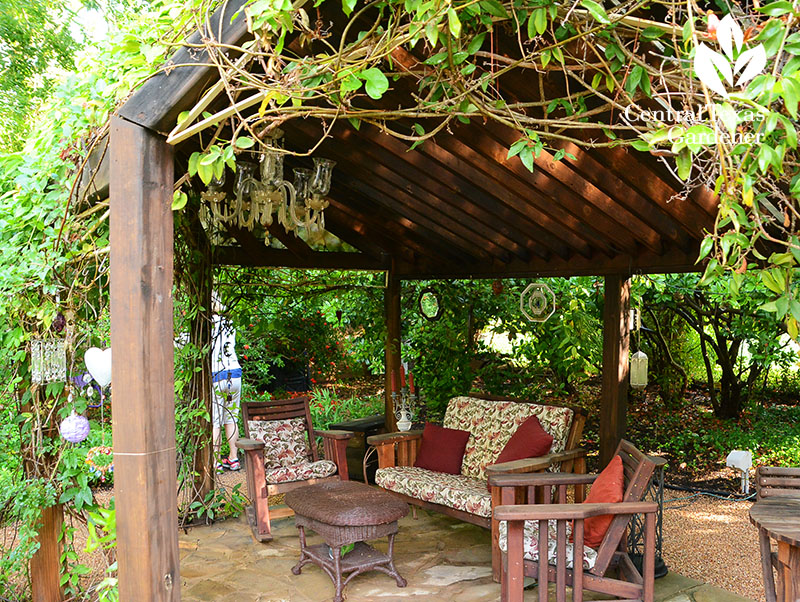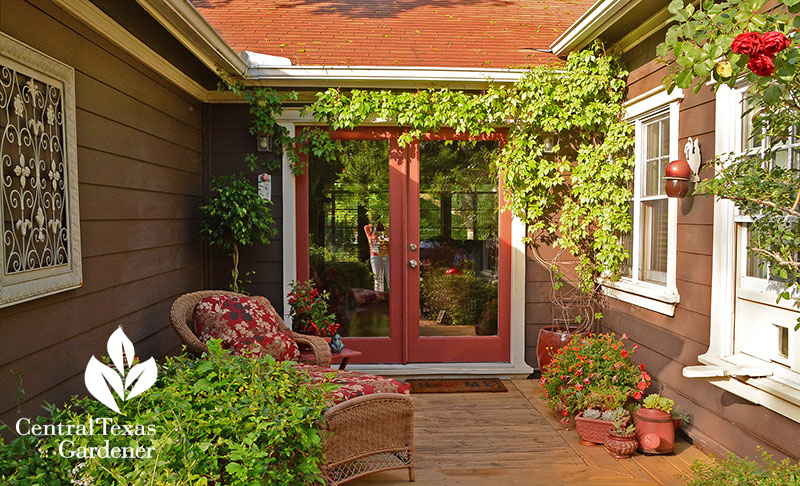 Joyful Lucinda Hutson's been featured on CTG from our first programs, but her radiant smile and hand-crafted doorway captivate me anew every time I see her.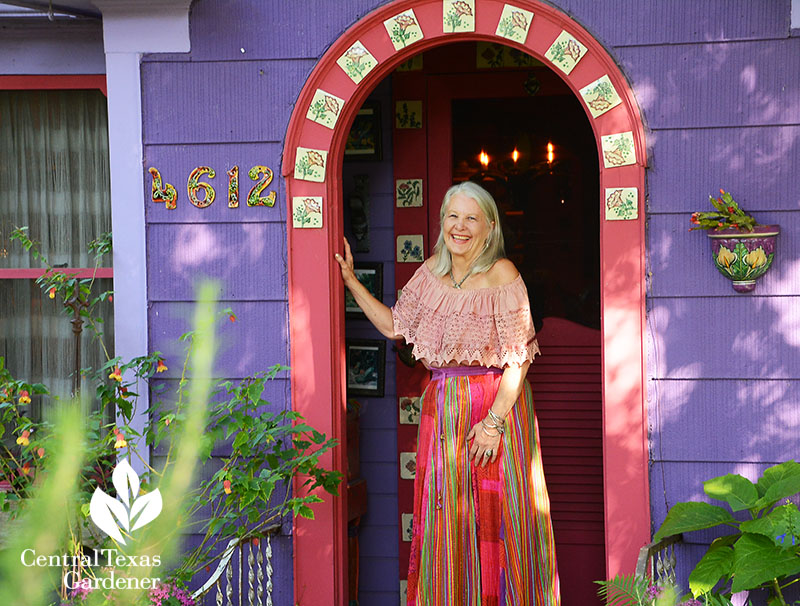 I remember a rainy day long ago when the CTG crew hunkered down in Lucinda's office during a sudden storm, where she tested our palettes with the tiniest bit of exquisite tequila before we ventured (soberly) back out into sunshine. In Texas, the saying goes, "If you don't like the weather, wait five minutes."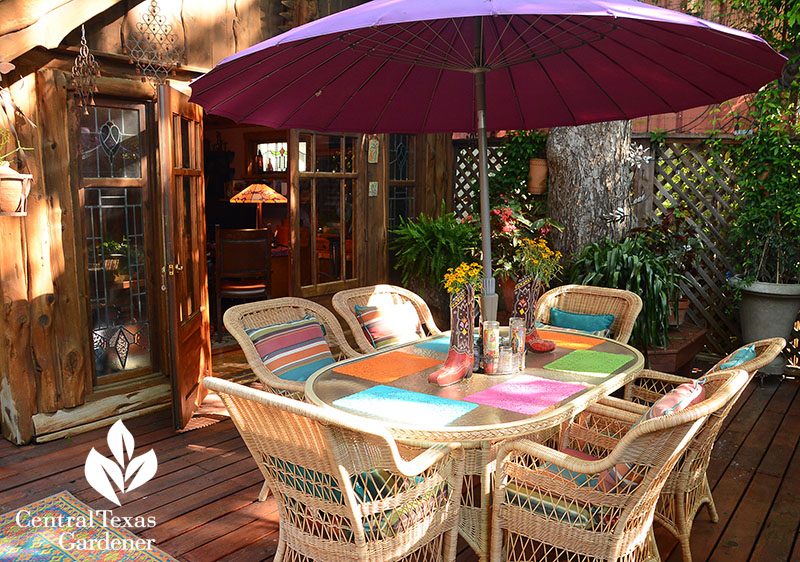 Lucinda's patio color scheme is as vibrant as her personality.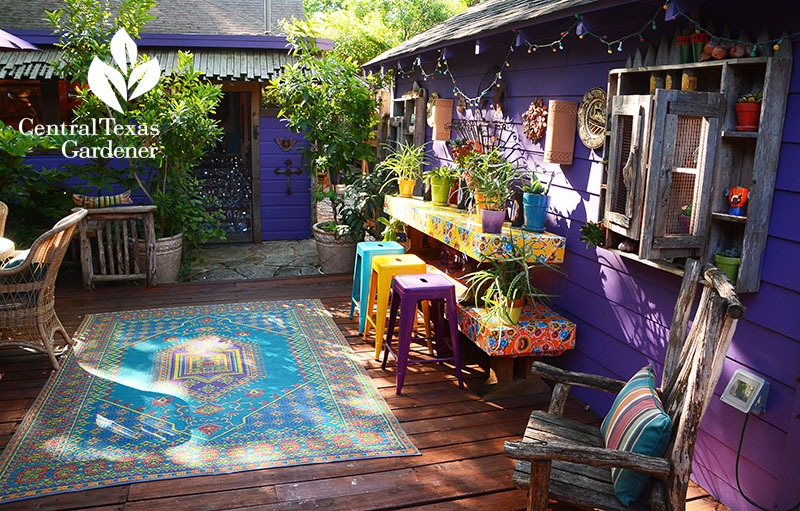 You hate to leave it to go inside, but the mosaic "stairway to heaven" beckons.


In front, Lucinda livens up a gracious stone wall.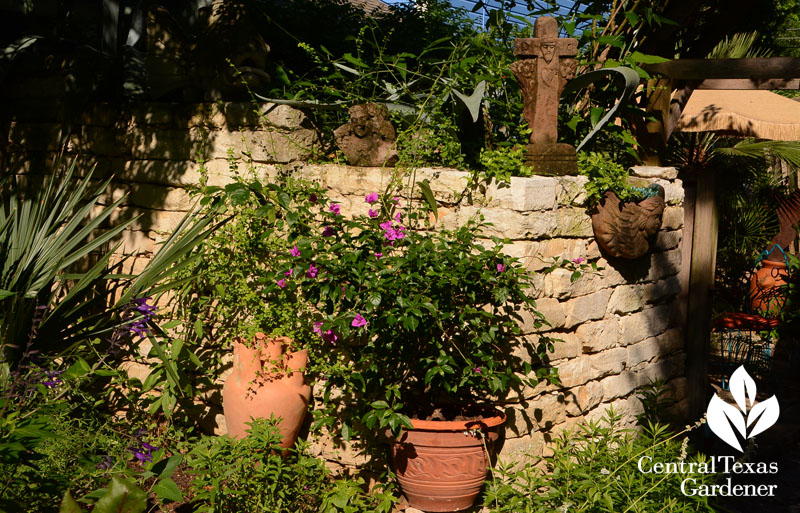 You'll usually find a neighbor or two hanging out in the fragrant patio nook in plucking distance of her salad/herb bar.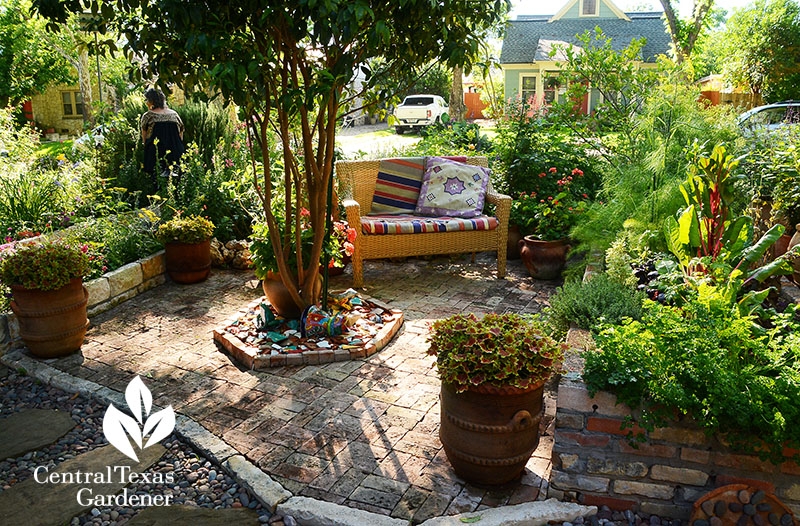 Designer B. Jane's equally small garden designates multiple, colorful destinations. I'll be featuring more on her garden later. For now, I couldn't resist this collaboration of colors, thanks to Wisconsin's Beth Stetenfeld of Plant Postings.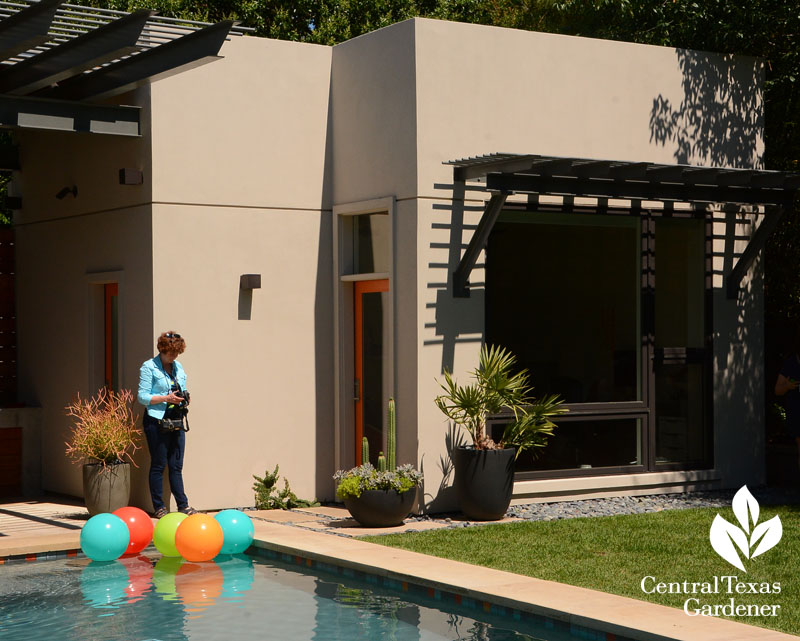 At the Mirador garden, subtle meets bold in this architectural entrance, where hummingbirds may greet you at this entrance topped with red yucca.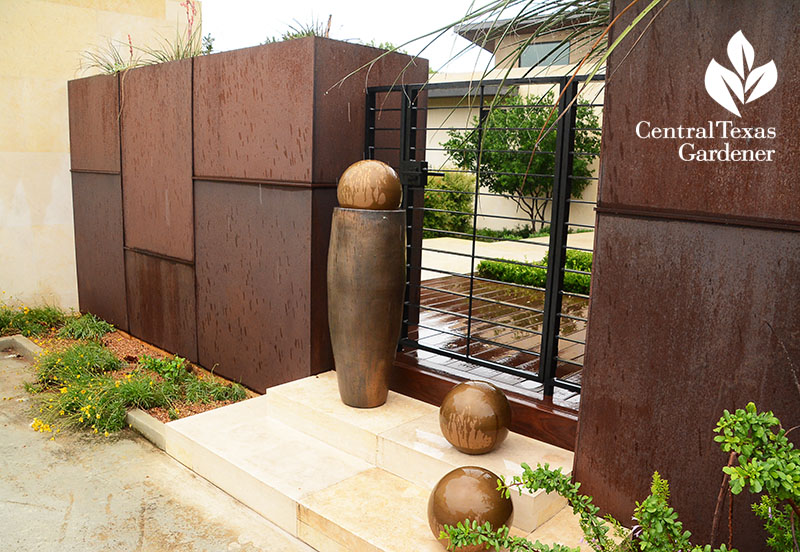 An entrance wall sneaks a preview of the gorgeously stream-lined parterre beyond.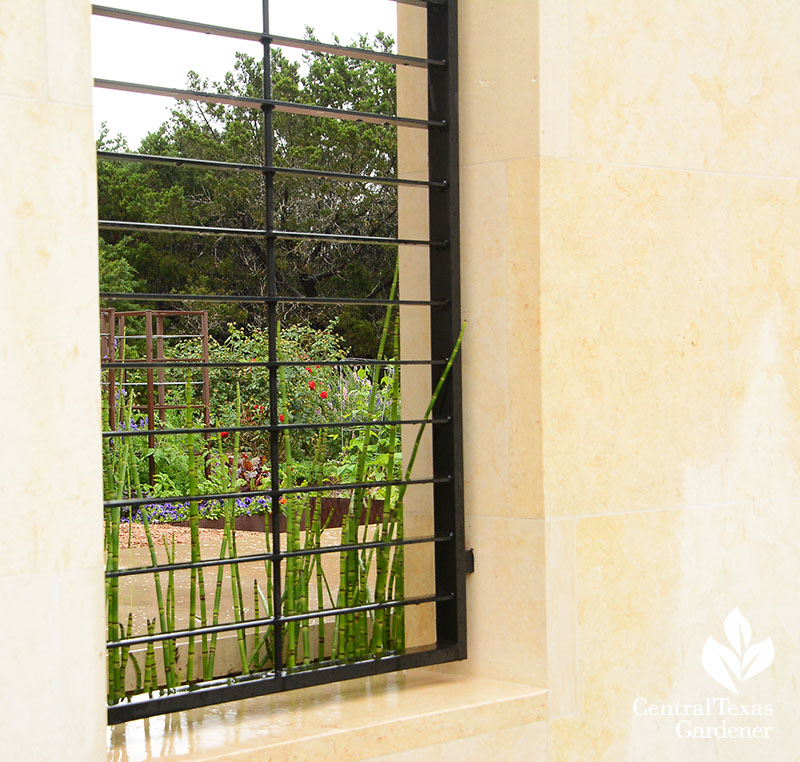 Whatever the weather, a wide, roofed patio commands the broad view, designed by landscape architect Curt Arnette.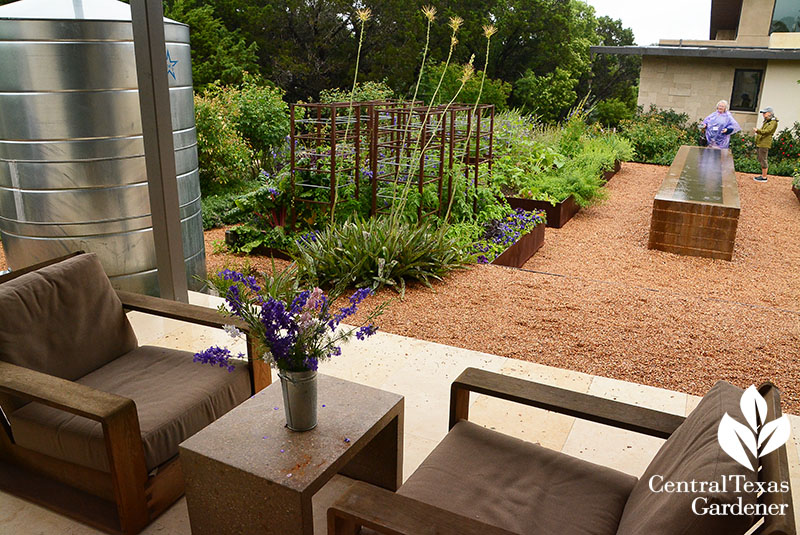 Putting on an event like this takes lots of work! I'm in awe of Pam Penick and Diana Kirby (on the original 2008 Fling committee), joined this year by Laura Willis. Sheryl Williams and and Jennifer Brown also made the 10th Fling an event to remember!
On CTG this week: In case you missed it create structural drama with Tim Kiphart from Far South Nursery and visit a structural small garden complete with pet-friendly backyard and catio for rescued cats.
Thanks for stopping by and see you next week! Linda
Comments