May 17, 2018
Living it Up Pond & Patio Design
My daylilies are putting on a show just for me, but to see over-the-moon lovelies and get tips (and divisions) from local gardeners, head to the Austin Daylily Show & Sale on May 26 at Zilker Botanical Garden!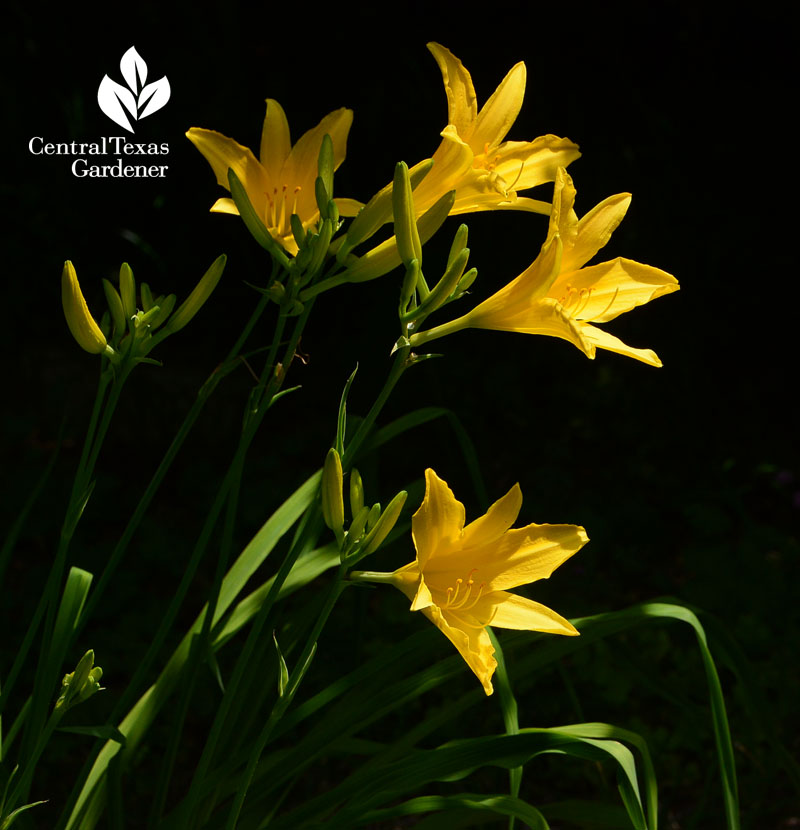 From our viewers: "What's stripping leaves off my hot peppers at night?" Well, recently while taping at La Flaca Urban Gardens, Alejandra Rodriguez Bougton had the answer: roof rats!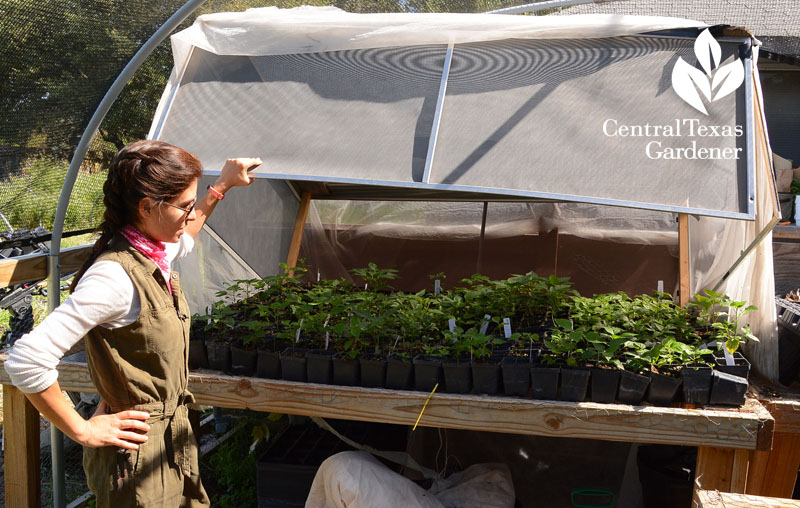 Roof rats simply love hot peppers (even minus the margaritas!) so Alejandra protects young plants under a repurposed screen door hideout. "I usually wait for them to flower once in 4″ pots, prune back the tops with the flowers to encourage strong stems, and once they flower again I plant them out in the field," she says.
Oh, have you seen this in your yard?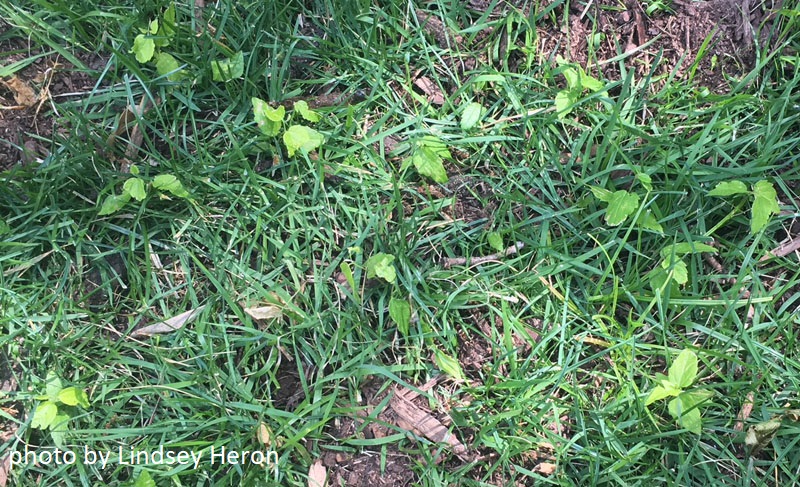 This winter, Lindsey Heron cut down an old hackberry tree and now she's got a bumper crop of seedlings. Daphne tells us: they could be root suckers. Find out what to do about them.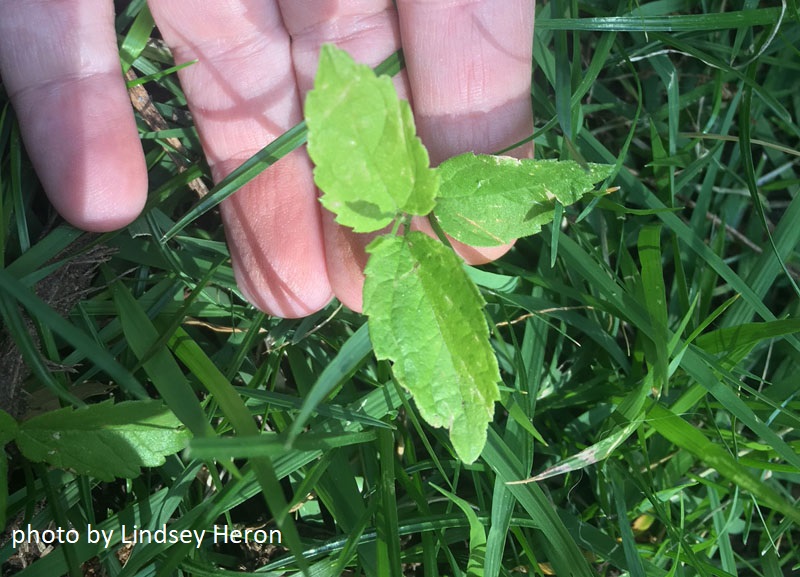 As I've mentioned here before, my best new friend is an inexpensive tool, Lawn Jaws, which can tug out my hackberry and pecan roots even a foot long when soil is moist. Watch Trisha's demonstration.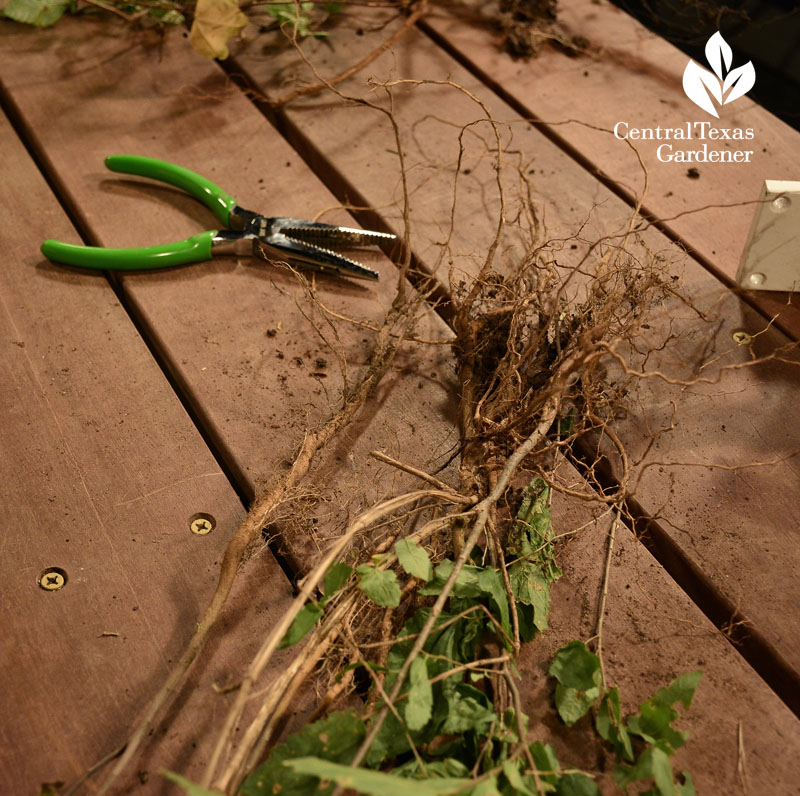 And this week, Trisha's got tips for naturally dealing with pesky slugs and snails (that also chomp peppers and whatever else in their little tracks).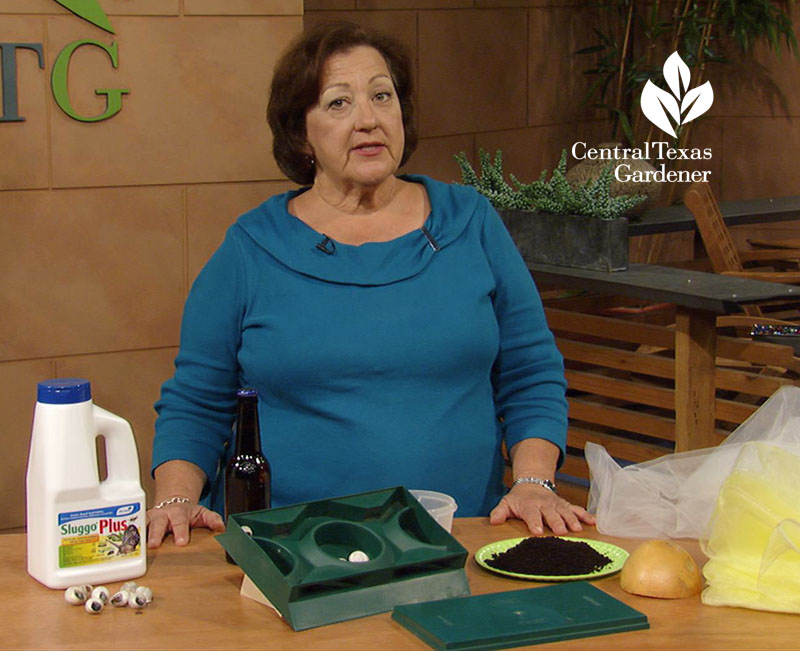 Wildlife we do want in our gardens love ponds, streams, and fountains as much as we do.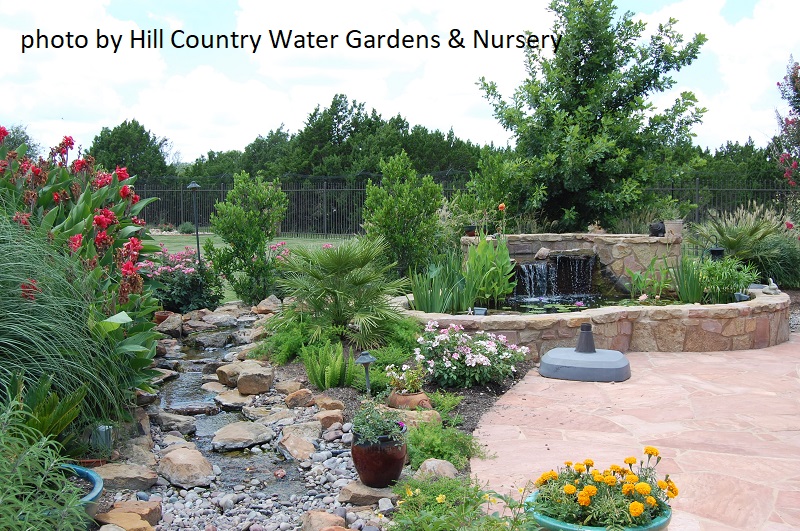 Steve Kainer, founder of Hill Country Water Gardens & Nursery, recognized our dream long ago and set about making it come true.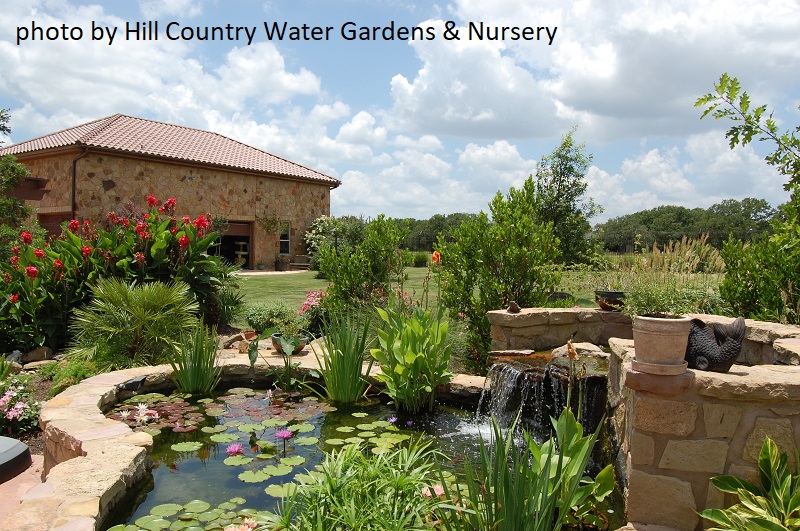 This week, Steve joins Tom to pump up pond and bog plant design with intricate spillers like mint and dramatic flair, including surprising options like Texas Star hibiscus and 'First Knight' fountain grass.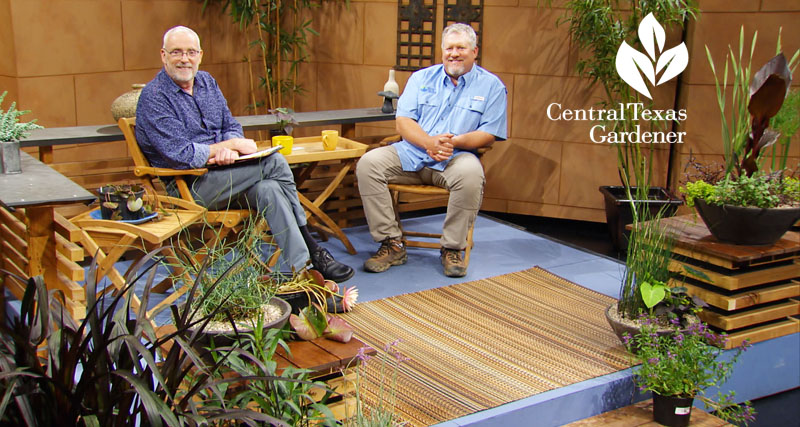 A surprising number of plants work in bog conditions—that marginal area where water meets soil.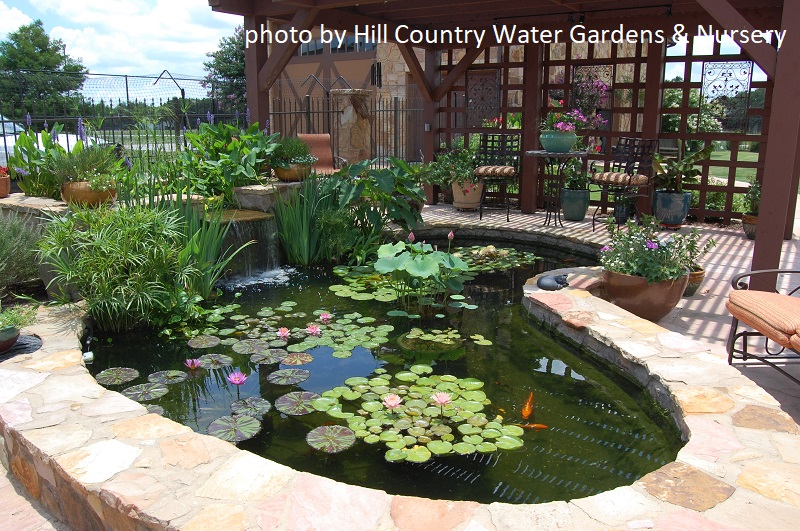 Mount containers on bricks, cinder blocks, or rocks to keep soil moist—toes wet—without submerging roots.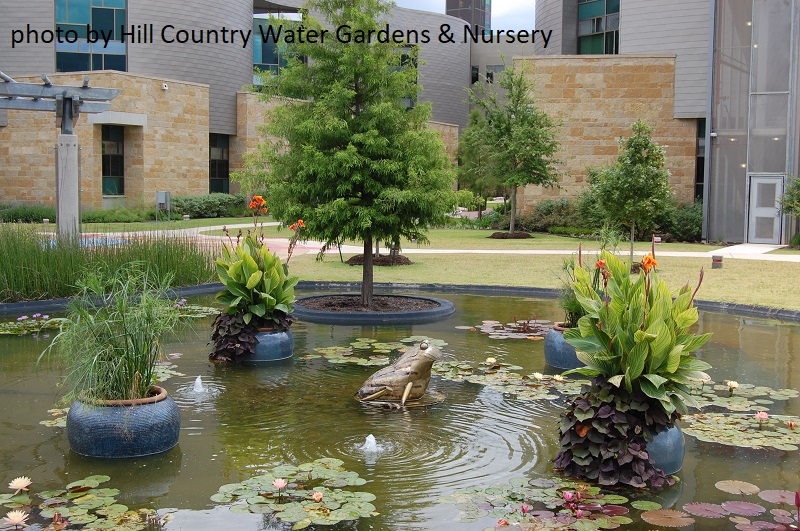 You don't even need a full-blown pond. "Anywhere where you could keep the soil of the pot wet and damp at all times, you can grow a bog plant," Steve tells us.
One of the gorgeous container arrangements he brought along (designed by daughter Emily) splashes color and texture with blue rush, equisetum, creeping jenny, sweet potato vine, and Colocasias 'Elena' and 'Imperial Gigante'. Watch now!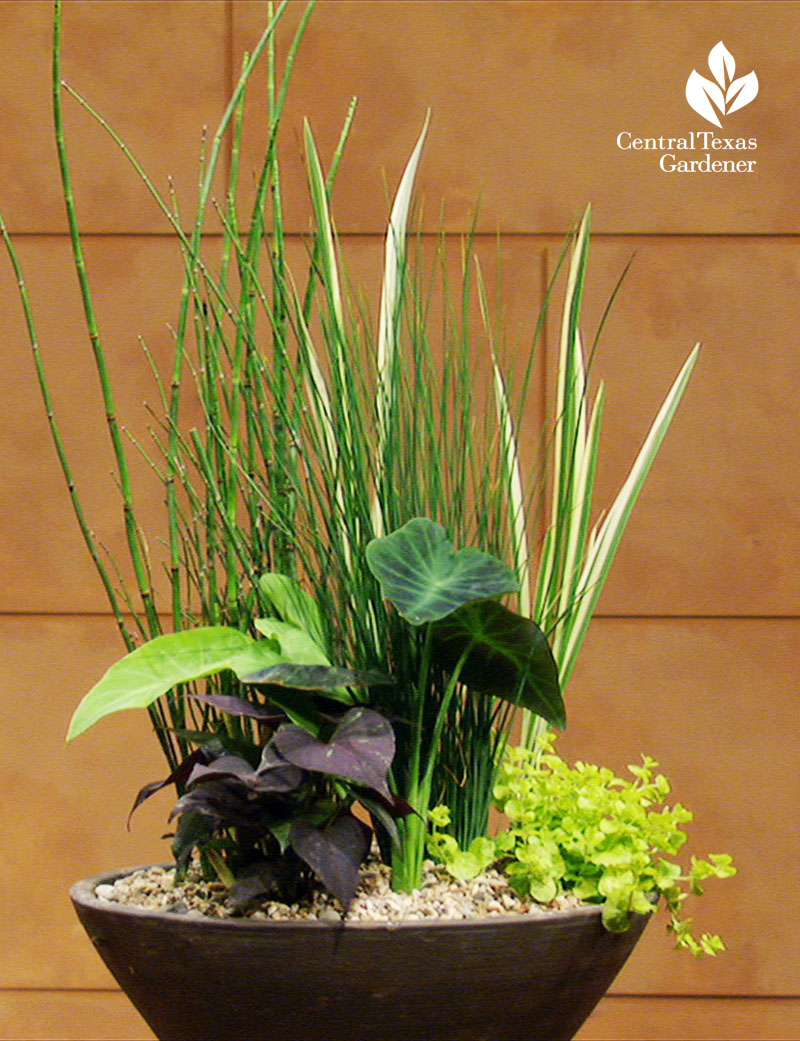 On tour, bog plants keep things clean in Jeannie Ferrier and Steven Monfrini's two tree-embraced ponds.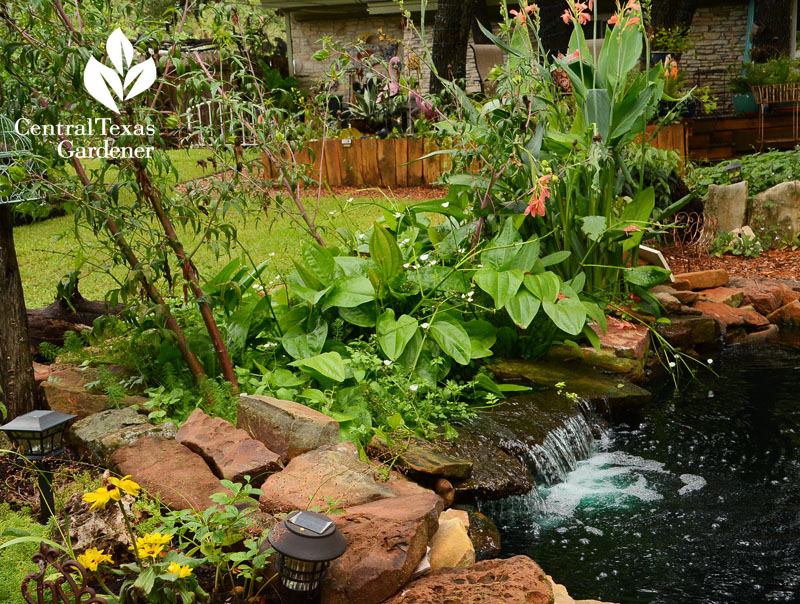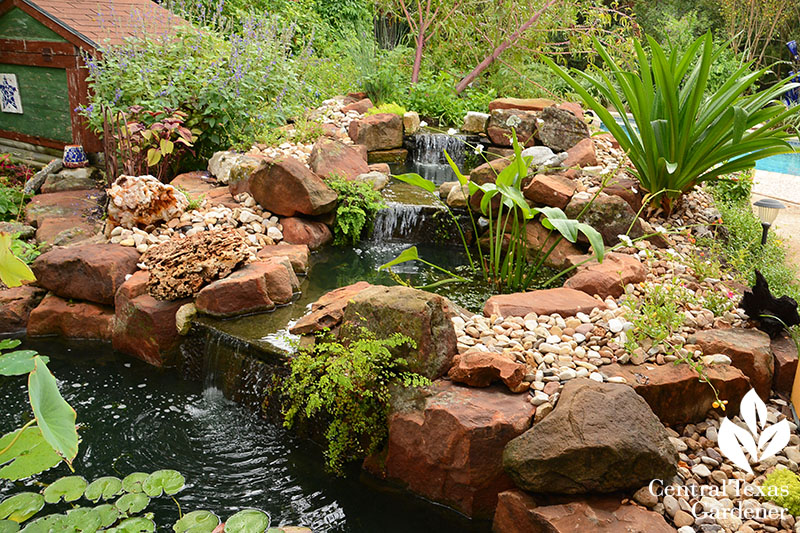 Now members of the Austin Pond Society, they've expanded their knowledge (and ponds) since Jeannie built her first experiment. Oh, Carmel's an honorary member and never goes fishing.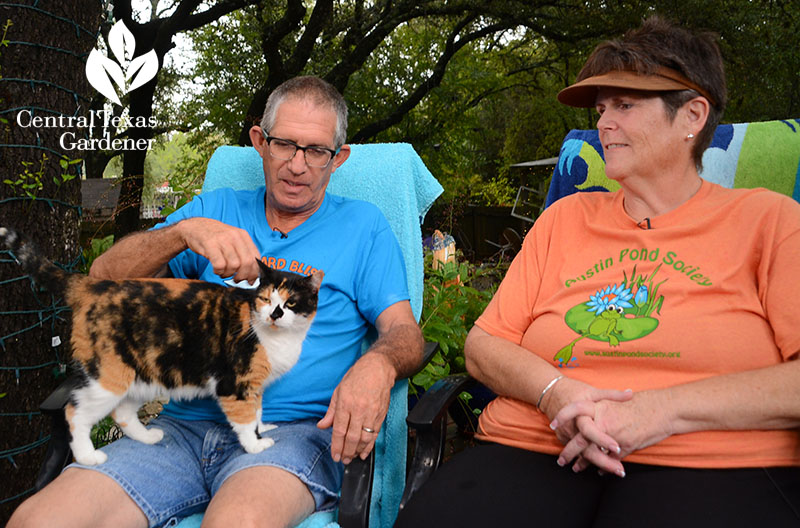 When they decided to go big, they hired out to excavate a shape that worked around boulders. Jeannie and Steven scavenged yards and yards of old carpet and laid it over a thick liner.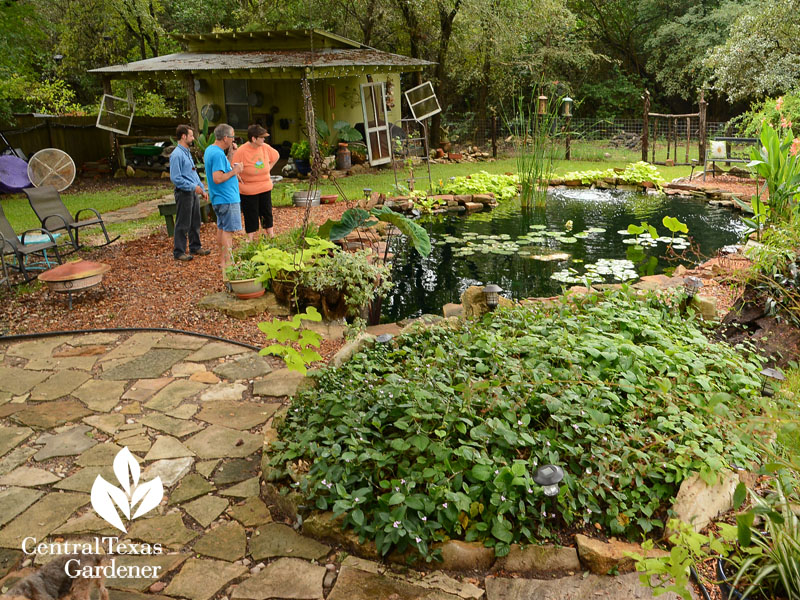 They made the center deep enough for koi to hide. They left shallow edges for their dogs to lap a drink.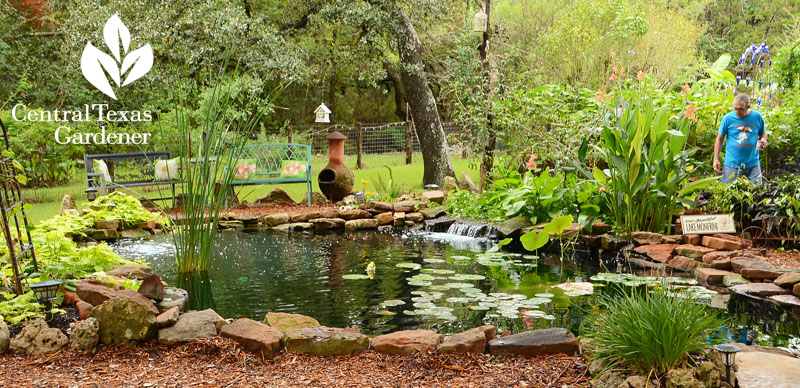 Their young grandchildren love to swim in the clean water, since the bog's plant roots are incredible filters.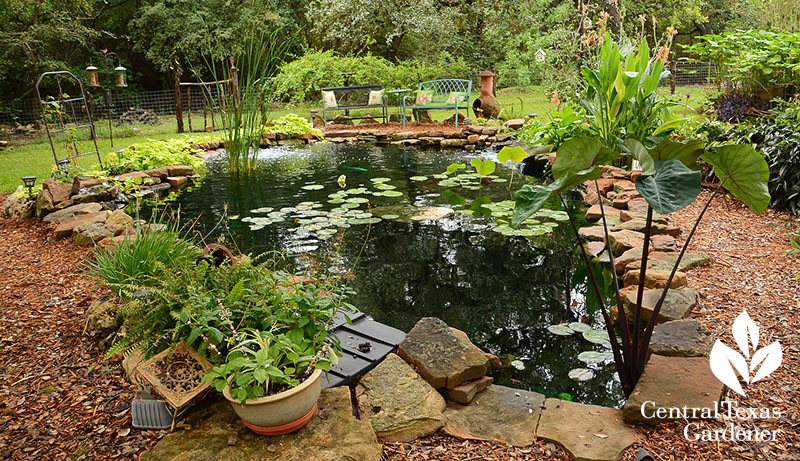 When they found an old "cowboy bathtub," Jeannie latched onto it fast. Here, they grow plants to pass along to fellow APS members. Mosquito fish keep little suckers at bay.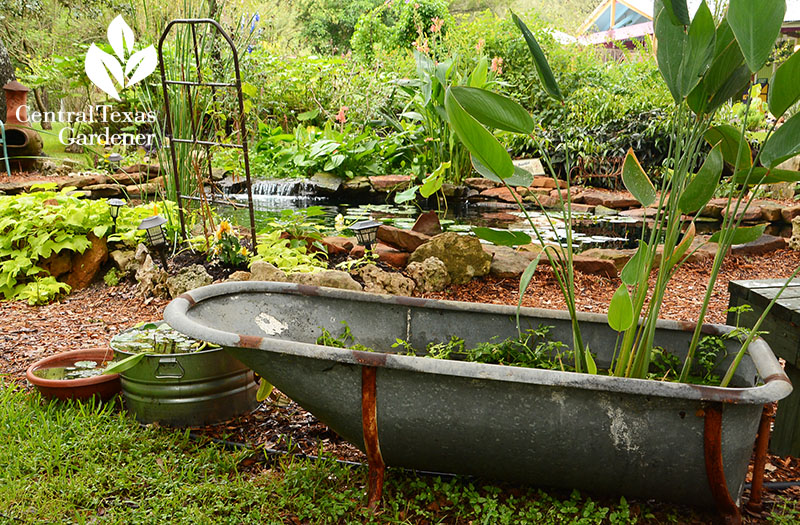 Son Cory and Steven built a family-and-friends-sized deck where Jeannie even "ponds" in a small galvanized stock tank. Steven skirted the deck with ashe juniper slats from his prunings. He set them a few feet out to make a deck-side raised garden where Jeannie grows flowers and food.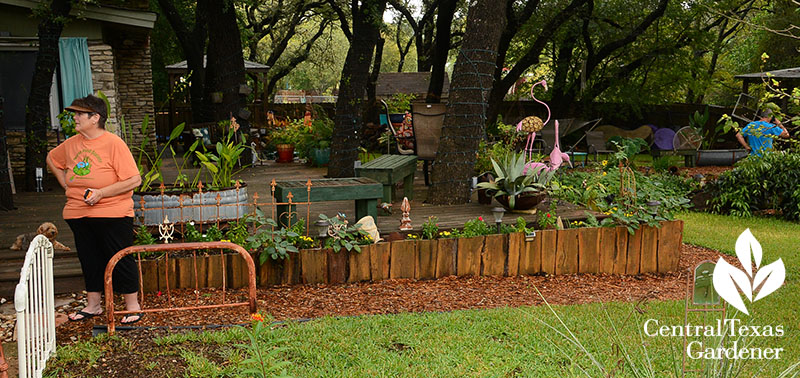 With layers of evergreens, flowering perennials and colorful art, they transition the shady garden to a small pond framing a sunny swimming pool and patio.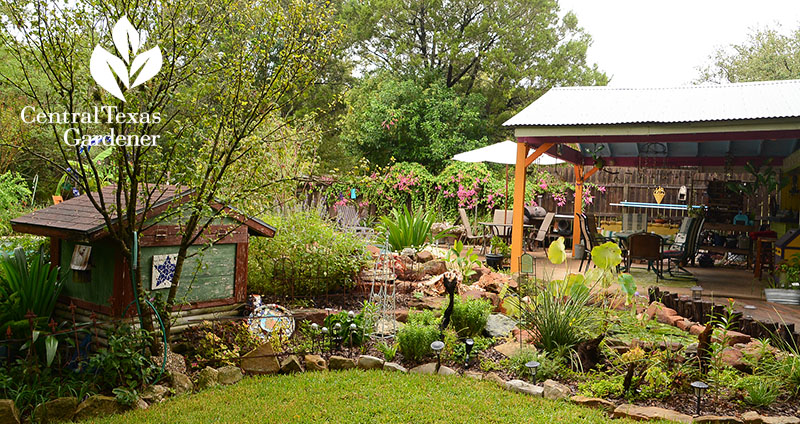 They lined the walkway between the two with rummaged bed frames on one side and more of Steven's tree-thinning ashe junipers on the other.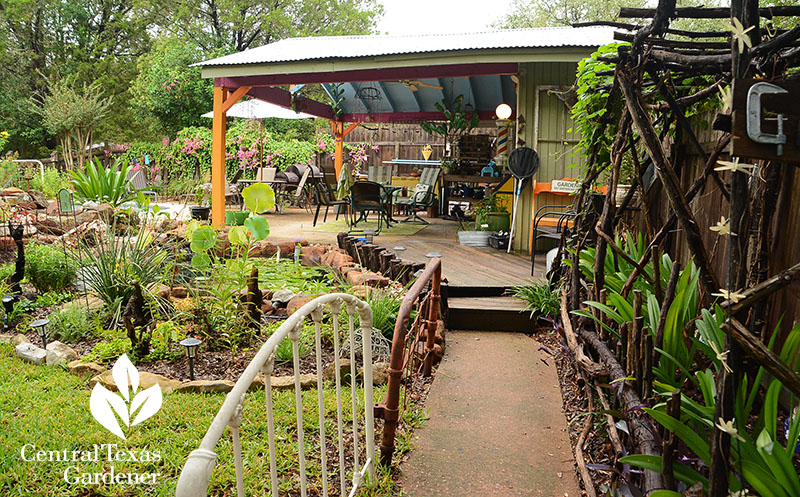 He twined together (and reinforced) more "cedar" limbs from the property into a vine-supporting pergola.


Jeannie and Steven built the small multi-layered pond and waterfalls themselves.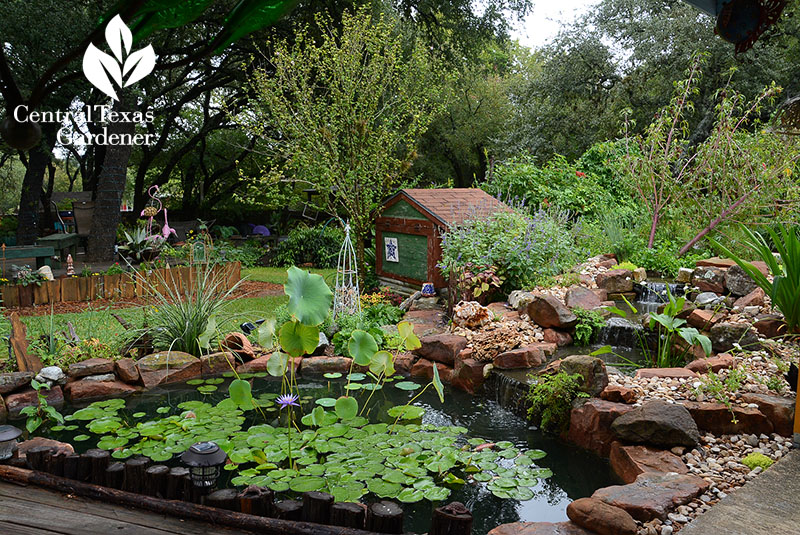 Bog plants (on the upper level) include mint to clip for refreshing drinks.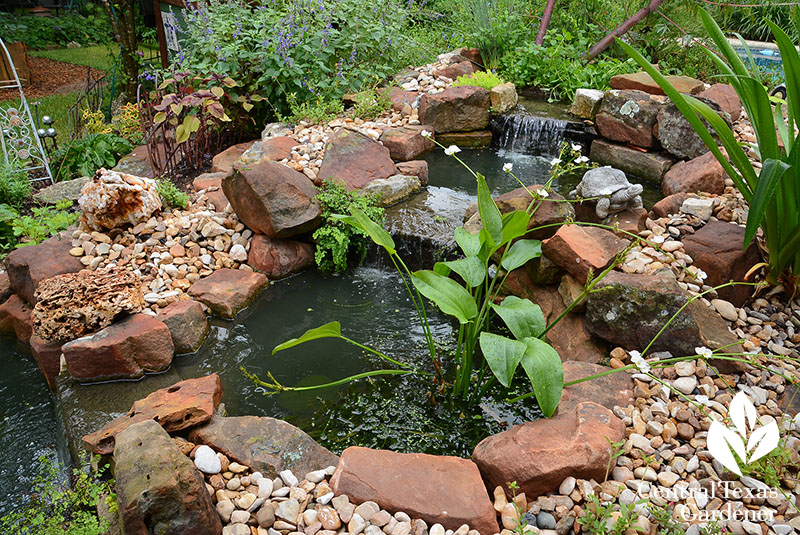 Although Jeannie pops color with bottle trees in both gardens, the pool area's where she goes for the most colorful vibes.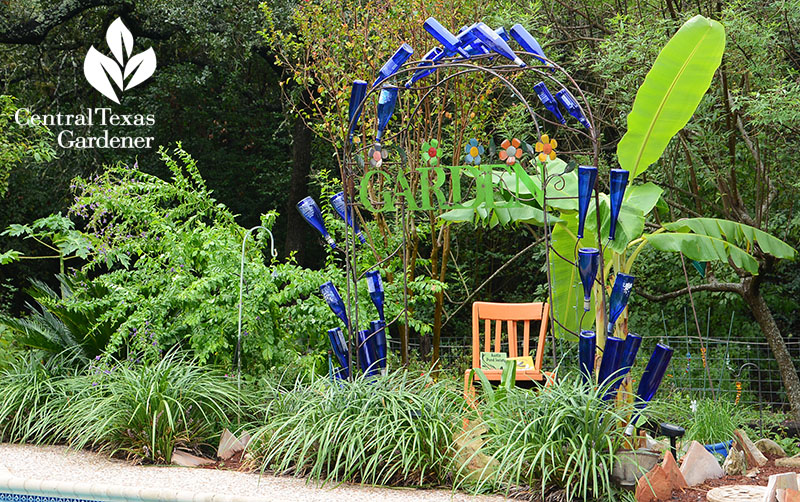 In this playful spot, Margaritaville serves up cheer regardless of the weather.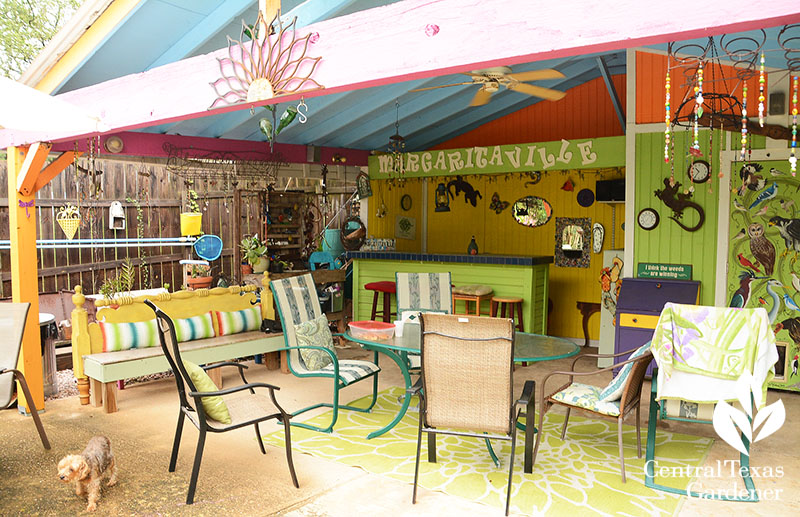 Artist and good friend Vivian Stewart painted the door with birds that Steven's noted in their trees and at the ponds.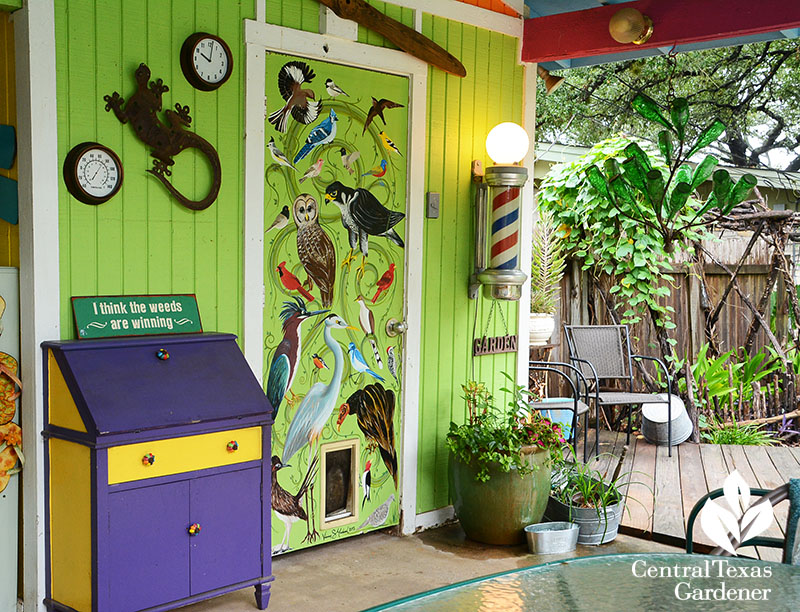 Jeannie loves to refurbish rather than discard. Steven crafted a bench out of their old footboard and her parents' old granite bar.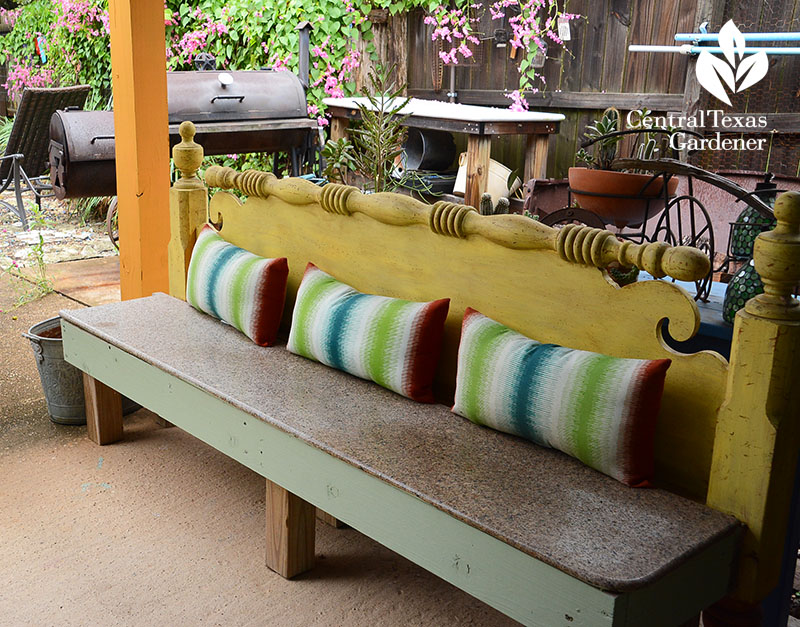 They never bypass free garden art, like an ancient, scarred window screen that totally changes the dynamics of this little vignette.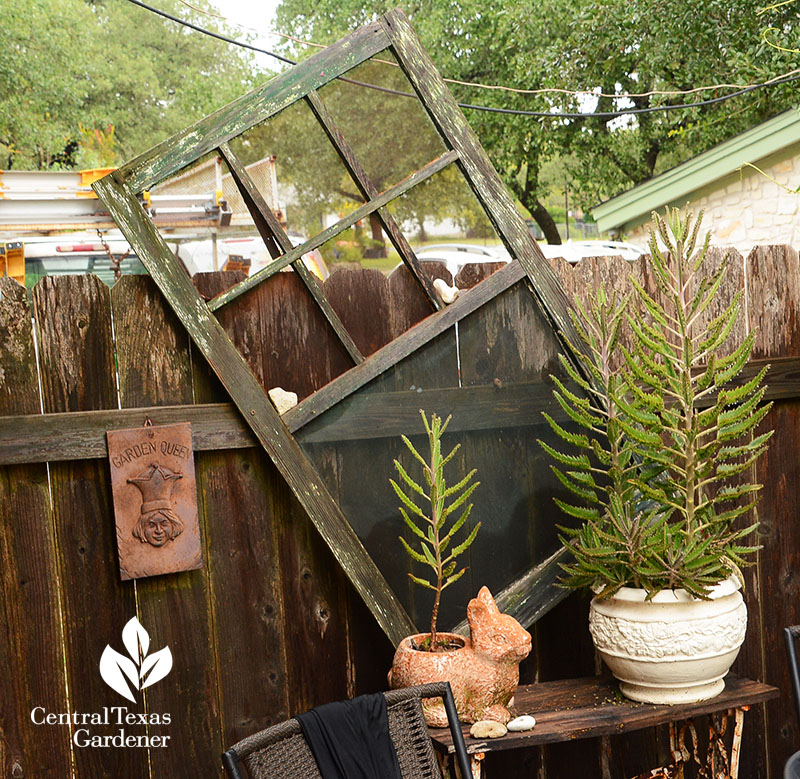 Recently, they've added fish rescue to their busy schedules. When a couple could no longer care for their large koi, Jeannie and Steven quarantined them in a special holding tank. So, a first for CTG—we documented their transfer to their forever home. One take wonder this is!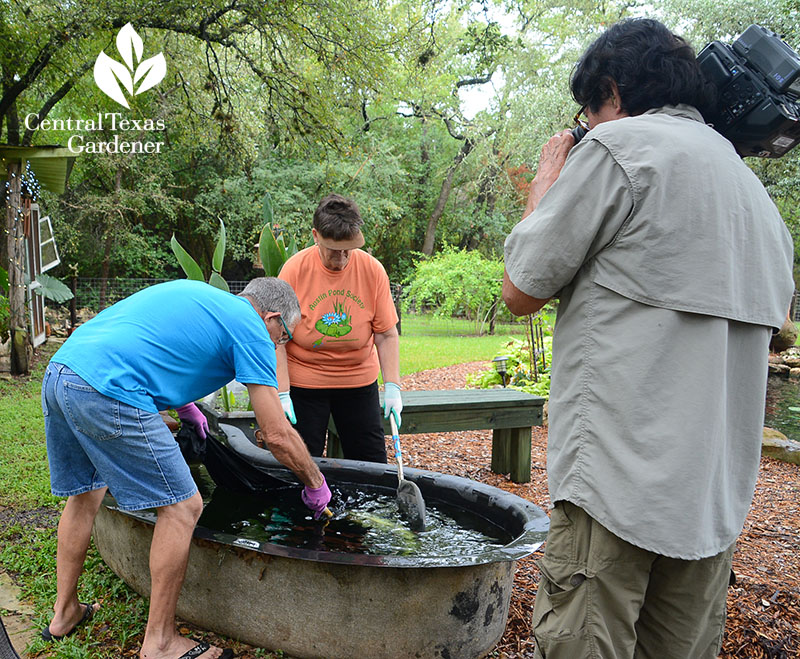 Take it from Dooney: there's a whole lot more!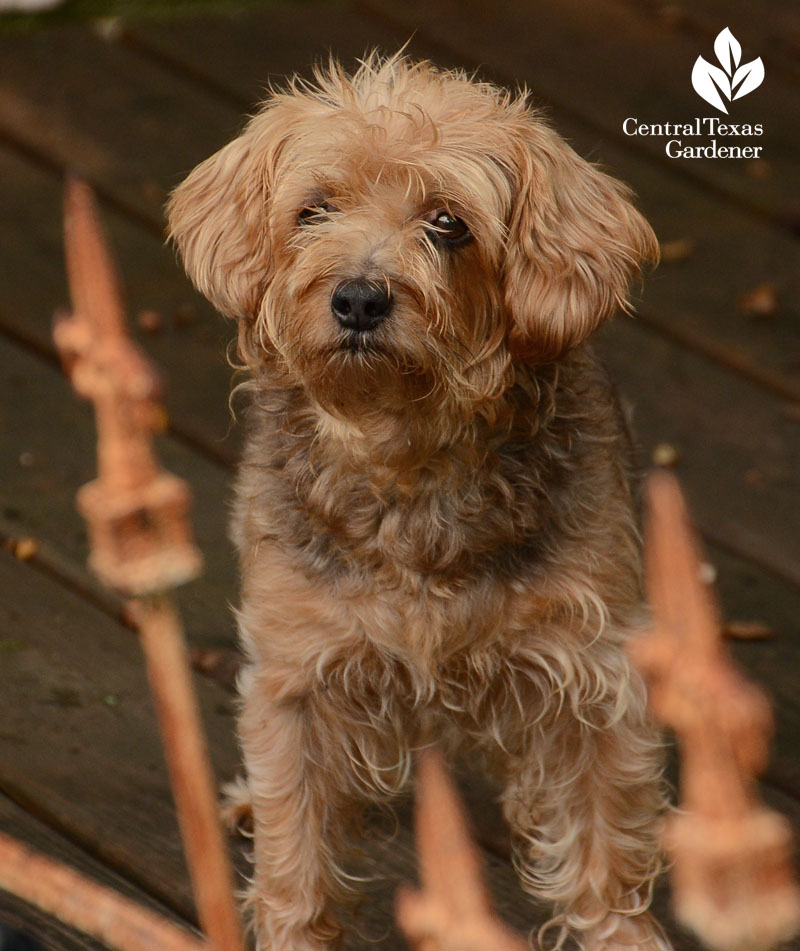 Watch now!
Thanks for stopping by! See you next week, Linda
Comments