May 9, 2019
Moroccan courtyard daylily paradise + Nature's medicine cabinet
Sometimes you just have to observe and record a moment in your memory instead of on media. But this time, my camera was in hand when I happened upon a Question Mark butterfly taking a break after feasting on loquat fruit sap.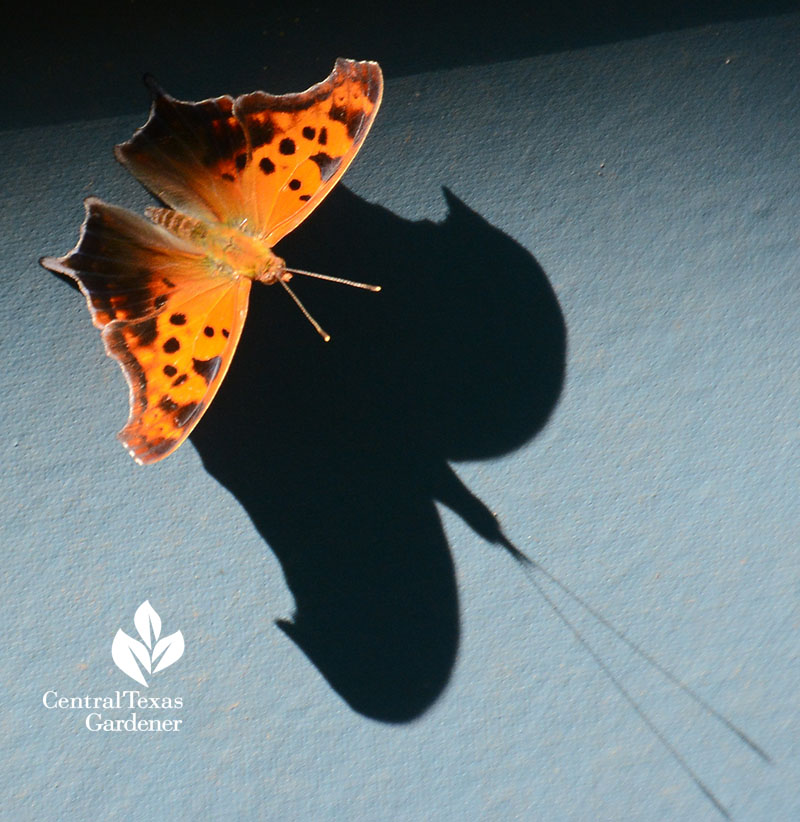 We can all list plants that are good for us, but there are countless others we're discovering every day. This week, Flint Fancy from family-owned growers Lone Star Nursery highlights plants from Nature's medicine cabinet that you may never have heard of!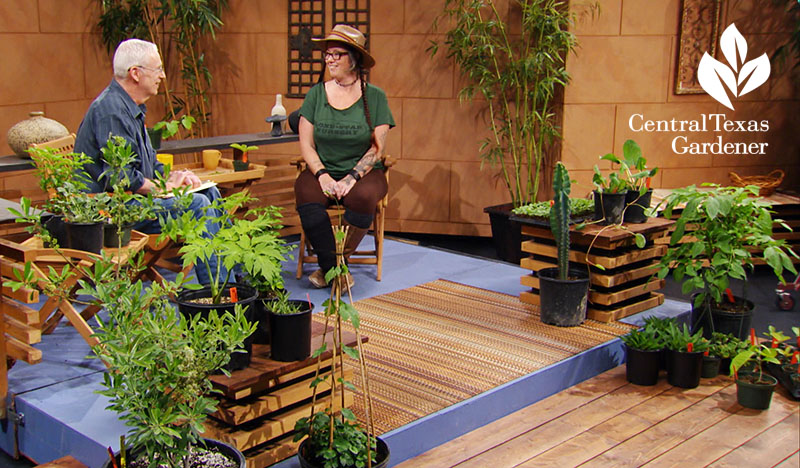 She and husband Jay Beard (supervised by a happy family of kids) grow standard, native, and unusual (hard to find) perennials, tropicals, herbs, and succulents that they source to local nurseries.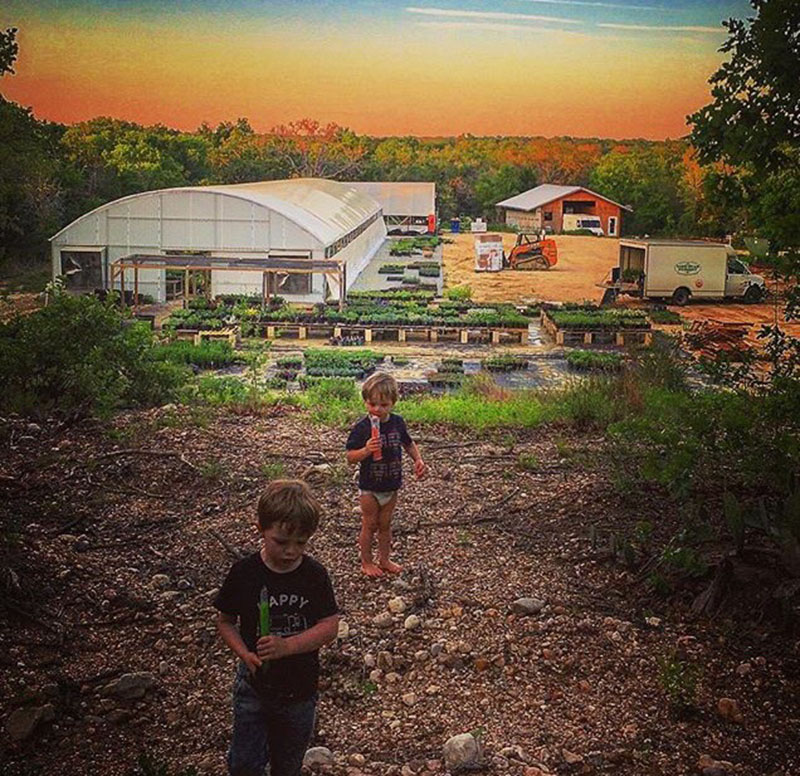 I'm familiar with Arnica, since I buy the cream at the grocery store to deal with plant-caused bruises. That's European A. montana, though, and the one we can grow is Arnica chamissonis.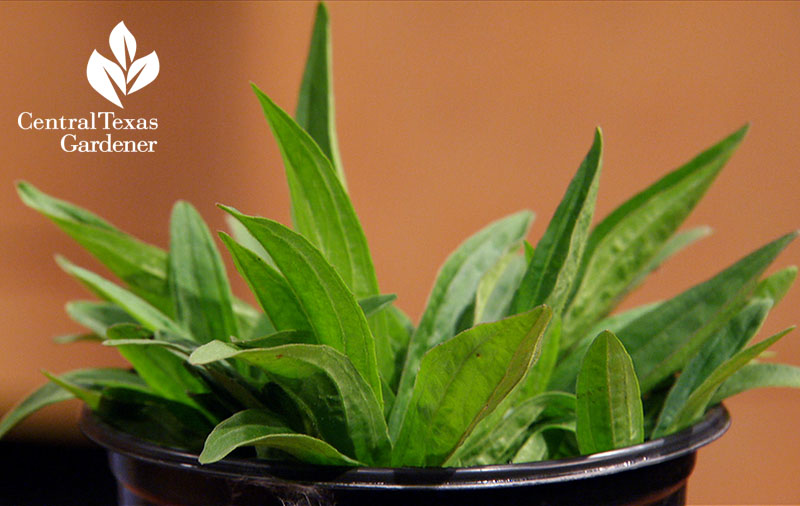 Flint tells us that A. chamissonis tolerates nearly any well-drained soil, but generally prefers sandy, slightly alkaline soil. Full sunlight is best, although it benefits from afternoon shade. Cold hardy for us in the ground, protect in winter if container grown.
How many times have you ordered hibiscus tea or dunked store-bought bags? Perennial Roselle hibiscus (Hibiscus sabdariffa) is easy to grow in sun. Although Lone Star Nursery's plants returned after winter, most of us consider it a warm weather annual.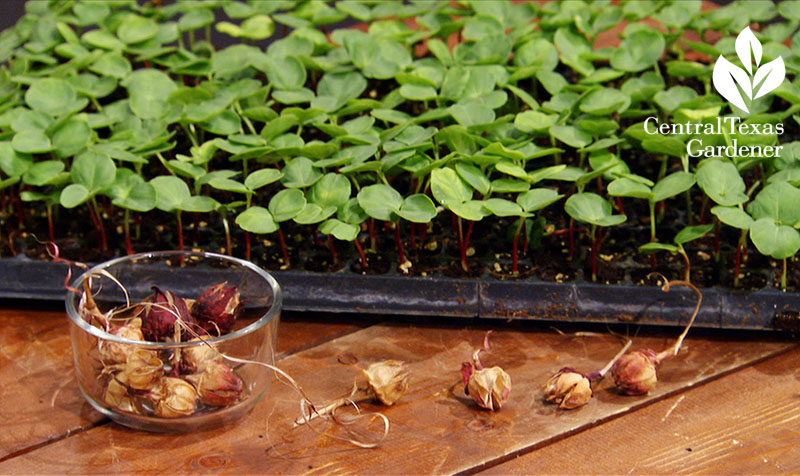 There's even a house plant you can eat, Peperomia boivinii. Watch Flint now!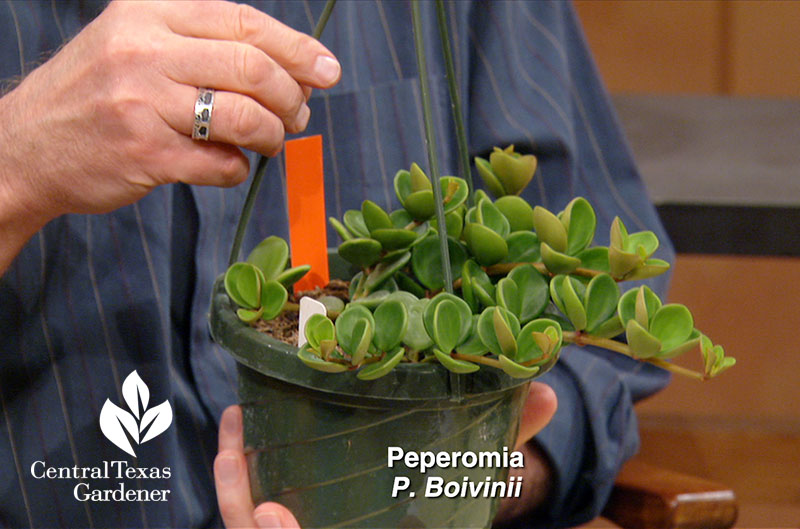 Click here for a list of current nurseries and garden centers carrying Lone Star Nursery's plants as available. And follow them on Facebook for updates!
On tour: Jeff Breitenstein and Skottie O'Mahony's Tanglewild Garden's a state of mind as much as a design, botanical, and daylily hybridizing adventure.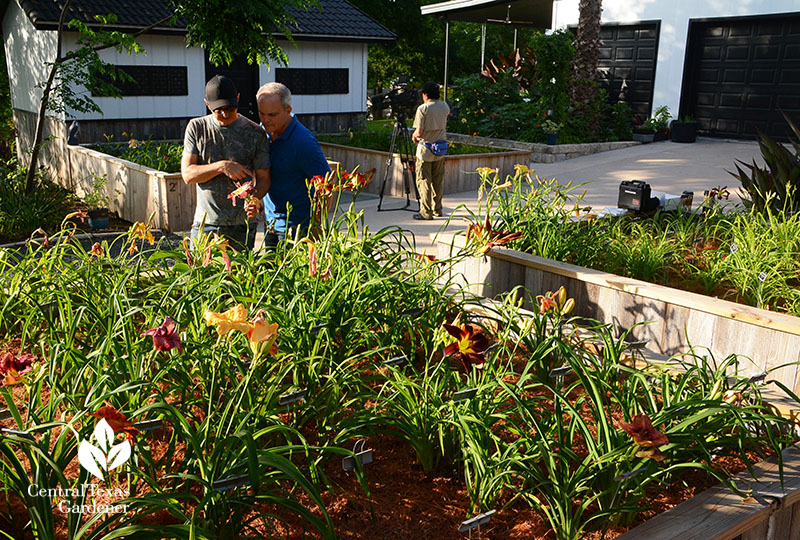 After trading Seattle for Austin, they renovated a 1970s house and bland setting into a Moroccan-styled courtyard and intimate outdoor living framed by leafy and colorful plants.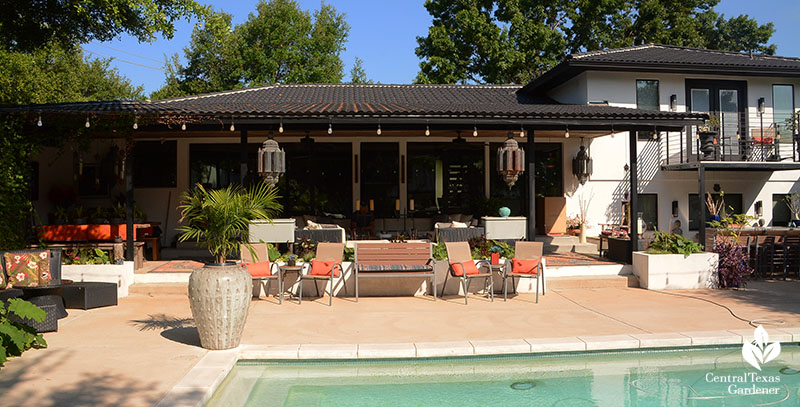 When they fell in love with Moroccan arches in a store display, they convinced the shopkeeper to sell them after seeing Skottie's house designs.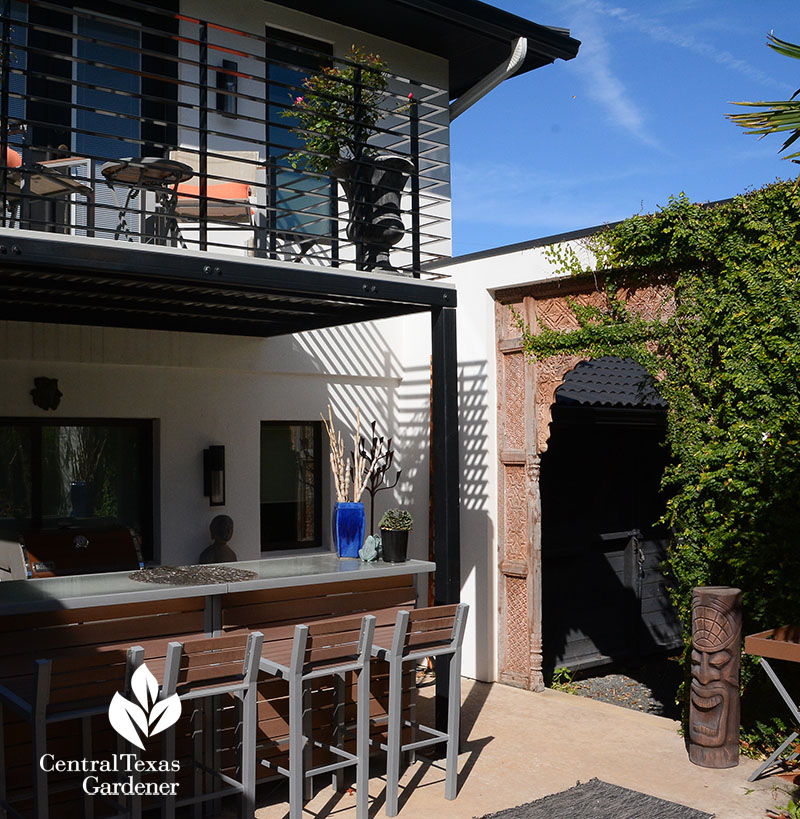 Walls were next. To create a courtyard, they built side walls to frame the pool area, letting trees and plants frame the open area at the back.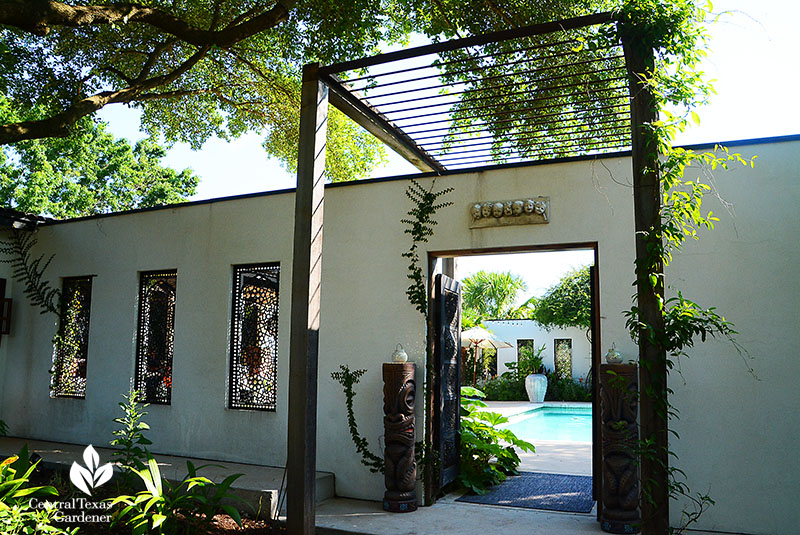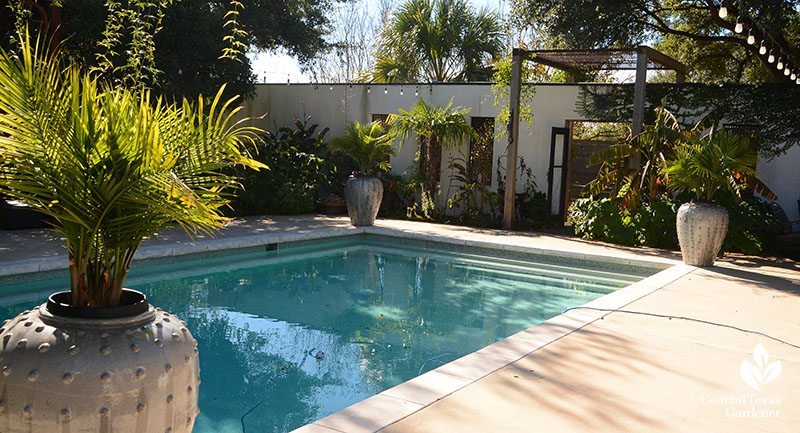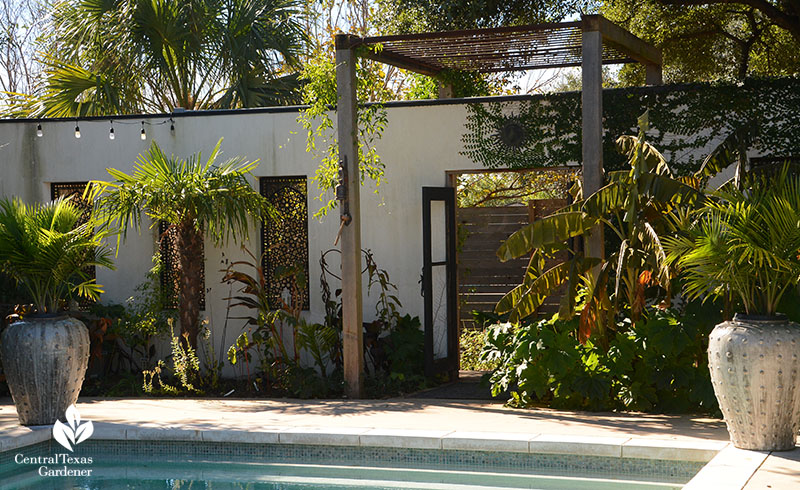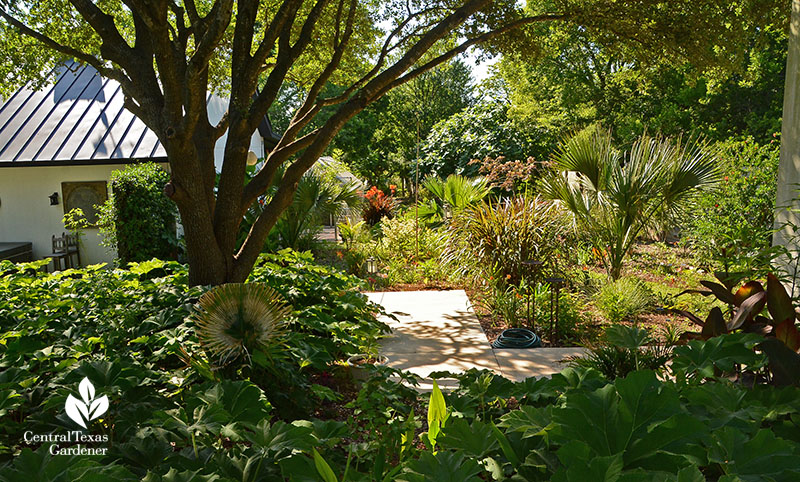 Moroccan tile inspired the intricate steel, powder coated windows set into stucco walls. Jeff created the pattern in a vector drawing program and then cut with a water jet.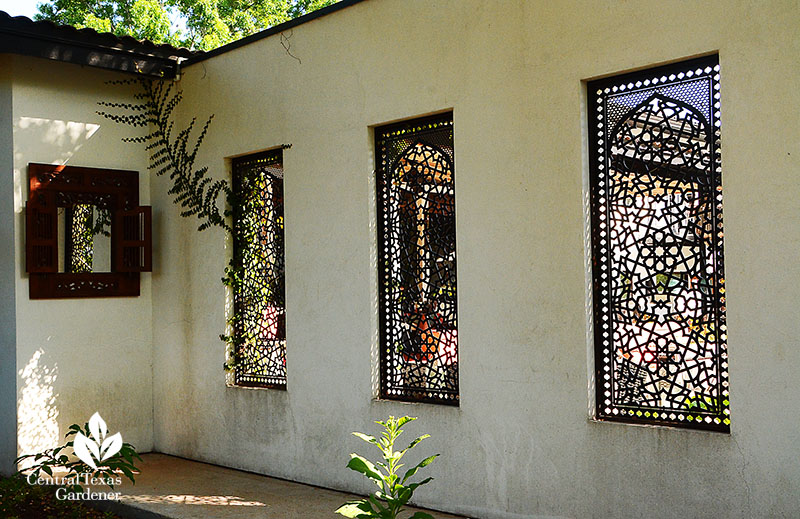 They lucked into the perfect gazebo to frame and shade one conversational cove: a joglo, typically a central part of many homes in Southeast Asia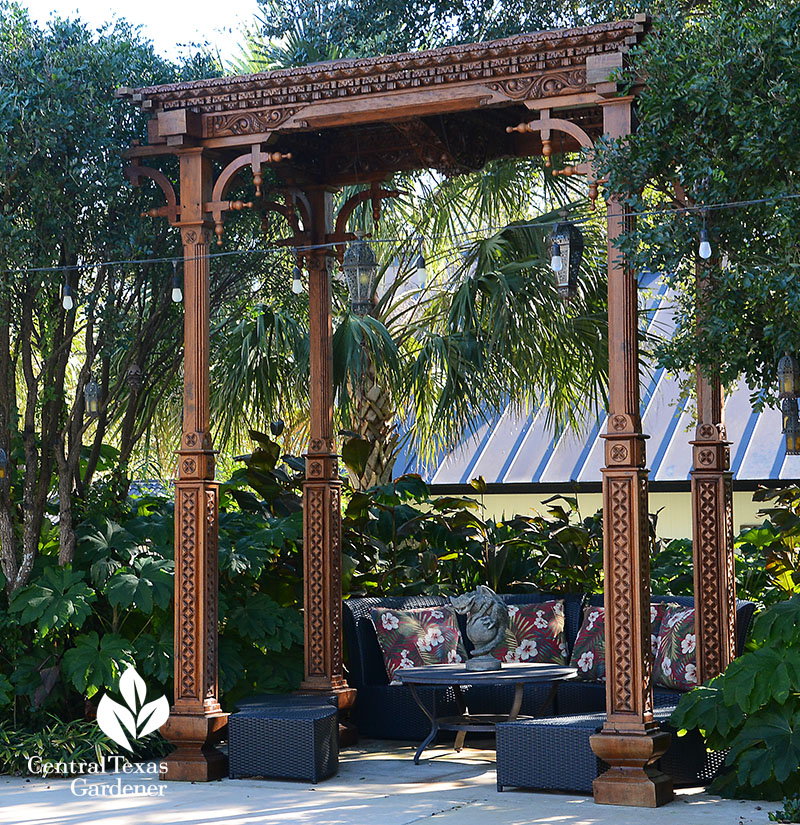 It's one of the cozy conversational spots they pocketed to cool off in Austin's heat.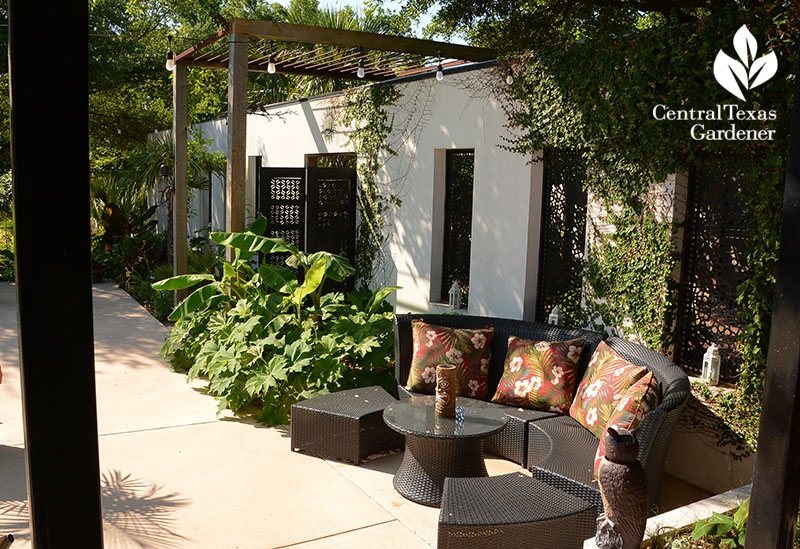 A spacious covered patio and dining area along the back of the house sports a ceiling made from the property's old fence.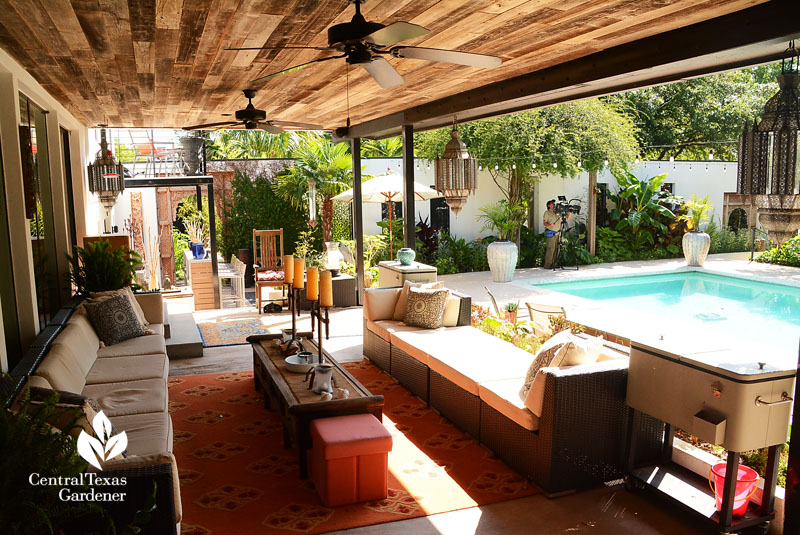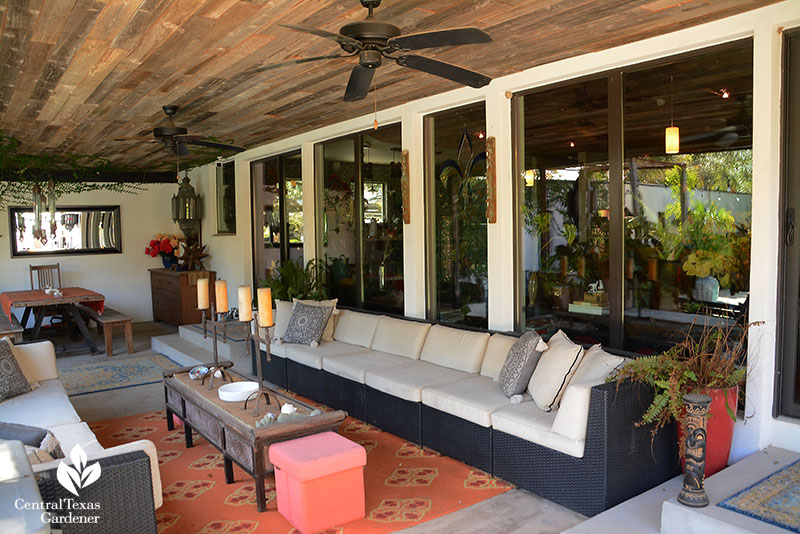 On a side strip, one stucco courtyard wall inspired a new, intimate space—the Moon or Paradise Garden—where a fountain soothes the senses and white or cream-colored flowers and grasses catch the moonlight.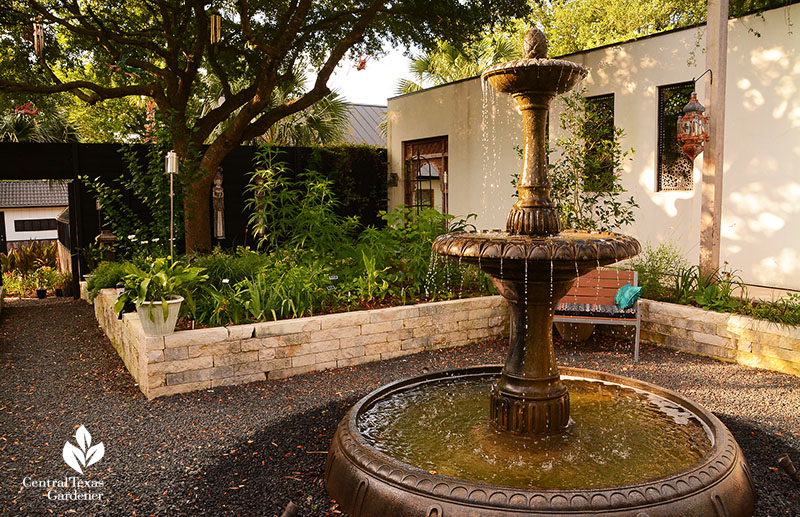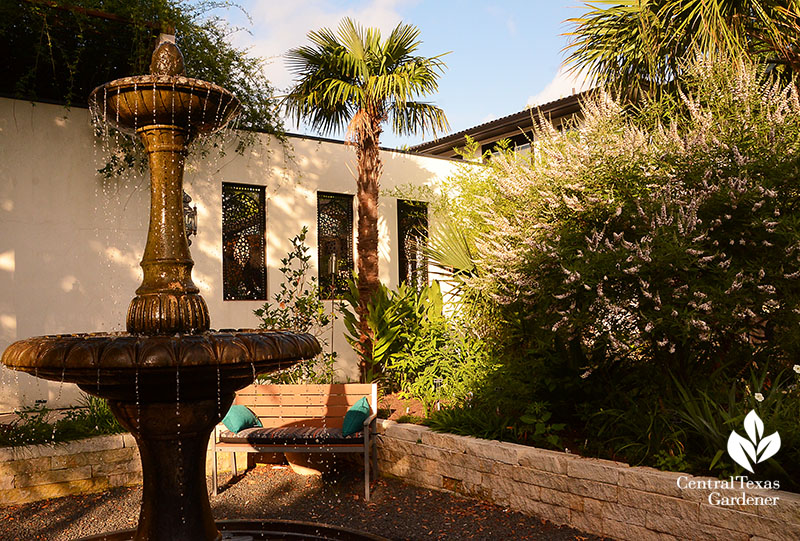 To enclose the open sides, they stained wooden walls black to disappear against artwork and blossoms.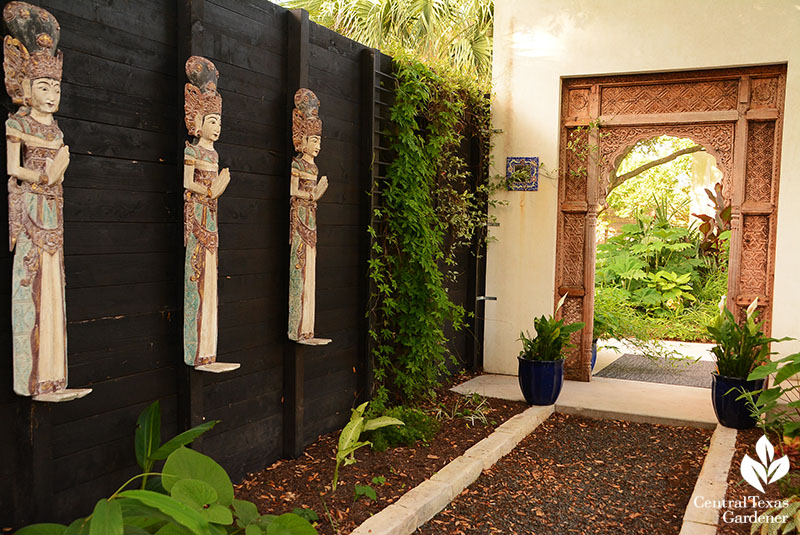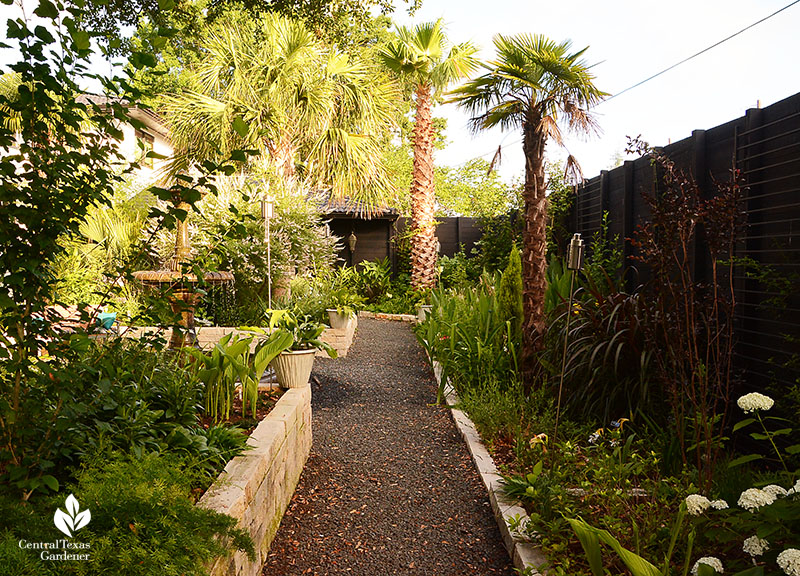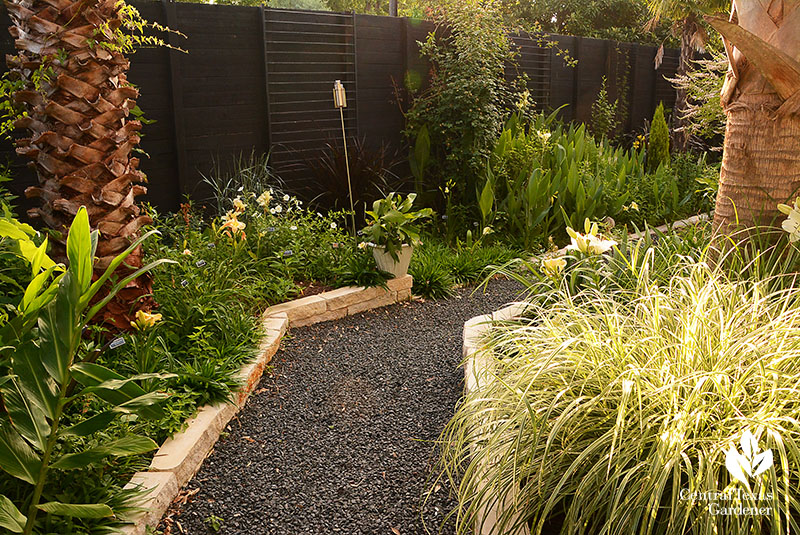 On the former driveway, they framed a pathway to the back with a limestone planter clustered with figs and flowers. Their strategic gargoyle accents started with a visit to the University of Washington's architectural gargoyle tour.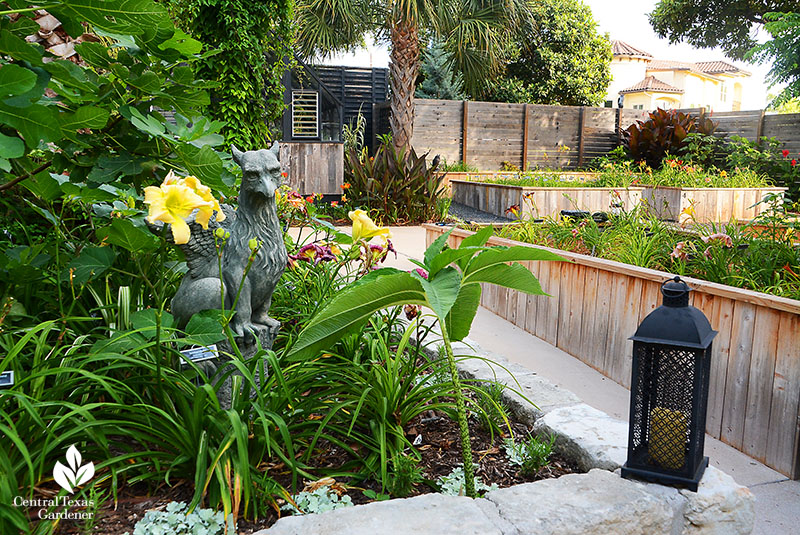 In back, they turned the former carport into lounging and dining. Indeed, life is beautiful at Tanglewild, as the Latin words on the old garage proclaim.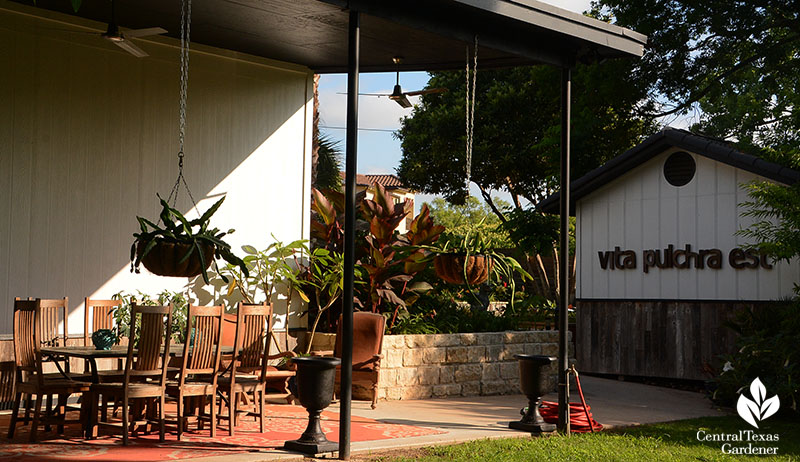 Here, in dappled shade, they invite another experience through woodsy views and birdcalls.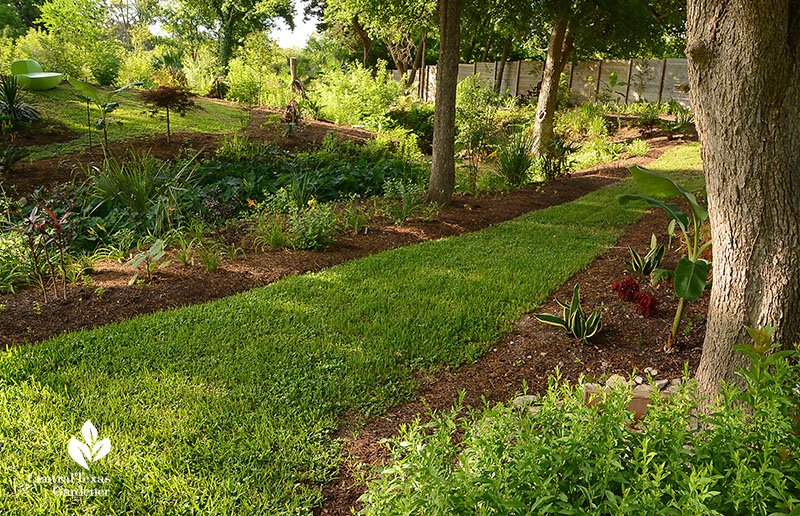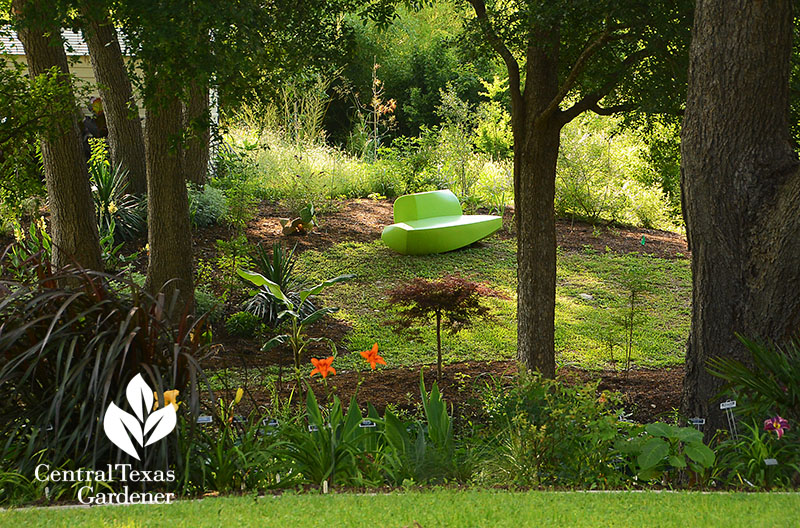 Their latest project is designing along Tar Branch creek that winds across their property.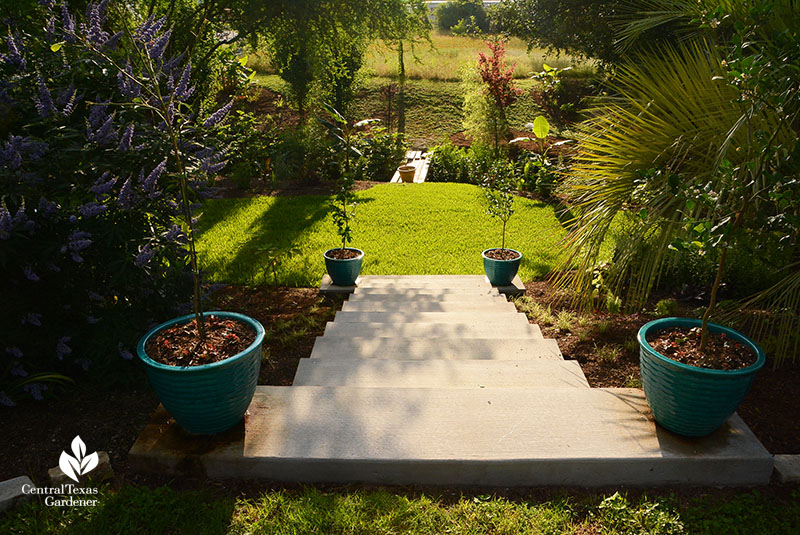 Daylilies are their true passion. Now growing over 1000 cultivars of these drought-hardy, edible perennials, they tuck them into every space.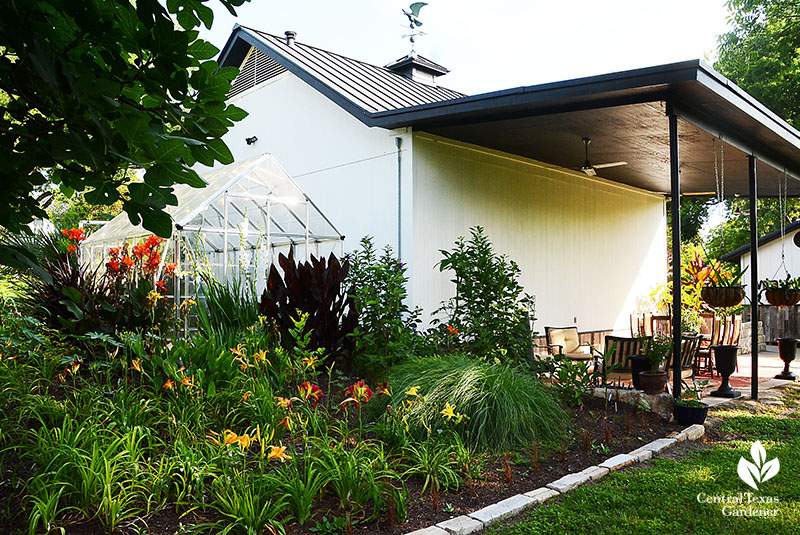 They sprinkle them along borders of the path back to the courtyard. This sunlit stretch that gets some shade is perfect for both daylilies and companions that attract pollinators and hummingbirds. They enriched their caliche substrate with good soil and compost.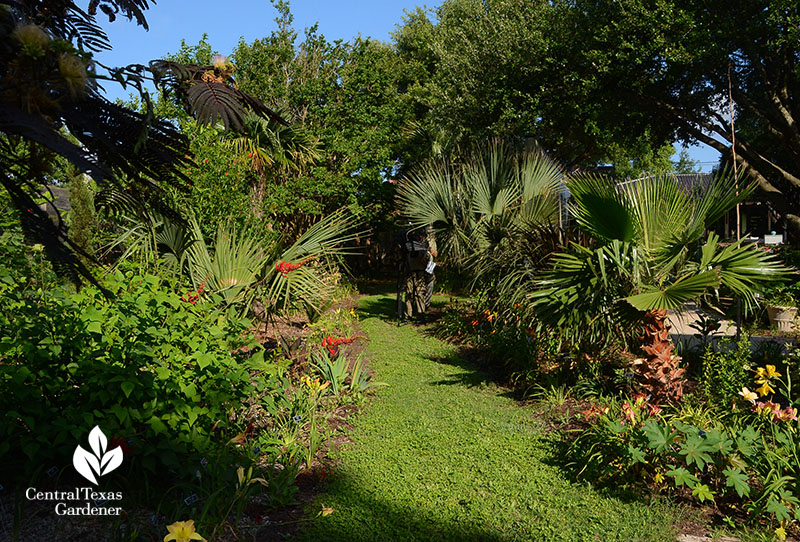 Although May is peak daylily season in Central Texas, they grow cultivars that bloom from March to June, including repeat bloomers and seasonal surprises.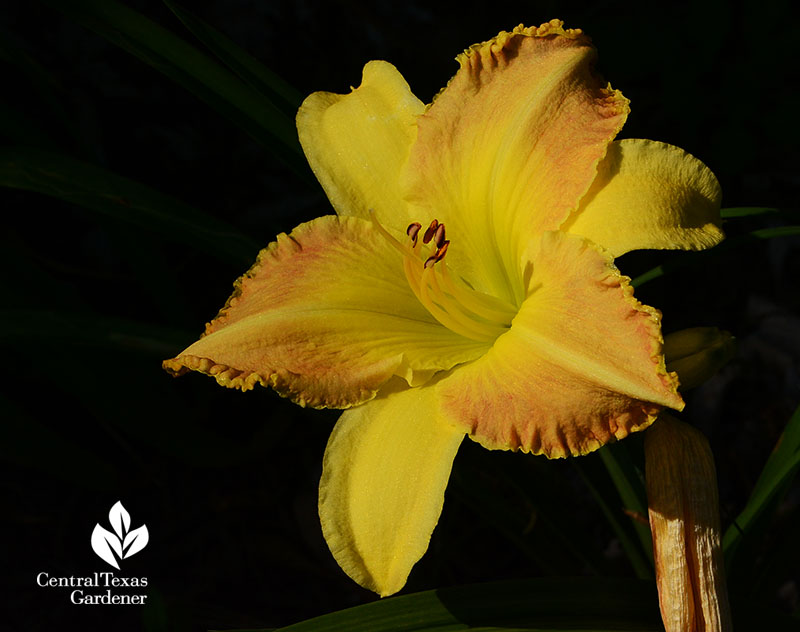 A special passalong was grown by Skottie's great grandmother in Poland, one that he relies on for hybridizing to strengthen genetics.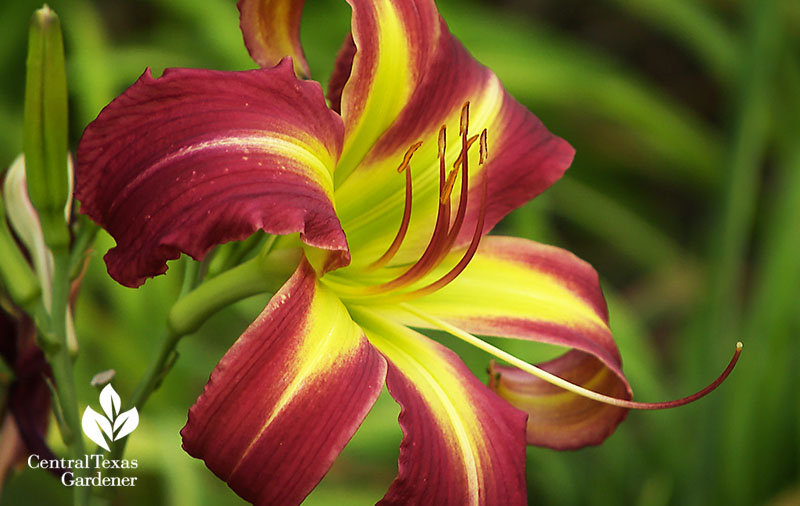 They hand pollinate between selected cultivars to produce unique traits, including Texas hardiness.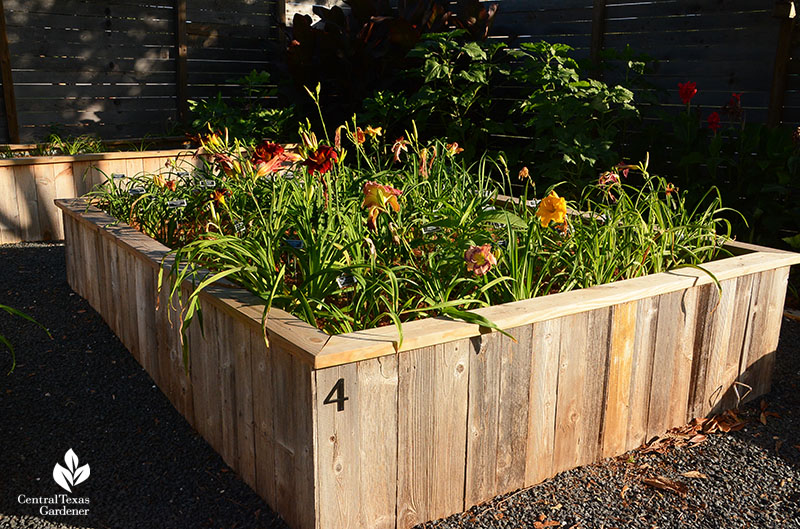 Despite precise pollination records, when seed heads form, it can be a surprise to see what happens—that's part of the fun!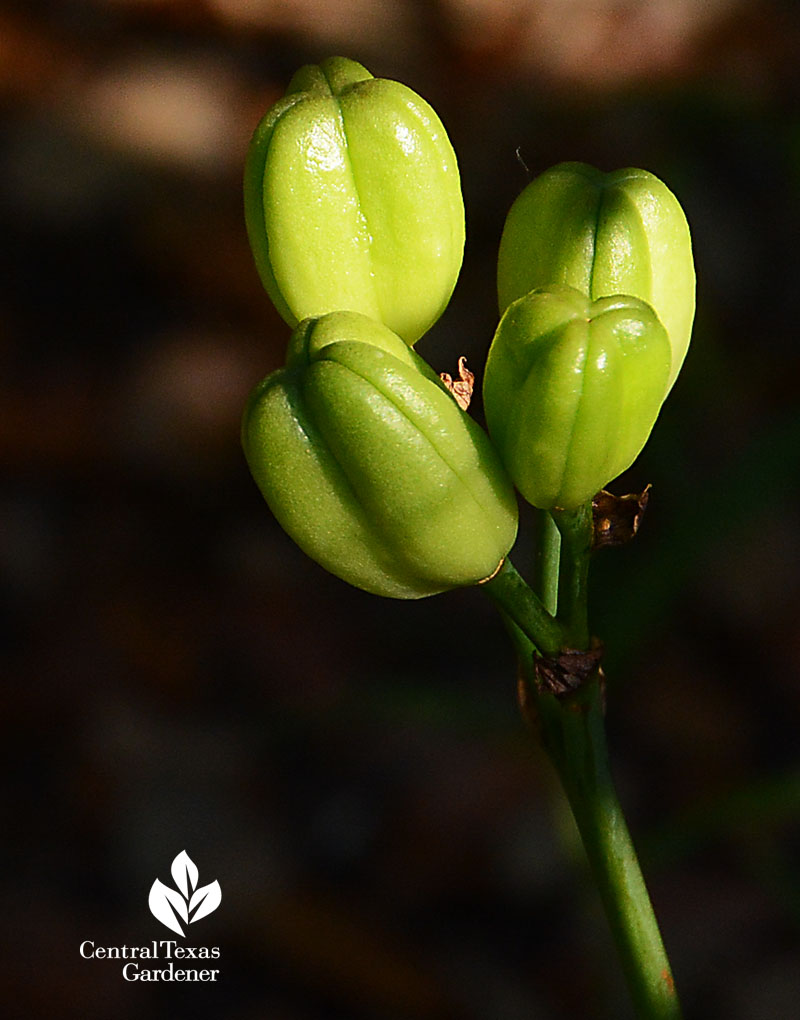 After seeds are dried, they plant and nurture in their gothic-style greenhouse, bought from a kit.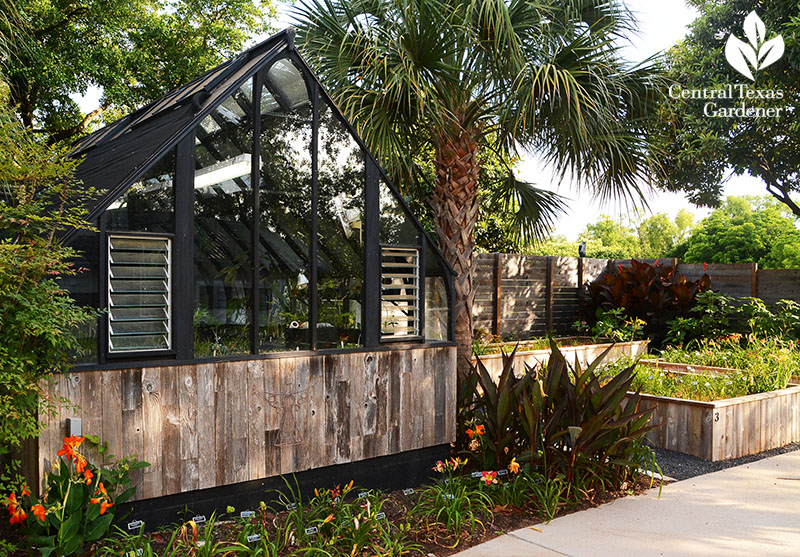 They kindly shared some seeds with me, and I actually did it! I learned a lot from this round and will start some more. This is the ultimate passalong for me: unique plant and knowledge!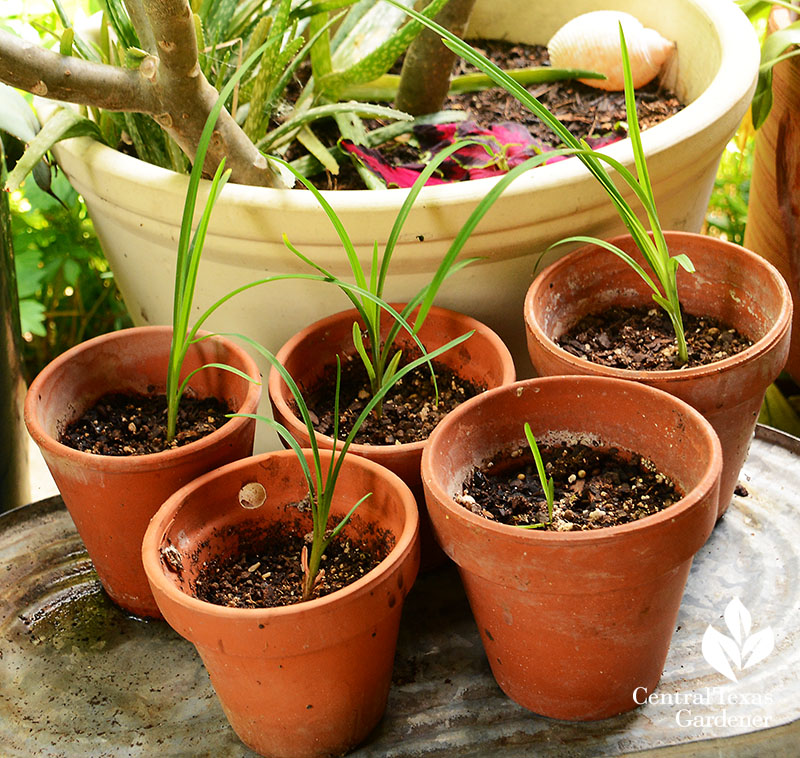 In the greenhouse, Skottie and Jeff also propagate vegetables and tropicals, like coleus, for a rich inventory at planting time.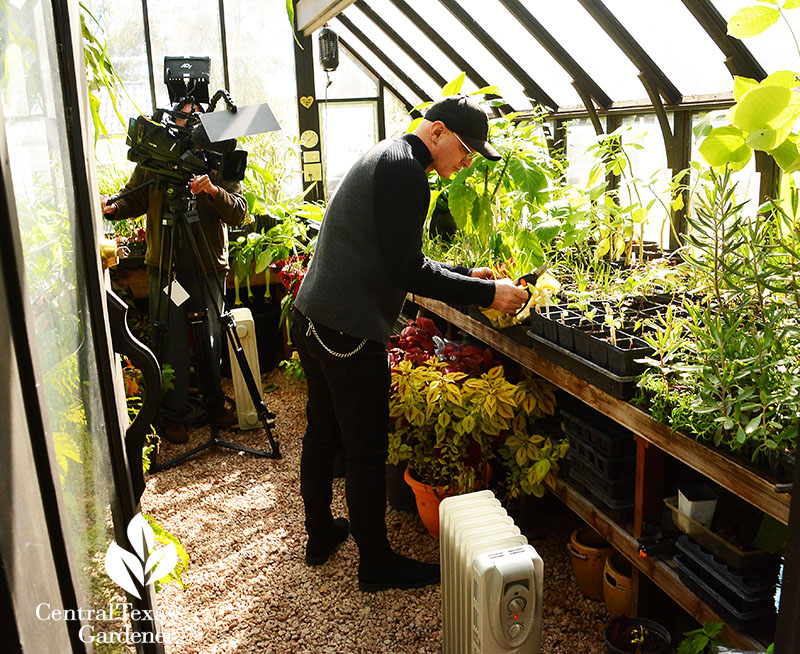 They grow up and test hybridized seedlings in raised beds, separating the two types—tetraploid and diploid—since the two cannot cross. Raised beds are easier on the back!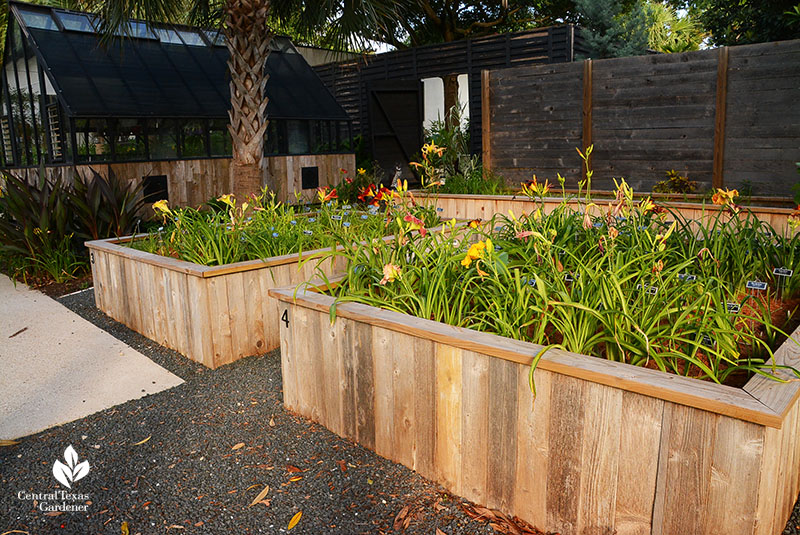 "And we're hybridizing for daylilies that are more tolerant of this weather, so our seedlings are in full out sun, so if it doesn't survive it's not something we want to move forward with," Skottie tells us.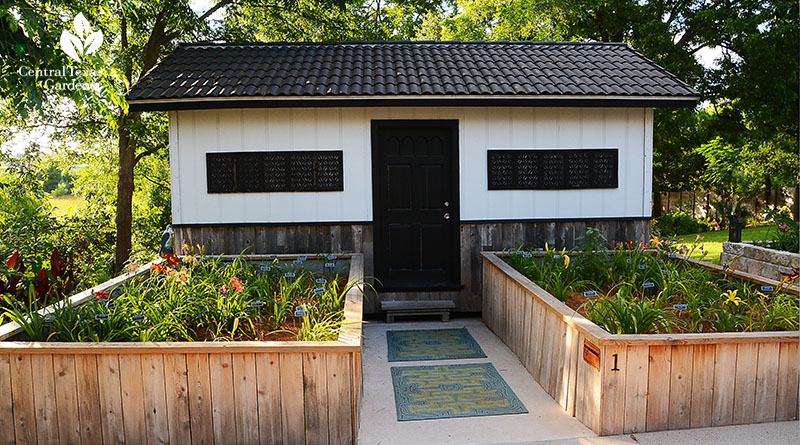 While living in Seattle, Skottie got in touch with the Austin Daylily Society to find out if they could grow them in Texas. The enthusiastic response and welcome led to their participation, where Jeff's served as president. In 2017, the American Daylily Society recognized them as an official display garden.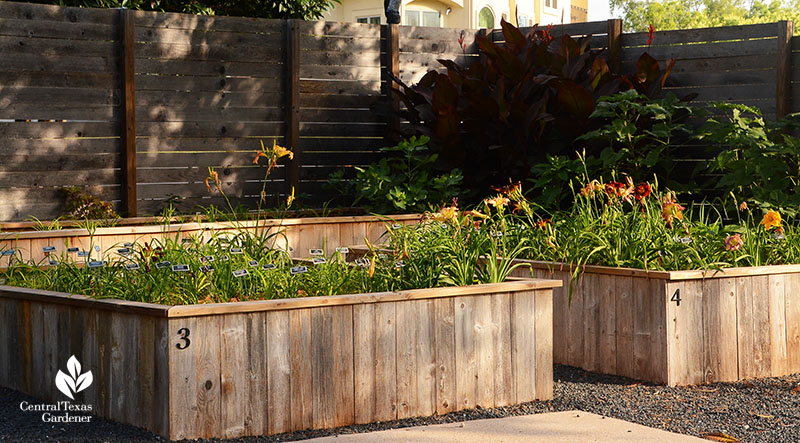 Deeply inspired by plants and global experiences with Jeff, Skottie's taken his imaginative digital art online as custom-designed SkotoArt, after gardening hours, of course!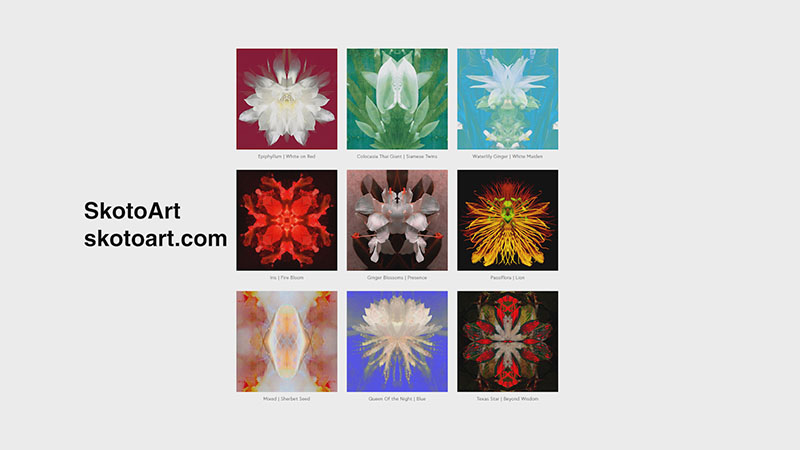 Heads up! Don't miss the Austin Daylily Society's Show & Sale on May 25 from 1-4 p.m. at Zilker Botanical Garden. I swoon at the beauty! Plus, get personal advice from local growers (including Jeff & Skottie) and buy tried-and-true daylily divisions to start your own paradise.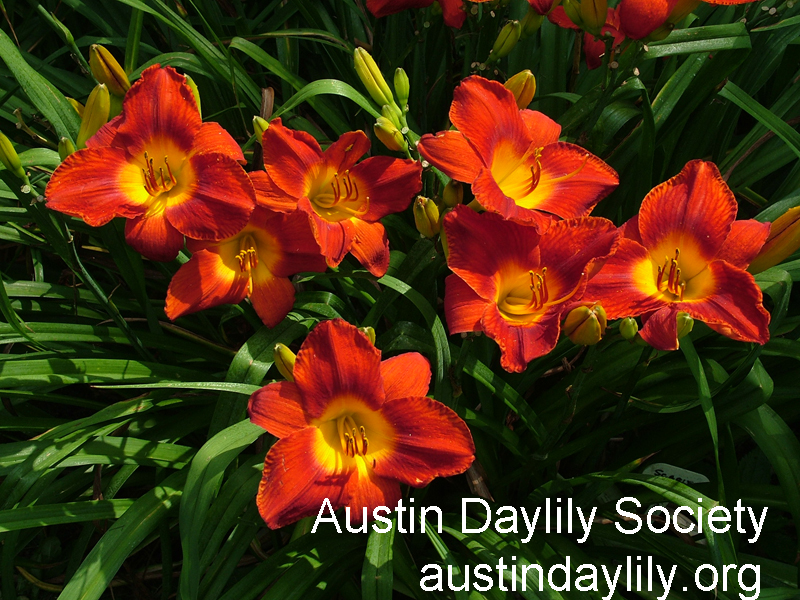 Watch now to get Jeff and Skottie's tips for growing daylilies and the history behind their design!
Thanks for stopping by! See you next week, Linda
Comments