August 15, 2019
Unity Through Plants
Like people, passions, and wildlife, plants connect us across borders.


Despite natural and human-devised boundaries, plants landed in our gardens thanks to botanists, horticulturists, gardeners, and wildlife.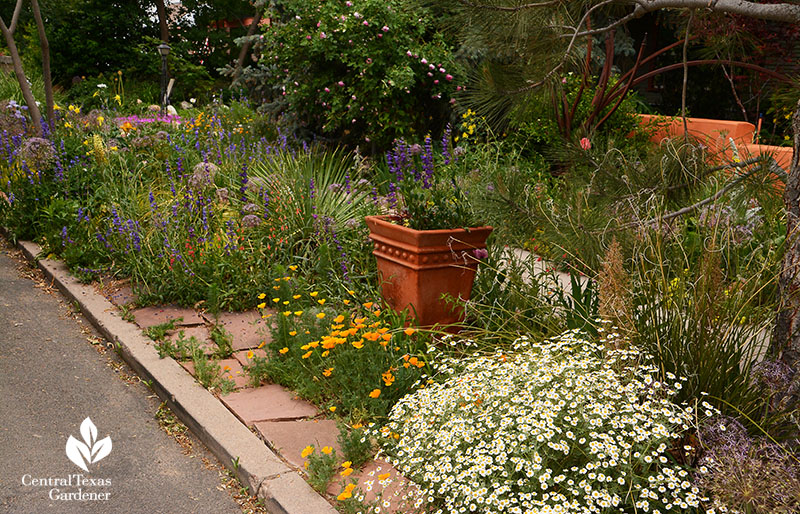 Not all plants find success on their journey. Although they can be adaptable, they do have their limits. It's up to us to recognize and respect their boundaries.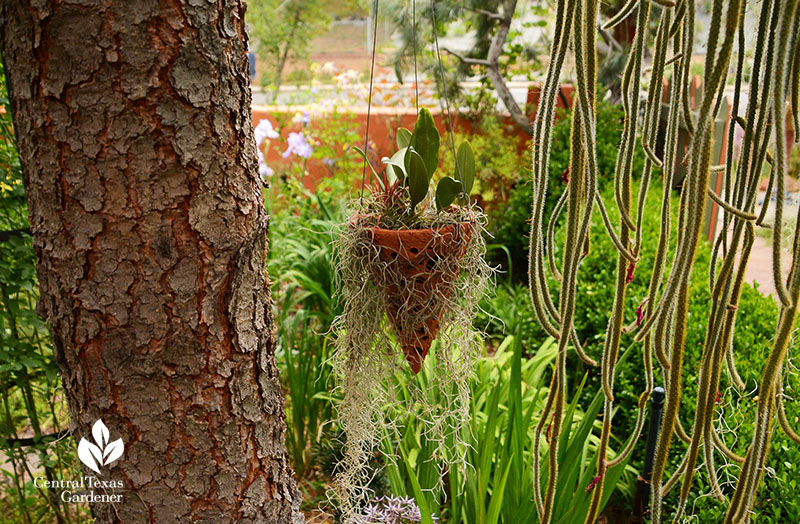 We can't force plants to live with us against their will, so we find the companions that match our boundless imaginations.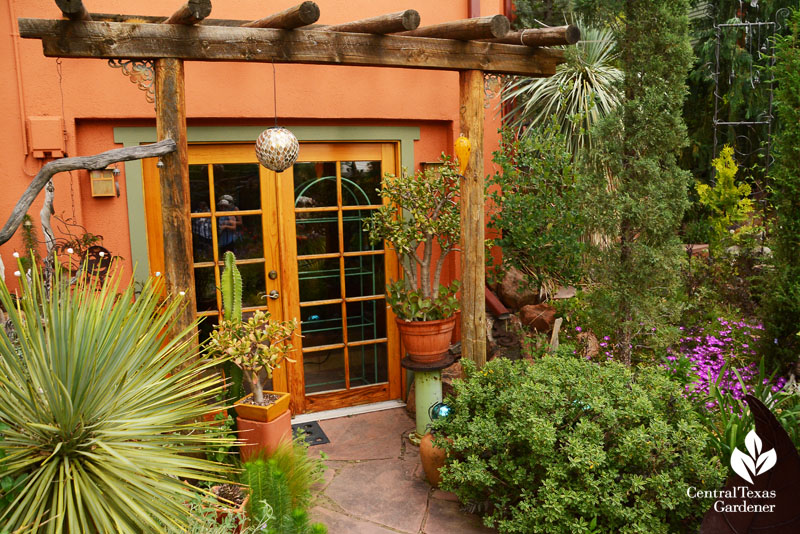 In Colorado on the Garden Blogger's Fling, I saw a familiar face: claret cup cactus, native to the Southwest and Colorado's state cactus. That doesn't mean you won't find it elsewhere, since gardeners are clever.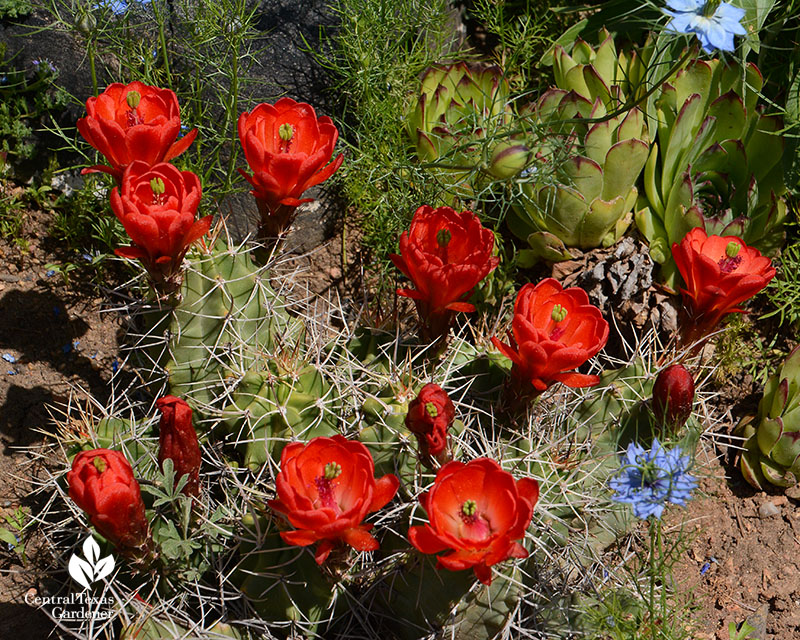 Plant combinations we admire may not exist at our local nurseries (or thrive in our gardens) but we can adapt designs for our own compatible residents.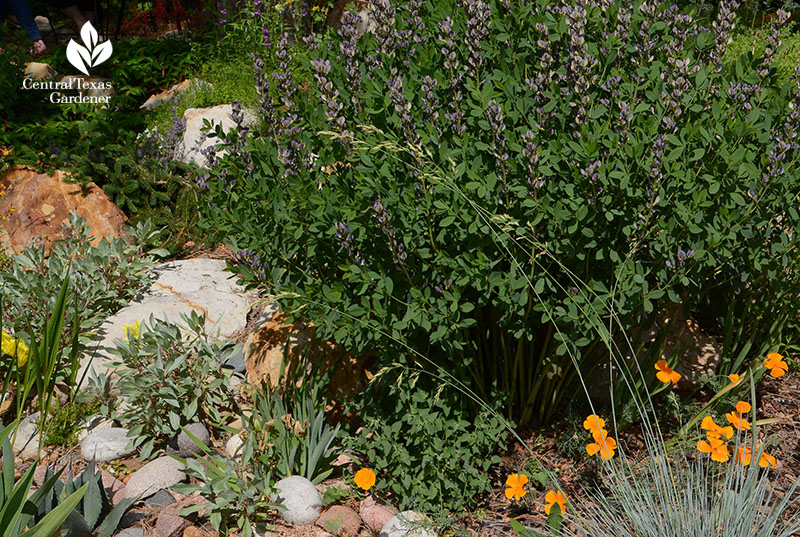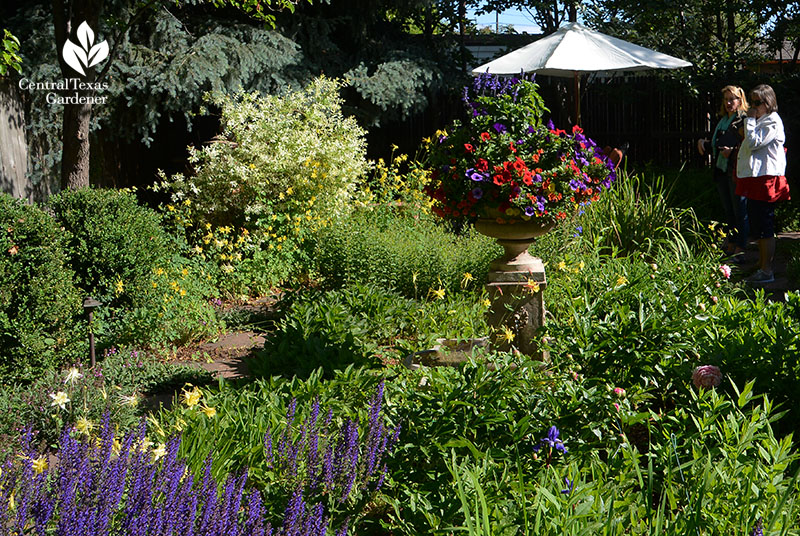 Techniques have boundaries, too, depending on climate, but we all devise observation points.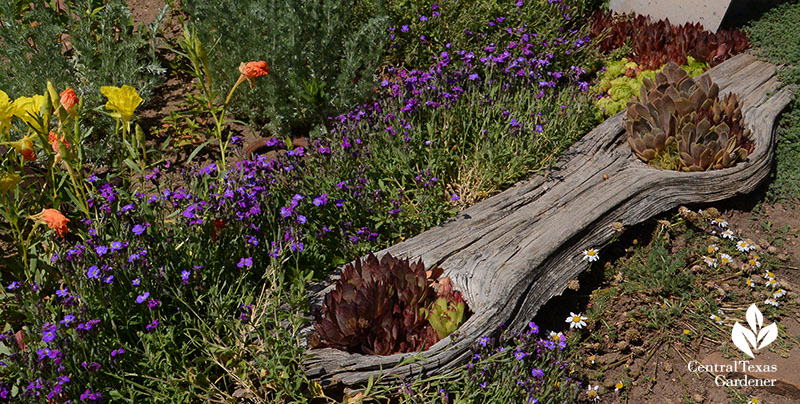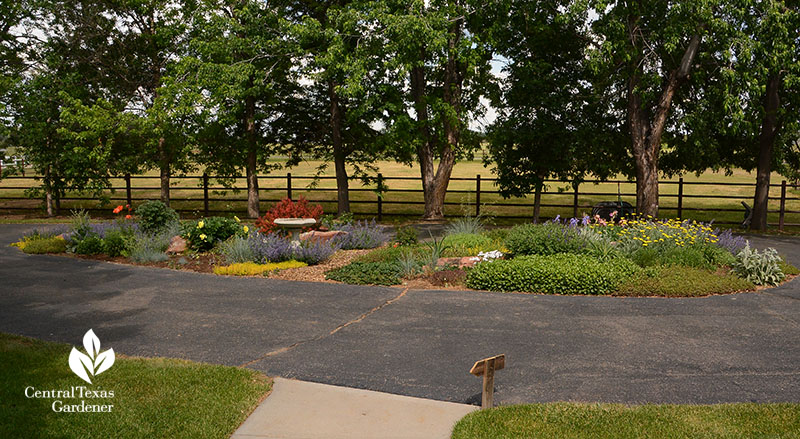 But where some plants are welcome, they can become invasive in other locations, like bee-loved red-horned poppy (Glaucium corniculatum), if indeed this is it!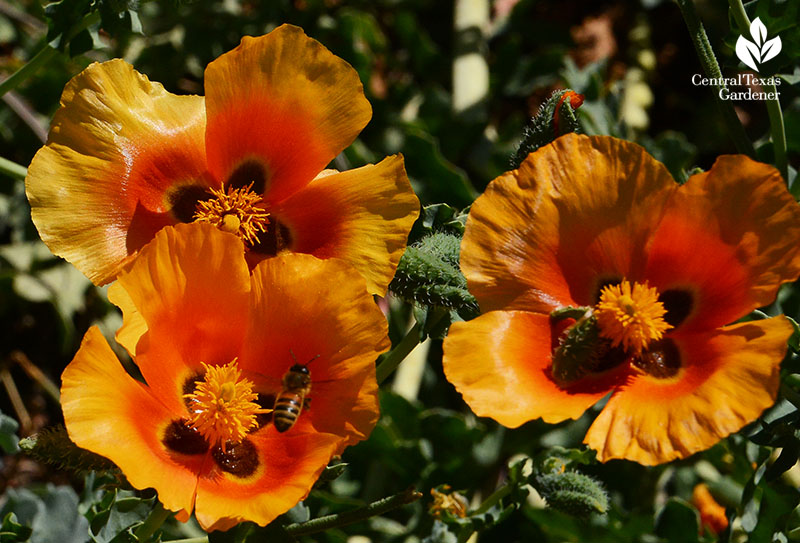 As the Fling bus headed into the Centerra mixed use, master-planned community in Loveland, Colorado, my first thought was, "This is like Mueller!" Mueller's a Central Austin "suburbitat" where humanity, habitat, and conservation unite.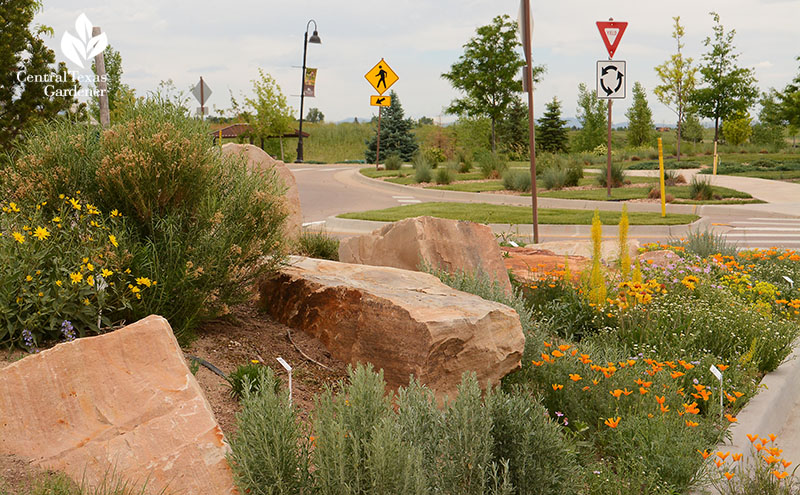 But we're at Centerra and the High Plains Environmental Center, an urban environmental park that's home to wildlife and people. Not only did Centerra's developer Tom Hoyt plan conservation-sensitive yards and homes, he included 76 acres of habitat. High Plains executive director Jim Tolstrup oversees its mission.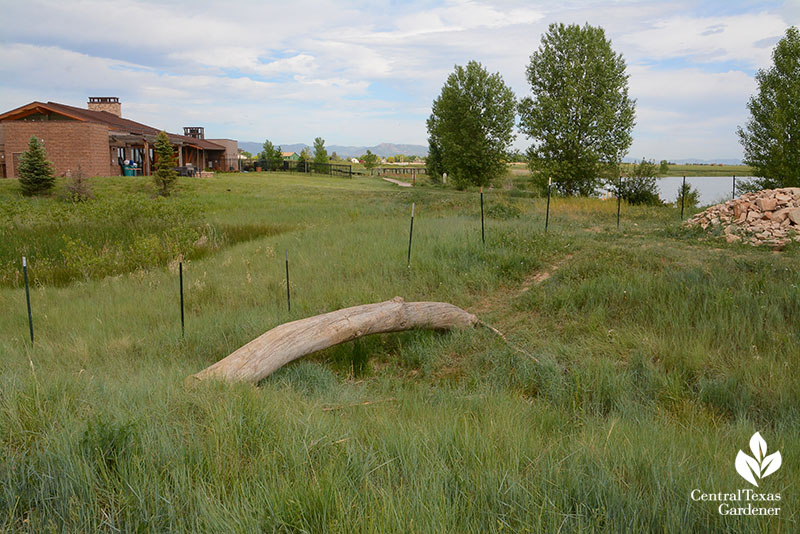 From what I could see on a quick tour, the residential area is committed to rainfall collection and control via berms and swales. Deep-rooted grasses cover berms and front yards, while drought hardy perennials feed pollinators.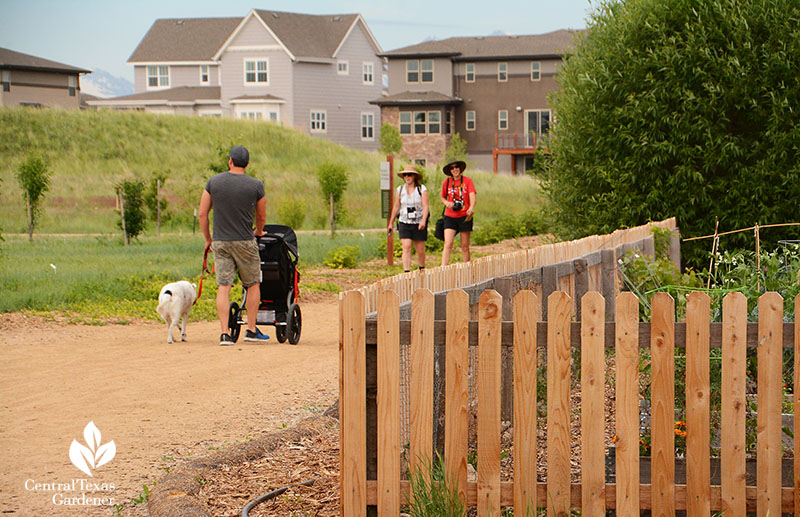 Like Mueller, High Plains planted a food forest, designed native plant demonstration areas, and a community garden. And a whole lot more, believe me. This is the future of new urban development.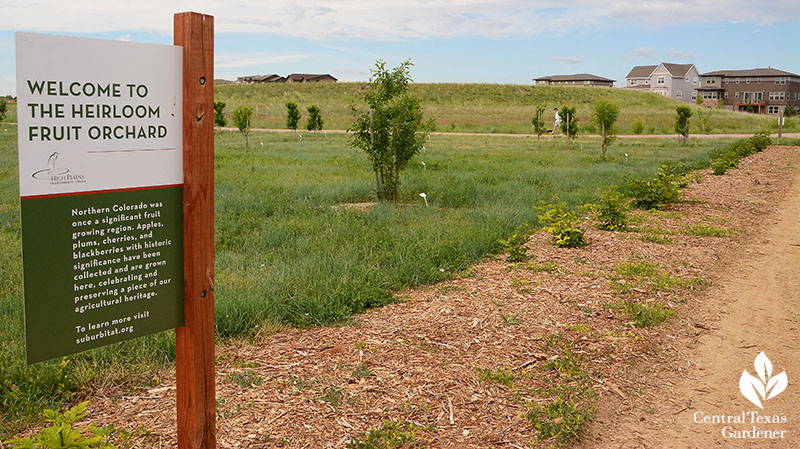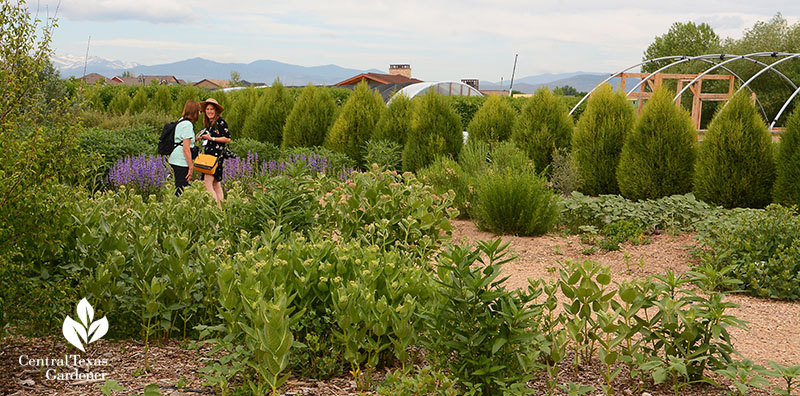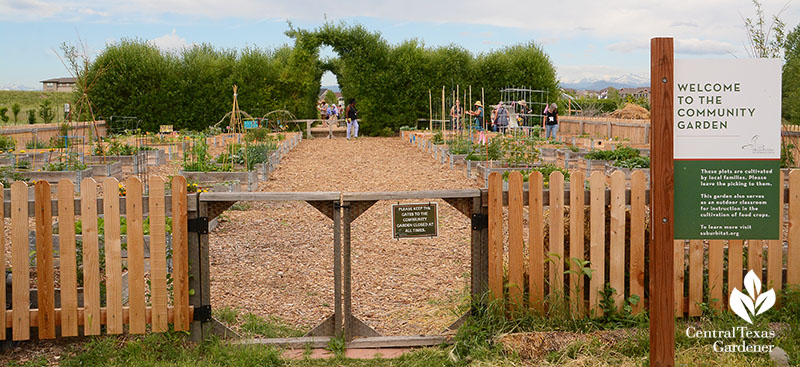 To connect habitat, horticulture, and community education, Denver Botanic Gardens: Chatfield Farms in Littleton spreads across 700 gorgeous acres.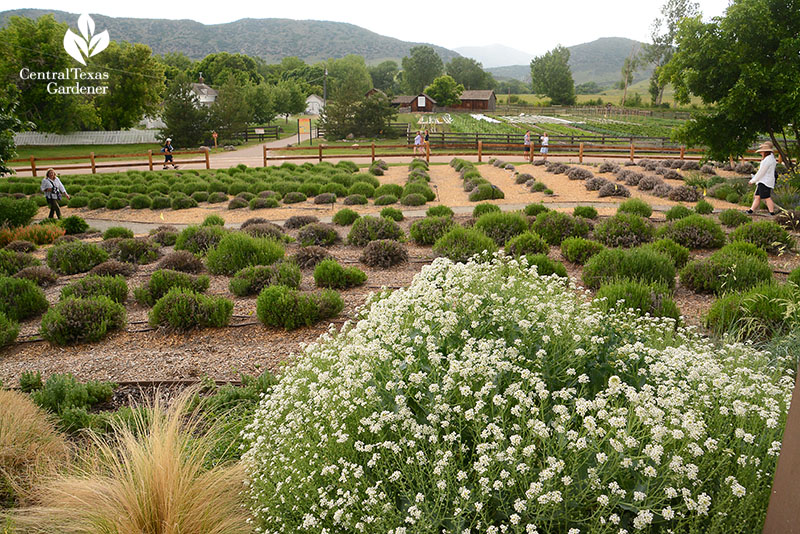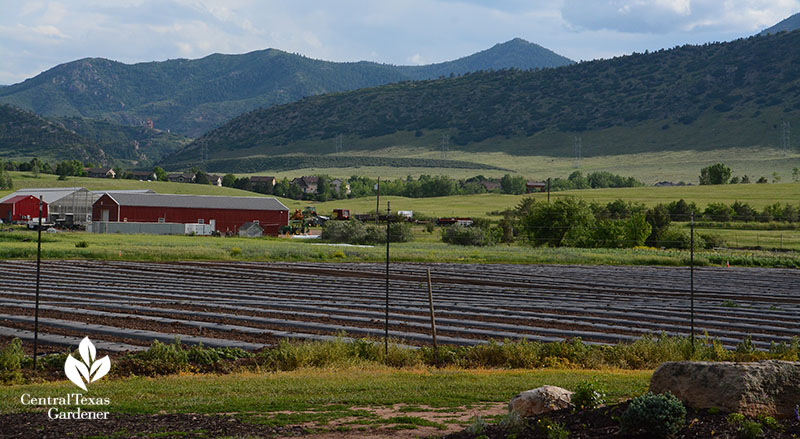 Thanks to Denver Botanic's vision, this once-working farm is still working, including a CSA.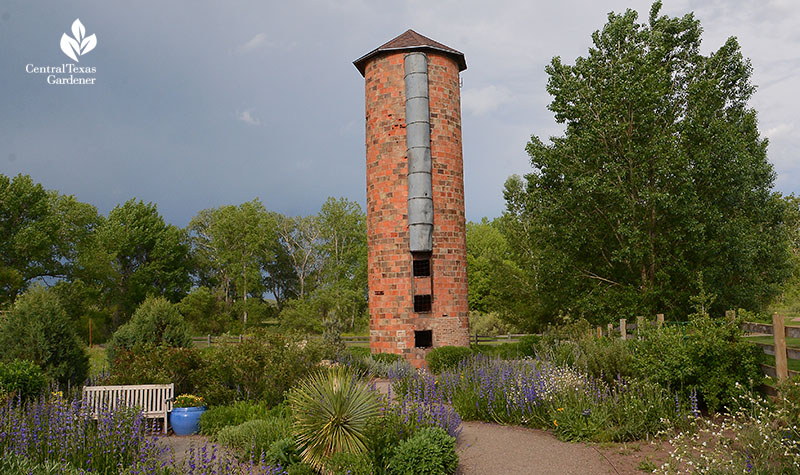 A native tallgrass prairie, designed by Lauren and Scott Ogden, harbors wildlife. Beyond, lavender fields test best varieties as an economic crop. I saw both 'Munstead' and 'Grosso' which we can grow, but there were many others.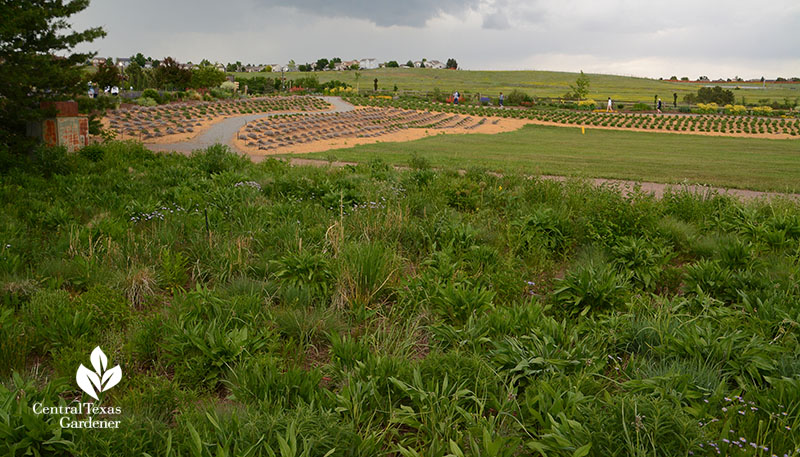 Natural and hardscape trails reveal designs to try at home.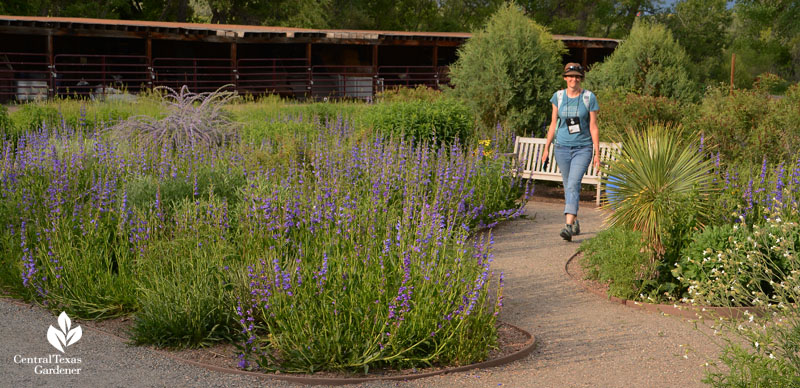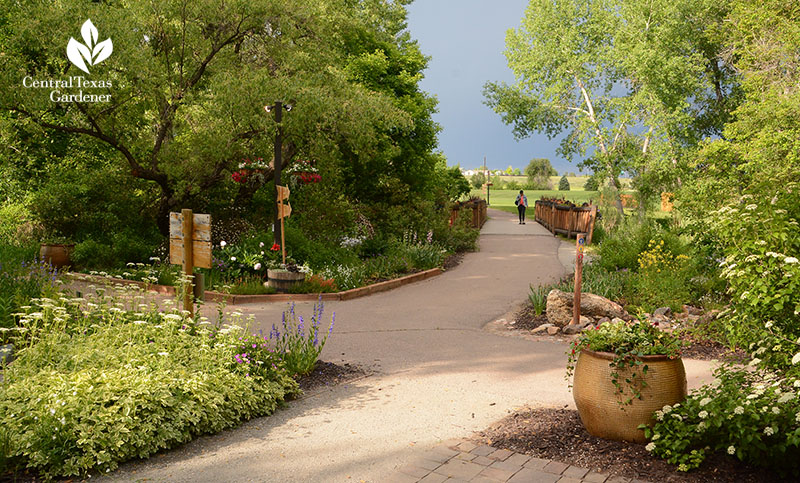 In fact, along this bridge rail, they've hung containers of colorful annuals. Recently on CTG, Houston Extension Horticulturist Skip Richter described how he dangles buckets of pollinator-plants on his fences in his small vegetable garden.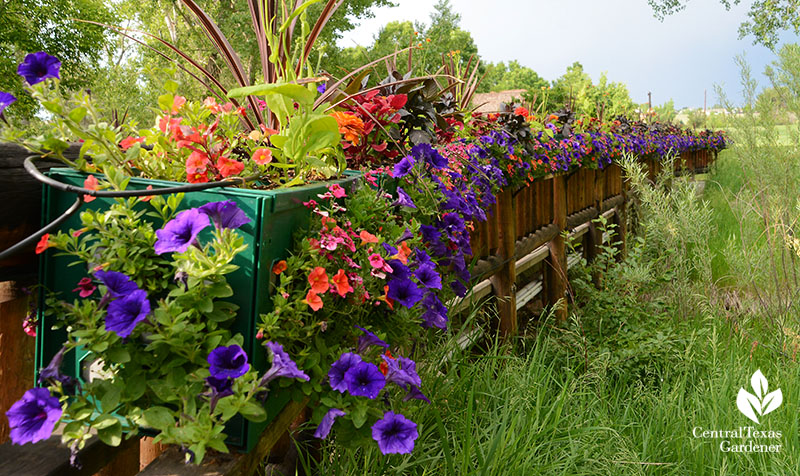 At the old farmhouse, gardens demonstrate reduced-lawn design with easy-care perennials.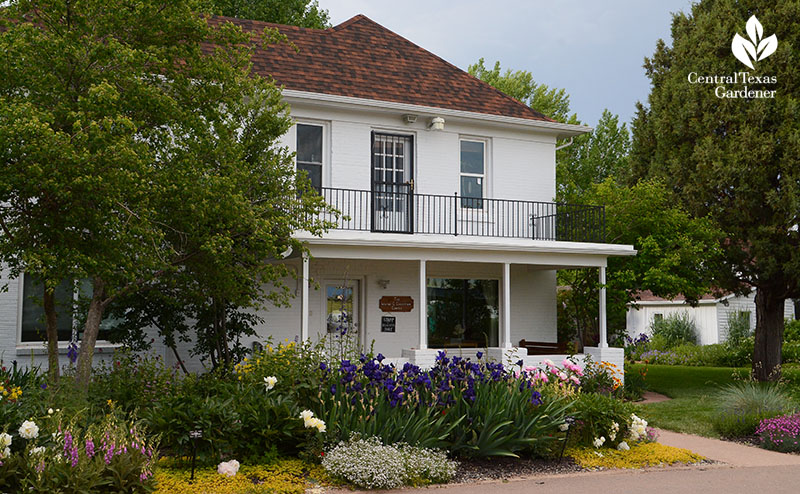 Denver Botanic Gardens: York Street thoughtfully educates on many levels, from design and horticultural interest to drought design awareness.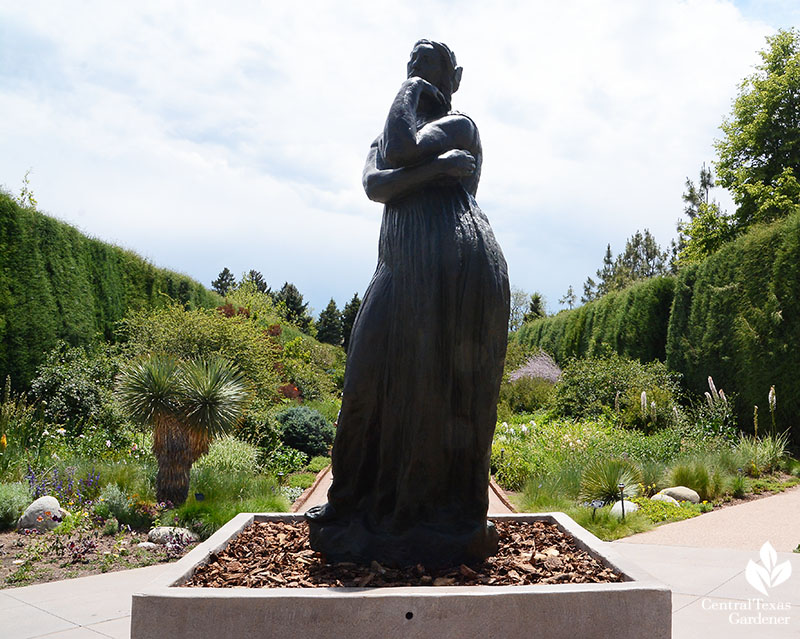 For every age group, they invite exploration, social interaction, knowledge, and play.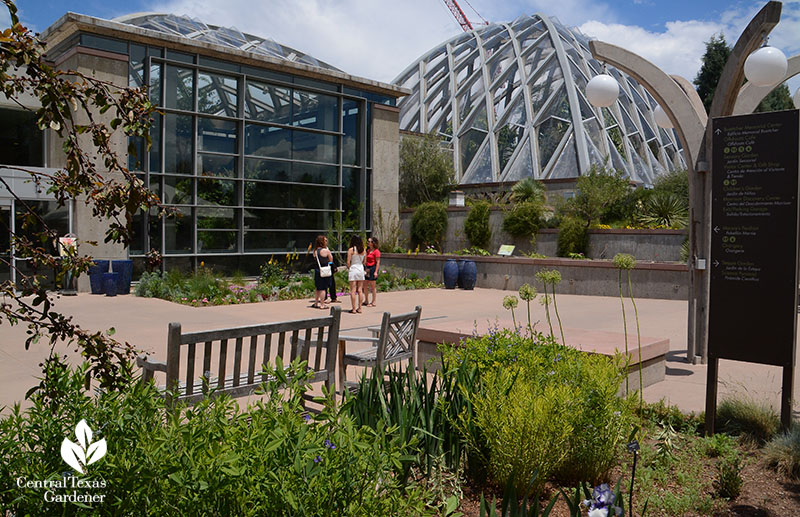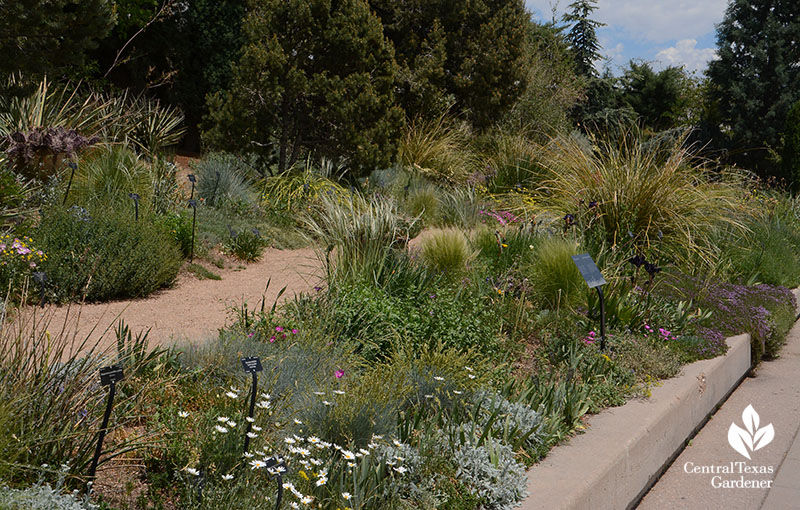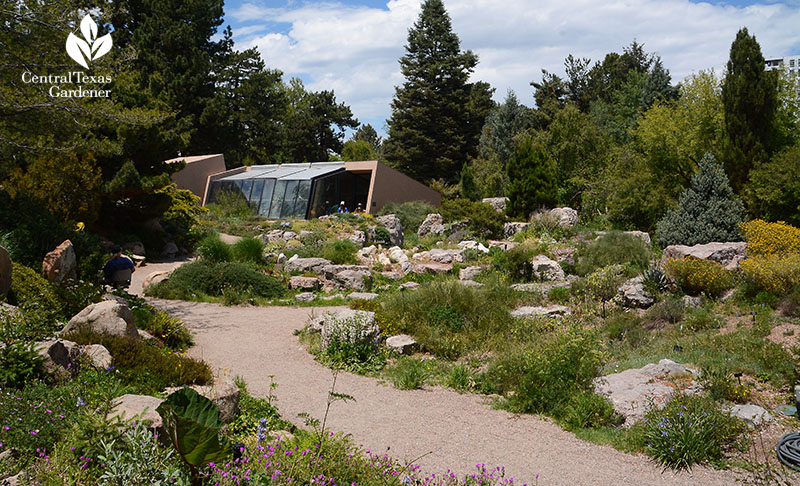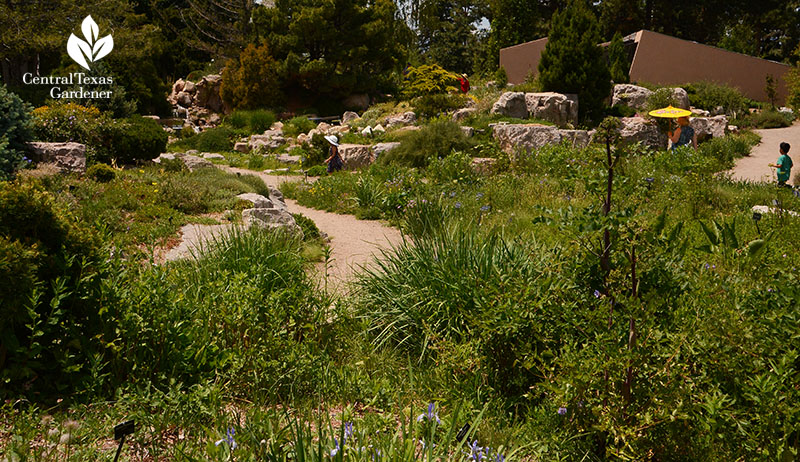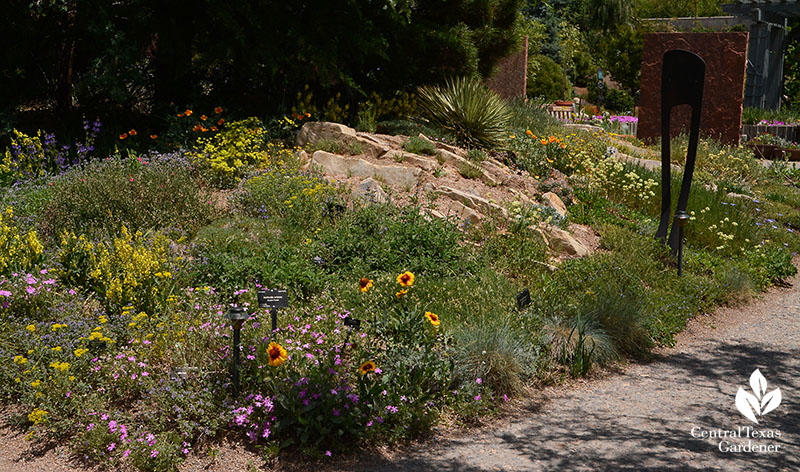 Along with demonstrating diverse plant habitats, they alert us to serious threats, including Emerald ash borer that's wiping out native and exotic ash trees. This insect has now crossed borders, including Texas, so educate yourself.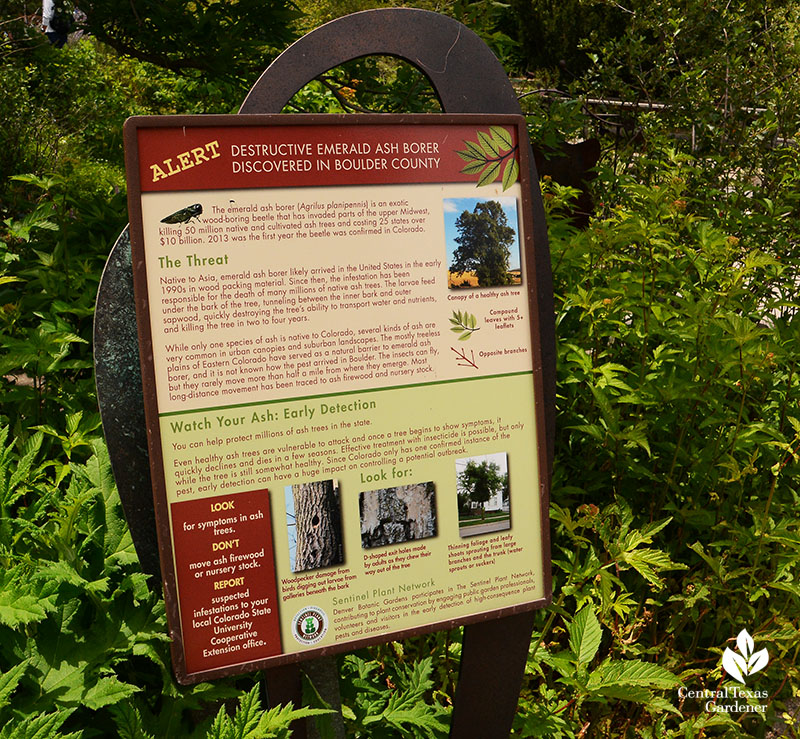 Much of what you see at Denver Botanic started with Senior Curator and Director of Outreach Panayoti Kelaidis, world-wide collector, educator, and energetically gregarious guy. After welcoming us to DBG (and cleaning up after lunch!), he greeted us at his own front door, joined by fellow gardener and neighbor drafted as a very helpful docent for the day.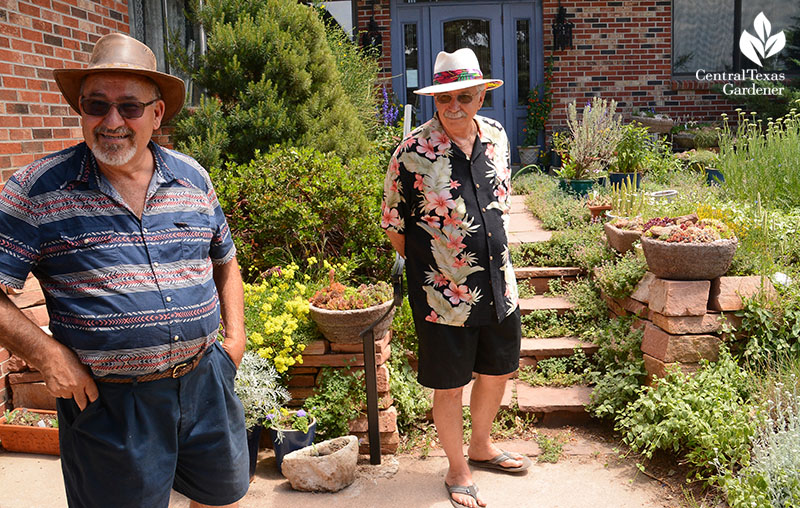 Through all his adventures, Panayoti cast his visionary eye onto his own garden, a botanical expedition of waterwise partners that honor his respect for resources, habitat, and beauty.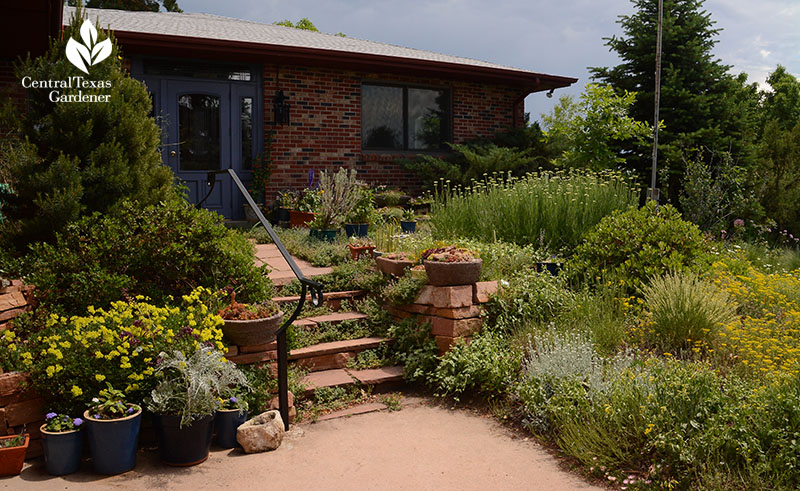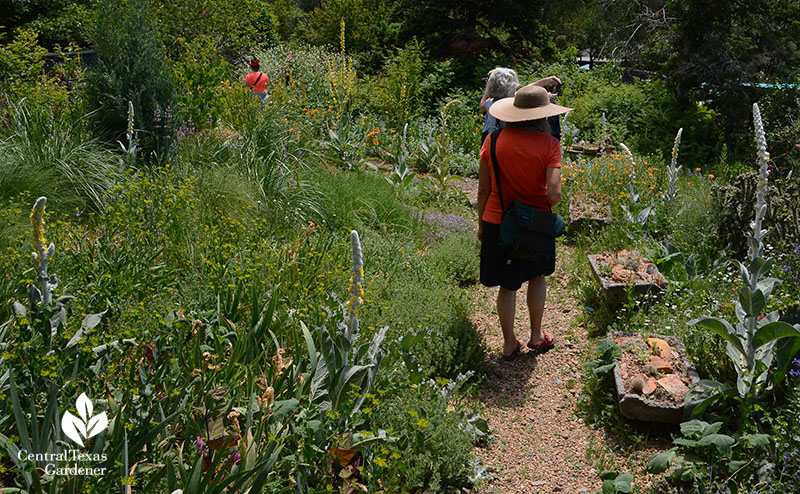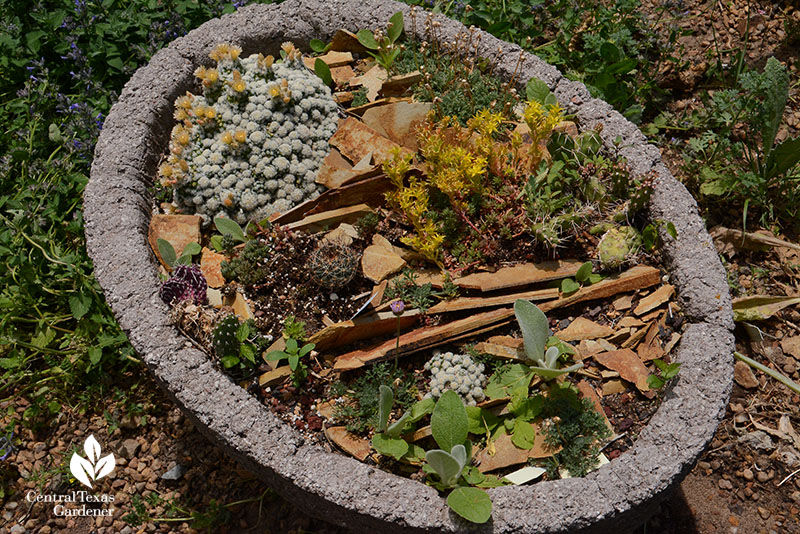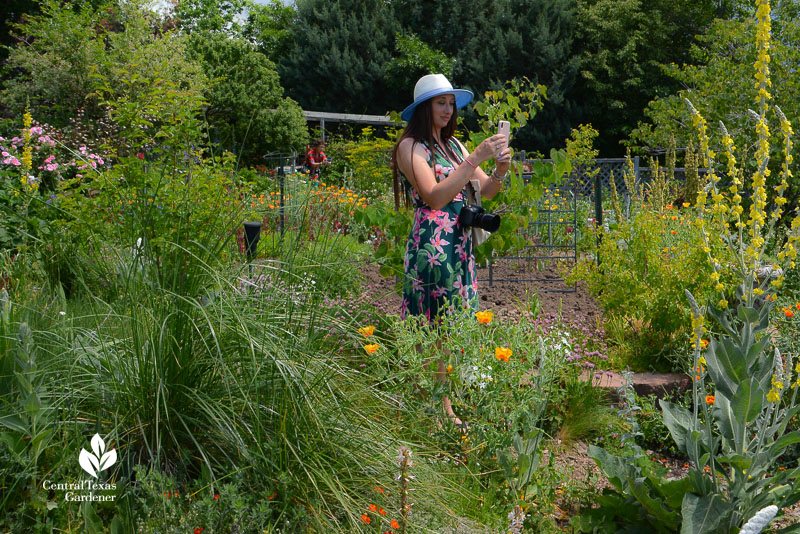 Co-author of Steppes: The Plants and Ecology of the World's Semi-Arid Regions (with Michael Bone, Mike Kintgen, Dan Johnson and Larry Vickerman), he exemplifies his mission on home ground.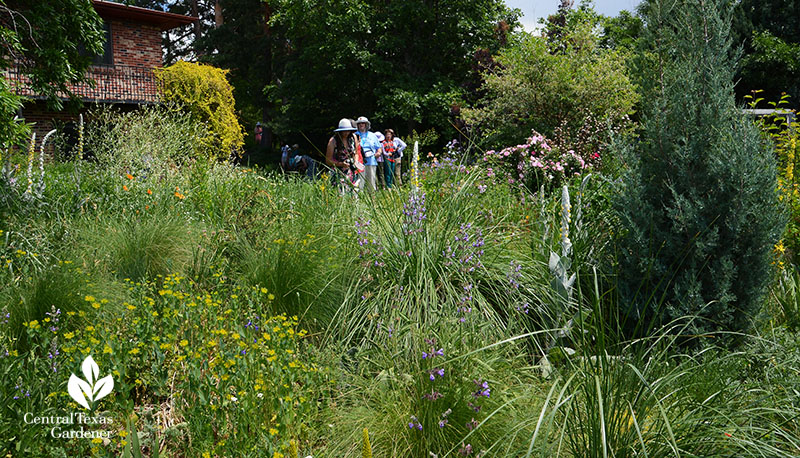 Since he loves every plant, however it's arranged, flowery perennials and annual wildflowers neighbor with succulents embraced by bordering trees.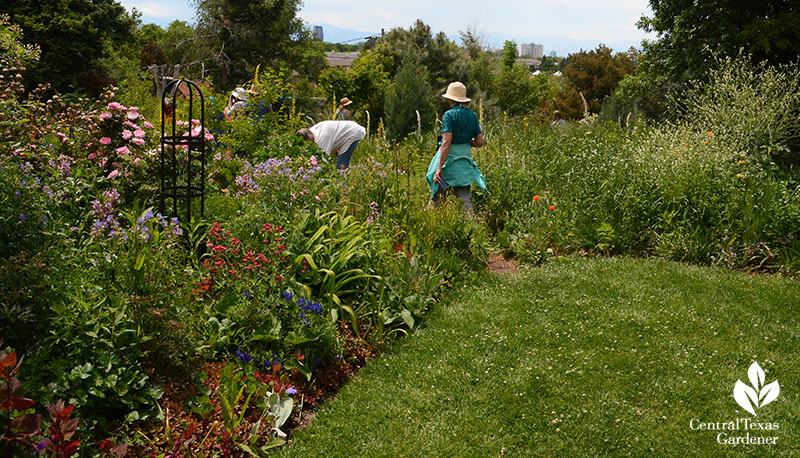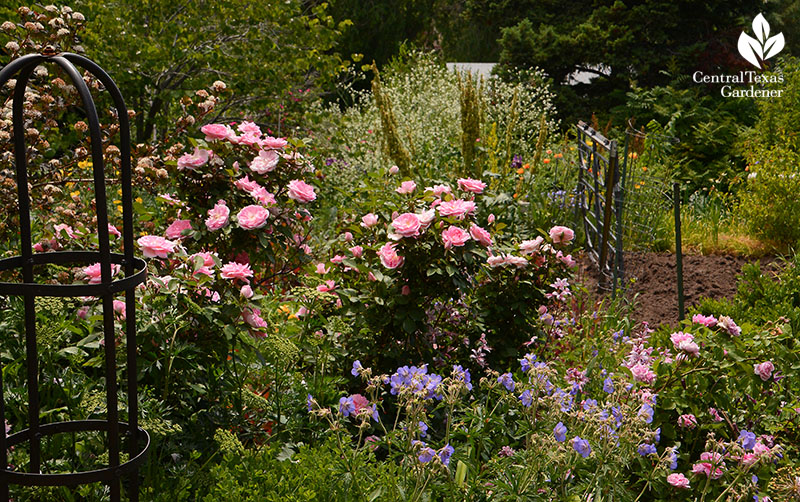 Panayoti can build things, too, like this dramatic rock garden that segues into a sunken pond and terrestrial rock collections.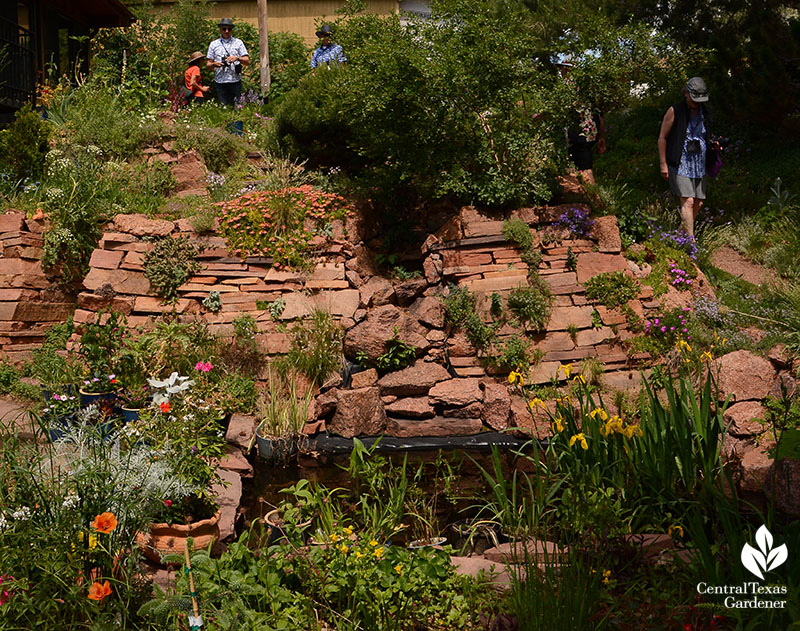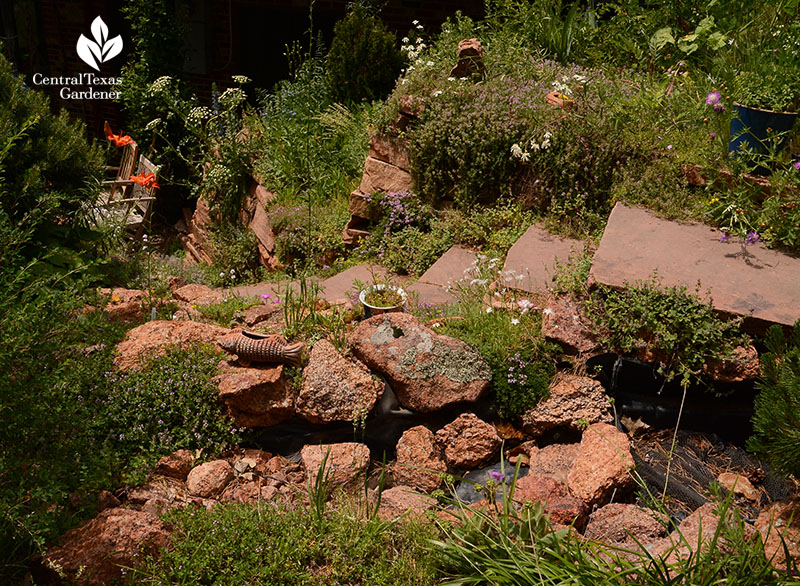 Subscribe to his personable blog, Prairiebreak, to keep up with his botanical adventures at home and from afar!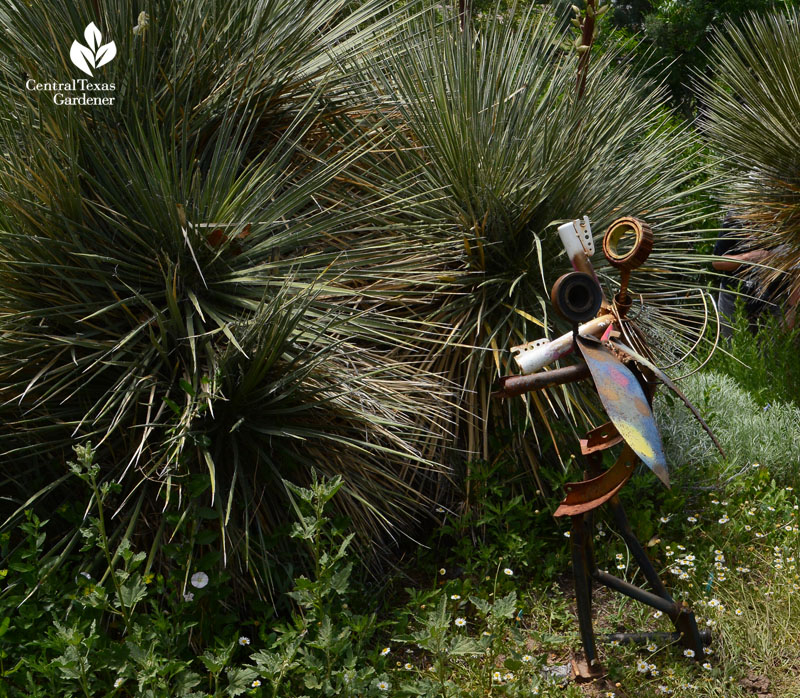 We can be plant pioneers, too, even with containers. This week on CTG, certified professional horticulturist and author Leslie Halleck primes us for plant propagation indoors and out with tips from Plant Parenting.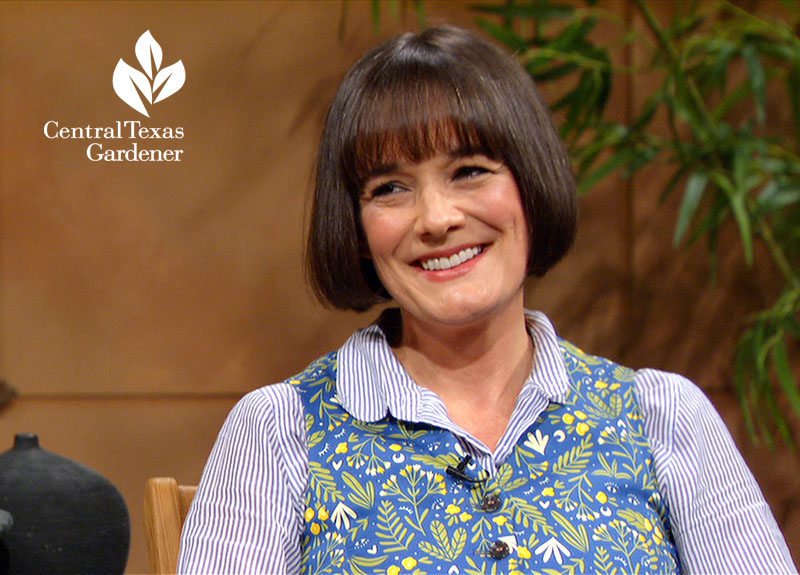 Thanks for stopping by! See you next week, Linda
Comments