August 8, 2019
Hot Ideas for Entrances, Privacy & Garden Art
I sure could stand to up my garden gate game. Here's a fun post topper in Jean Morgan's Colorado garden where a pineapple finial represents hospitality and Bugs cheerfully reminds us to close the gate behind us.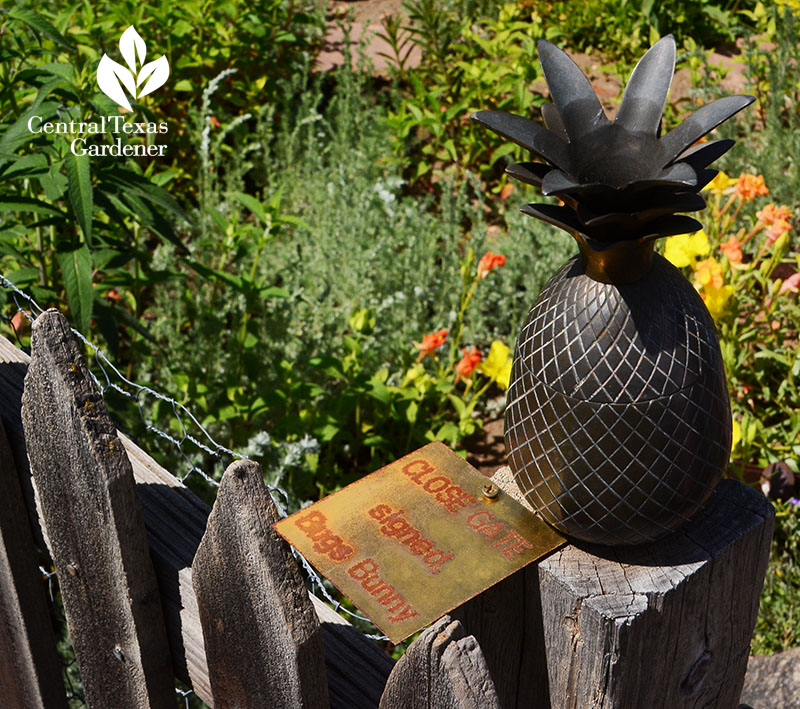 Clever entrances, screening, and garden art were a gateway to ideas on June's Garden Bloggers Fling in Colorado. In Dan Johnson and Tony Miles' garden, the hefty metal entrance arbor supports a rose, its design echoing the wooden porch structure for hanging containers.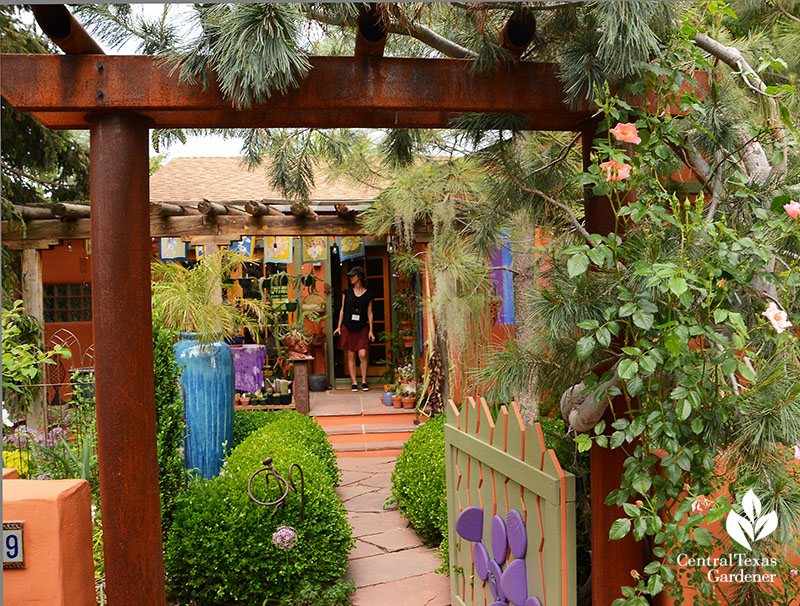 To artistically invite backyard entrance, an intricately carved, colorful frame (starting life as something else?) anchors a rustic gate.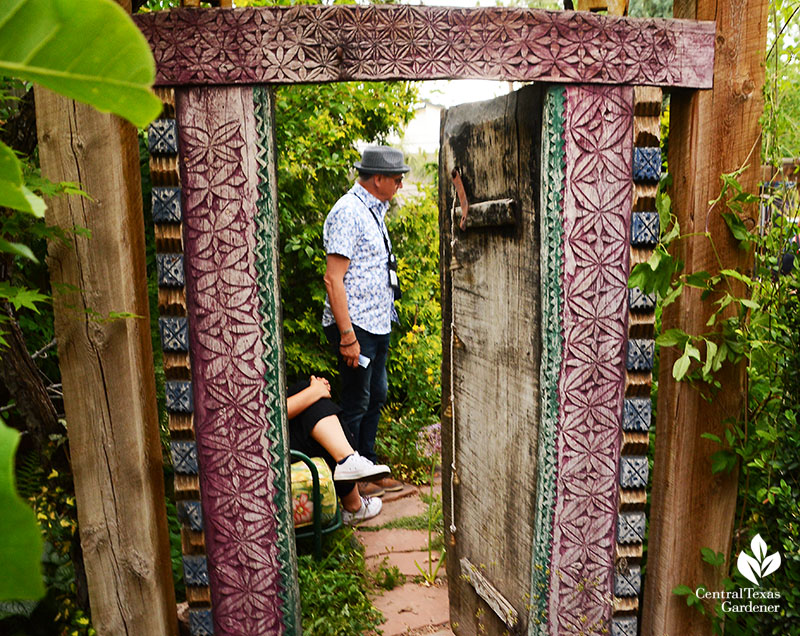 They carry their richly saturated color palette and architectural style to a patio where the partial screen's cutout echoes the ripples of nearby stream and pond. And what a balancing act to top that post!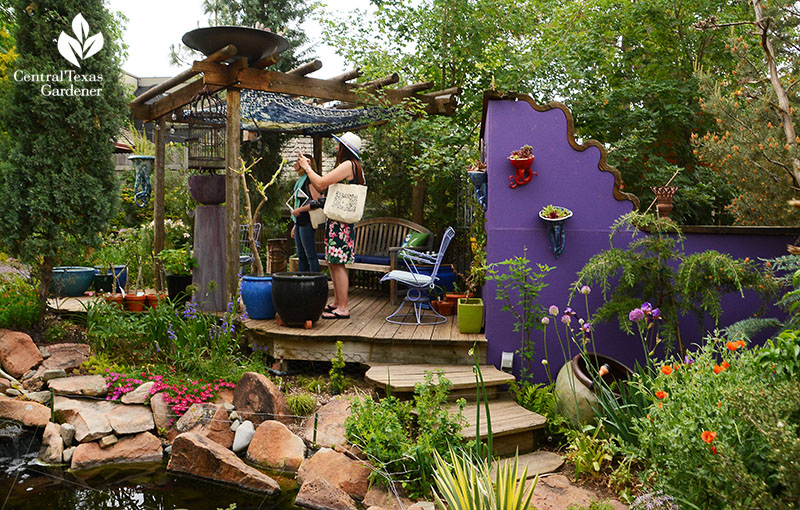 Carol and Randy Shinn connected front and back with a stylish rose arbor and embellished gate.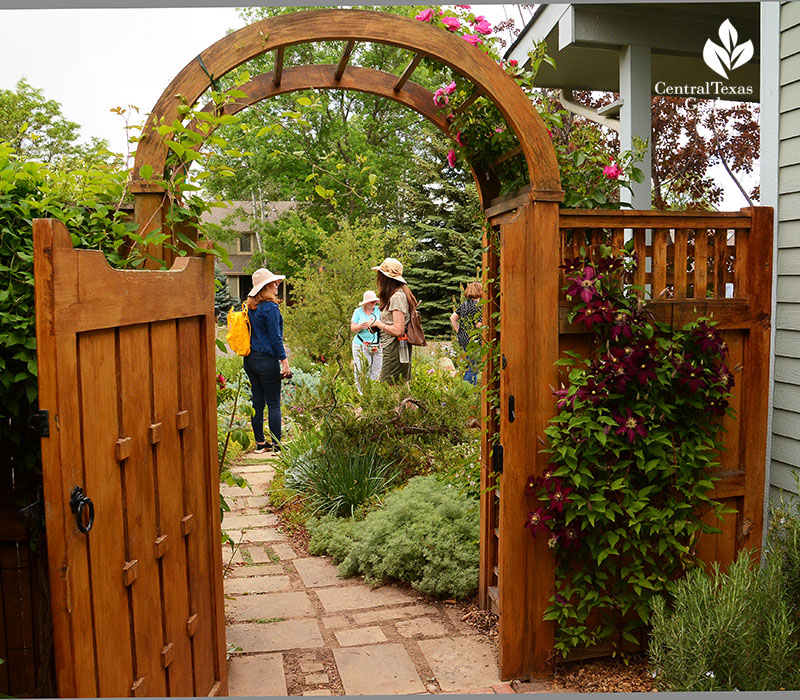 The wheels of creativity turn in Jean Morgan's garden with a nod to the past—whether of historic use or simply out-of-use.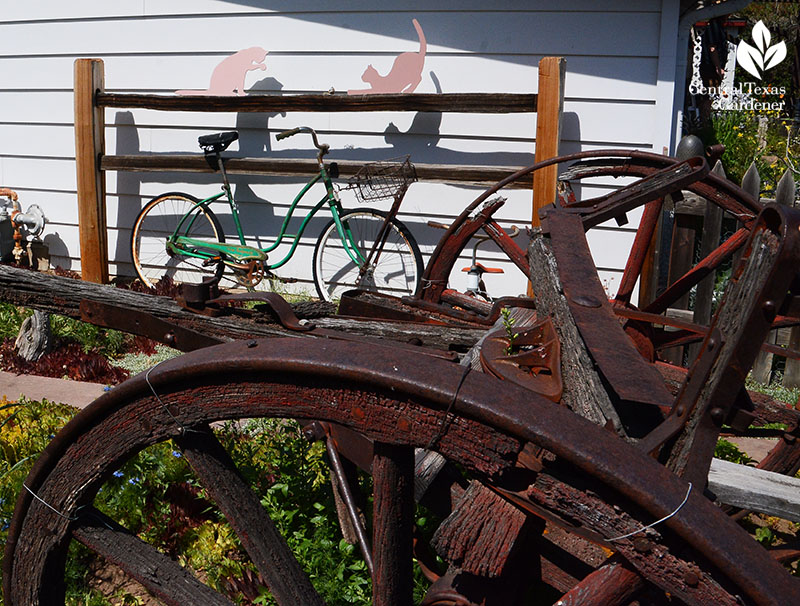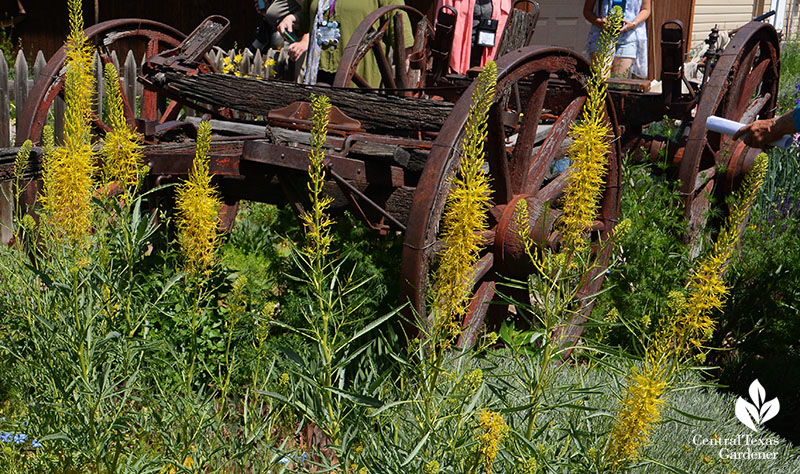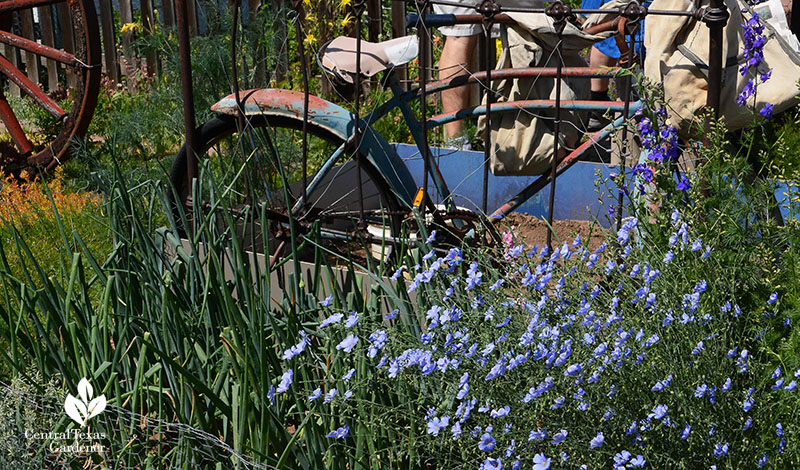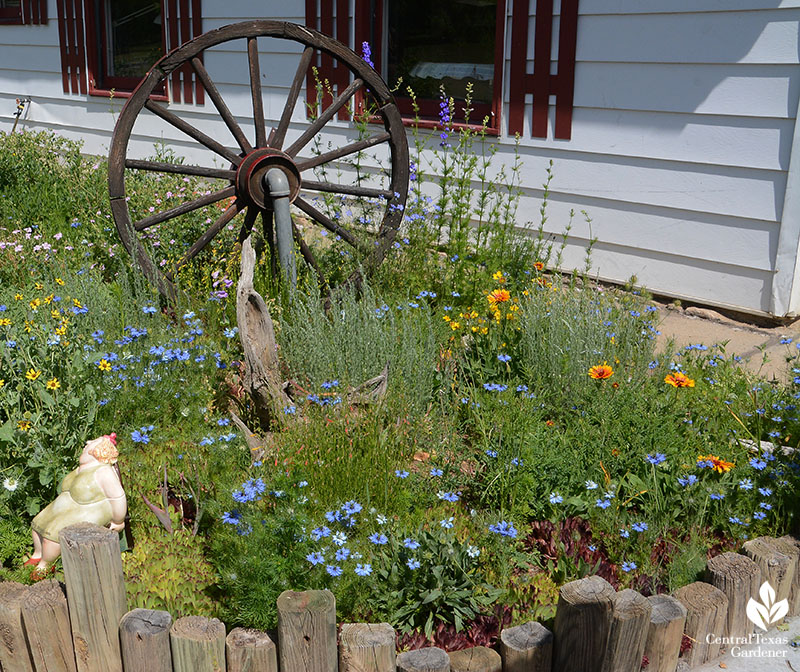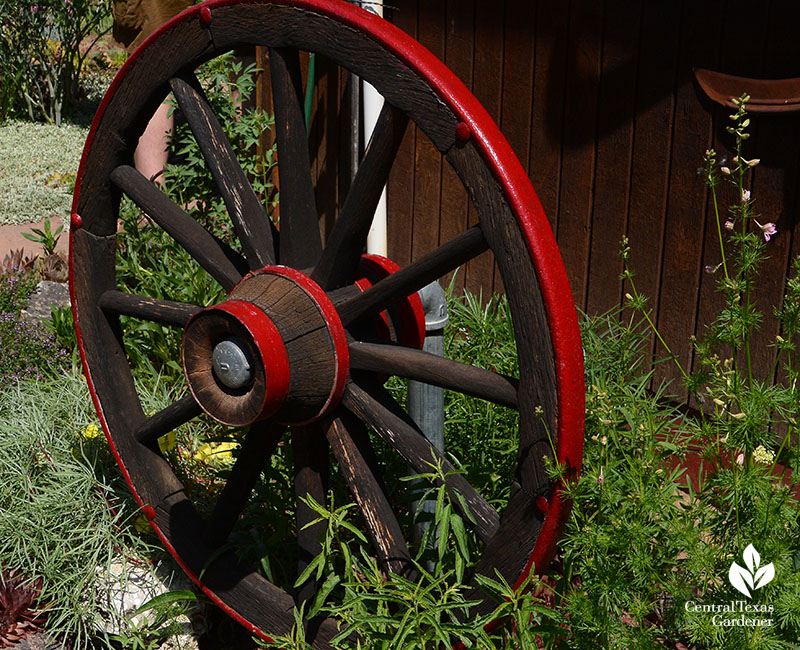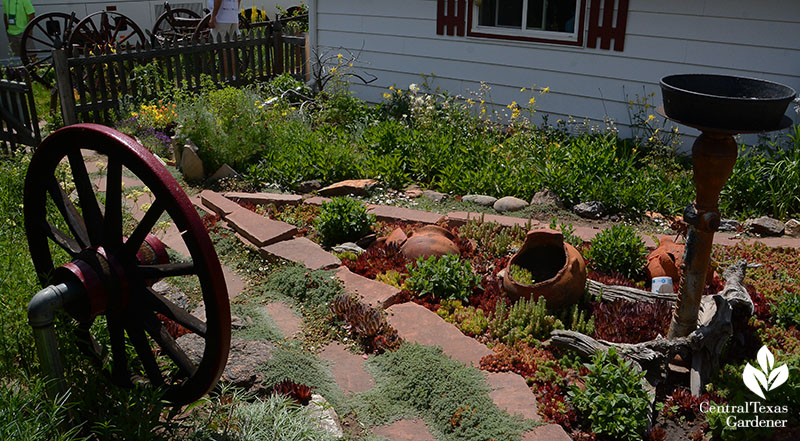 Tatiana Maxwell parks her wheels in a clever bike port. Park and pick fresh food from her dry stack raised vegetable bed. Hog panel protects against critters cruising by. The port's gutter funnels rainwater into the whiskey barrel plant.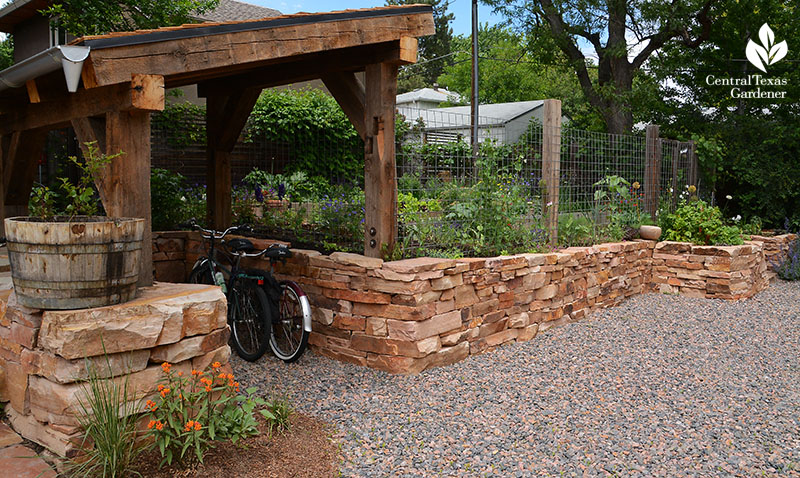 Since I've got chain link fencing, I'm always looking for screening ideas for plant gaps. I'm not sure I could maneuver this version in Linda Boley's garden, but I'd like to try.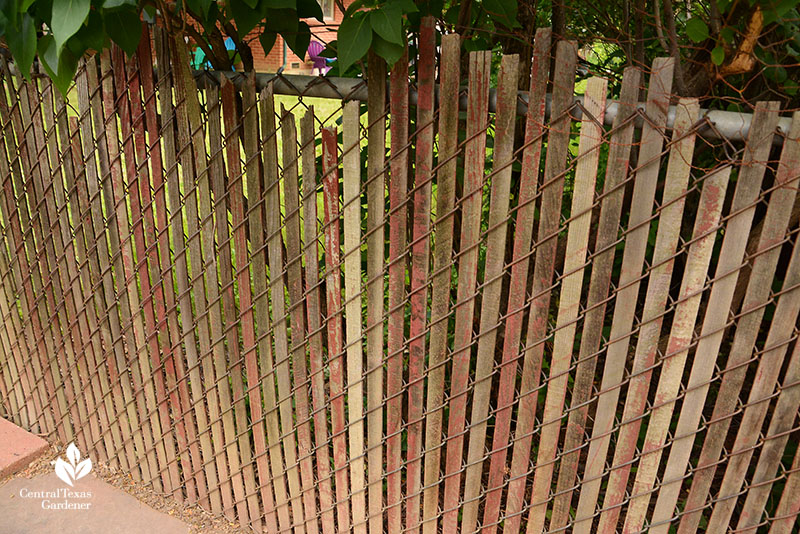 Trellises and flowering plants tend to this section.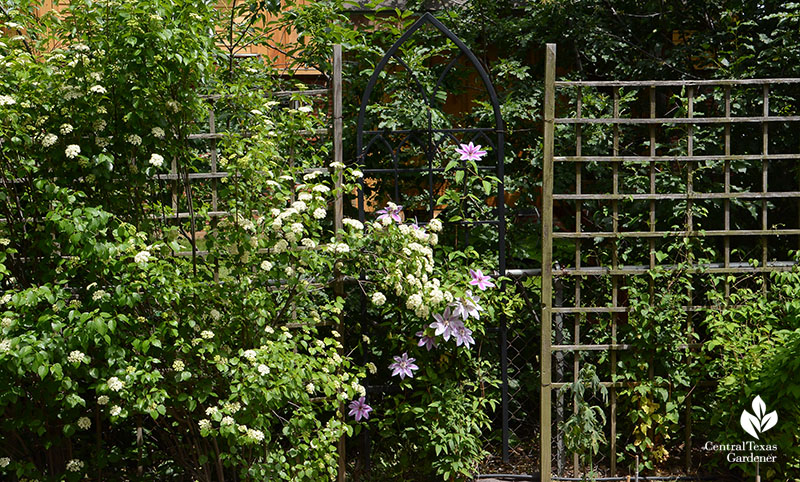 I adore her fence treatment on another side. Often in August, I've considered simply painting plants onto fencing and to heck with watering!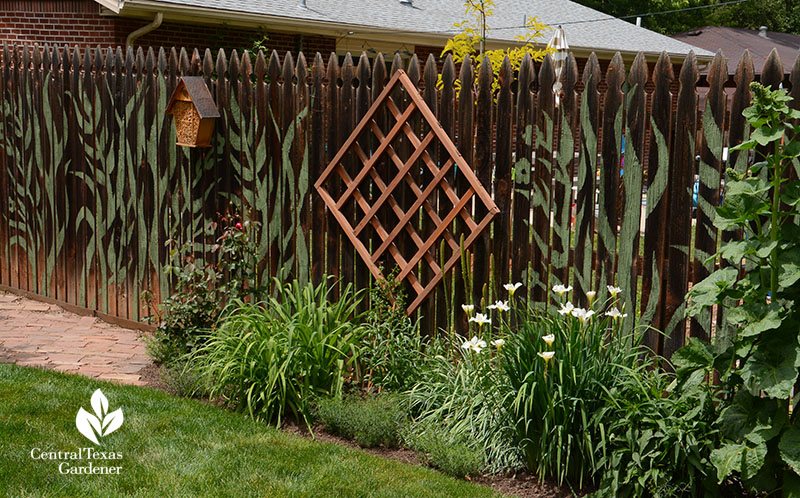 Perhaps she grows climbers on the arbor in the vegetable garden, but whether or not, it adds vertical fun. On the opposite fence, she chose bamboo screening, something I've used, too.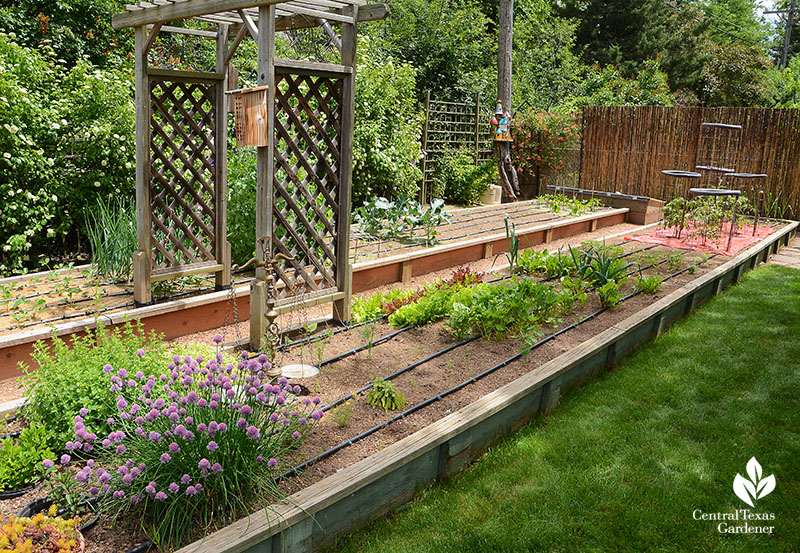 Another screening idea high on my list: Janice Devore's bamboo-laced subtle shields beyond her pond.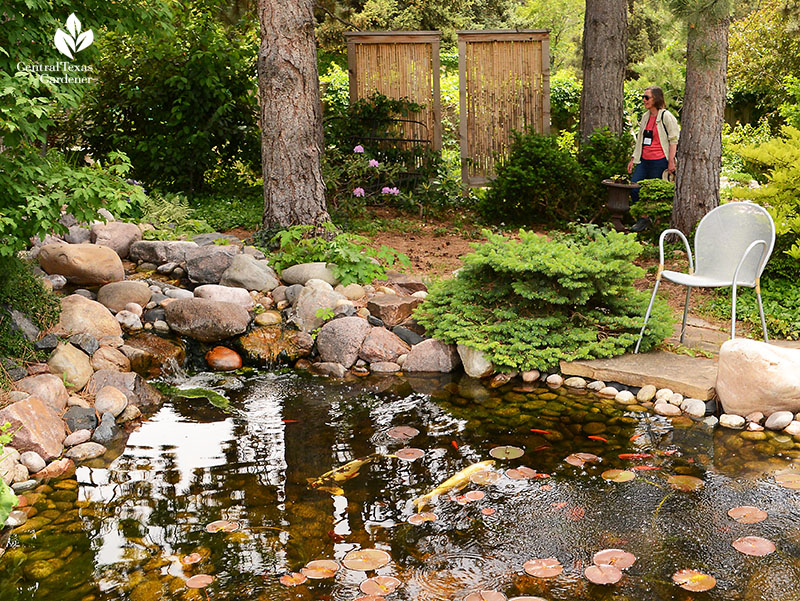 Sled into fun upcycled garden art in Jean Morgan's garden. Well, okay, I assume these are sleds: I've actually never seen one. I've rarely seen snow, either, and certainly not enough to sled on.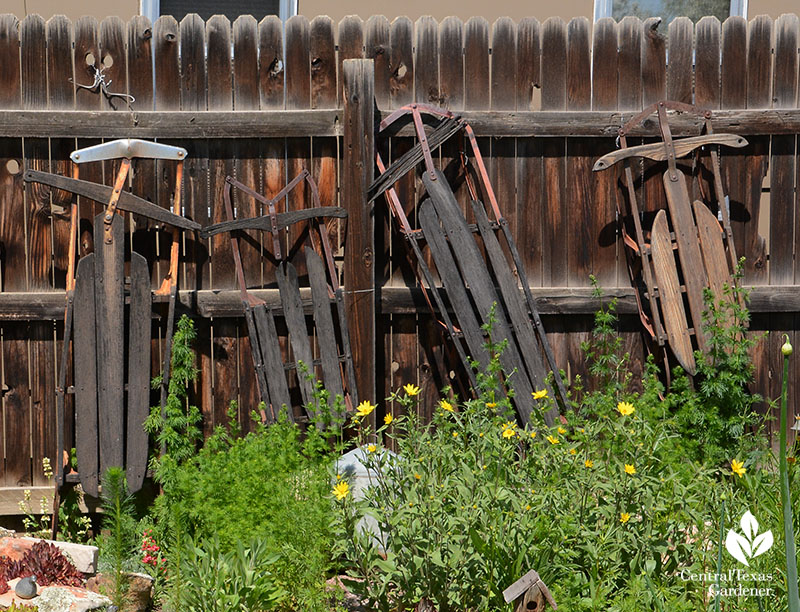 Of course, I couldn't resist this tiny scenario! No fears that bunny will chomp her orange geum.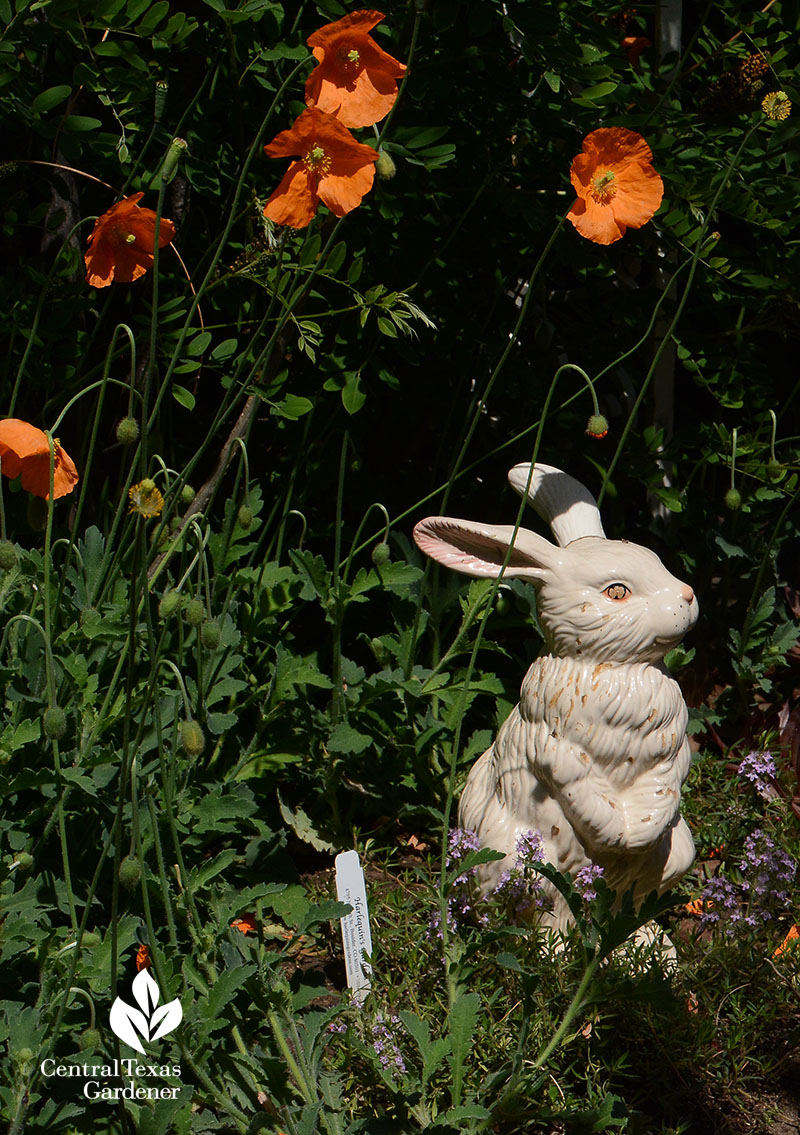 This curving sculpture—its provenance as fence posts, perhaps—beckons to Dan Johnson and Tony Miles' garden.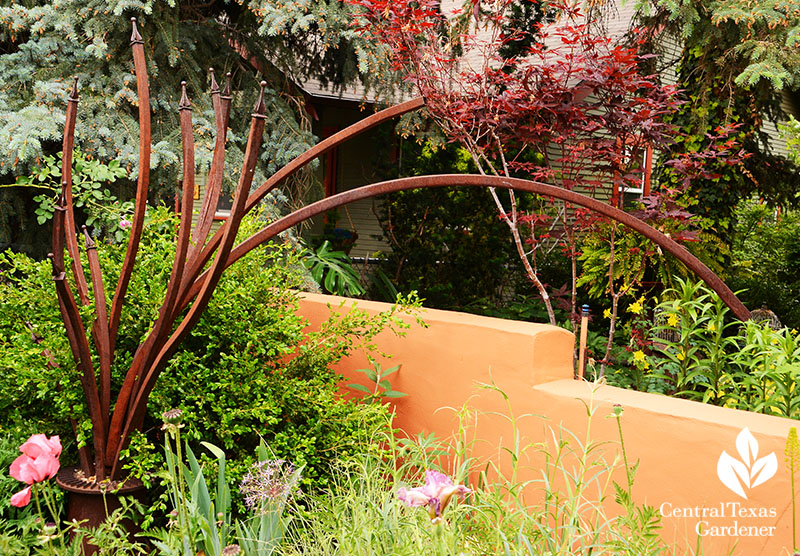 This one reminds me of a plow.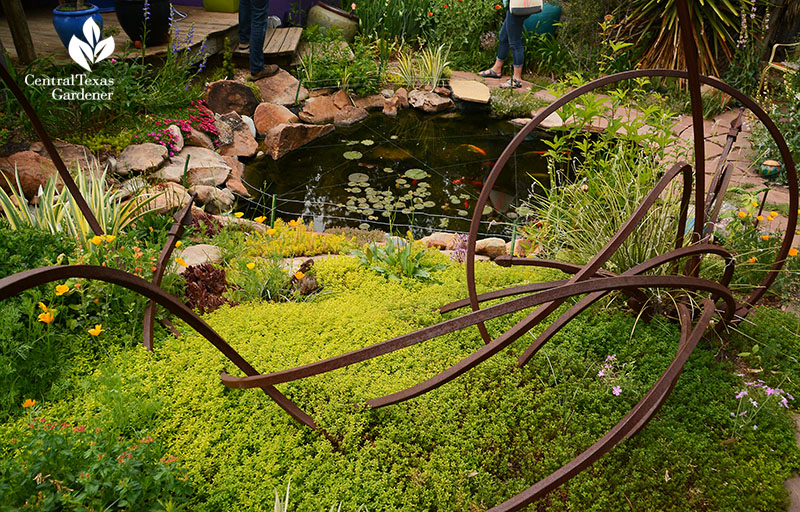 Whimsically they acknowledge an agave's urge to snag you.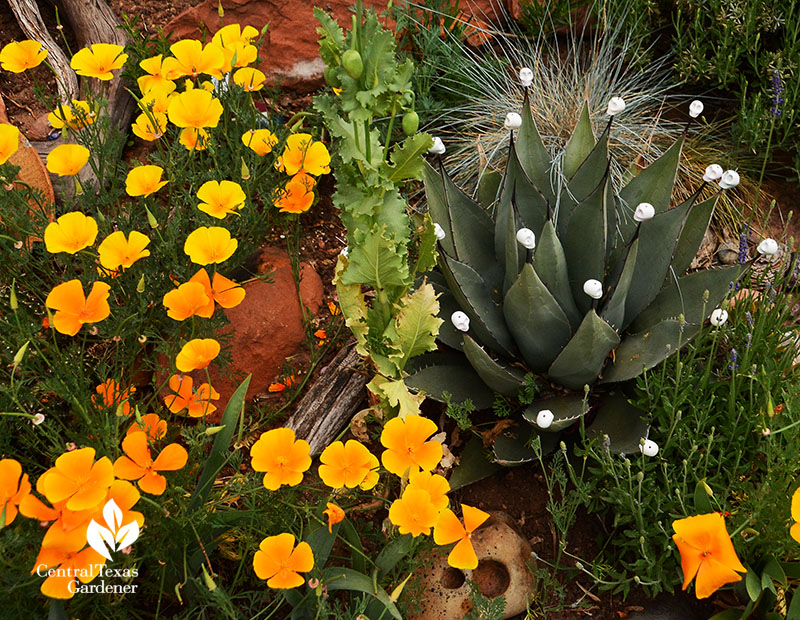 Golden-painted fire hydrants signify public supply system water, so Retha and Keith Funk gave their front yard "sculpture" artful attention with California poppies and golden princes' plume. I bet some of those irises complement, too.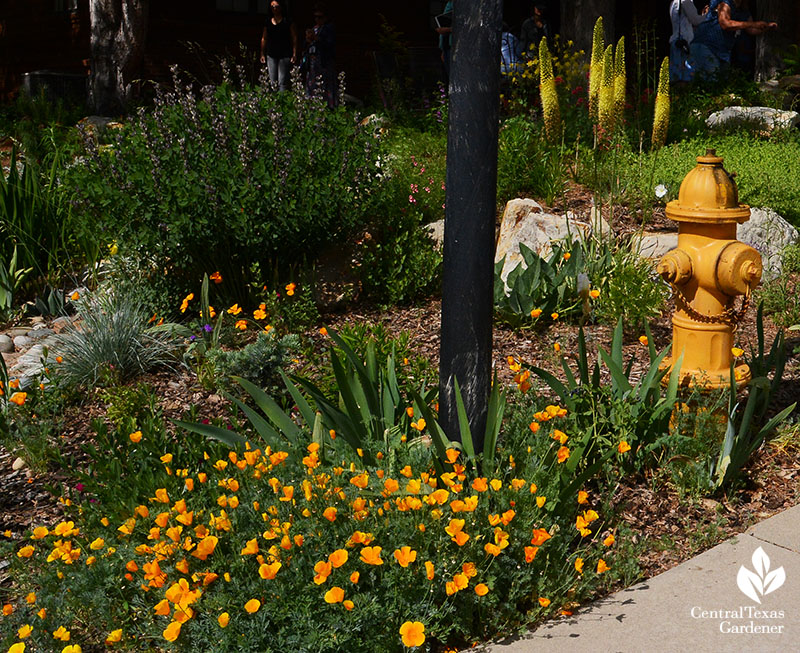 Linda Boley balances colors and stones. I'd love to do this, too, if 1) I had the patience; and 2) if I didn't have frisky raccoons that would toss it just for fun.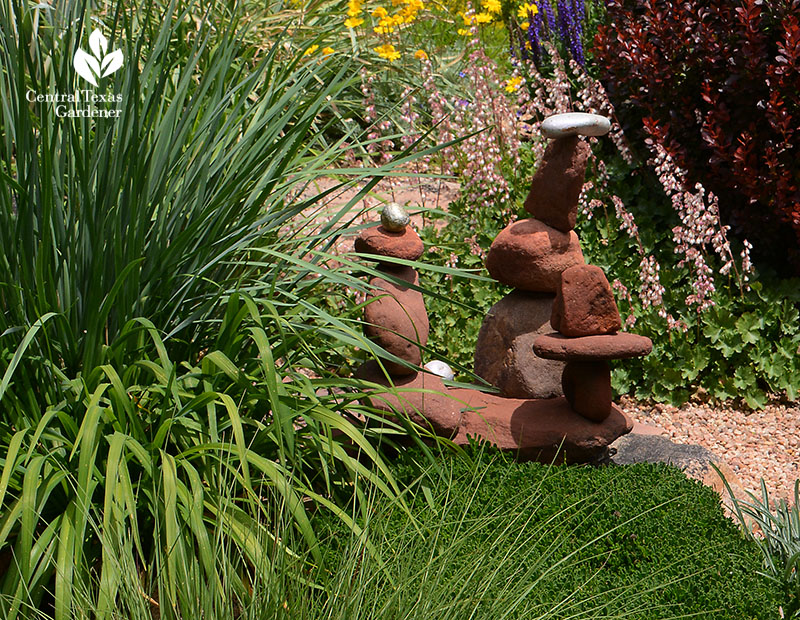 Here's an intricate sculpture on Paula and Scott Deemer's front porch that looks sort of like fossilized coral, but I have no clue!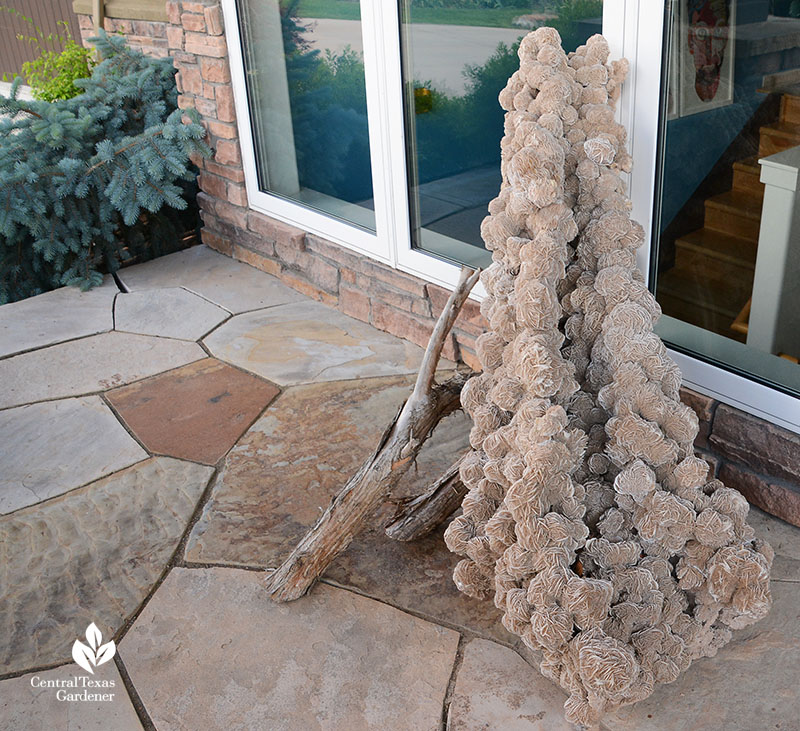 Another art I'd like to achieve: an al fresco dining table presentation like this in Kirsten and Scott Hamling's garden. Readied for a Father's Day gathering later that day, they adorned each place setting with a take-home herb.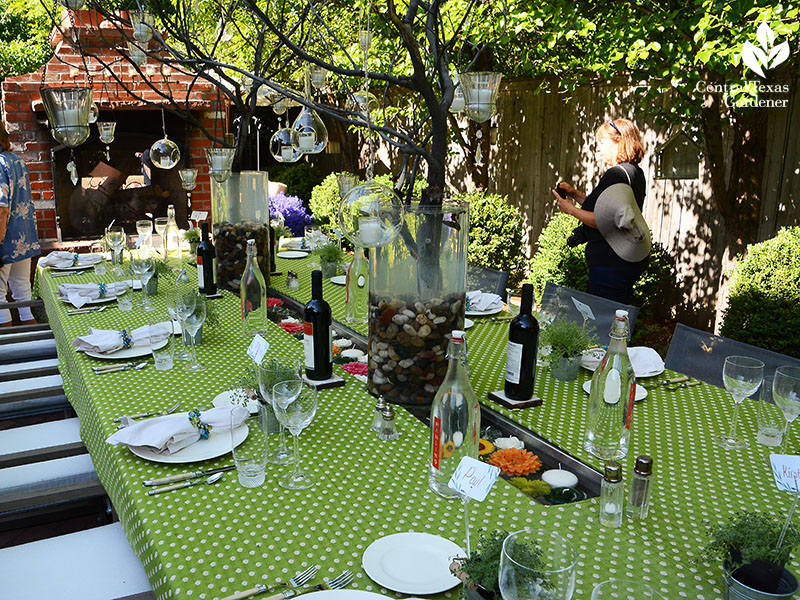 On CTG this week, meet Jennie and Matt Horvath, who revived a long-gone family nursery as Wimberley Gardens specializing in natives and adapted plants in deer and drought country.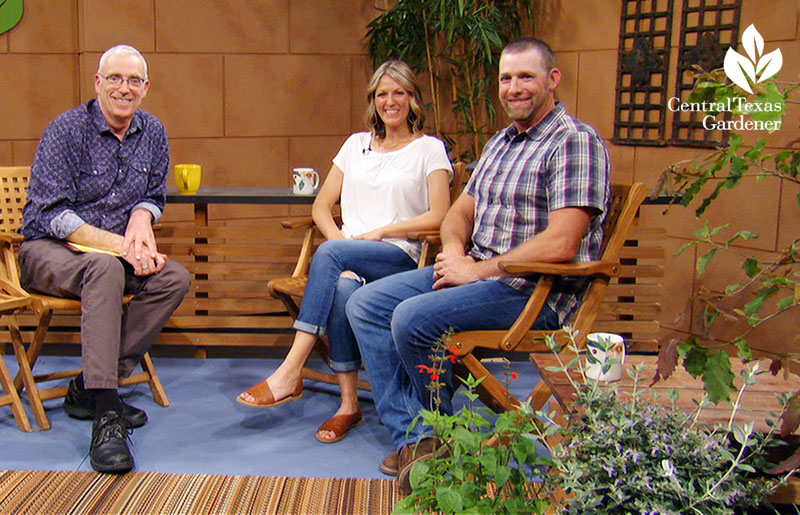 On tour, seasonal flooding and a steep ravine only good for ziplining prompted Natalie and Bob Bennett's plant-tiered waterfall, ponds, and front yard sedge and wildflower meadow.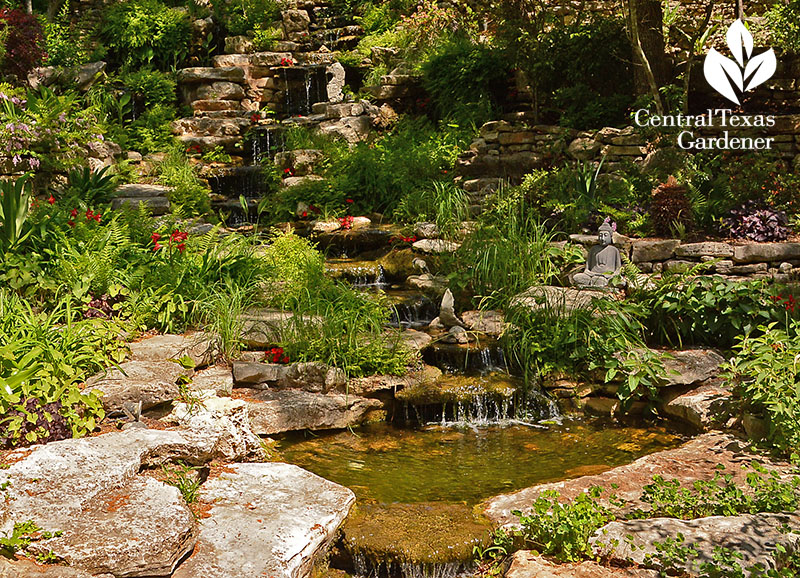 Watch now!
Thanks for stopping by! See you next week, Linda
Comments