October 25, 2022
New Gardeners, Unique Styles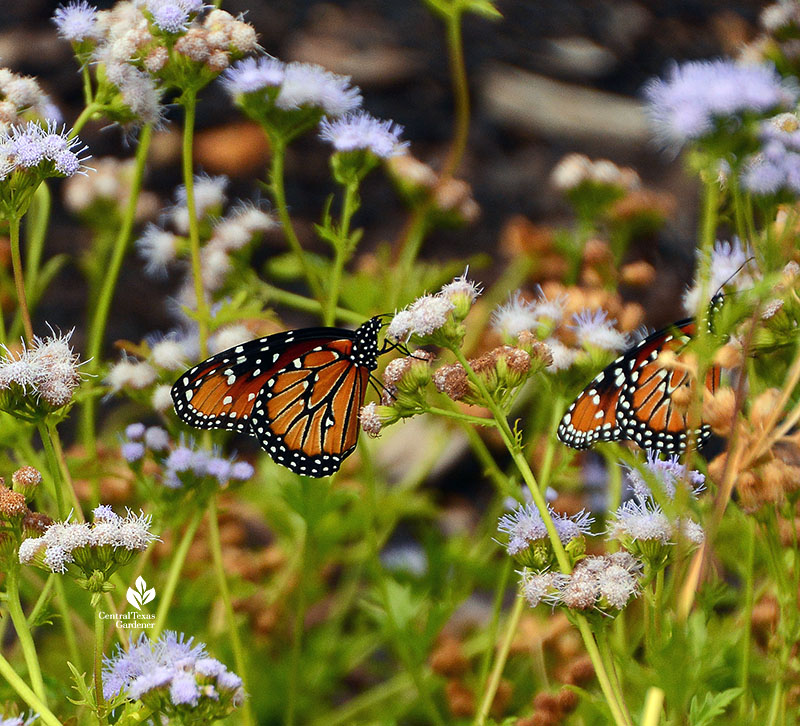 It was a bit blustery for things on the wing earlier this week, including queen butterflies riding it out on Gregg's mistflower in Kathleen Scott's lovely New Braunfels native plant garden.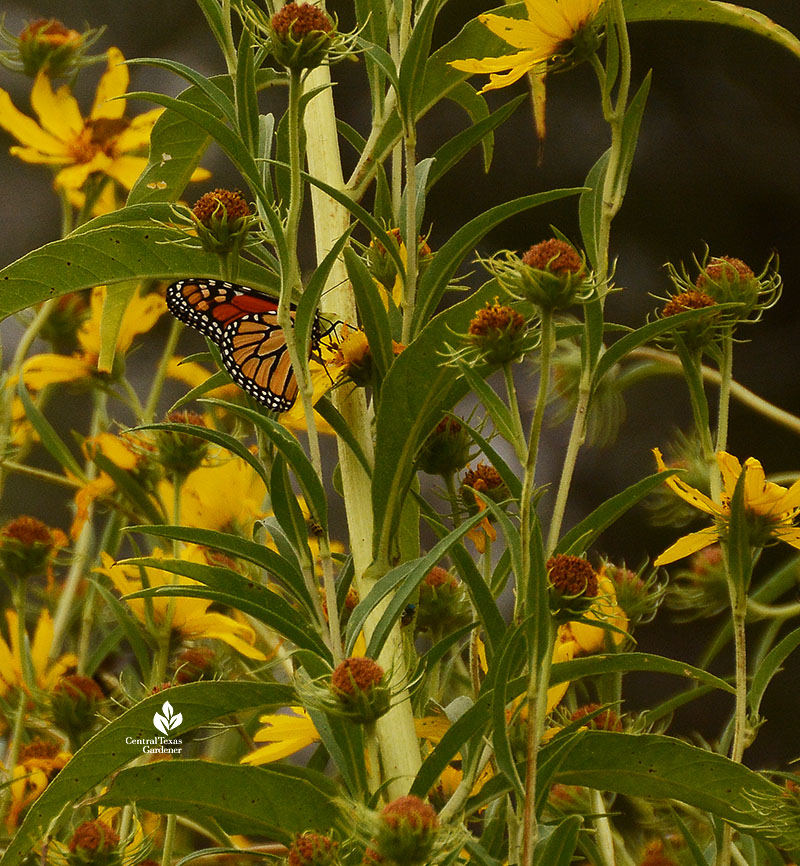 A monarch butterfly latched on to sky-high Maximilian sunflower. We were there to record an interview with Sara Dykman, author of Bicycling with Butterflies, the incredible chronicle of her 10,000-mile journey to follow the monarchs and tell their story. Coming your way on Central Texas Gardener soon! In the meantime, the Wildflower Center makes it easy to tell the difference between a monarch and a queen butterfly.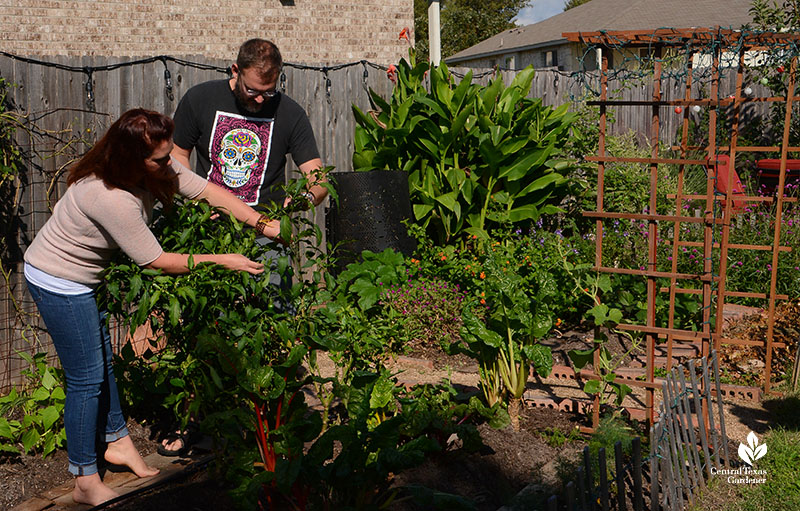 This week, meet three young families creating their first gardens, each with its distinctive personable spin. Starting a garden from scratch can be overwhelming, especially when pennies count. Kristen and Philip Knight welcomed the budgetary challenge as they carved into a standard backyard for their young family (and energetic pup—hence the low picket fence).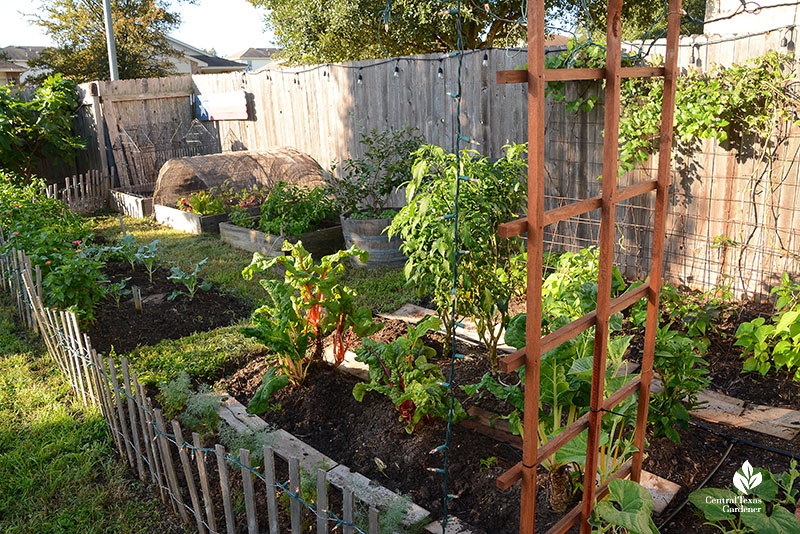 "I think what I enjoy most about working outside is the creativity of trying to find some sort of solution with what I have laying around. I've had fun creating trellises and just things for the plants to climb up. Almost everything here has some story of how it ended up back here," Kristen told us.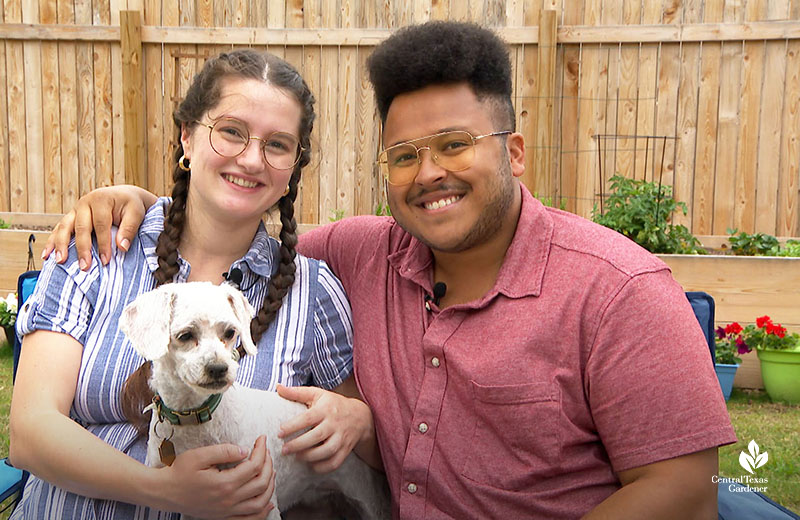 In Manor, Matthew and Charity Wottrich planned their new home's gardens to grow up with their first baby Eden, born just weeks after our visit!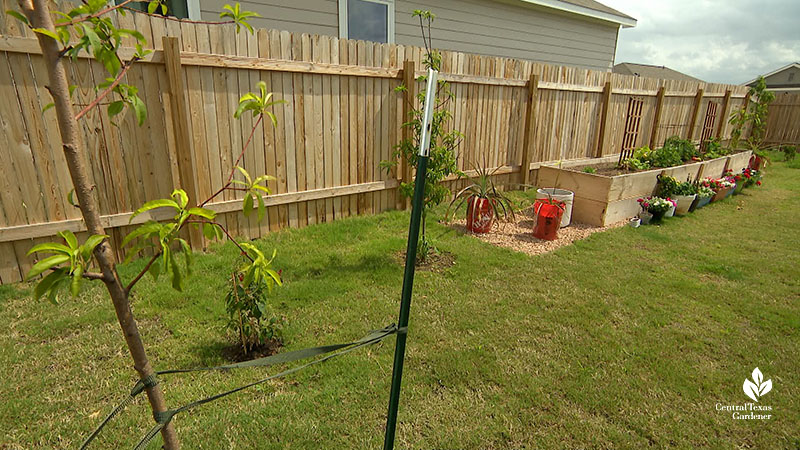 Since their soil is so dense, Matthew's growing vegetables and herbs in raised beds, but he planted fruit trees around the fence and is adding more even now.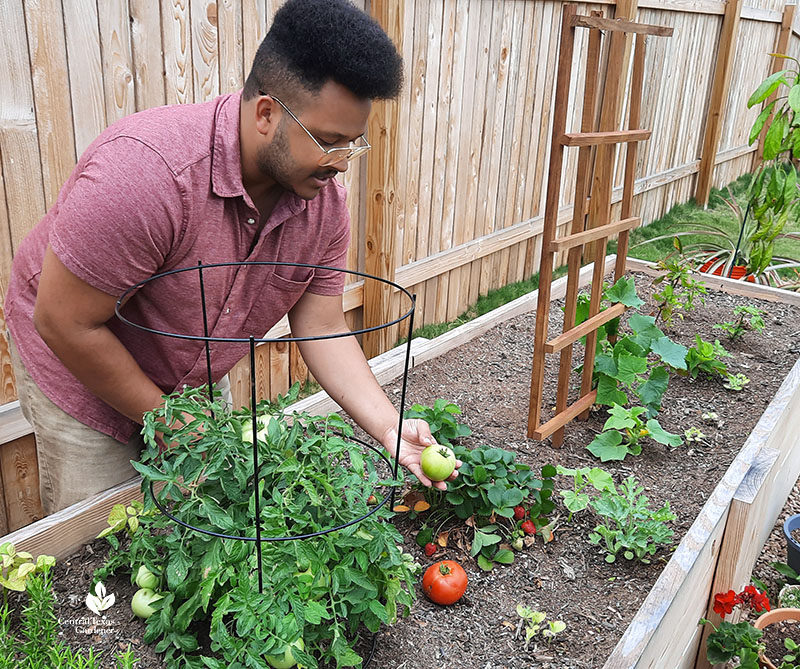 "I don't want to say nowadays kids are just on their computers inside, but I'm a software engineer," he told us. "I understand the pull towards sitting in front of a TV, but I think it's wonderful to get outside and reconnect with nature in a meaningful way."
Check out his popular hands-on YouTube videos for planting demonstrations and his latest projects (including dealing with periodic flooding).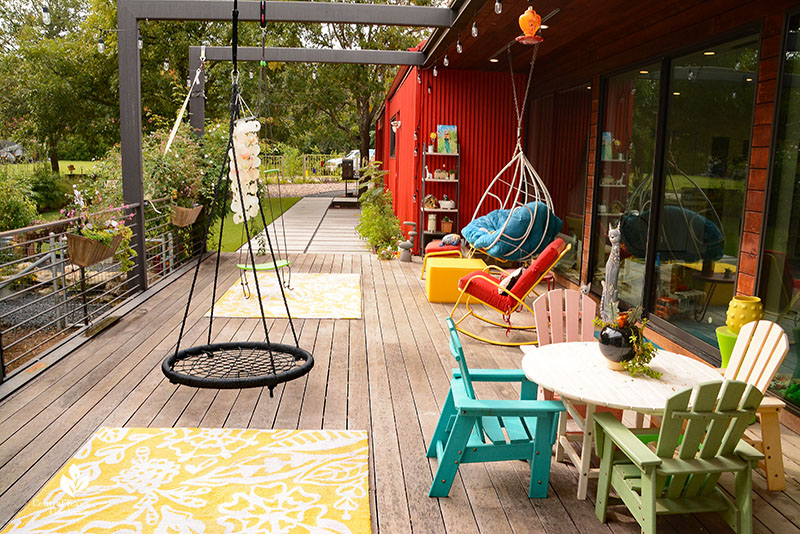 When Cleo and Shea Petricek designed their new home and garden, they wanted to unite family and community, indoors and out, to give their young son a lifelong love of nature.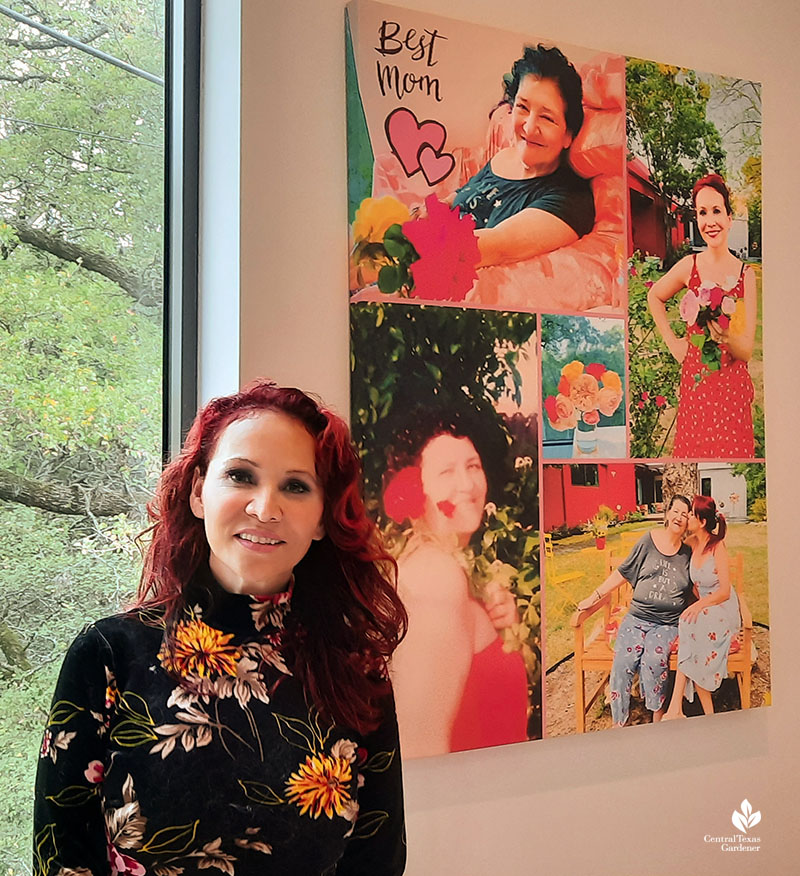 "We grew up with really humble beginnings. My parents are Mexican immigrants and my mom even brought some of her plants from Mexico," Cleo said.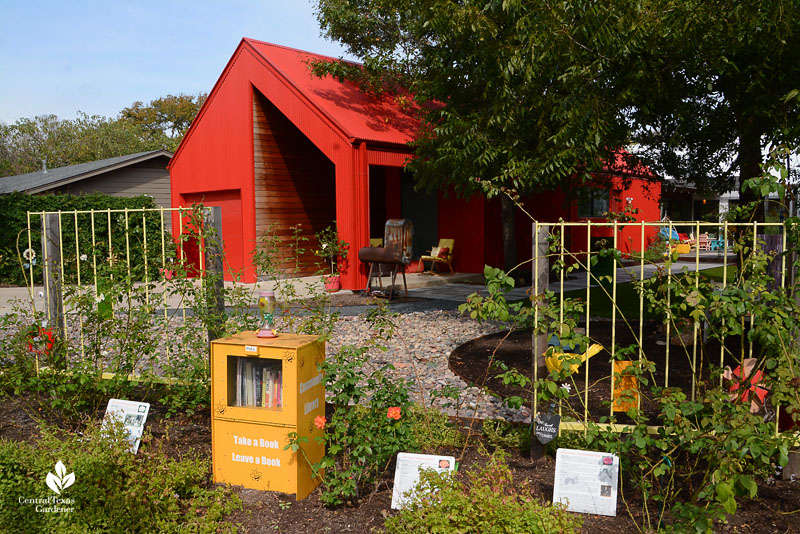 "And something that she always taught: wherever you are and what station of life you're in, you can have a garden. That's something that I appreciate from her and what I wanted to replicate here." Since her mother loved roses, Cleo's planted hardy roses (including heirlooms) around the garden, especially along the sunny fence.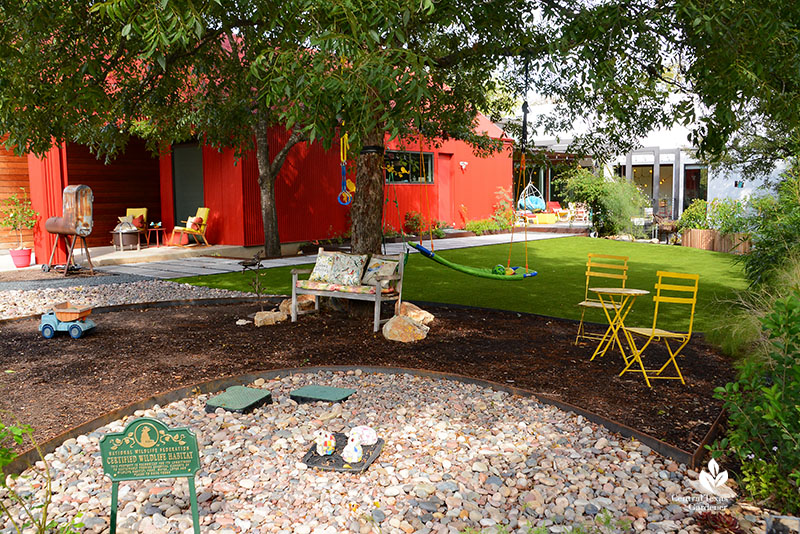 They created an inviting playground for their son and the neighborhood kids to hang out under the shade of a gracious pecan tree. "And through a pandemic, we didn't have a park to go to. So this was it. And we were able to use this as a place to nurture our soul."
Watch now!
Thanks for stopping by! See you next week, Linda
Comments