November 6, 2023
Texas Tough Plants, Milkweed Seeds, Shady Design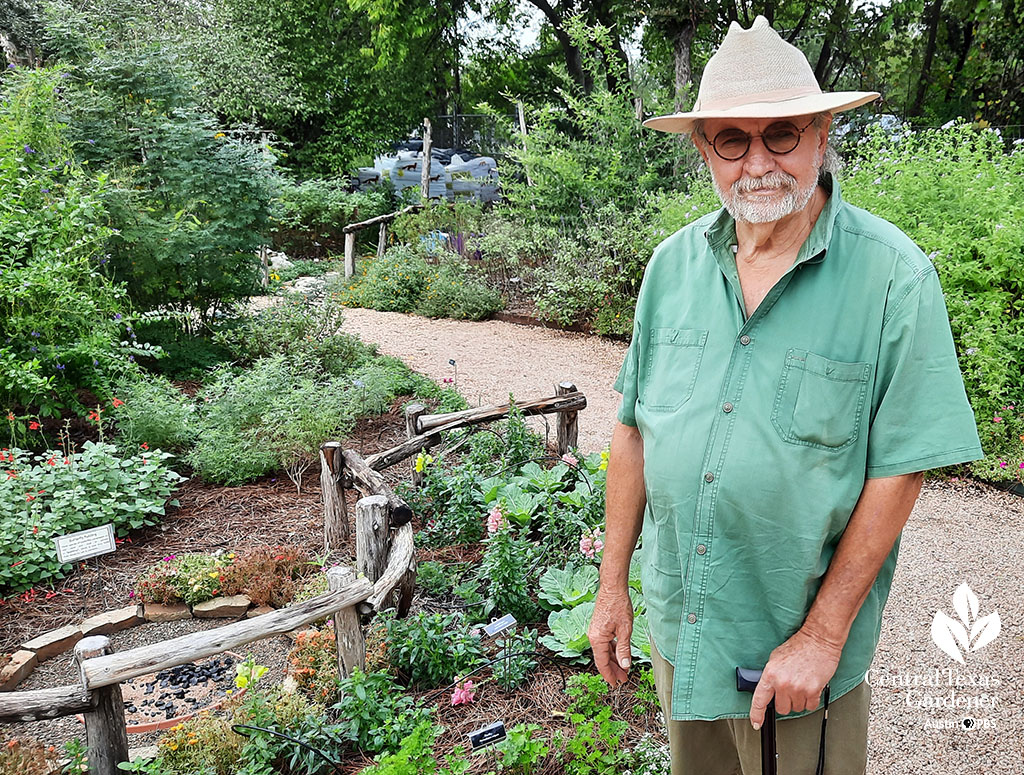 Spotted in his native habitat: John Dromgoole! 30 years ago, he and Jane created The Natural Gardener to beautify our gardens with hardy plants that respect natural resources, including our wildlife.


I've wandered the Butterfly Garden many times over the years, and it's a testament to plants that withstand whatever nature throws its way. In warm weather, bees are all over fragrant African blue basil against orange-flowered cannas. Fall bloomer Mexican mint marigold clusters against the crushed granite path.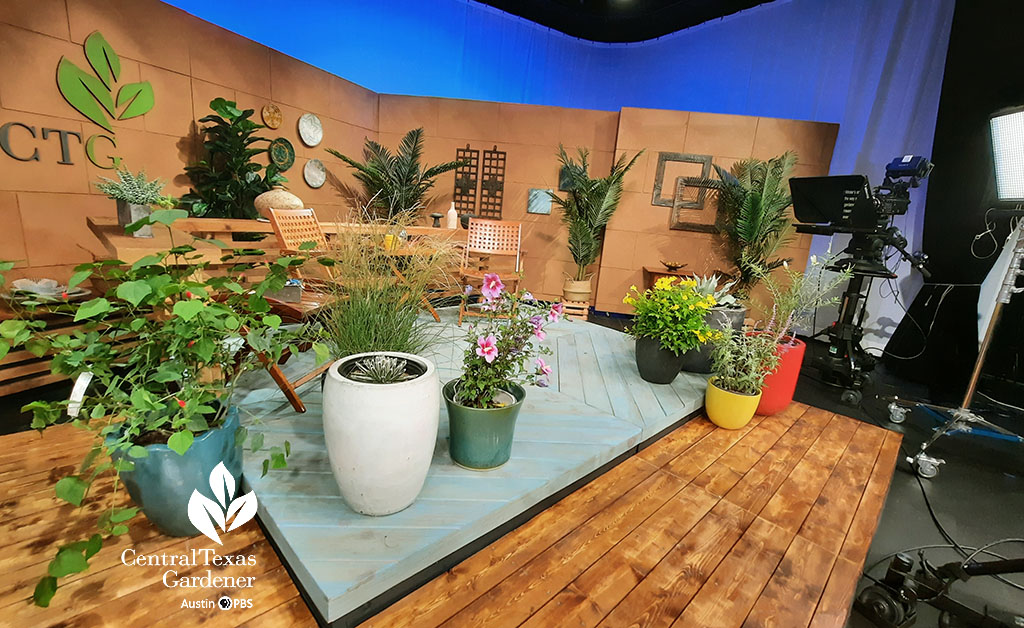 Dramatic weather's here to stay, so let's work with it! This week, Kirk Alston, The Natural Gardener's plant buyer, decked out our set with shade and sun lovers for pollinators.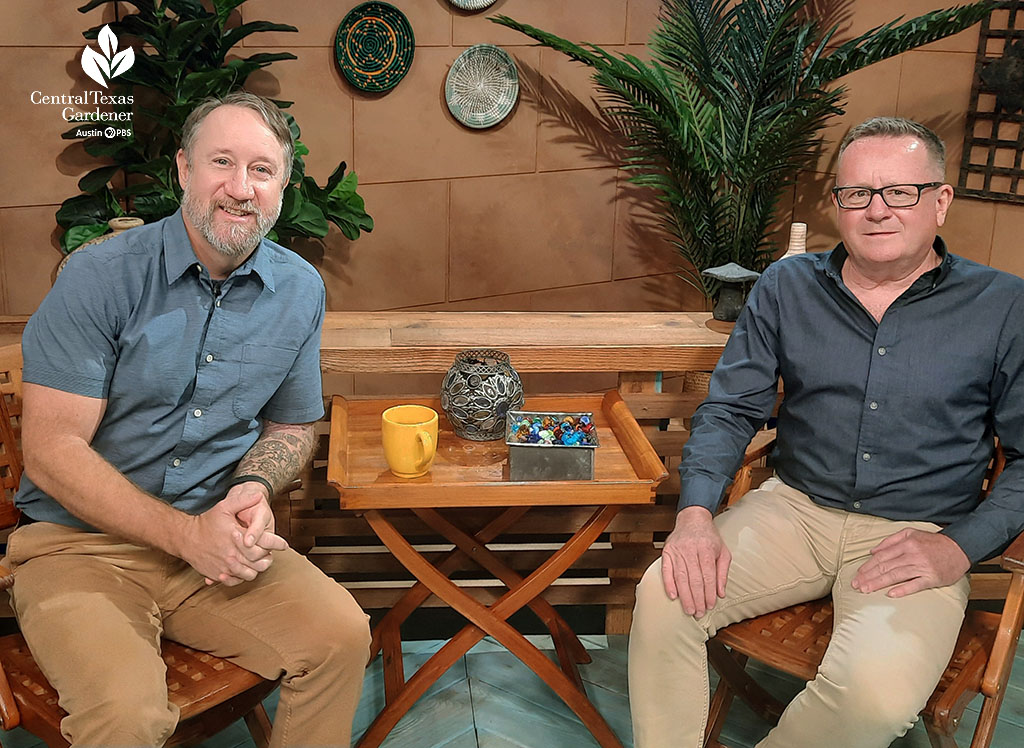 He joins John Hart to spotlight just a few tried-and-true plants.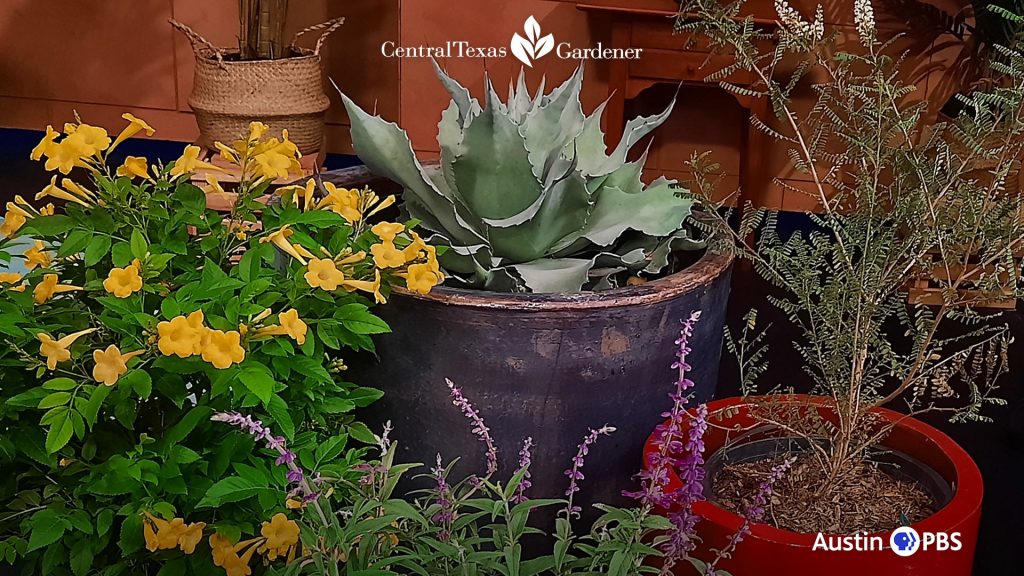 In this group for butterflies and bees: a more compact yellow bells, Tecoma stans Lydia™; kidneywood; and Salvia leucantha. Note: do mulch Tecoma stans when planting in late fall to protect young roots in hard freezes. Whale's tongue agave complements with silvery spikiness.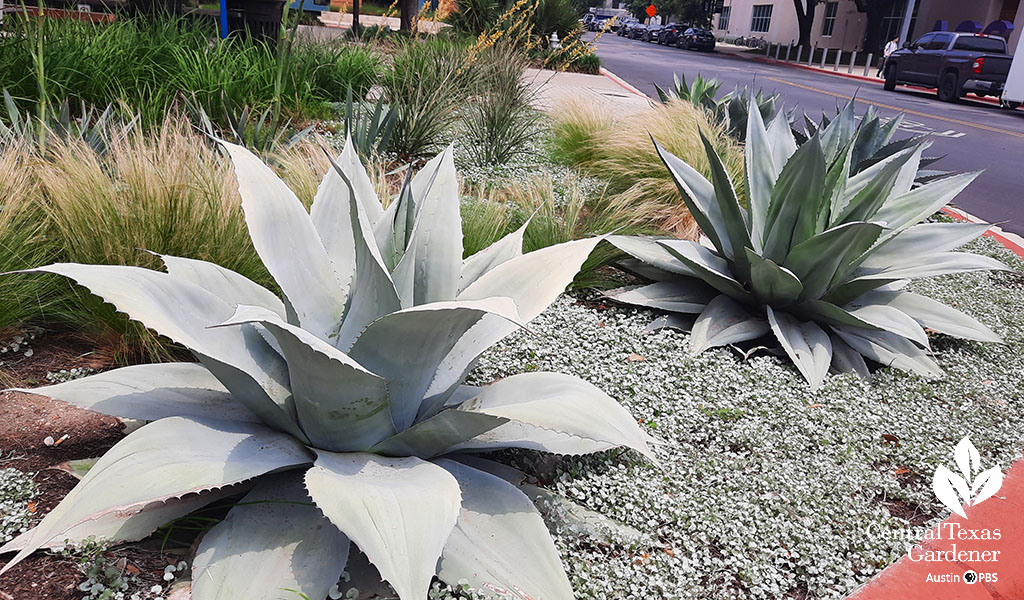 Kirk selected whale's tongue for its cold hardiness that withstands hard freezes like February 2023's ice storm. At ACC Highland, hail battered a few leaves recently, but they've sailed through snow, ice, and drought alongside native silver ponyfoot, Mexican feather grass, and Hesperaloe parviflora 'Yellow.'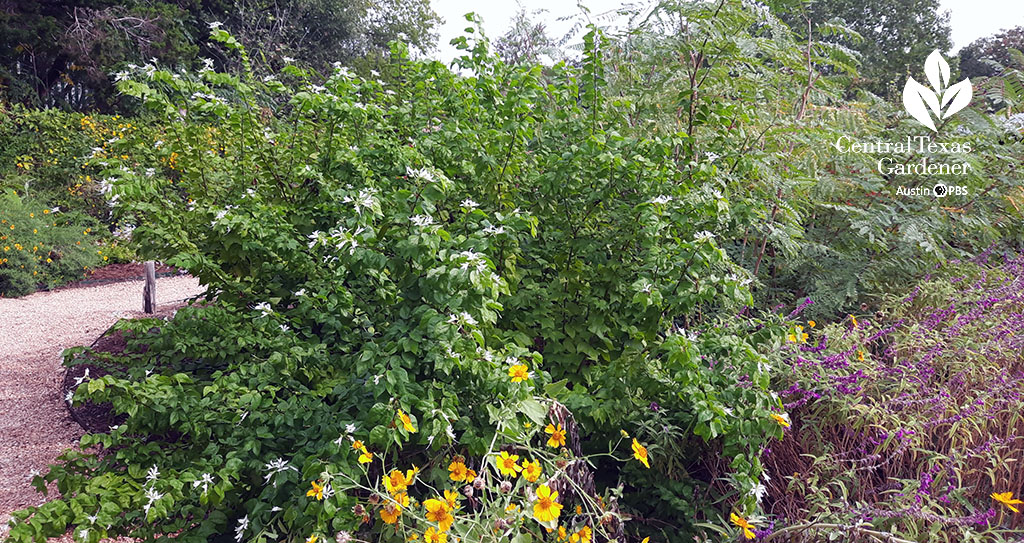 At The Natural Gardener's butterfly garden, white-flowered Mexican bauhinia, golden cowpen daisy, and a purple-hued Salvia leucantha cultivar generally attract a crowd of bees, butterflies, and hummingbirds (along with other pollinators). Many salvias populate this garden, including Salvia farinacea and S. guranitica that tolerates more shade.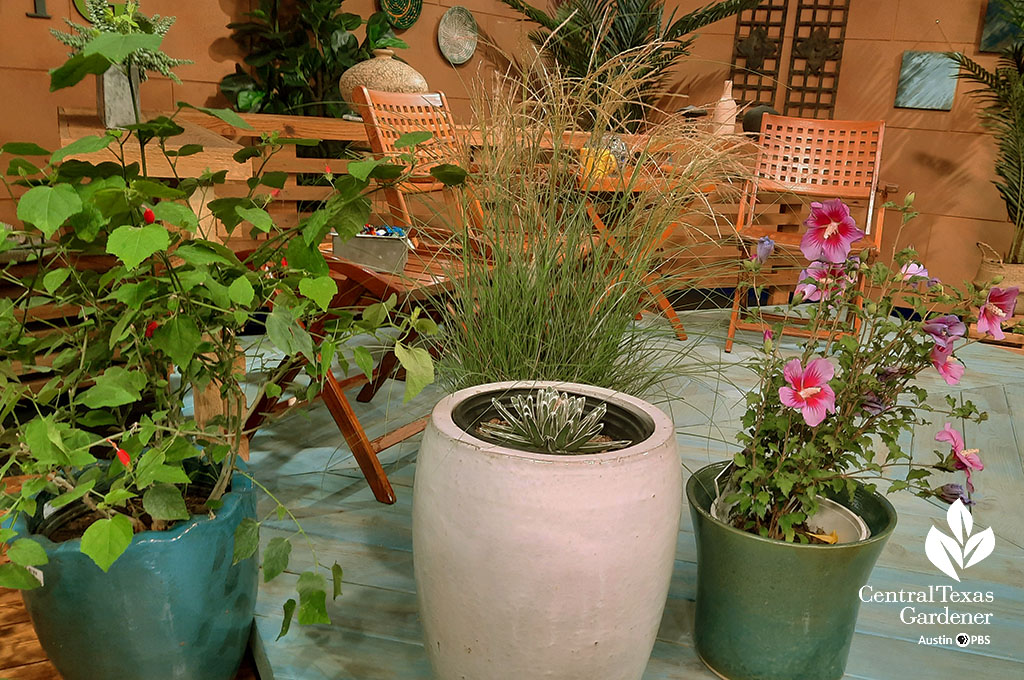 In this group for butterflies and bees: turk's cap for part shade, narrow Rose of Sharon (Althea) 'Purple Pillar', Queen Victoria agave, and 'Adagio' dwarf maiden grass.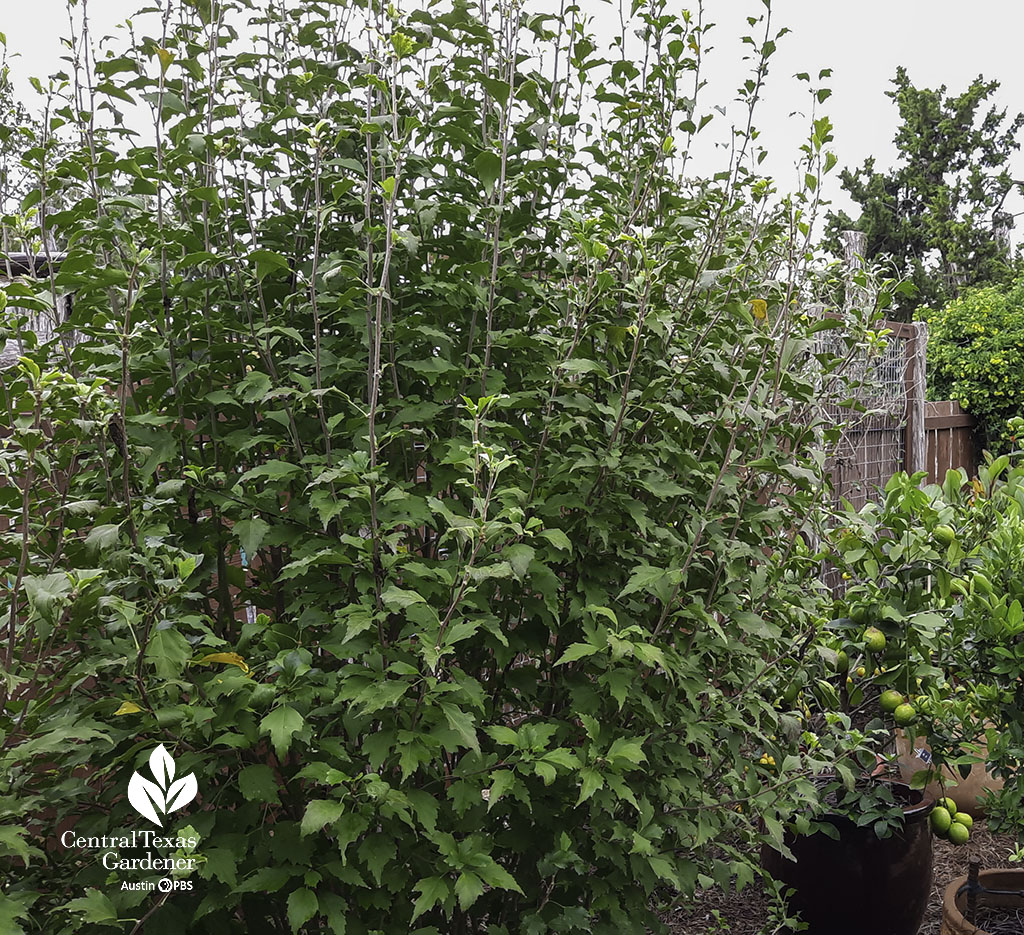 Altheas are one of those old-fashioned never-fail drought tough shrubs to attract hummingbirds. Kirk notes that 'Purple Pillar' usually blooms almost nonstop from May to frost. Its columnar shape works well for narrow gardens, growing about 4' wide to 8-10' tall. It is deciduous but will leaf-out pretty quickly in spring.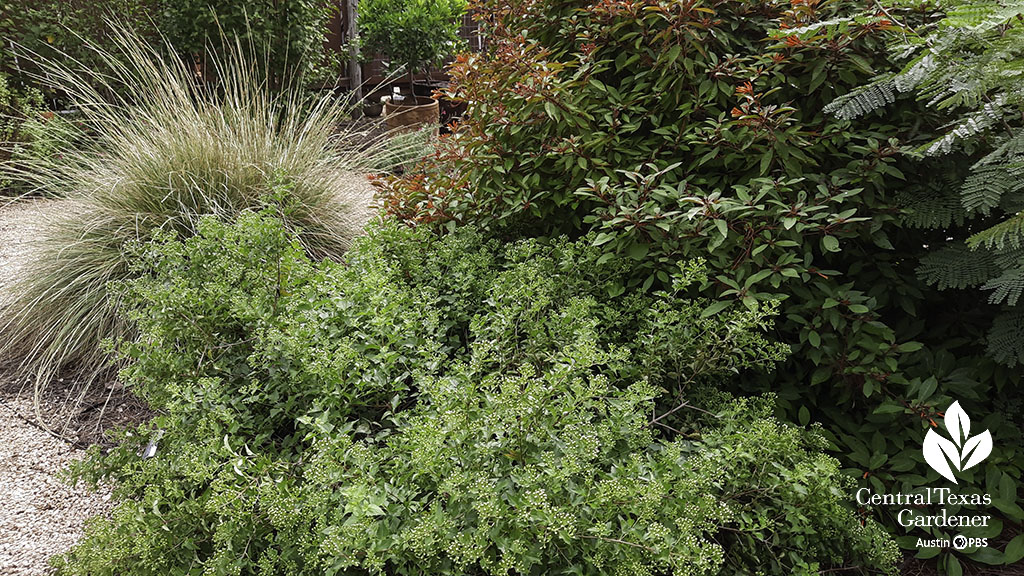 Native grasses abound in the garden, too, including Lindheimer muhly with native white mistflower, also called shrubby boneset.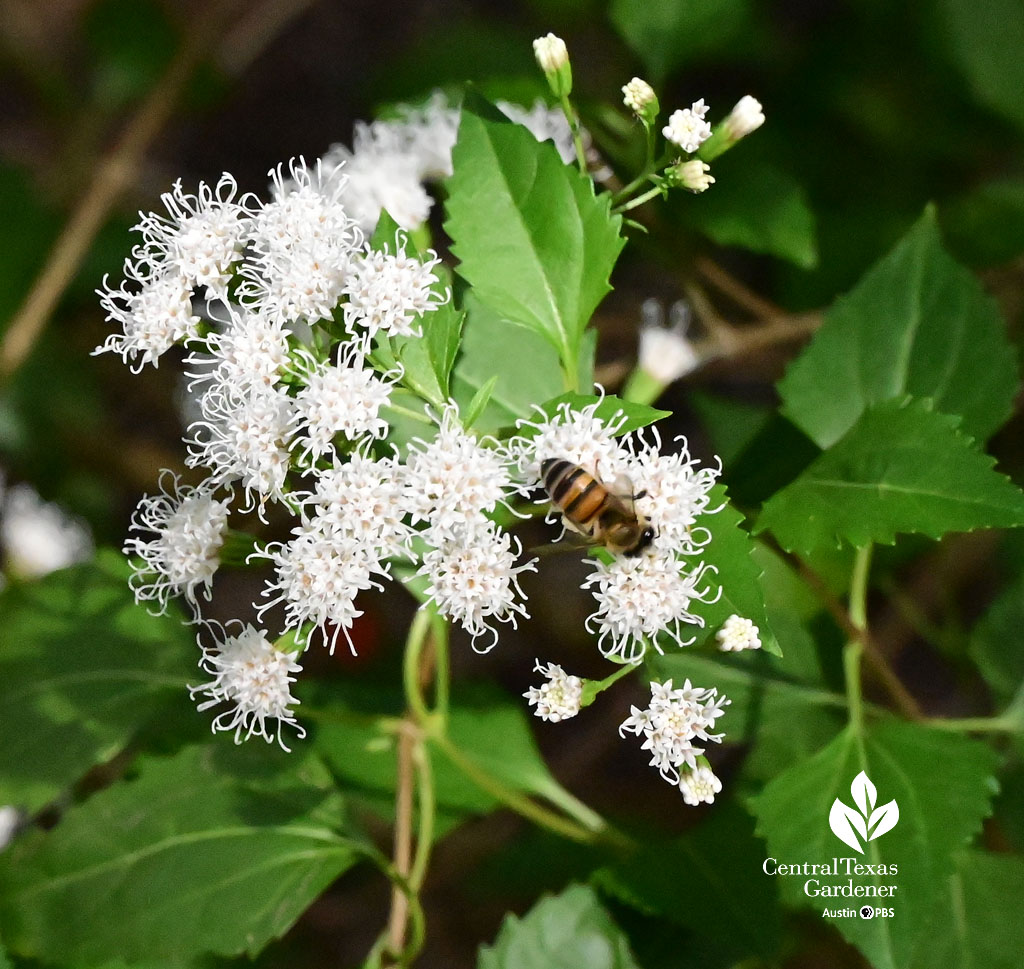 Bees were all over mine this weekend, while others reported lots of butterflies, too. Normally it's one to assist the monarchs in migration, but this year's timing was simply all off.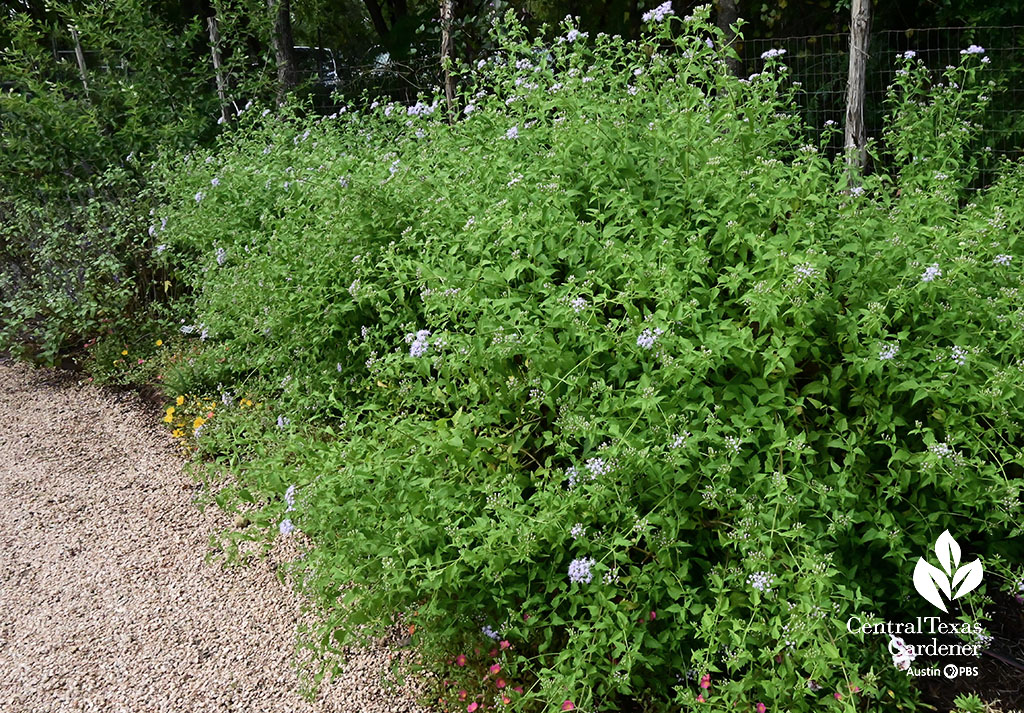 I've always loved their cascading blue mistflower (Conoclinium coelestinum), usually covered in queen butterflies.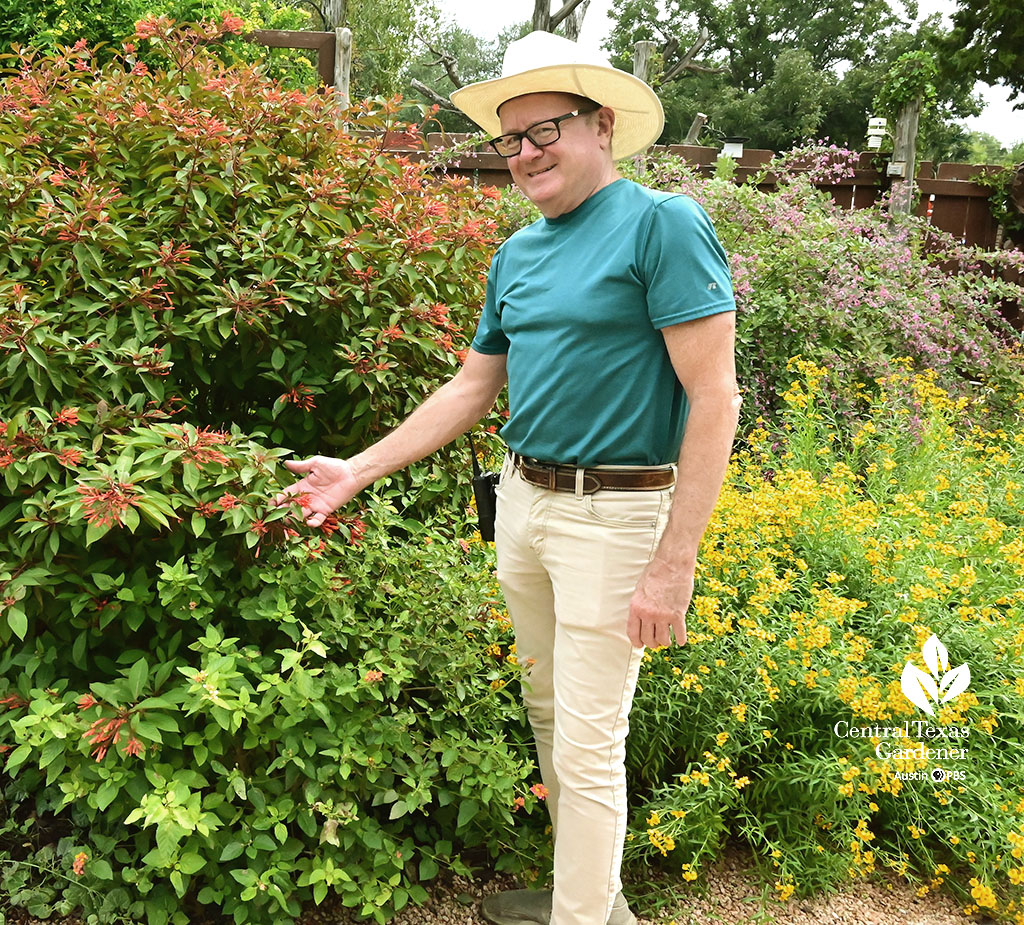 Hamelia patens can be slow to return after hard freezes, but this one always has. Bumble bees zoom in and out of those flame-colored flowers. Next door, golden Mexican mint marigold adds fragrance to this vivid team. Clip it back through the season to sprinkle its tarragon-flavored leaves into salad dressings, sauces, and eggs.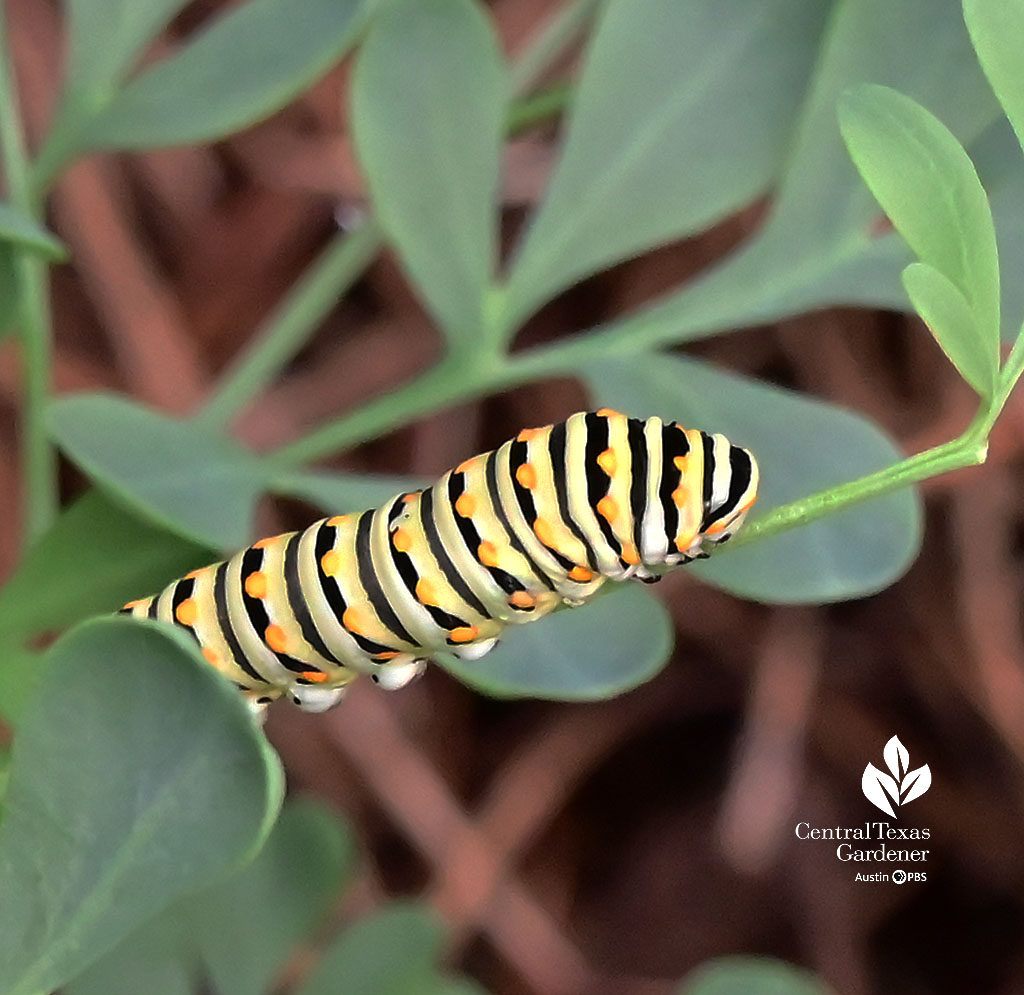 We saw only a few adult butterflies, but we found several different butterfly caterpillars, including an Eastern black swallowtail larva on rue. Here's how to tell the difference between swallowtail, monarch, and queen caterpillars. In this habitat for shelter, food, and water, many generations will greet us in the future.
Here's The Natural Gardener's partial list of Texas tough plants.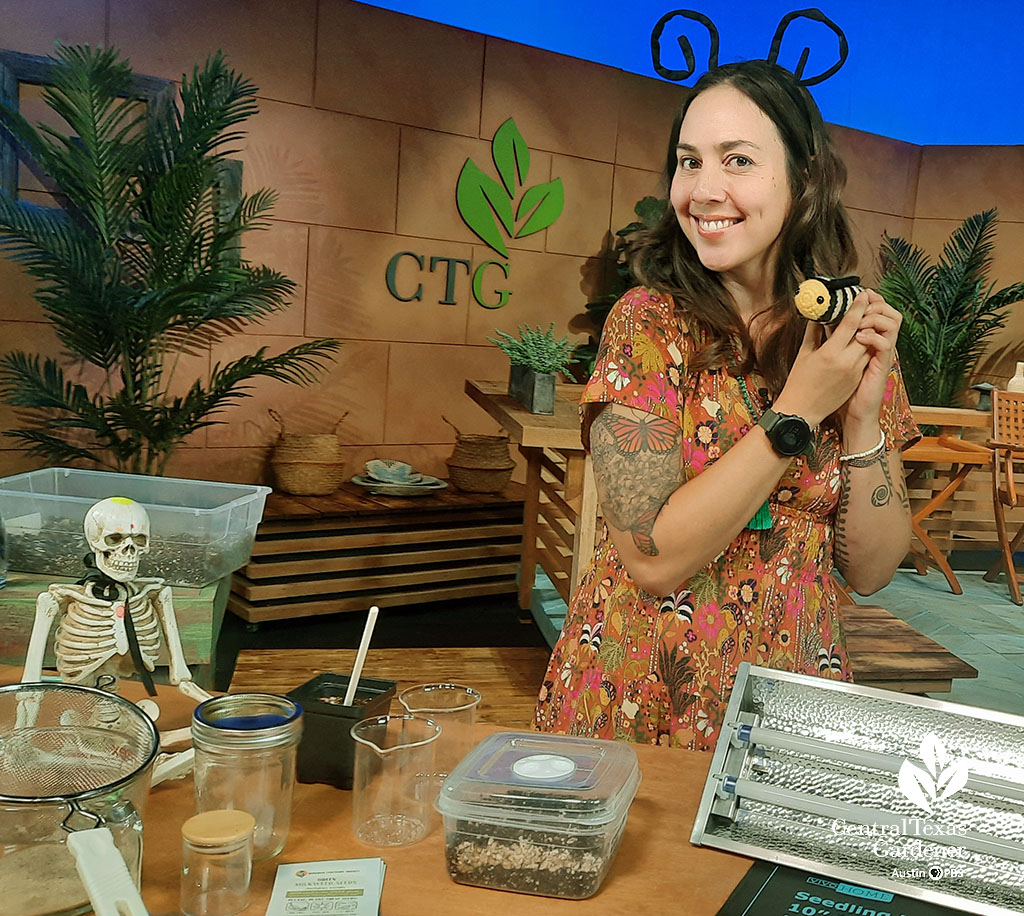 Monarch caterpillars only feed on milkweed plants. As habitat diminishes, especially milkweeds, monarchs lack host plants to raise the next generation. On top of that, it's hard to find native milkweeds in nurseries and they can be tricky to start from seed. So this week, Sonia Koschureck, co-founder of The Monarch Sanctuary Project, shows us how.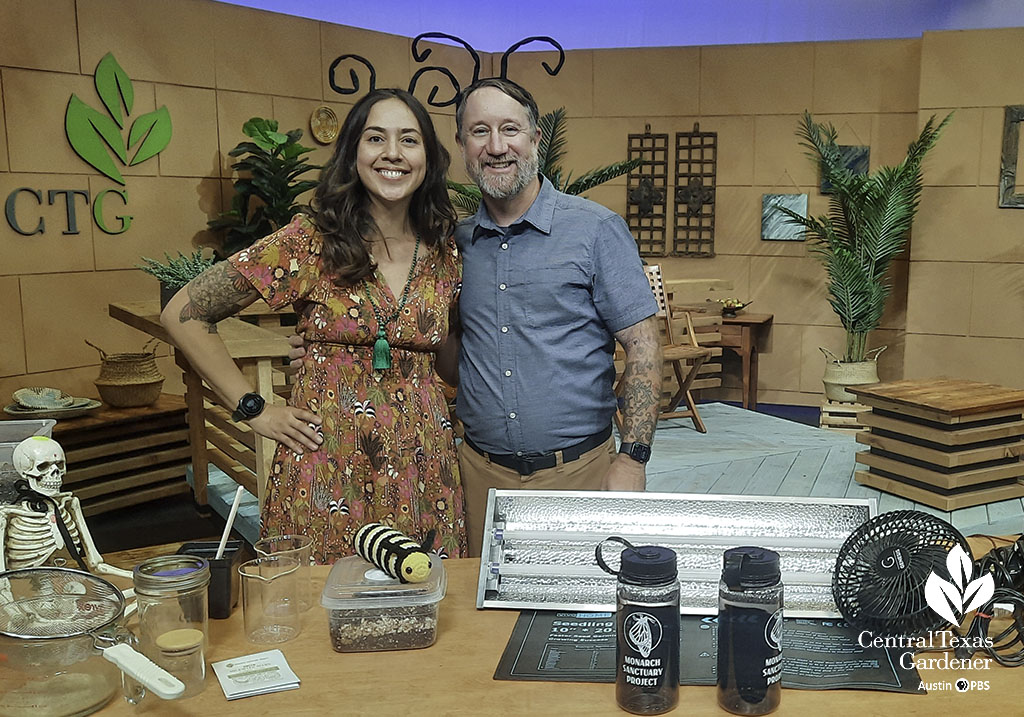 All we have to do is follow her recipe that recreates nature's trick to scarify and cold stratify seeds. Pop in containers and plant out later to feed monarch caterpillars in spring. Last year alone, The Monarch Sanctuary Project, a non-profit volunteer group, grew over 2000 native milkweeds. See how to get involved!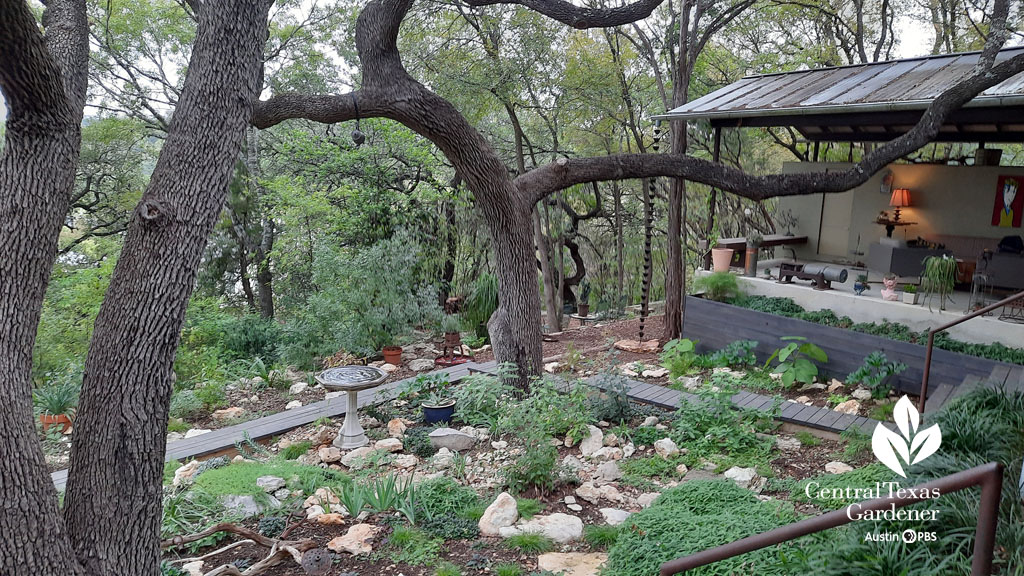 On tour, filmmaker Lori Najvar and architect Glen Chappell loved the view on their hilltop creekside property. Glen designed the home to tuck in gently against a rocky cliff overlooked by live oak trees. To tackle rainwater runoff and erosion, garden designer Leah Churner built a dry creek bed, installed cedar log erosion curbs, and chose shade-tolerant, wildlife habitat plants that work in clay soil.Read their story from our video visit last fall.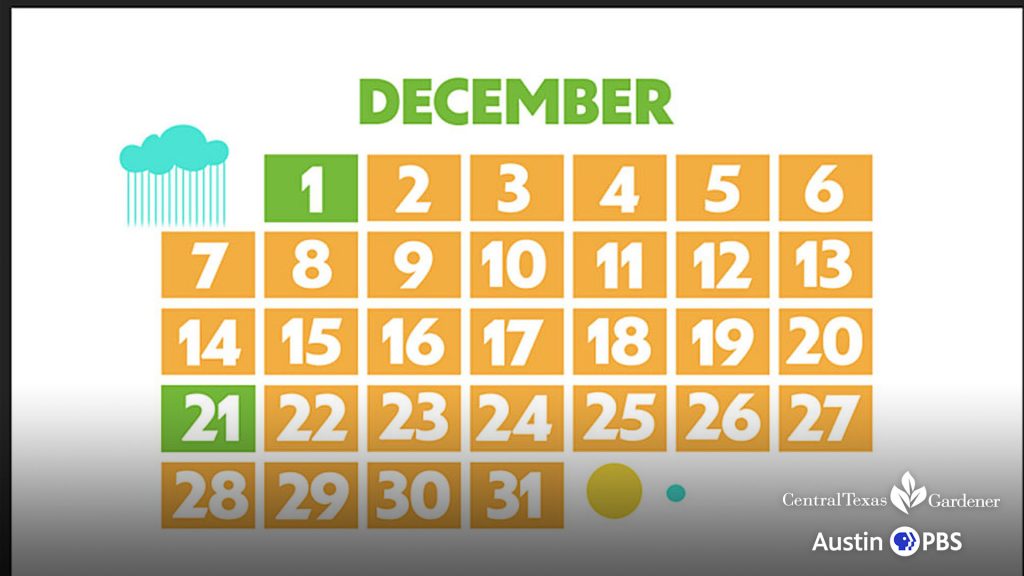 Already a few wintry teases sent warm weather annuals to the compost pile. But what do astronomical and meteorological winter mean? And what's the difference between frost, freeze, and hard freeze? Daphne Richards breaks it down and explains why container plants are more susceptible to freezing temperatures.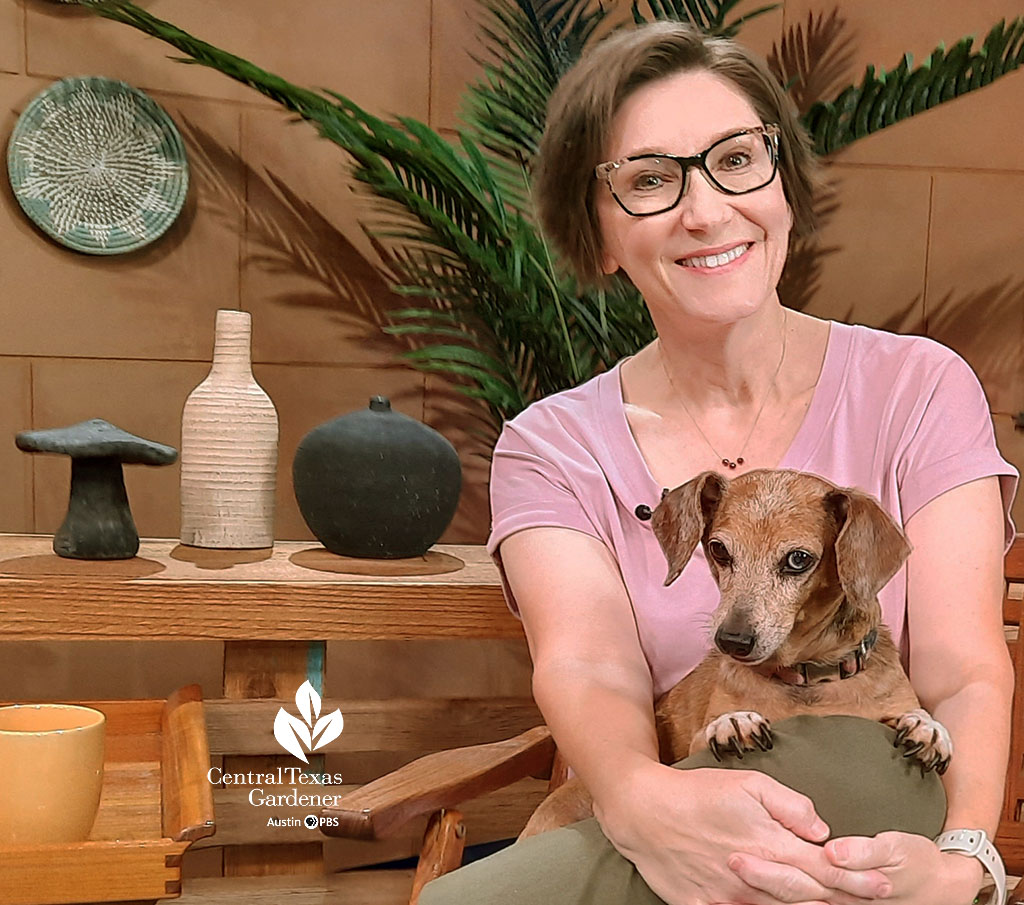 Plus she answers Jo Ann Printy's great question: "Can she plant herbs in an old metal-lined raised bed?" YES!
Watch it all now!
Thanks for stopping by! Next week, let's embrace winter's garden with glee. Linda
Comments