Coleus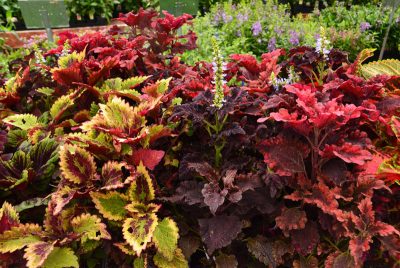 Coleus is a tropical annual that's well worth the effort of replanting every year. The species is so variable, you could potentially plant an entire landscape of it, and have dozens of plants, with no two looking the same.
The vibrant foliage comes in patterns of almost every conceivable color. From neon pink to bright orange; deep magenta, lime green and everything in between. Hardy only to USDA zone 10, coleus is a true tropical species that will die each winter in the landscape, but would survive easily in containers moved into a greenhouse. You can also take cuttings to grow in warmth during winter. They are some of the easiest plants to propagate from cuttings, so if you've always wanted to try your hand at plant propagation, cut about several six inch pieces of new growth and place in a small container of good quality potting soil, in summer, or again, to grow a favorite in a greenhouse or bright window in winter.
It looks great in containers and hanging baskets, and performs best in bright shade.
There are a few newer cultivars that are labeled 'Sun' or 'Super Sun' Coleus, but even those will be happiest if protected from the harsh afternoon rays here in the south. They do require adequate moisture, so plant in beds close to the house, where they can easily be given a bit of extra water through the summer.
Adding compost to beds prior to planting will also help increase water holding capacity, as will an inch or so of mulch around new transplants. Plant in masses for a swathe of color, even using three or four different cultivars in a single bed, since they look so different from each other.
Or use coleus in large containers to draw dramatic attention to front entrances or on patios.
In addition to the wide variety of colors, coleus are also available in all shapes and sizes, so you can plant tall ones in back, short ones in the middle, and super short ones in the front.
Our viewer pictures this week come from Kathryne Harte of this cicada. And from Mary Alice Lantz for  her Monarch caterpillar on her tropical milkweed that didn't freeze back this year.