July 31, 2008
From the producer: August 1, 2008
I'm getting anxious. There's much to be done, but in my limited time on weekends, the heat on steroids has me behind schedule. I need to deadhead and weed and gouge out the tree seedlings before they require a backhoe. For the first time in years, crabgrass has invaded the front side yards, but even though I got my shovel sharpened, the dry ground makes it such a chore to dig them out. Then, in the front side strip between us and the rental, we got a real first: chiggers! Fortunately, I had soil sulfur, something that kills chiggers, so I broadcast and watered it in.
I really need to plan, too, because there's a lot to be done on the renovation aspect. The cat cove is a mess. Side beds need attention. The shed doors increasingly invade my peace of mind. And, I'm contemplating a really fun project that has me excited (more later) but I can't have that dessert until I eat my vegetables.
Oh, speaking of food, I have to get the lettuce bed cleaned up and prepped. Order bulbs. Update my plant spreadsheet from APRIL! Still, it's just so hard to get in gear. At the same time, we're on the countdown to cooler weather, so this weekend I vow to gather my scattered notes of plant ideas and get serious.
Decision-making is too hard, but thanks to the brain squirrels last fall and winter, I've got fun stuff to see now. One of my spring additions popped out in front right before the rain.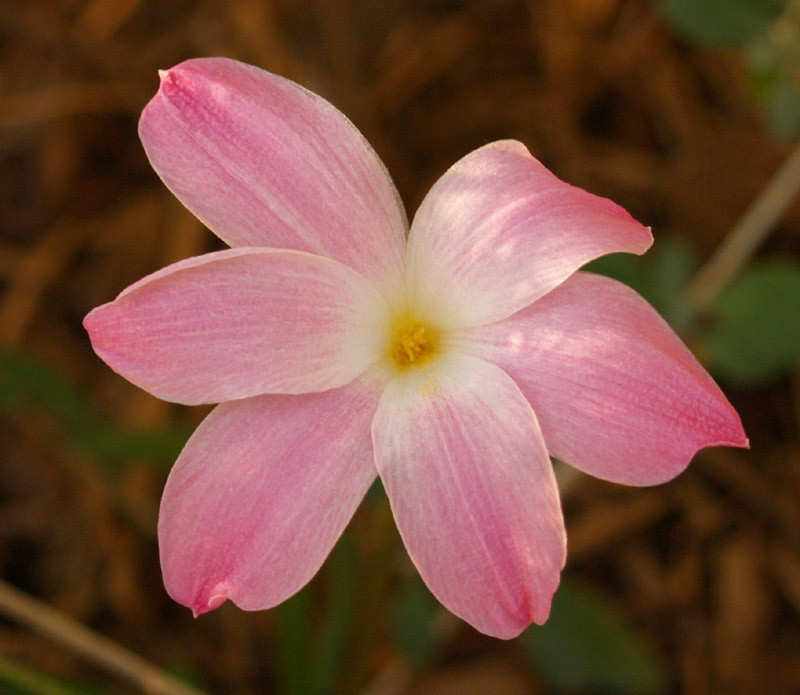 After the rain, these arrived in the crepe bed and more should be coming.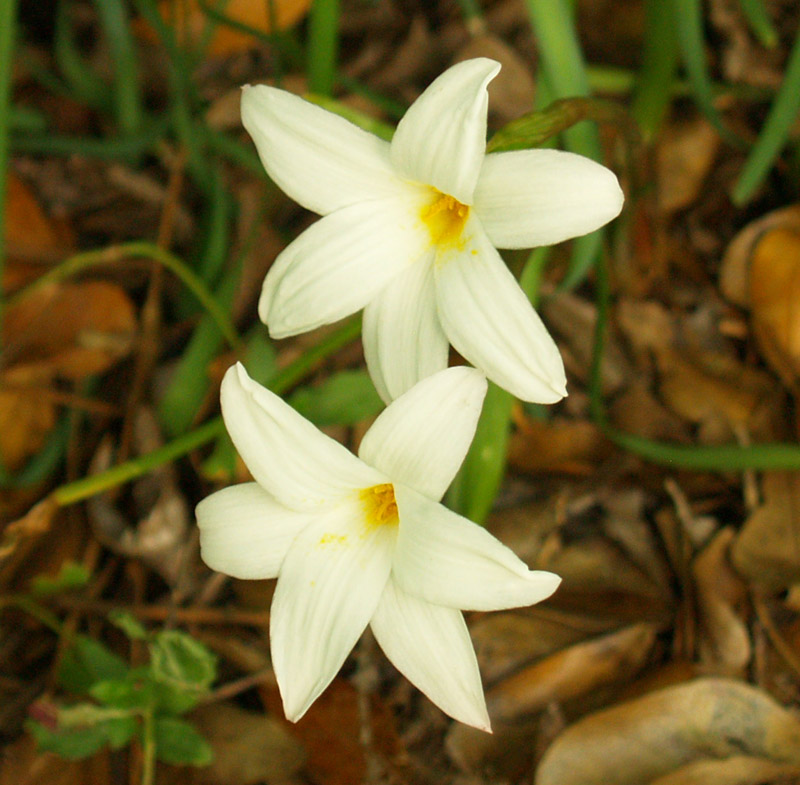 I bought these rainlilies, Zephyranthes labuffarosa, at the same time. But since they're white, and the pink one has different petals, it could be Habranthus robusta, a pink that I have in back that seeded itself, or it could just have gotten mixed into the bunch. Who knows, but I love them both. Cedric wanted to admire them, too, from one of his favorite hangouts in the crepe bed.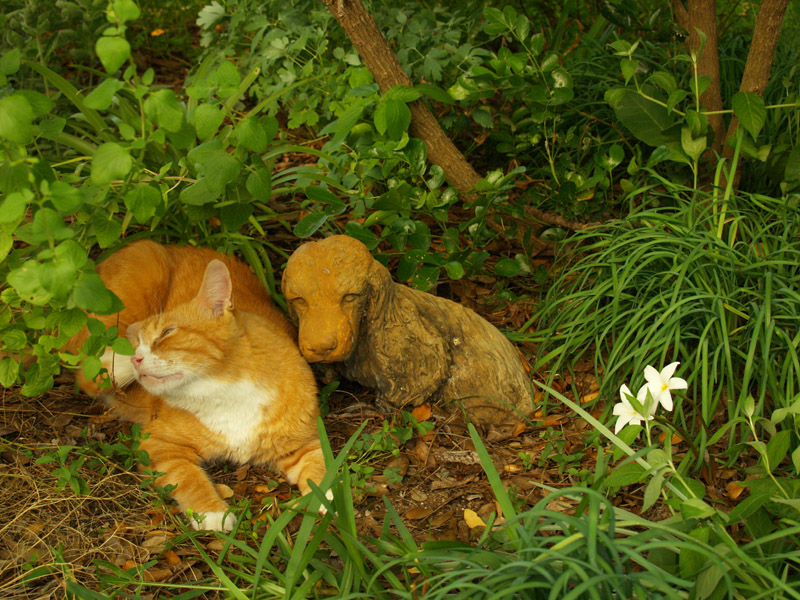 The next day, these and many others opened in the front bed. Note to Linda list: add more. And in case you ask: Barton Springs Nursery, grown by Yucca Do.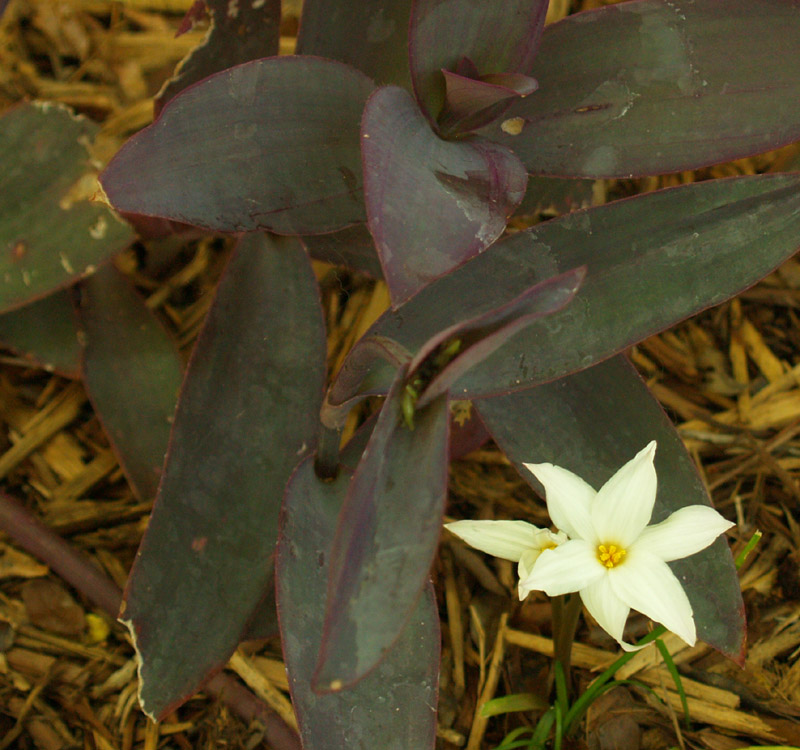 The day I bought the rainlilies, I hauled home several of these purple umbrella plants (Trachellium ceerueleum). They've been a great foliar addition, but their late summer flowers are most welcome. This one is next to the Mexican oregano. I'm always looking for things that accept shade.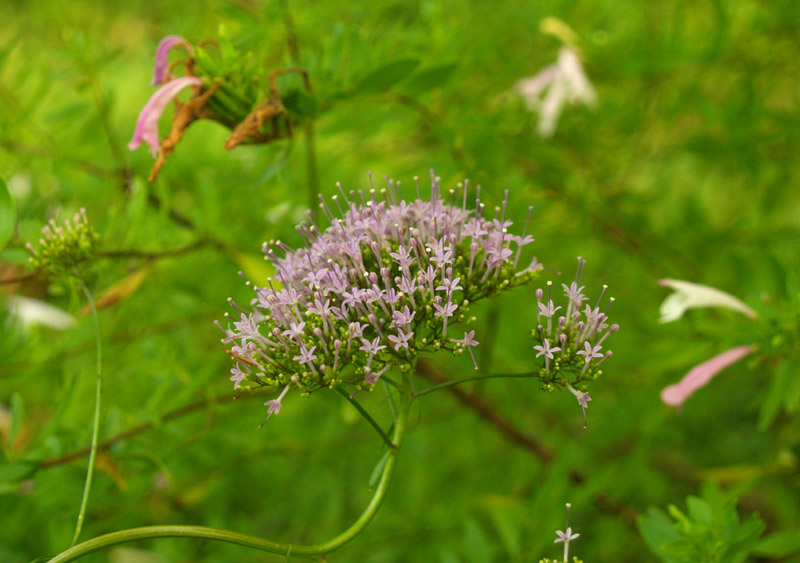 Near their sweet coolness, batface cuphea and cosmos wake things up in their blasts of sun just a foot or two away. I seeded cosmos to hold the spot reserved for Gulf penstemons, but I like this combination so much that I think I'll keep this plan. I've identified a great spot in the front bed to haul the penstemons from lettuce-land. In winter, I'll fill the spot with something fun, yet to be decided, when cooler days reawaken the dormant idea factory.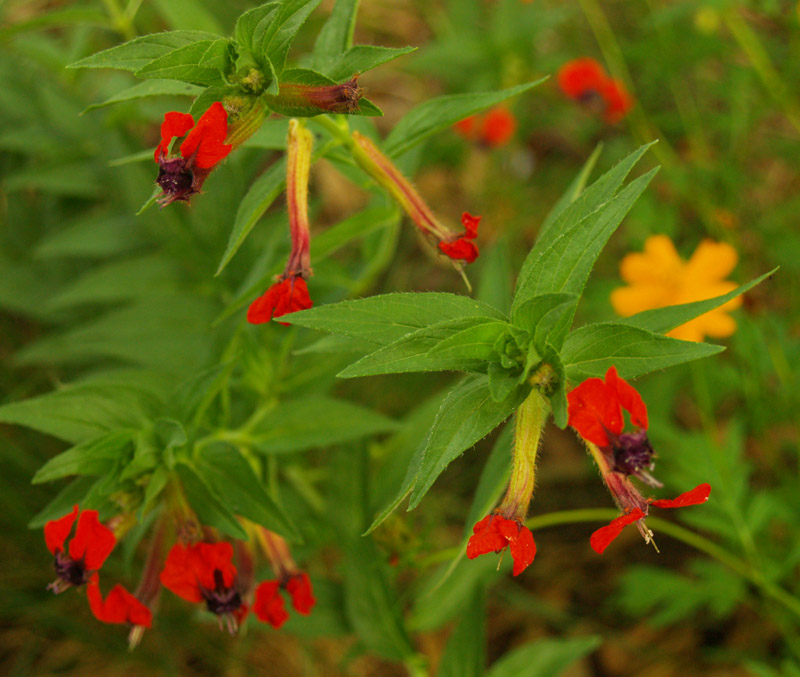 Along the back fence, the passionvine is clamoring over everything. I've long forgotten which one it is, since I've tried so many. A few years ago, I moved this self-starter from the crepe bed to the fence, which it accepted with satisfaction.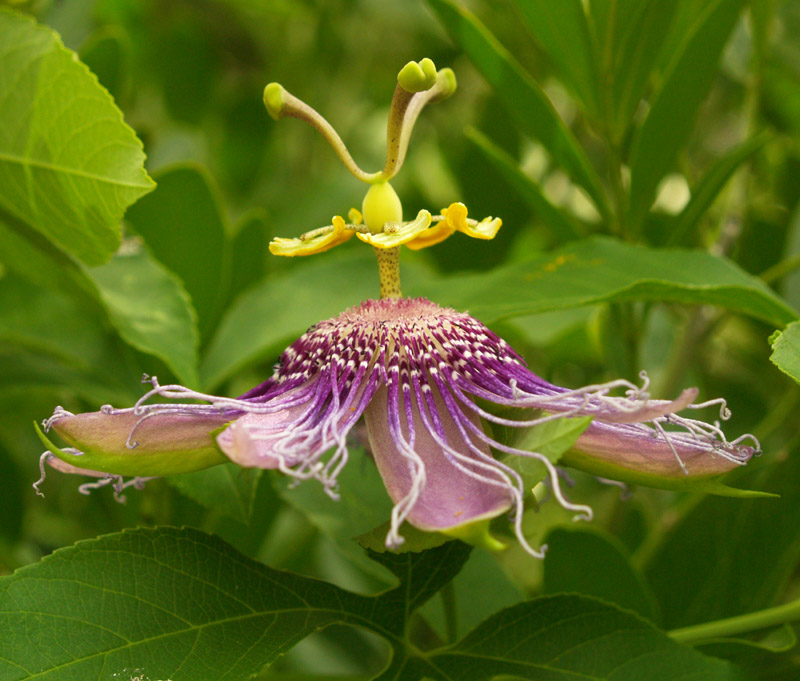 Finally, Harvey the rabbit is chomping down arugula that's still hanging on. He also likes the basil and oregano, which I needed to prune anyway, and I didn't need it all for us. If I train him right, I may get a little helper out of this!
Many PBS stations are in Pledge to raise money for the programs you love, so please check your listings for CTG repeats of programs you may have missed. We're already taping September's programs and I promise you an intriguing fall line-up! Until next week, Linda
Comments