July 23, 2009
From Linda: July 23, 2009
Until a few years ago, the only aloe I knew was Aloe vera.  I rely on the patio potted ones for quick first-aid when I run into the inevitable insect bite or kitchen burn (the latter due to multi-tasking, not a good idea while intimate with items hot enough to cook food).  Along with their ability to quickly heal bites and burns,  I appreciate their lack of concern about water.  Sure, they need some, but often I hear from gardeners who kill them with good intentions, especially in winter. (Oh yeah, I heard from myself one time).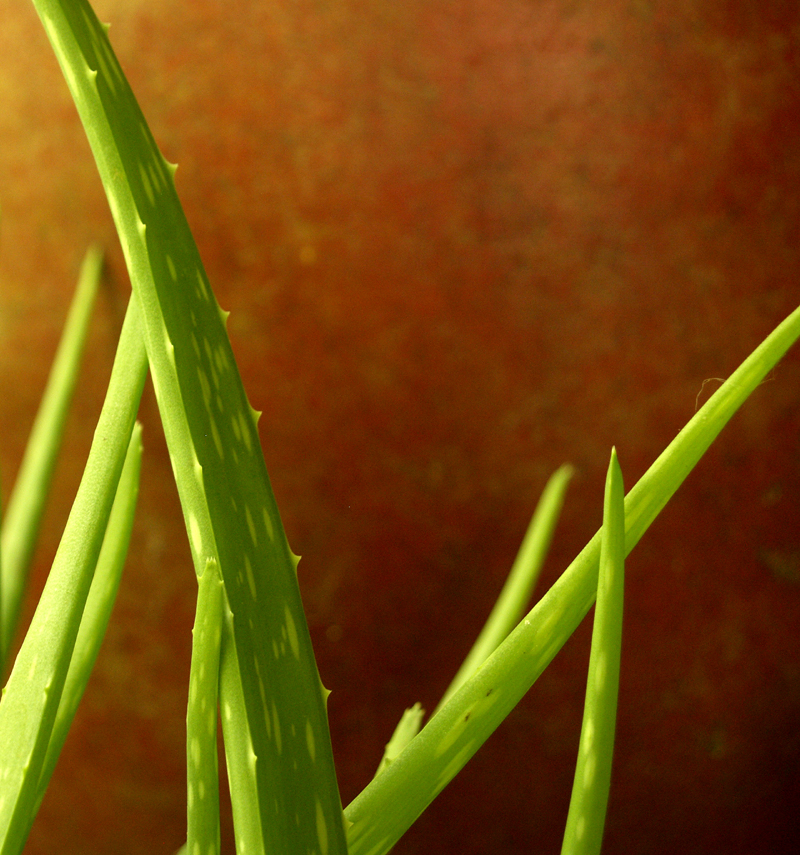 Then, I met a whole new cast of these succulent characters. In garden after garden, I'd run into them, in diverse colors, leaf forms, and flamboyant flower stalks.
Since drought has come our way, I've gotten a lot of requests for more programs about succulents. This week, we concentrate on aloes.
Tom meets with Jeff Pavlat, president of the Austin Cactus & Succulent Society, to introduce us to a few outstanding selections and explain how to grow them. We'll have Jeff's extensive aloe list (since we couldn't get to all he brought) on the CTG website.
Here are some pictures that Jeff took in his garden.
Aloe ferox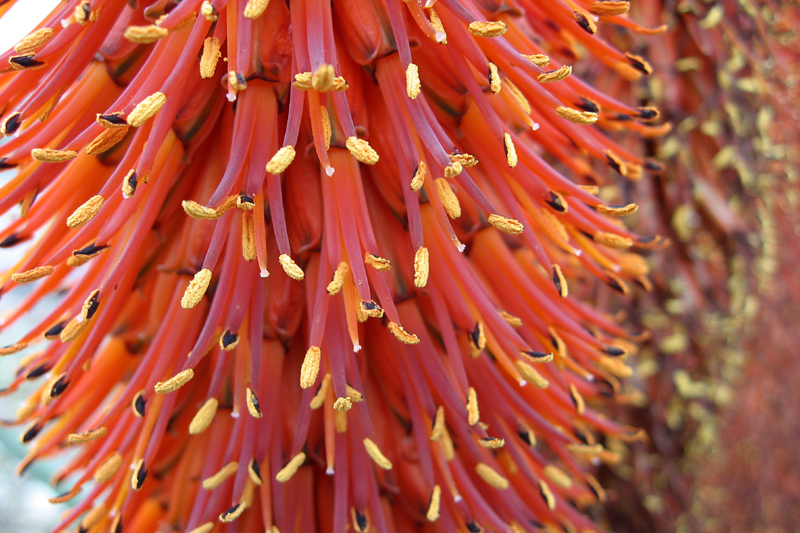 Aloe variegata hybrid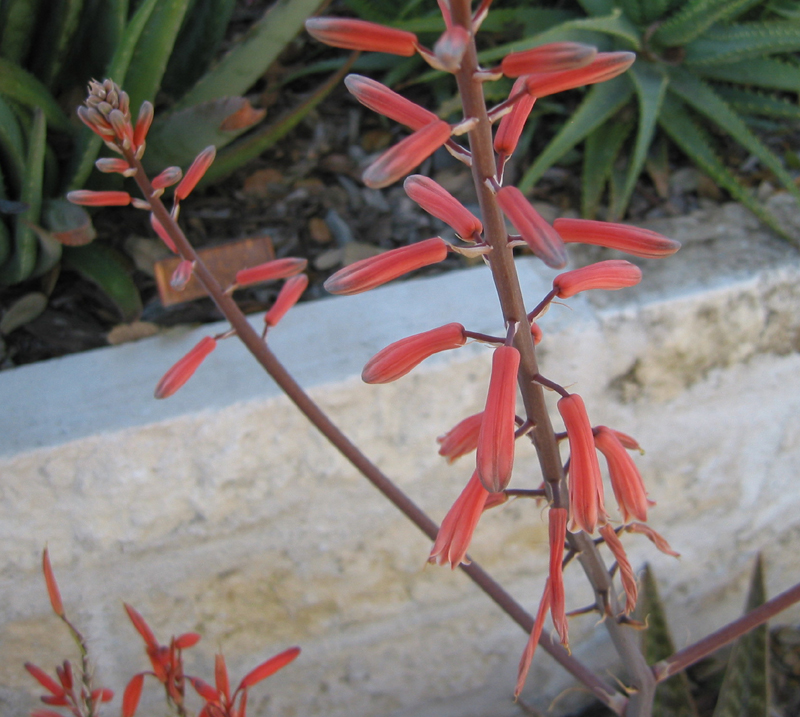 Aloe garden at Jeff's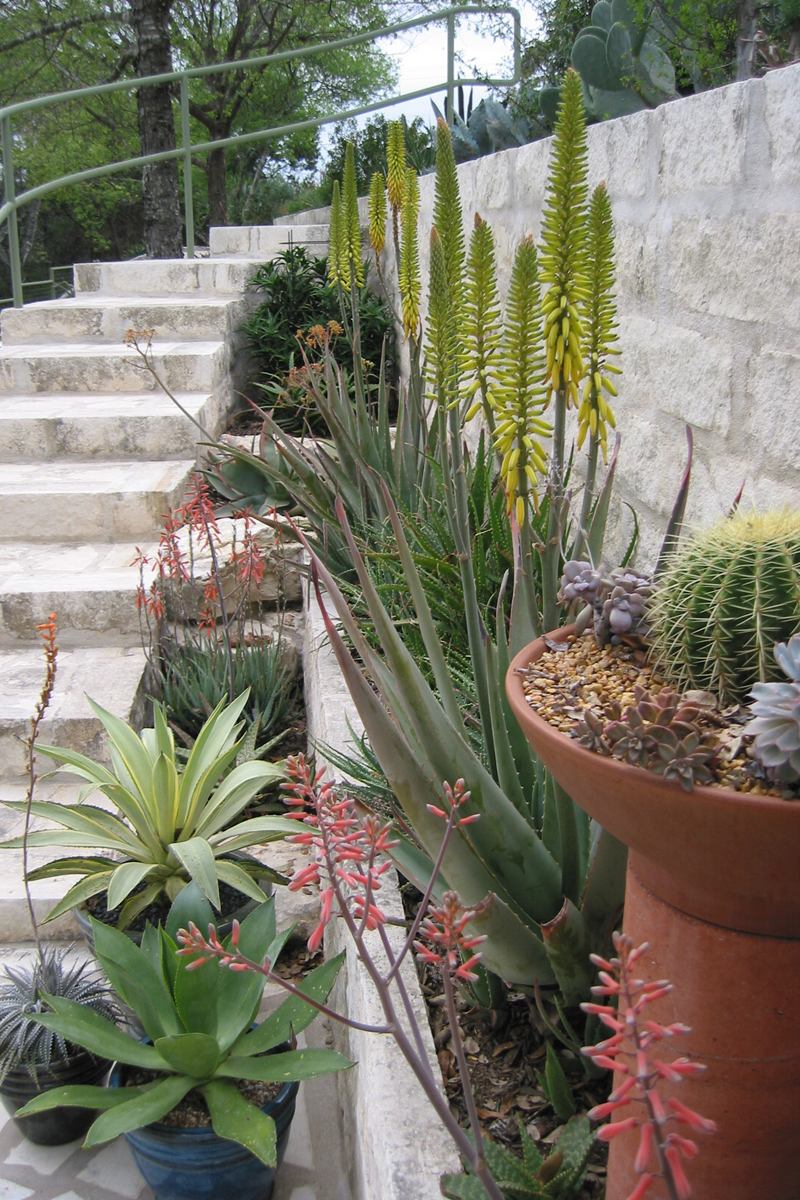 You can pick up some of these beauties yourself or other succulents and cacti at the Austin Cactus & Succulent Society fall sale and show at Zilker Botanical Garden on Labor Day weekend.
Show table of Euphorbia specimens at the spring show, courtesy of the Austin Cactus & Succulent Society.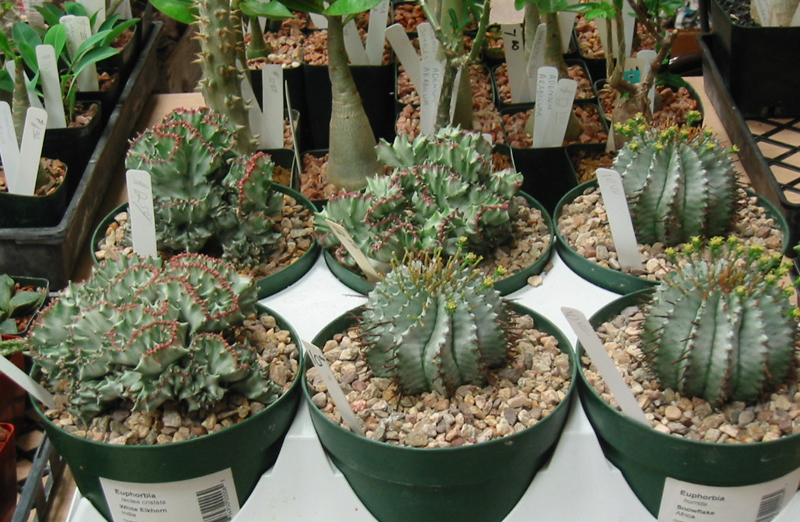 We start the program with a visit to Jeff's garden.  Camera operator Ed Fuentes and I were astounded at how Jeff and partner Ray Clayton tamed a steep slope in the hills with extensive terraces, raised beds, and staircases they built themselves.
In deer country, Jeff wanted plants that could (mostly) withstand temptation.  With his schedule, he also wanted plants that didn't need a lot of tending or water.
Jeff's also a natural designer.  As more gardeners get into these plants, it's easy to do the new gardener thing and put one here and one there. Jeff didn't figure this out overnight, of course, and he moves things around a lot.  But quickly he learned how to achieve a contemplative and united presentation for impact and progressive interest from one area to another.
Until next week, Linda
Comments