October 21, 2010
Psycho garden lighting & structural evergreens
Light is where things get tough in the garden.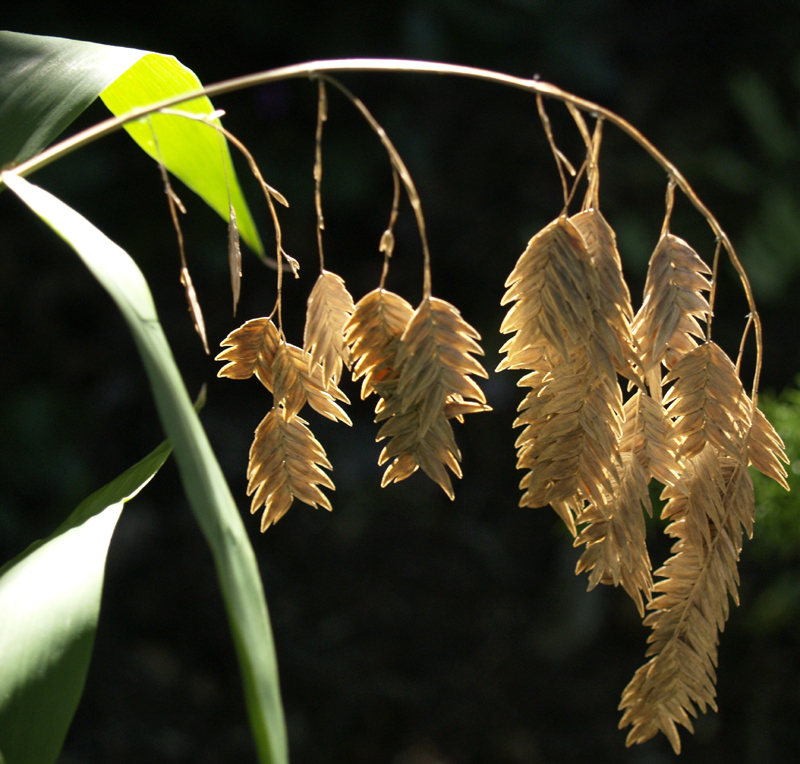 We can amend our soil or build up mounds, but generally, we've got what we've got. Blackland Prairie is never going to be the Hill Country.
Lighting, however, changes continually: not only by season, but by how fast trees and shrubs grow and how you prune them. Just when you've got it figured out, you lose a tree or gain one. And if you don't pay attention to lighting, you're doomed. You can fertilize all you want, but if a plant wants sun, it won't work in shade. Shade-lovers cower when they get a spotlight afternoon blast.
In shade with spats of sun, I planted inland sea oats, pictured above, recommended only for the hardy who don't mind digging up a billion seedlings every year. Recently, I finally found a pink turks cap (no ID other than "pink") to add a spot of color to that area.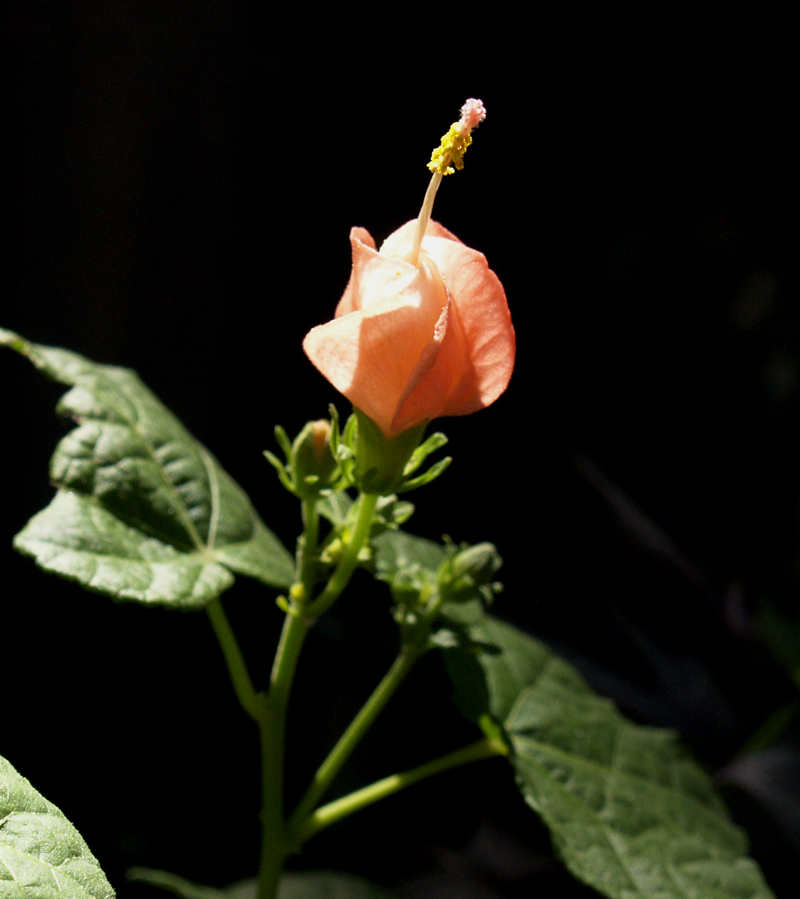 The toughest "design" situations are where you get sun in one spot and shade in another in the same bed. How do you create a cohesive appearance when you can't have the same plants within 8 feet of each other?
In my island crape myrtle bed, sun gently hits the back side in morning, then goes to shade. The front side is shady until late afternoon when it gets a penetrating blast of western sun. This year, when we pruned up the crape that crowded our path, some plants simply fried.
The versatile winner here is evergreen variegated Dianella tasmanica. Annual Salvia coccineas attend it, since they're tucked away from the most intense blast.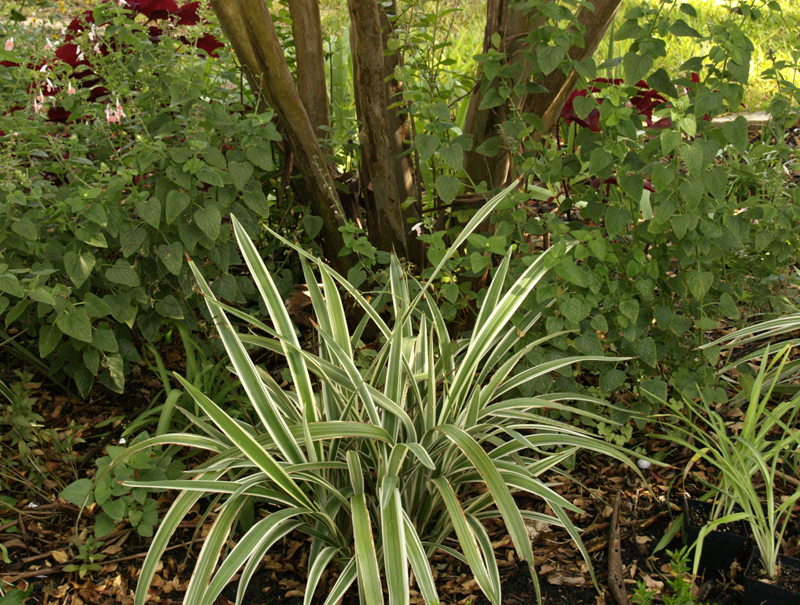 I did lose my original dianellas in last winter's 14°. But I expect that won't happen again soon, so I planted anew last spring. They take morning shade, blast of afternoon sun, aren't water hogs, and don't need much tending.
For the now-blank front edge of the bed, I'm considering pink skullcap (Scutellaria suffrutescens). The bi-color sage (Salvia sinaloensis) roasted, so I've moved them to the back side of the bed, hoping they rally. My experiment with white Mexican heather was a total failure: they want morning sun, not a blast in the afternoon. Formerly, pink skullcap withered because they didn't get enough light.  I'll try again and see what happens!
At the back side, Agave celsii gets a little morning sun and a touch of the afternoon blast that hits the dianellas straight on the head.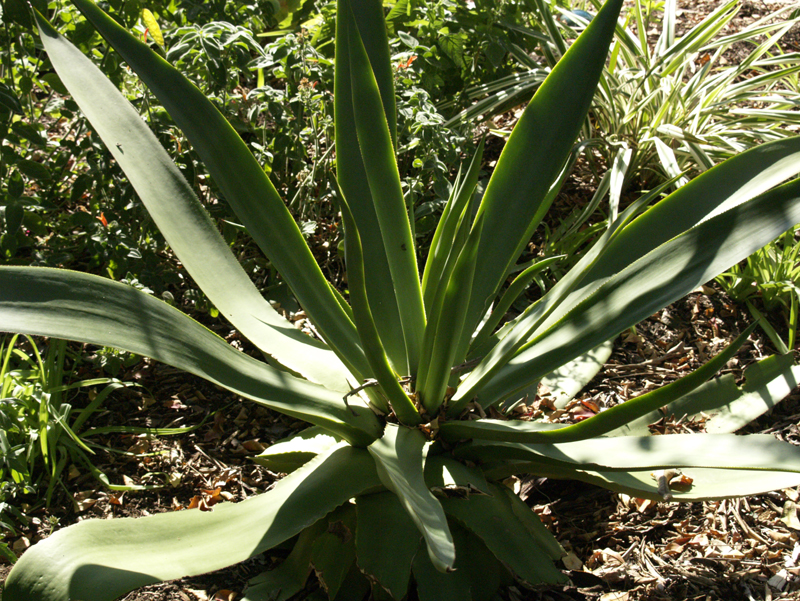 Last spring, I tried one variegated Japanese sedge (Carex morrowii 'Aurea-variegata') in the back side. It's done so well with the psychotic lighting and weather that I added three last weekend.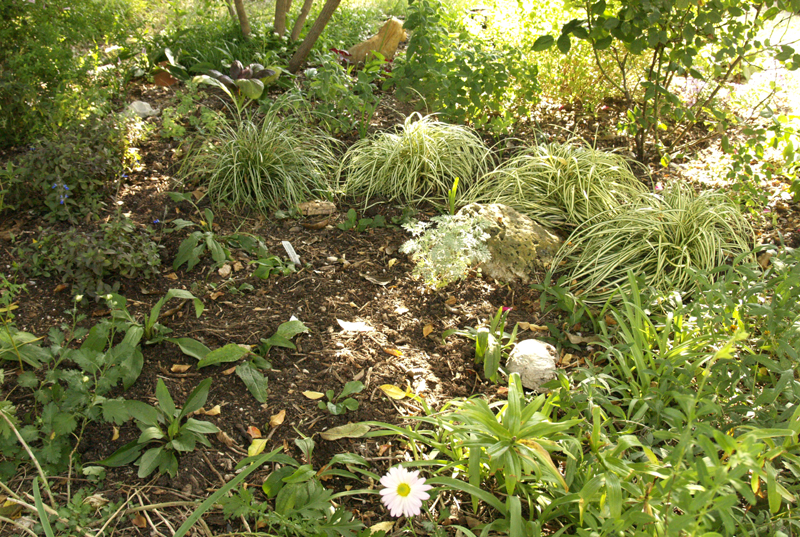 The tiny thing against the rock is a new Artemisia 'Powis Castle' since I lost the original to the rains. Hence, I've left blank space since it grows quickly.  I've added more coneflowers, and sprinkled in some poppy and larkspur seeds for spring until everything fills in. I moved a few Lycoris radiata bulbs in the process, and various spring bulbs are peeking up.
In those quirky areas, consider Daphne's featured plant this week on CTG: oakleaf hydrangea (Hydrangea quercifolia) from Robin's Getting Grounded garden. It's one that likes shade but appreciates gentle sun for best flowering.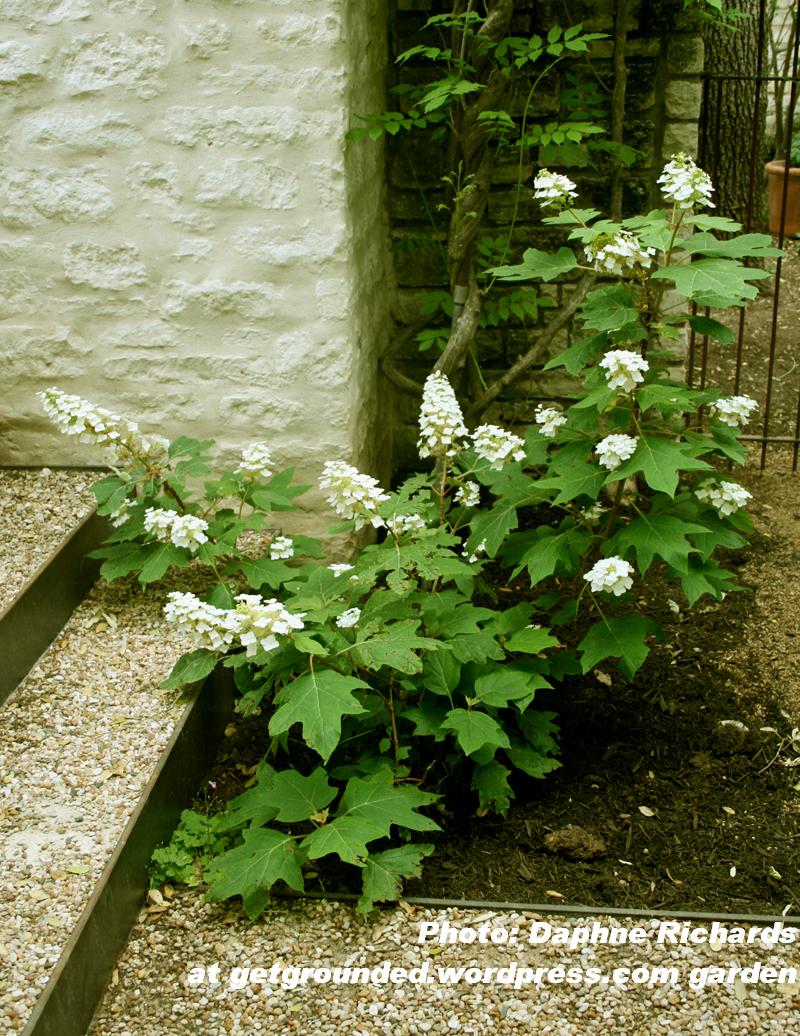 And on CTG this week, Tom meets with Adam Diaz from PlantEscape Gardens for that easy-care evergreen structure we all want. Along with his trend-setting nursery that features local artwork, he designs as Stonecrop Design.  Here he's using Fernleaf bamboo (Bambusa multiplex).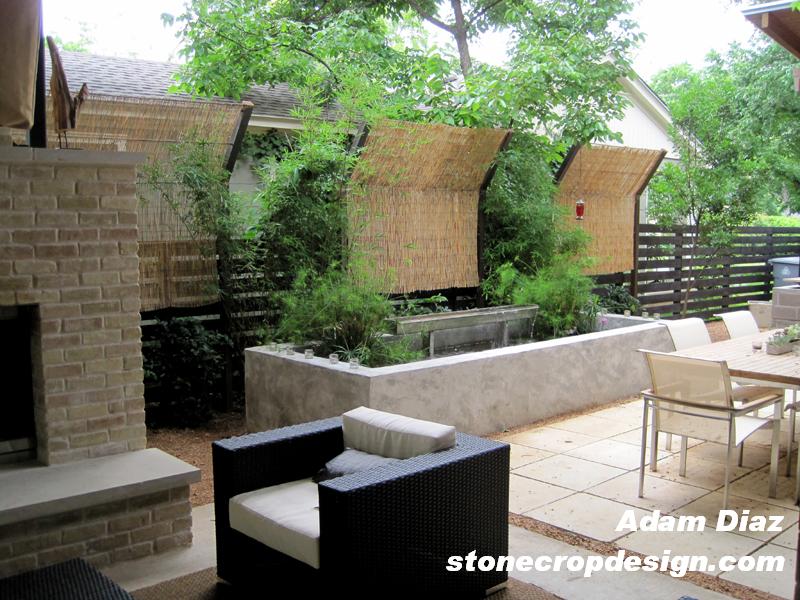 Here it joins Sweet olive (Osmanthus fragrans).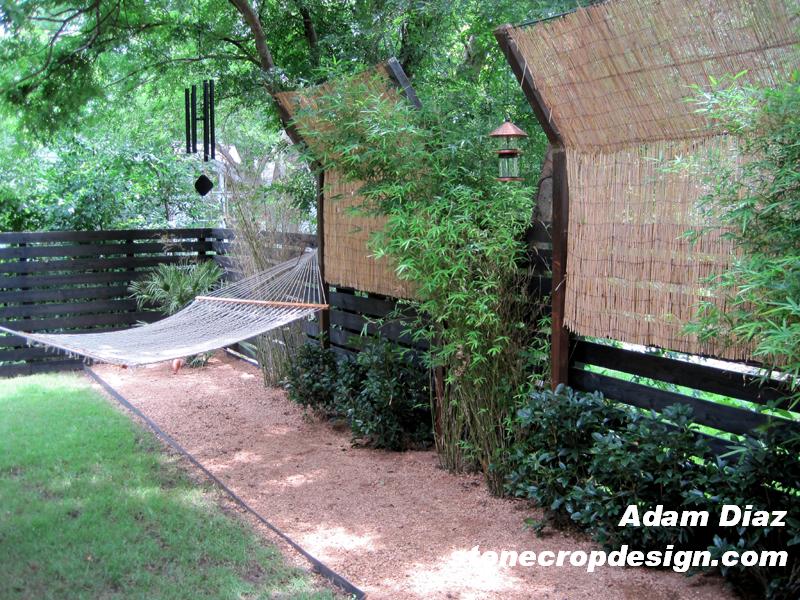 Here's waterwise Candelilla (Euphorbia antisyphilitica) in a narrow walkway.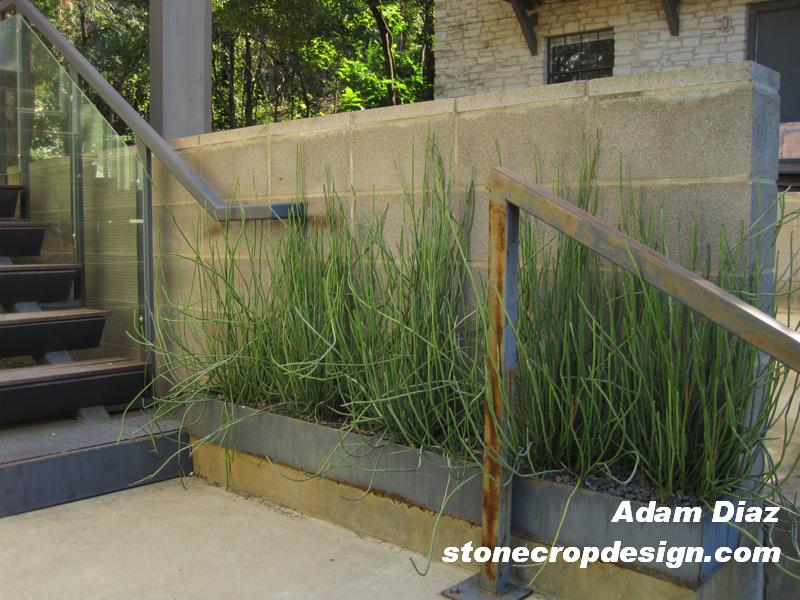 Here's Adam's CTG plant list.
Canning has made a serious comeback, since gardeners want to preserve their homegrown food. This week, check out Trisha's latest tips and a few recipes to try, like for jalapeno jelly. I'll never forget my first experience with canning. It's powerful!
Until next week, Linda
Comments