January 16, 2014
Gardening made easy with new iBook + Hutto garden fun
I rather like the restful stage in my dormant winter garden. Here's a view of the den path from the patio.

Let's distract our finger on the eager pruning trigger with early-birds like Matchstick bromeliad (Aechmea gamosepala) that leads off my winter pop-up color parade. The flower bit the dust in our freeze event, but the plant's just fine.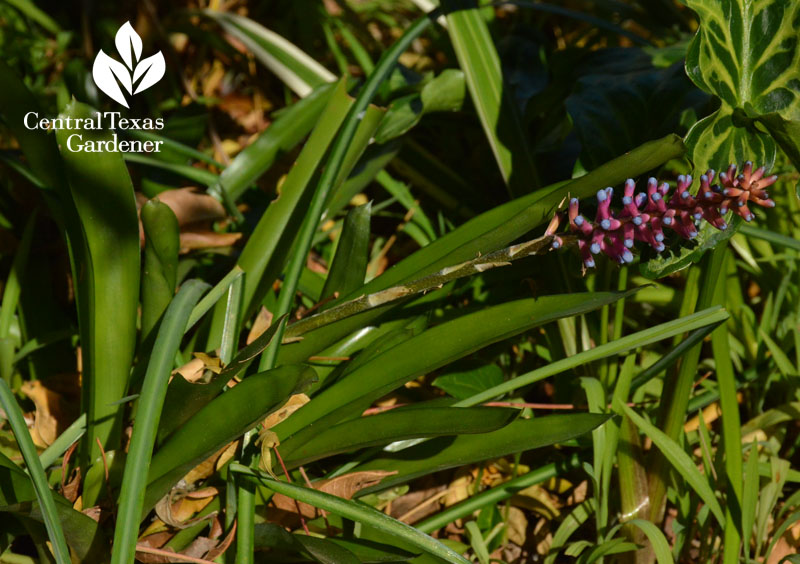 To pep up dormant spots, what about Daphne's Plant of the Week, ornamental kale?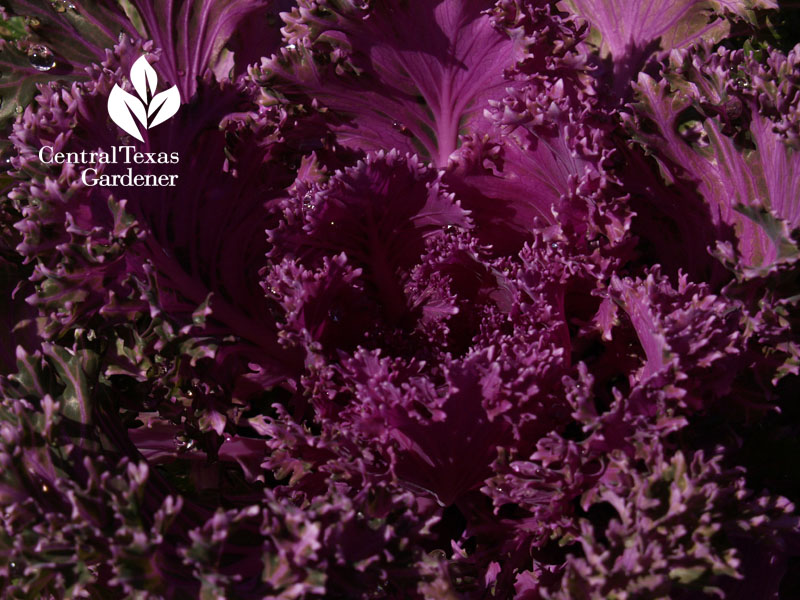 It's not too late to plant these annuals. They're even edible, though I've never tried. If you're going for food, "regular" kale is pretty, too. In sun or light shade, and superb in containers, Daphne reminds us that they're waterwise and rarely need the hose if we get a little rain.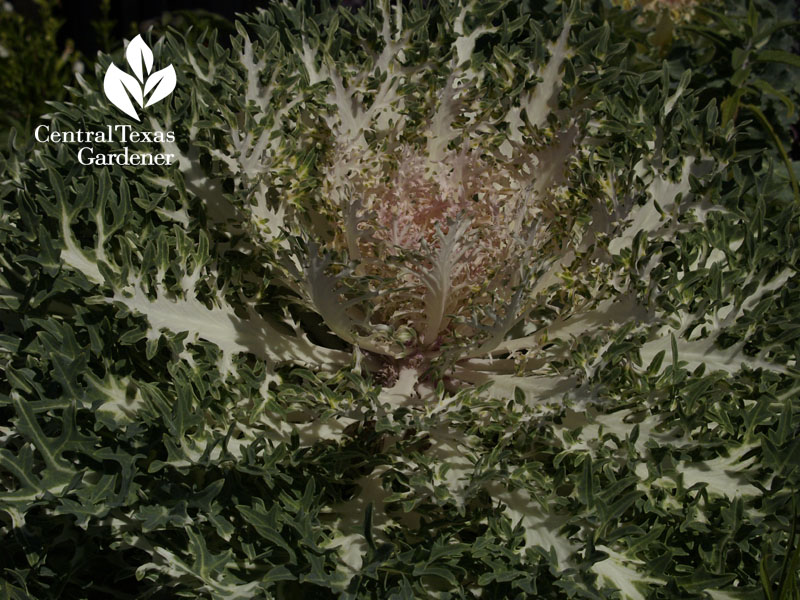 With recent flash-freeze temps, many plants—like JJ Weber's purple heart (Setcreasea pallida)—look a little fried.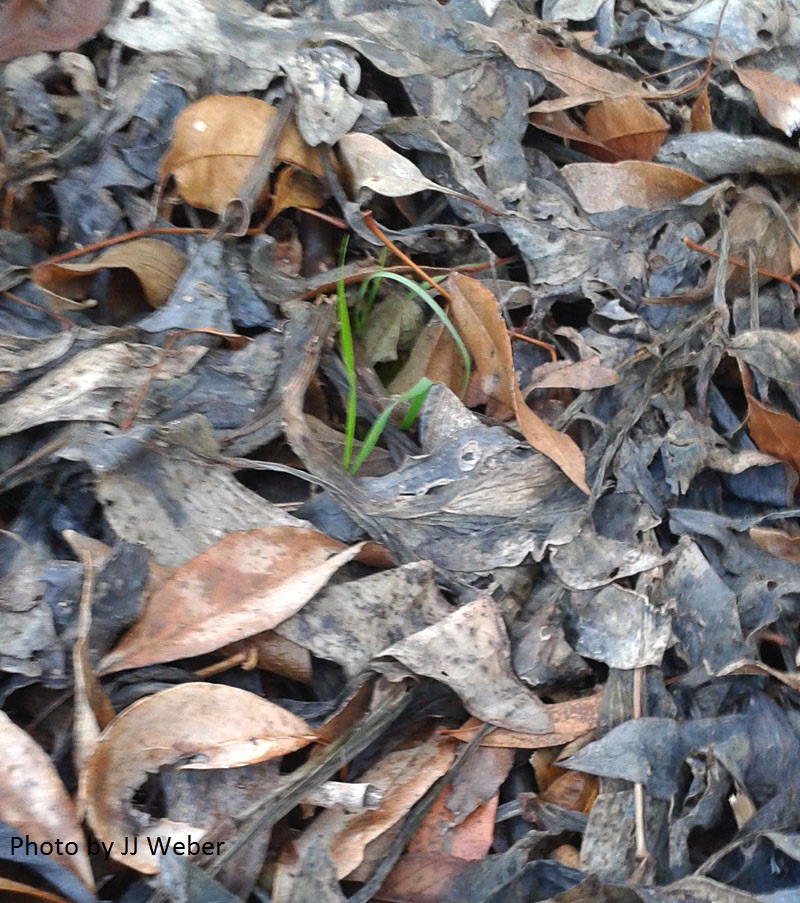 No need to tidy up yet. Those dead leaves (as on other plants) blanket the live roots in case of future polar events. Until mid-February or so, JJ can keep on winning Lone Star Emmy awards for KLRU programs like SXSW Flashback.
Then, simply cut off the dead leaves. Pulling too hard can uproot the whole plant!  In that case, just tuck the root back into the ground.
Designer Ginger Hudson's iBook, A Guide to Landscape Maintenance for Central Texas Gardens, includes a fabulous interactive chapter on how to prune dormant plants.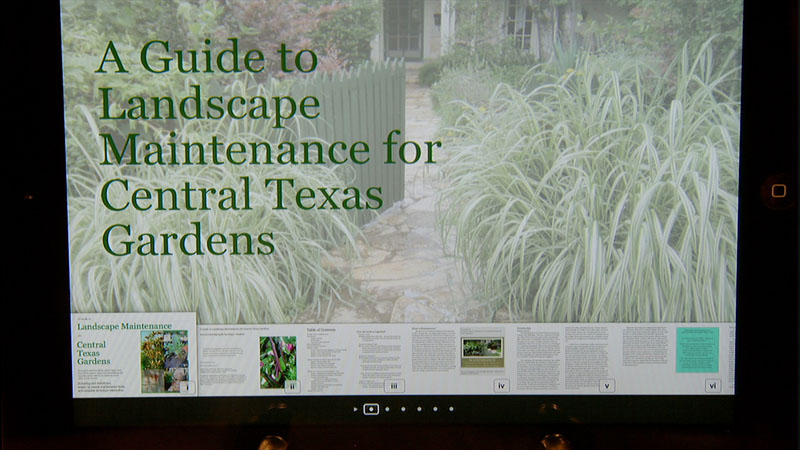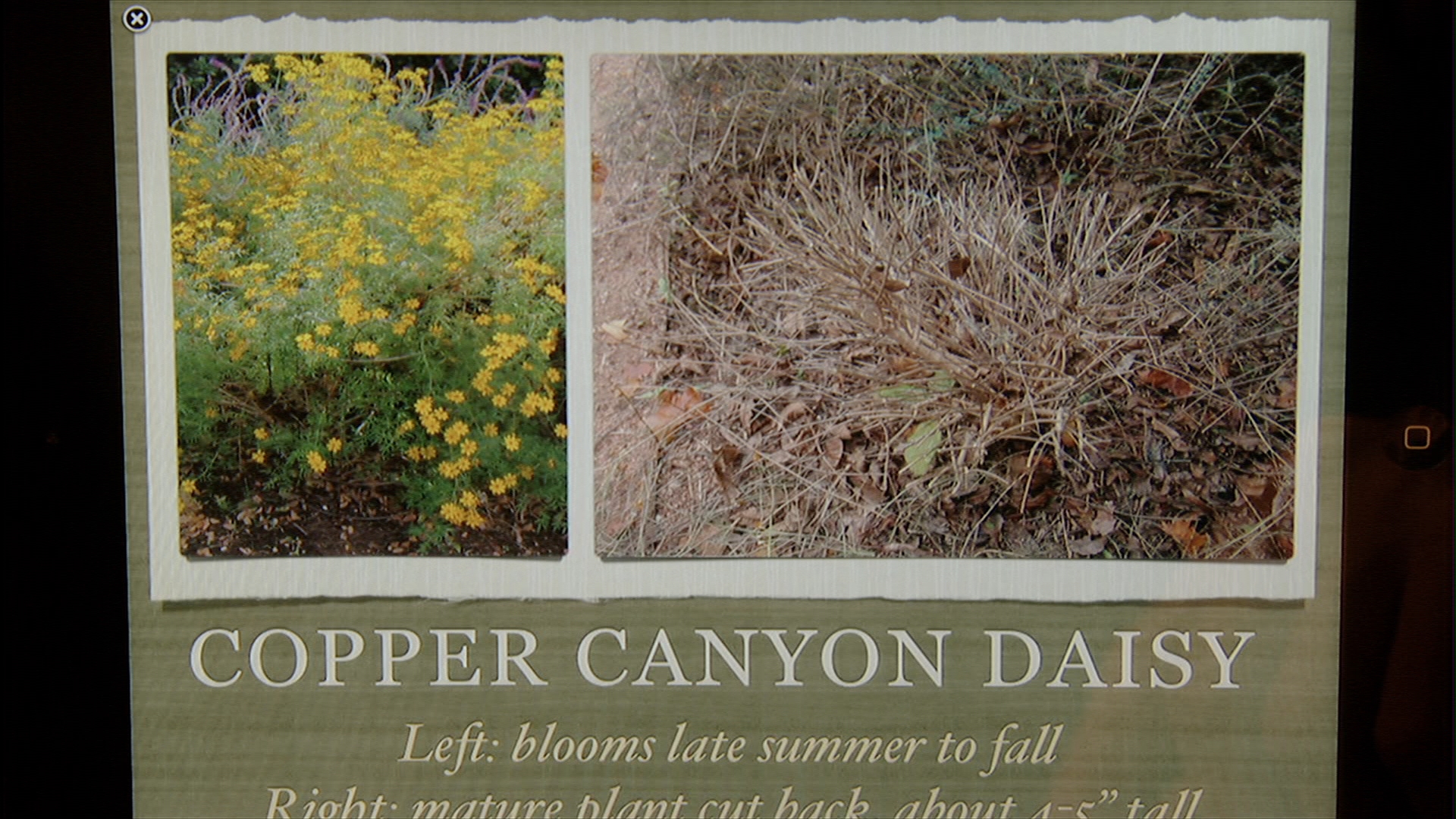 Ginger joins Tom for a tour of her detailed step-by-step guide that covers the ground in every season from tools to design and maintenance. This is the book of my dreams!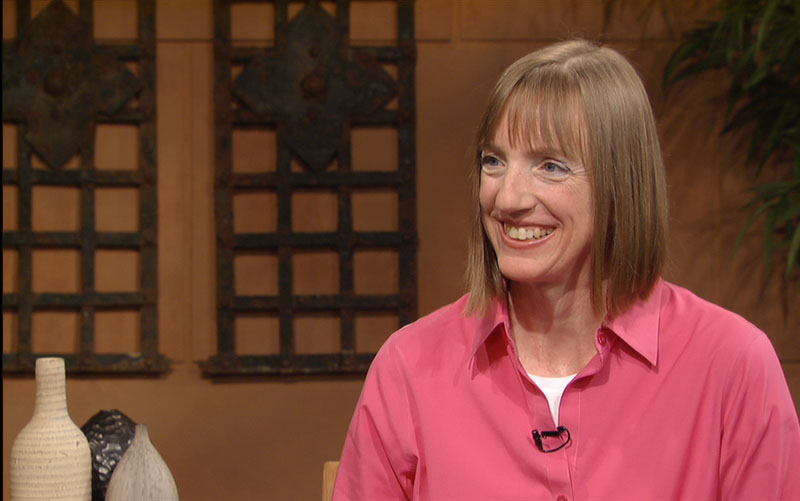 A quick click takes you to close-up details, including pruning, moving plants, and symptoms of unhappy plants (and why).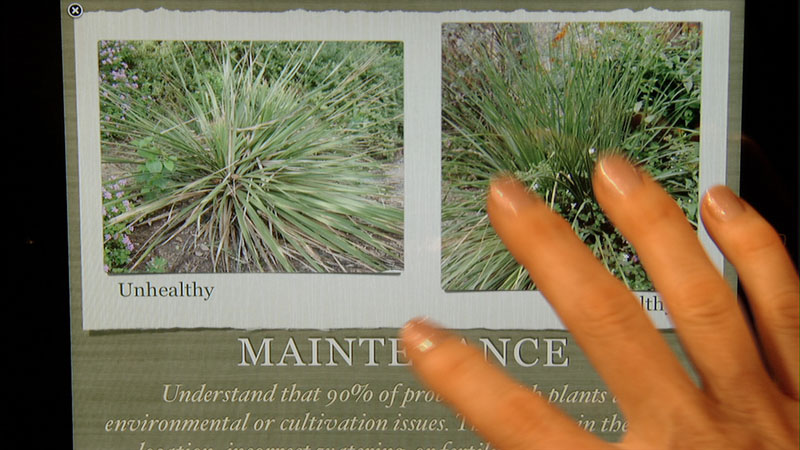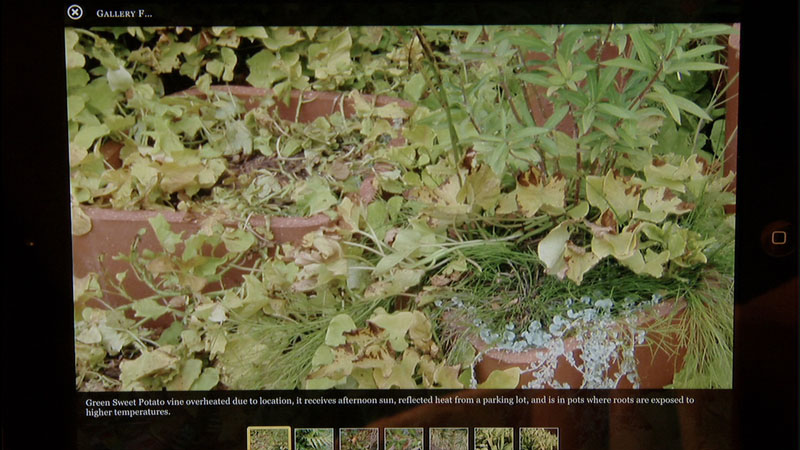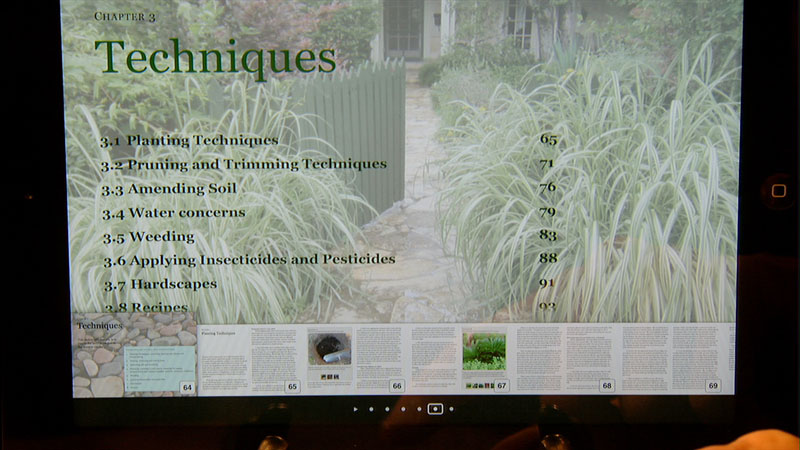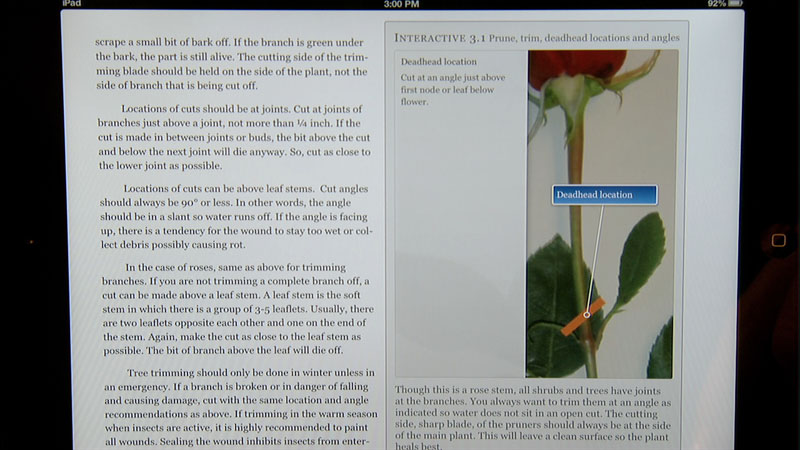 Now, raise your hands if you've ever ripped them up tying up a thorny rose with twine.  I'm certainly nimble-challenged when wearing rose gloves. Daphne spares the Band-Aids with multitasking hair clips!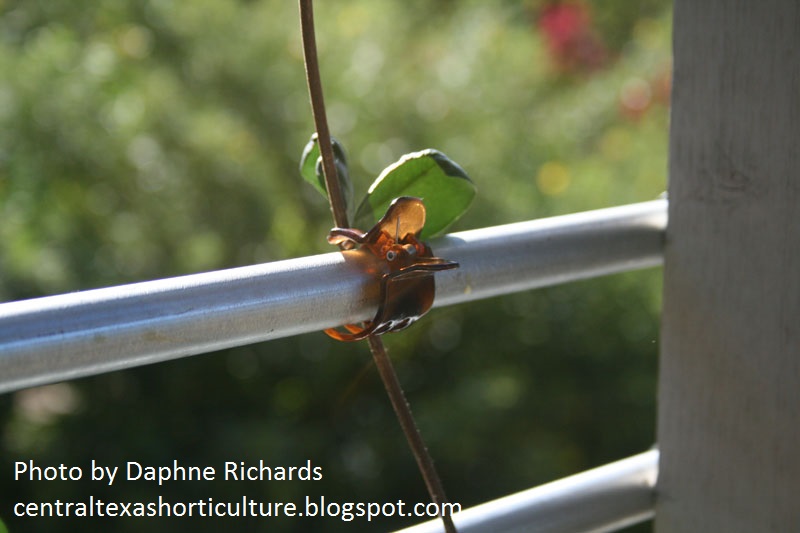 For heftier plants, she uses zip ties. Get her tips on using them, twine, and re-usable hair clips.
It's time to start summer seeds indoors . John Dromgoole has your tips for success with light, heat, and watering.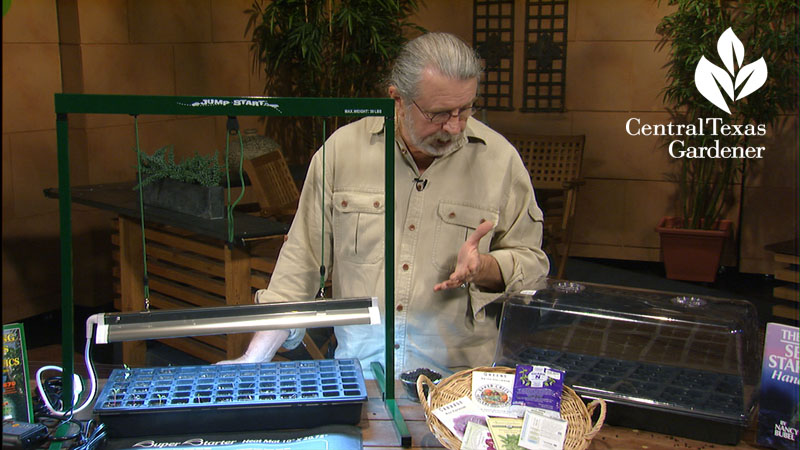 On tour, head to Hutto where Donna and Mike Fowler join their kids Luke and Emily in a creative family co-op of art, wildlife plants, destination gardens and hippos, of course!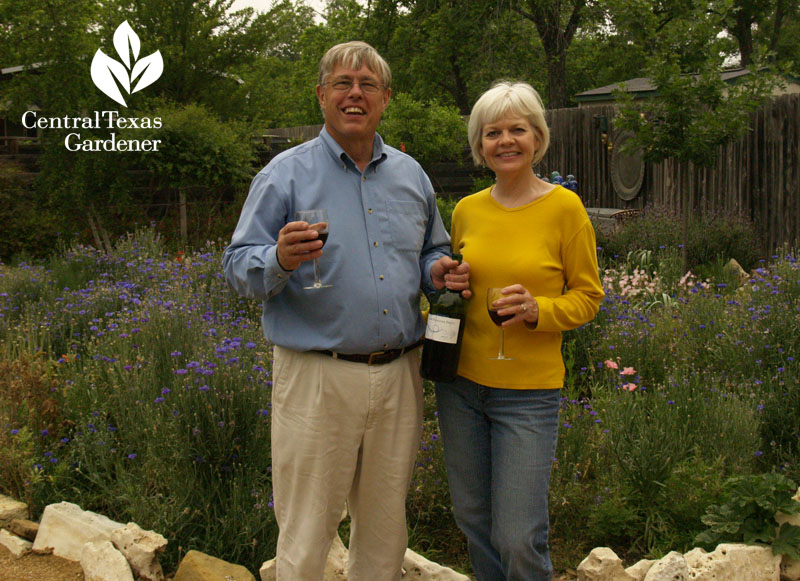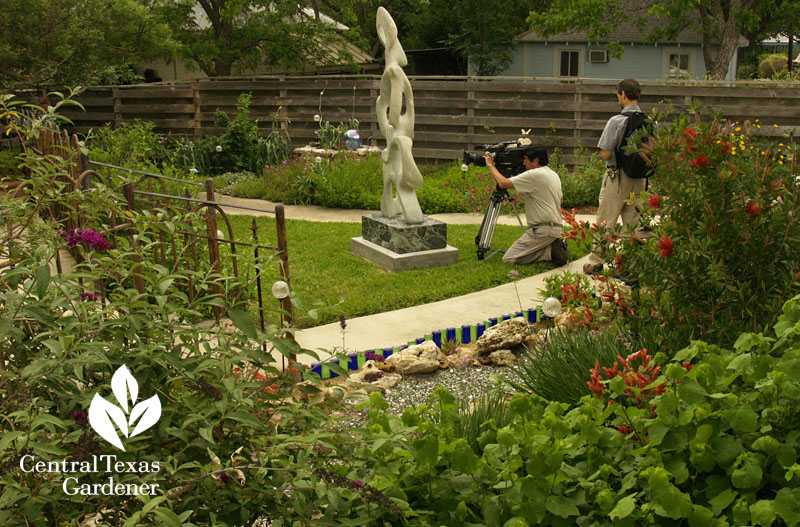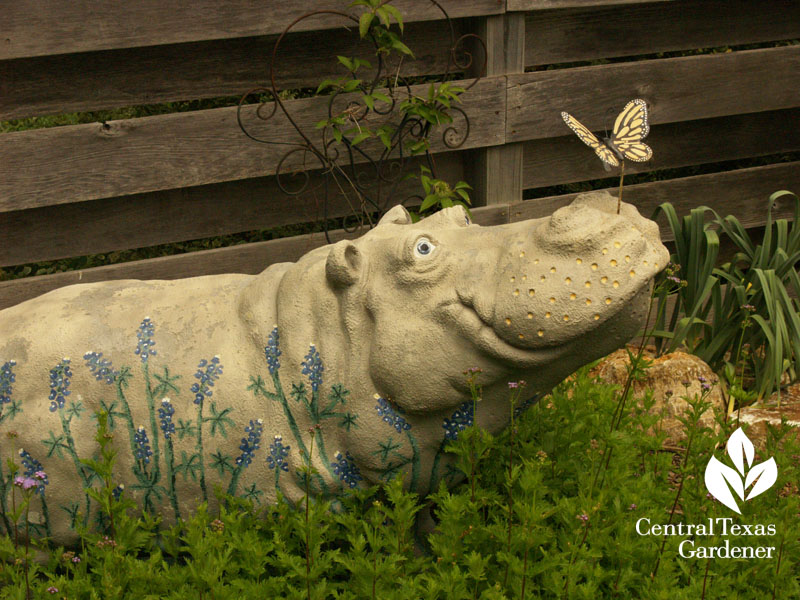 Donna supervises the vegetable garden from her Alice in Wonderland chair that Mike built from junipers he cleared.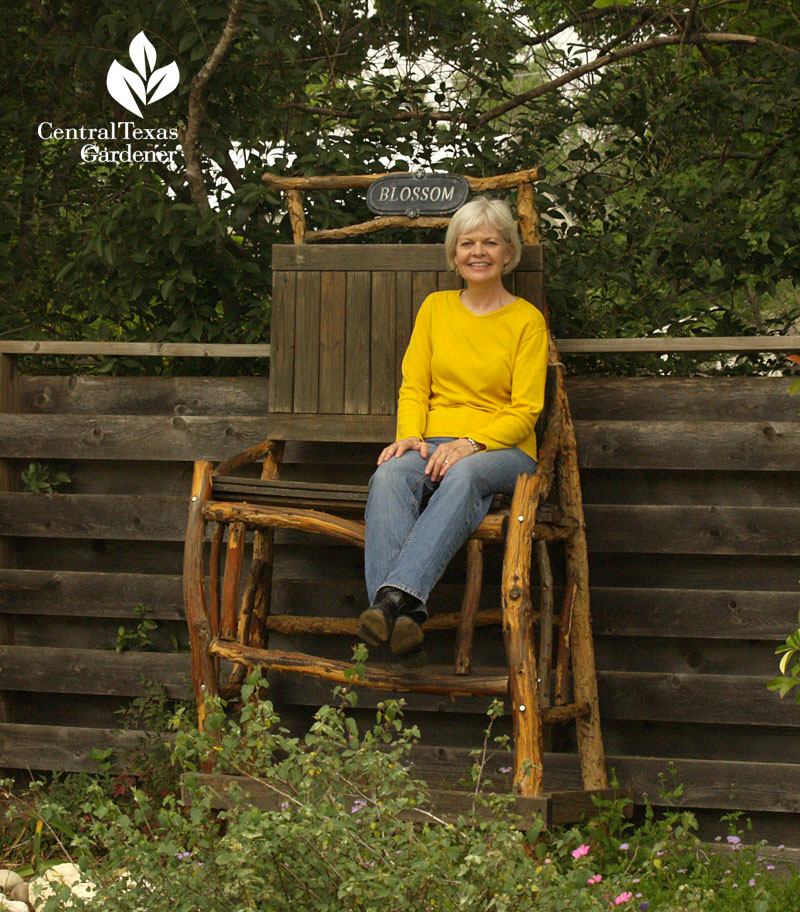 They banished lawn with destination gardens where Donna styles up with waterwise plants for wildlife.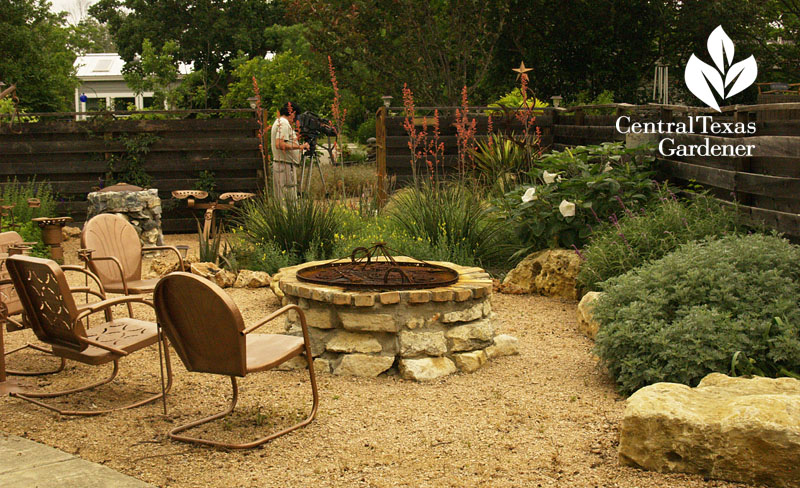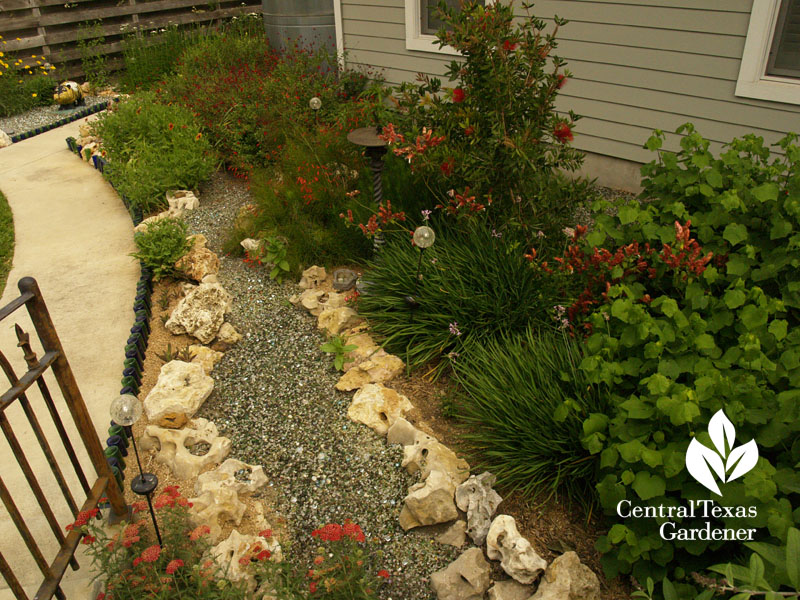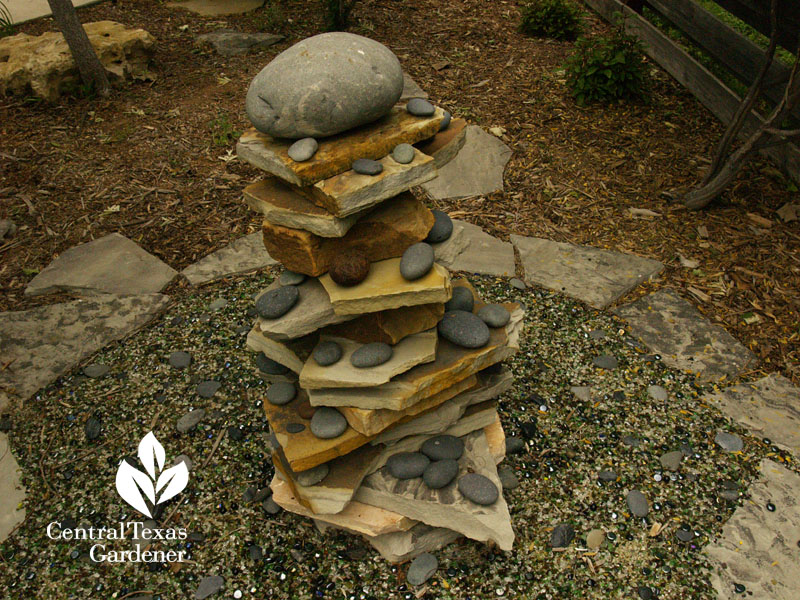 In every spot, they tuck in hand-made art from recycled foundlings, dubbed "yart" by Mike. Here's his clever hose guard design: rebar topped with recycled dishes. Donna fancied them up as her personal "garden club!"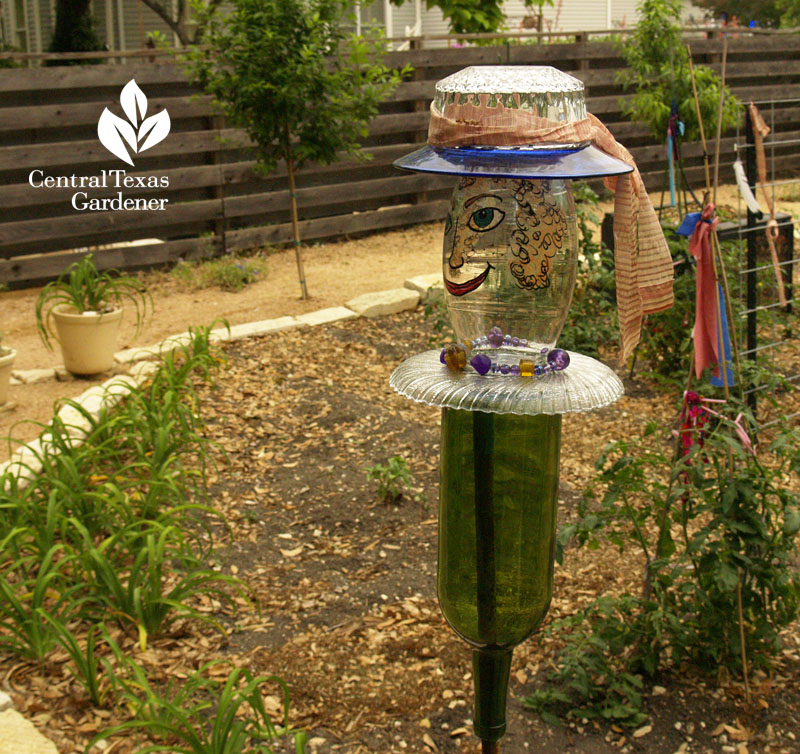 In the vegetable garden, son Luke–fellow producer on an innovative video series in the works, Treehouse Tribe— gave it the ultimate destination with his tipi that reflects their Native American roots.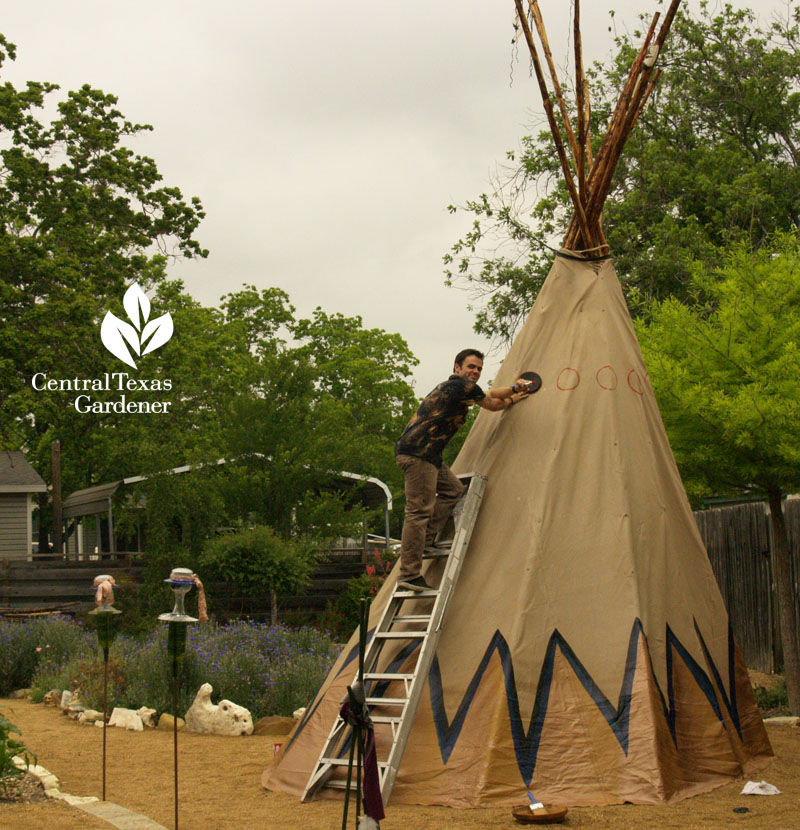 It's worth a trip to Hutto to munch down on fabulous home-made recipes at the Texan Cafe!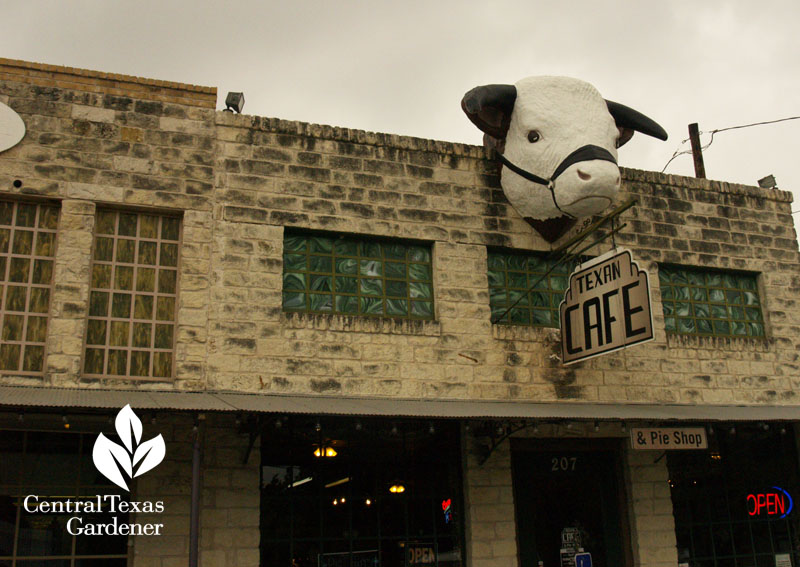 Take the whole tour right now!
Thanks for stopping by! See you next week, Linda
Comments