June 18, 2015
Shawna Coronado Vertical Gardens, American Botanical Council, Hypertufa
On my strolls: I love this wall screen, one of many ideas I picked up on a quick trip to Toronto for the Garden Bloggers Fling. Already, I'm spinning ideas to spruce up a boring exterior wall. Another, attached to my chain link fence, could block a bad view. Let's see if I can swing painting an anole or a butterfly!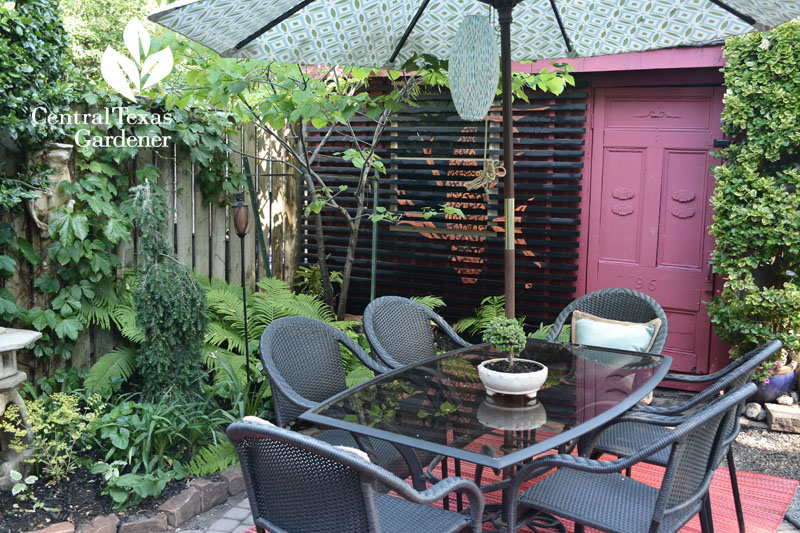 Up on the roof at the progressive Hugh Garner Housing Co-op, the garden is full of over-the-top design ideas. It's even watered with rainwater collection.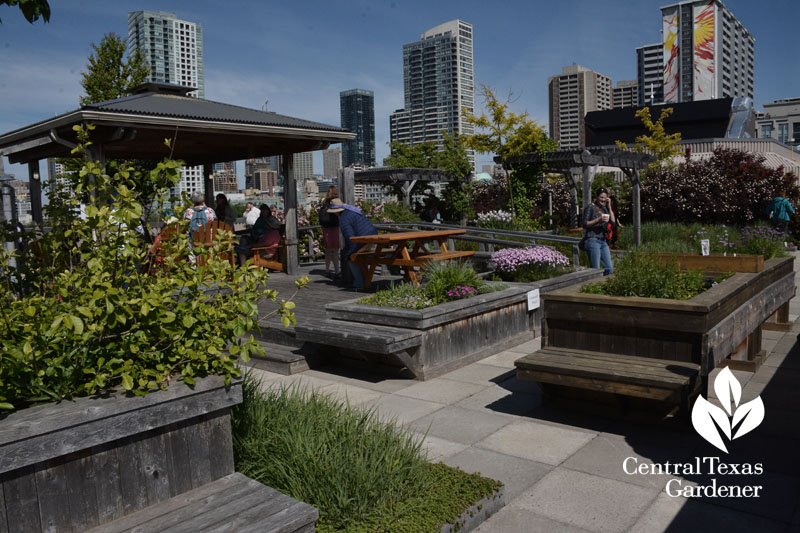 These garden carts are perfect for small spaces, to move out of blasting sun, or easily protect in winter.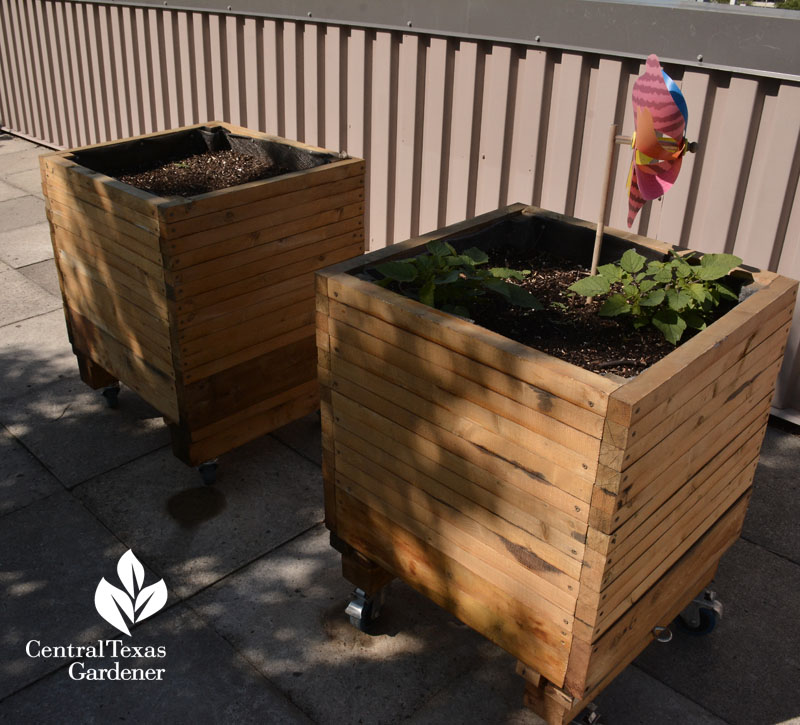 Back on the home front, Megan McFarland and Adam Vicknair recycled a pallet to dress up a fence with succulents.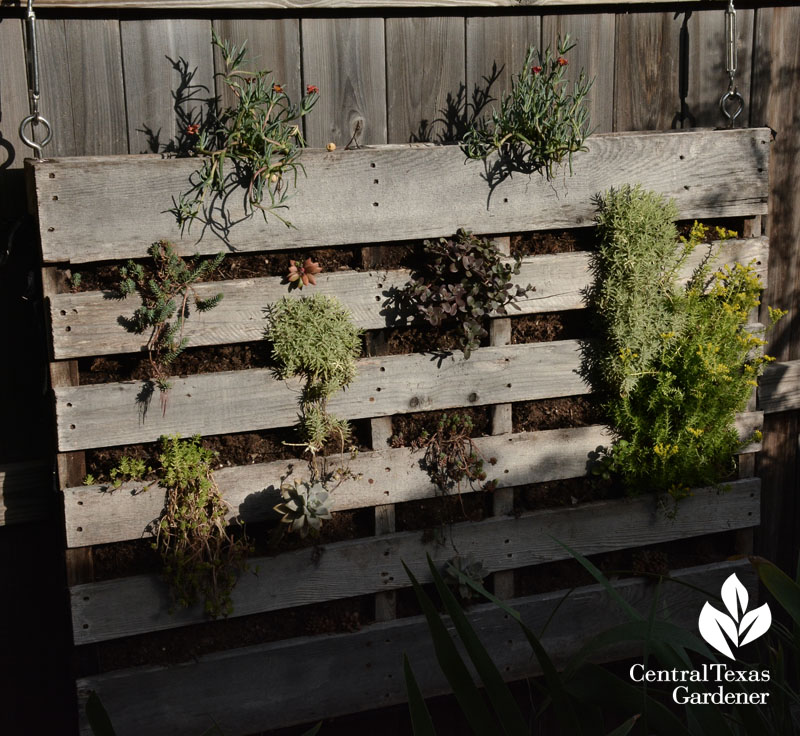 To power up boring walls or grow in tiny spaces, dynamo Shawna Coronado joins Tom with heightening ideas from her book, Grow a Living Wall—Create Vertical Gardens with Purpose.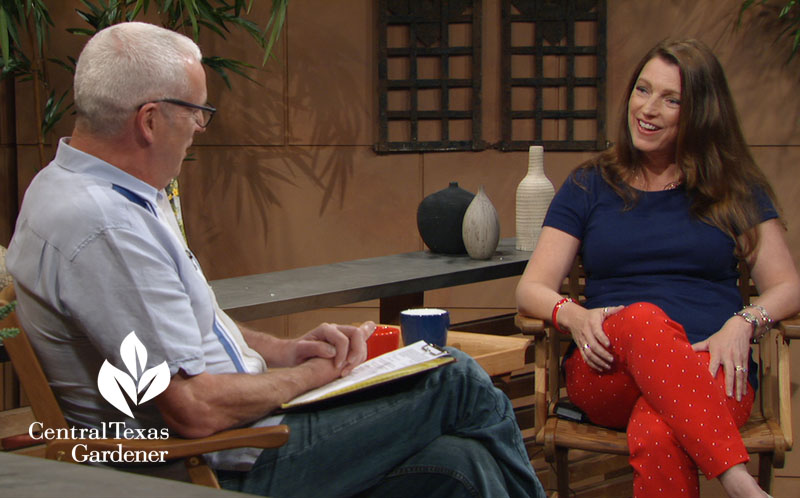 Beautifully designed with pictures and step-by-step instructions, Grow a Living Wall covers every detail—from soil and watering to vertical container methods. Shawna's even got the magic soil recipe for hot, dry regions.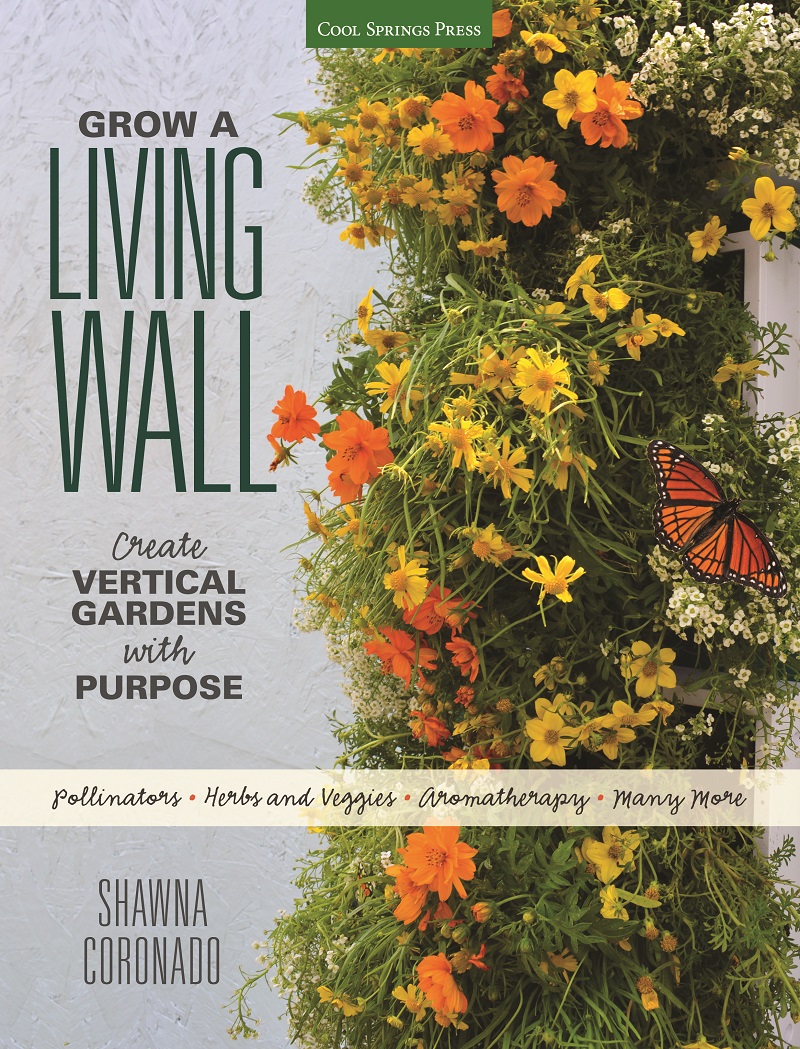 Shawna always applauds recycling, like old bookshelves or discarded pallets.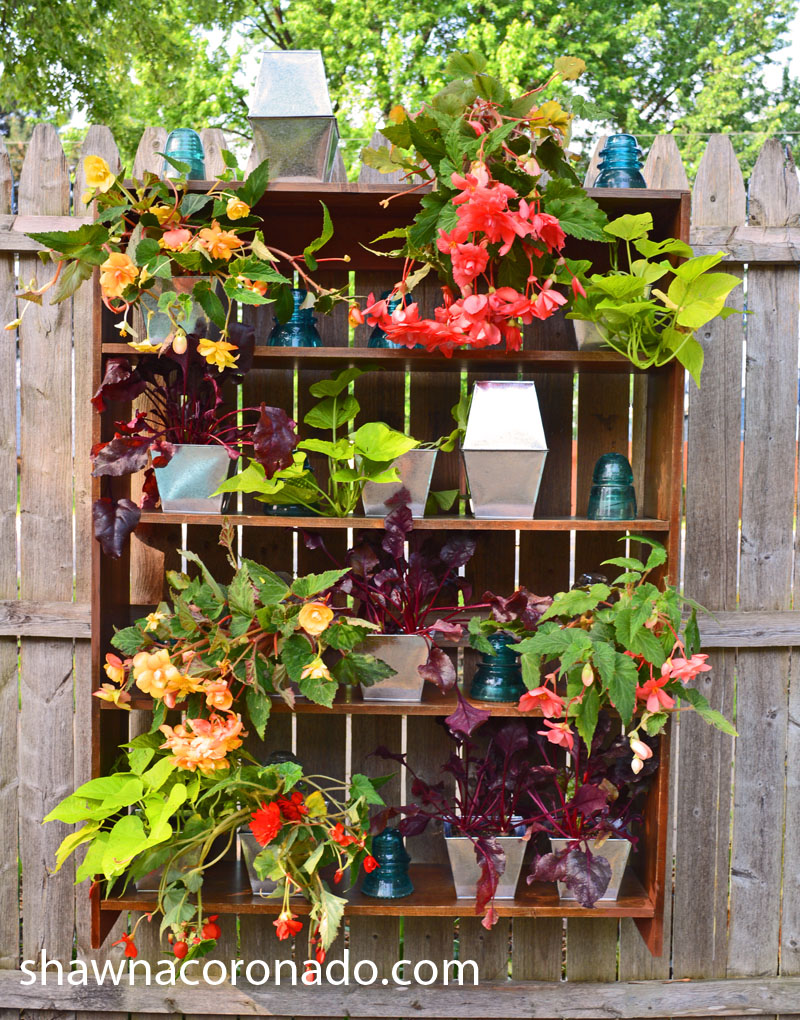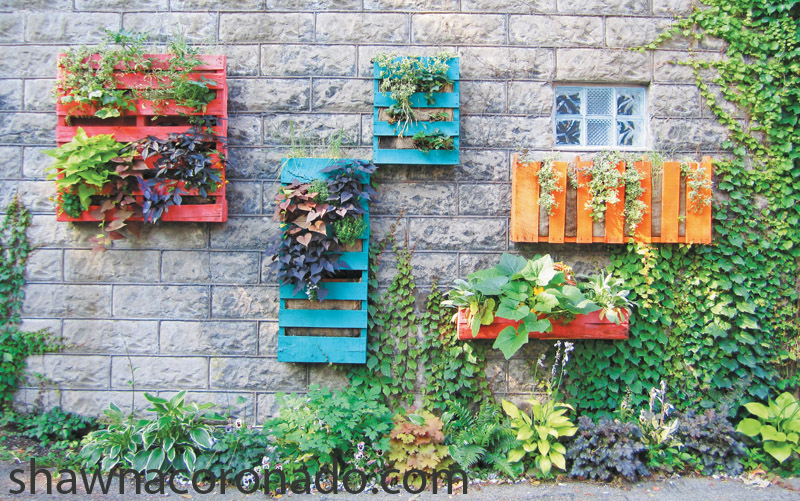 Also, her book illustrates the diverse purchased units you can buy, plus how to install them.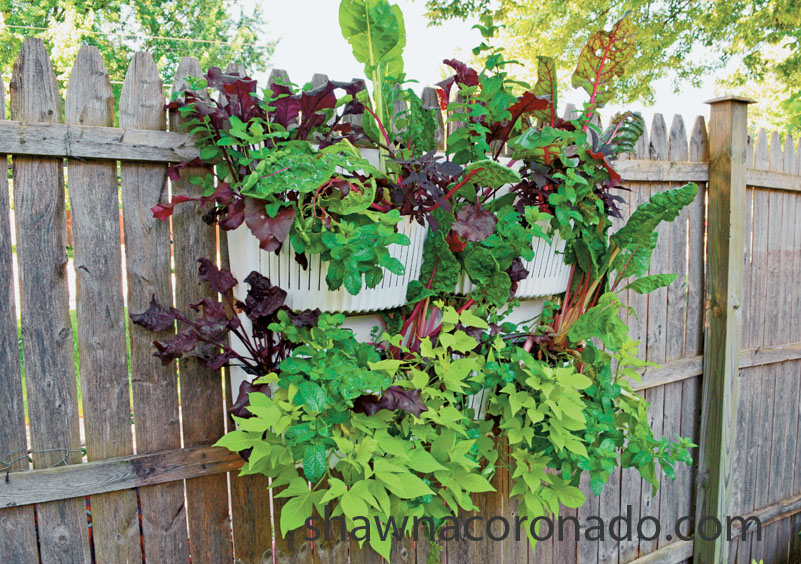 Along with noise barriers and privacy pretty, with vertical walls you can grow flowers for pollinators, food for you, and sensory aromatherapy gardens. Just not an indeterminate tomato!
Perfect for that tiny squished in balcony patio.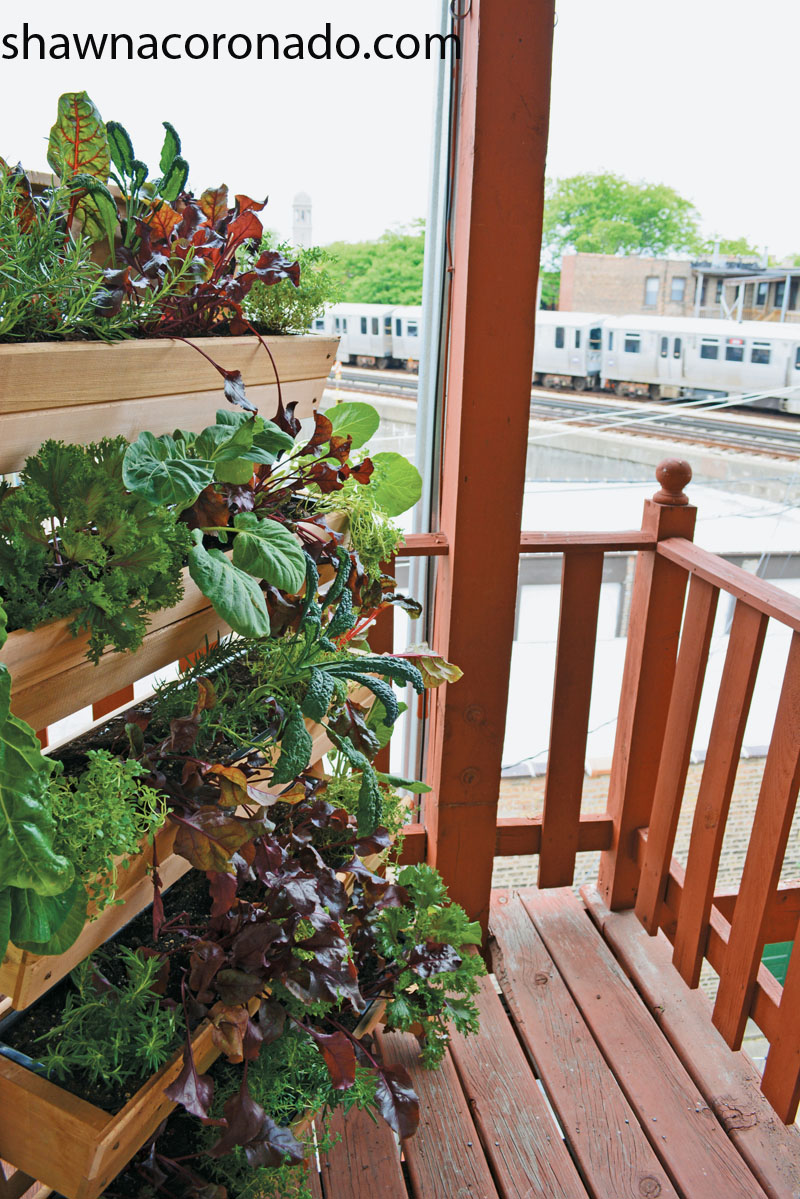 And to show off your succulents.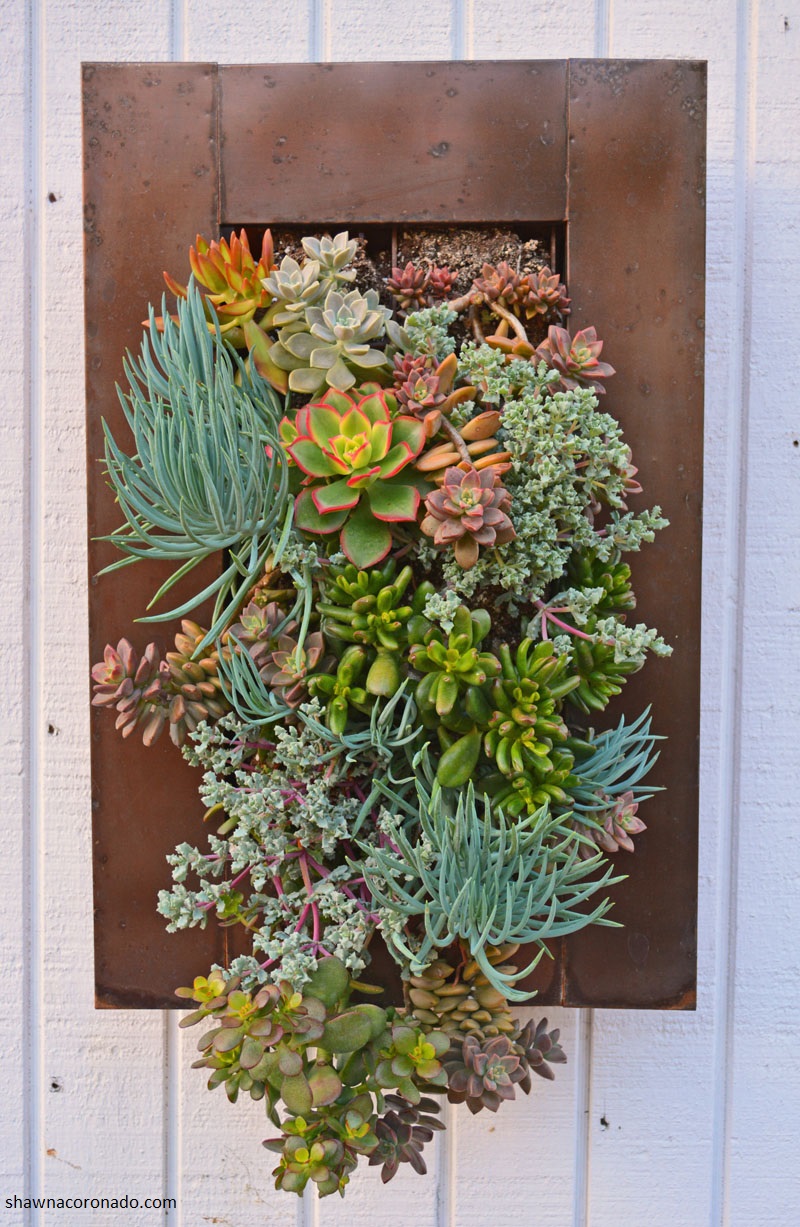 Here's Shawna jamming it up at the Austin City Limits plaque!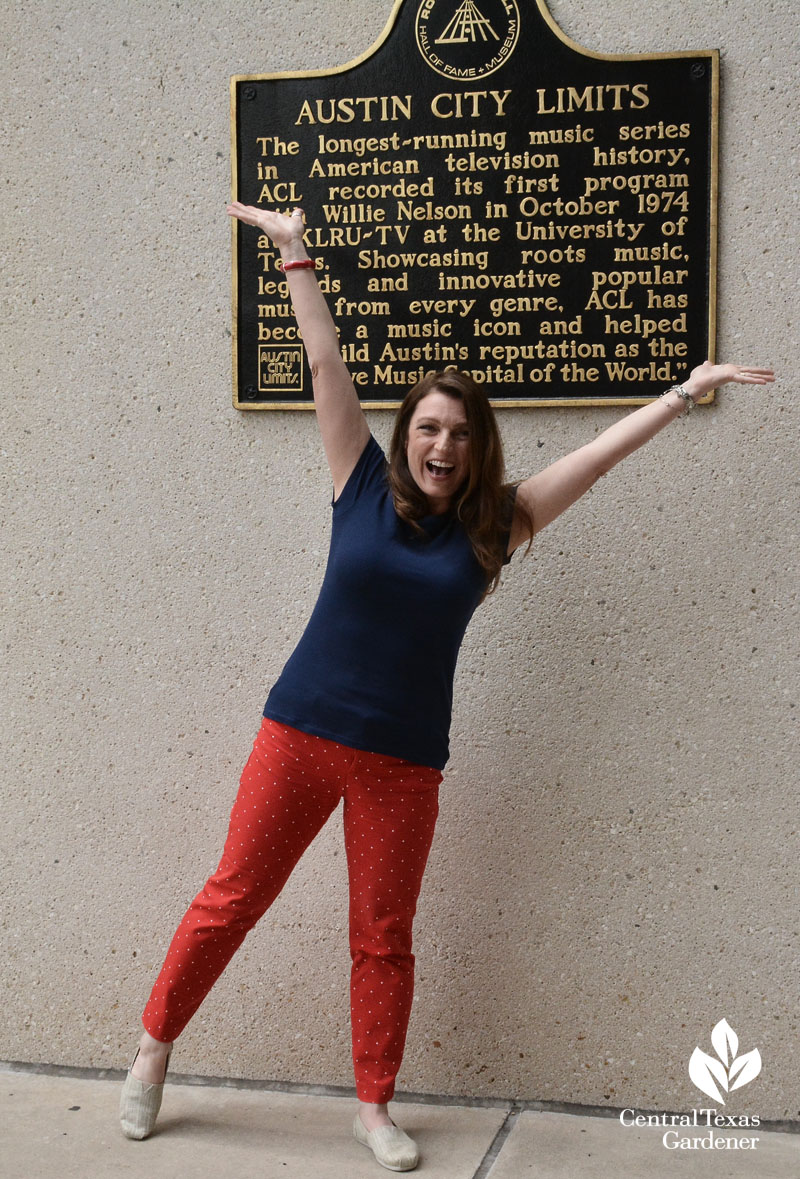 Trisha and Colleen Dieter team up this week to make hypertufa containers.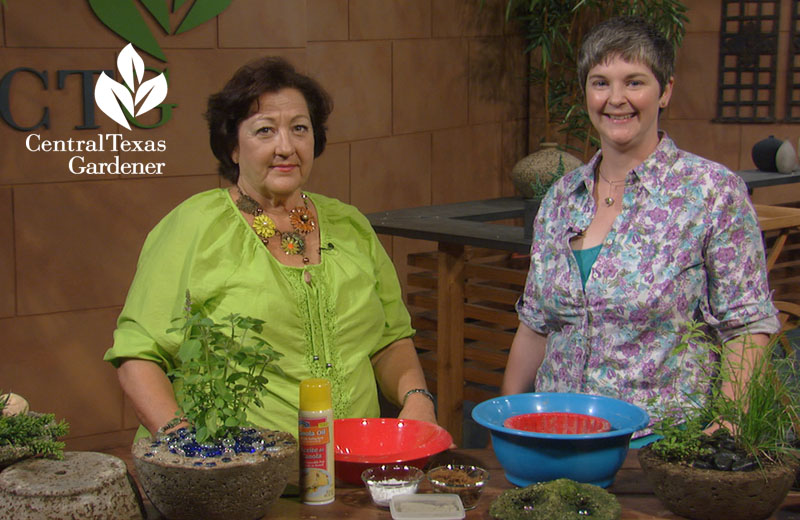 Style up your own hypertufa containers in any shape or size. Here's how!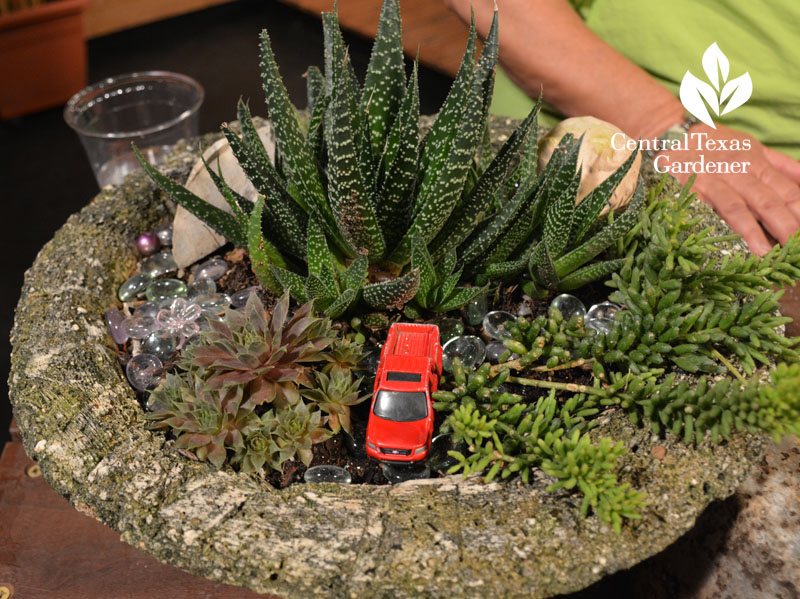 And, Colleen will be doing hands-on workshops again this fall.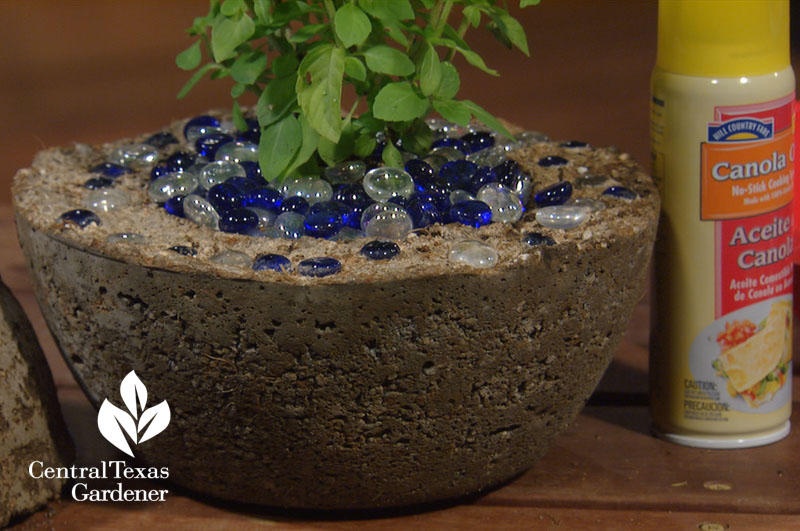 On tour at the American Botanical Council's gorgeous gardens, Special Projects Director Gayle Engels walks us through easy-to-grow plants with medicinal benefits to promote good health or to heal what ails you.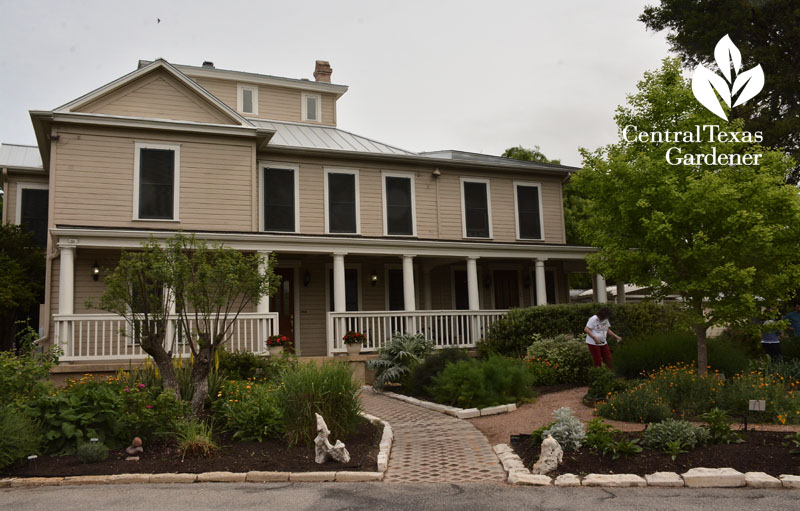 This old house in east Austin has seen a lot since 1853 when it was built on a Republic of Texas Land grant.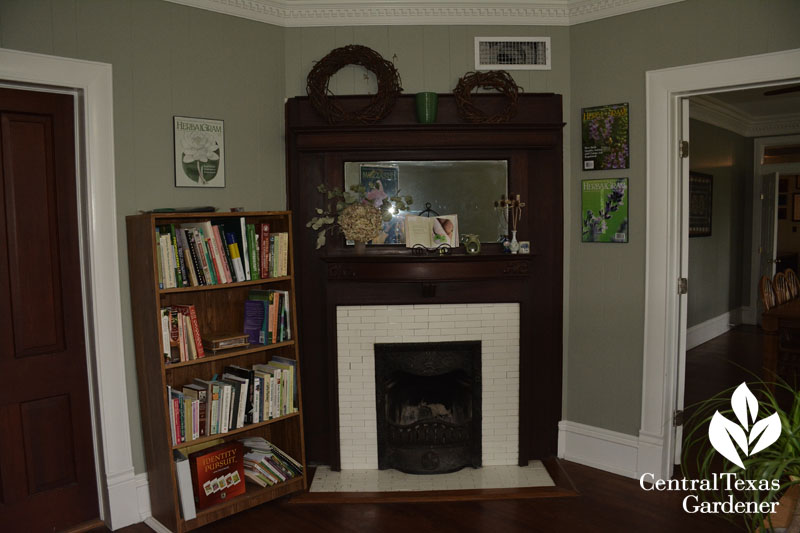 Since 1998, it's been home to the American Botanical Council, founded by Mark Blumenthal. Through its public gardens, ABC extends their educational mission to reveal the true beauty behind plants of many origins.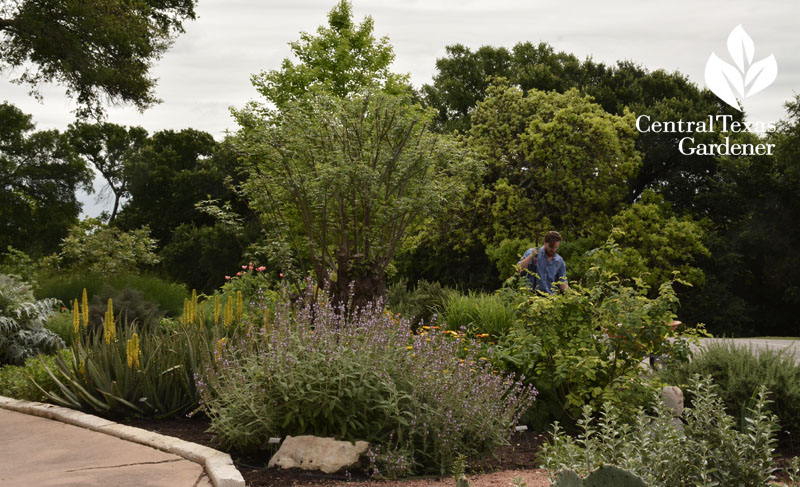 The gardens in front are devoted to plants that serve the human systems. As a demonstration garden, ABC only grows plants that work for us.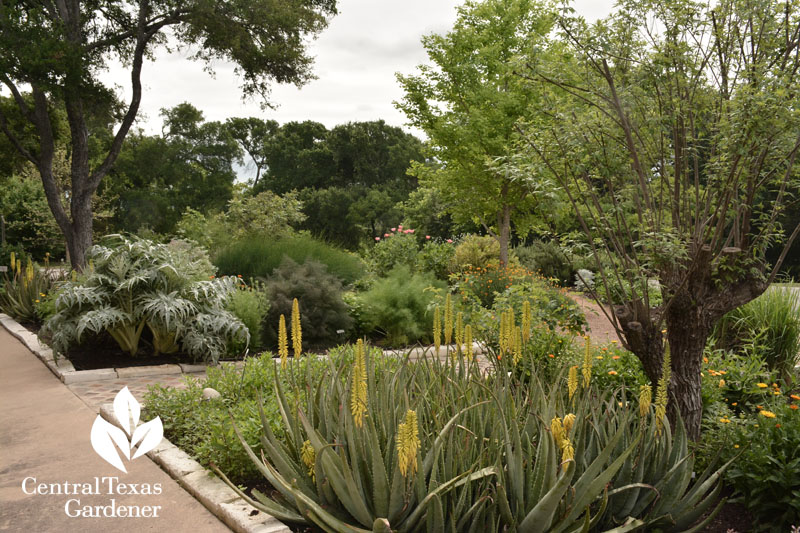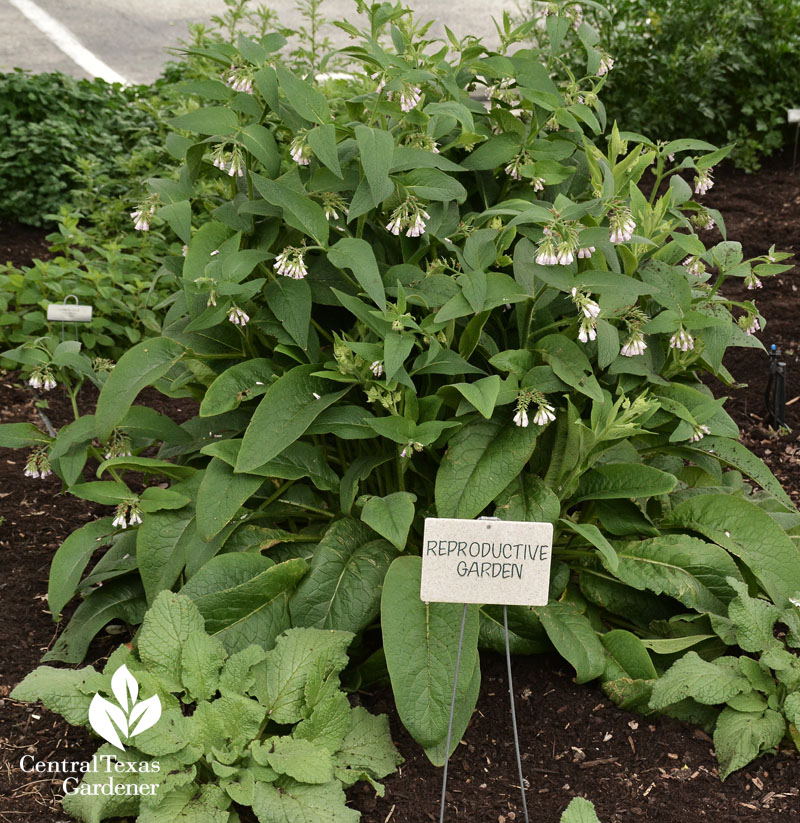 Beneficial aloe vera actually blooms at ABC, since they cover it in winter.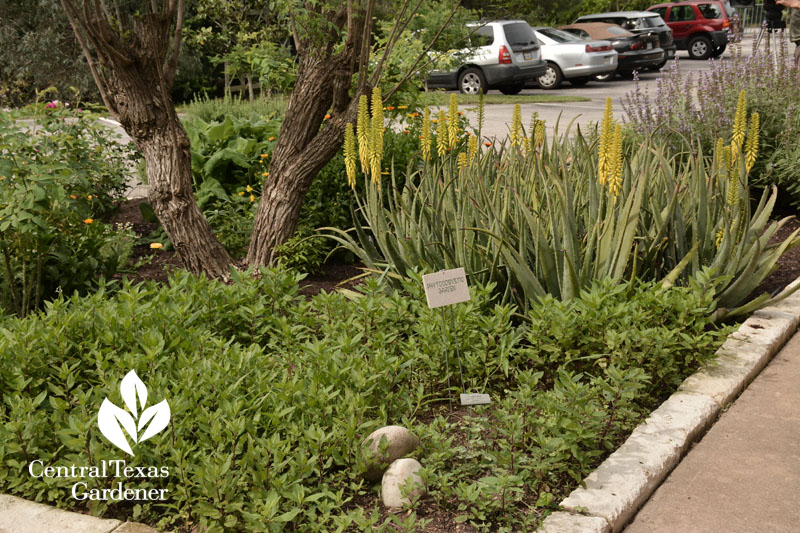 In cooler months, you'll find lots of annual calendula (here with borage). Along with its edible flowers and nectar for pollinators, Gayle explains how to make a soothing skin balm.


The gardens support lots of wildlife, like this bee on borage.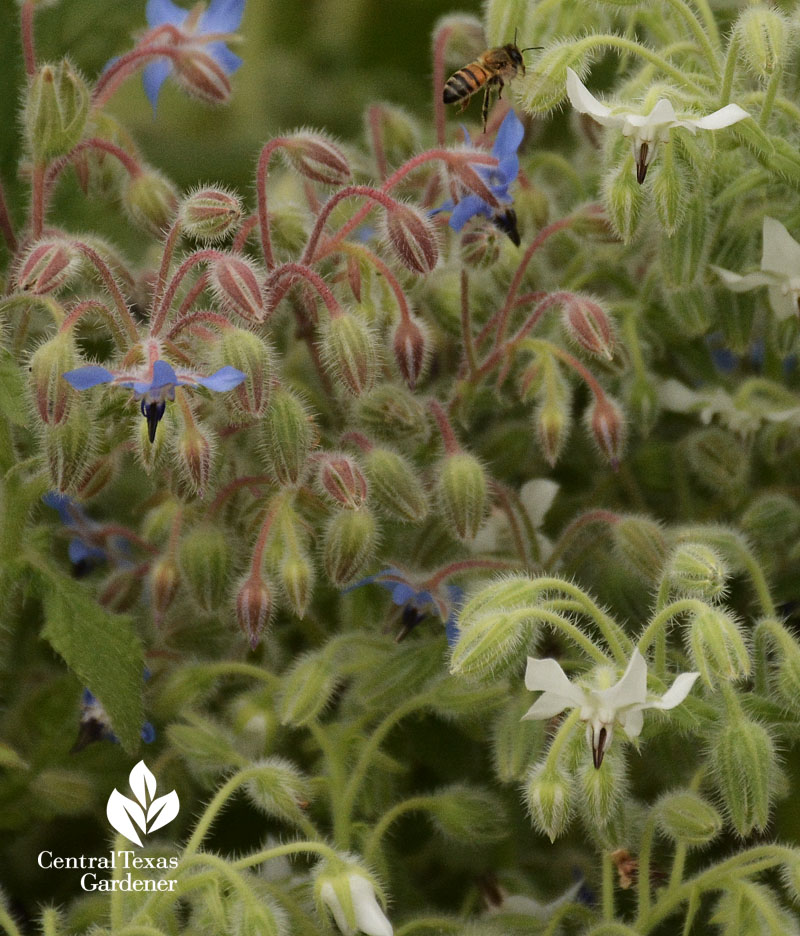 ABC plants extra fennel and dill for Swallowtail butterfly caterpillars, here photo bombed by a ladybug.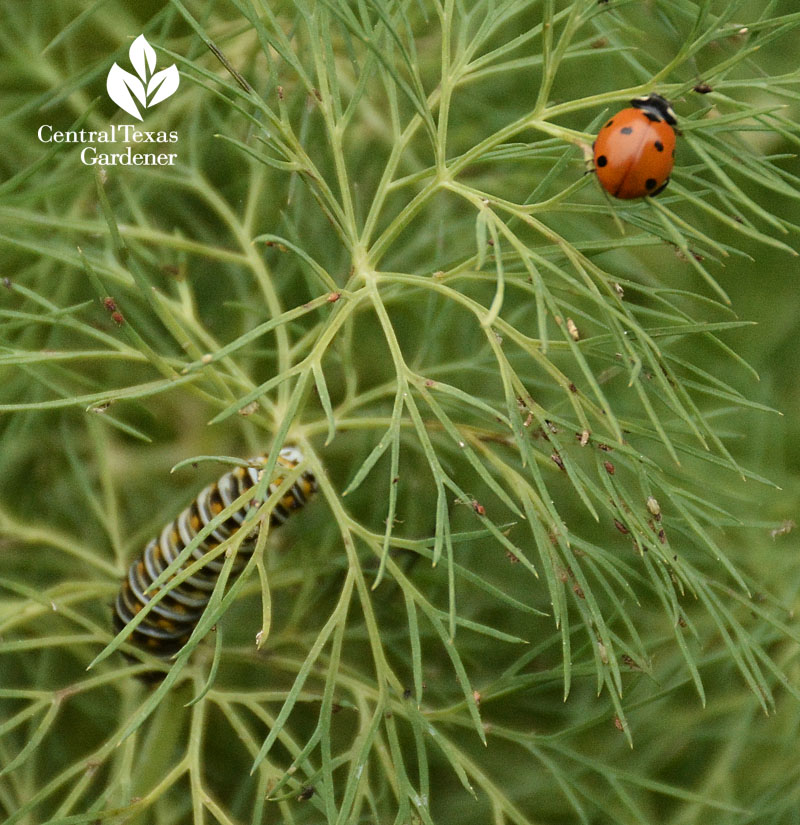 White sage, Salvia apiana, was used by Southern California and Baja California Native Americans for medicinal purposes and some food. Now, its leaves are mainly burned as a ceremonial smudge, believed to purify the space and to dispel evil spirits and negative vibrations.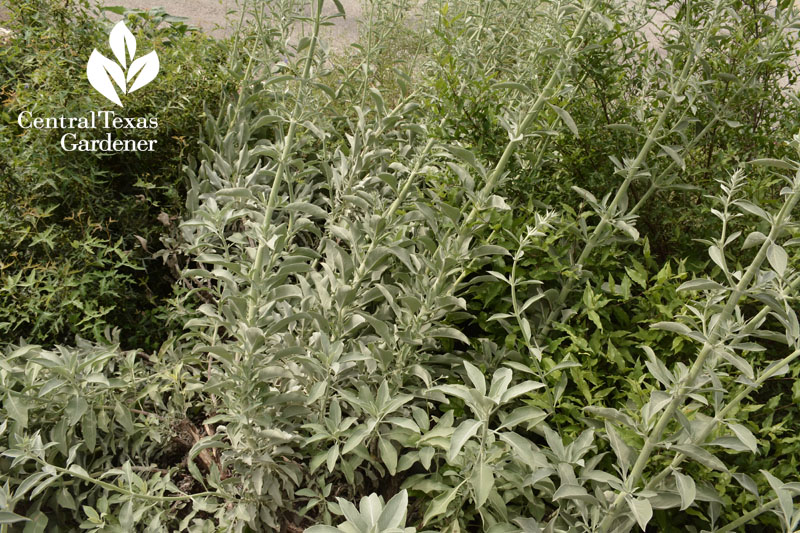 Along with native plants for medicinal use, ABC grows herbs from around the globe.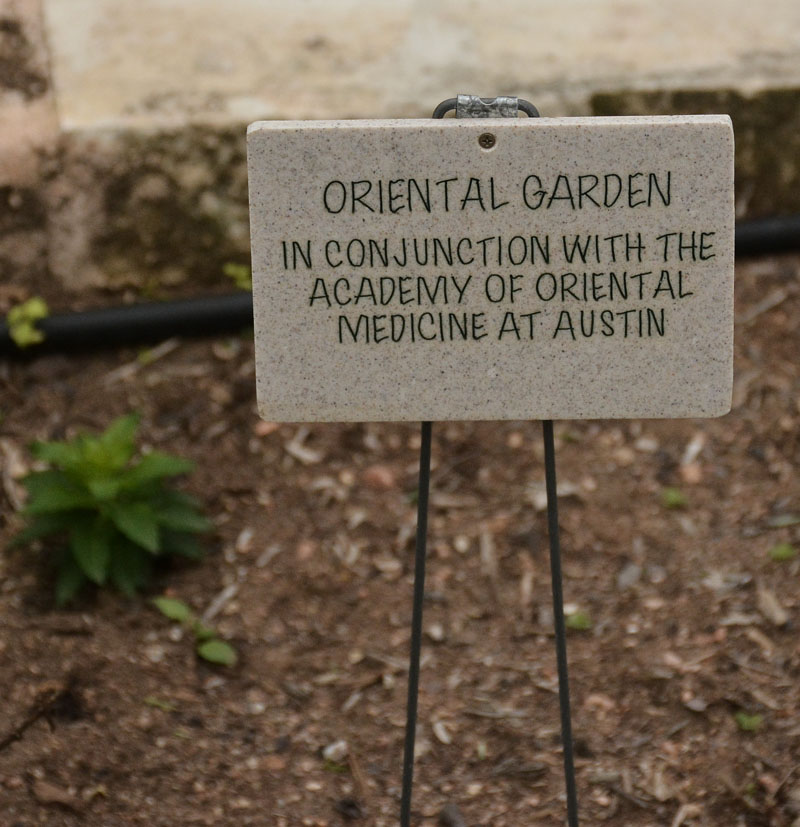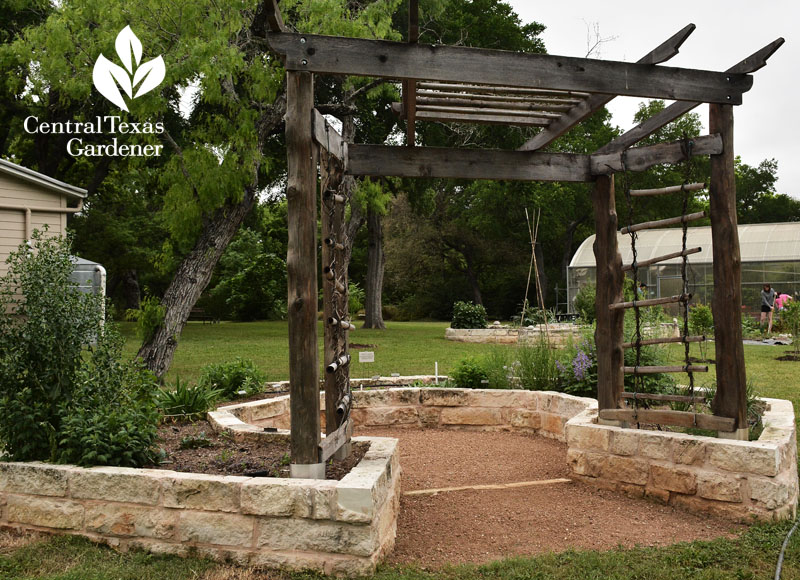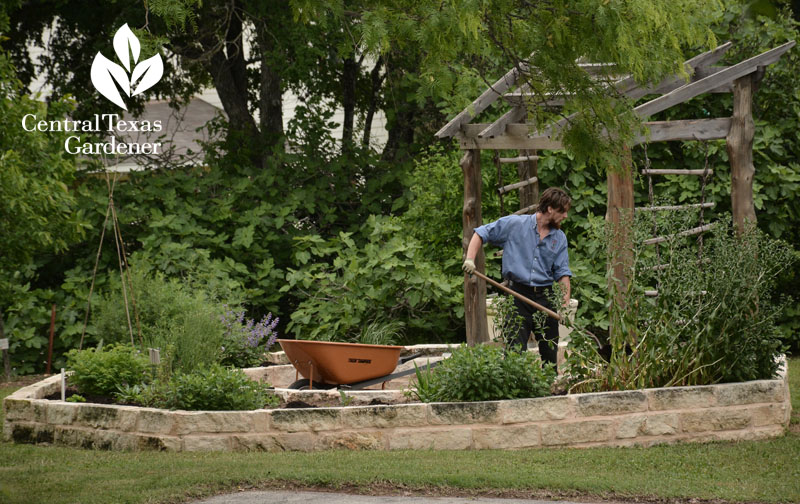 Ayurveda is a traditional Indian medicinal paradigm.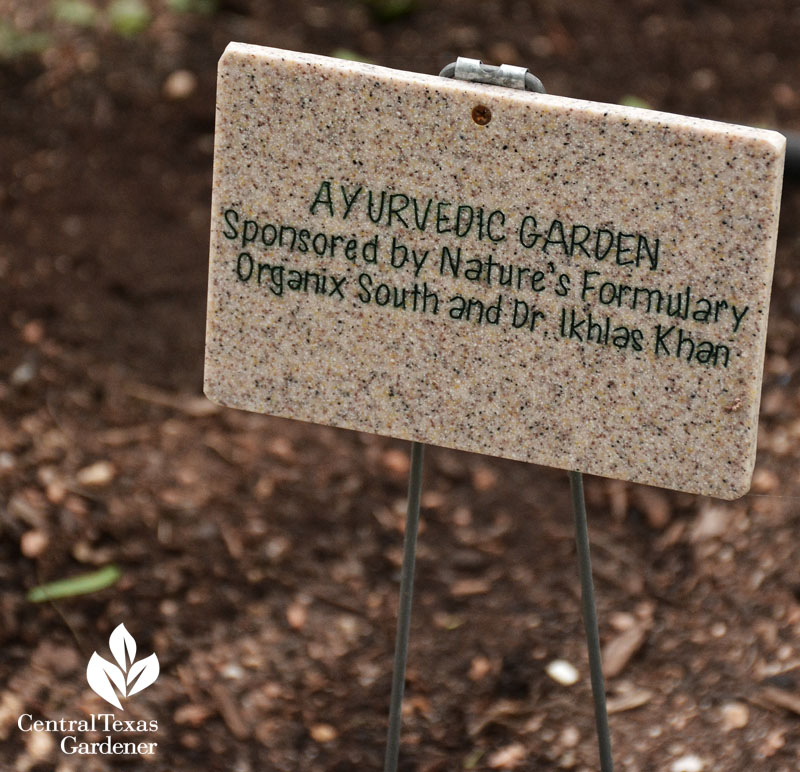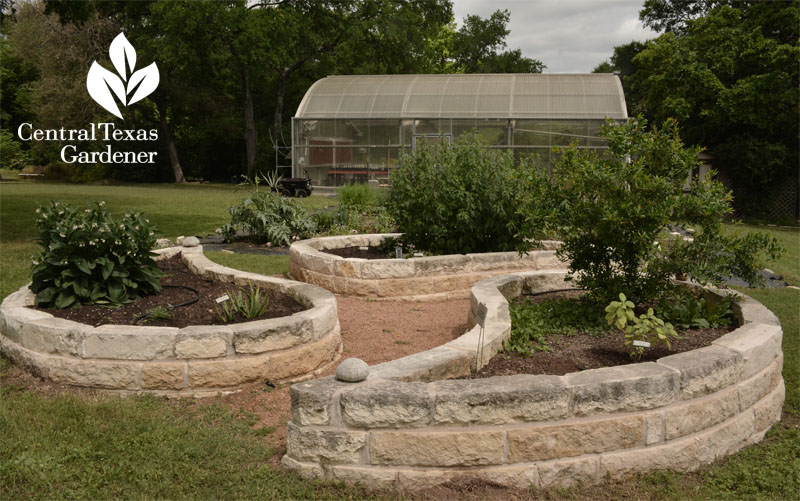 In back, culinary gardens include those for tea and international tastes we've come to love.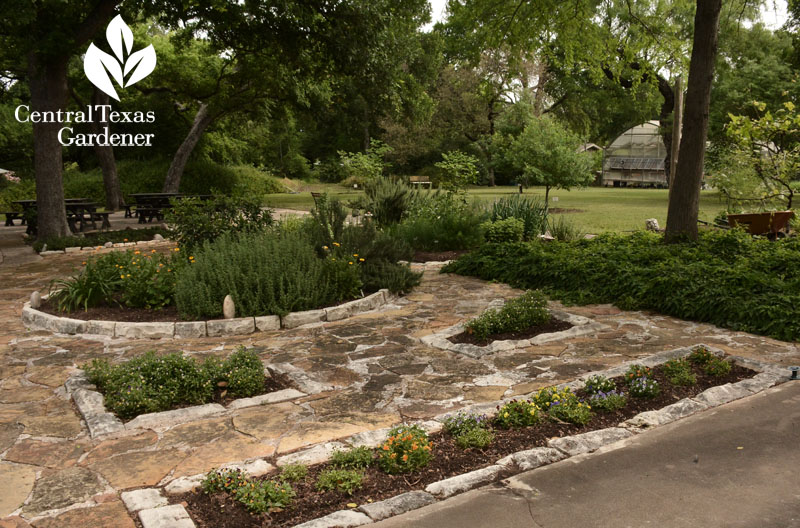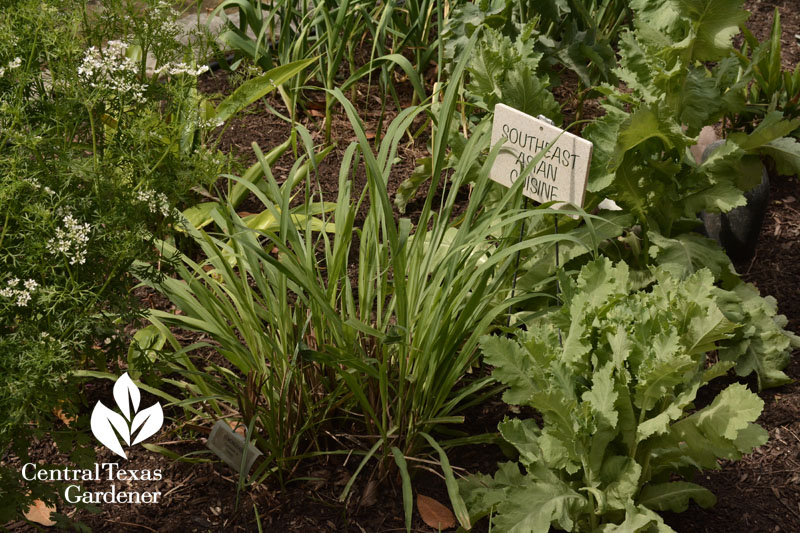 Fulltime gardener Toby Bernal, a Buddhist, balances rocks as tiny sculptures for soothing meditation after a hard day's work.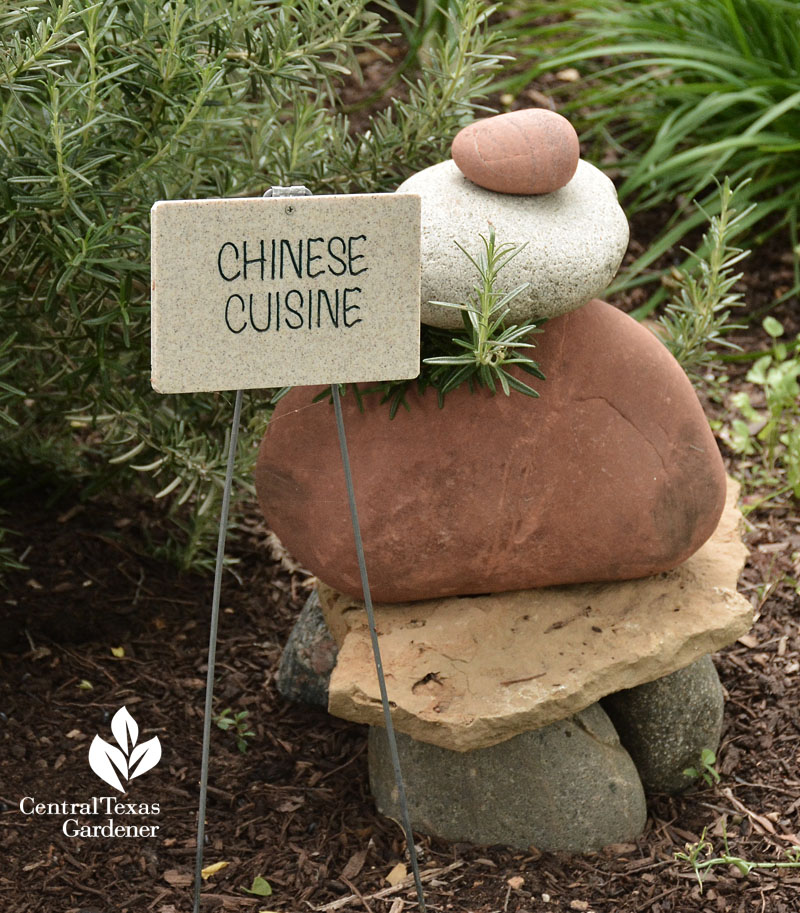 Toby (left) is now joined by former volunteer, Skyler Passino (right), signed on for part-time duty. Volunteer Kyle Olson picks up a few tips.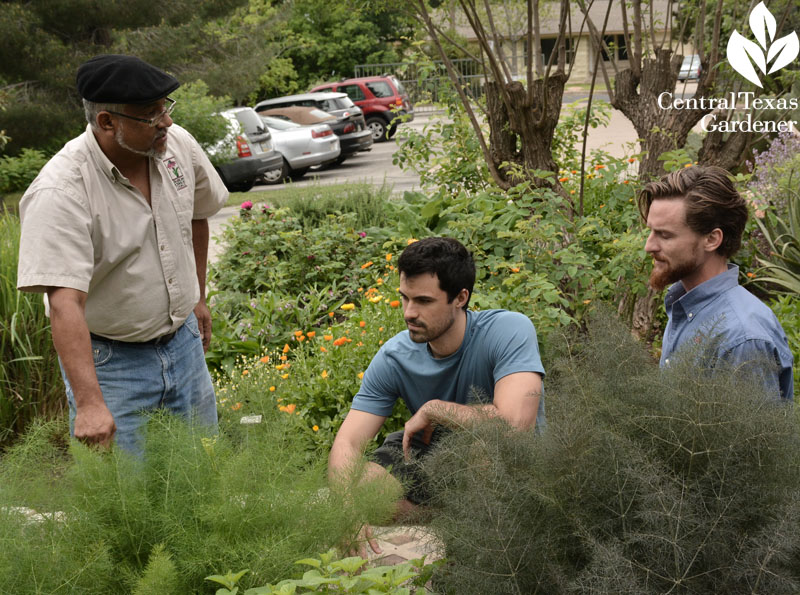 Yes, to maintain the extensive gardens, ABC relies on volunteers, who get lots of knowledge in return.
Education and intern coordinator Jenny Perez scoops compost ready to spread by UT Pharmacy students and dietetic students from Texas State University.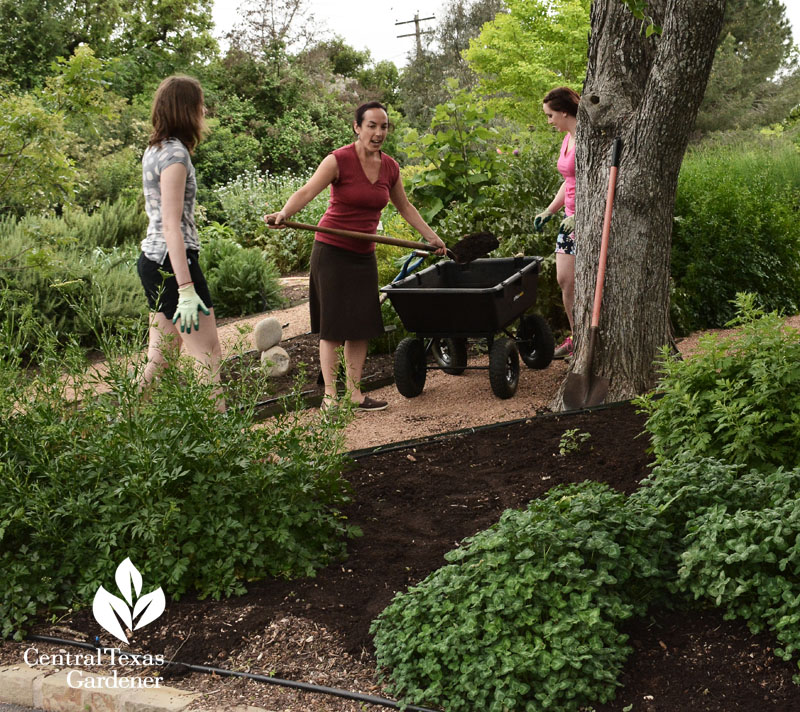 Visitors, like local artist Bob Wallace, contribute to ABC's gardens. In the antioxidant grape arbor, Bob carved a symbolic wood nymph into an elderly, damaged tree topped for building safety.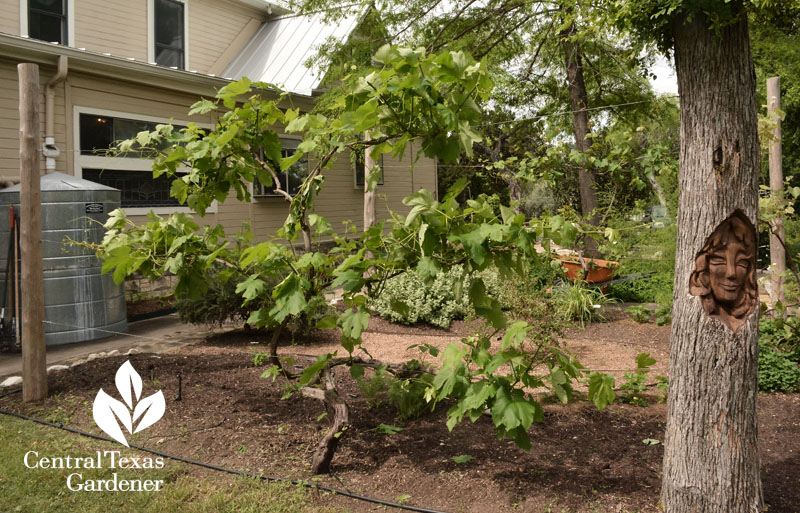 Like our intern Brenda Szwejbka, anyone can visit Monday – Friday from 9 a.m. to 6 p.m. Guided tours of five or more upon request.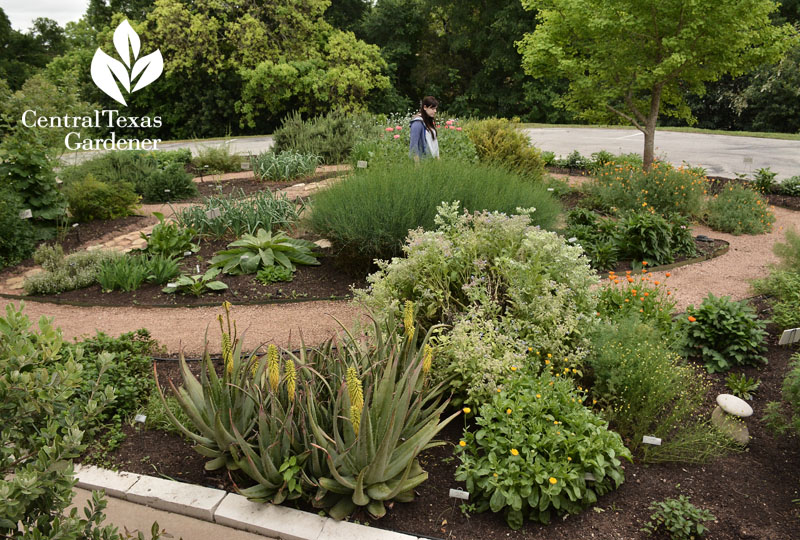 See the whole story now!

Thanks for stopping by! See you next week, Linda
Comments