May 5, 2016
Hot Picks for Summer + Recycle Design Create
No surprise that Texas weather is weird, but this year beats all. Star jasmine took its sweet time to whoosh its perfume across our patio. I've trained this one over a tiny trellis to divide two spaces.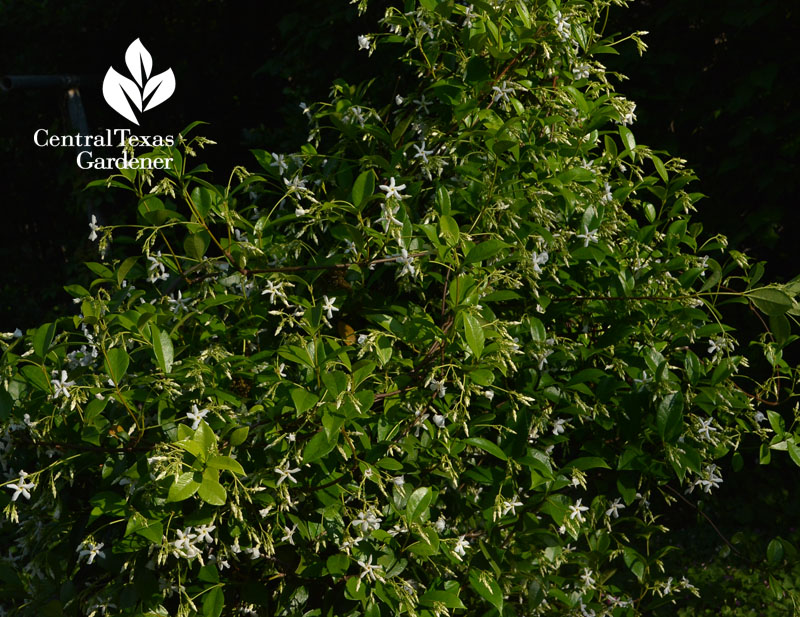 Byzantine gladiolus was a slowpoke, too, though it's reliably returned and multiplied since someone shared heirloom corms years ago.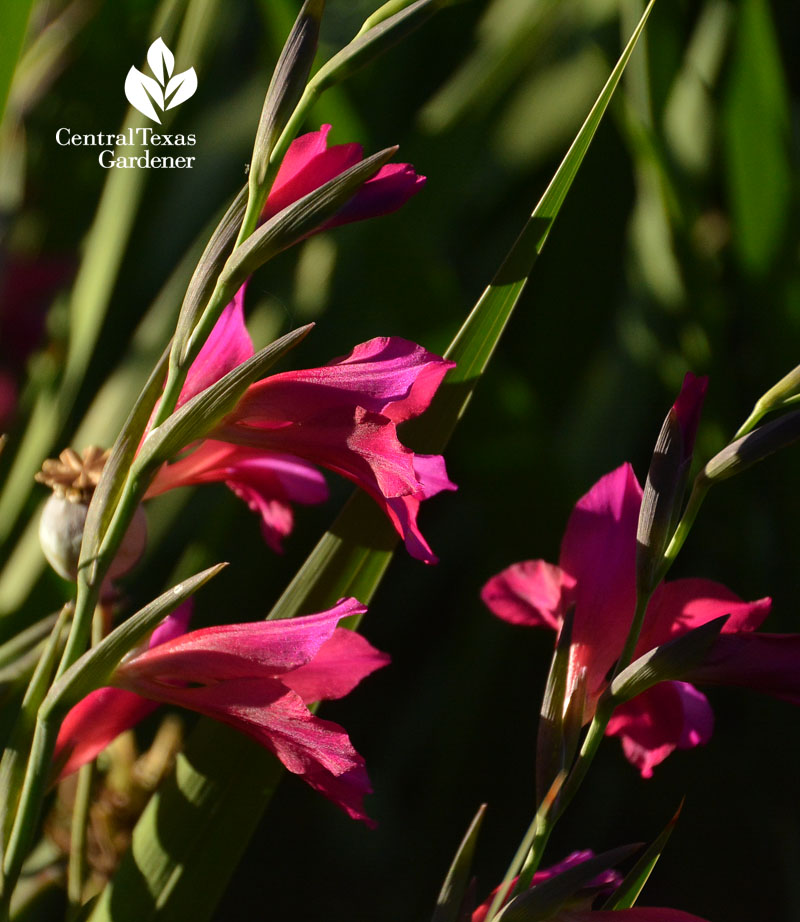 Penstemon cobaea and salvias poise tube-shaped flowers styled to snuggle bees. Orange 'Linda' lily on the left.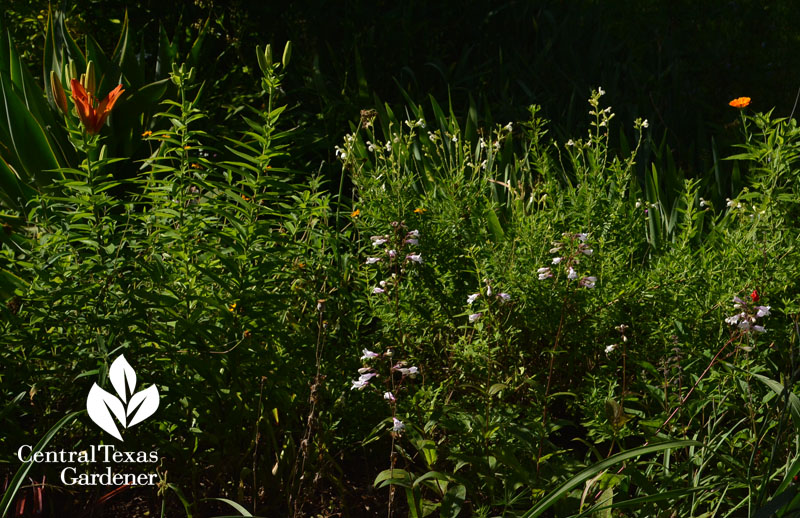 Mosquitoes didn't waste any time, though! John's got natural repellents to use in the yard and on yourself, including homemade skin sprays that smell mighty fine.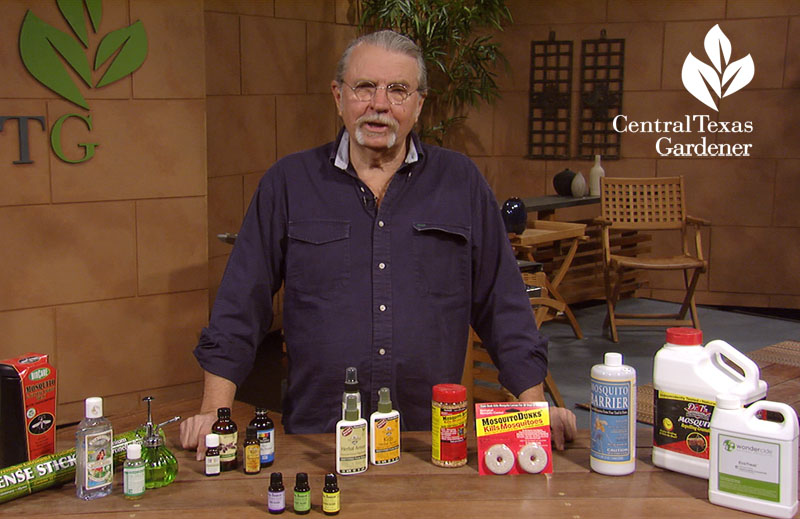 Some insects have come and gone, which is the case on Kim Johnson's Texas persimmon tree. Is this harmful and should she do anything about it?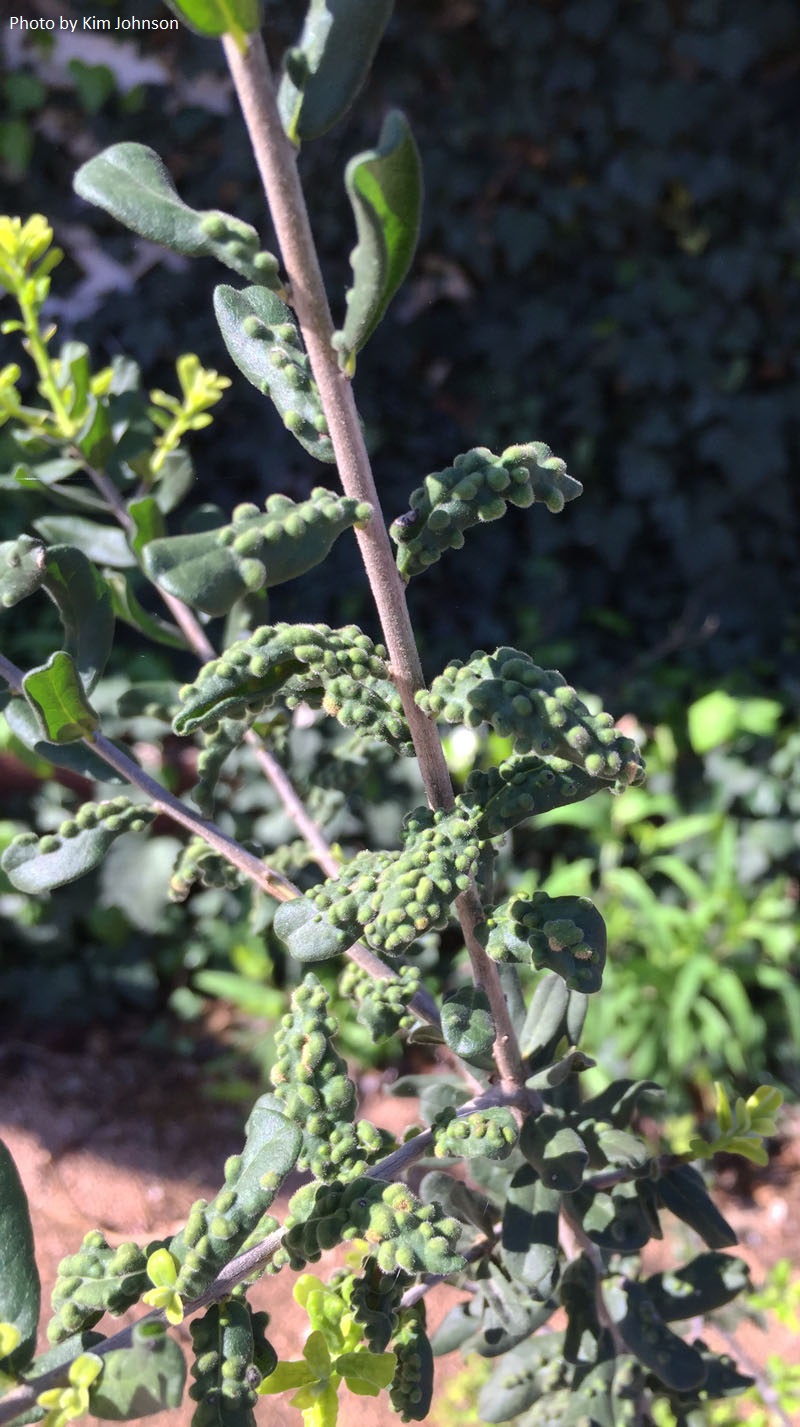 Daphne explains that these persimmon leaf galls are caused by a mite that lays its eggs on the leaves, causing the plant to react by producing blister-like cysts. "Since the leaf tissue surrounds and protects the young mites, spraying with any sort of product won't have any effect," Daphne tells us. Find out why galls won't harm the tree.
Even though things will soon be blistering hot, Jessica Robertson from wholesale grower Greenleaf Nursery has the latest hot picks for summer and beyond.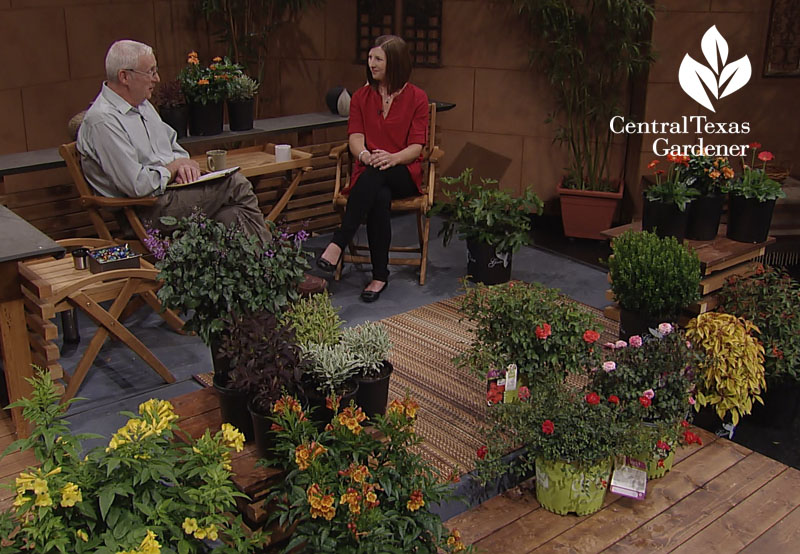 Many of us know her from Backbone Valley Nursery. Now with Greenleaf—meeting with nurseries around Central Texas—she popped in to show off plants to watch for. One is 'Lime Sizzler' firebush™ (Hamelia patens 'Grelmsiz'). What a color combo!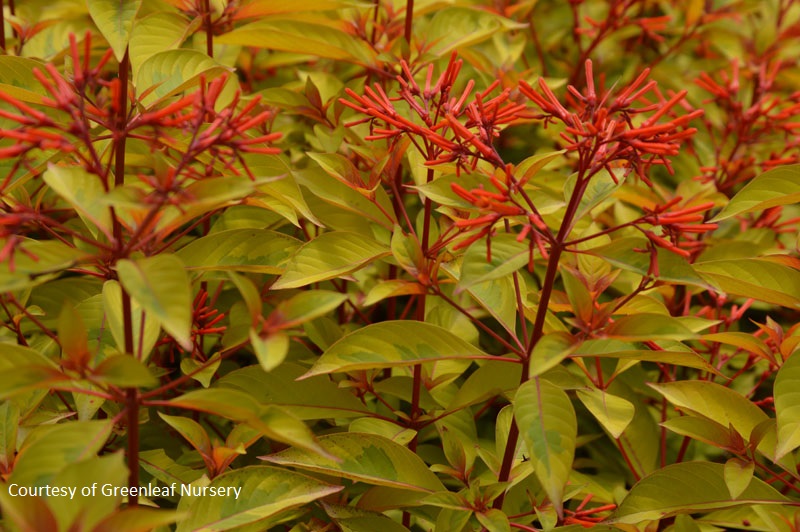 And wow on this new esperanza (Tecoma stans 'Sparklette').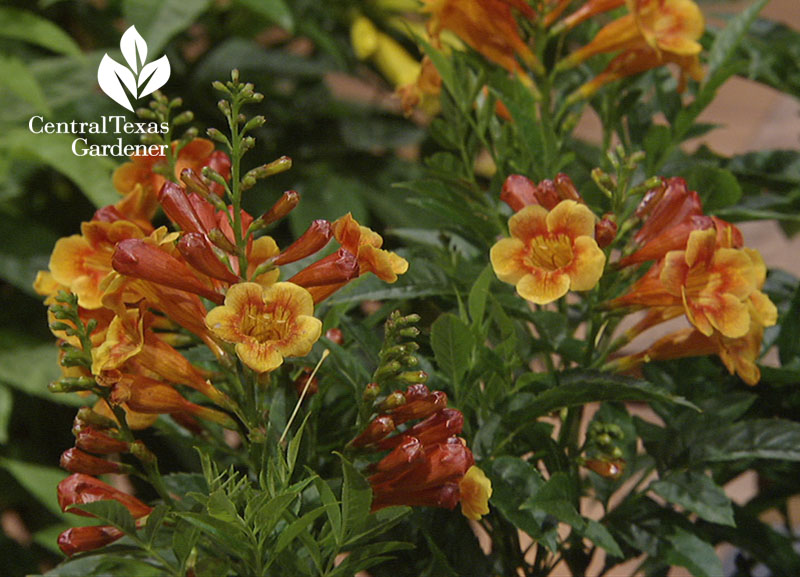 In part shade, Crossandra is one of Jessica's summer faves. I'm such a sucker for orange that Crossandra 'Orange Marmalade' has me sold! Perfect for containers, too.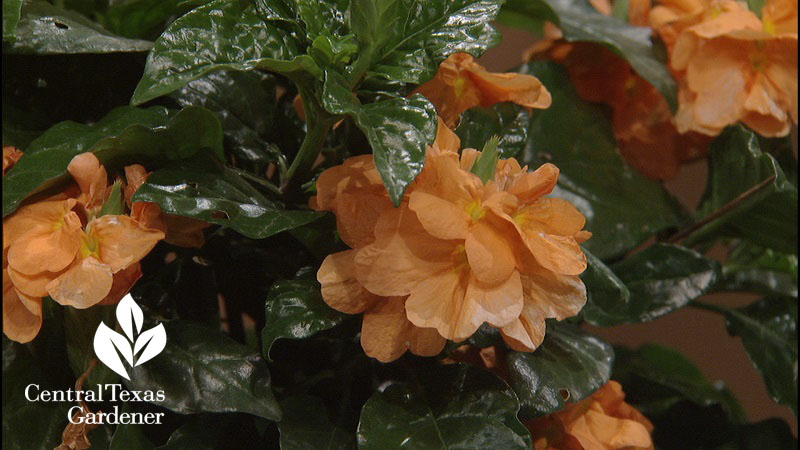 Gerber daisy is a dickens to grow here. Not so with drop dead pretty, heat-tough Garvinea series Gerber daisy.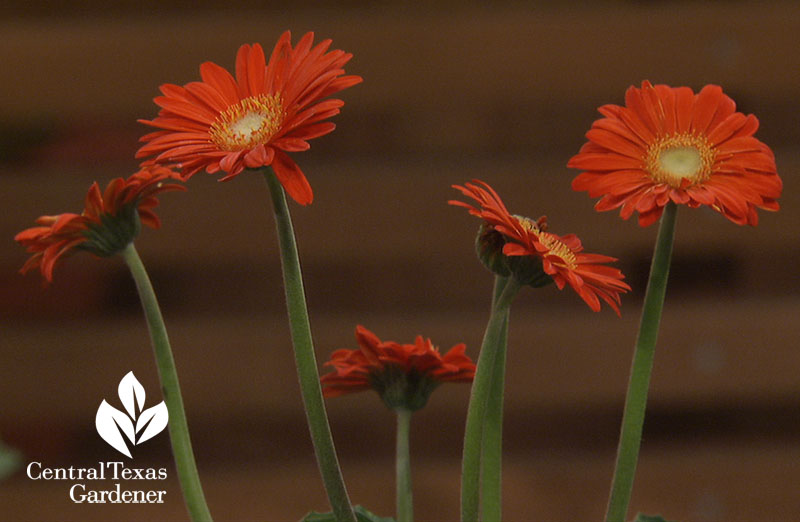 And for morning sun, I adore this trio of Euphorbias: 'Red Velvet', 'Silver Swan', and 'Ascot Rainbow'.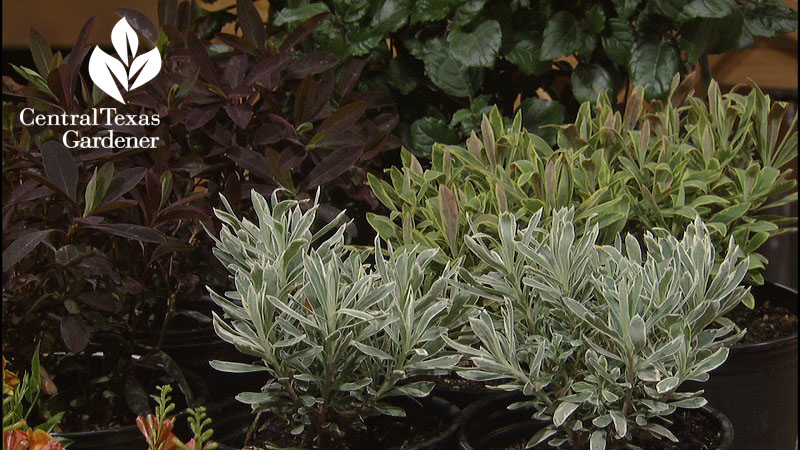 Oh, there's so much more, including darling lavender Plectranthus, a dwarf fig tree 'Little Miss Figgy', and a deep green, compact boxwood. Get her complete plant list and growing conditions right here!
Another euphorbia, gopher plant (Euphorbia rigida) silvers things up all year.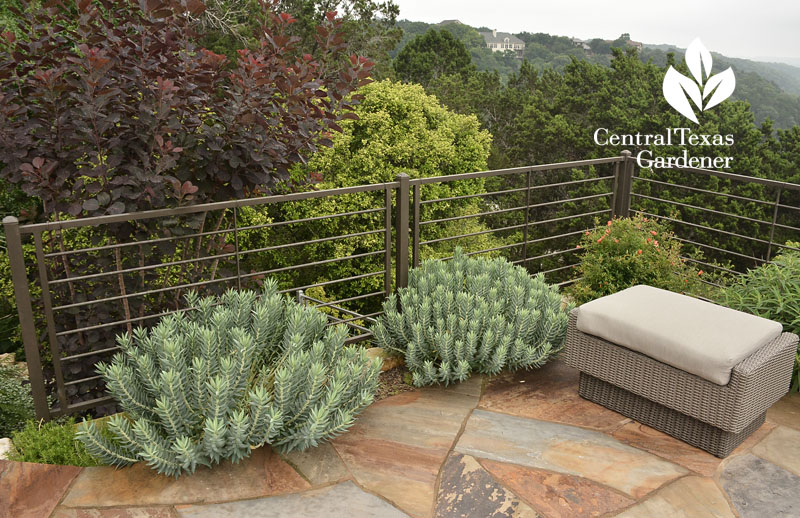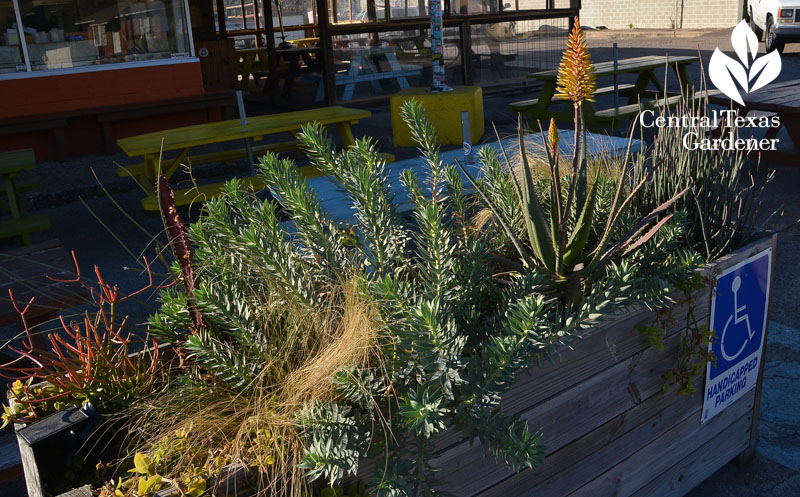 In spring, here in director Ed Fuentes' raised bed, it flaunts papery yellow flowers.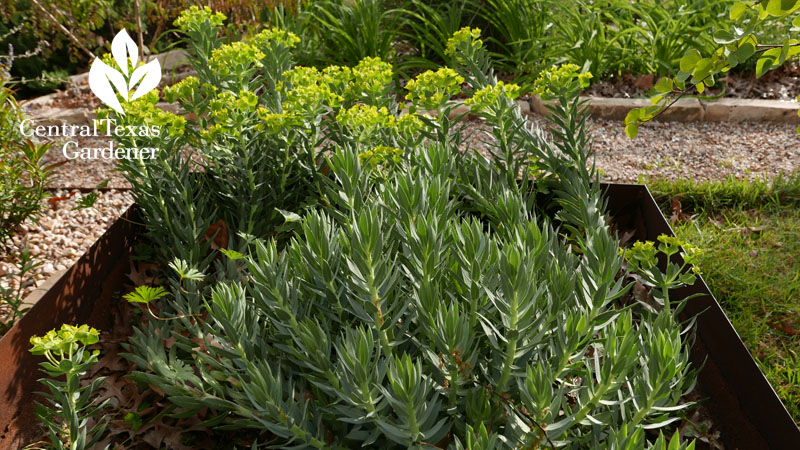 Find out how to grow silver spurge as Daphne's Plant of the Week.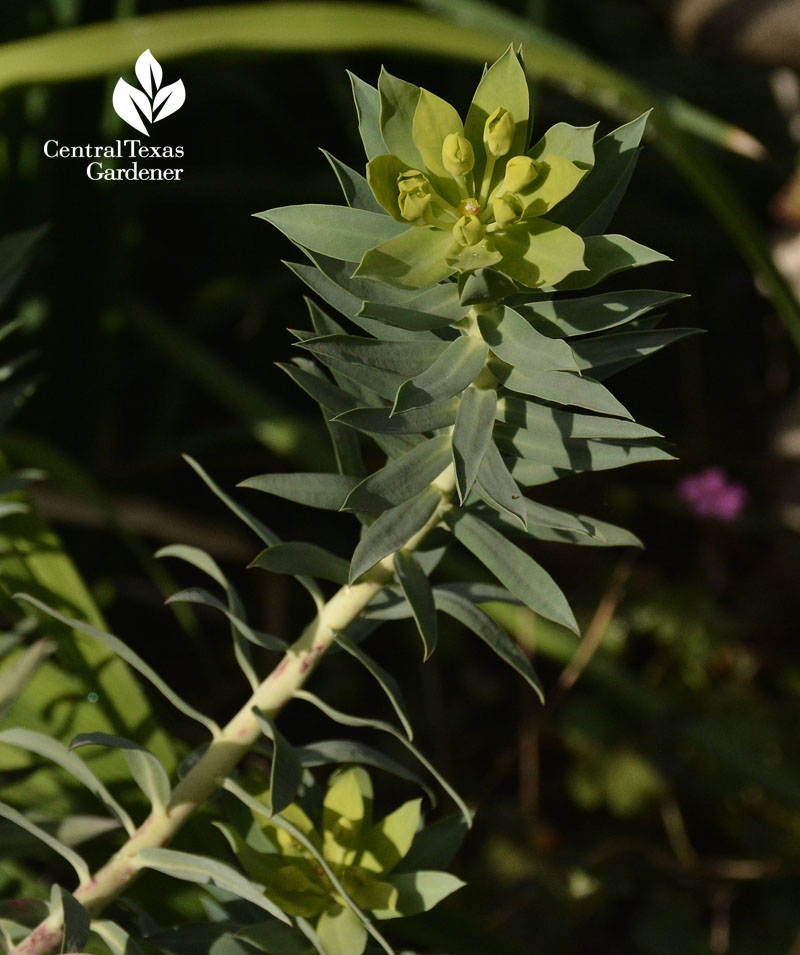 So, what's summer without tequila? Viewer Picture goes to Phyllis and Charlie Hirst, who put a spin on bottle trees with a hand-blown tequila bottle tree.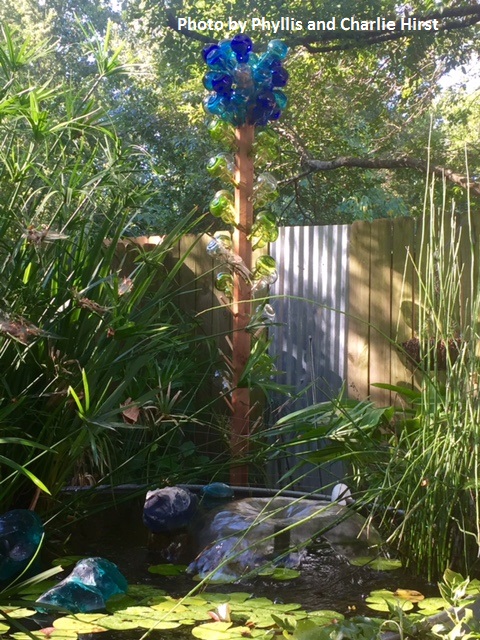 On tour, Casey Boyter's an innovative designer who conserves resources through green roofs, low water landscapes, and creative recycling.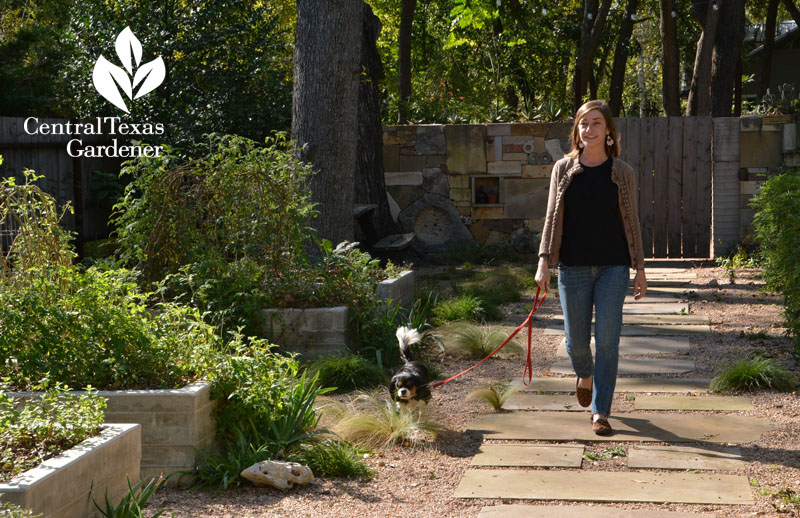 At home in east Austin's Govalle neighborhood, her garden's a personal test site and sweet retreat.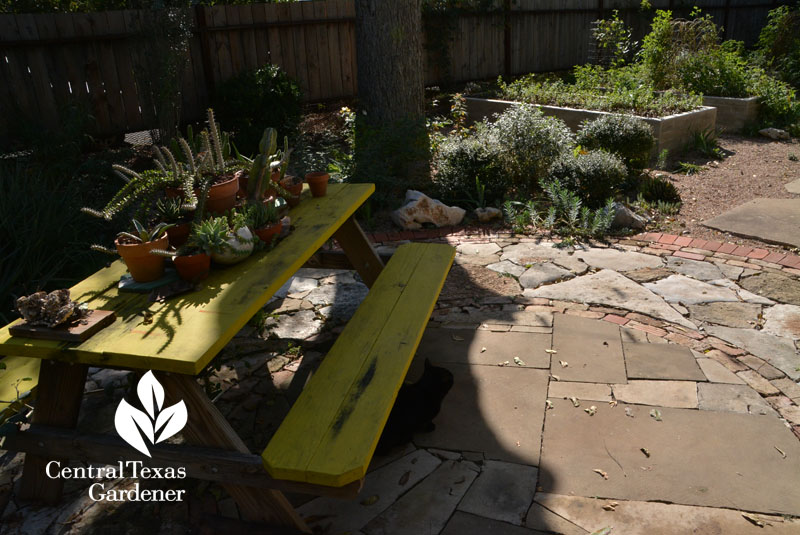 It also represents her integral commitment to sustainable and long-lasting structure. Poured-in-place concrete rounds step up sidewalk style.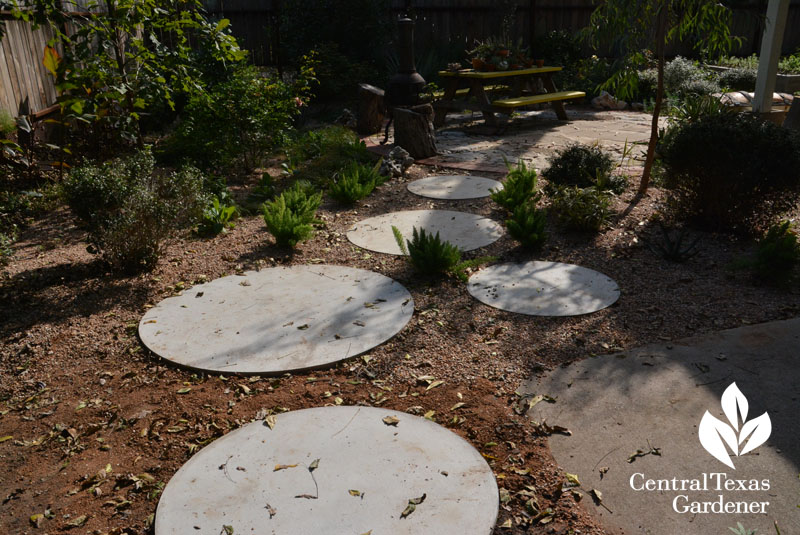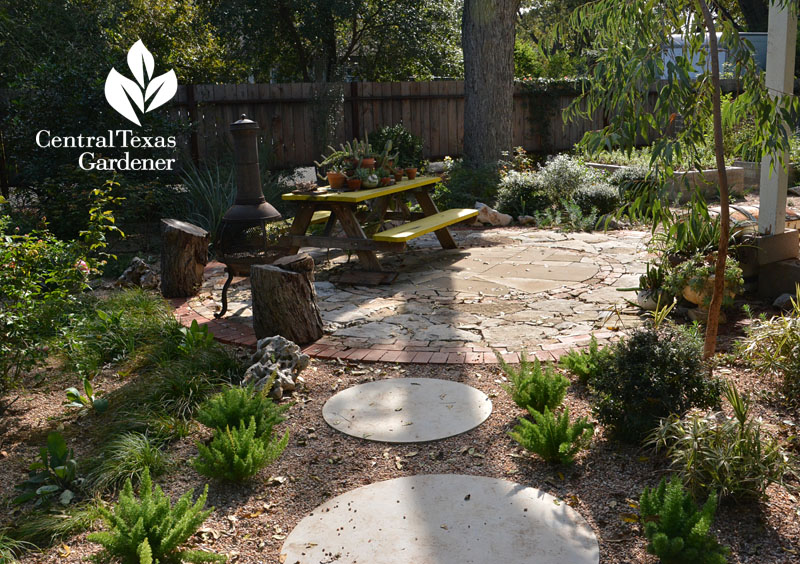 Casey patterned the patio from her diverse collection of scavenged stones and bricks.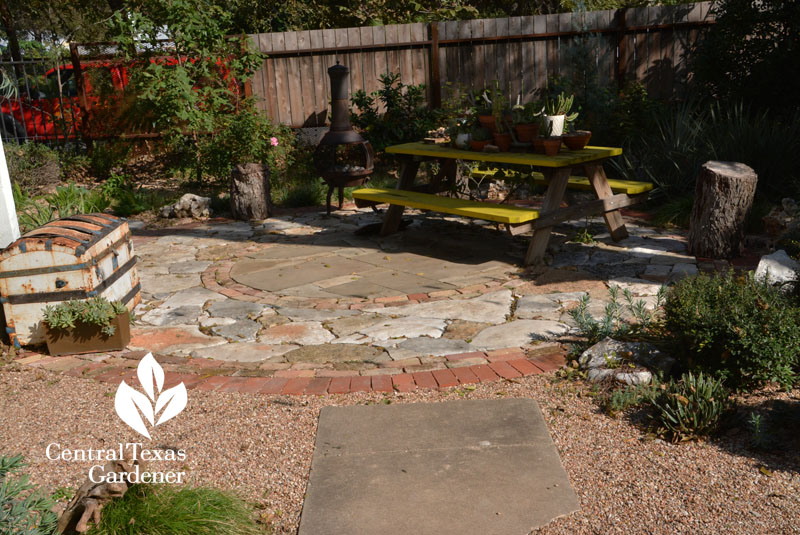 Theo, one of her rescued cats, directed this shoot. Here, taking a break with audio/lighting guy Taylor Kondelis. Ed Fuentes behind the camera after a cuddle cat break.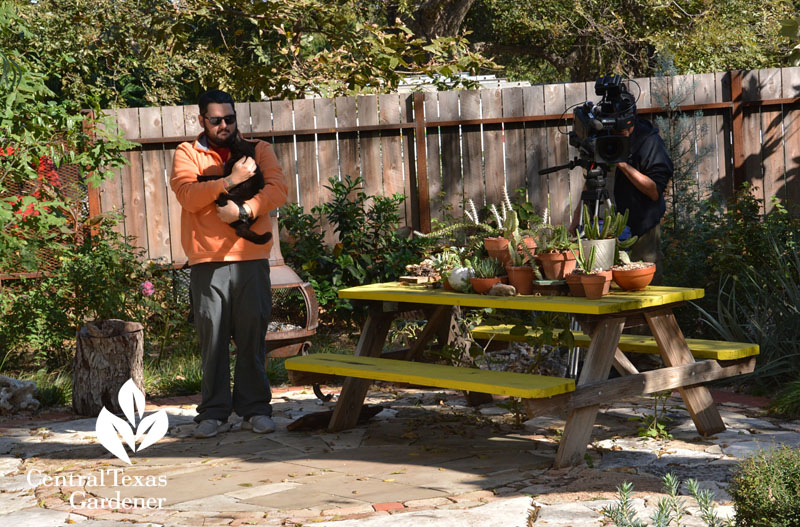 Casey chose this spot, rich with urban farms (Hausbar just across the street), for its sweet soil. But to create dimension, she chose rebar-reinforced concrete for her raised vegetable and herb beds.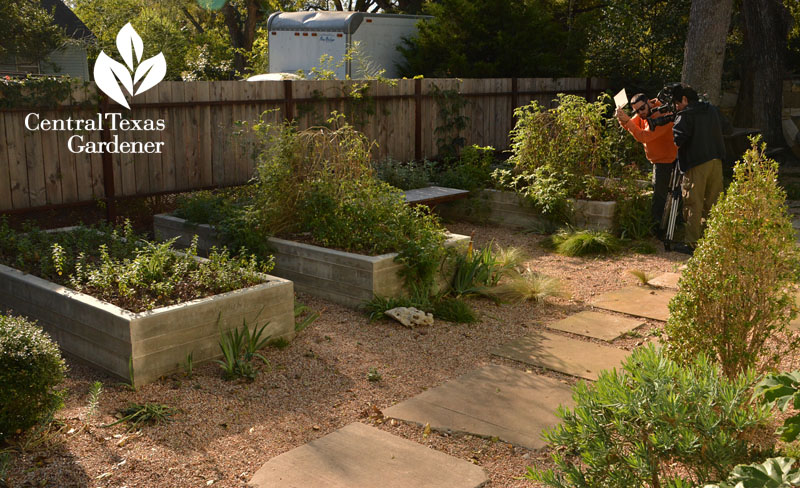 Remnants from a demolished sidewalk, leftover Leuders, and sandstone texture up the walkway, spaced to allow rainfall to soak in. A clumping, multiplex bamboo house-side frames the journey opposite the fence.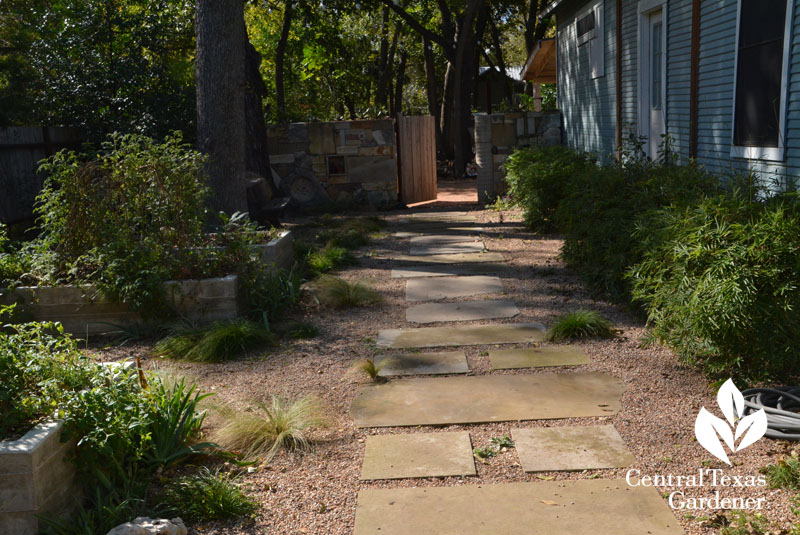 To separate the garden from her crew prep area, her talented masons showcase interesting finds and scavenges in a rubble wall.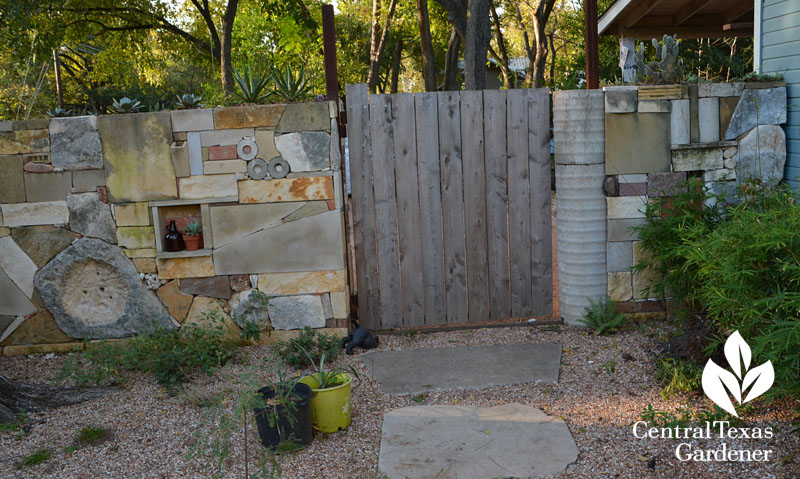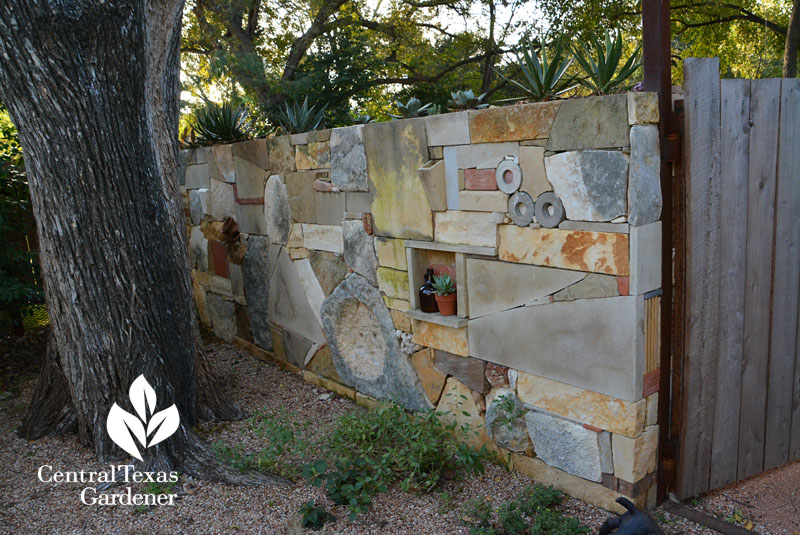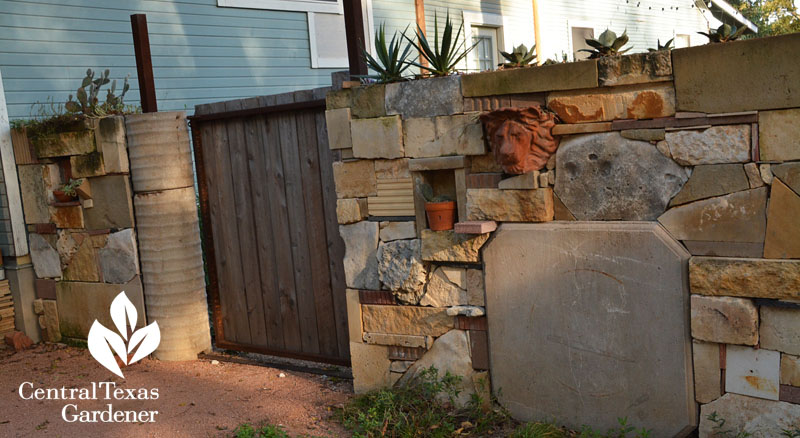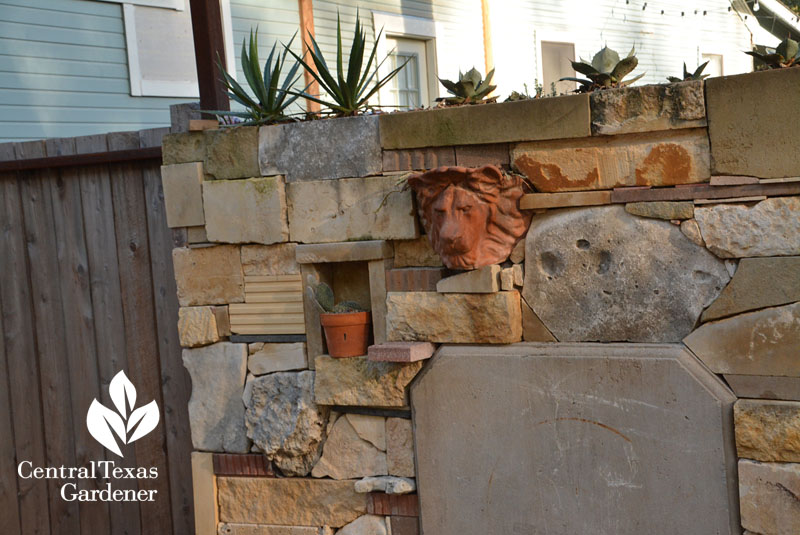 She didn't want a fence that would fall down in a few years. The top is locally found Eastern red cedar, welded with a steel frame for lasting support. The bottom third is expanded metal, dug into the ground. Not only does it allow air flow, it's perfect for dog Daisy to keep her curious eye on things.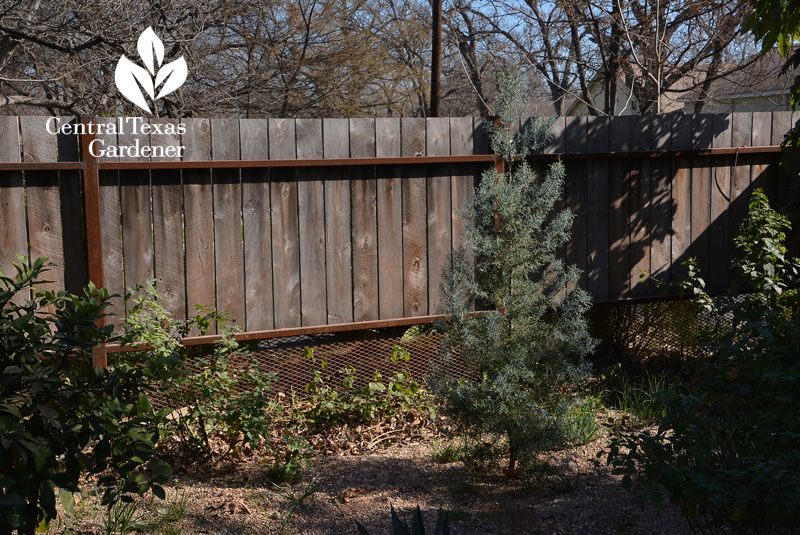 In front, Casey opens visibility with expanded metal where a clematis can anchor.


To get to her design office, designed by architect Mel Lawrence, Casey simply walks across the yard.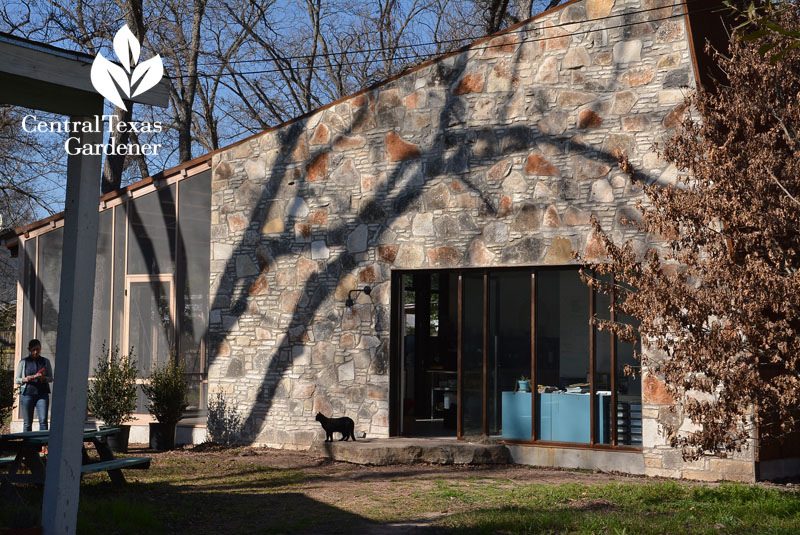 Zac Zamora of Variance Design installed a living wall in her office shower room to continue her exploration of plants, people, and planet.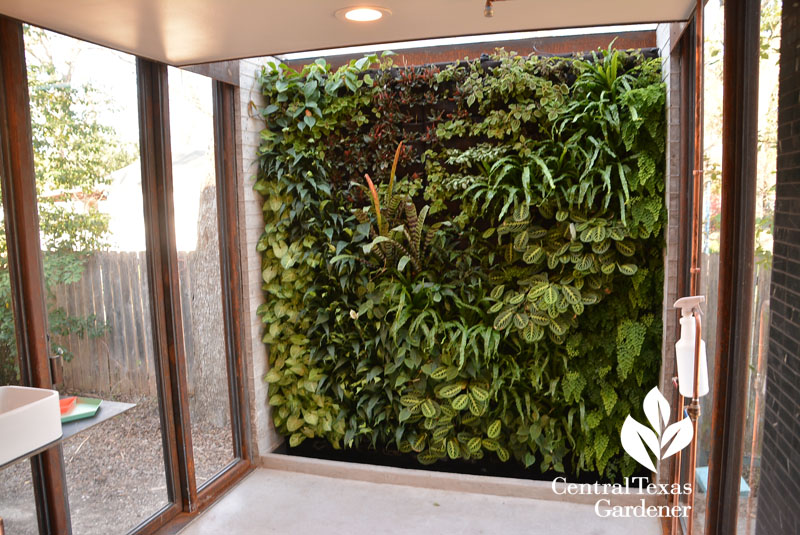 Watch her whole story now.
Thanks for stopping by! See you next week.
Comments