March 8, 2018
Making a Comeback After Freeze
This time of year, if you blink, you'll miss something new. In just a few hours on Sunday, baby blue eyes popped open under native golden groundsel (Packera obovata). Perennial companions are growing back in after their winter haircuts.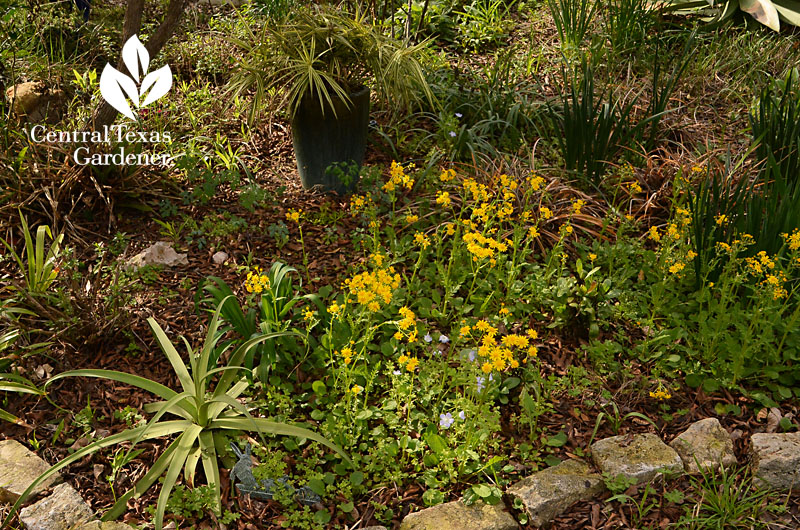 Some plants are taking their time to show up, but it looks like everybody made it through fine, even firecracker fern.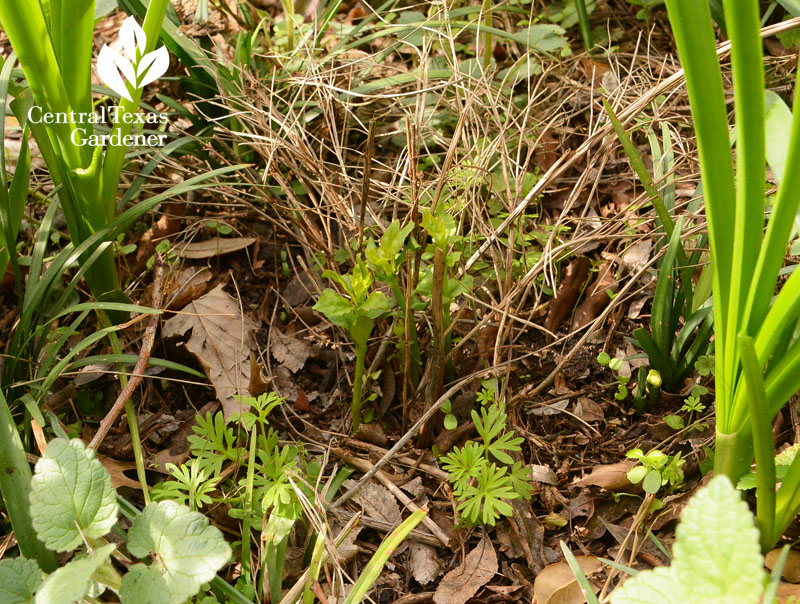 My abutilons fared well, too, in their warmth against the house.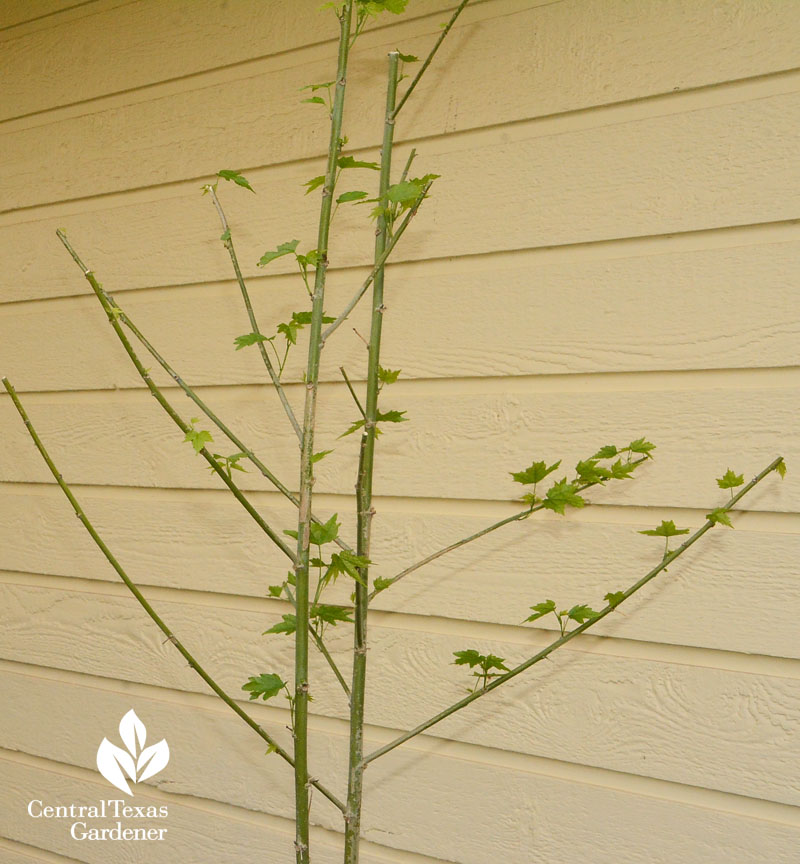 So, be patient before digging up anything. Established roots fare much better in drought and freeze. Despite the warm temps, the soil is still cool in mid-March. Give your plants time to rally 'round.
Agave celsii took a hit once again, but I'll saw the damaged leaves off as I always do. I love this plant, but it does not like temps below 25°.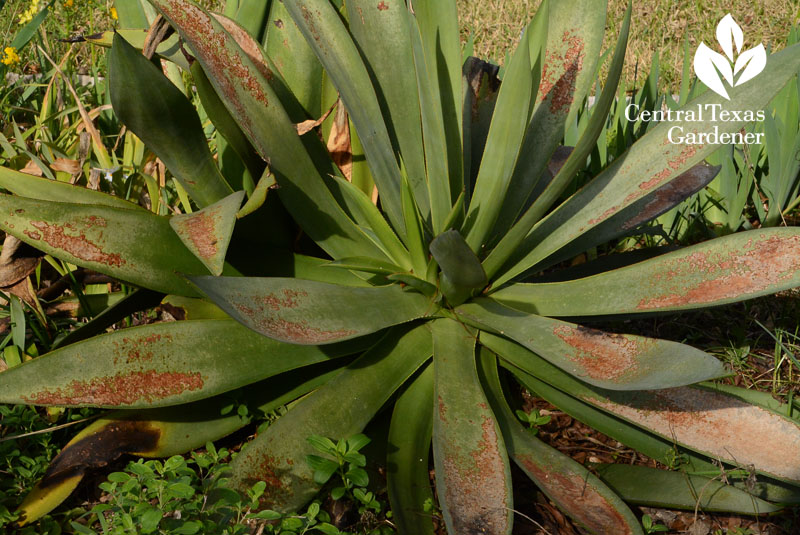 Jerusalem sage will be flaunting flowers any minute. But, this one's taken over the path, so I'm going to see how grumpy it gets when I move it. And yes, I made the mistake of miscalculating mature size when I planted it!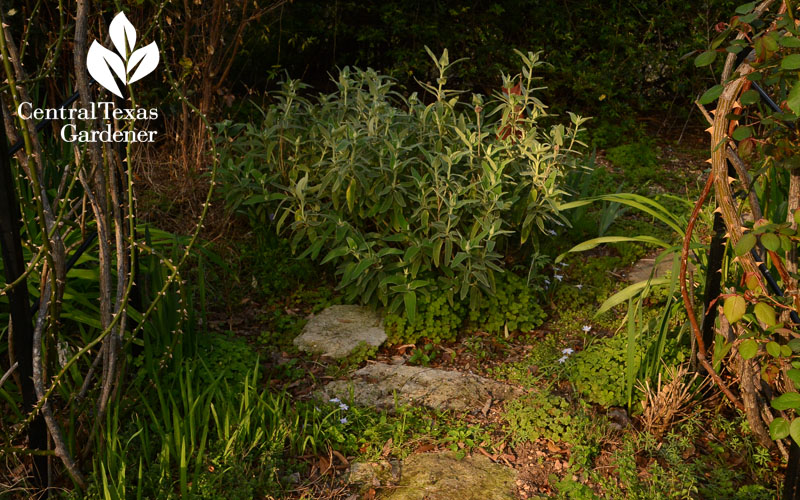 Little Spring starflowers (Ipheion uniflorum) guard the pathway without claiming ownership.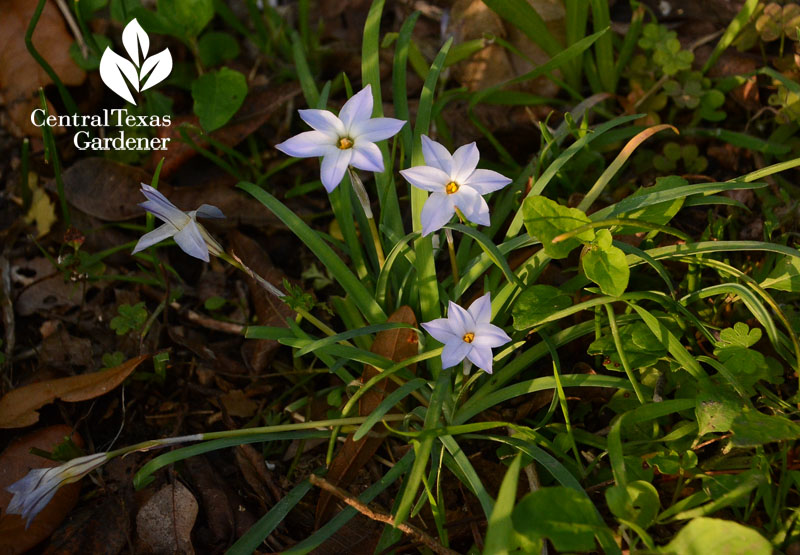 Dutch iris sings the blues to Narcissus 'Erlicheer'.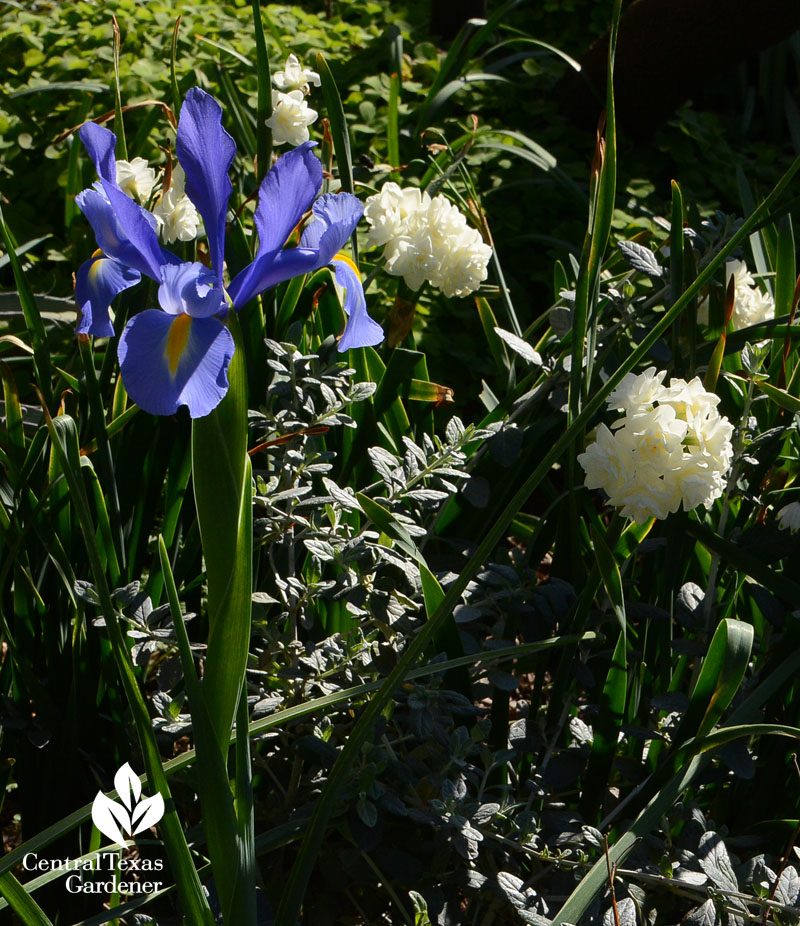 Every spring, I thank the people long ago who planted a bit of beauty that endures for generations, like early-blooming bearded irises often called "Grandma's Flag." Maybe these were planted by newlyweds who got divisions from their grandmothers.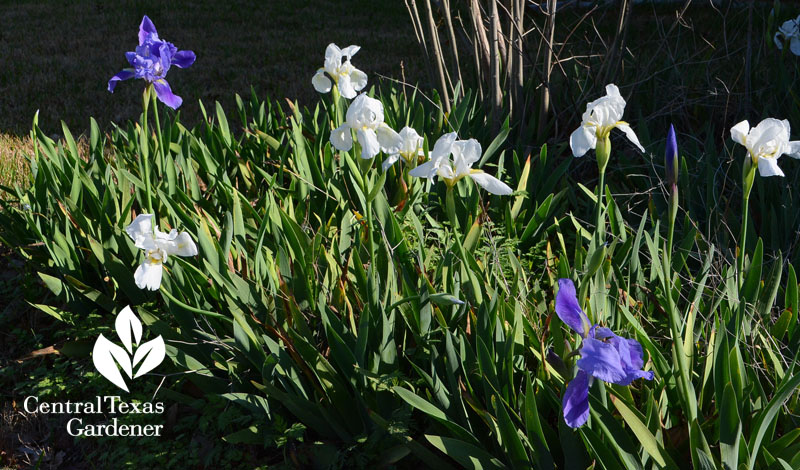 I'm glad that later owners didn't toss them, like Iris albicans, also called "white flag" and "cemetery iris."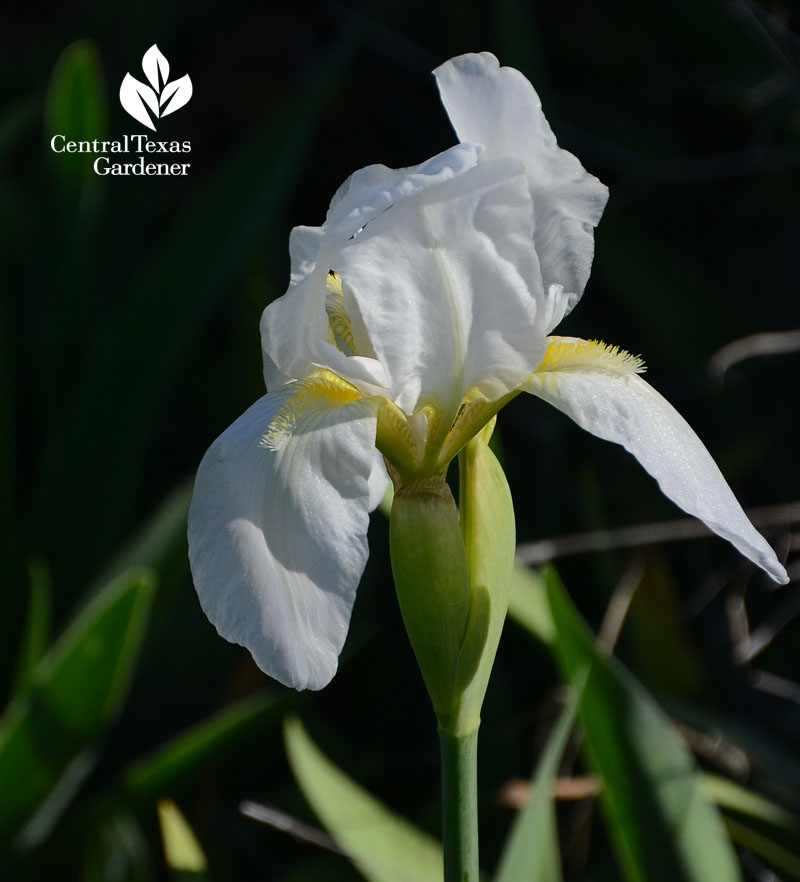 Why do irises change from purple to white? Here's an answer from the Lady Bird Johnson Wildflower Center.
My Iris 'Nada' passalongs stay true to their frilly white flowers striped with golden orange.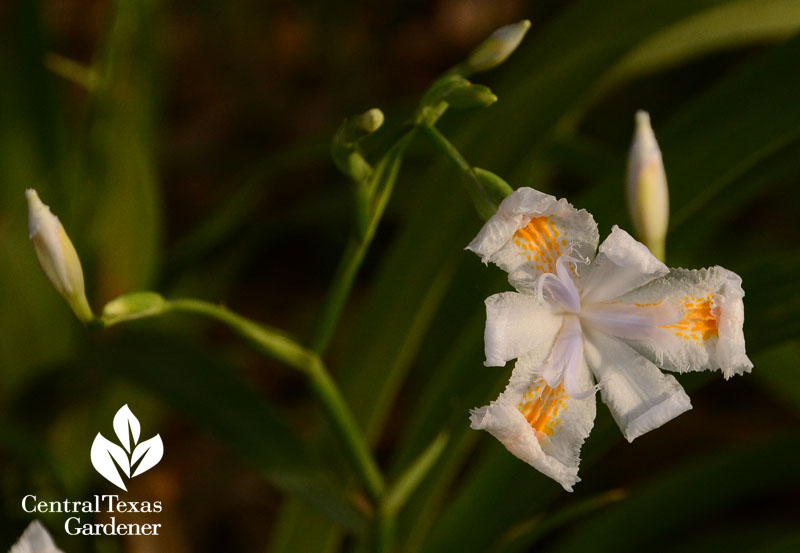 This evergreen, a cross between I. wattii and I. japonica, is an iris that loves the shade. These are hunkered under a mountain laurel where they get a bit of morning and late afternoon sun.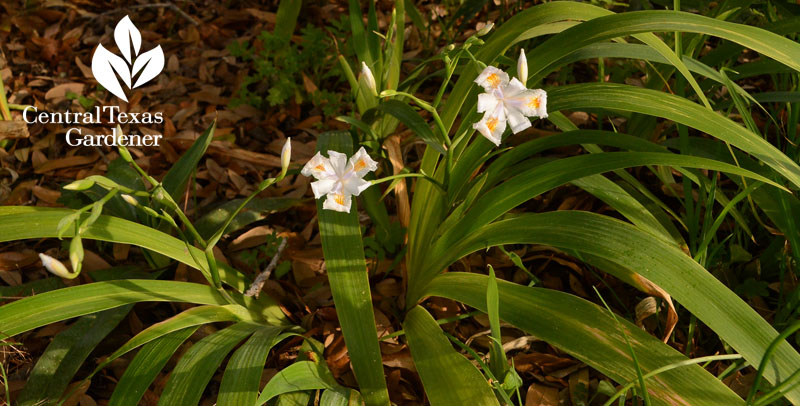 I've watched this old house garden change over the years. These irises and little pink rose (possibly Caldwell Pink) have endured.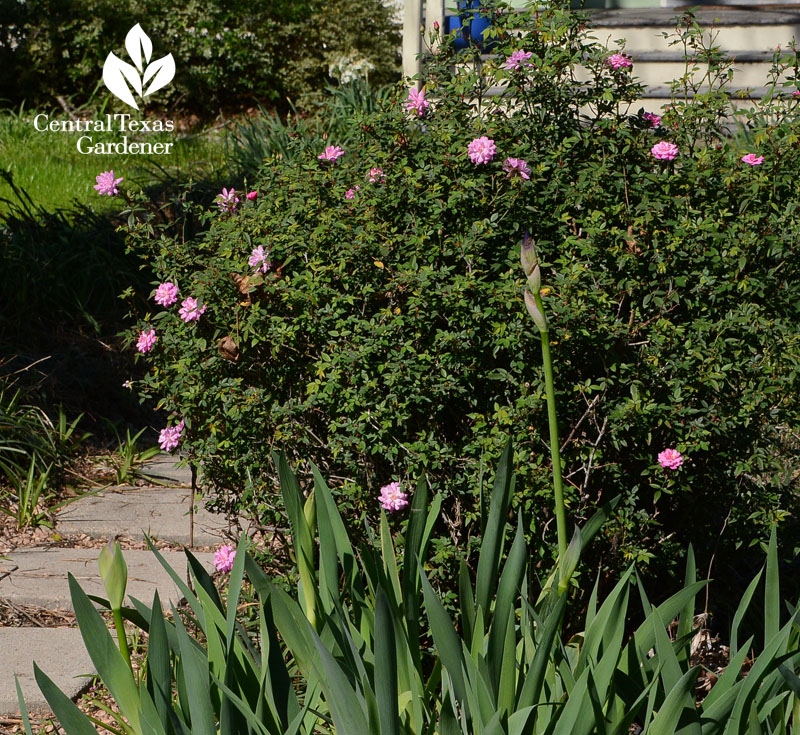 I'm just about finished with the winter clean sweep. When I shear the inland sea oats, I just leave the cuttings on the ground as mulch that will soon be covered.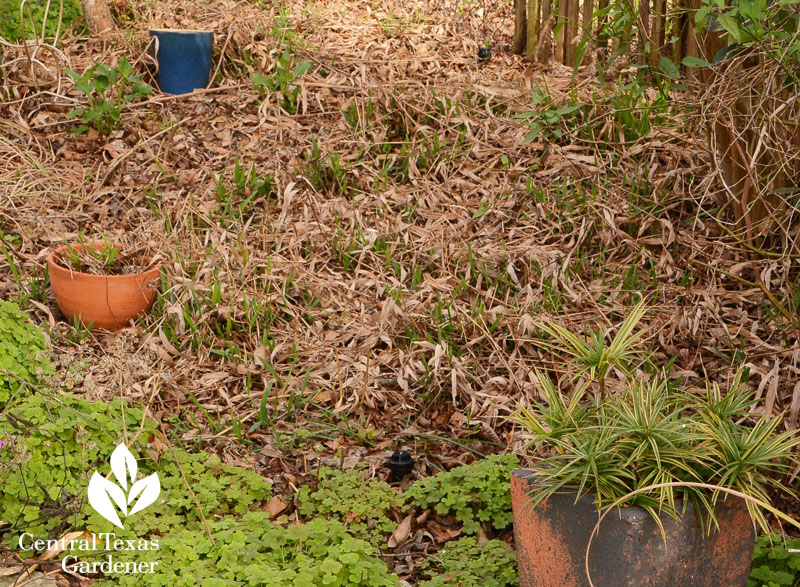 If you're worried about seedlings, it's too late for that! You'd have to cut off those seed heads in fall.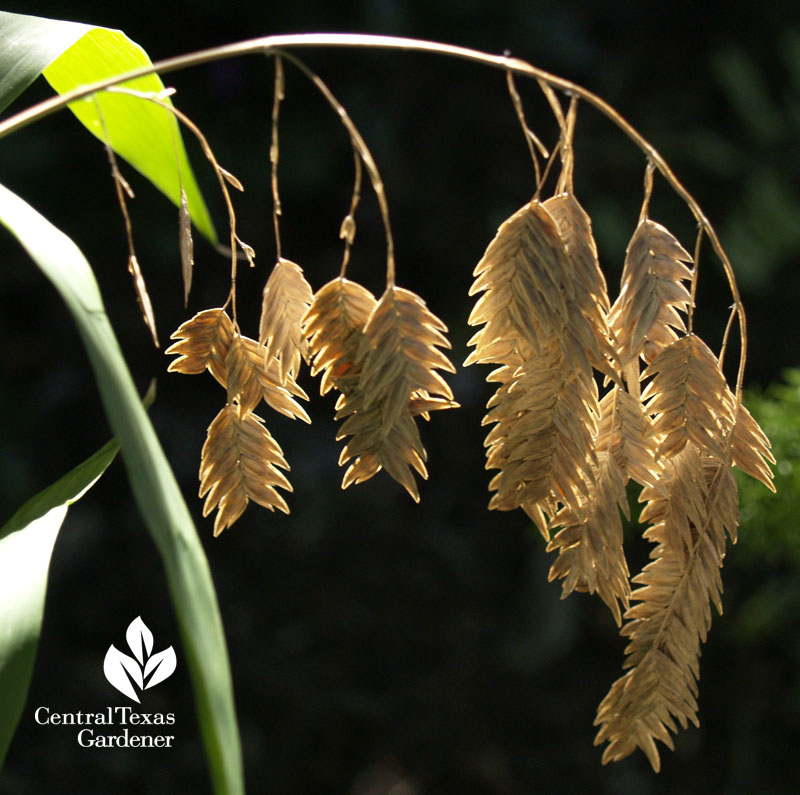 These amber waves of grain are still beautiful at the Austin Public Library's tiered gardens, where birds head for warm red Yaupon holly berries and bees to flowers opening on Salvia greggis.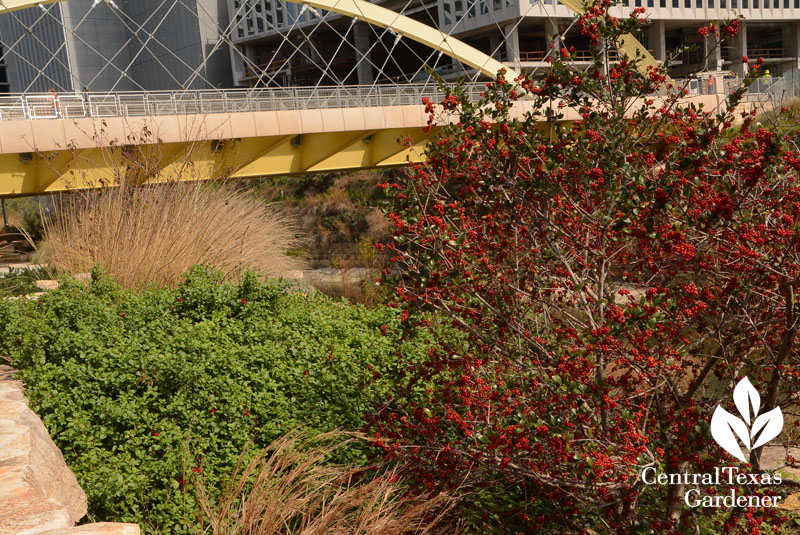 This week, find out what heavy metals or toxic materials could be lurking in your garden. And visit a couple who grows over 100 species of food and flowers in a typical backyard. Watch now!
Comments