July 3, 2019
Design Philosophy Connects Colorado & Texas
Views depend on where we live. It's philosophical viewpoints that connect garden endeavors across state lines. The concepts behind this design occur in Texas, but it's actually at Chatfield Farms in Littleton, Colorado.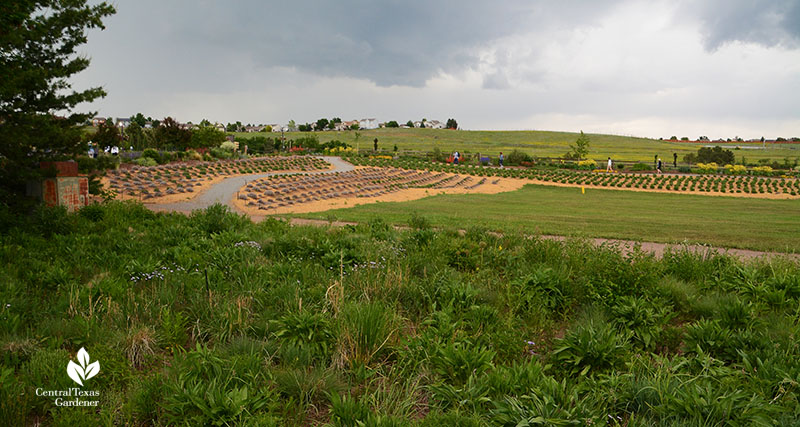 In Colorado recently for the Garden Bloggers Fling, I met gardeners committed to resource conservation and wildlife habitat just as many of us are in Texas. Lauren Ogden of Plant Driven Design (featured on CTG and who designs in Colorado and Austin with husband Scott) brought her far-reaching design philosophy to Mary and Larry Scripter's garden.


On this 11th annual get-together of garden writers from around the U.S., Canada, and England, we visited Denver Botanic Gardens' Chatfield Farms, a 700-acre native plant refuge and restored working farm. I caught Toronto's Janet Davis among the test lavender fields (many varieties that we can grow) and perennial habitat borders (plants that we can grow, too).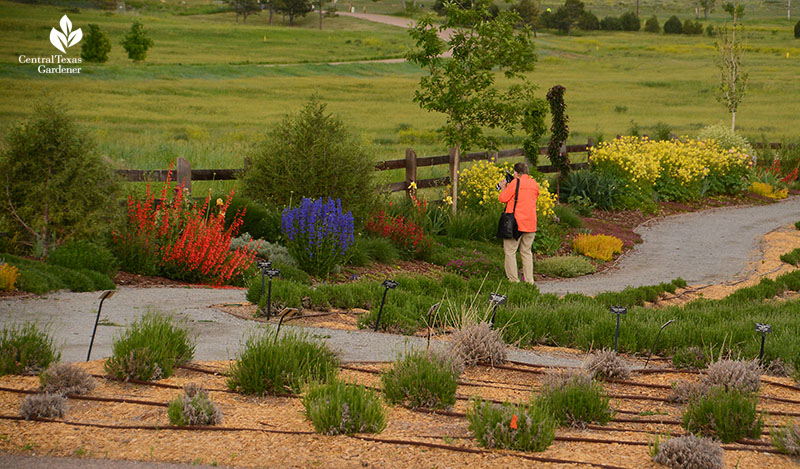 In another section, I recognized a Patrick Dougherty Stickwork sculpture, woven as intricately as CTG documented at Austin's Pease Park.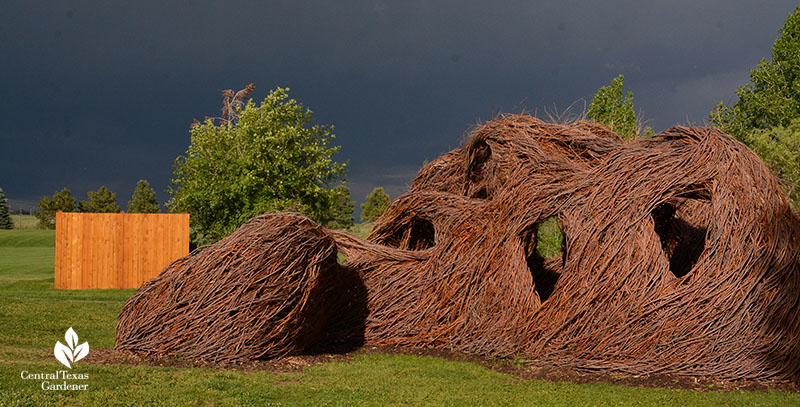 The sun shines big and bright like in Texas (with brief pop-up showers like ours). For sure, some plants are different, but many are ones that we grow like the catmint that surrounds TV host Rob Proctor's and David Macke's vegetable beds in Denver.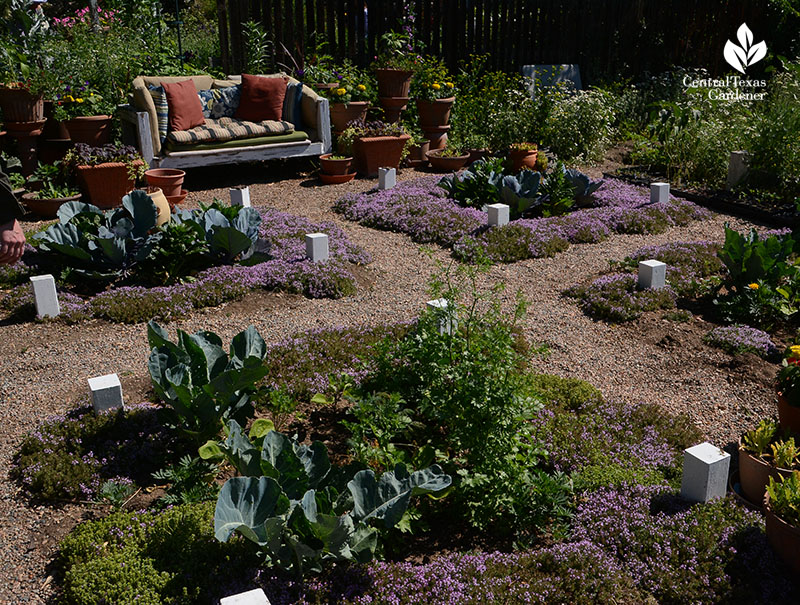 But philosophical design concepts behind water conservation and wildlife habitat transcend location.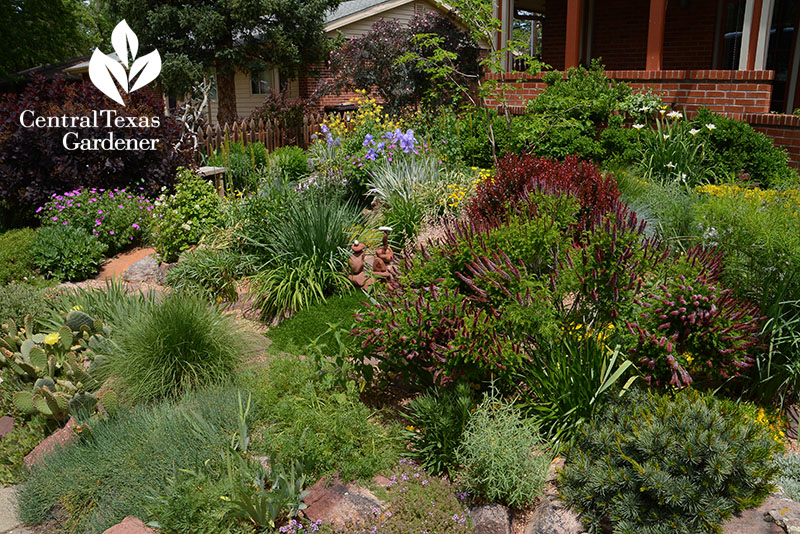 Rarely have I met someone who doesn't need a privacy design. This fun fence, along with raised beds, bit of soothing lawn, and flagstone arena works in Central Texas or anywhere.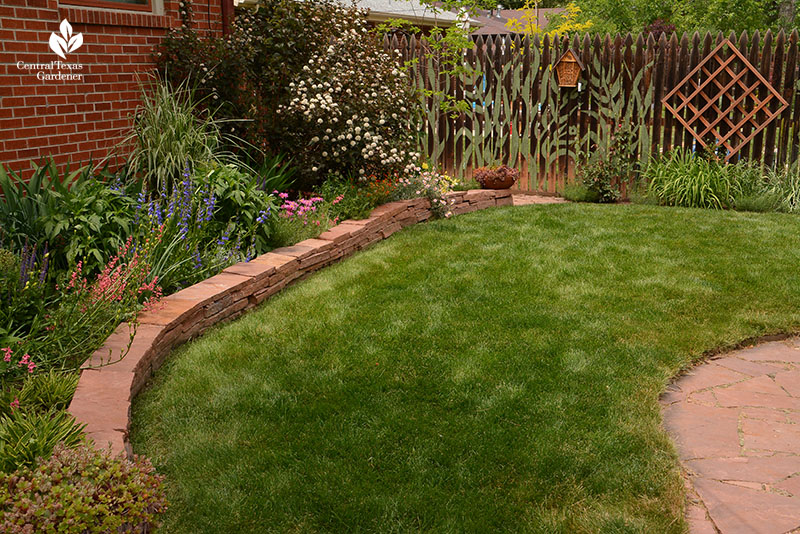 Low stucco walls are not strangers in Texas. I'd love to replicate an orange-hued one like this that pops with smoke tree, daylilies, irises, and roses.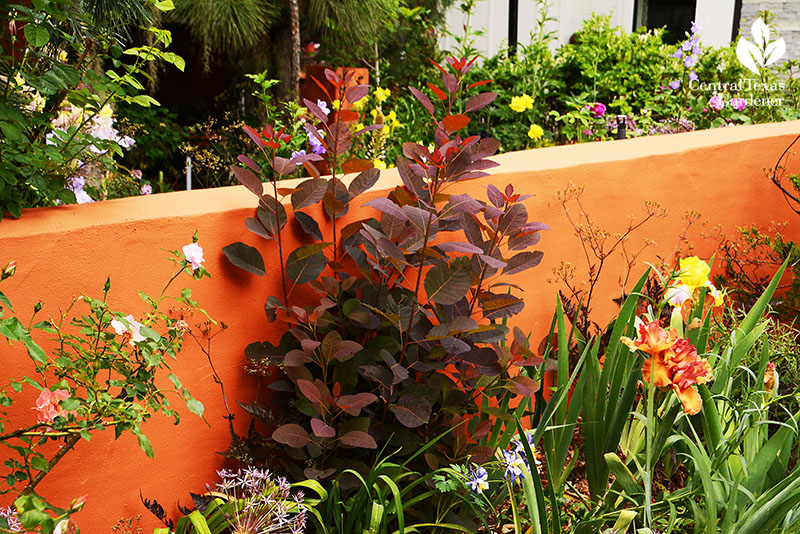 And I can so see this cute gate in an Austin cottage garden!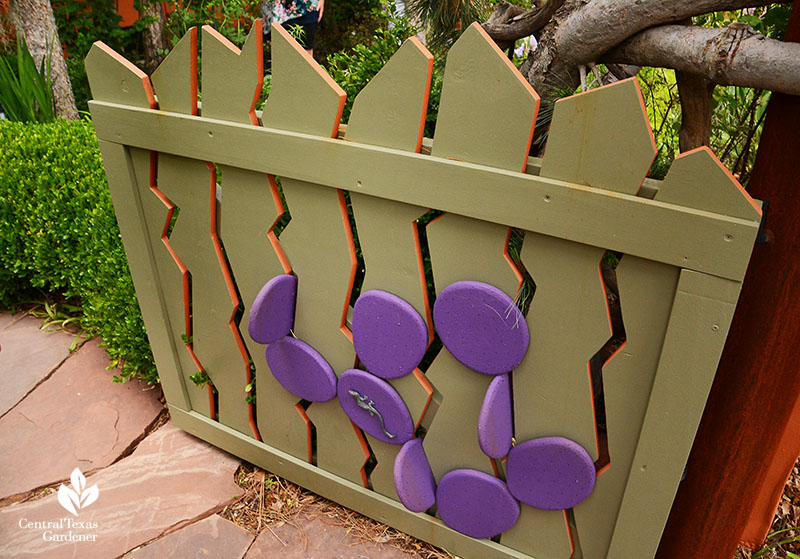 Jean Morgan's delightful wildlife habitat in Louisville, Colorado would fit right into Central Texas—especially in Hutto, Home of the Hippos. Her clever eye for discards prompts neighborhood fun with a Bazooka bubblegum hippo planter in an ancient bathtub.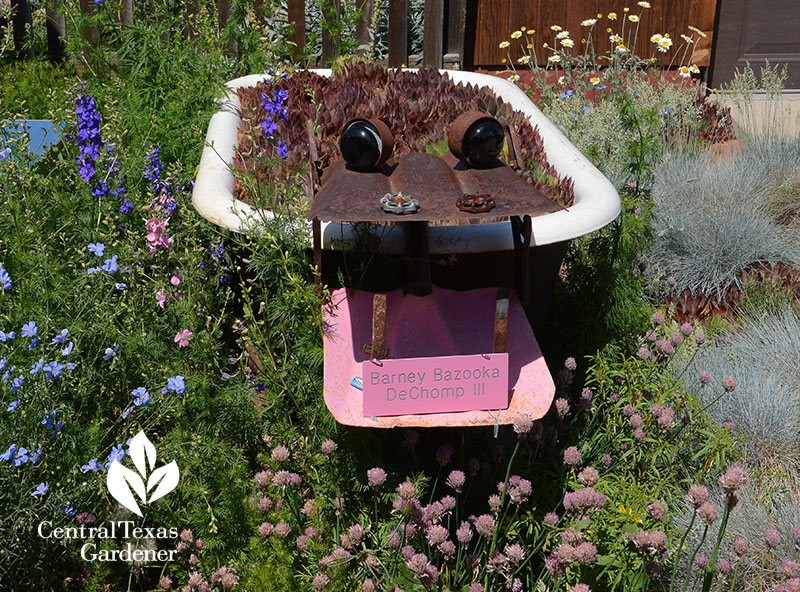 931 miles away in Hutto, Texas, Donna and Mike Fowler pose their own collection of community-uniting hippos.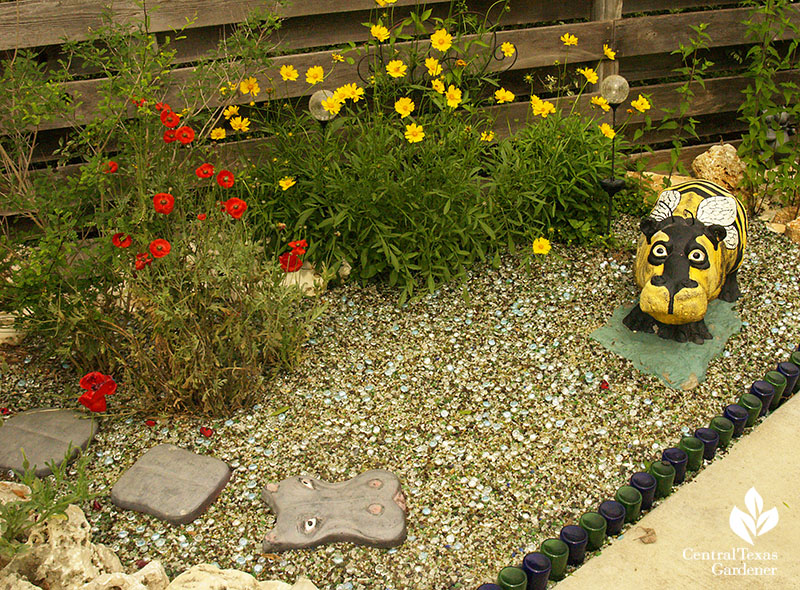 Watch CTG's video of their charming garden where odd scraps turn into whimsical sculptures among wildlife-beloved, drought tough plants.
But Donna and Mike do not (yet) have a hippo pond like Jean's! I laughed at her nod to herons that go after our fish, too.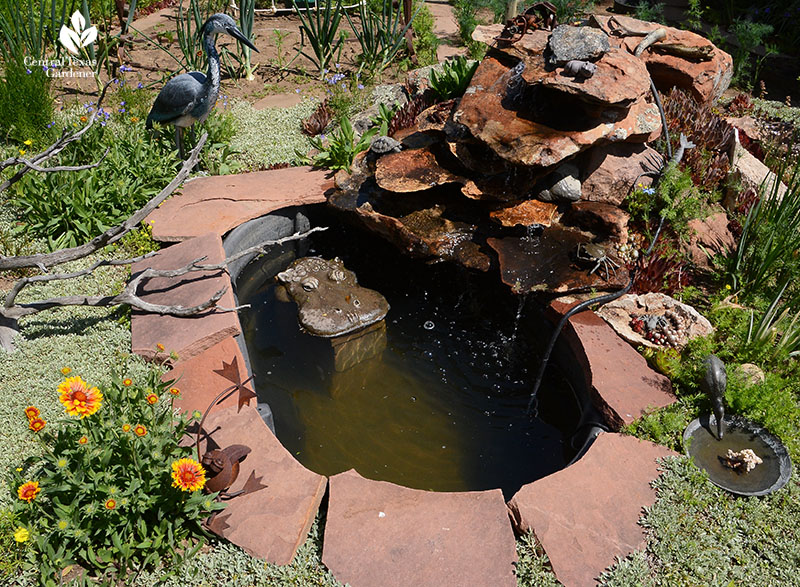 Although Colorado gardeners are serious about water conservation where rainfall averages 15" a year, they know the value of recycling it into streams and ponds for wildlife and post-traffic soothe-down.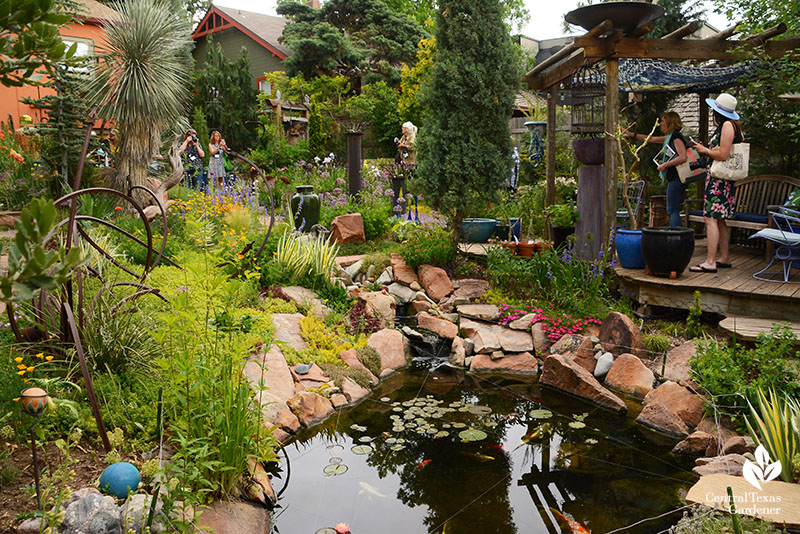 Central Texans are into disappearing fountains, since birds love them as much as we do. Here's a beautiful scenario: silvery-white lamium bursting with pollinator-enticing lavender flowers against a charcoal gray drinking fountain.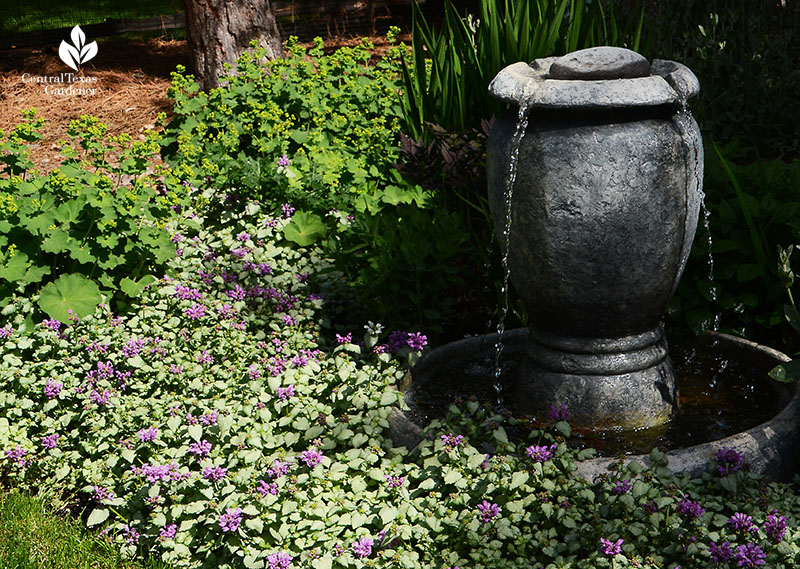 Without a doubt, one thing absolutely unites us!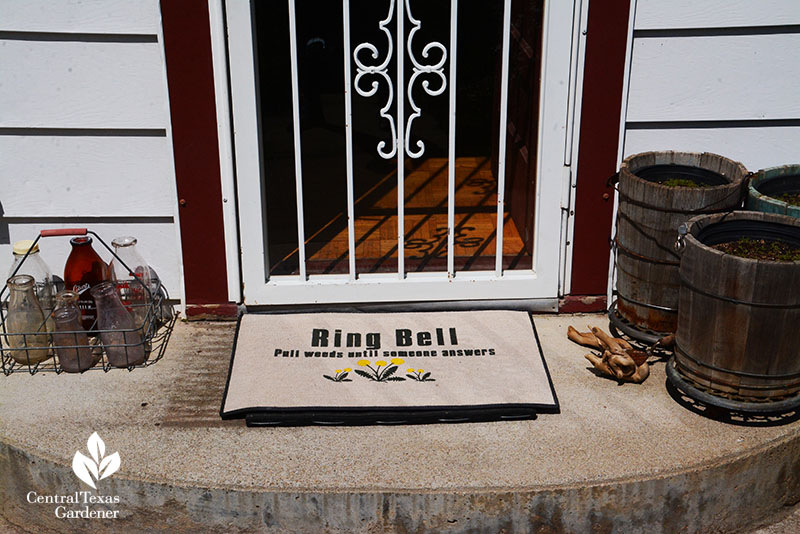 Everyone I met in Colorado is committed to wildlife protection. That includes beneficial snakes. ICYMI, this week on Central Texas Gardener, meet the friendly reptiles helping you out.
I returned home just in time to watch early fireworks as crinum lilies unfurl.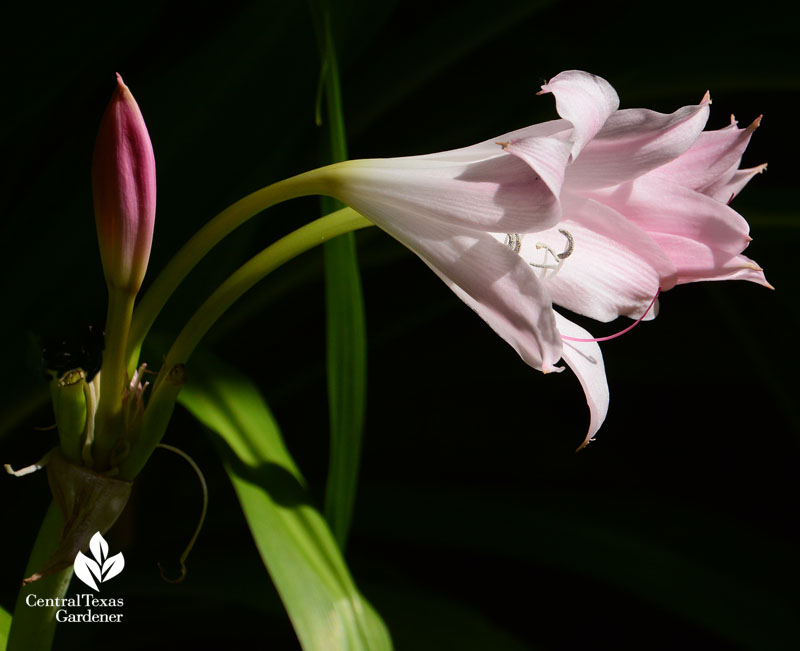 So, I wish you a wonderful holiday weekend with plant and wildlife fireworks of your own! Linda
Comments