September 12, 2019
Garden Love Story
Native heartleaf rosemallow (Hibiscus martianus) always wins hearts, including mine. With Sunday morning's break from searing heat, a diminutive rosy blossom unfurled.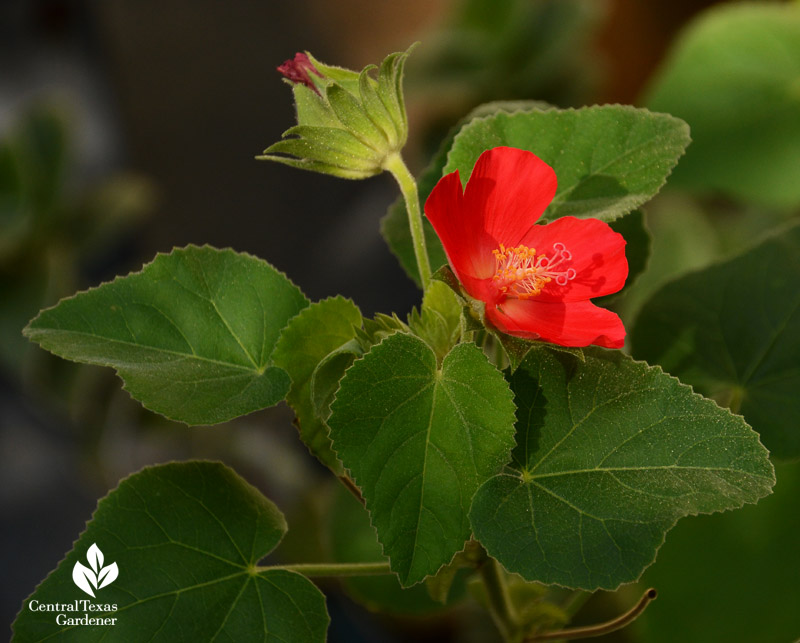 Have you ever seen this on your plants? Sort of looks like foam sealant, don't you think?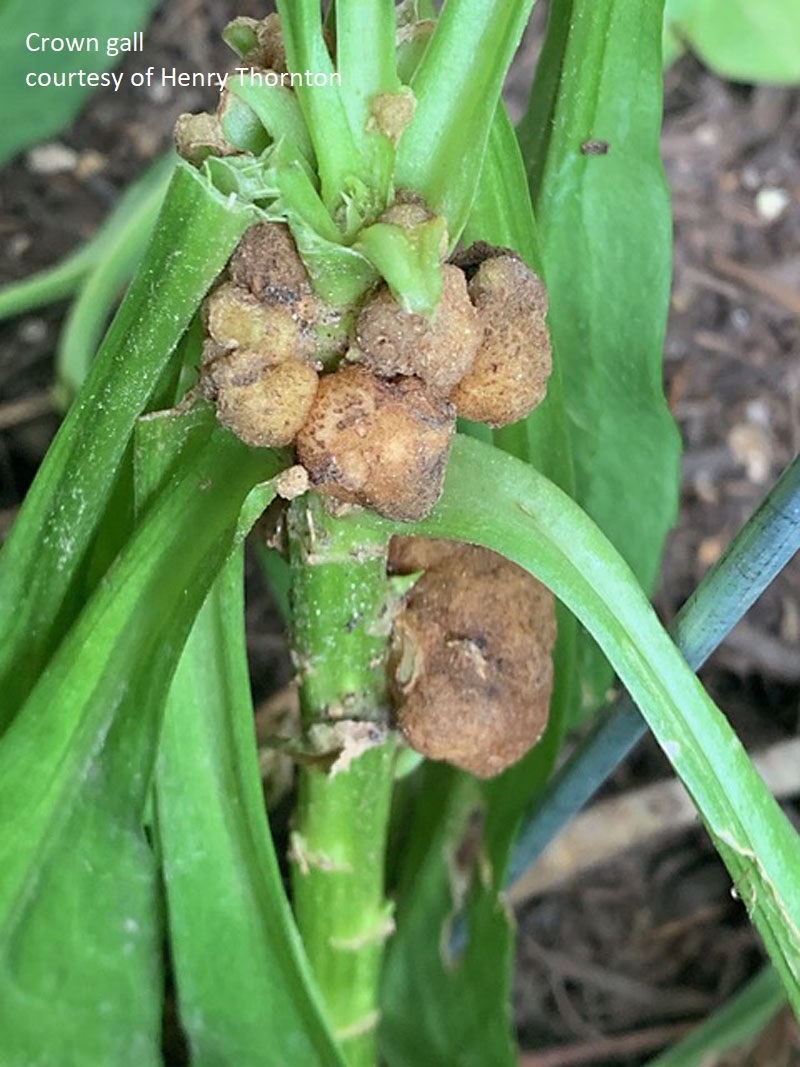 This one's not to love, though. Henry Thornton discovered it on his Shasta daisies after all the early summer rains. Daphne recognized it as a gall and Dr. Kevin Ong at the AgriLife Extension Plant Disease Diagnostic Lab confirmed it as crown gall (Agrobacterium tumefaciens). Sadly, not only is it fatal, there is no good solution to eradicate it from the soil. Find out what caused it.
On September 28, bring your questions to Travis County Extension's Earth-Kind Field Day. Meet Daphne, Wizzie Brown (insect questions) and the Travis County Master Gardeners who would LOVE to answer them.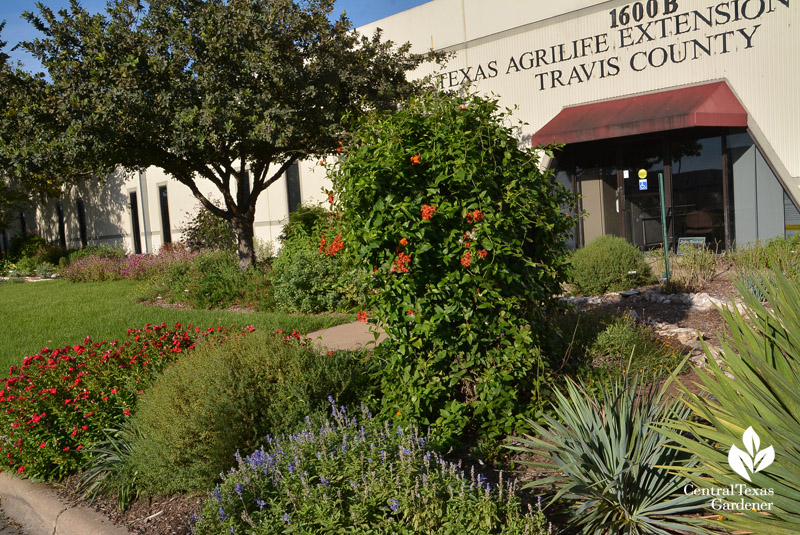 Learn how to build a compost system, plant a tree, build a bee house and a Grow Box. And lots more! Get the details.
Gardeners are very passionate about their gloves, since there's no one-size-fits-all-tasks.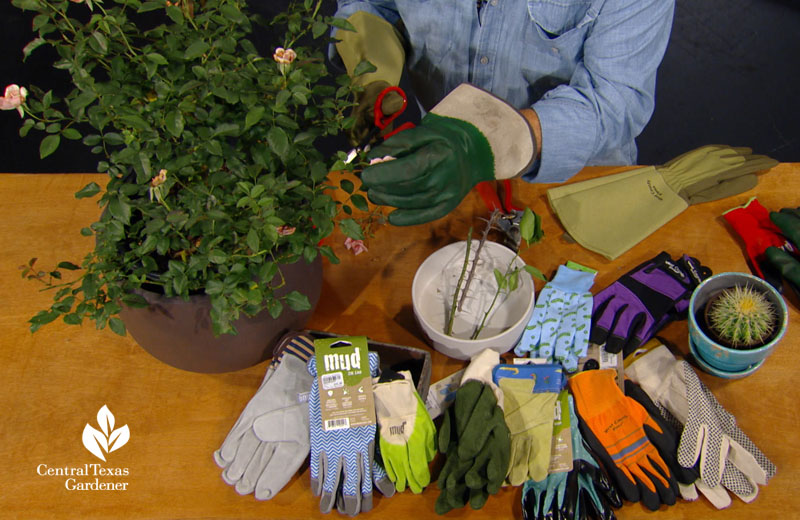 John picks the right fit for every job, from muddy chores to pruning plants with thorns (citrus), prickles (roses), and spines (cactus).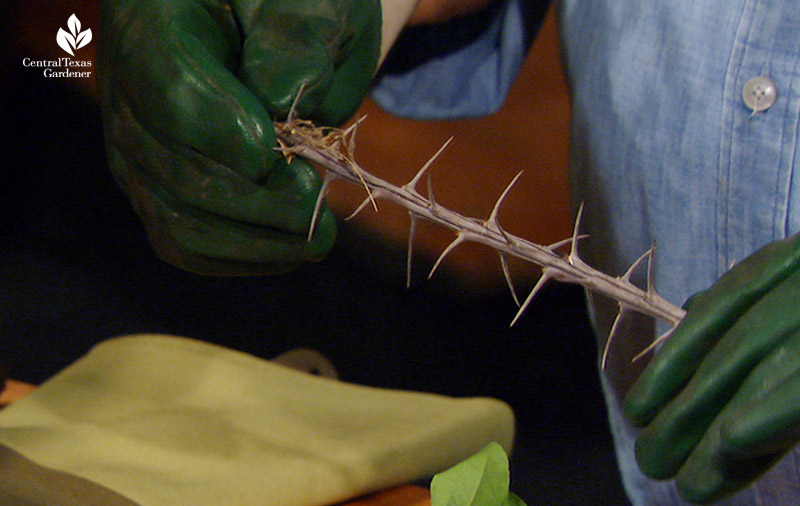 Homesteading has captivated a new generation of families seeking self-sustainability and connection to the land. Although you can certainly do it on standard lots, a larger parcel means room to do more.
This week, Mandi Golman from Yarrow Landscaping joins Tom to explore large space design and how to get started.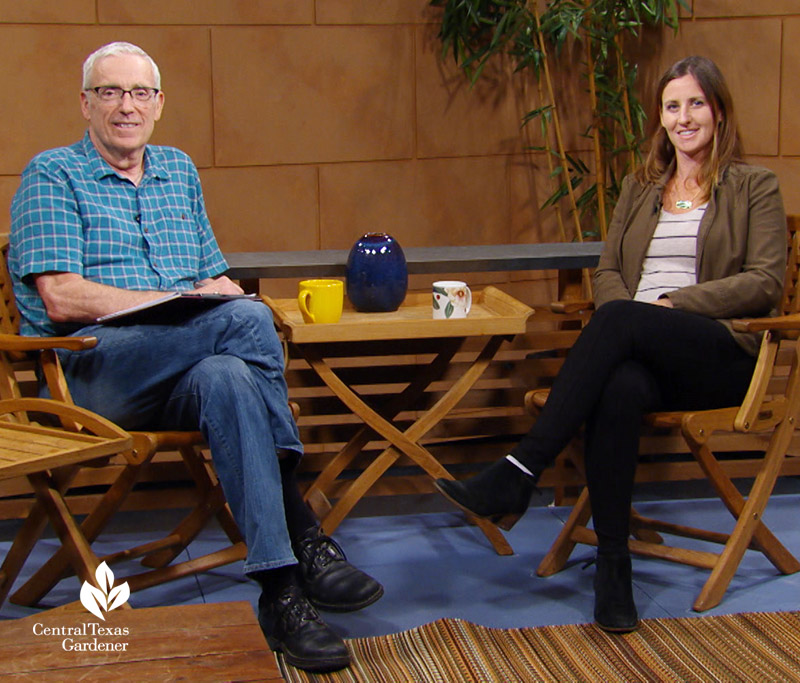 One in progress is a family's one-acre permaculture with vegetable gardens, wildflower meadows, butterfly gardens, bee-keeping, rain collection and a pond.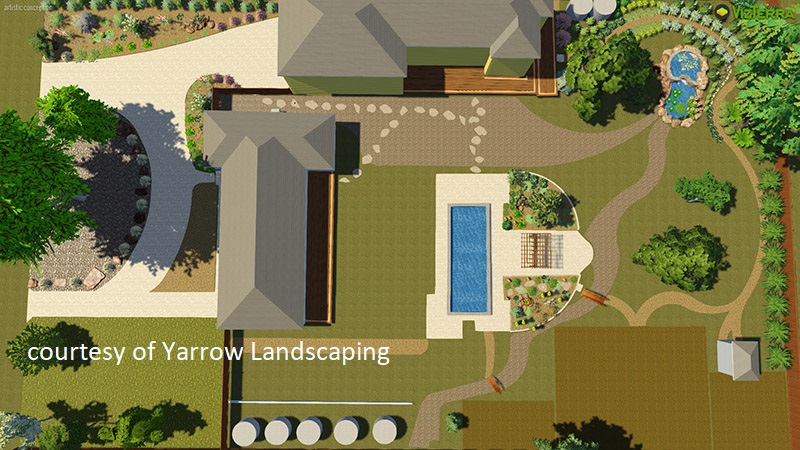 Another is a former Smithville lumberyard, now home to Lumberyard Studio, artist Judy Paul's studio and art gallery.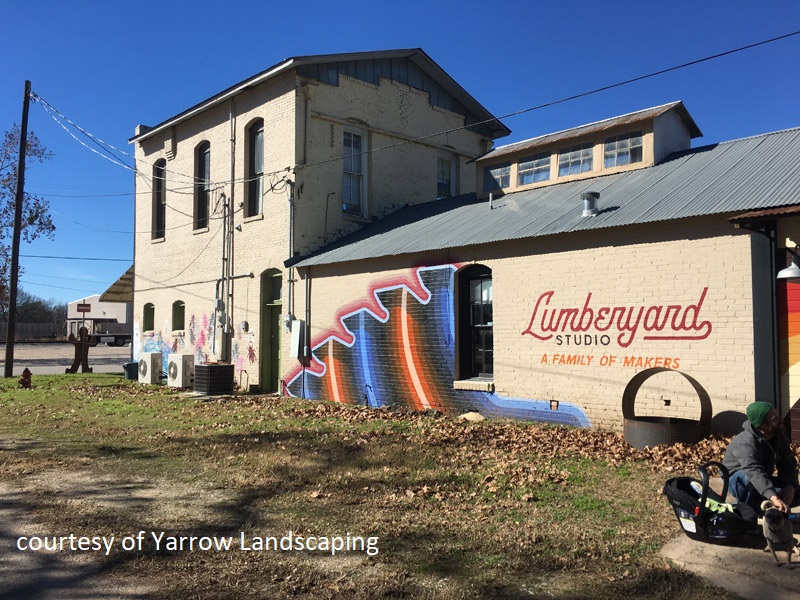 Now a creative hub with lots of DIY events, a gallery, woodworking shop, and candle and soap lab, Yarrow Landscaping orchestrated the xeric, pollinator-beloved plants and outdoor entertaining spaces.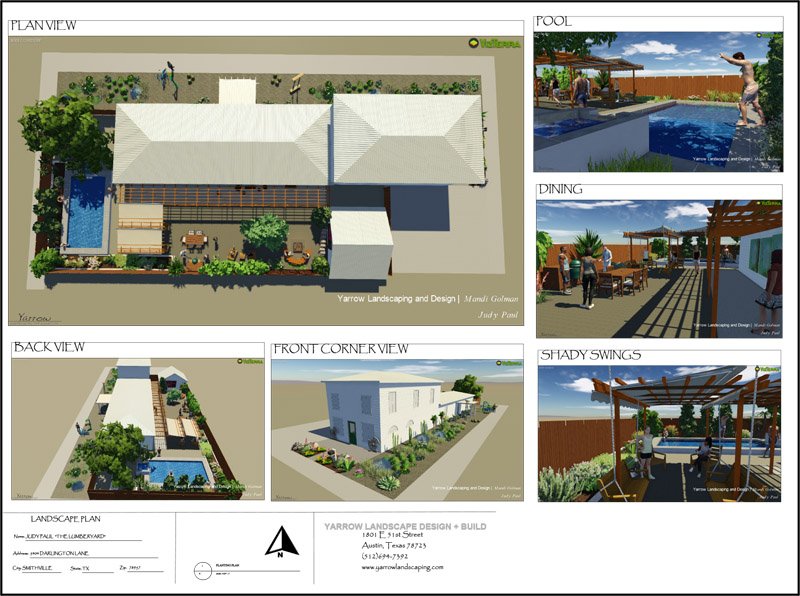 On Tour: As Alitza and Alfredo Vallejo approached their 50th wedding anniversary, he broke new ground for a romantic garden with generations of family memories.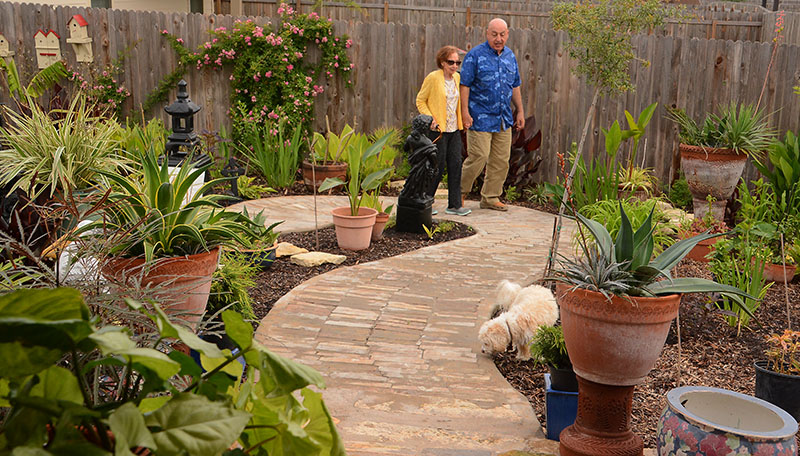 In 2017, when they left a gorgeous garden in the Houston area, it started another chapter in their love story.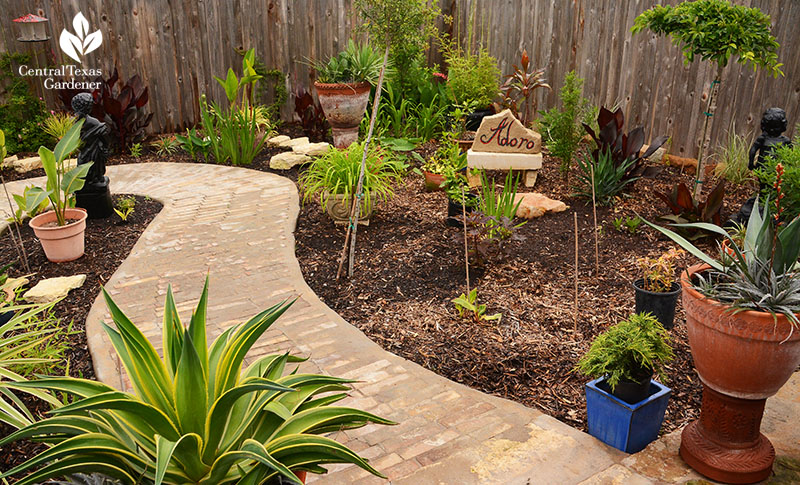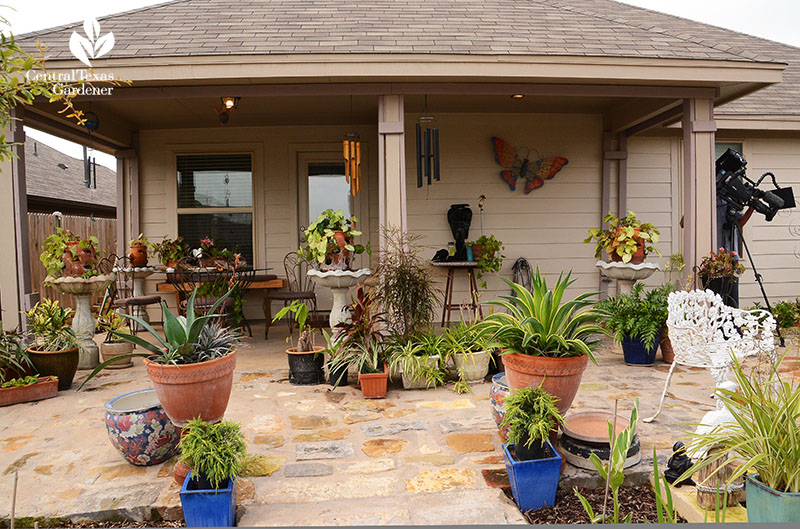 Their Austin-based children encouraged them to move nearby, where they and the grandchildren can visit often.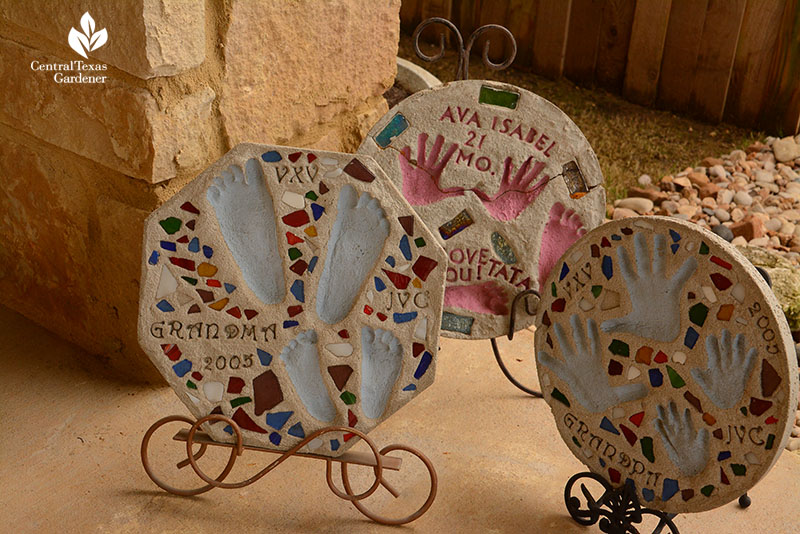 The Vallejos created beautiful gardens wherever they lived, but this one came with a new challenge: the builders had filled in with chert, mostly composed of rock.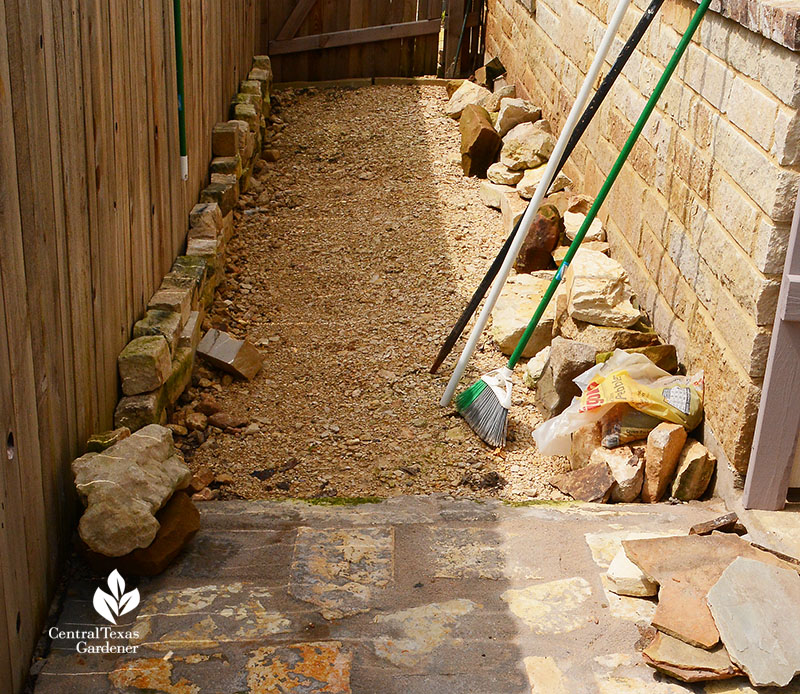 Alfredo rock-barred his way through it and added lots of containers.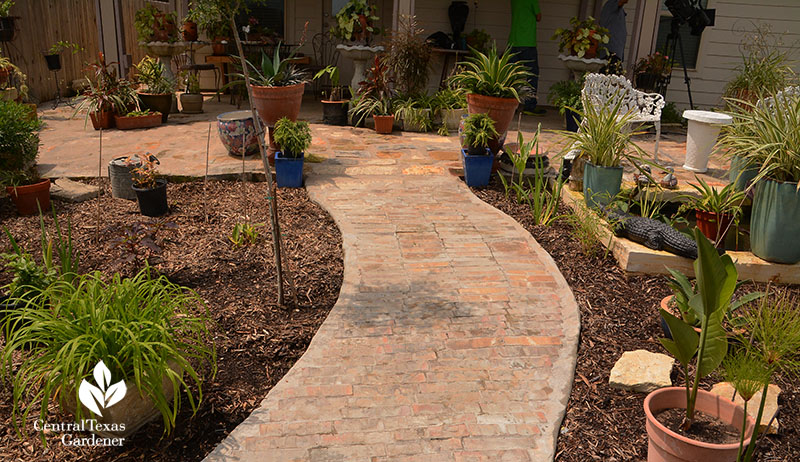 Alfredo dug out most of the the grass since he'd rather tend plants than mow. He did design a cute little "country club circle" with a putt-putt look that he joyfully maintains by hand.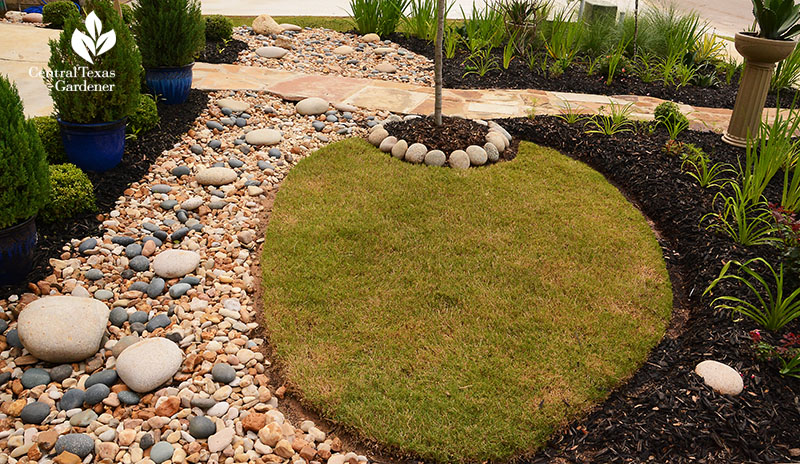 He chose easy-care plants with water conservation in mind. But, heavy rainfall flowed off the house and street to puddle their front walk. So, he dug a dry creek bed that extends around the side.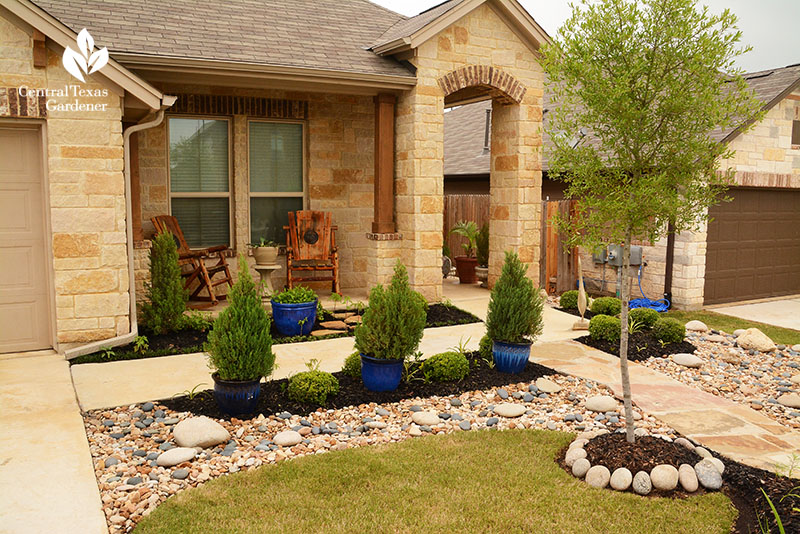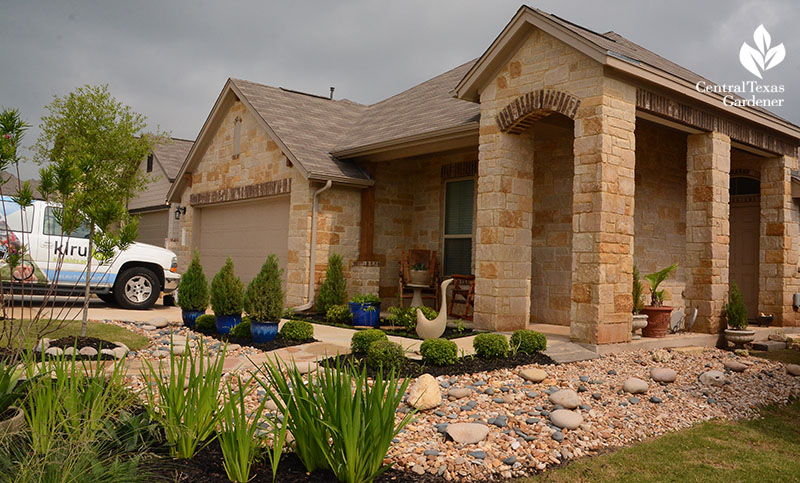 A charming, sentimental soul, he even peppered it with stones he hauled from their former home. His work paid off: since then, gully washers infiltrate the soil without flooding.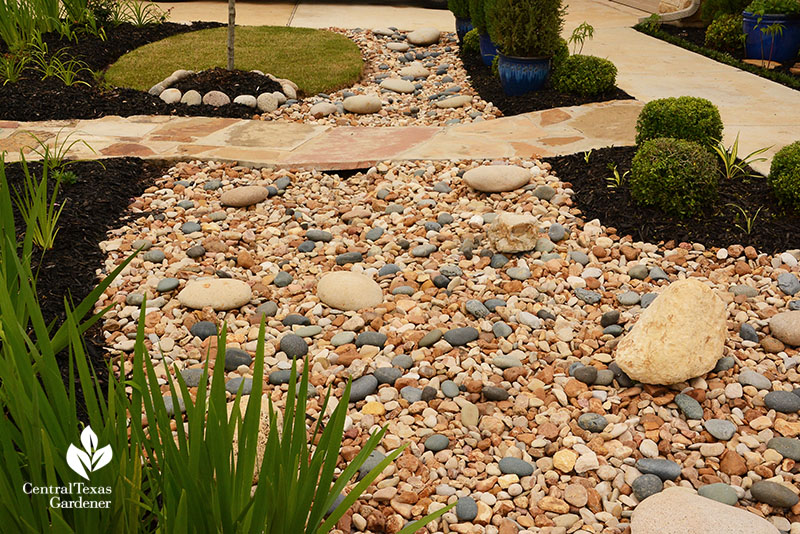 Then he laid its rippling flagstone pathway. With grip and gusto, he dug into the chert, amended the soil, and planted evergreen and seasonally colorful perennials and shrubs.


Along the side and back of the house, he laid a brick pathway.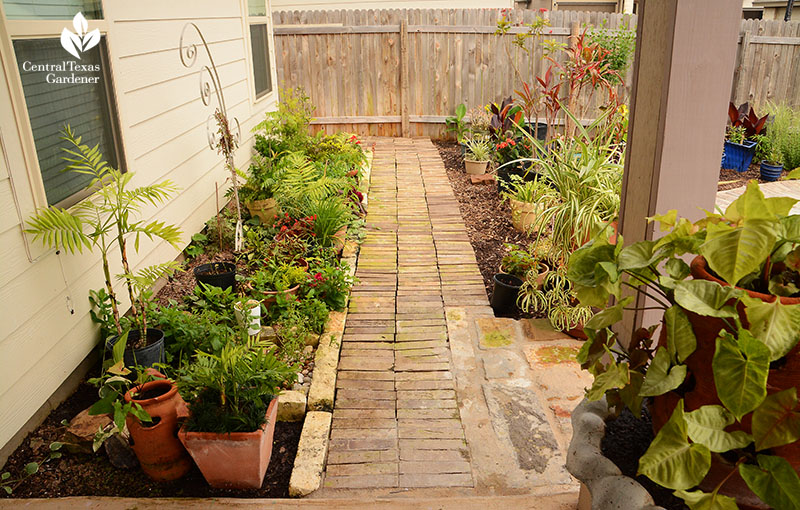 Beyond the covered patio, he styled warm-colored flagstones for extended outdoor gathering.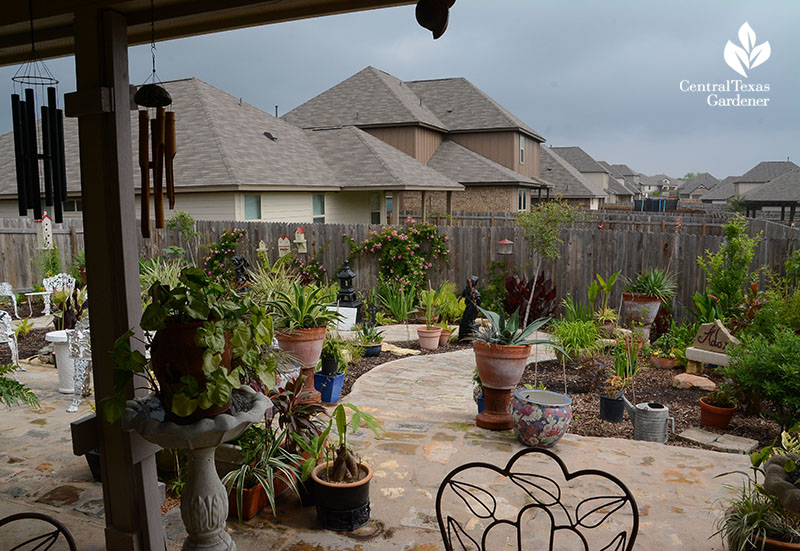 Around his garden beds, he carefully laid his "yellow brick road" of promise and discovery. Alfredo magnifies his plant collection with divisions and cuttings.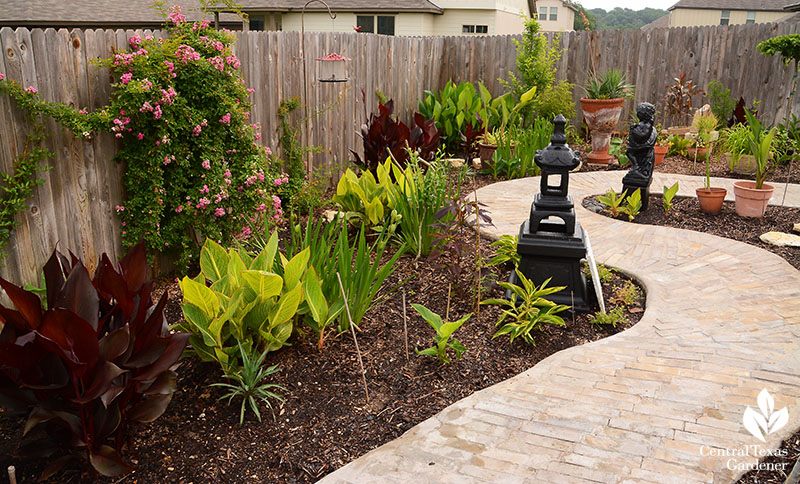 His Peggy Martin rose started as a cutting he'd given to their daughter, Julissa, here with her rescued (adorable!) puppy, Teddy. When he and Alitza moved here, he took a cutting from her and now has young roses all along the fence.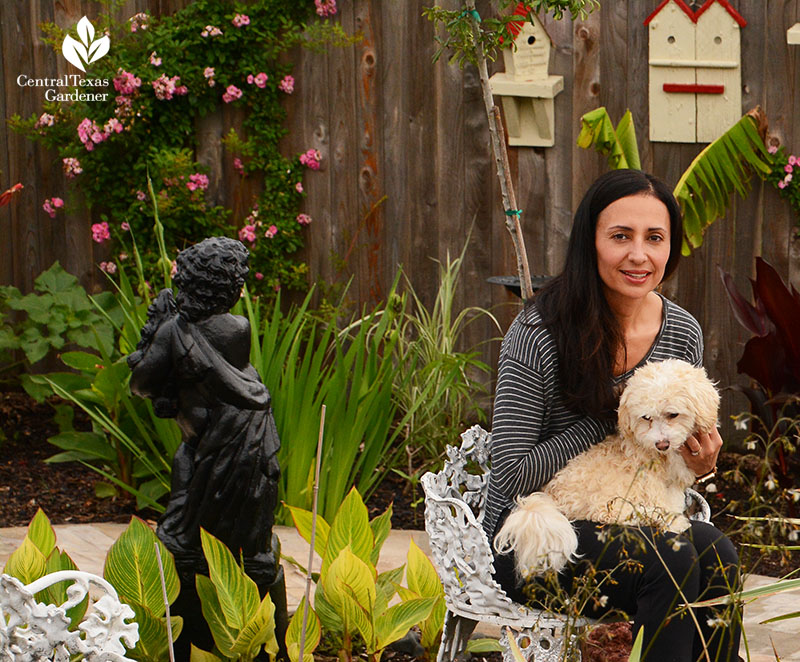 The first thing he wanted, though, was a pond like they'd always had because "there's something about taking care of a pond that almost makes you go back to the time when you were a small child."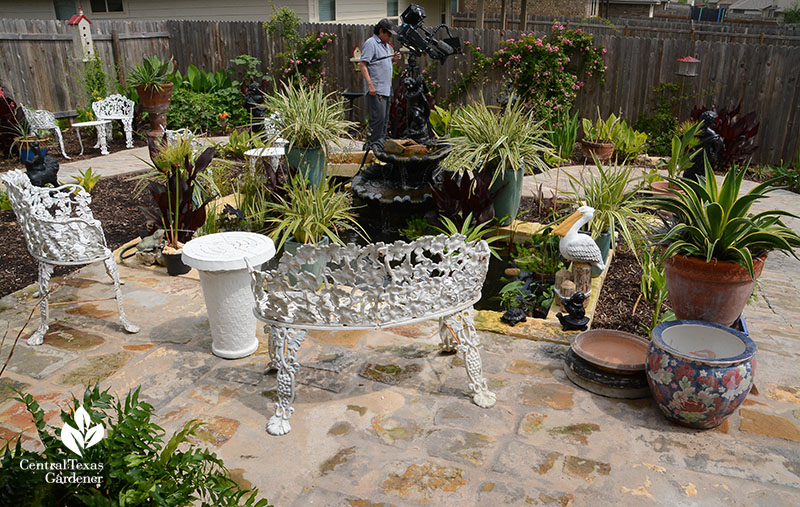 In past gardens, Alfredo had dug them. This time he let someone else tackle that chert.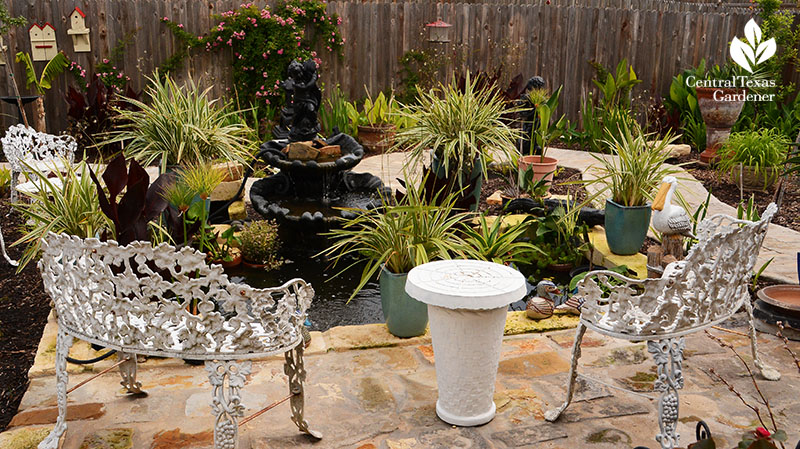 He weaves the family's history into every step. There are statues for their twin boys, Alejandro Alfredo (AJ) and Alfredo Alejandro, who once were smaller than their tributes.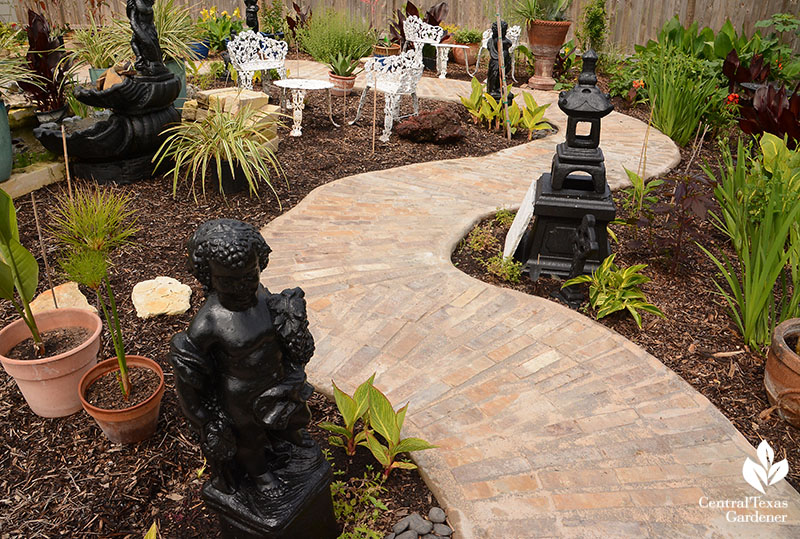 Daughter Julissa stands tall against his latest plant love, cannas.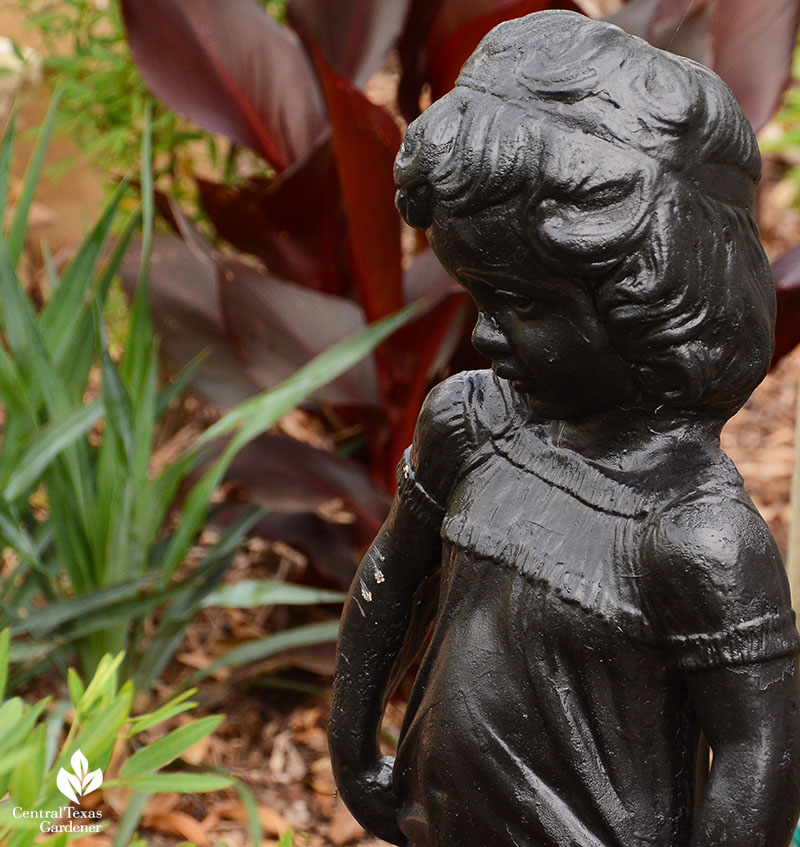 Youngest son Omar tops the pond fountain. By the way, check out his award-winning Fabulous 512 Studios music program showcasing local bands, bars, and businesses from his own award-winning recording studio! We also thank him for providing drone footage of his parents' garden.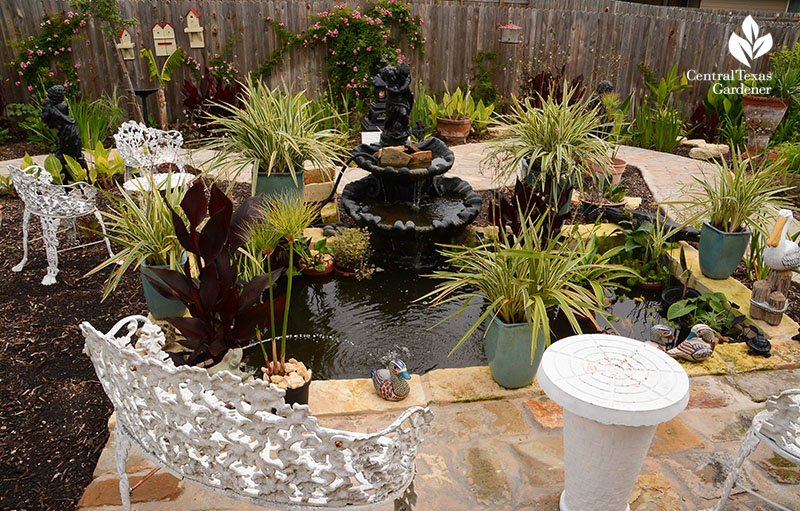 On one side, Alfredo placed a statue of a cherub he gave his mother when he was in college.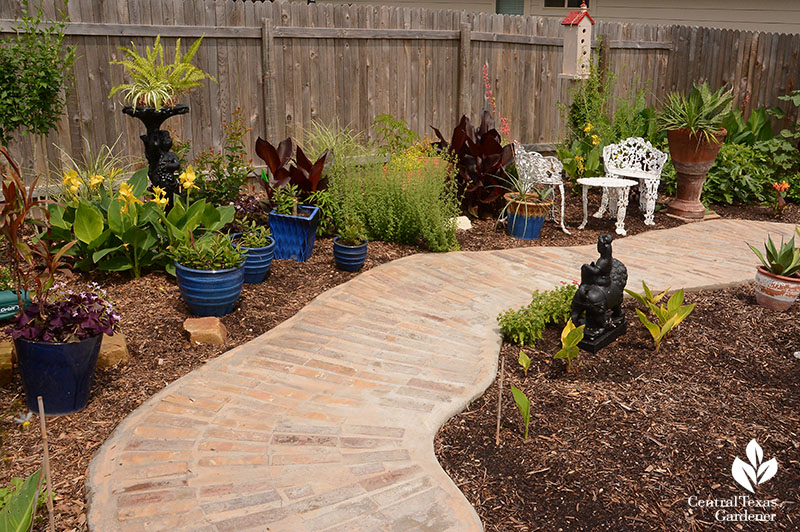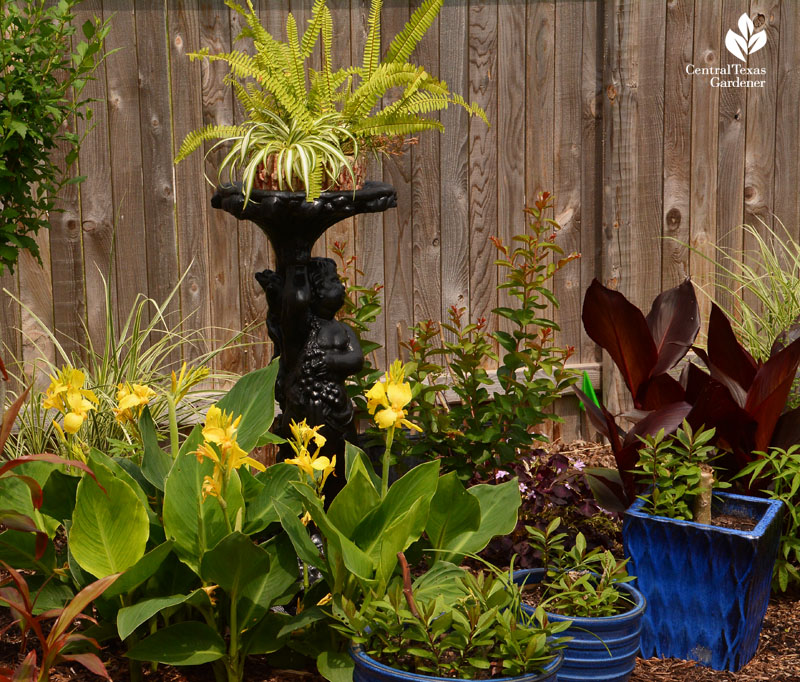 His maternal grandfather made the container.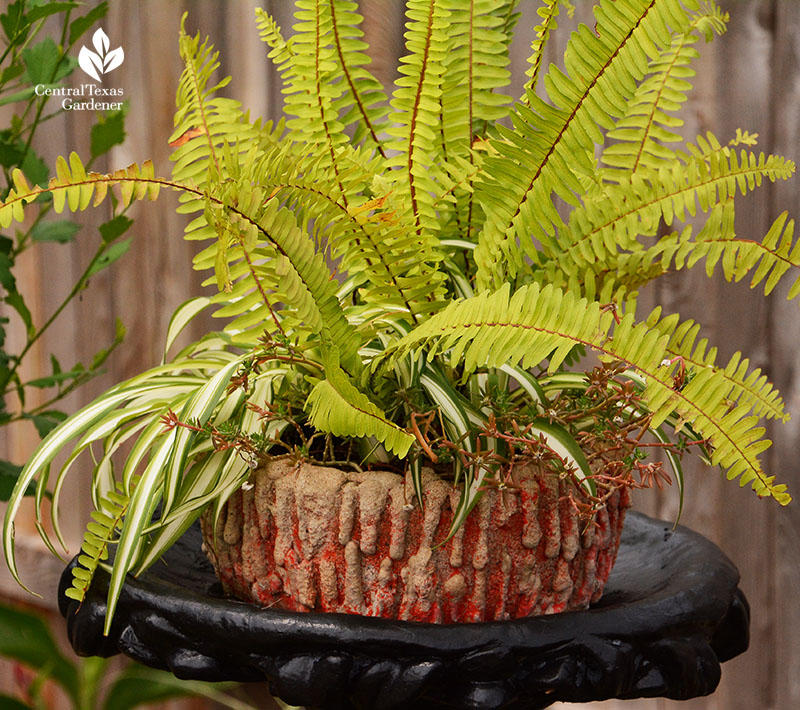 A special moment for Alitza each day is visiting her mother's commemorative marble slab they brought back from Guatemala when the mausoleum was being remodeled.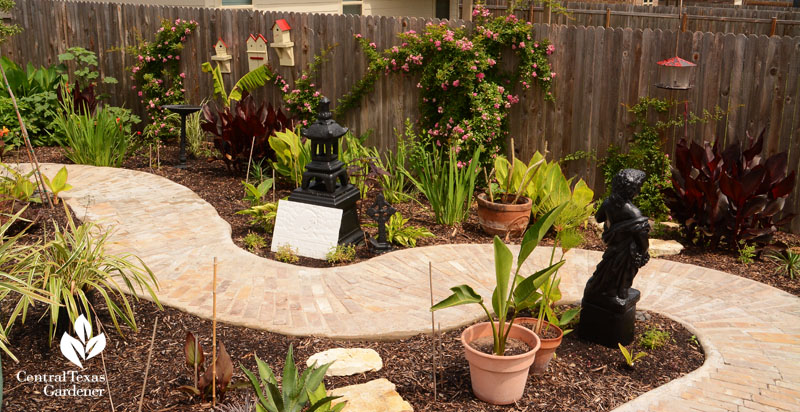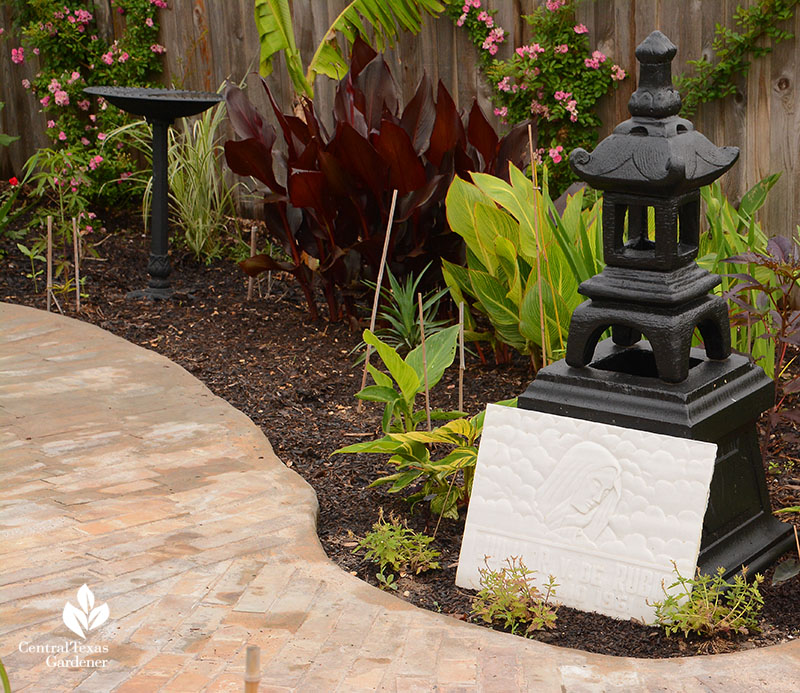 Alitza guides the garden design and creates intricate art of her own, like these beautifully hand-painted butterfly vine seed pods adorning a mirror.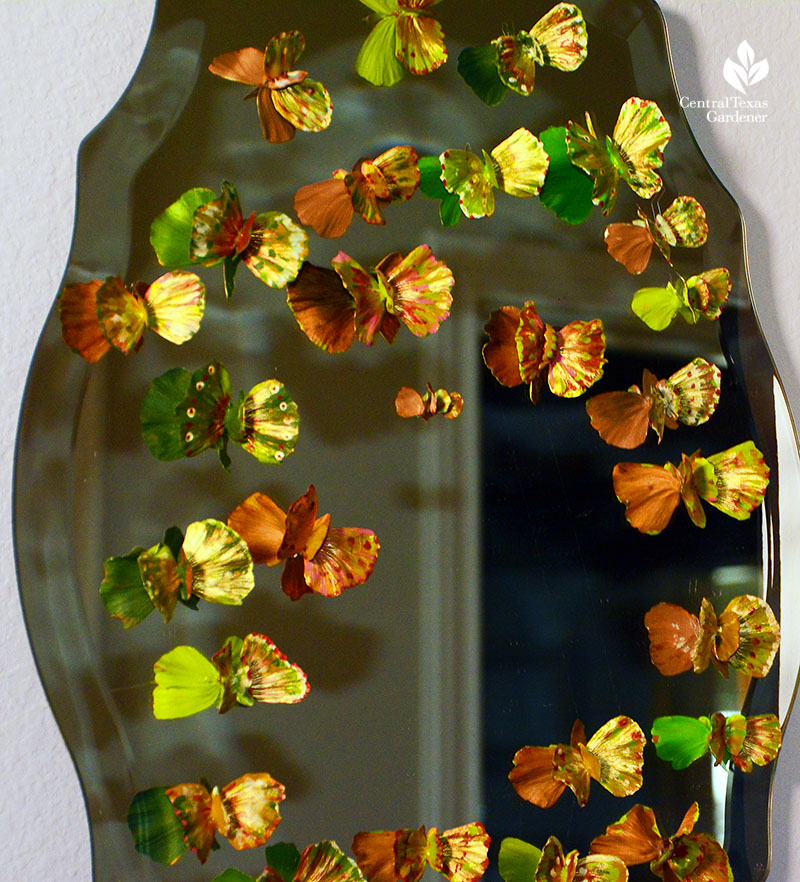 For years, the Vallejos have greeted their guests at the front door with a beautiful goose statue a friend gave them. This time, he tried it in back, but Alitza insisted that it belonged in front as always to "invite guests to the house."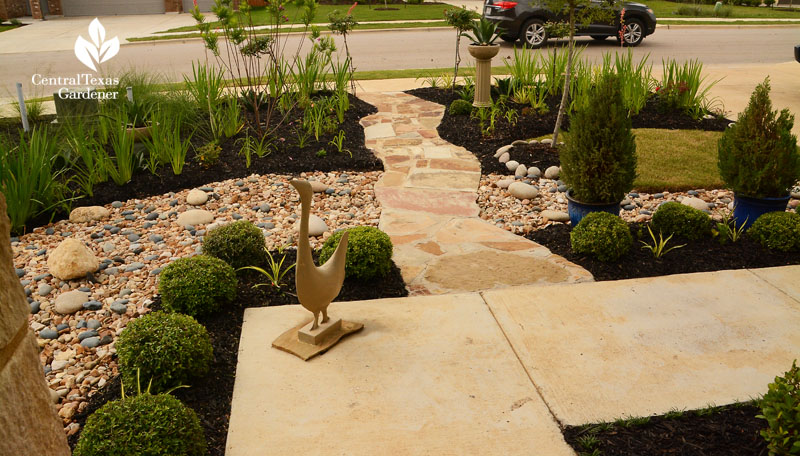 "That's what makes a garden personalized. I think that a lot of times, we're so busy with other things, problems and things like that, that beautiful simple things like that aren't actually appreciated," Alfredo said.
Their children certainly know how to appreciate at 50th wedding anniversary! They gathered together to make hand-crafted roses to adorn their parent's carefully preserved wedding topper.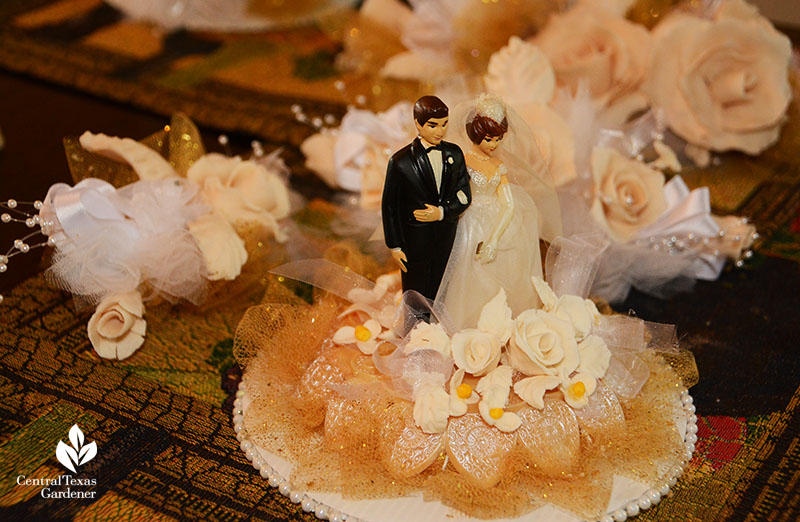 The sons' band, Vallejo, recorded their parents' love song, Adoro. Watch their own beautiful video tribute. Many thanks to them for sharing the instrumental version for this segment.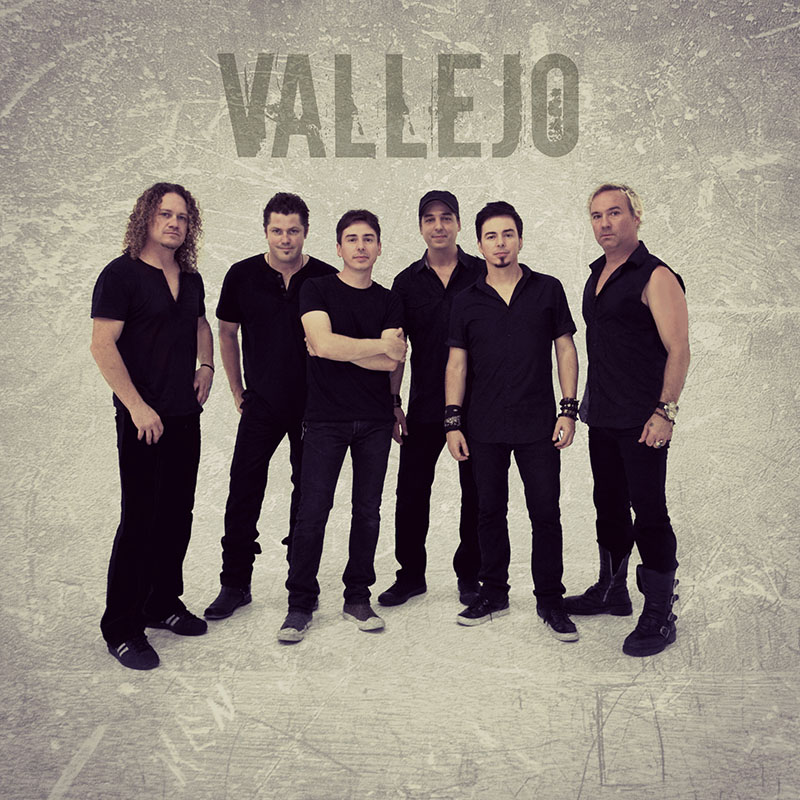 For 50 years, Alfredo signed every note to Alitza with "Adoro." And for what will probably be their last garden, he created the ultimate tribute to her and the gardens and life she inspired.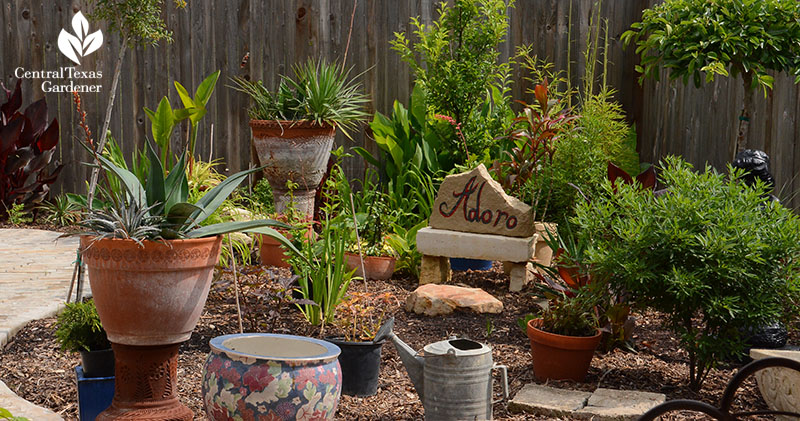 "That's why I selected that particular rock, painted it, and put it right there on that little bench, right in the middle of the garden. And then I went in the house, and I called her out, and I said, 'Look, this is your garden, in your honor.'"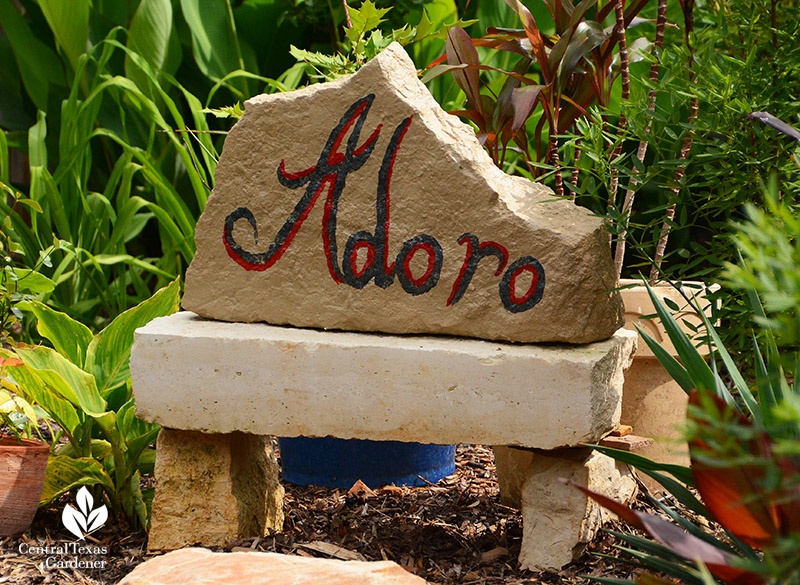 Watch their story now!
And thank you for stopping by! See you next week, Linda
Comments