November 14, 2019
Scenting Our Emotions & Memories
I've made a lot of bad garden decisions, but planting native shrub Barbados cherry long ago wasn't one of them. Usually its second floral flush in autumn attracts the bee and butterfly crowd, but drought and the early nip reduced traffic this year.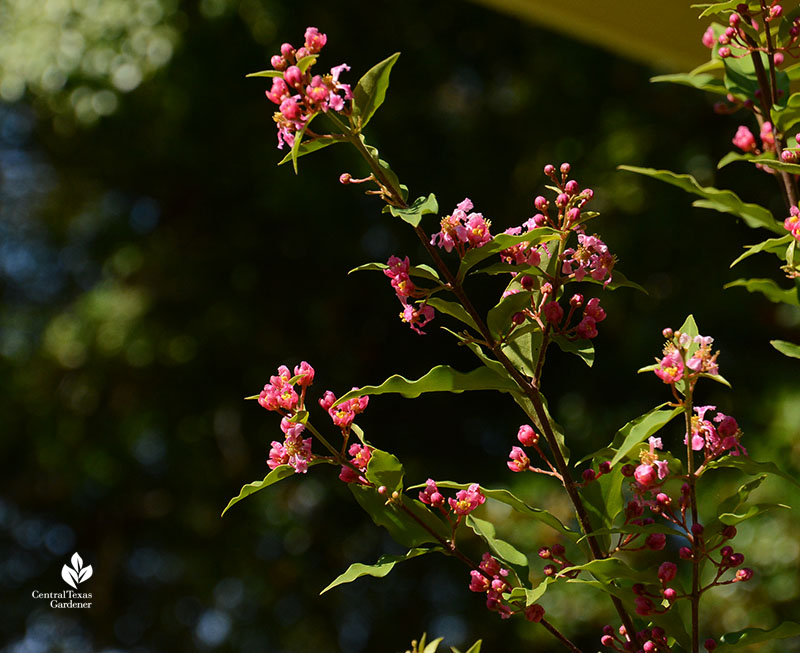 'Tis the season for everything "pumpkin spice" from dish soap to candles. Marketers know that a scent's briefest whisper prompts powerful memories faster than an old photograph. All I need is a cloudy, cold day to remember a weekend at home my freshman year when my mom gave me a bottle of Interlude. Years later, my husband hunted it down for me. No longer do I wear perfume, but I take a whiff every fall to remember the love behind it.
This week, Herb 'n Cowgirl Ann McCormick explores how fragrance impacts daily decisions—from garden flowers and food to cleaning supplies, candles, and perfumes.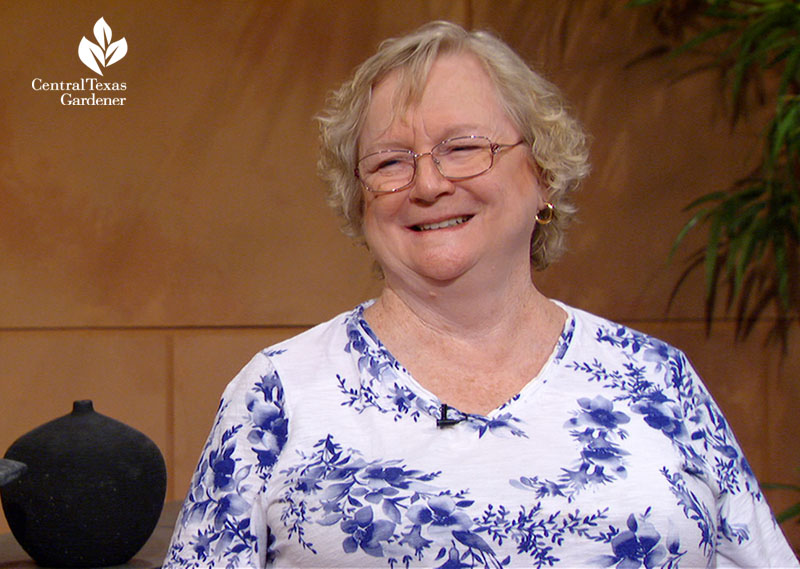 Along with happy memories, scents can bring back bad ones, too. Fragrant winter annual stock reminds Ann of her grandparents' funerals when she was a child.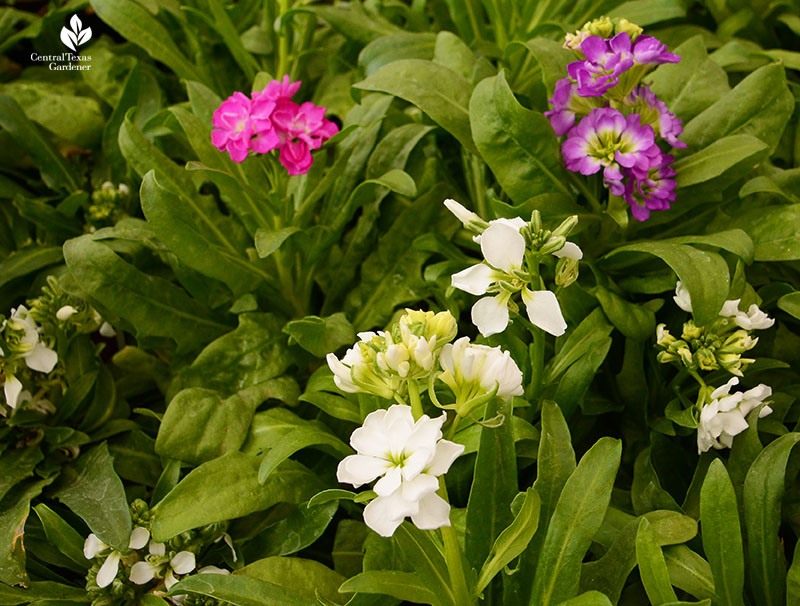 Cinnamon's not a favorite with a man she met—it reminded him of his mother's medicinal teas when he was sick as a child. In fact, I still cringe at chamomile tea after a horrific collegiate flu when I brewed it relentlessly. Others abhor narcissus, while I eagerly cut a few stalks for indoor aromatherapy.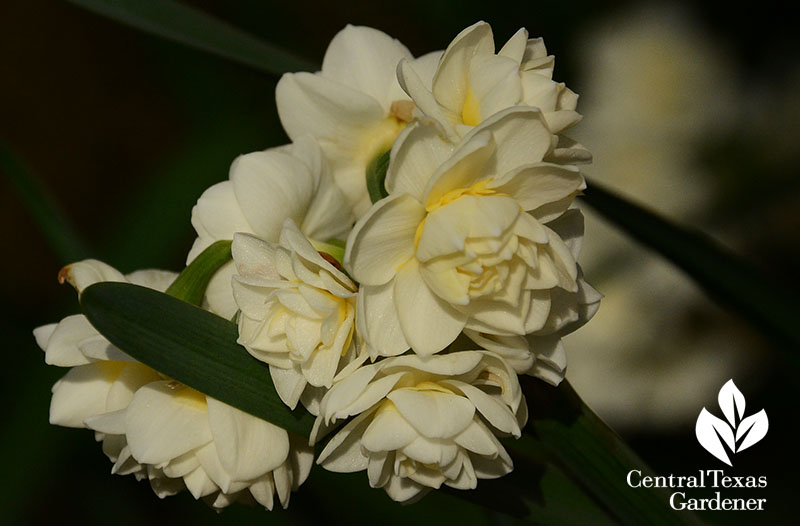 Watch now to prompt your own stories and find out where you fall on a fragrance wheel!
The scent of freshly cut herbs and greens prompts delicious (and hungry) sensations. Microgreens make tasty harvests in just a week to pepper salads and top sandwiches and soups with any flavor you like.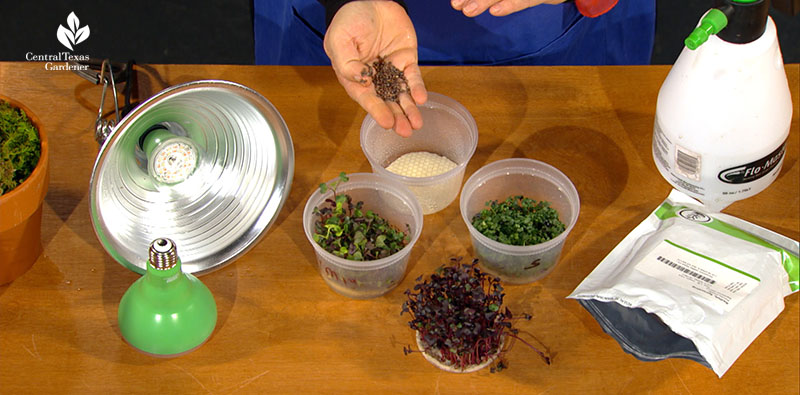 Molly Pikarsky, Flora and Fauna Manager at Lake Austin Spa Resort, and Rebel Roots blogger, shows how to do it as an easy-peasy indoor project with LED lights. And check out our new cute CTG apron!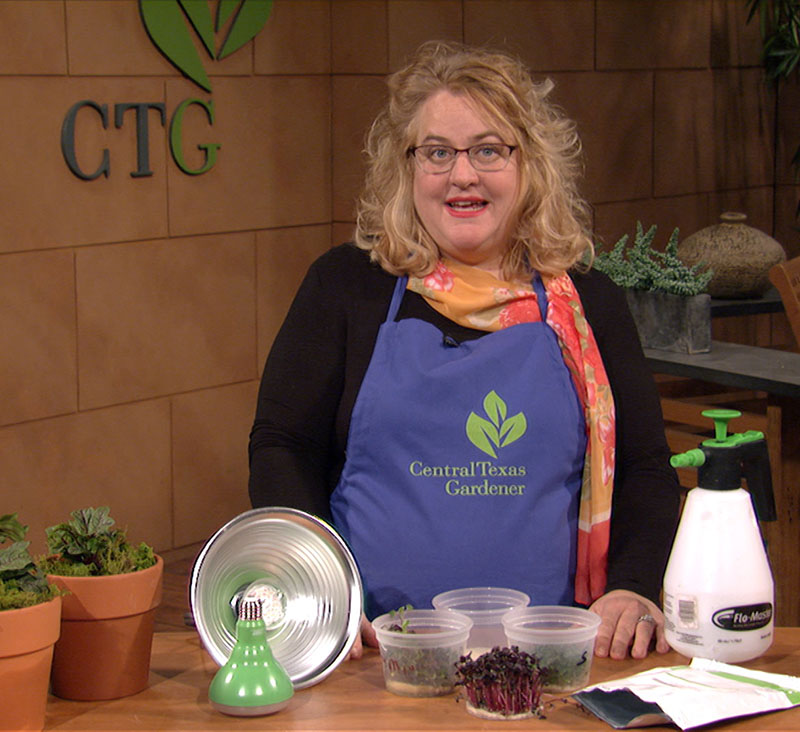 Watch now to grow microgreens!
We've seen a lot of troubled plants this year. Sandy Holland and Rene Martinez's year-old wax myrtle is browning on top (but note its berries) while the bottom half is sprouting new growth from the roots.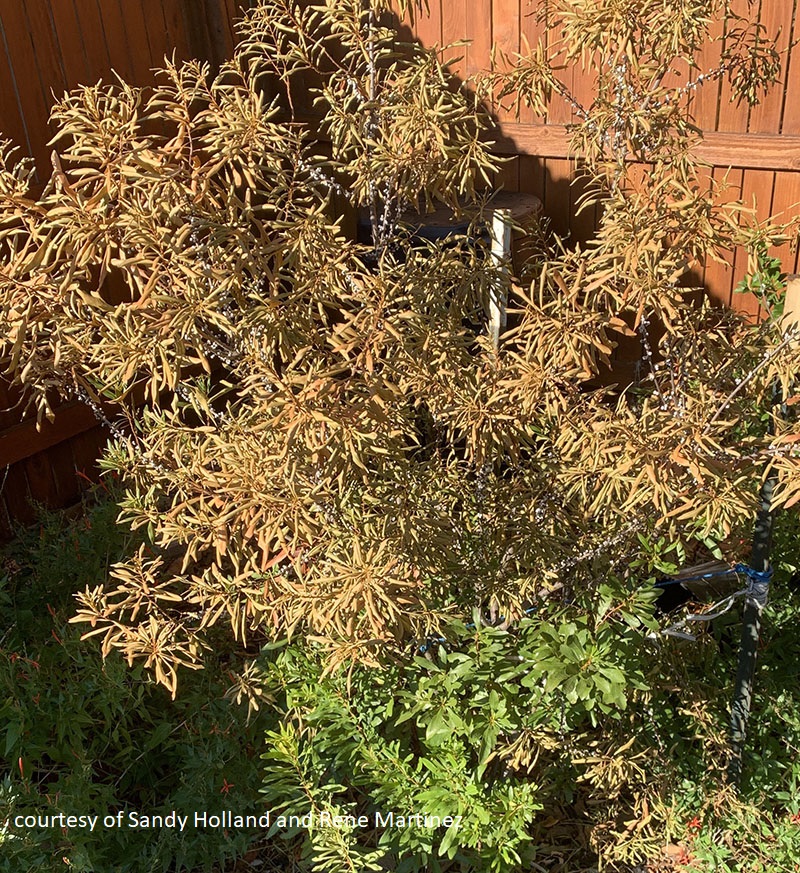 Daphne explains what's going, explains when to move a Texas hibiscus, and shows off viewer pictures from around the state. Watch now!
On tour: Susan Snyder and Mark Hathaway grow memories through their food and flowers, thanks to imagination, sweat-labor, and innovative recycling.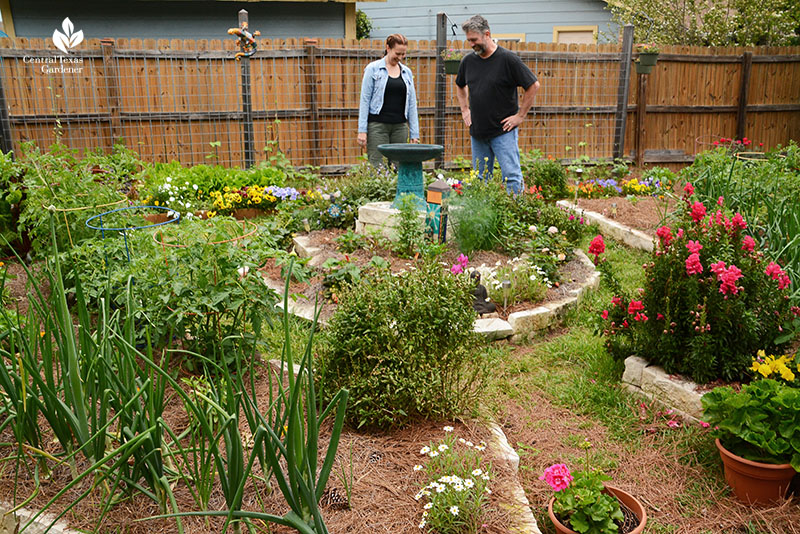 When they went house hunting in 2014, tops on the list was sun and space for gardens.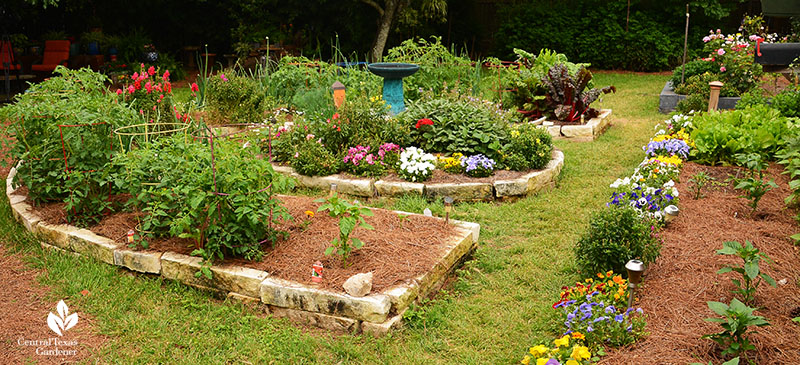 Starting from scratch in hard-baked clay soil, weekend perseverance (aka sweat labor) paid off.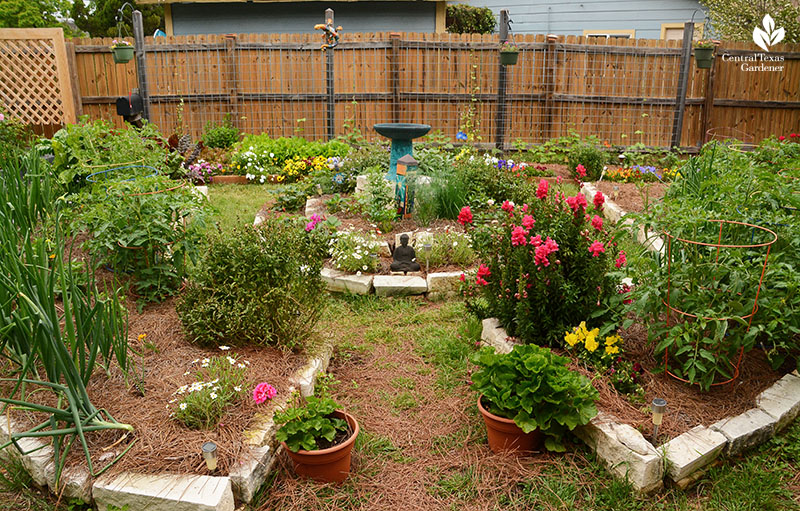 Along the straight-line fence, they grow in raised cinder blocks. They installed cattle panel on cedar posts for climbing crops.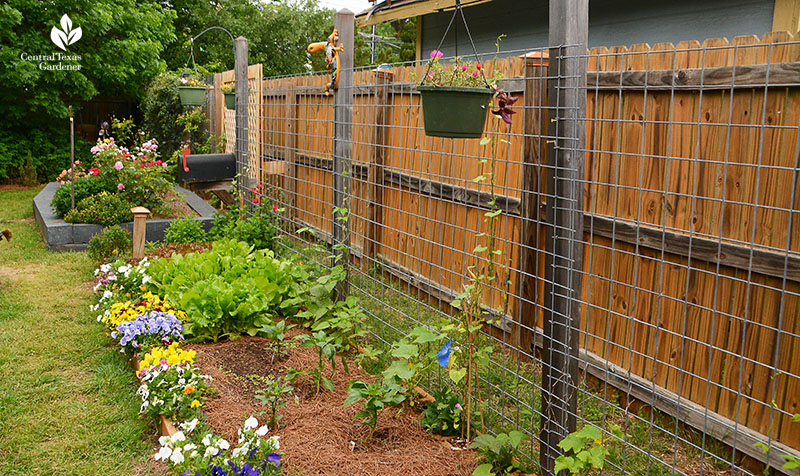 They set it away from their neighbor's fence, plus it lets them walk behind it.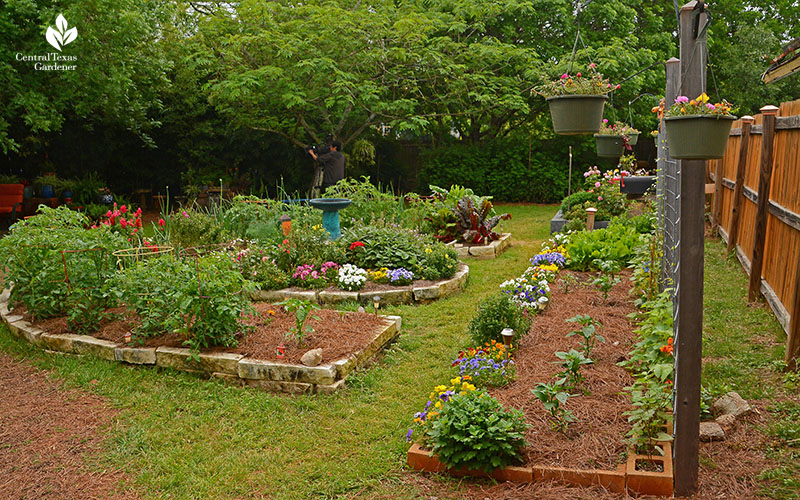 When we taped last April, they were in transition season, so cold weather crops and flowers joined emerging beans and new seedlings. Note the mailbox where they store "need now" tools for easy access!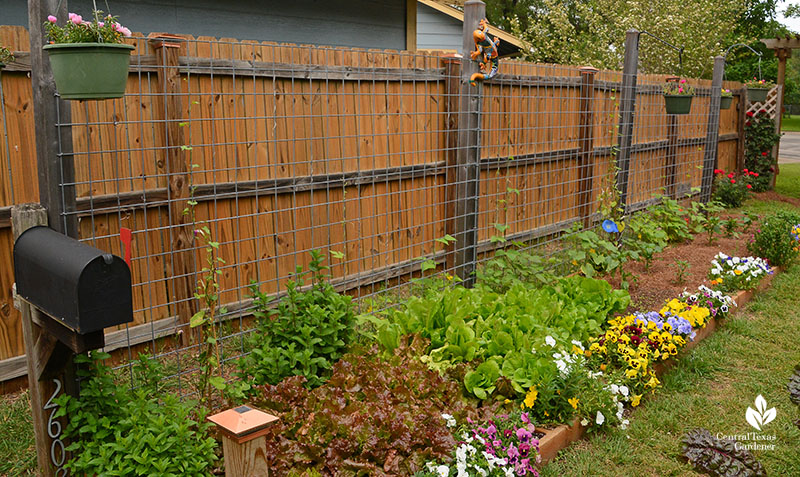 To round things out, they chose limestone for circular walk-around beds. The design allows them to circulate crops every year and the limestone won't rot away like wooden frames.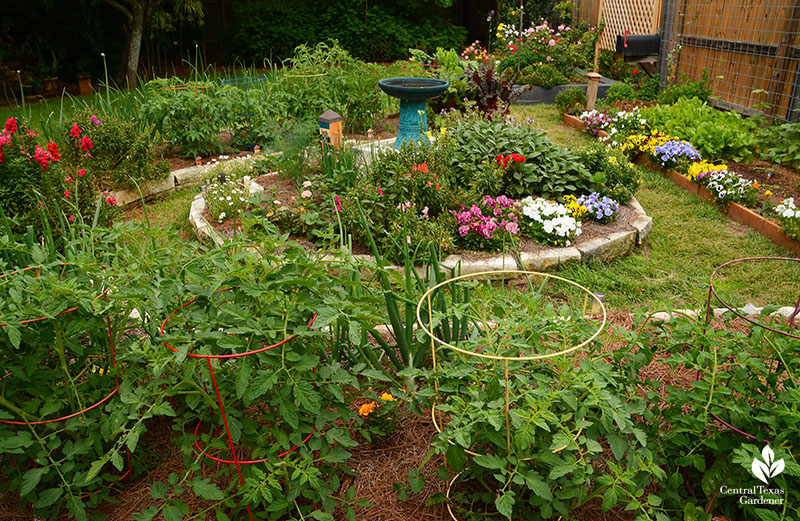 Pine straw mulch protects plants from splashing soil, but doesn't clump and allows rainfall to permeate.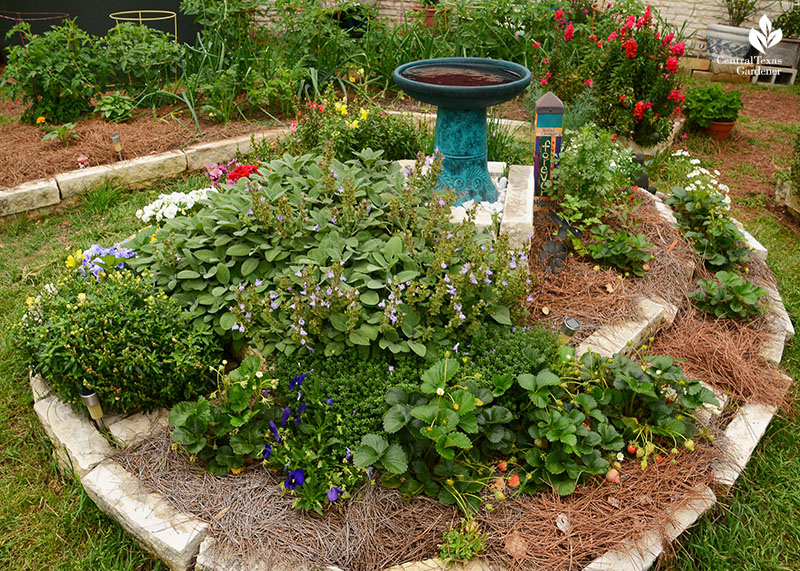 They mix in flowers for pollinators. Sage blossoms brought out the bees even on our cloudy day visit.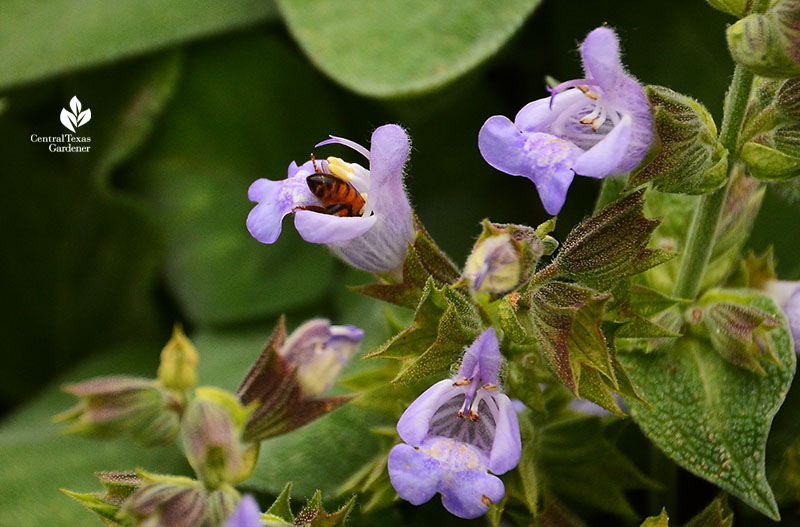 Mark's grandmother advised them how to freeze (and pickle) bounteous tomato and Texas sweet onion harvests.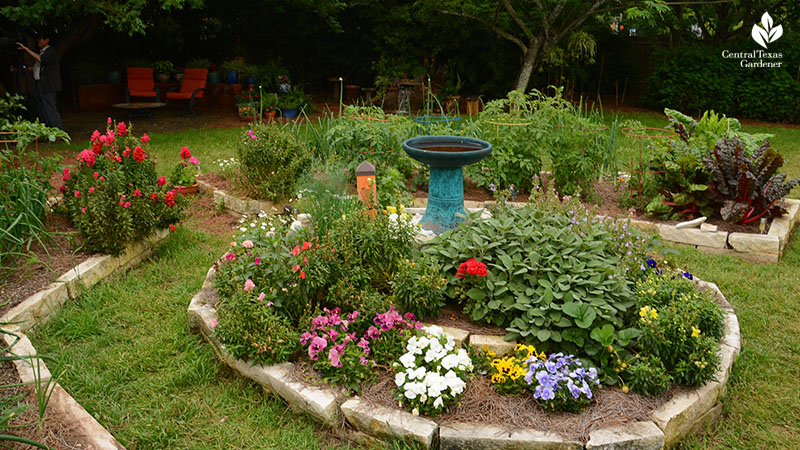 Composite landscape timbers came with the yard, but their bed was a mess. Susan and Mark cleaned it up and installed Earth-Kind hardy, fragrant roses.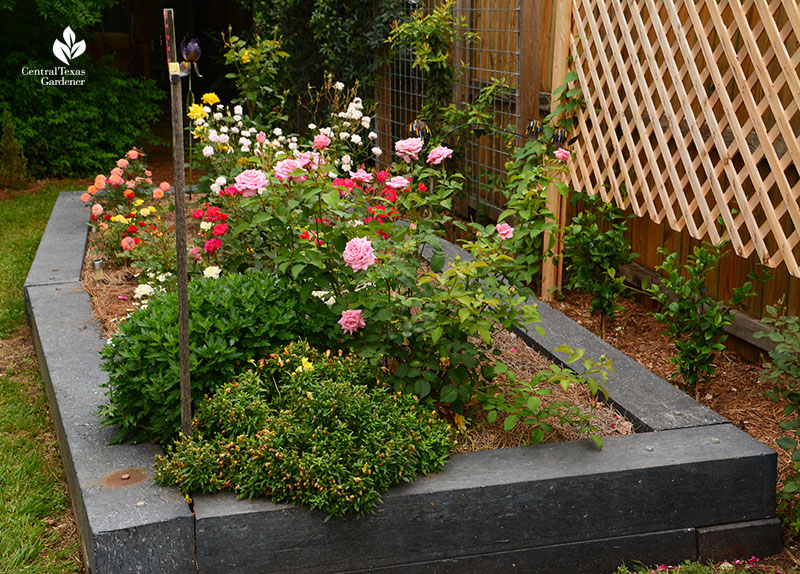 To grow climbing vines like star jasmine, crossvine, and passion vine, they installed cattle panel and a new lattice.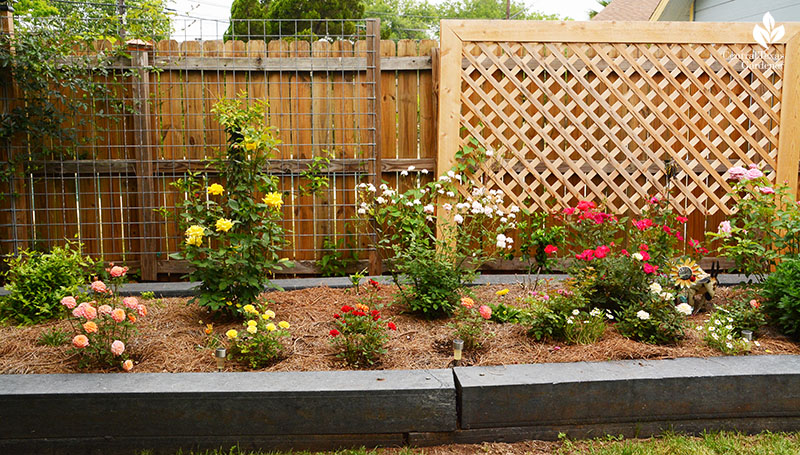 Rather than attach the lattice to the neighbor's fence, Mark sandwiched it with rebar and a simple fence support that can be removed.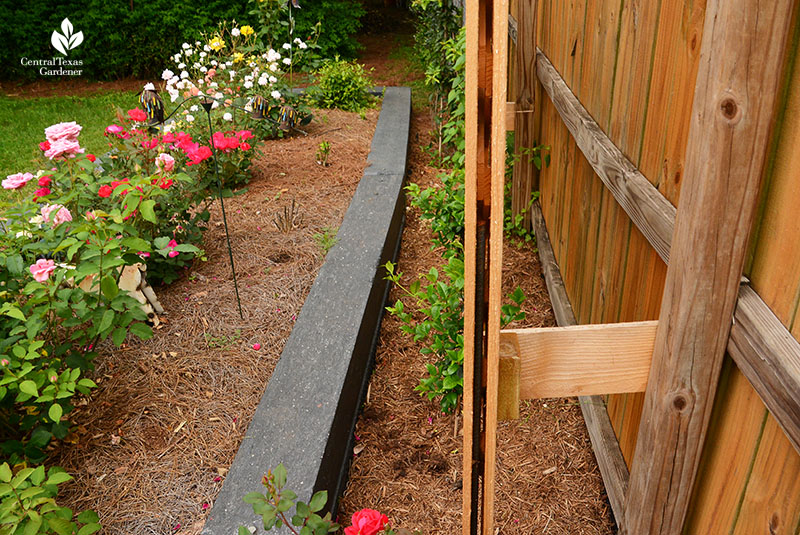 To assist irrigation, they installed a 1500-gallon cistern in back and smaller rain barrels in back and front.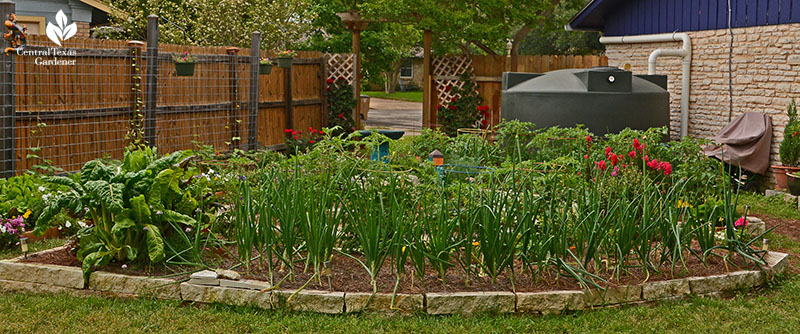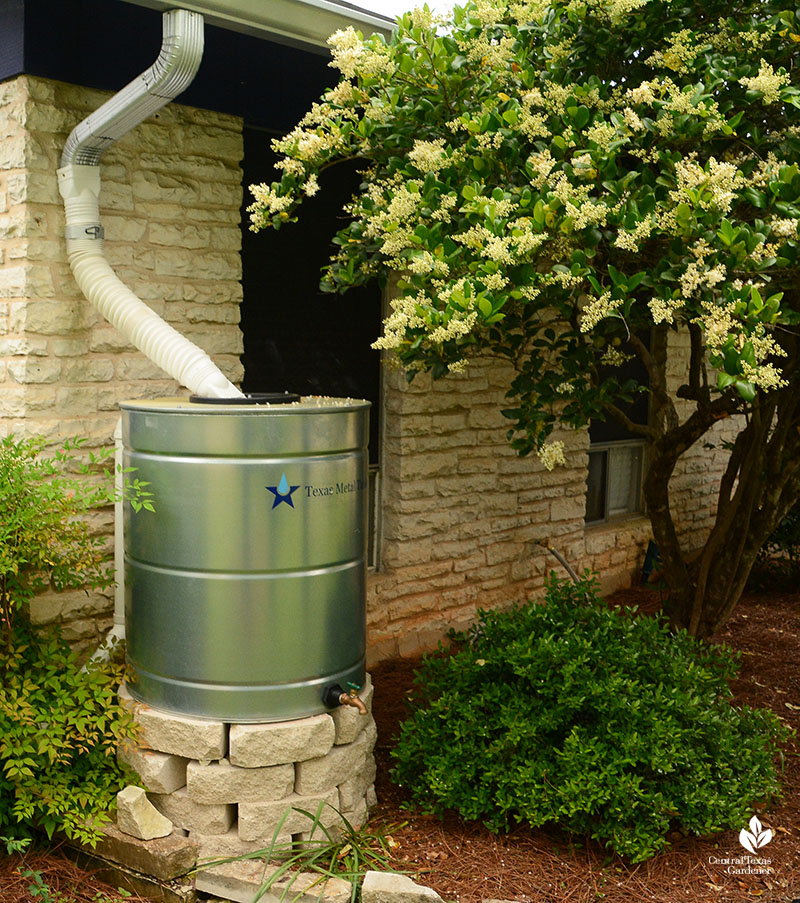 Their tip for success: compost! A spot in back became "compost corner." Mark sifts with a hinged frame.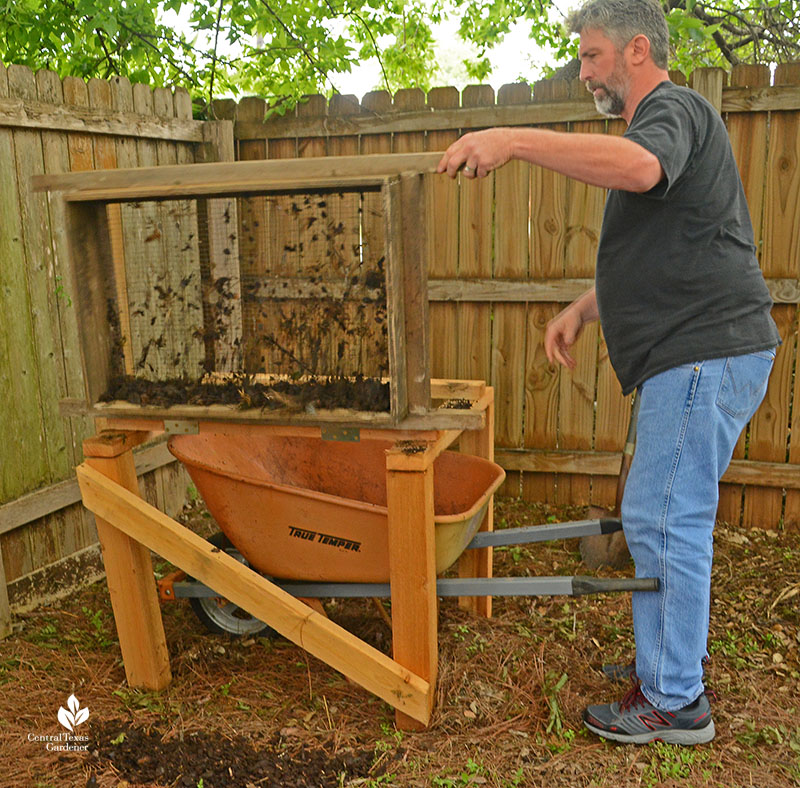 They (painfully) broke ground again to build a small pond and waterfall to attract the wildlife they love, and to qualify for as a National Wildlife Federation Certified Backyard Habitat.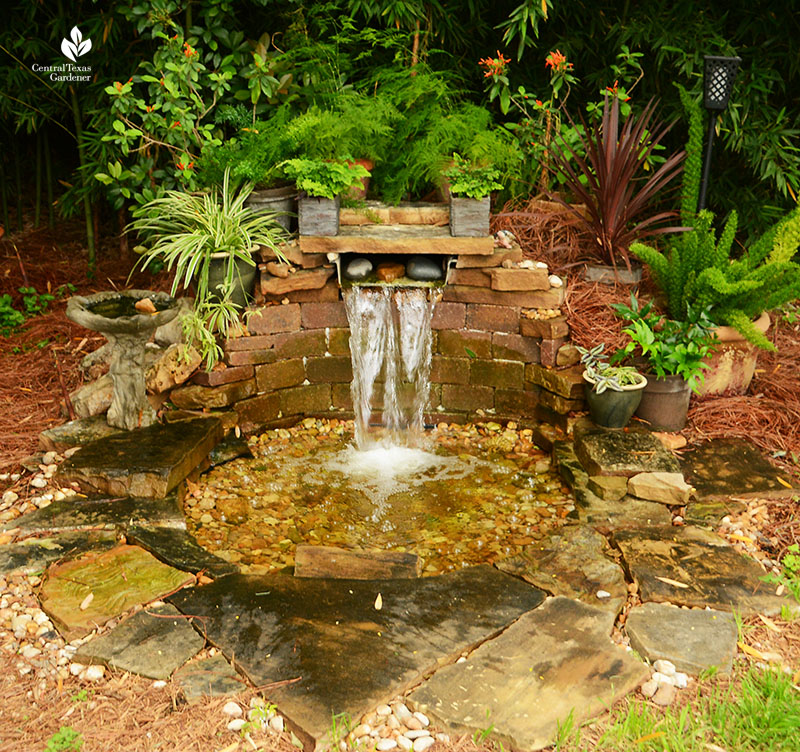 Nearby, they defined a patio with flagstones and a cinder block wall topped with container plants.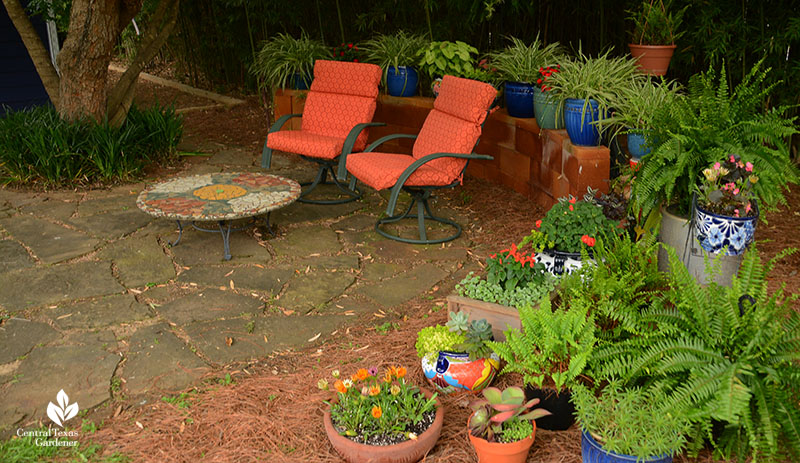 For a distinctive table, Susan created a mosaic top with discarded tiles. She repurposed its base from a rotted out firepit.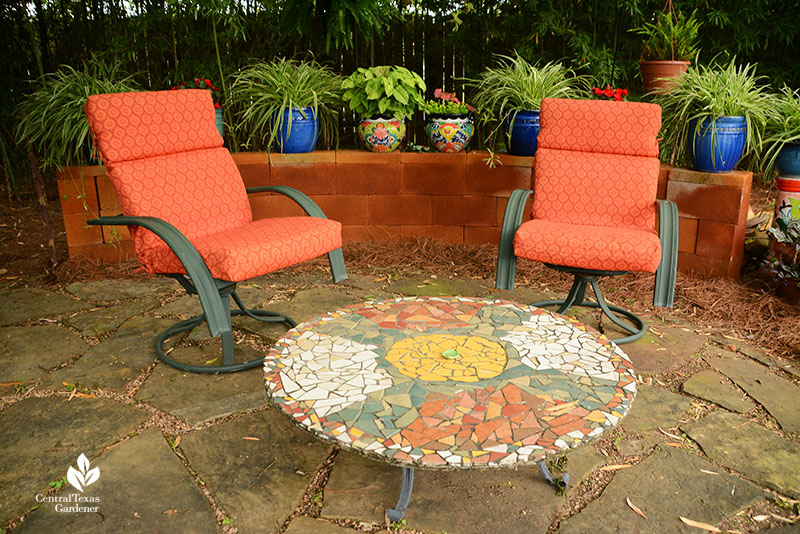 When she nabbed a wrought iron table and a glass plate from Goodwill, she crafted a unique mosaic from leftover bathroom tiles.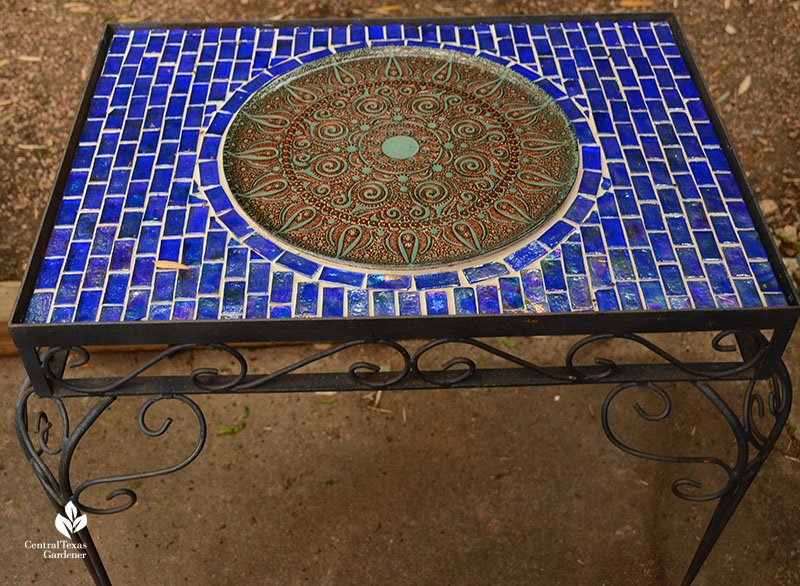 In a back, shady corner, they built an outdoor kitchen framed with a cinder block wall, colorized
with liquid iron sulfate and a paintbrush.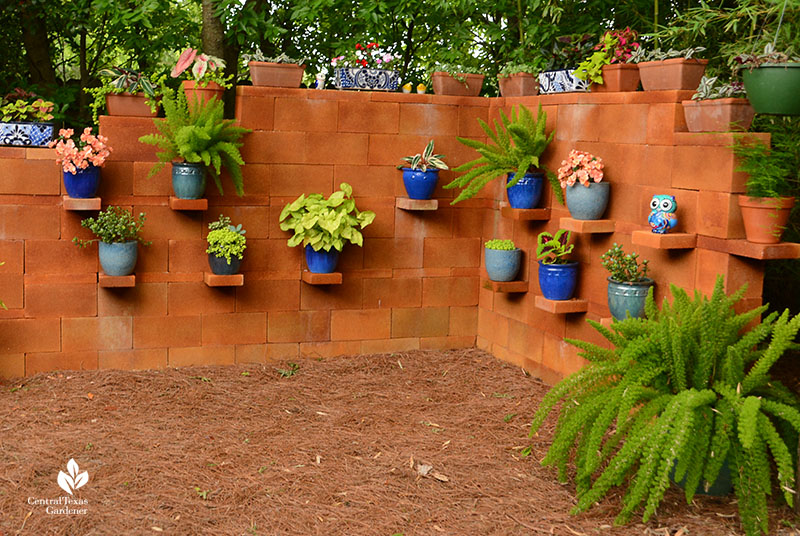 Since most of the garden's in sun, here's where they stage colorful shade lovers in containers.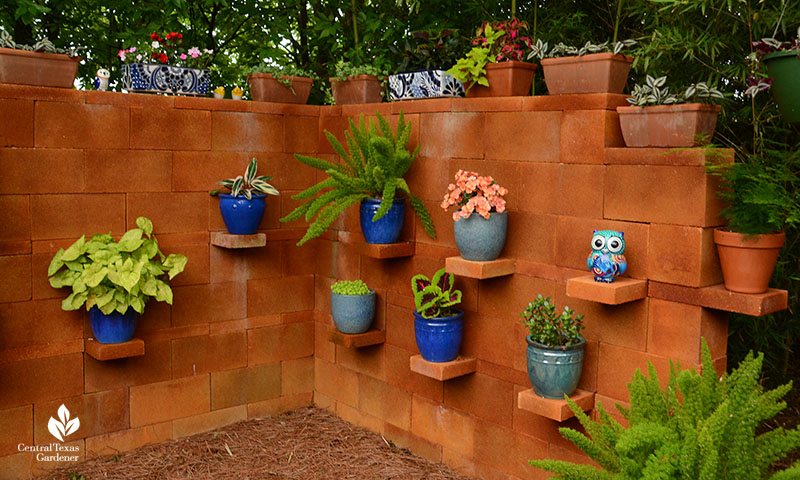 They jazzed up the screened-in porch as another living room, including for their cats. Susan painted it the color of her childhood home—a color that her mom loved—and one that my camera on a dark day didn't capture accurately!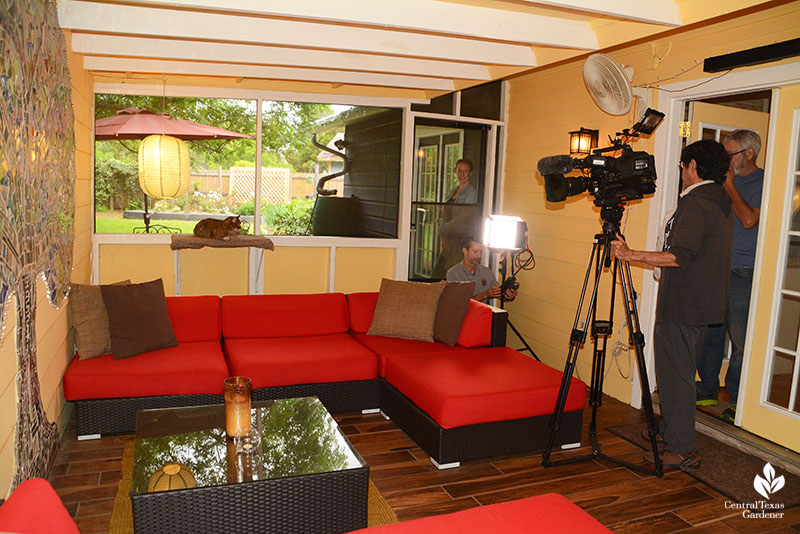 It's also the catio so their pets can get a whiff of the outdoors and watch the wildlife without "interacting" with them.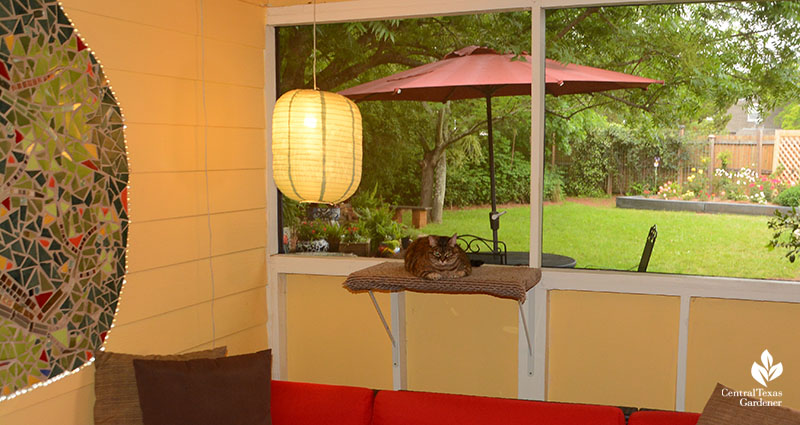 A big project was their mosaic tile tree. From around town, they collected discarded and demo tile. Over several learning curve weekends, they designed a tree that unites their growing philosophy indoors and out.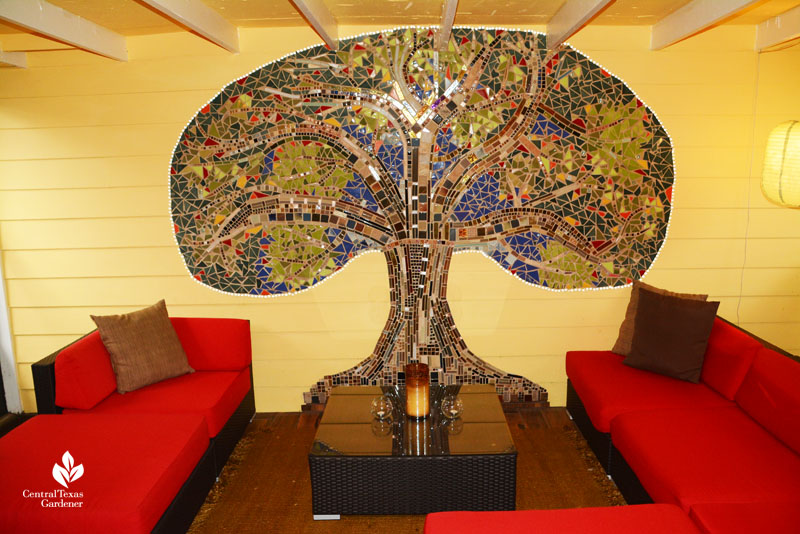 Susan and Mark's laughter and passionate story is sure to inspire all your adventures, so watch now!
Thanks for stopping by! See you next week, Linda
Comments