January 23, 2020
Whimsical Charm in San Antonio + Sharon Lovejoy Wonder
Although we've never met, 9-year-old Elena Jones is my soul sister! Her garden is a nature discovery adventure where last fall she spotted ladybug larva, pupa, and adults on bottle gourds that had finished their season. She and mom Christine made my day with their email!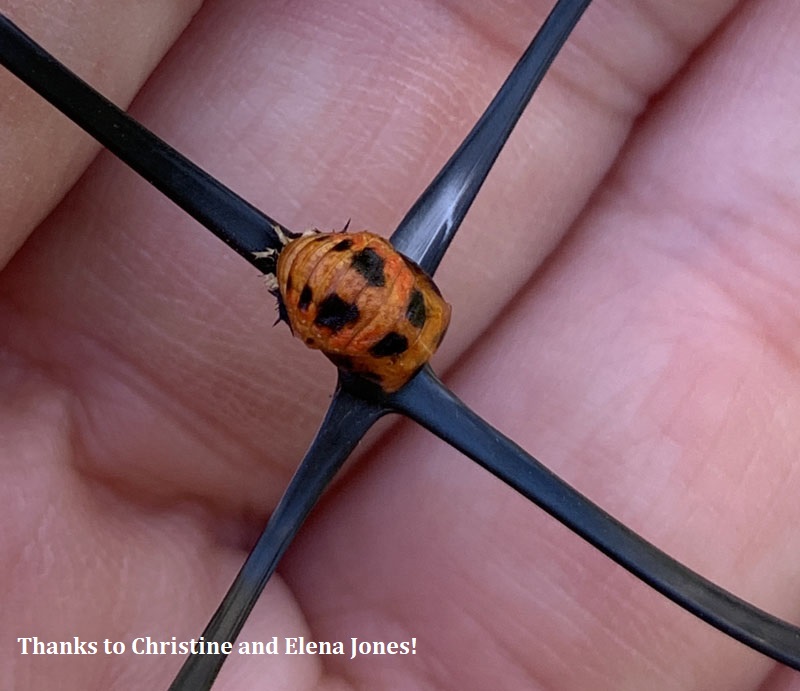 Daphne tells their whole story along with other remarkable viewer finds.
Someone else who's given me a sense of wonder (and lots of encouragement) is beloved author and illustrator Sharon Lovejoy and her dear husband Jeff Prostovich who've joined us on CTG many times on their way cross-country.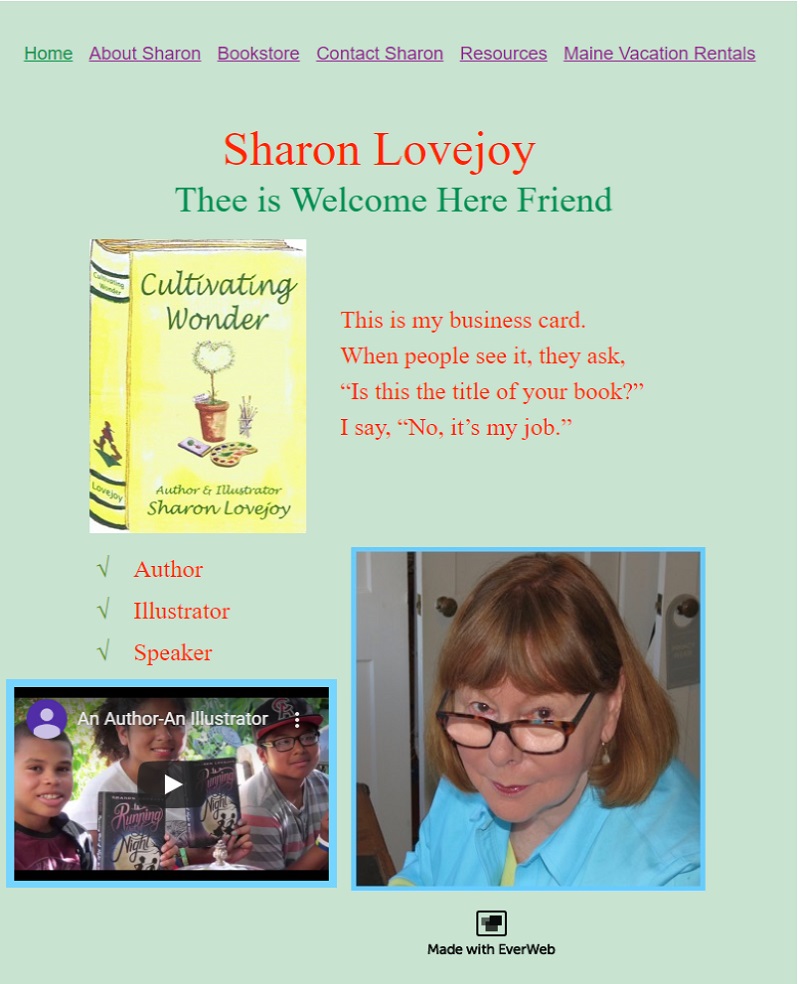 I love all her books, including Trowel & Error, my trusty go-to for colorfully illustrated quick tips, solutions, and remedies.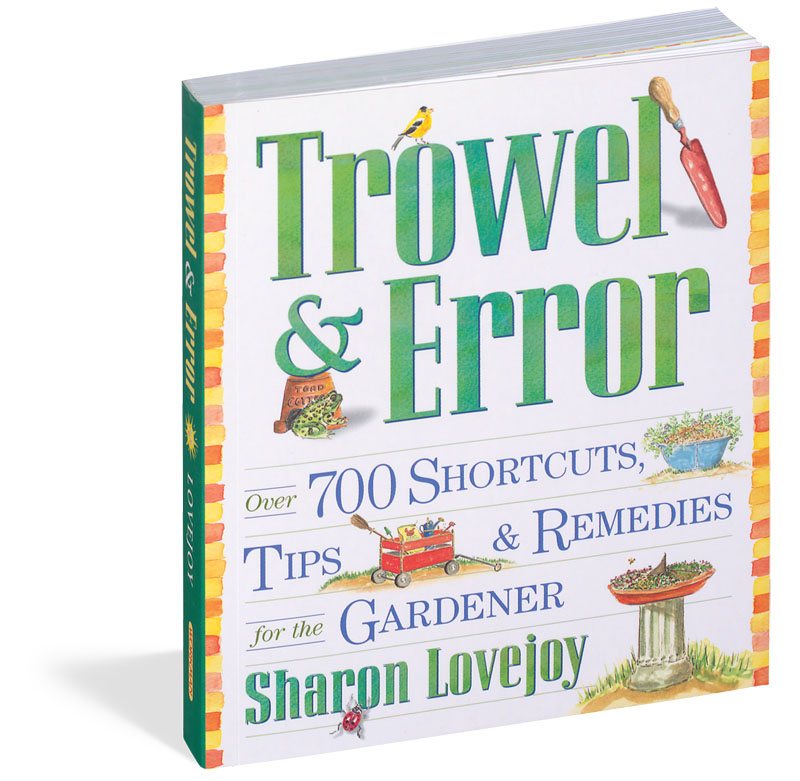 Roots, Shoots, Buckets, and Boots celebrates its 30th anniversary fascinating young gardeners and their equally enthusiastic older companions.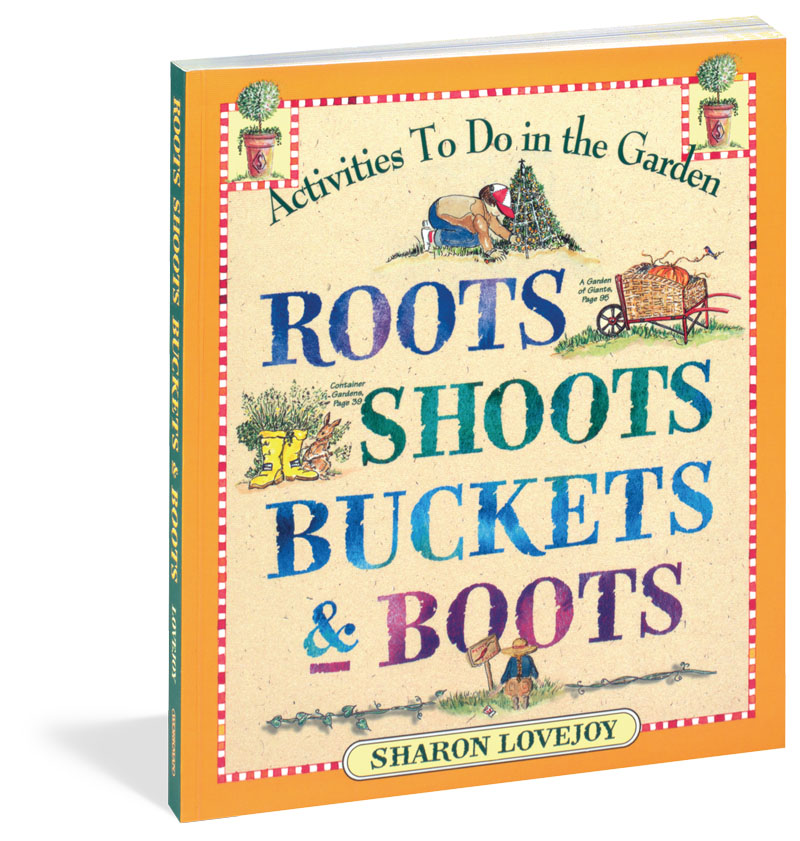 So, it was a very special day when Sharon and Jeff "stopped by," even skirting a tornado. Sharon wows John Hart Asher—and us all—with her curiosity and fun, clever outdoor projects that cultivate wonder and joy.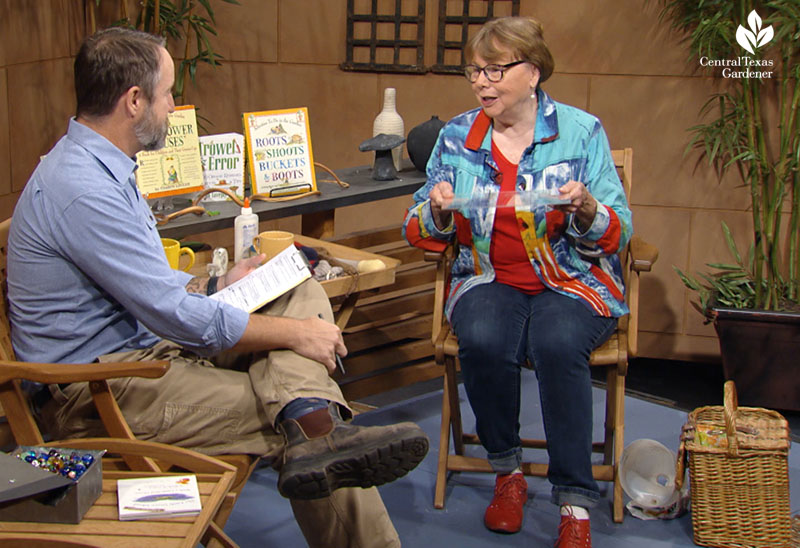 Watch now!
Another woman who's taught me and countless others is ever-energetic, knowledgeable Travis County Master Gardener Sheryl Williams knows how to teach and inspire with passion. Now she's an Extension Horticulture Program Assistant (Daphne's assistant!). CTG is thrilled to welcome her this week in her first Backyard Basics (nailed it). She plays companion plants matchmaker (and notes which ones don't play well together).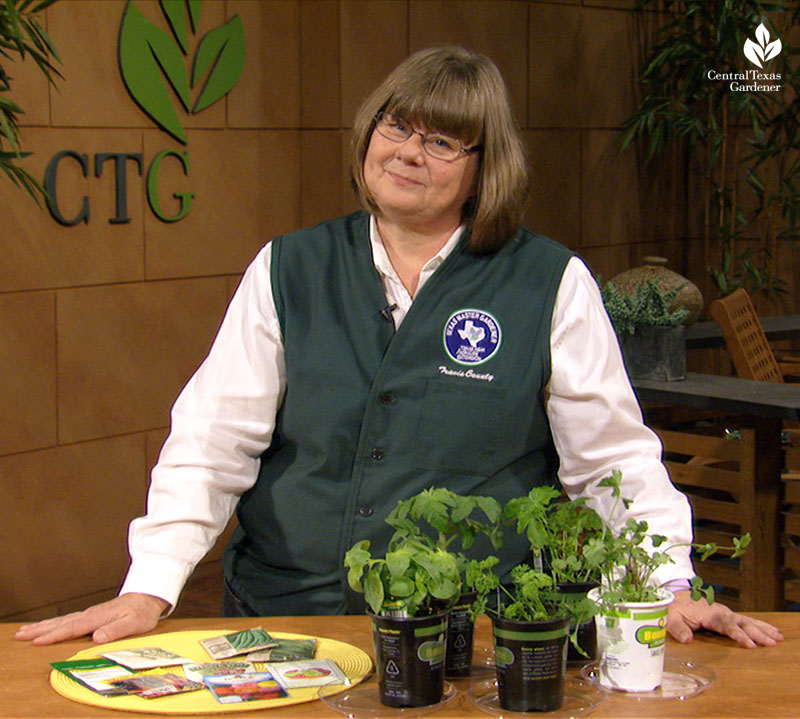 On tour in San Antonio's historic Monticello Park neighborhood, a Tudor Revival house built in 1928 got a garden revival thanks to artists Maria and David Guerrero.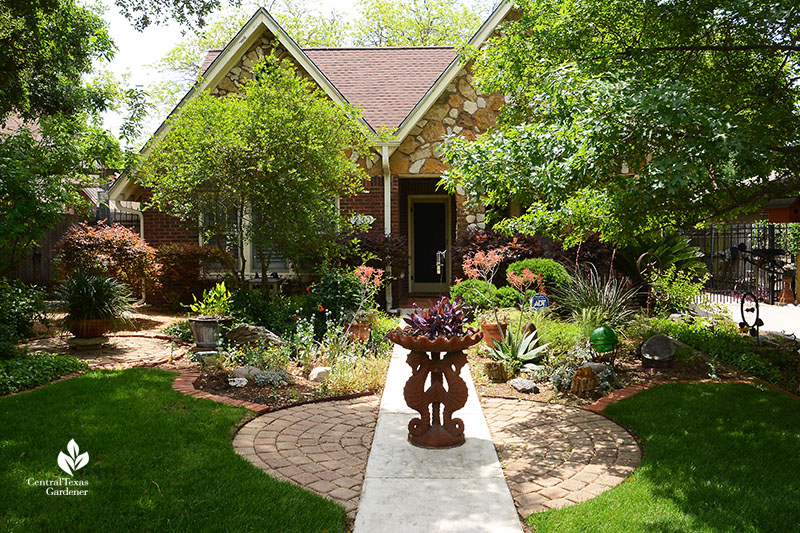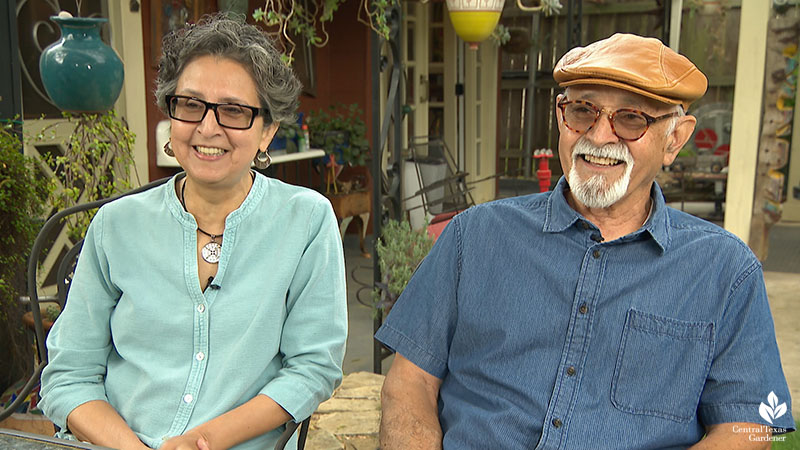 When they bought their home in 2006, the yard lacked the charm it deserved. They put a new spin on it with patterns and art that David crafted from cast-offs.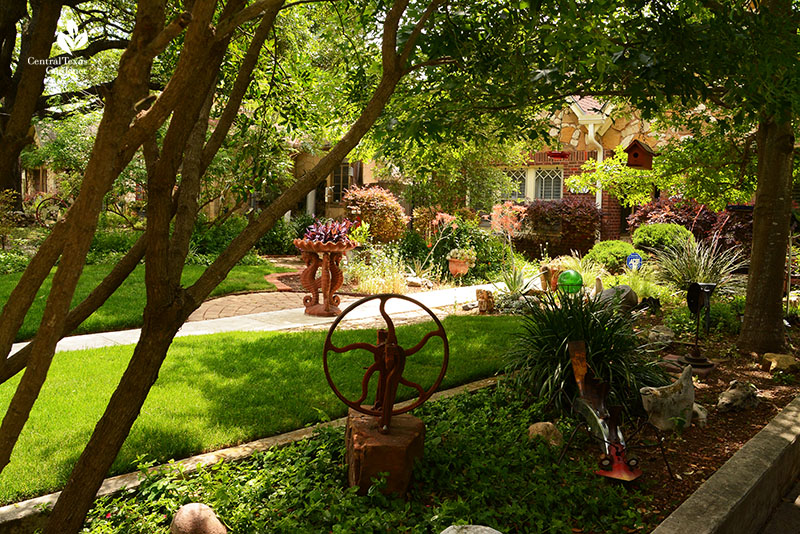 The backyard was pretty much blank except for one pecan tree. Not wanting just a plain old square, David laid the stage for outdoor living and his art with flagstones, decomposed granite, and an embracing deck of non-slip recycled interlocking rubber floor tiles.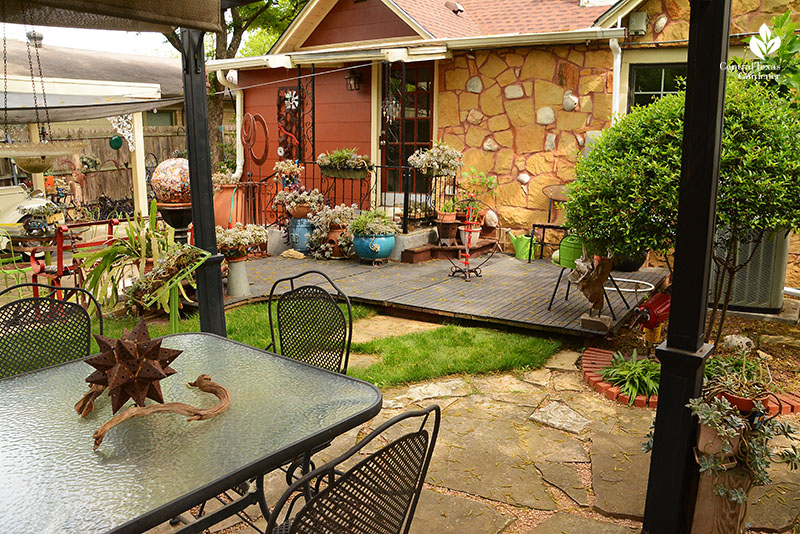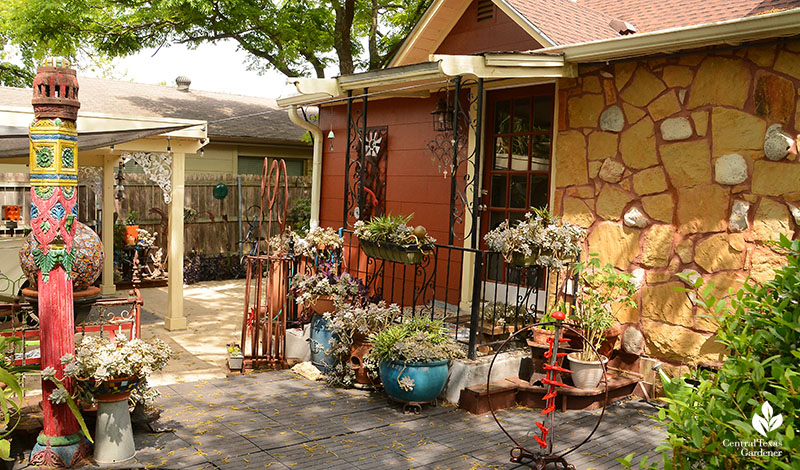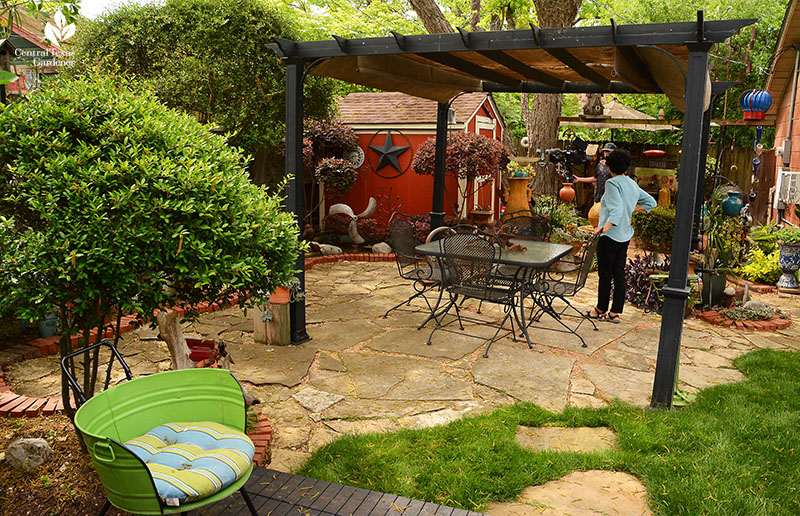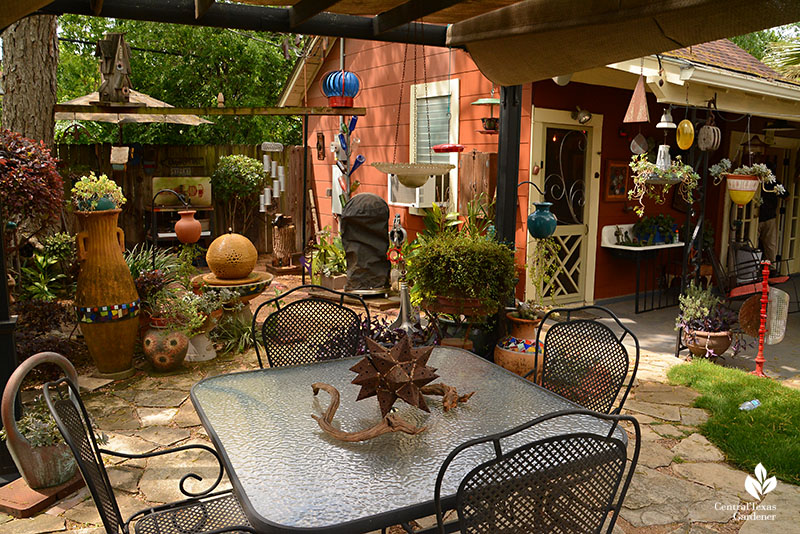 They engineered room for David's meticulous restoration of vintage cars, one at a time. When we were there, he was completing restoration of a 1939 Sunbeam Talbot. Since parts aren't available for this historic British car, he makes or modifies them.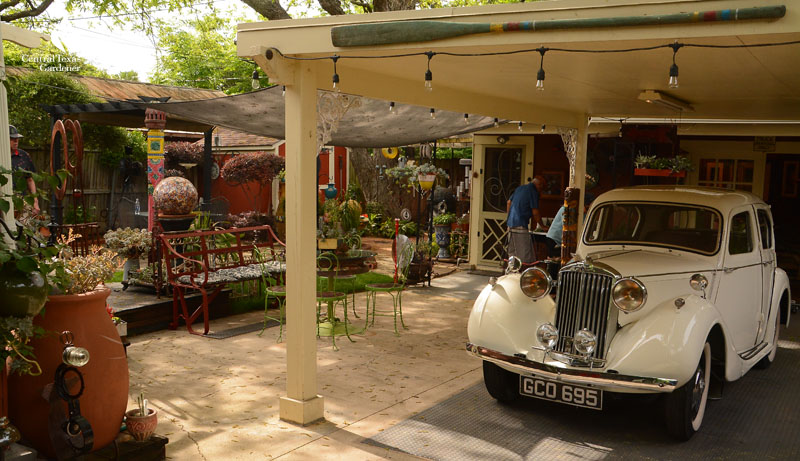 Five years ago, David got into welding. Their treasure hunts around town spur imagination where he sees shapes and potential kinetics in every discard.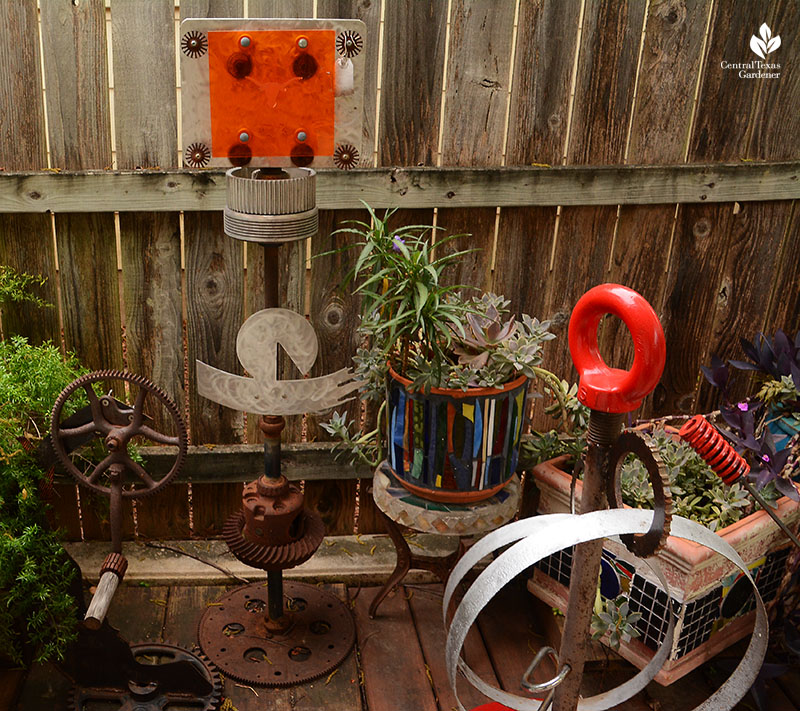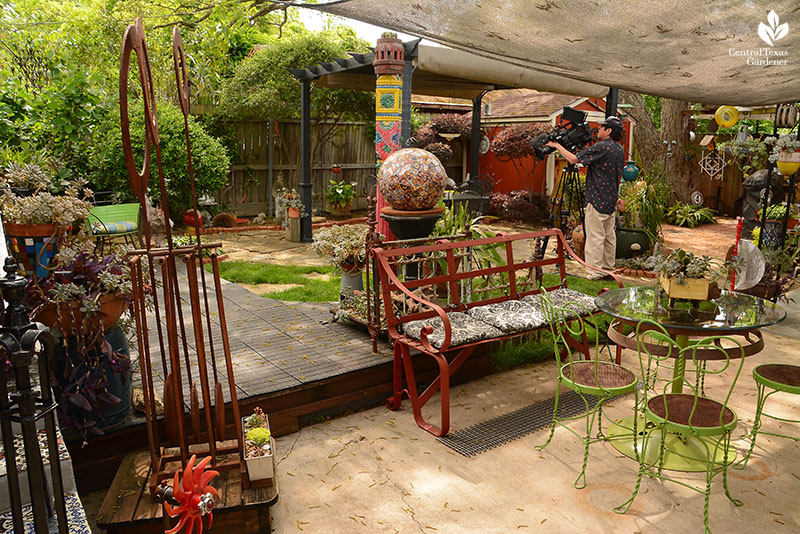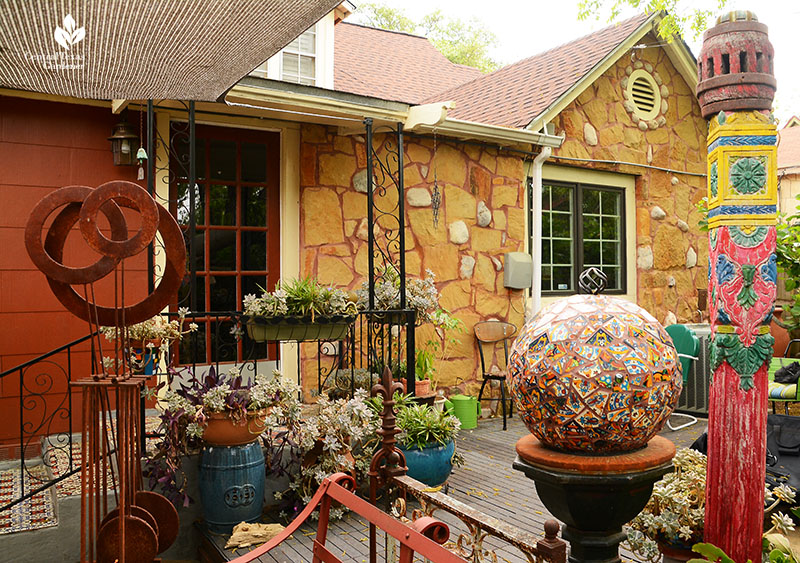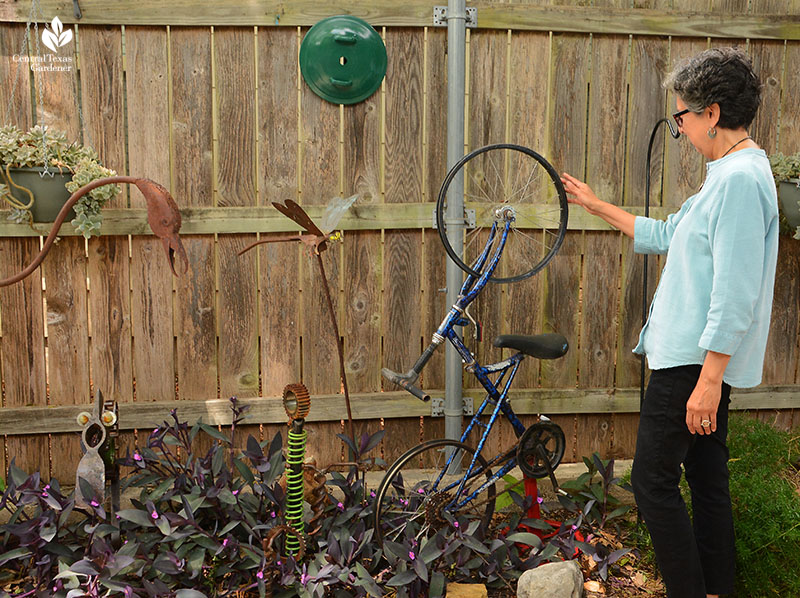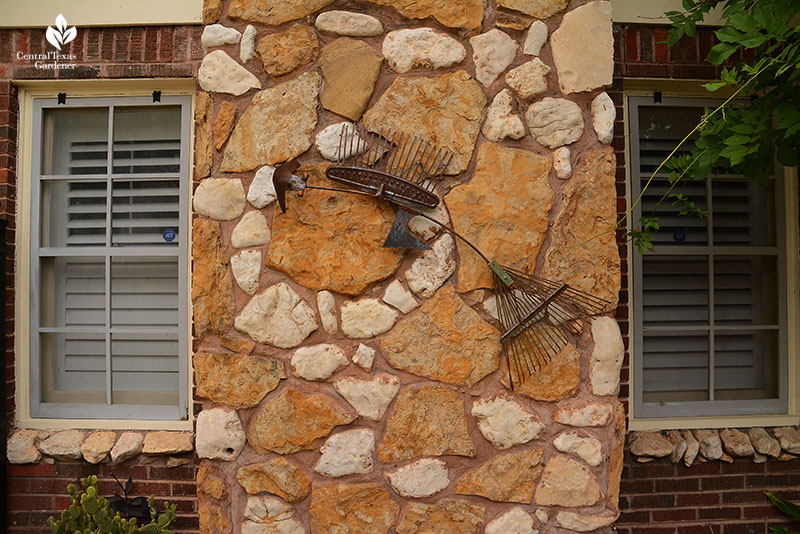 Cannon wheels became the base for a table. Old toys truck in new succulent cargo.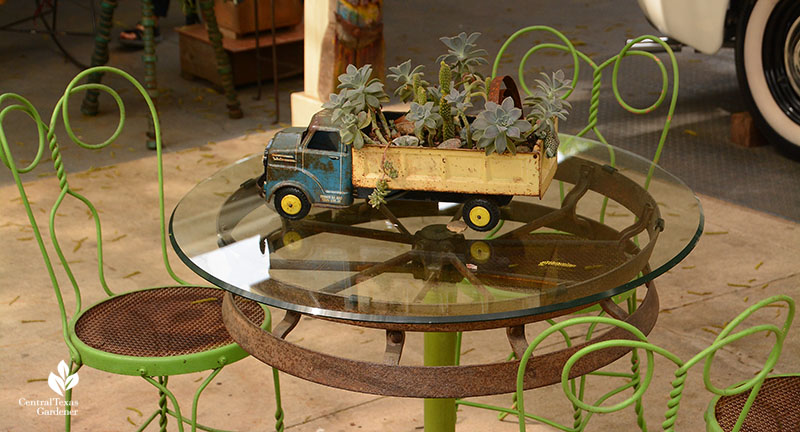 David got into mosaics when their neighbor—a stained glass artist—gave him her scraps. A succulent scoop tops a styled-up container.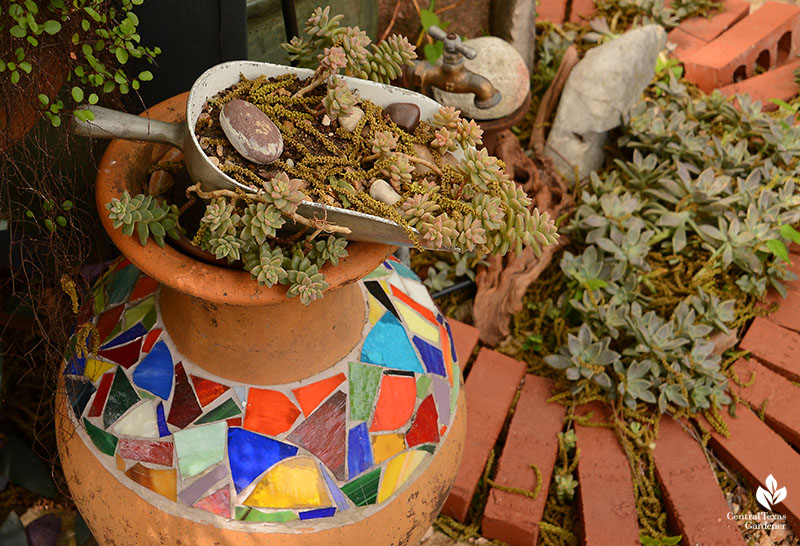 When they turned the garage into their studio, its very entrance inspires creativity.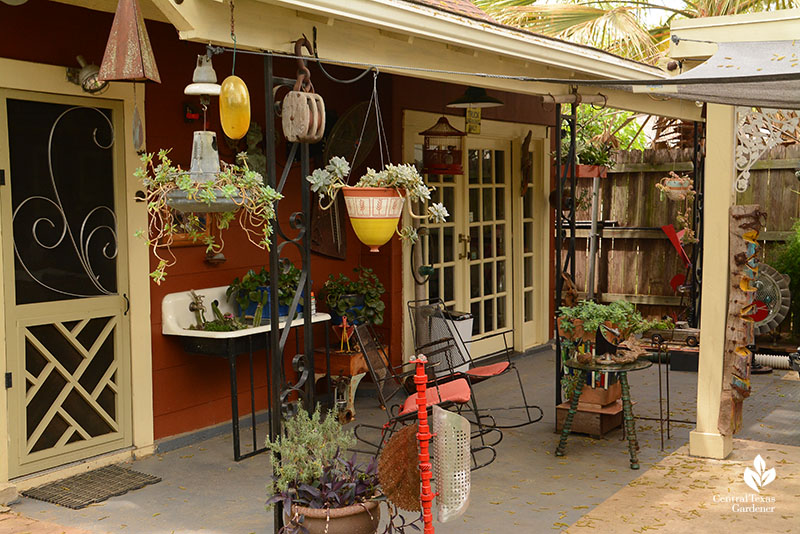 They didn't sink much money into this design.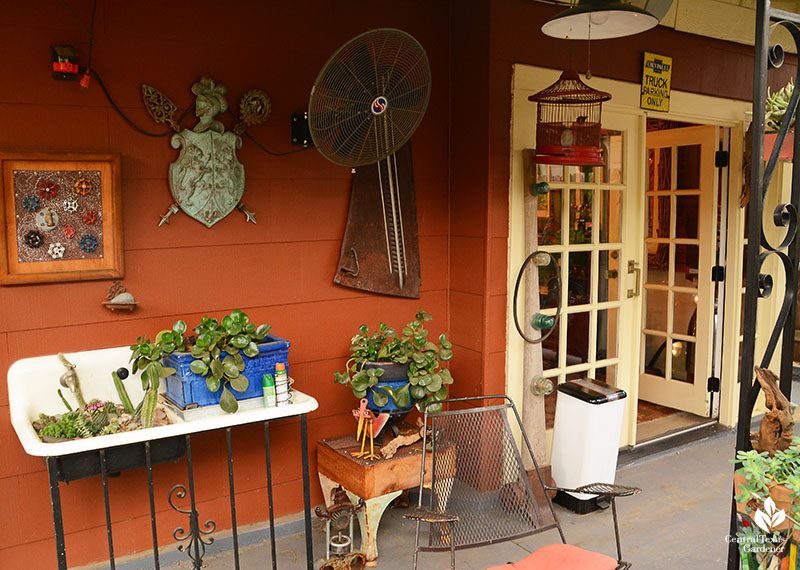 David loves animals of all kinds. Since lizards love their habitat garden, he honored them with Dremel-carved design into a limestone stepping stone.


Life-life animal creations join ones that exist only in his imagination.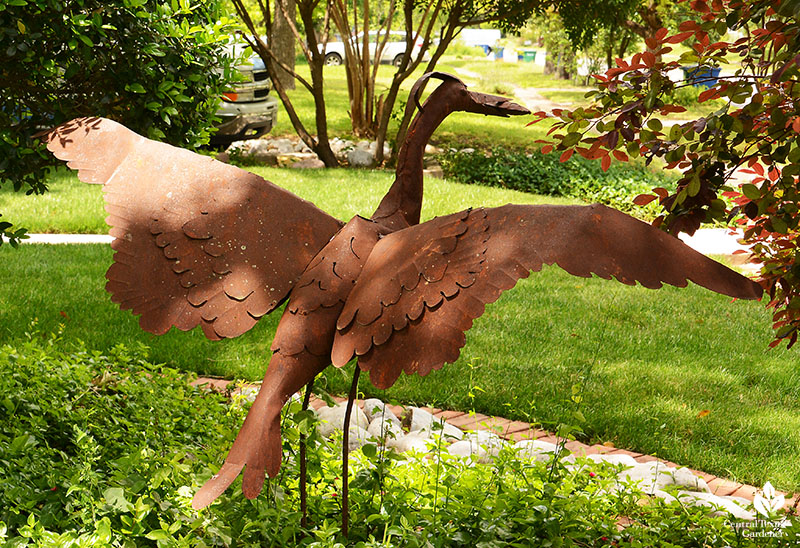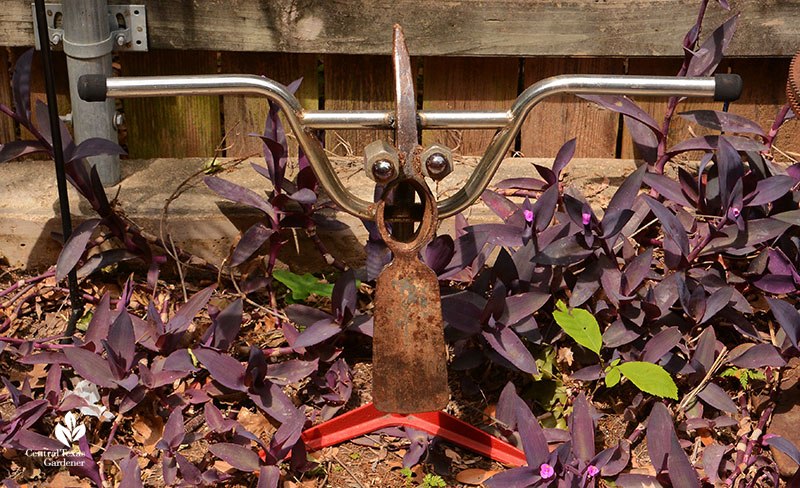 He stepped up a decomposed granite path with an old gear and castoff bricks.


His designs may be whimsical, but their placement is judicious, since he places each one to complement plant forms as well as foliar and flower color.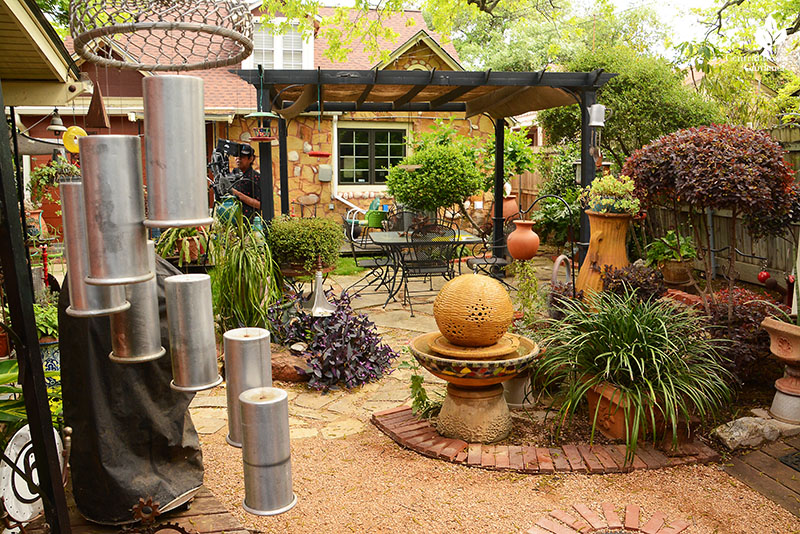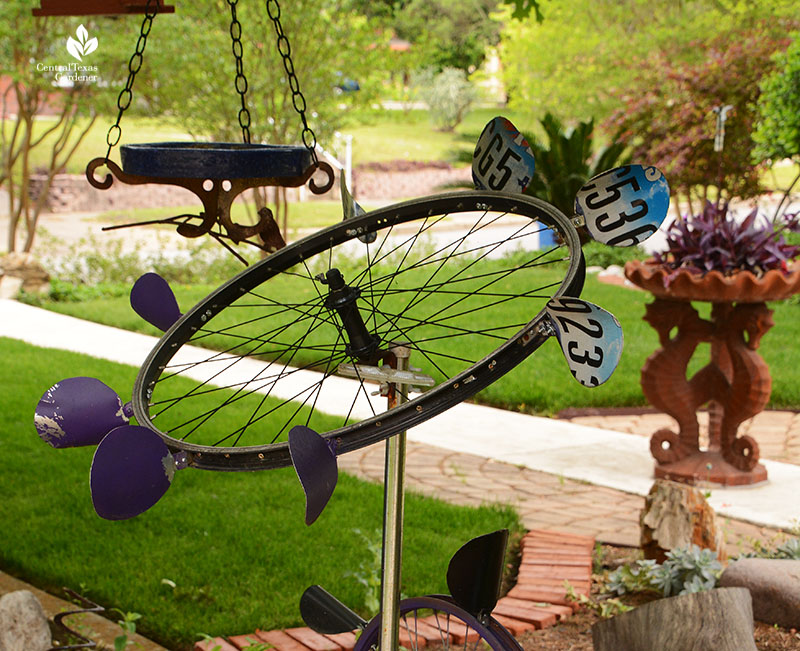 In their studio, where David's desk is the front end of a 1952 Chevy truck, Maria creates stunning, one-of-a-kind jewelry with antique and vintage buttons.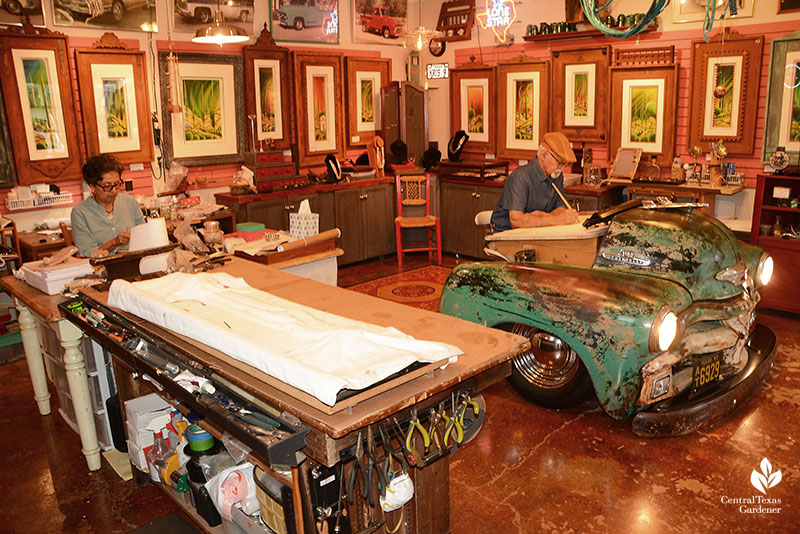 They are positively gorgeous! I plan to own one, for sure.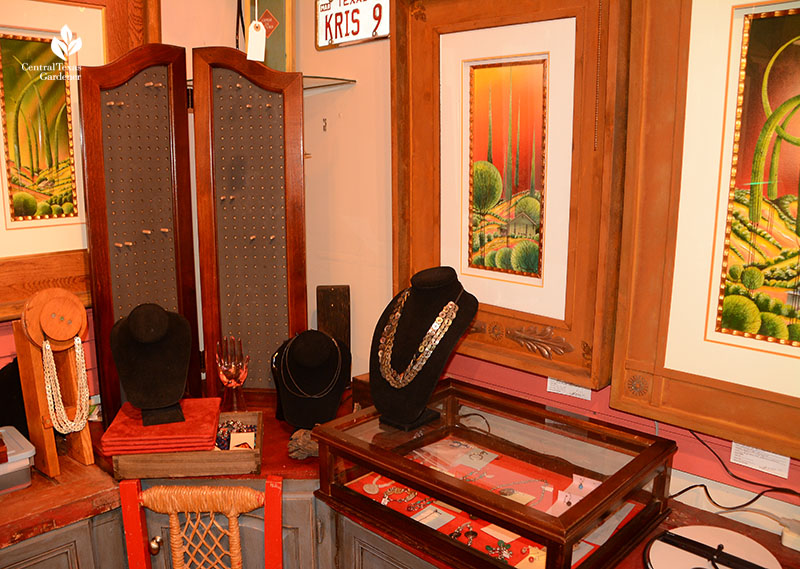 David snags a few to accessorize plants.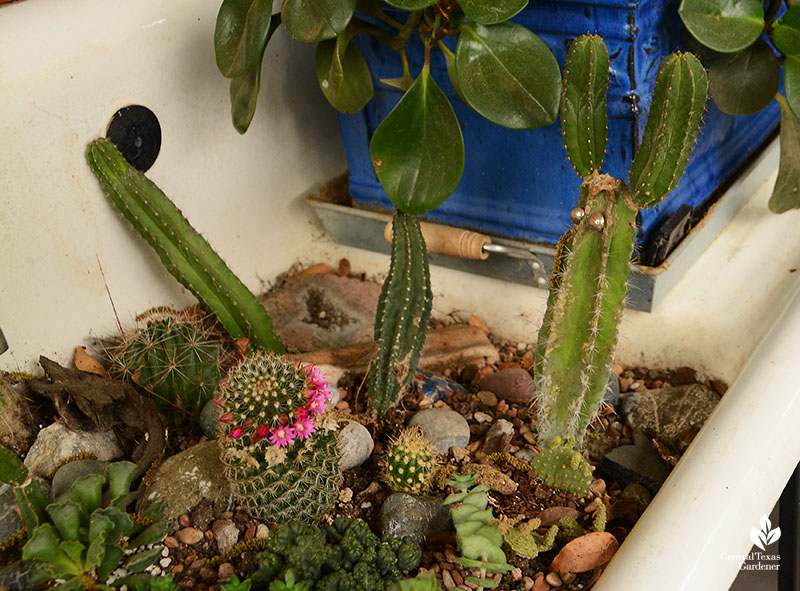 In 2007, they joined Bihl Haus Arts director Kellen Kee McIntyre, artist Dale Jenssen and other
artists to found the On and Off Fredericksburg Road Studio Tour. In fact, CTG's director Ed Fuentes first met the Guerreros on the tour a few years ago.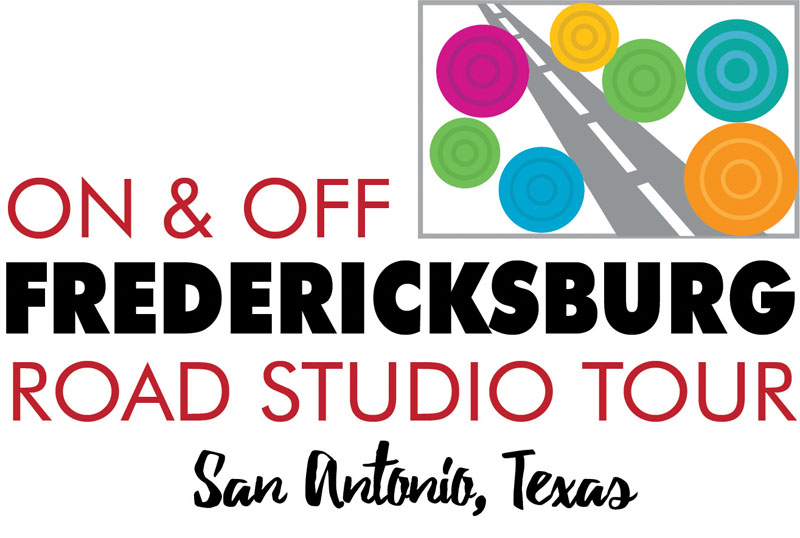 Celebrating its 13th anniversary, this popular San Antonio tour featuring 80 local artists and many events is one you don't want to miss this year on February 22-23. Here's the info so you can meet Maria and David and all the talented painters, sculptors, photographers and metal smiths at work in their studios.
Watch the whole story now!
And thanks for stopping by! See you next week, Linda
Comments