April 29, 2020
Zooming Pollinators, Even in Dry Times
Porch-side brunch pickup was busy last weekend when I served a fast-paced crowd of bees (and wasps) the Sunday specialty: daylilies!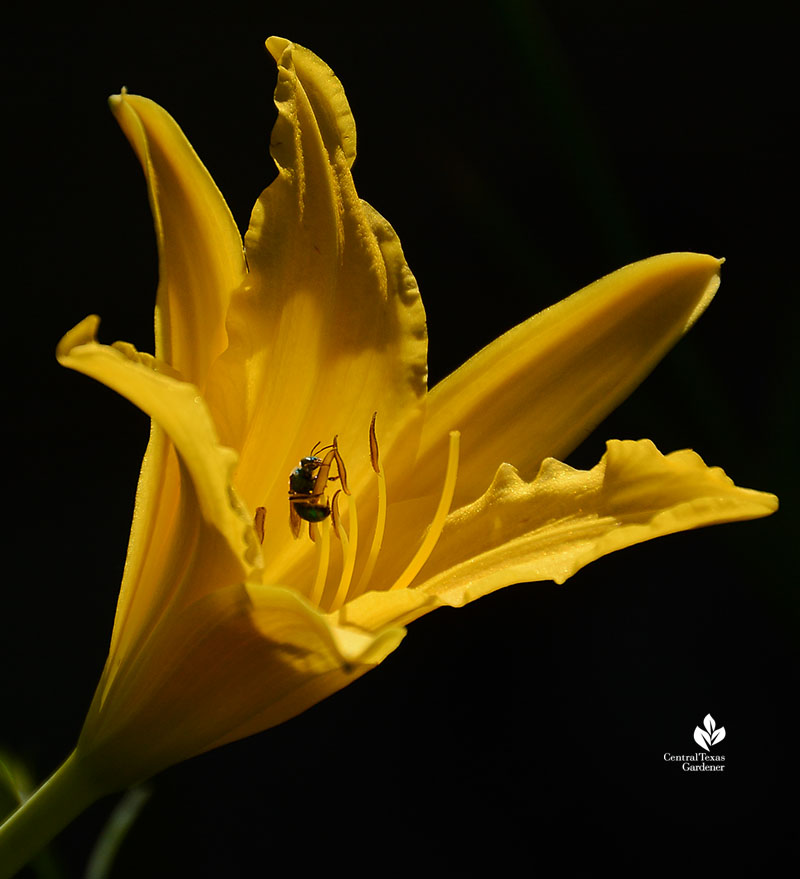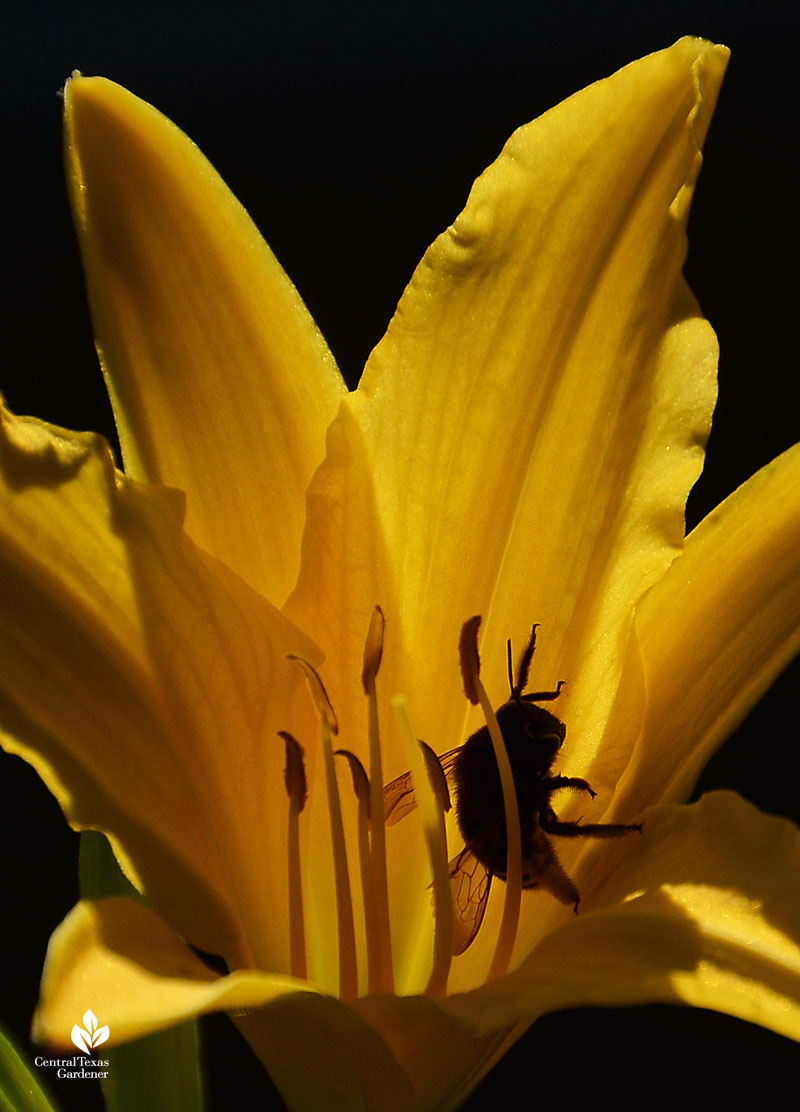 Monday afternoon's frisky breeze didn't unlock a Monarch butterfly from my native coneflowers.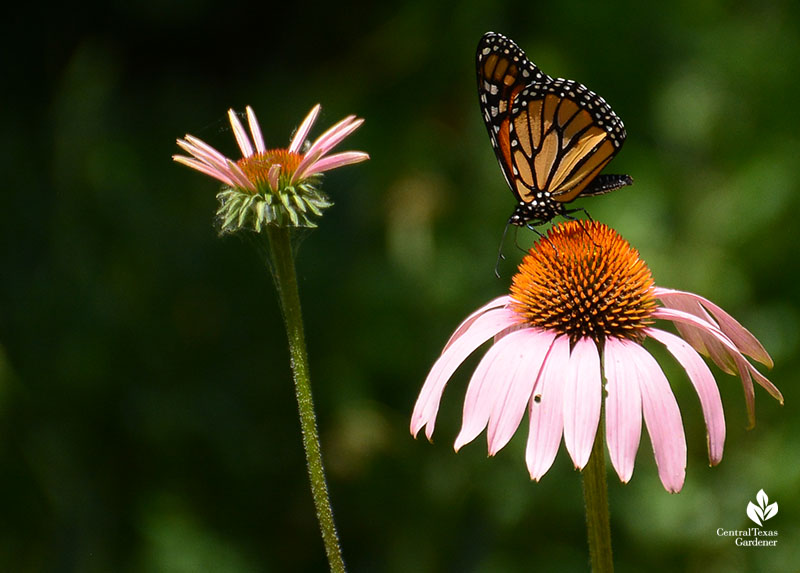 Rather than zooming off to the next meeting like bees, the butterflies—including Painted Lady—serenely sipped.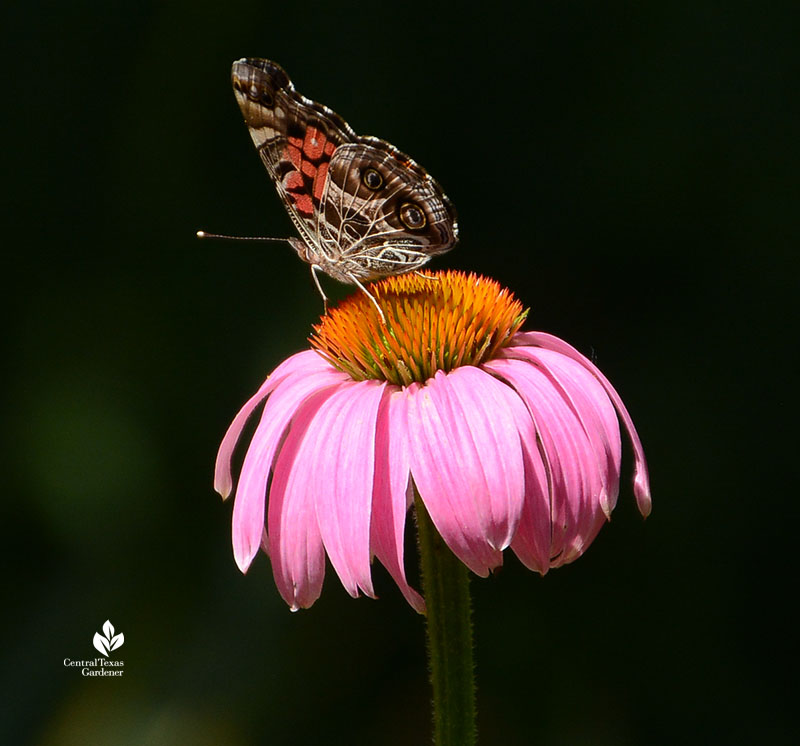 I didn't plan this clump of coneflowers. When the intentional island bed plants flung their seeds, they happily nested in hot, dry, gravelly spots between the flagstones.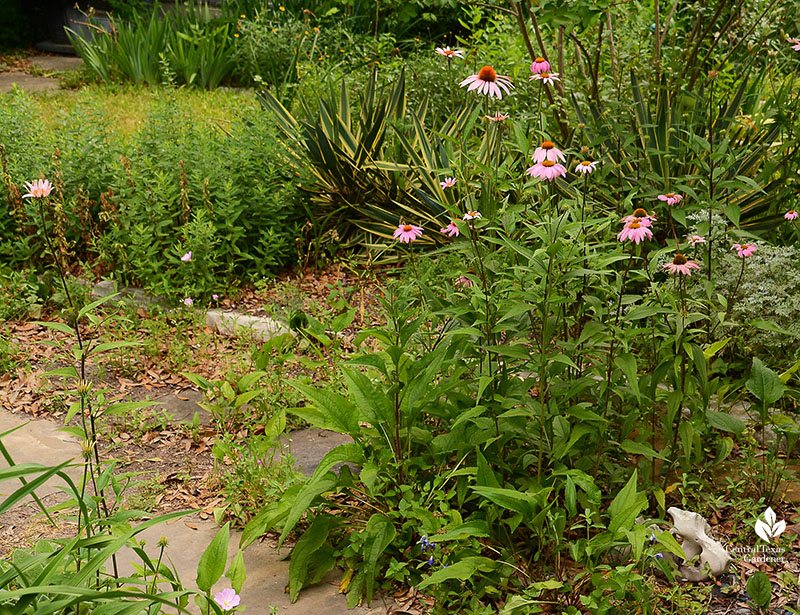 Plants in my garden, whether native or not, take drought in stride. They may wilt in afternoon's sun as temps heat up, rebounding when the sun sets. They survive with rainfall or brief irrigation in summer.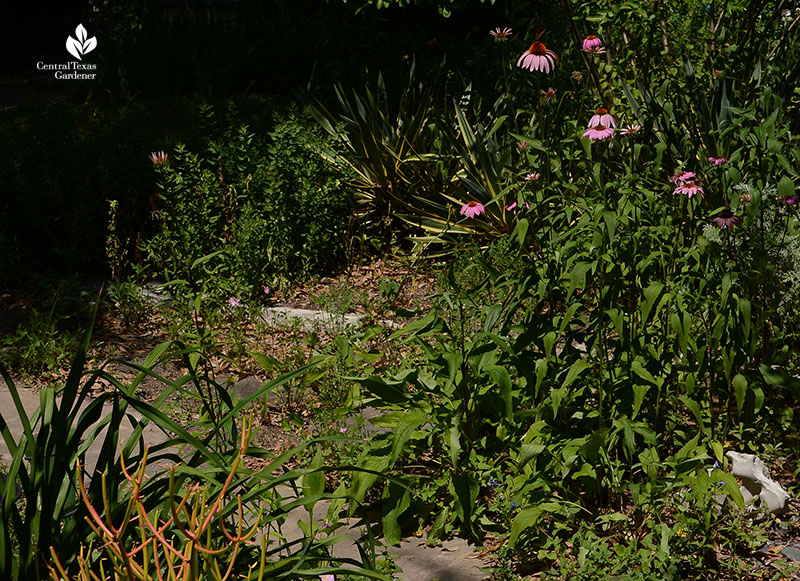 Native Wedelia texana, formerly Zexmenia hispida, seeded itself into a front bed of bee and butterfly faves. Its golden yellow blossoms attract bees and butterflies until frost. Bees like spring blooming oxalis, too, while everybody goes for fall blooming native aster currently in foliage stage.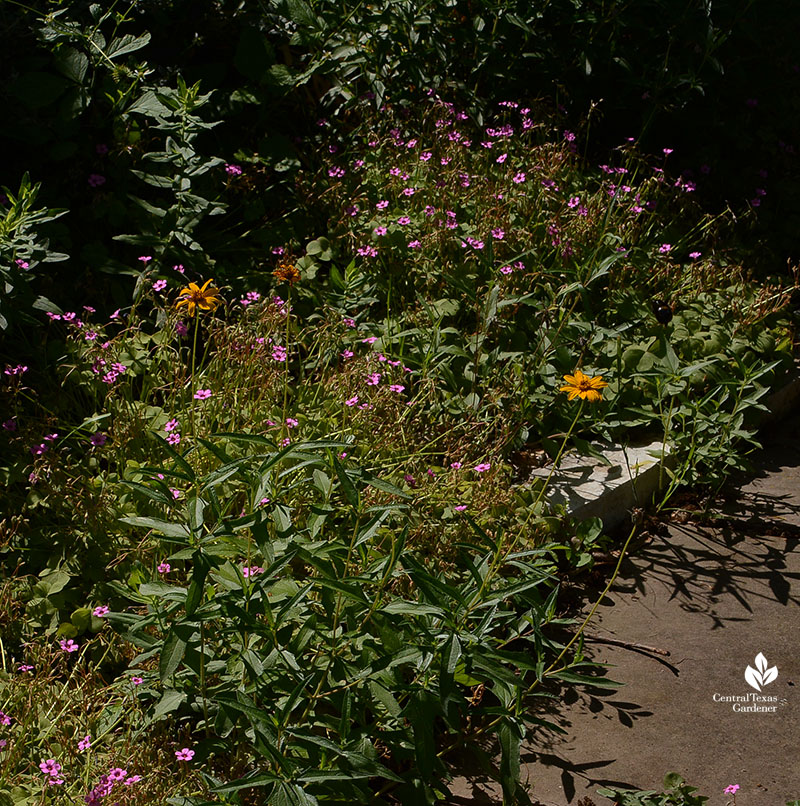 In Georgetown, Lori and Jack Shreves paired another lovely lavender and gold duo: native Salvia leucantha and Engelmann's daisy. Usually S. leucantha blooms in fall, but it popped fuzzy flowers for our visit one April.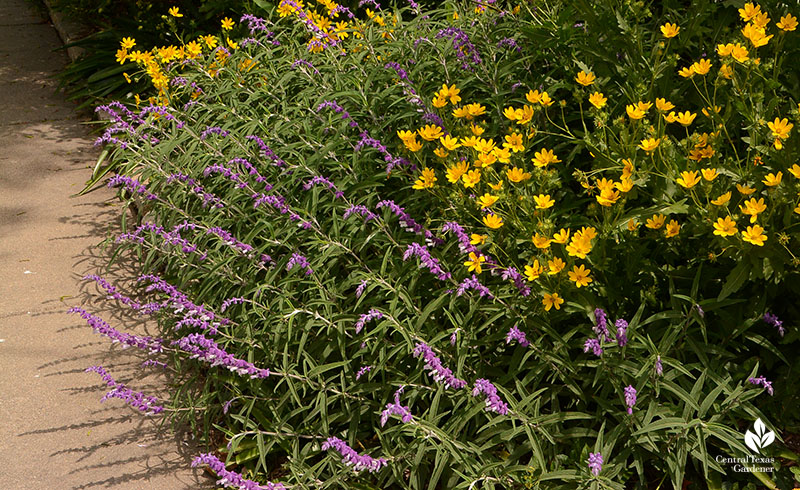 You're bound to find a bee on Engelmann's daisy flowers from March through summer.


Exciting news this week! Now you can listen to CTG on the go! Tune into our just-launched podcast on Spotify and iTunes to inspire your growing ambitions. Please let me know what you think!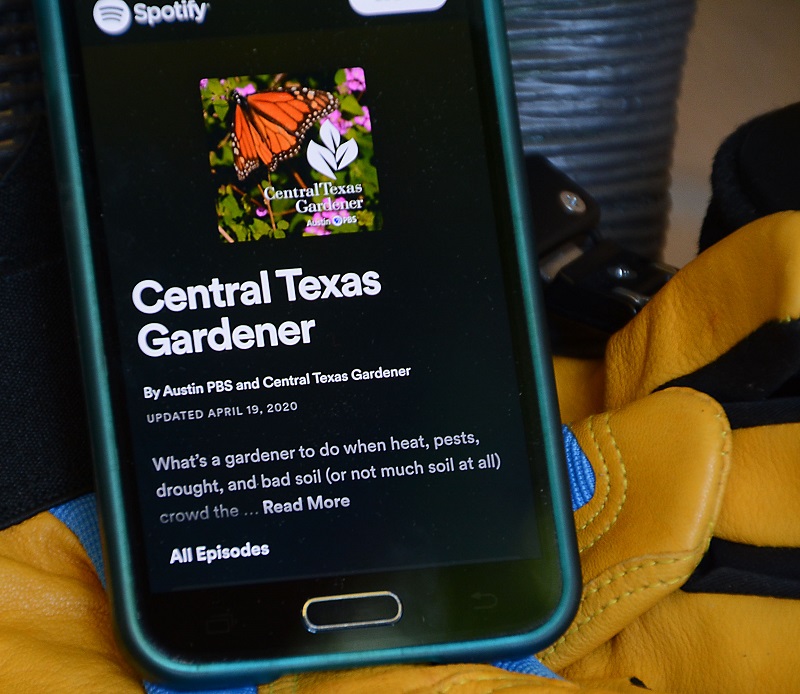 Around the neighborhood, many gardeners have planted Mexican palo verde hybrid 'Desert Museum'.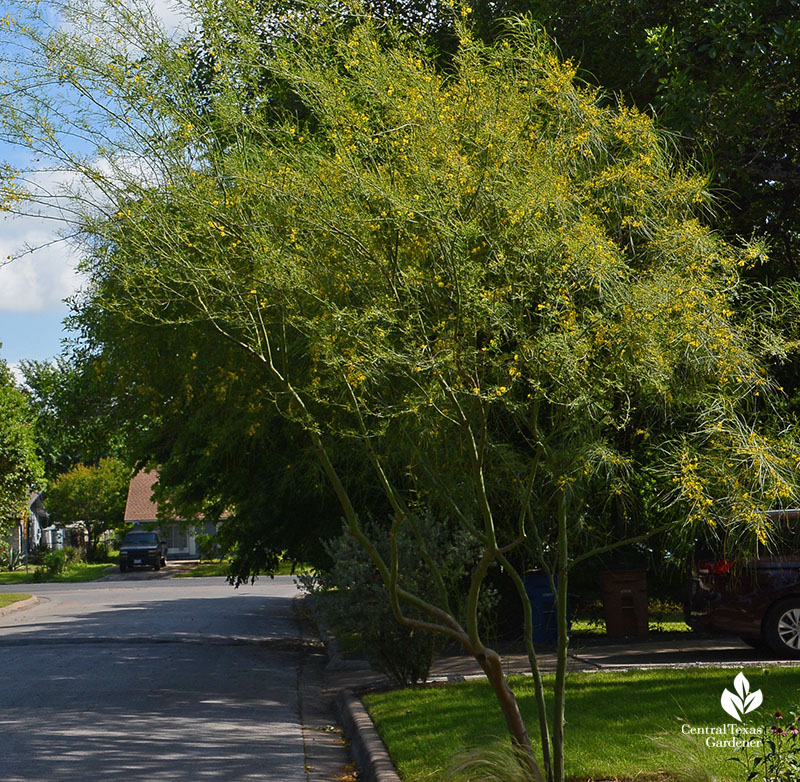 I'd love to have one, too, for its airy foliage, intriguing bark, and yellow blossoms that satisfy many pollinators.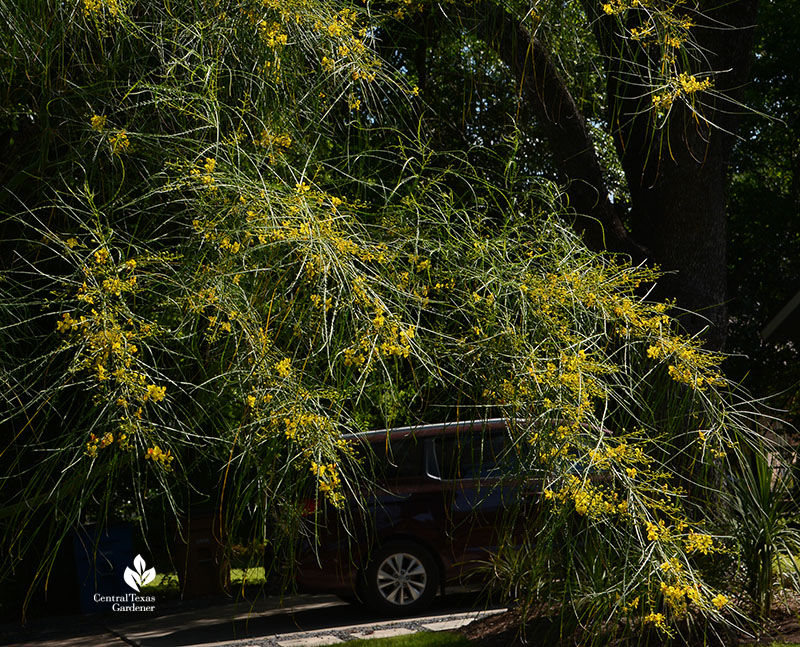 It's quite joyful to note that in recent years, my neighbors are going for pollinator habitat that doesn't drain water resources. This aloe cuddling near an agave blooms ALL THE TIME! I know it takes an occasional break, but quickly its back on the job!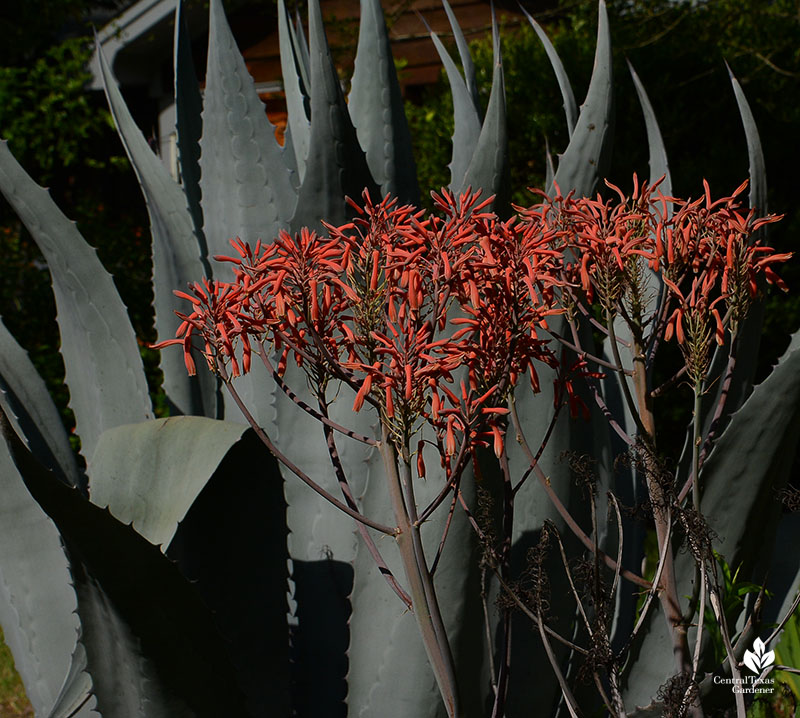 Doug Green's garden is still in the "to edit" hopper, with plans to broadcast this fall. He reports that his butterfly (and bee & bird) garden is busy as ever. In this area, he's pulled together Salvia guaranitica 'Black and Blue', lavender Gregg's mistflower, and violet-hued ruellia with yellow Tecoma stans (esperanza, yellow bells) and red salvias.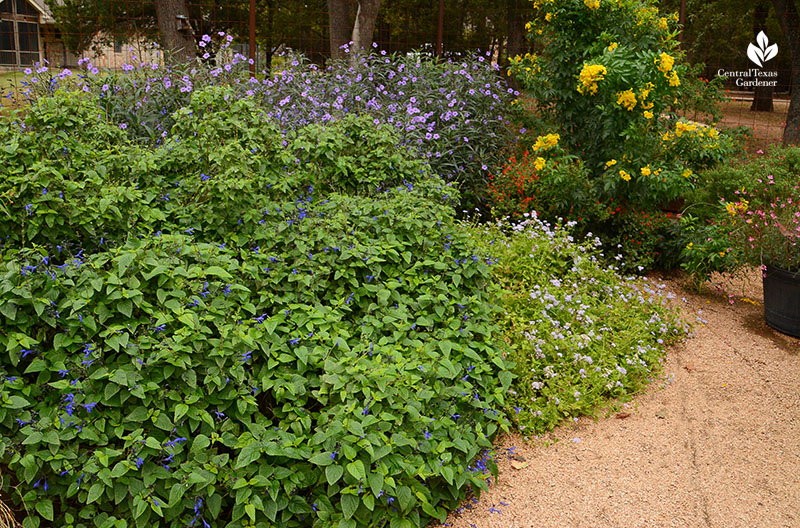 Salvia farinacea 'Henry Duelberg' and white 'Augusta Duelberg' are sure to add to your pollinator habitat to keep Monarch and other butterflies fueled on long flights. They certainly found a rest stop on our visit to the Emilyann Theatre & Gardens in Wimberley!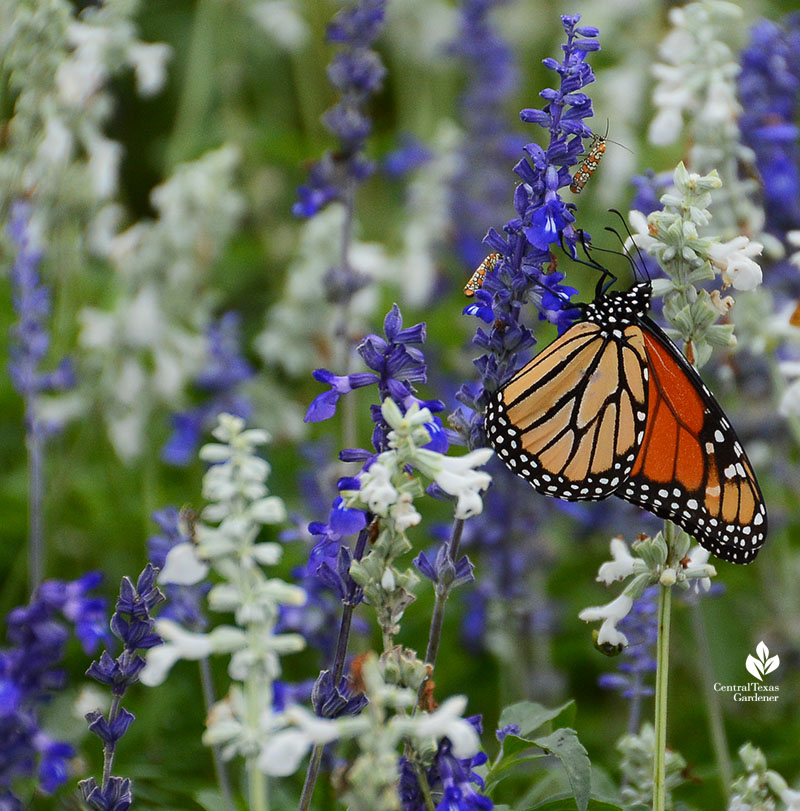 Catching up on CTG episodes you might have missed or want to see again? Watch them all right here.
Thanks for stopping by! Linda
Comments